This fluffy egg white omelette makes a tasty low carb and low calorie breakfast. Seasoned with Italian herbs and parmesan, this recipe takes only 10 minutes to whip.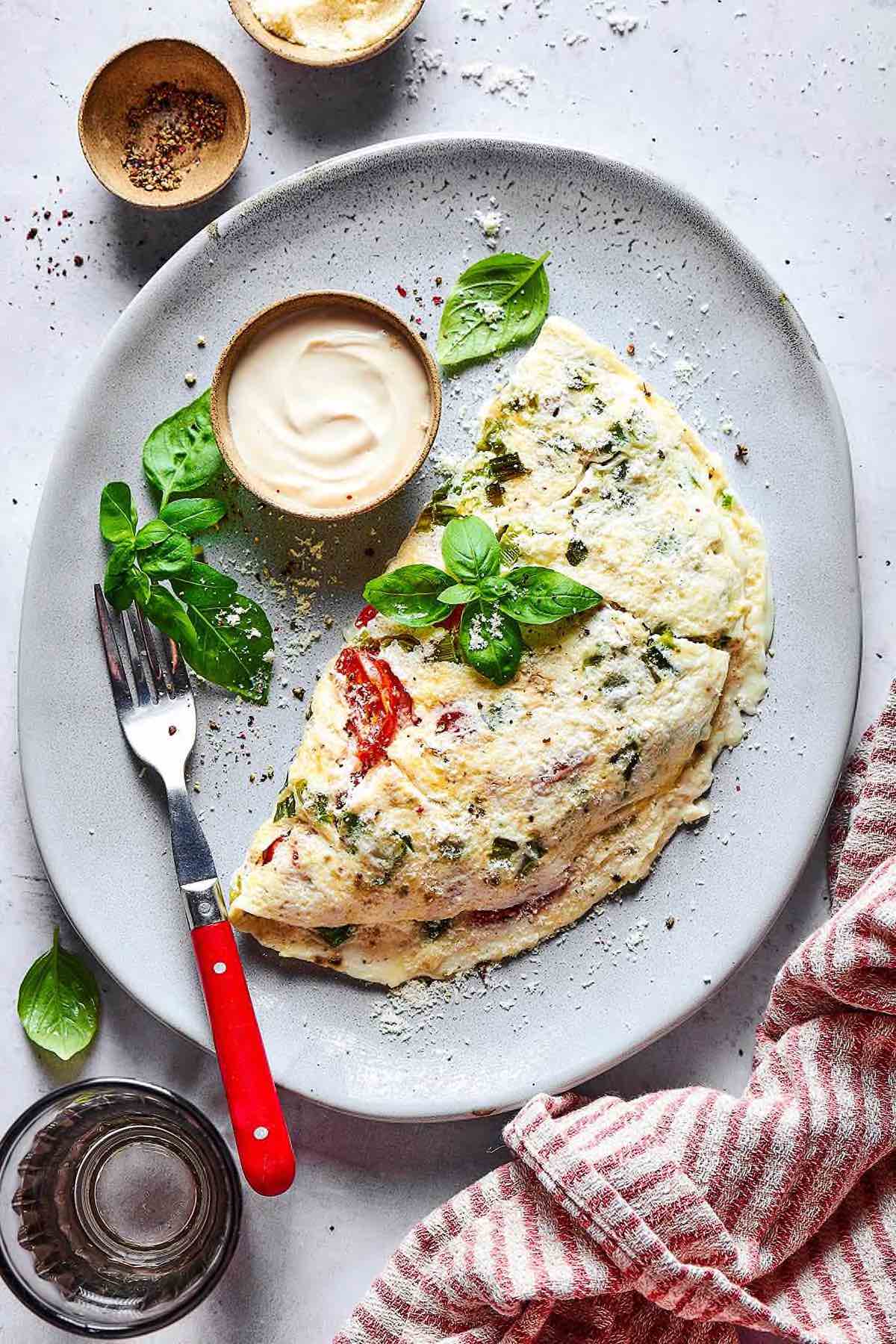 When it comes to eggs, everyone has a favorite. Poached, scrambled, over easy, over hard, sunny side up – pick your eggs!
When you're watching your calories and want the best bang for your (calorie) buck, an egg white omelet is the best option! It's low in calories, packed with protein, and has very little fat. The best part? You can load it up with all your favorite fillings to kickstart your day!
Table of Contents
Why this recipe works
It is healthy. Egg whites are rich in protein, low in carbs, and have zero fat. Even if you don't follow any kind of diet, adding an egg white omelet to your breakfast plate makes a fabulous high-protein option.
Tastes like a legit omelette. If you are worried about how this yolkless recipe would taste, let me put you at ease- it tastes almost the same! And once you add some delicious fillings (cheese, veggies, ham, etc.), you won't miss them whatsoever.
Works with fresh or carton egg whites. While fresh egg whites are always best, you can use the pre-packaged egg whites too. This is handy if you have no intentions of using the yolk, and way more cost-effective.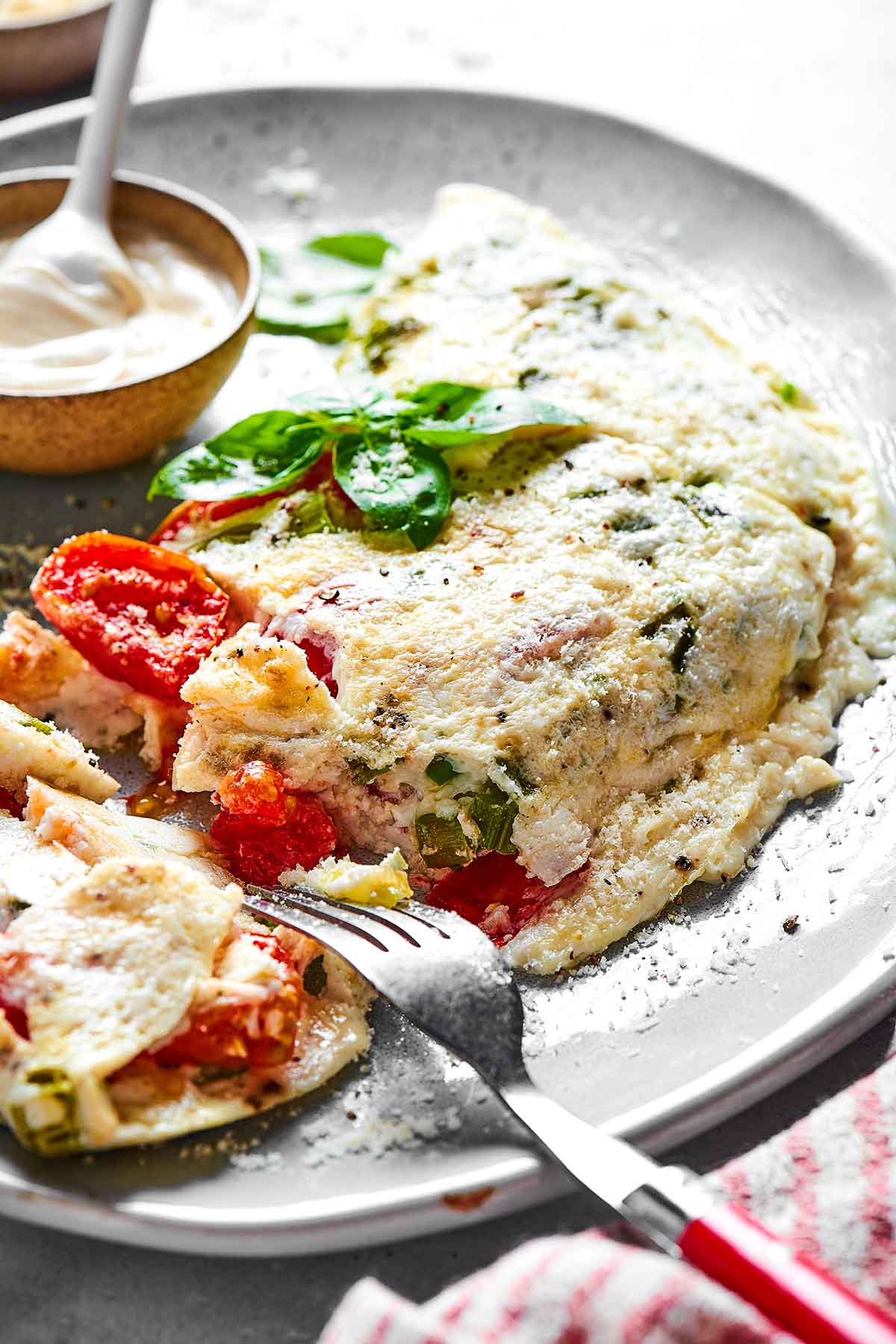 Ingredients Needed
Egg whites. If using eggs, separate the egg whites from the yolks, but don't throw away the yolks. Instead, use them to make mayonnaise or an indulgent pot de creme instead.
Green onions. Green onions or scallions have a subtle onion flavor and won't overpower the omelet like sliced white or red onions would.
Cherry tomatoes. Fresh cherry tomatoes are my absolute favorites. You'll love their natural taste after sautéeing. No cherry tomatoes? Use a finely diced tomato instead.
Parmesan cheese. My secret ingredient for any good omelet! Adding some form of cheese truly MAKES the dish. If possible, freshly grate the cheese instead of using the pre-shredded kind. Not only does it taste better, but it also melts much better too.
Salt and pepper. To taste.
Italian seasoning blend. Use a mix of dried Italian herbs like oregano, thyme, basil, sage, and rosemary.
Olive oil. To fry the omelette. Feel free to use any neutral oil of your choice or butter.
How to make an egg white omelette
Separate the egg whites. Separate egg whites from the yolks.
Whisk egg whites. Whisk egg whites until slightly frothy, and season with salt, pepper, Italian herbs, and parmesan.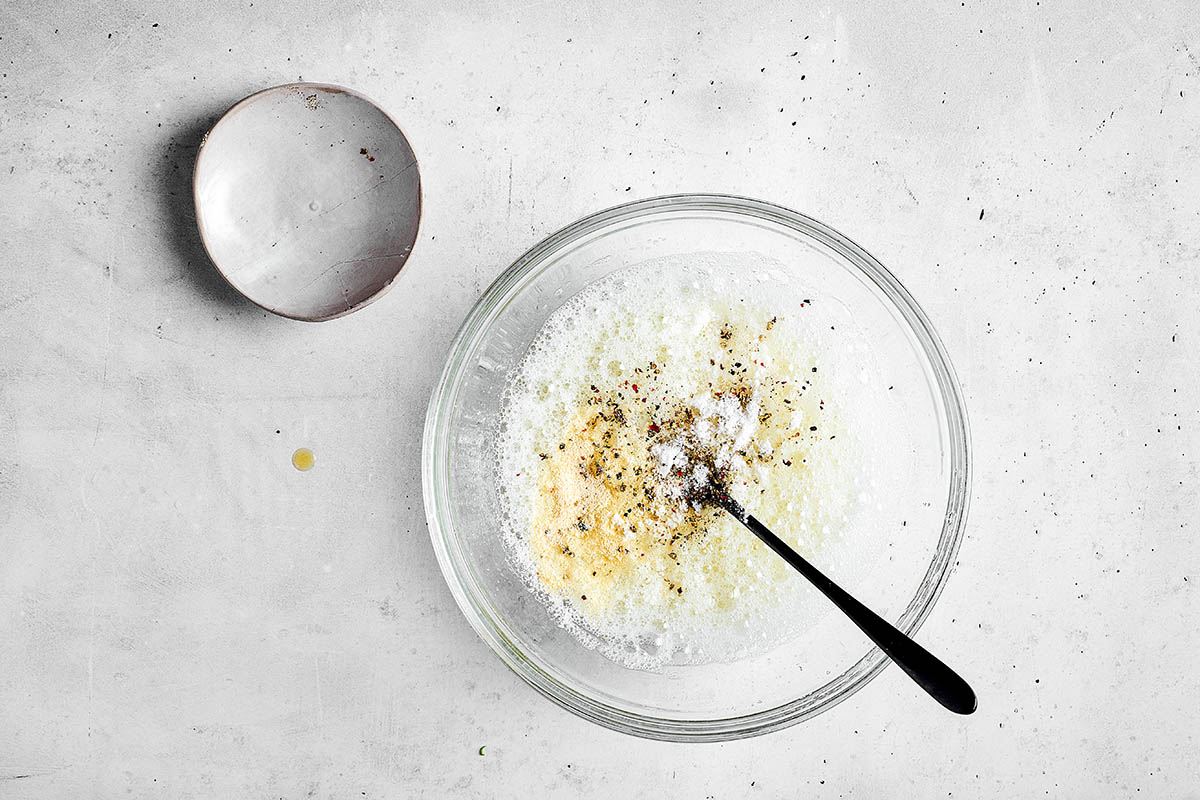 Sauté onions and tomatoes. Add oil to the skillet, add the vegetables, and saute until fragrant.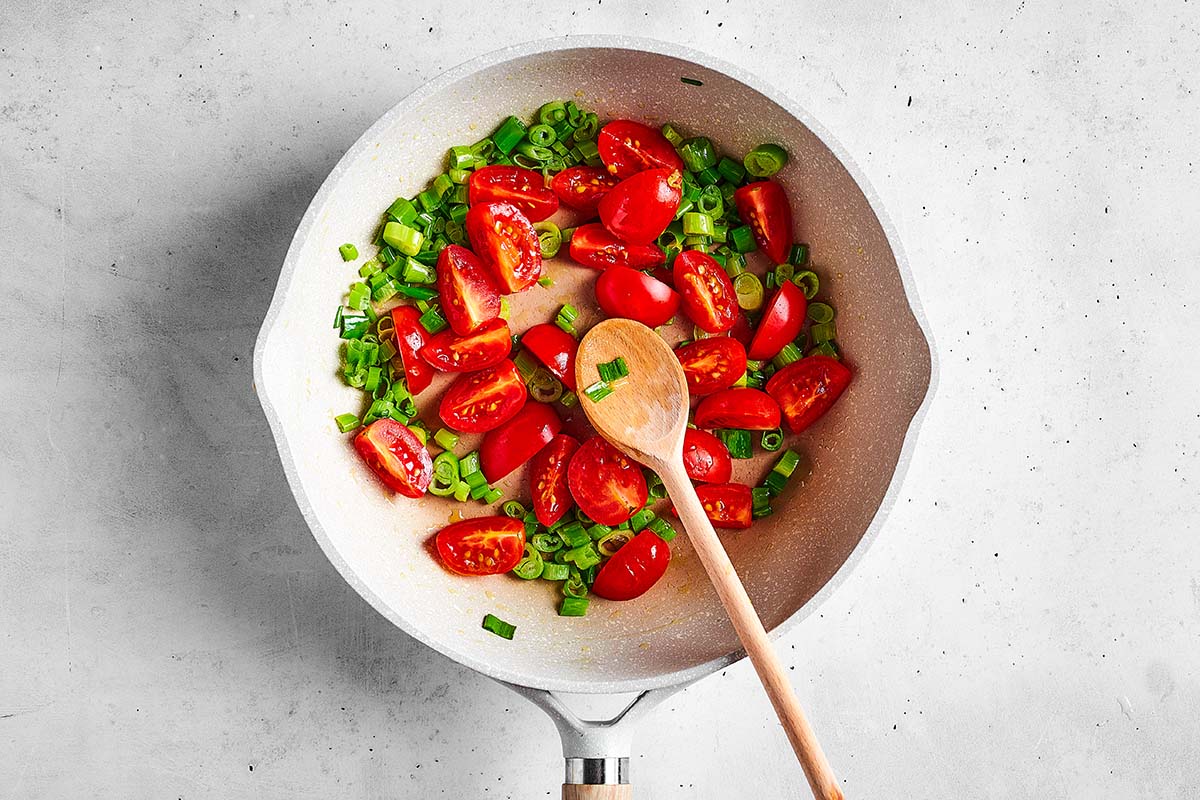 Cook the omelette. Add egg mixture into the skillet and cook until the edges set. Then, fold the omelette in half and cook for a few minutes until fully set.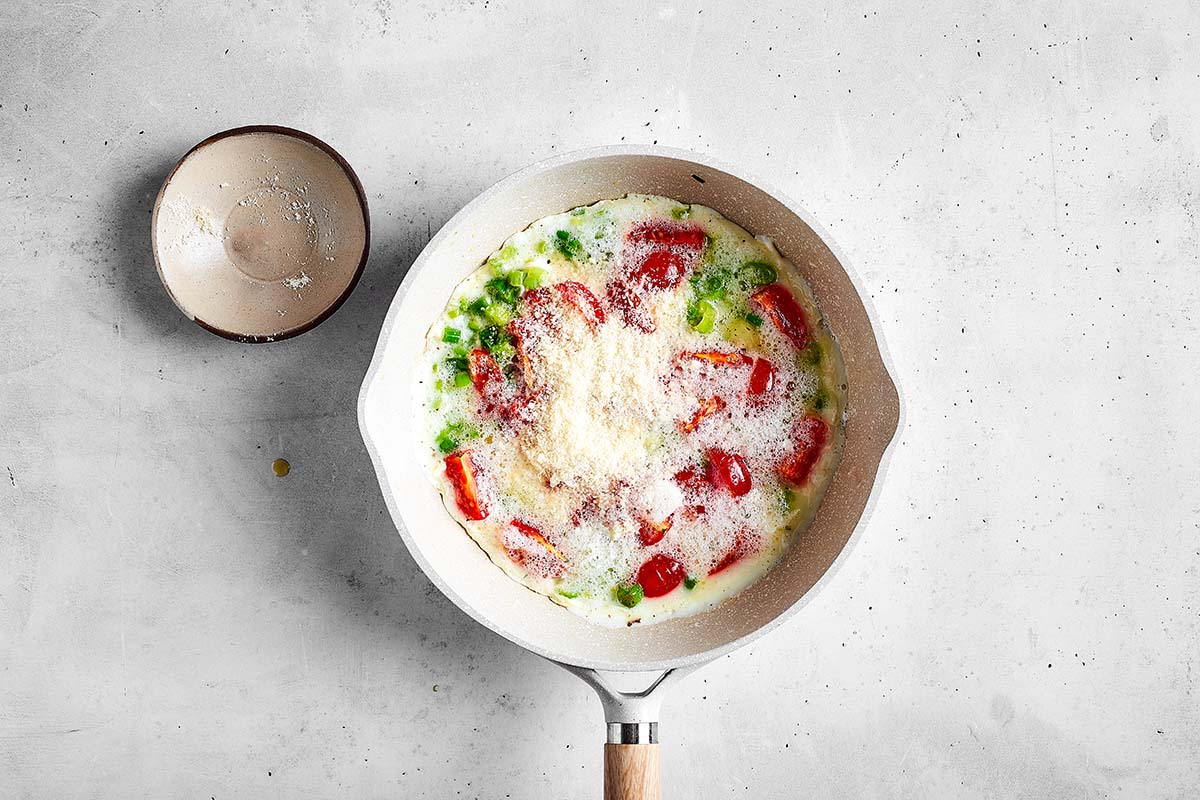 Flavor and recipe variations
Use different veggies. When it comes to customizing the add-ins, the sky is your limit! Sautée mushrooms, spinach, broccoli, onions, bell peppers, etc., for a veggie-packed omelette.
Use a different cheese. I love mixing different cheeses like feta, cottage cheese, or cheddar for a different flavor profile. Remember, a little goes a very long way!
Amp up the protein. I love some meaty elements in my omelettes! Not only for the flavor, but for even more protein. Sauté bacon, sausage, or prosciutto in olive oil, then pour the egg whites over it to make a bacon-and-egg breakfast.
Add it to a breakfast sandwich. This is the perfect recipe to use in a spinach feta wrap.
Recipe tips and tricks
Avoid overcooking the veggies. Do not overcook the cherry tomatoes. You don't want a mushy, saucy tomato juice in the pan.
Cook on low or medium heat. Although ever so slightly more time-consuming, cooking on low or medium heat will ensure the egg whites cook evenly, and you won't be left with a rubbery texture.
Blend the egg whites. If you want an uber fluffy and thick omelette, blend the egg whites in a high-speed blender for a minute or two, until doubled in size.
Cover the skillet when it cooks. For uniform and speedy cooking, cover the skillet while the omelette cooks.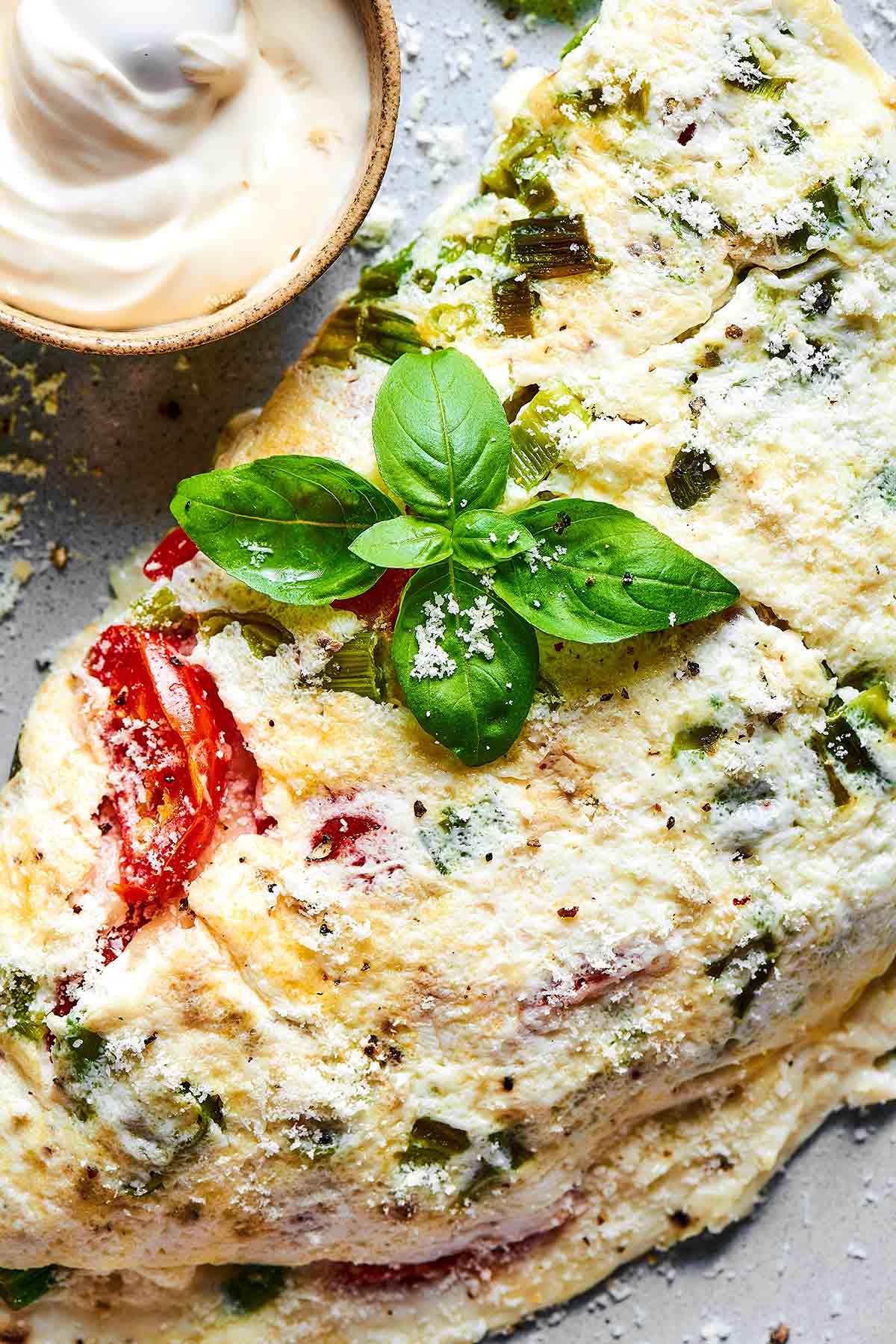 More egg based breakfasts to try
Frequently asked questions
How do I separate egg whites from yolks?
Crack the egg gently and allow the egg white to fall into a bowl while carefully transferring the yolk back and forth between the eggshell halves, letting the excess white drop into the bowl.
How do I prevent the omelette from sticking to the pan?
You must add some form of grease to the pan to ensure the omelette doesn't stick. Butter, olive oil, and cooking spray are all fantastic options.
How do you flip an omelette?

To flip an omelette, gently lift one side with a spatula, tilt the pan slightly, flip the omelette onto its other side, and catch it with the pan to complete the flip.
Egg white omelette calories
When made as written, this egg white omelette has just 145 calories per serving.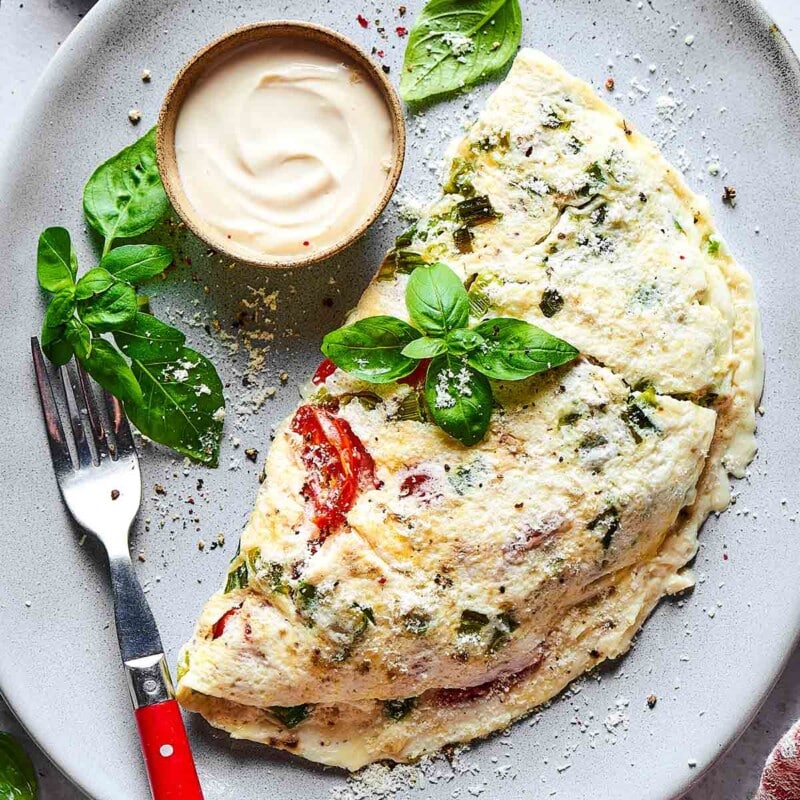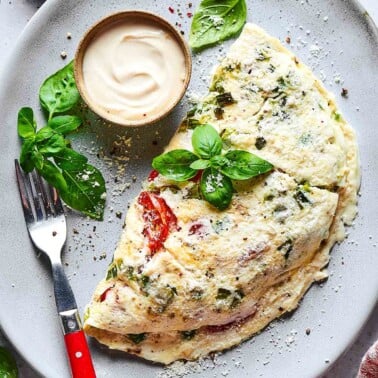 Egg White Omelette
This fluffy egg white omelette makes a tasty low carb and low calorie breakfast. Seasoned with Italian herbs and parmesan, this recipe takes only 10 minutes to whip.
Ingredients
4

egg whites

*

1/2

teaspoon

salt

1/4

teaspoon

pepper

1 1/2

tablespoons

parmesan cheese

1/2

teaspoon

Italian seasoning

2

green onions

thinly sliced

1/4

cup

cherry tomatoes

halved

1

teaspoon

olive oil
Instructions
Separate the egg whites from the yolks.

In a bowl, whisk the egg whites until slightly frothy and combined. Add the salt, pepper, parmesan cheese, and Italian seasoning. Set aside.

Heat a non-stick skillet over medium heat and add olive oil. Sauté chopped green onions and halved cherry tomatoes for 1-2 minutes.

Pour the whisked egg whites into the skillet, covering the vegetables evenly. Cook undisturbed for about a minute until the edges start to set.

Gently fold the other half of the omelette and cook Until fully set.
Notes
* Or 1/2 cup liquid egg whites.
Nutrition
Serving:
1
serving
Calories:
145
kcal
Carbohydrates:
5
g
Protein:
17
g
Fat:
6
g
Sodium:
1490
mg
Potassium:
369
mg
Fiber:
1
g
Sugar:
2
g
Vitamin A:
500
IU
Vitamin C:
13
mg
Calcium:
138
mg
Iron:
1
mg
NET CARBS:
4
g
Disclosure: This post may contain affiliate links. I may earn a small commission for my endorsement, recommendation, testimonial, and/or link to any products or services from this website.