Learn how to make hash browns that are better than fast-food restaurants. Crispy on the outside and fluffy inside, these homemade patties can be made in a big batch and frozen for later.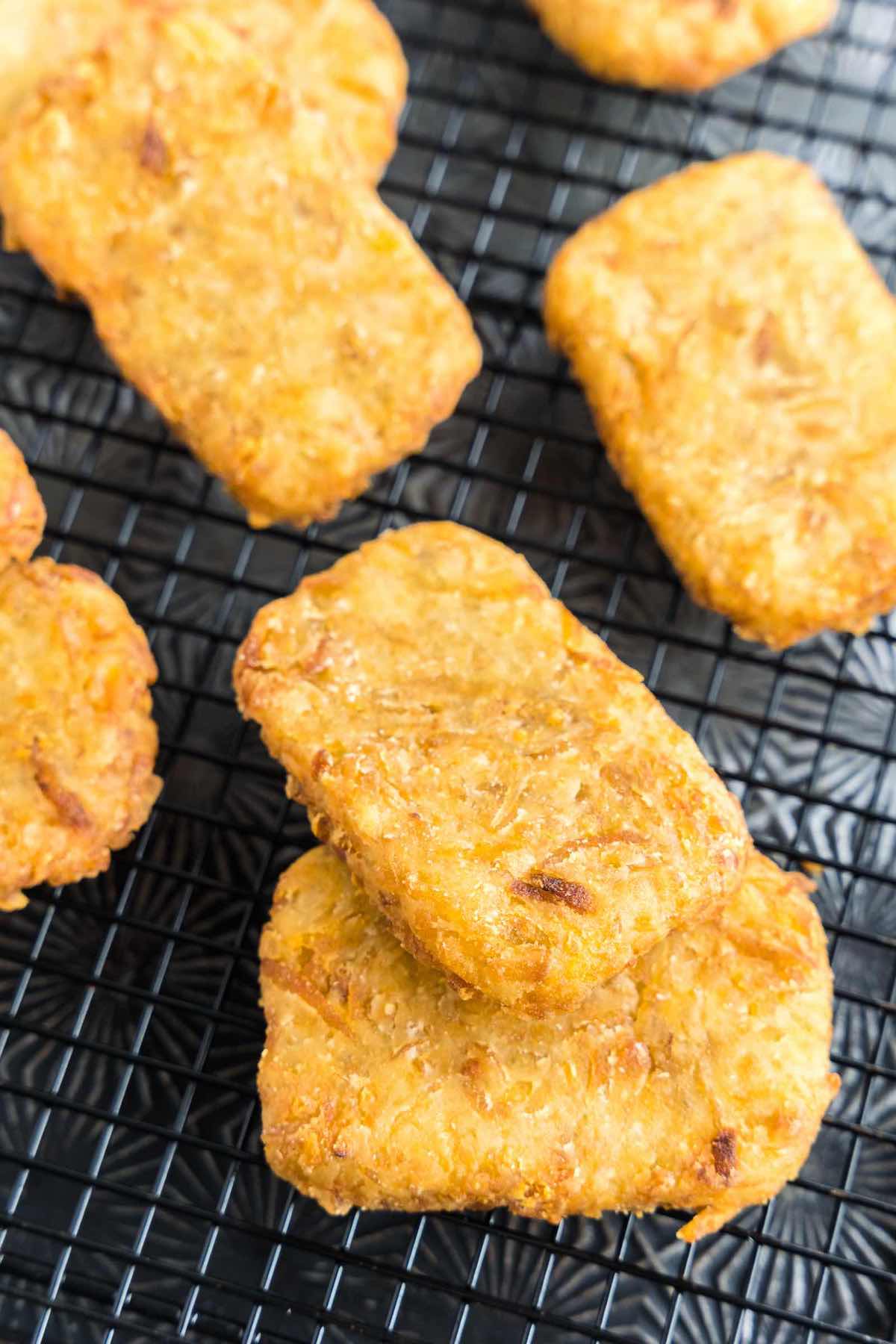 Growing up, we were obsessed with McDonald's hash browns. Sure, we loved the sausage McMuffin but the highlight was always the potato side. There was something magical about them and they had the perfect balance of crispiness on the outside.
After using my air fryer to cook up frozen hash browns, I wanted to have a go at making them from scratch, and I'm utterly obsessed.
Table of Contents
Homemade Hash Browns
My hash brown recipe is famous amongst my friends and family and for good reason- they taste like the classic ones from McDonald's, except better!
It's super crispy. These fast food-style patties are a lot crispier than regular hash browns that feature simple, shredded potato patties.
They are gluten-free. Unlike many homemade recipes, this one doesn't call for wheat flour and other gluten-containing ingredients.
It's better than store-bought. While using store-bought patties is easy and convenient, most of these frozen foods contain unwanted additives.
They are freezer-friendly. Un-cooked hash browns can be frozen for up to 3 months. Make them once, and enjoy them whenever you are craving homemade fast food.
If you can't eat hash browns because of the high number of carbohydrates they contain, try keto hash browns. They are just as crispy and delicious.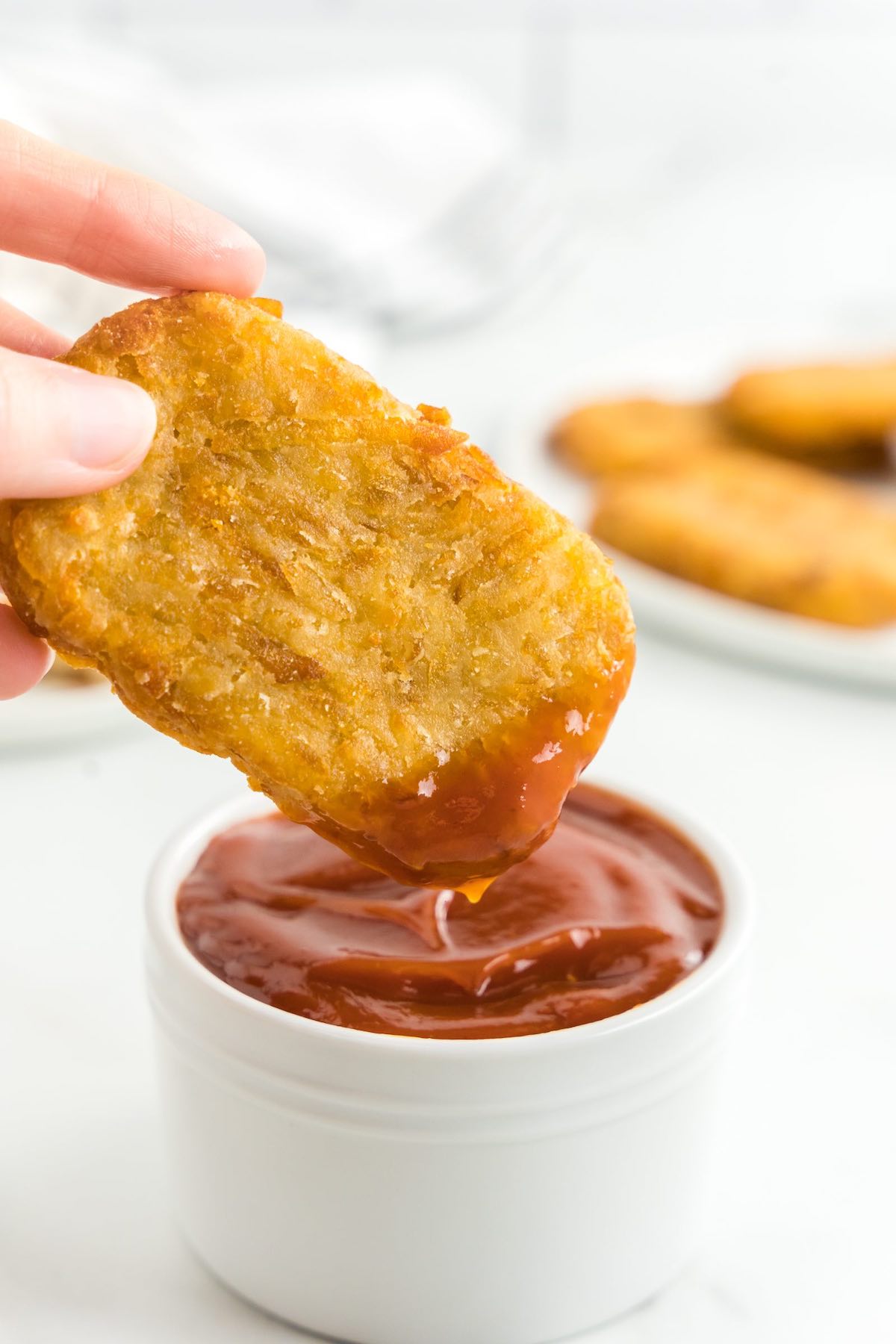 Potatoes. Use low-moisture potatoes, such as Russets. Waxy potatoes have a high water content and don't work well for making these super crispy.
Potato flour. Also known as potato powder, this powder helps bind all ingredients together.
Rice flour. Another ingredient that helps these hold their shape.
Cornstarch. Enhances the crispiness.
Onion powder. To flavor.
Butter. To pre-cook the shredded potatoes.
Dietary swap
If you follow a vegan or dairy-free diet, swap out the butter for dairy-free butter or margarine.
Oil. To fry them. Any cooking oil will work. I recommend using one with a high smoke point, like peanut or safflower oil.
Salt. To taste.
How to make hash browns
Making this recipe does take a little effort, however, the process itself is quite easy.
Step 1 – Shred and drain the potatoes
Peel and shred the potatoes using the coarse side of your box grater. Transfer the grated potatoes into a bowl filled with salted ice-cold water. Soak the potatoes in cold water for 15 minutes. Then rinse and drain well using your hands. Remove the excess water from the potatoes using paper towels.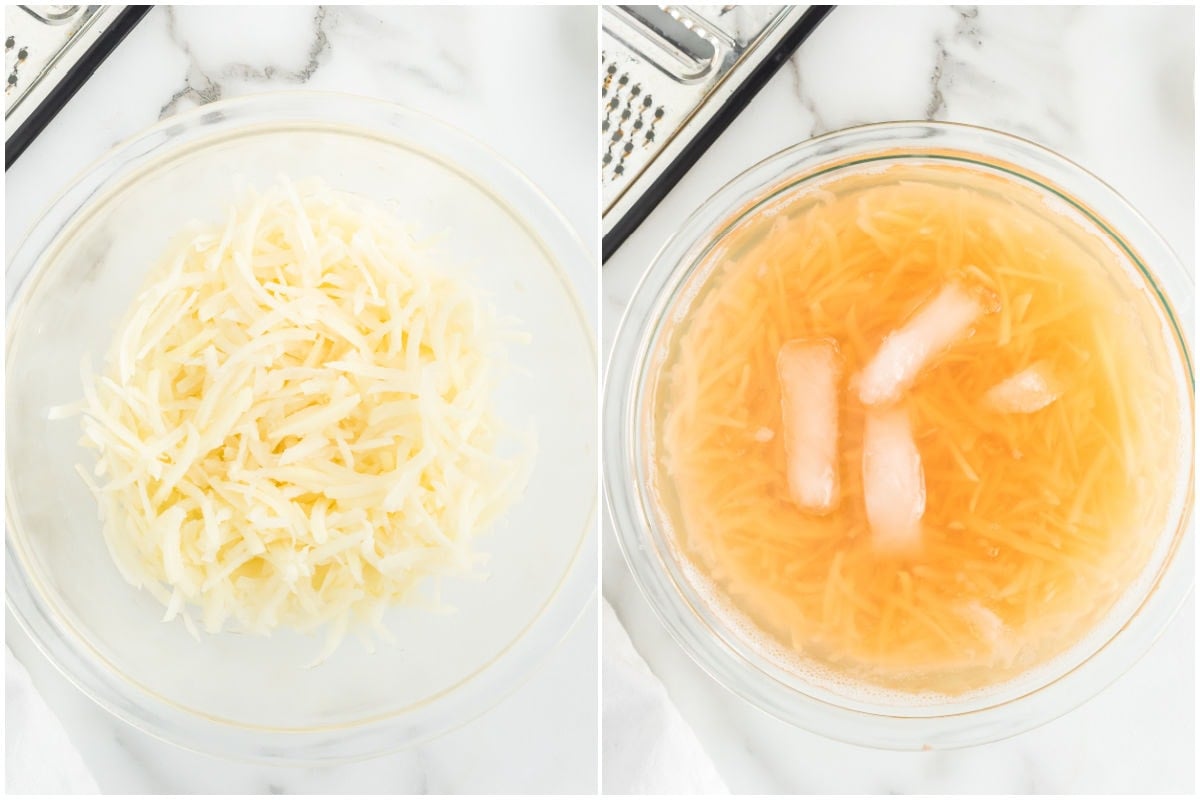 Step 2 – Make the potato mixture
Add a knob of butter to a heated pan and add the shredded potatoes. Cook the potatoes on medium heat until they are par-cooked. In other words, the potatoes should be half-cooked and half-raw. Make sure to not brown them.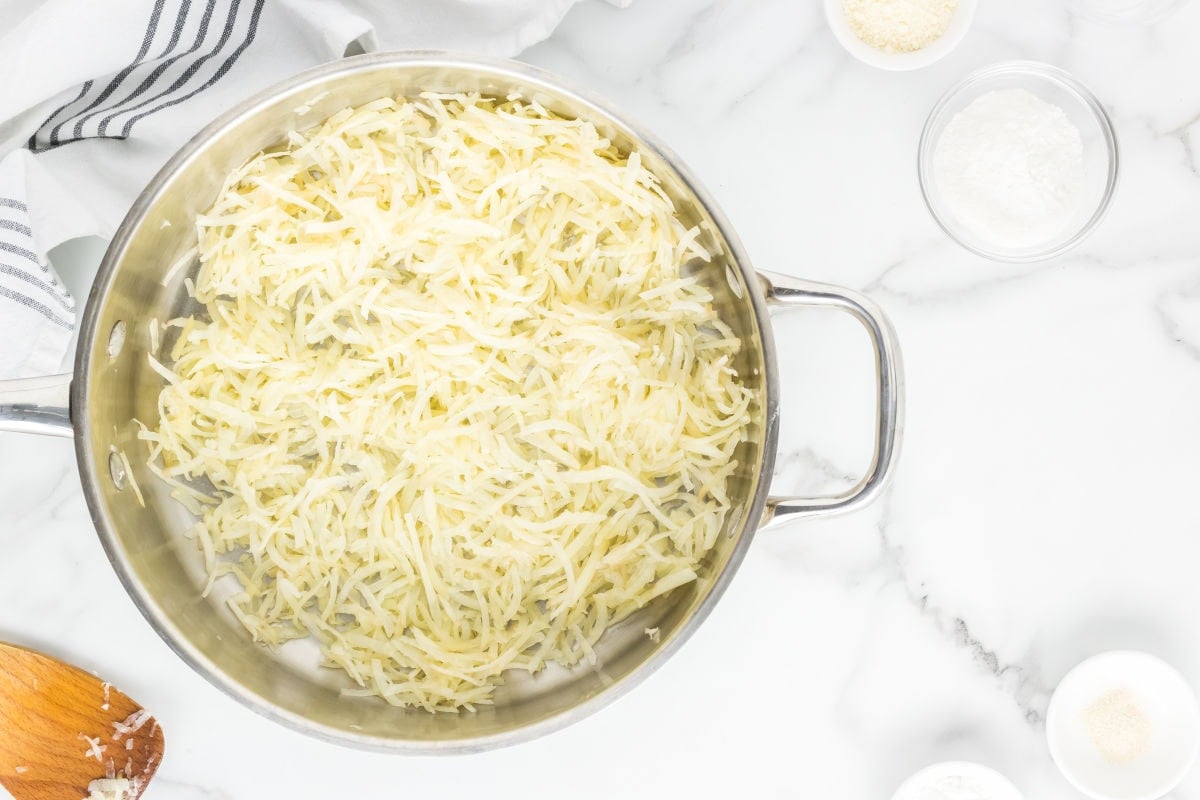 Transfer the potatoes into a large mixing bowl and let them cool. Once cooled, add the potato powder, rice flour, cornstarch, onion powder, and salt. Add a tablespoon of water. Mix well so that a dough-like mixture forms.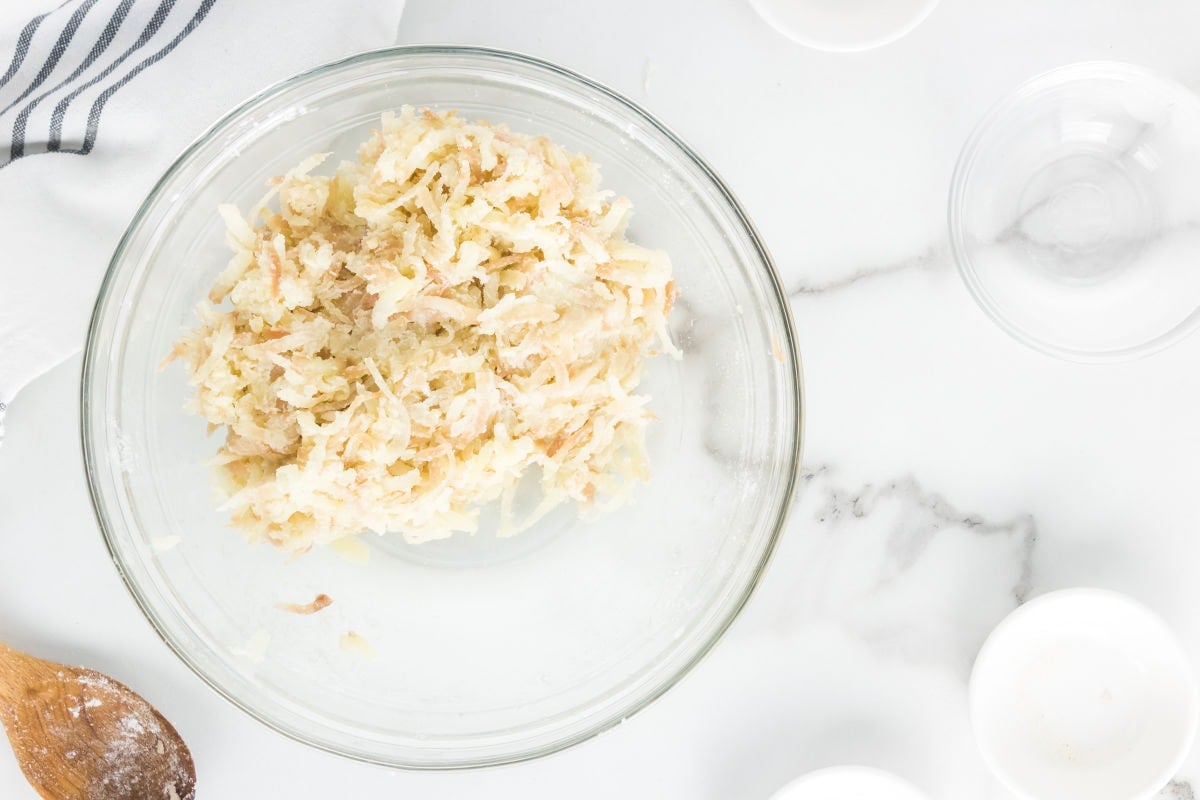 Step 3 – Shape the potatoes
Transfer the potato mixture onto a sheet of parchment paper. Add another sheet of parchment paper on top and flatten using a rolling pin. The thickness of the hash browns should be around ½ inch.
Once you have flattened the potato mixture, chill it for 4 to 6 hours.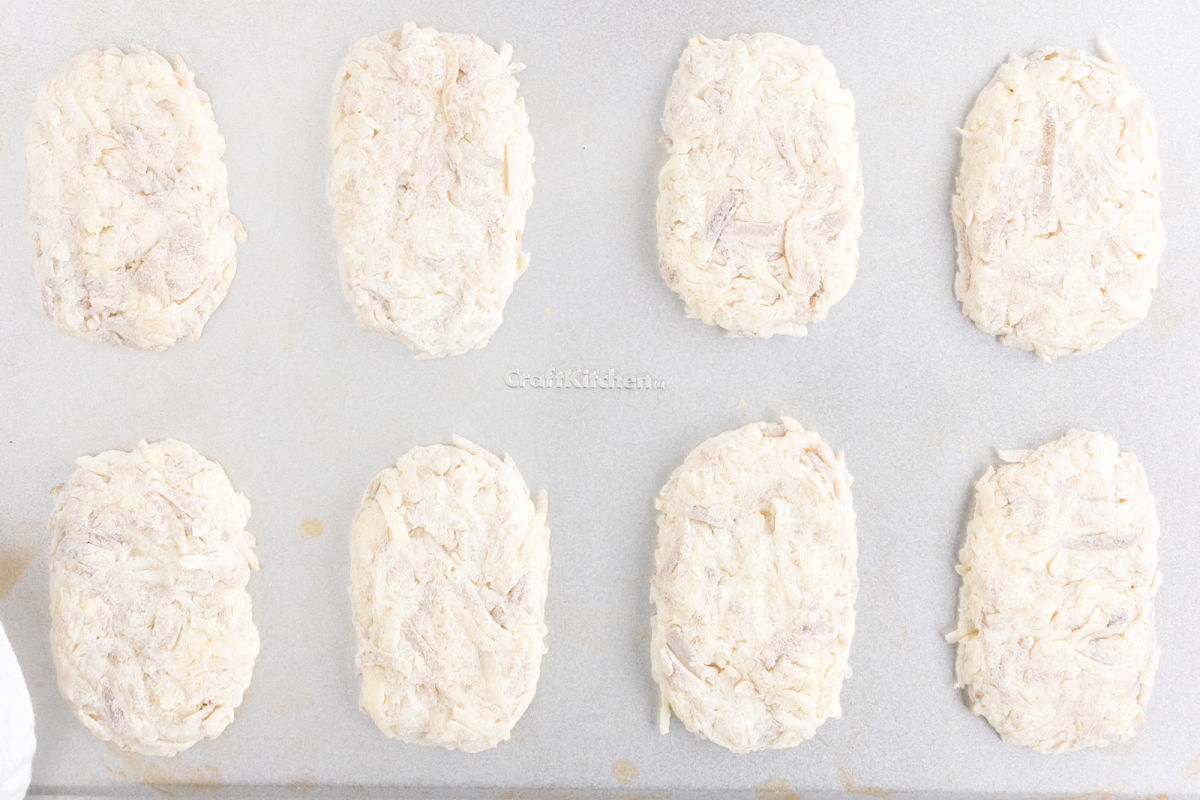 Step 4 – Fry and serve
Heat an ample amount of oil in a deep frying pan. When the oil is heated to 325F degrees, add the potatoes and fry for a few minutes per side until they are golden on both sides.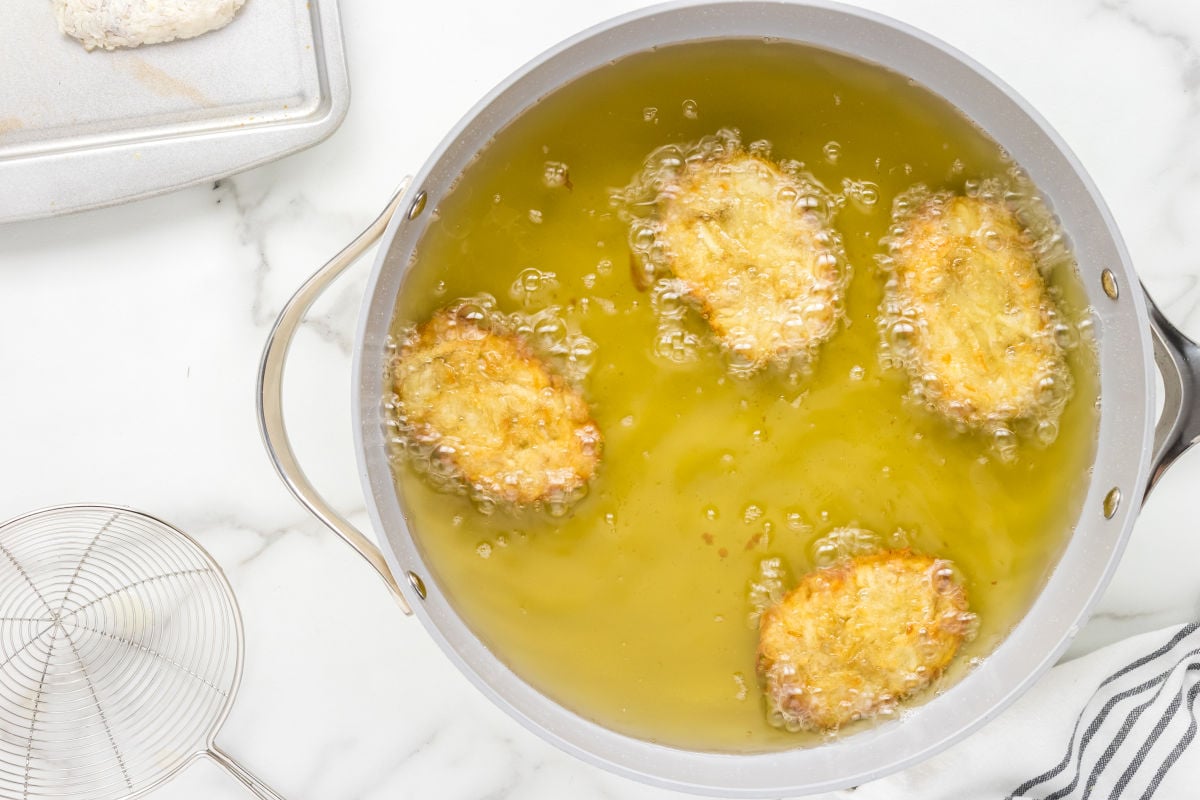 Let the hash browns cool on a wire rack to remove excess oil and dry crumbs before serving.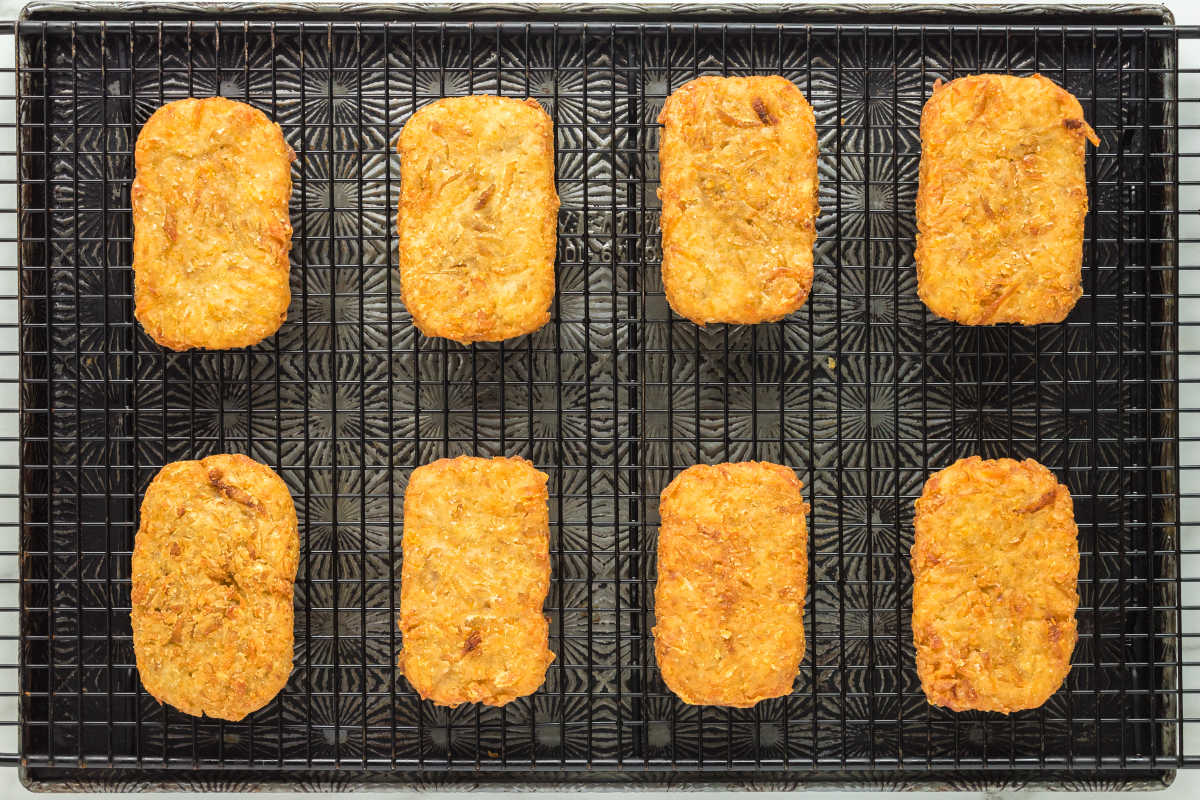 Always soak the potatoes in cold water. You may be tempted to skip this step to make the process of making hash browns faster. However, soaking the potatoes in cold water is an efficient way to get rid of extra starch and make super crispy hash browns.
If you are having a hard time draining the shredded potatoes with your hands, use a cheesecloth to squeeze out the excess water.
Add some grated cheddar cheese to the potato mixture for cheesy hash browns. You can also use slices of mozzarella cheese to make stuffed hash browns.
Use more spices to flavor the potatoes. Garlic powder, black pepper, and paprika are some classic spices to use for these potato patties. If you want to experiment with flavors, you can also add cumin, turmeric, and smoked paprika.
To store: Store leftovers in an airtight container in the fridge for up to 4 days.
To reheat. If you want to make leftovers crispy again, reheat them in a skillet over medium heat. Add the hash browns to a heated pan along with a drizzle of oil and cook until heated through.
To freeze. Freeze uncooked hash browns for up to 3 months.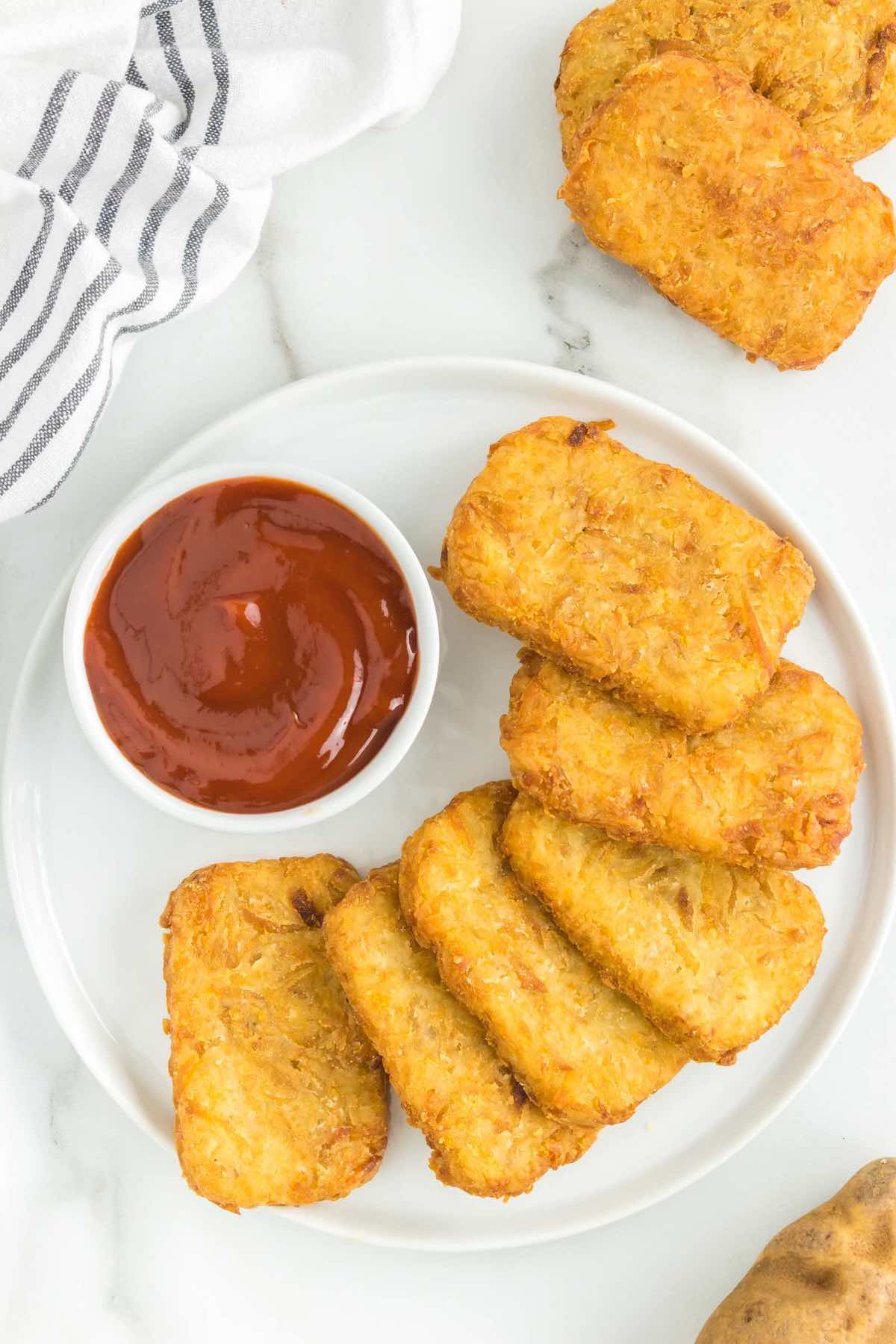 How do you get hash browns to stick together?
Flour and starch are commonly used to help hash browns stick together. You can add an egg if you like, but the flour mix is sufficient.
Do you have to blanch potatoes before making hash browns?
Blanching the potatoes is not a necessary step when making hash browns, however, you can do it if you are aiming for very tender hash browns.
How long should you soak potatoes for hash browns?
You should soak the shredded potatoes in water for a minimum of 15 minutes. If you have time, you can leave the potatoes in cold water overnight to get rid of as much starch as possible.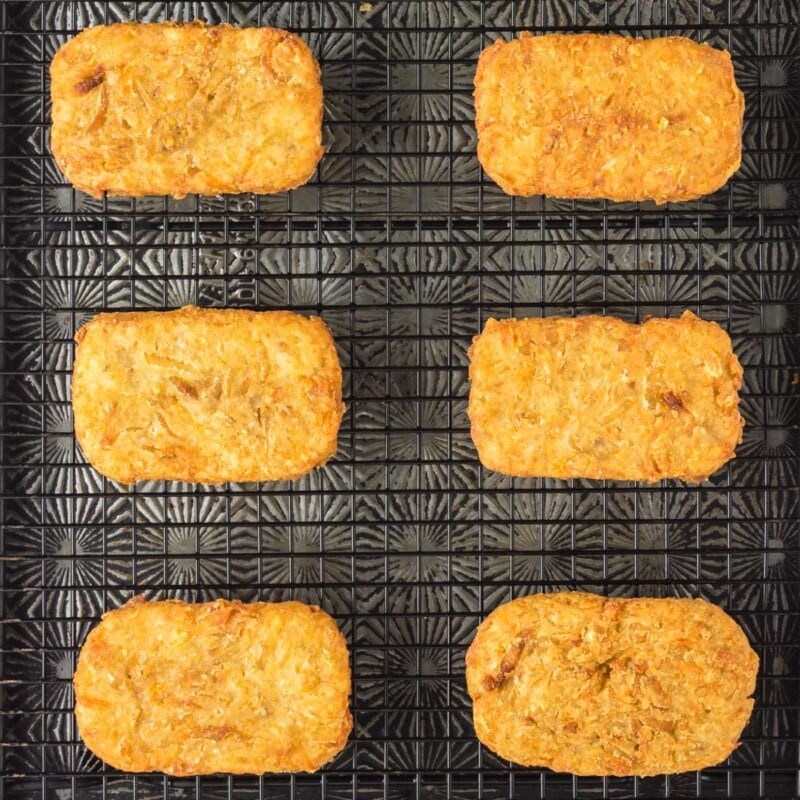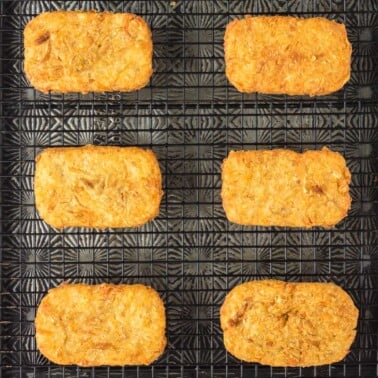 Hash Browns (McDonald's Style!)
Learn how to make hash browns with this homemade recipe that tastes better than McDonald's! They are extra crispy and can be frozen to enjoy later.
Ingredients
2

large

potatoes

1 1/2

tablespoons

butter

1

teaspoon

salt

1/4

teaspoon

garlic powder

1

tablespoon

potato starch

1

tablespoon

cornstarch

3

tablespoons

rice flour

1

tablespoon

water
Instructions
Using a box grater, grate the potatoes then transfer them to a bowl of ice water and let it sit for 20 minutes.

Drain the water and squeeze out as much moisture from the potatoes as possible.

Add butter to a non-stick pan and place over medium heat. Add the shredded potatoes and cook for 15 minutes.

Transfer the potatoes into a bowl and let it cool slightly. Once cool, add the remaining ingredients until a thick dough remains. If the dough is too thick, add a splash more water.

Using your hands, shape the mixture into rectangular hash browns. Transfer them to a lined plate and refrigerate for at least two hours.

Add an inch of oil to a non-stick pan or pot. Once hot, add the chilled hash browns and cook for 2-3 minutes on each side, or until golden.

Place the cooked hash browns on a wire rack until ready to serve.
Notes
TO STORE: Store cooked hash browns in an airtight container in the fridge for up to 4 days.
TO REHEAT: To make leftover hash browns crispy again, reheat them in a skillet over medium heat. Add the hash browns to a heated pan along with a drizzle of oil and cook until heated through.
TO FREEZE: Freeze uncooked hash browns for up to 3 months. Flash-freeze the hash brown triangles and store them in an airtight container or bag.
Recipe loosely adapted from Bharatzkitchen.com
Nutrition
Serving:
1
hash brown
Calories:
72
kcal
Carbohydrates:
13
g
Protein:
1
g
Fat:
2
g
Sodium:
209
mg
Potassium:
268
mg
Fiber:
1
g
Vitamin A:
45
IU
Vitamin C:
12
mg
Calcium:
9
mg
Iron:
1
mg
NET CARBS:
12
g
Disclosure: This post may contain affiliate links. I may earn a small commission for my endorsement, recommendation, testimonial, and/or link to any products or services from this website.