Healthy Oil Free Baked Curly Fries
These healthy oil-free baked curly fries are easy, crispy and the perfect fat-free vegetable to enjoy guilt-free! Made with no oil, butter or any fats, these potatoes are completely whole30, paleo, vegan, gluten free and grain free!


Friends- My fruit-loving buddy Natalie is back with another epic recipe for you!
I know this girl says that sweets are the name of the game but trust me- Her savory talents are hidden and I've made it my new mission to have her showcase her talents. Also, check back next week for a recap of recent events, including MEETING this chica!
***
I'm not gonna lie, I am pretty proud of myself on this one. Not only is it savory (a rarity if you are not familiar with my all-dessert-all-the-time style) but it is actually a little bit spicy too.
Not very spicy. Some people would just call it seasoned. By some people, I mean most people. You can leave the milk in the fridge, there is no risk of that kind of heat. And Arman, with his nonchalant red chili flake usage, is probably laughing at me for even using the word spicy in this context. Okay fine, maybe the only spice involved is paprika…but there's a lot of it! And you could always add a pinch of cayenne too if you wanted some actual spice.
Editors note- This girl and her spice tolerance….I should have spiked her meals when she visited.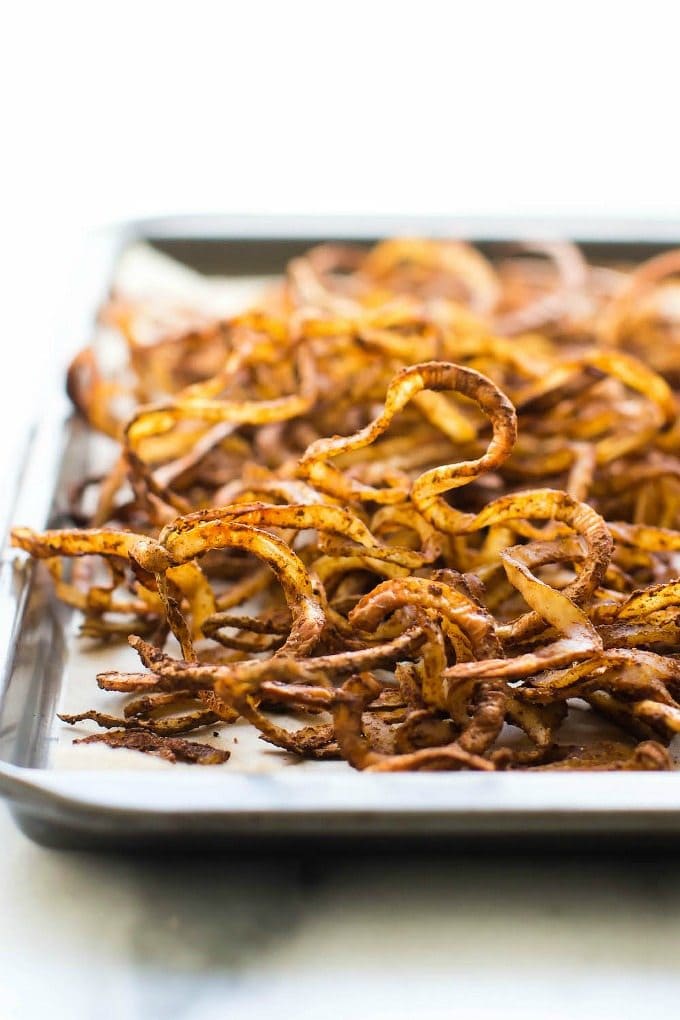 Crispy, curly, and baked not fried–no oil even necessary! And did I mention they taste just like the ones from a certain fast food chain who gave the curly fry its fame and flavor in the first place. It's been many many years since I've had those fries, but my flavor memory is pretty sharp and these copycat curlies bring me right back to childhood road trip lunch breaks, sitting in a greasy red booth with a tiny white paper cup of ketchup for dipping and a milkshake for slurping on the side.
To turn a potato into shoestring curls you will need a spiralizer. If you don't have one, you could just cut the potato into very thin fries, close your eyes, and let the classic curly fry seasoning fool your brain into thinking they are spirals instead of sticks. The flavor is the important part, the shape is mostly just for fun.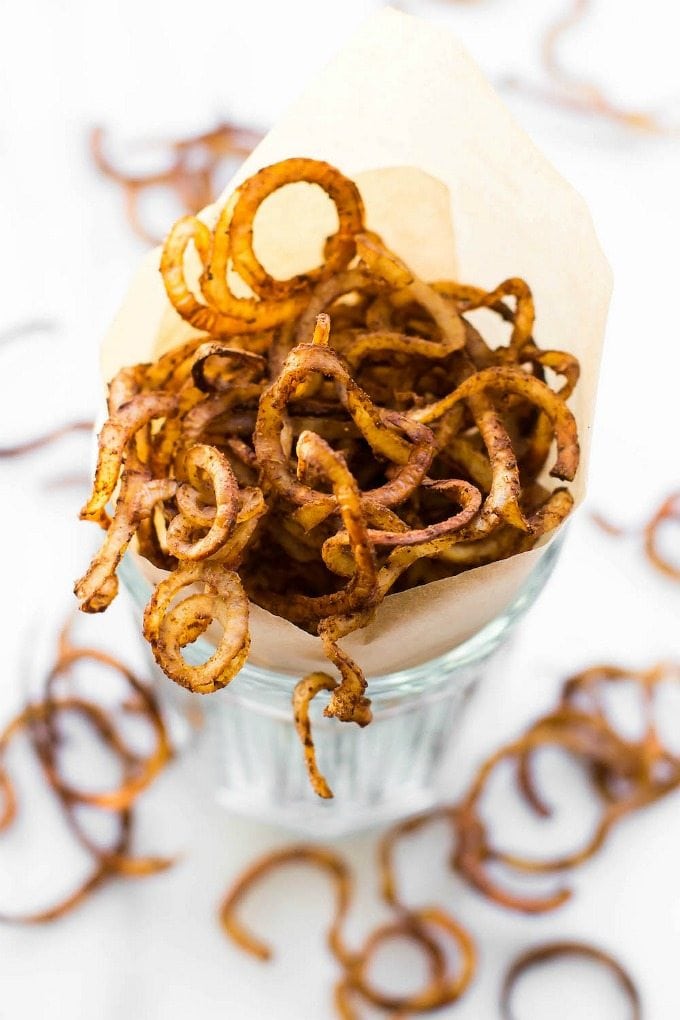 Because of the nature of the spiralizer, you will end up with three different levels or curly-ness. The outer rings–long, gentle curves. The middle rings–somewhere between curve and corkscrew. And the inner rings–tight, spring-shaped coils of potato. Or "a unique helical shape" as Wikipedia dorkily describes them (yeah, I do my research). Actually, make that four levels, I almost forgot the outermost crescent pieces that occur because potatoes aren't perfectly round. They may sound small and boring, but after baking, those little guys are crispy crunchy gold.
While I too enjoy the delight of finding a mile long fry in the batch, I actually recommend that you cut the curls into shorter lengths as you spiralize, otherwise they will turn into a tangled fry mess that is nearly impossible to flip mid-cooking.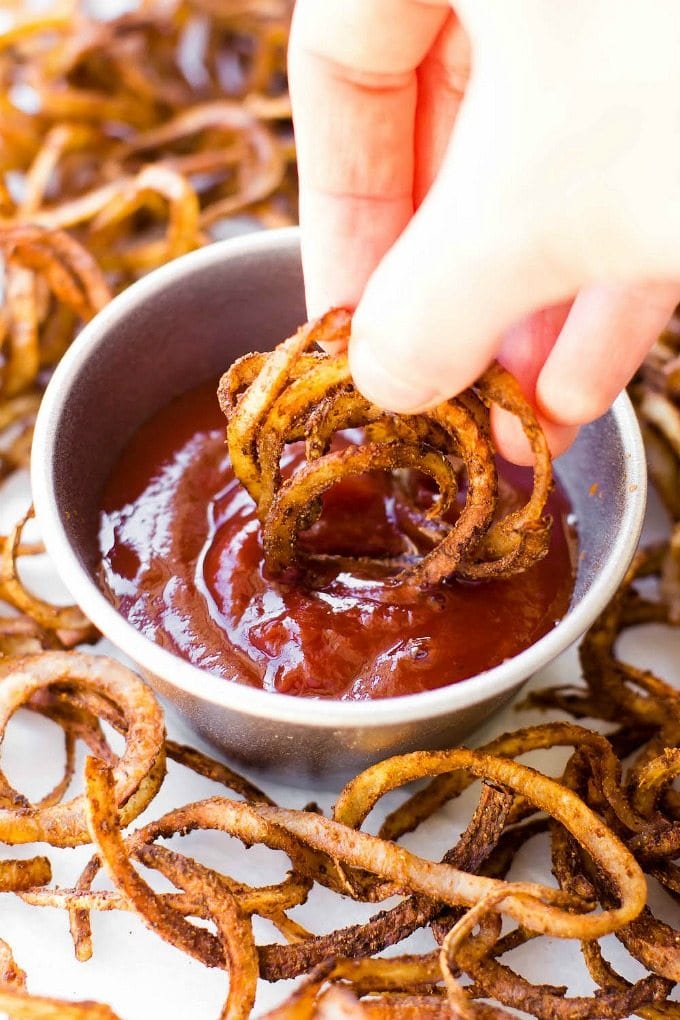 You can easily double or triple or 10x this recipe if you have an excessive amount of hungry people or potatoes on your hands. But the recipe is written in per-potato quantities because a) that is how much seasoning you need per potato for proper flavor and coverage of all those spiralized surfaces and b) one potato's worth of fries is all the more that should go on a single baking sheet so they have room to cook until crispy.
I have only tested this recipe with russet potatoes (and turnips, but that was a not-so-successful alternative starch path I do not recommend you venture down!), so if you use another variety the cook time may vary slightly due to differences in starch/water content. Same goes for swapping in sweet potatoes.
I was about to recommend that you eat them up quick while they are warm and crispy, because sitting-out-for-too-long fries = soggy fries. But considering how enticingly toasty they smell fresh out of the oven I don't think that will be a problem!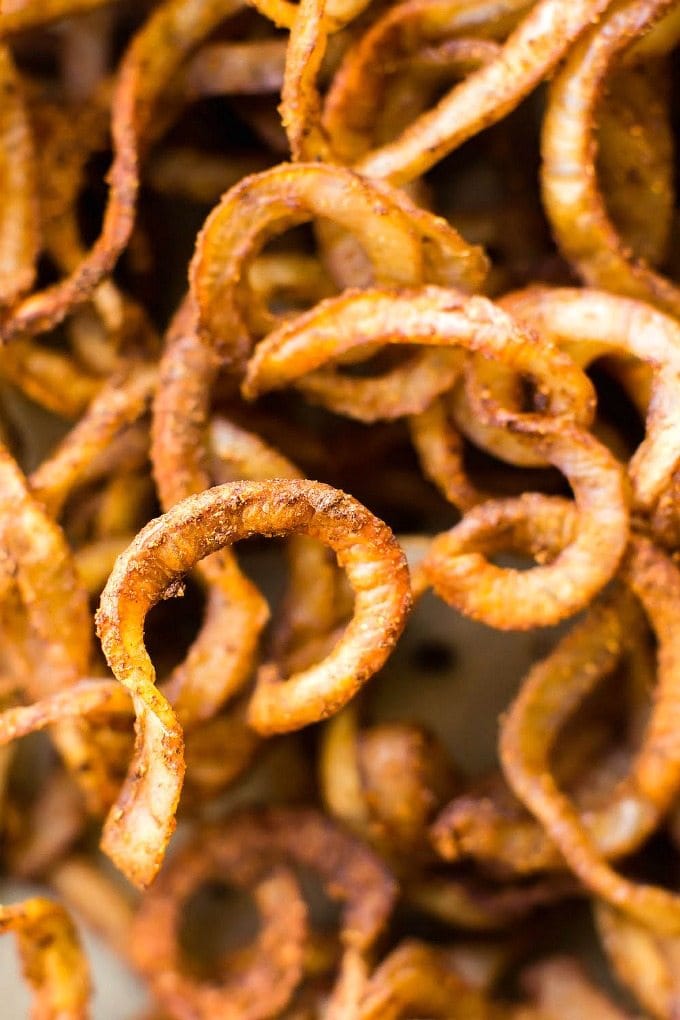 Let's get those potatoes peeled because these oil-free and fat-free healthy baked curly fries will be your new favorite!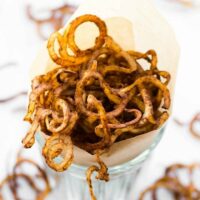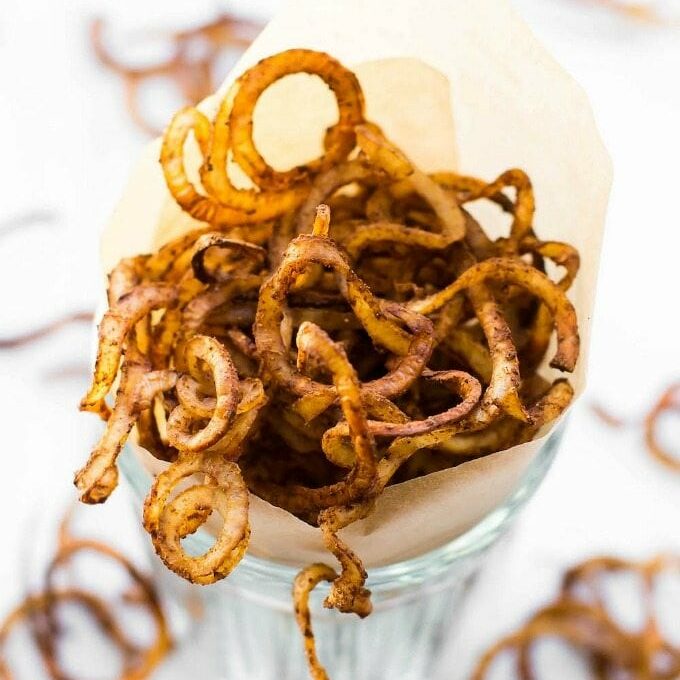 Healthy Oil-Free Baked Curly Fries
These healthy oil-free baked curly fries are easy, crispy and the perfect fat-free vegetable to enjoy guilt-free! Made with no oil, butter or any fats, these potatoes are completely whole30, paleo, vegan, gluten free and grain free!
Print
Rate
Ingredients
1

large

russet potato

1/4

teaspoon

sea salt

1/4

teaspoon

garlic powder

1/4

teaspoon

onion powder

2

teaspoon

smoked paprika
Instructions
Preheat the oven to 425F


In a small cup, mix together the salt, garlic powder, onion powder and paprika. Set aside.


Spiralize the potato into a large bowl. Use scissors to cut the strips into 6-8 inch lengths so they do not tangle and cook more evenly.


Sprinkle the seasoning on top of the potato pieces, tossing to coat them all evenly.


Spread the fries evenly out on a baking sheet lined with parchment paper. Do not overcrowd them.

Bake for 15 minutes at 425F.

Remove the pan from the oven and thoroughly flip/rearrange the fries so the less cooked/crispy ones have more space. Return to the oven for 10 minutes.

After 10 minutes, check the fries and remove the ones that are crispy and golden brown. Return any still soft ones to the oven for an additional 5-10 minutes.

Allow them to cool briefly, then enjoy plain or with whatever dipping sauce you like!

Nutrition
Serving:
1
serving
|
Calories:
153
kcal
|
Carbohydrates:
35
g
|
Protein:
4
g
|
Sodium:
302
mg
|
Potassium:
815
mg
|
Fiber:
3
g
|
Vitamin A:
985
IU
|
Vitamin C:
11
mg
|
Calcium:
24
mg
|
Iron:
2
mg
|
NET CARBS:
32
g
More delicious recipes by this charmer? Gotcha covered!
Cookies and Cream Blender Ice Cream
Thick and Fluffy Flourless Banana Smoothie Pancakes
2 Minute Flourless English Muffin
2 Ingredient Flourless Flatbread
Healthy Rocky Road Blender Ice Cream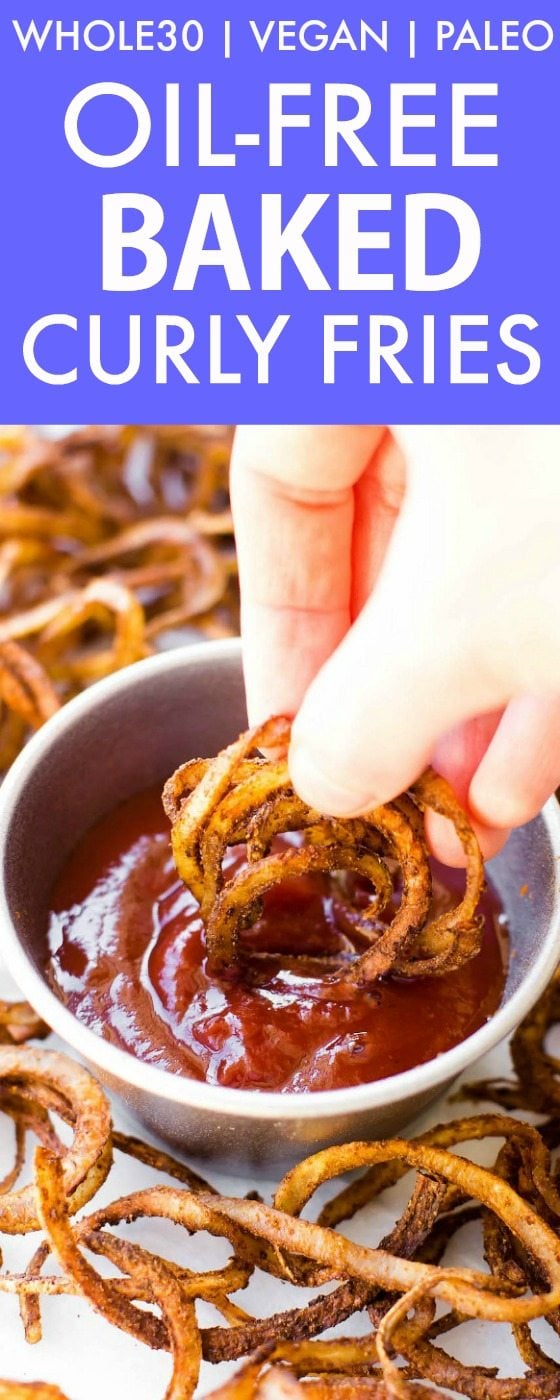 Friends, you'd be doing yourselves a favor by connecting with Natalie not just on her blog, but via social media- She can be found on Facebook, Twitter, Instagram, Youtube and Pinterest.
What is your favorite fast food fries? KFC!!!!
The Big Man's World is a participant in the Amazon Services LLC Associates Program, an affiliate advertising program. This means that if you click and make a purchase, TBMW receives a small commission, at no cost to you. Cheers, hugs, and handshakes for supporting TBMW!