How to make homemade oat flour (gluten-free, vegan, dairy-free)
Never buy store-bought expensive oat flour again- Learn how to make your own homemade oat flour in less than a minute! Cheap, easy and naturally vegan, gluten-free and dairy-free.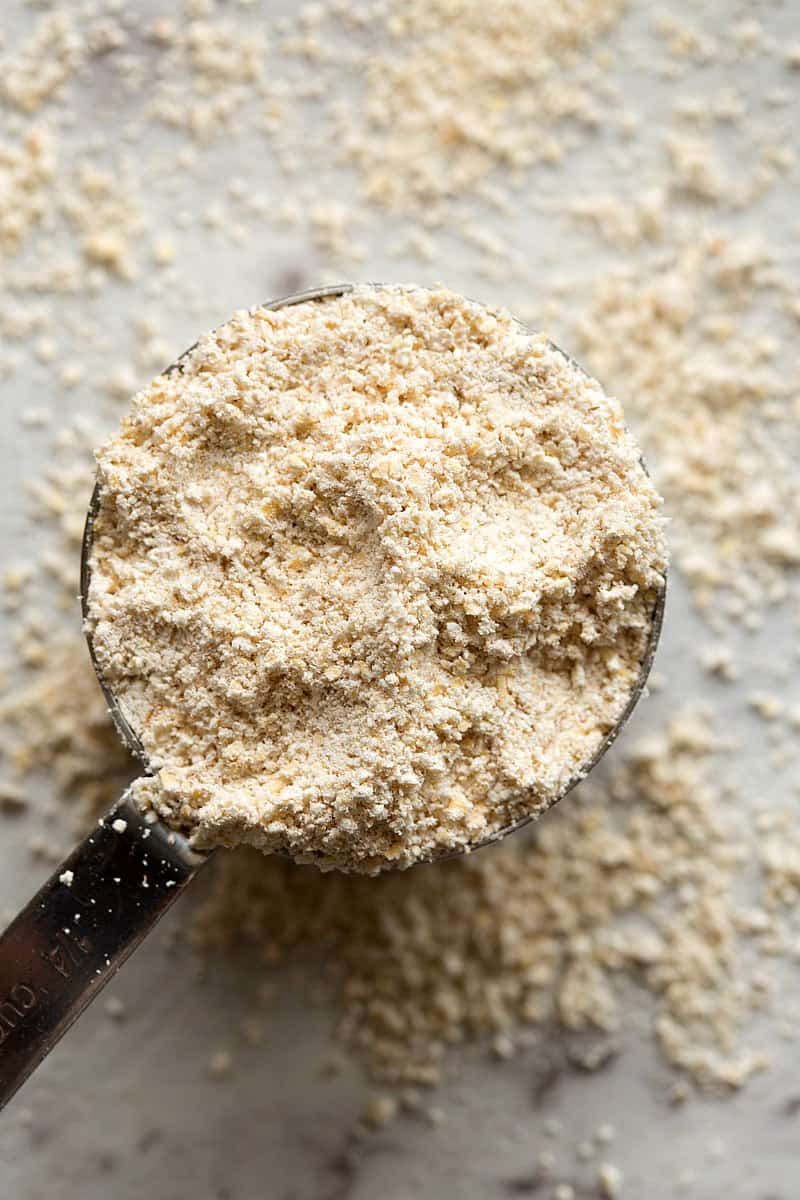 We are currently facing a flour shortage.
If there was one ingredient people would hoard, I'd never have thought it to be flour.
FLOUR!
Wholewheat flour, all-purpose flour, self-rising flour, all of them- There is definitely a lack of them on our supermarket shelves.
Even though flour is something I'd recommend to have as part of your pantry staple ingredients, it can be hard to come by!
Now, I don't want ANY of you to be missing out on cookies, brownies, muffins, and more- Just because you don't have flour doesn't mean you miss out…
You just make your own!
What is oat flour?
One of my most used ingredients isn't even a traditional flour like wholewheat or all-purpose- it is oat flour!
Oat flour is simply finely ground rolled oats which in turn, produces a flour-like consistency. It literally takes less than a minute to make, and all you need is one blender or food processor!
If you know what oat flour is and had purchased it before, STOP IT!
One package of store-bought oat flour costs around $6.00 per pound.
HOMEMADE oat flour? Less than 75 cents for a pound.
How to make homemade oat flour from scratch
Making your own oat flour is ridiculously simple and takes 30 seconds.
Step 1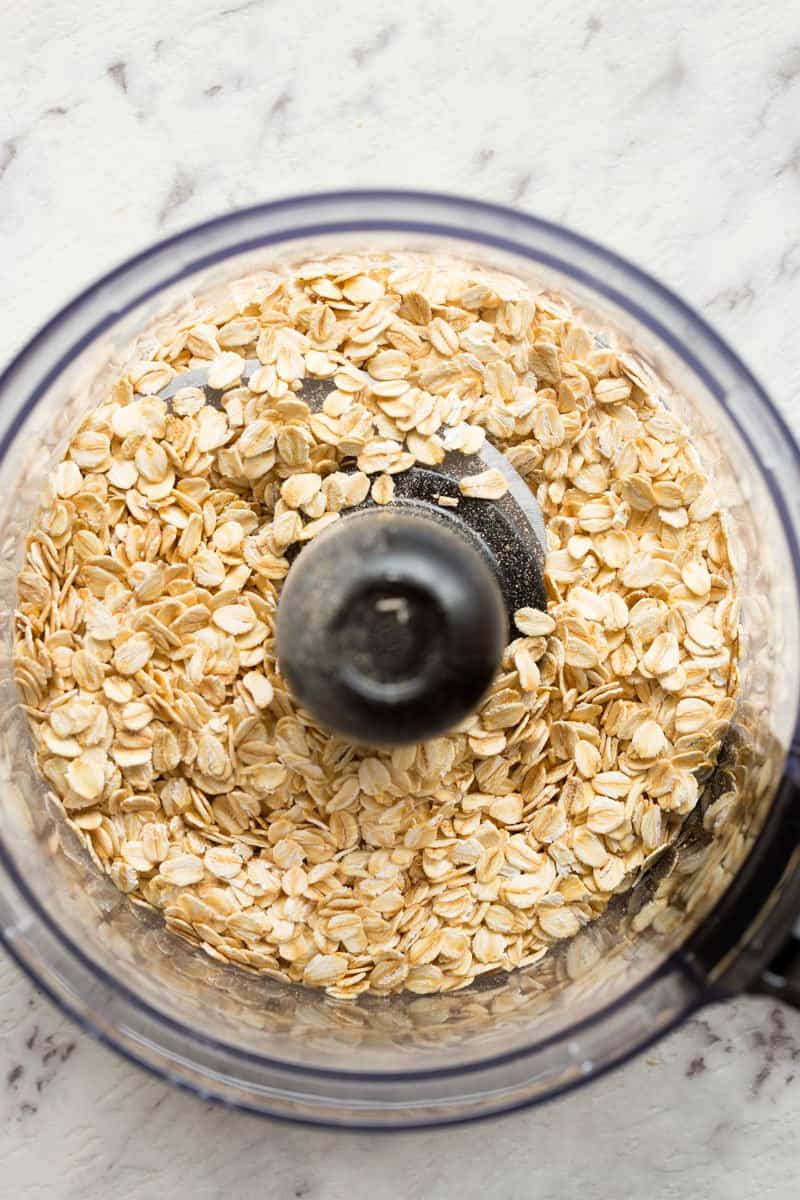 Place your rolled oats into a blender or food processor. I used a food processor, but actually prefer a blender, as they blend even quicker (so 15 seconds).
Step 2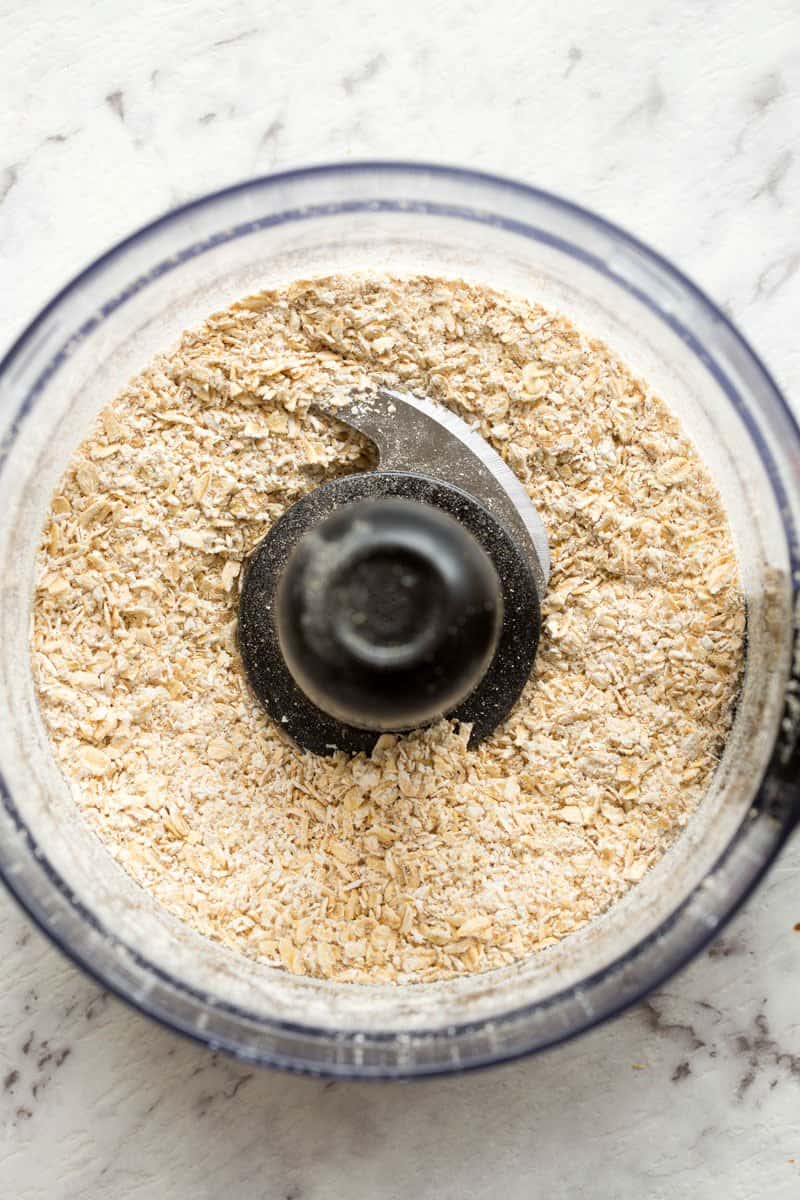 Blend your oats until roughly chopped. This will take roughly 10 seconds, as you want the oats to be nice and easy to blend.
Step 3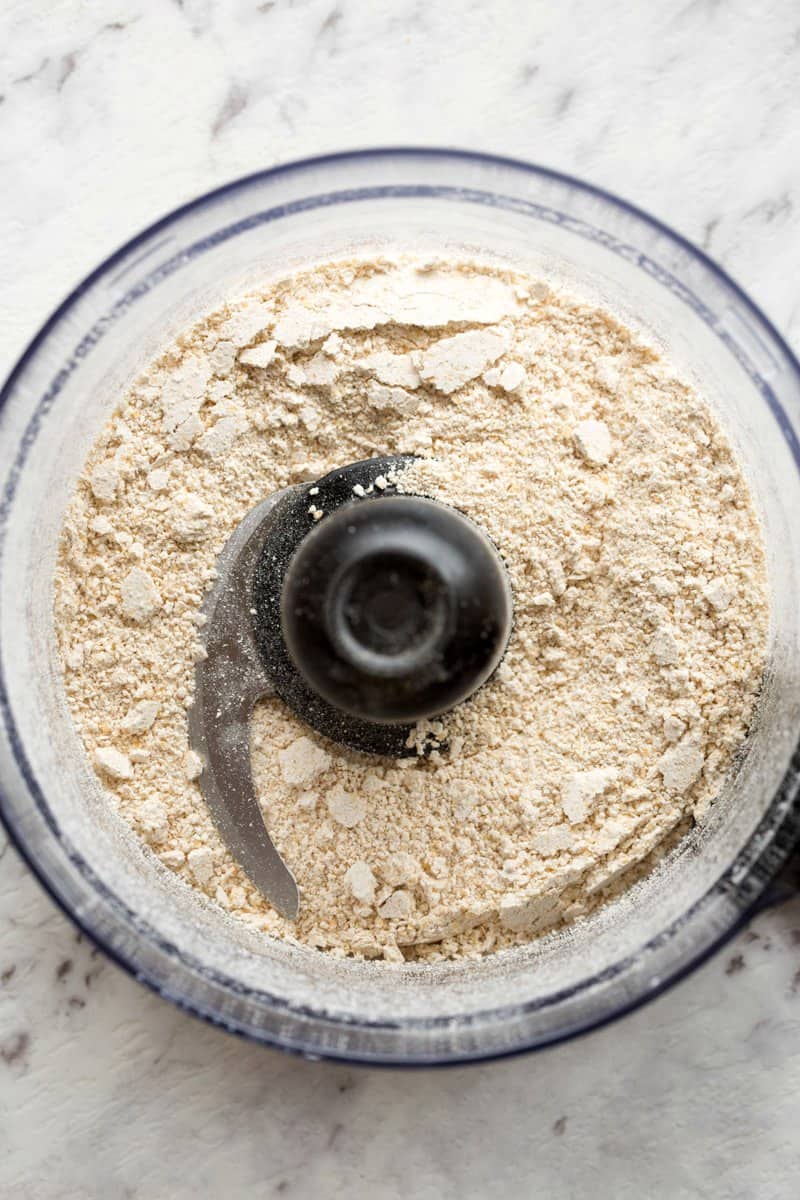 Blend your oats once again, until the chopped oats become even more finely ground! Transfer to a sealable container and think up ways to use it!
Frequently Asked Questions about Oat Flour
What kind of oats are best for oat flour?
You can use either rolled oats (old fashioned oats) or quick oats (instant oats). If you use quick oats, you will essentially skip the second step.
I prefer using the old fashioned oats, as I find recipes made with oat flour that STARTED out as rolled oats taste better.
Regardless of which kind you use, please make sure it is 100% unsweetened. E.g. you don't want to use flavored oats!
Can I use oat flour instead of all-purpose flour?
It depends on the recipe.
If taste and texture isn't an issue for you, you CAN technically swap out all-purpose flour for oat flour. where you will find trouble with is the texture- Oat flour can usually dry out baked goods easier than all-purpose flour, so you may need to add some extra liquid to compensate.
If a recipe calls for rolled oats ground into a flour, is it the same measurements?
When rolled oats are ground into a flour, it actually changes the proportions a fair bit.
For example, if you have one cup of rolled oats, you will generally yield around 3/4 cup of oat flour.
If your recipe calls for 1 cup of oat flour and you need to make oat flour from scratch, I'd recommend you blend 2 cups of rolled oats and then you can easily scoop out 1 cup worth from it.
Is oat flour better than white flour?
It depends!
Oat flour and white flour both yield different results for different baked goods.
Let's use a muffin as an example. If you prefer a super moist muffin with a gorgeous tender exterior, you'd most likely stick to white flour for the flour used.
If you prefer a muffin with loads of texture, chewy and soft and also satisfying for longer, I'd stick to oat flour.
Again, it really depends on the recipe.
BONUS- Oat flour is fabulous for no-bake recipes, as it doesn't need to be heat treated.
Is oatmeal and oat flour the same?
Oatmeal and oat flour are NOT the same.
Oatmeal is either rolled oats, quick oats, oat bran or steel-cut oats. They are all used in a variety of ways, most often mixed with milk or water to produce an instant cereal (of varying textures).
Oat flour is what remains when rolled oats or quick oats are blended to a flour-like consistency.
Oat flour nutrition
Compared to white or wheat flour, oat flour is far superior, nutritionally.
Oat flour contains more fiber, fewer carbs and higher amounts of protein.
White flour (per 1/4 cup)- 115 calories, 24 grams of carbs, 1 gram of fiber, 3 grams of protein.
Oat flour (per 1/4 cup)- 105 calories, 17 grams of carbs, 2 grams of fiber and 4 grams of protein.
Is oat flour gluten-free?
Provided you use gluten-free rolled oats, it IS 100% gluten-free.
While some may argue all rolled oats are gluten-free, I stick to brands that commit to being tested in a gluten-free environment.
What can I use oat flour for?
You can use oat flour for ANYTHING that traditional flour is used, and also plenty more.
Oat flour is fabulous in cookies, brownies, cakes, muffins, no-bake desserts, snacks and more! See below for some of my favorite recipes using oat flour!
BONUS– Oat flour is great for Flourless recipes!
How to store oat flour
Store oat flour at room temperature, in a jar or sealable container.
Oat flour will keep for at least 6 months, but I recommend making oat flour in small portions and using it regularly, to remain fresh.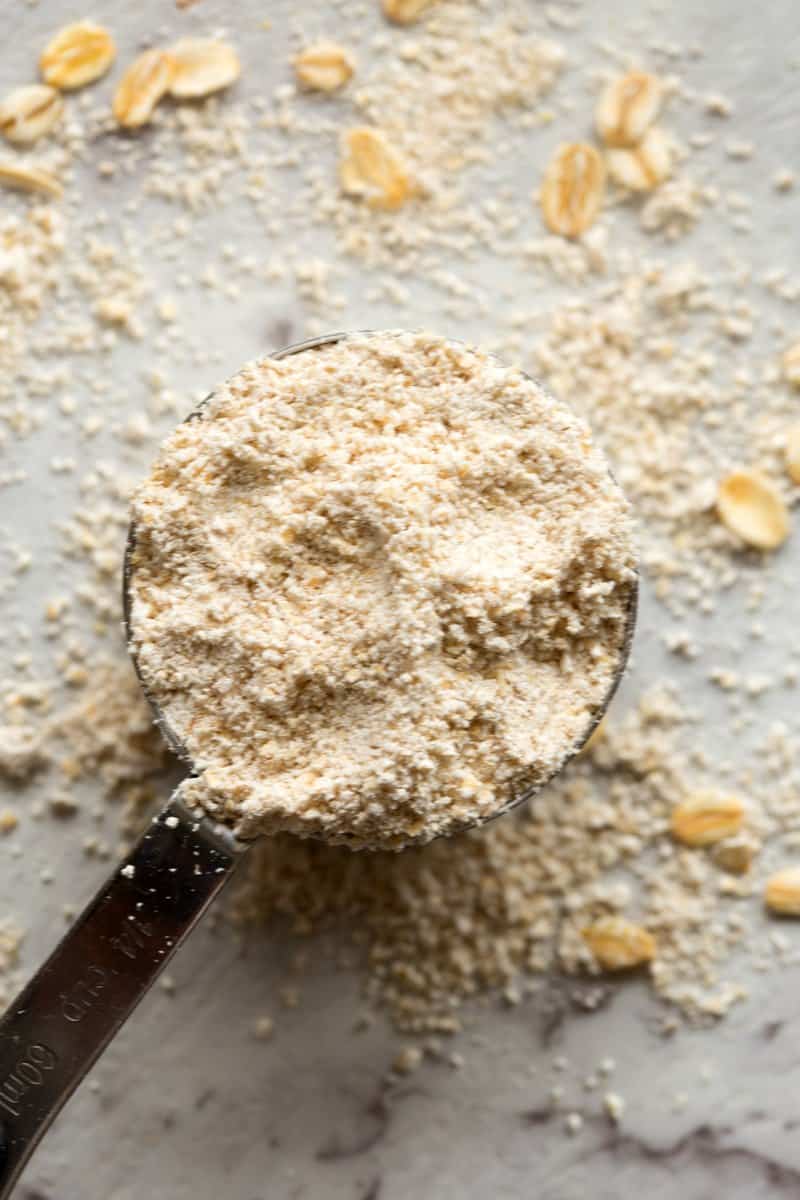 Recipes using oat flour
DESSERTS WITH OAT FLOUR
BREAKFASTS WITH OAT FLOUR
PANCAKES WITH OAT FLOUR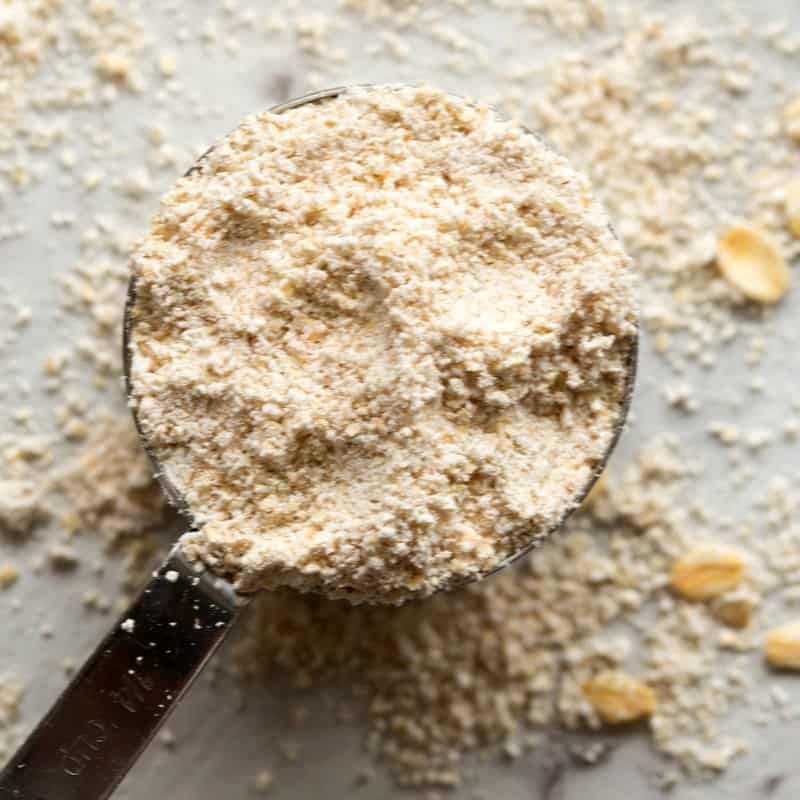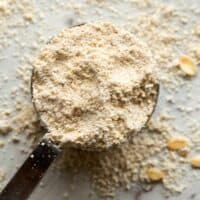 How to make oat flour
Learn how to make easy homemade oat flour in 30 seconds- Cheaper and better than store bought, it is completely vegan, gluten free and dairy free! Perfect to use in tons of oat flour and flourless recipes
Print
Rate
Instructions
In a high-speed blender or food processor, add your rolled oats

Blend for 15 seconds until oats are coarsely chopped. Blend once more until a fine, flour-like texture appears.

Transfer to a jar or sealable container.
Notes
Entire recipe makes 2 full cups of oat flour. Adjust accordingly.
Oat flour should be stored at room tempeture, in a sealable container, jar, or ziplock bag.
Key Recipe Equipment and Ingredients
Nutrition
Serving:
1
cups
|
Calories:
384
kcal
|
Carbohydrates:
69
g
|
Protein:
13
g
|
Fat:
7
g
|
Sodium:
6
mg
|
Potassium:
367
mg
|
Fiber:
10
g
|
Calcium:
53
mg
|
Iron:
4
mg
|
NET CARBS:
59
g