Learn how to make your own homemade oat flour in less than a minute and never buy store bought! All you need is 30 seconds and one ingredient!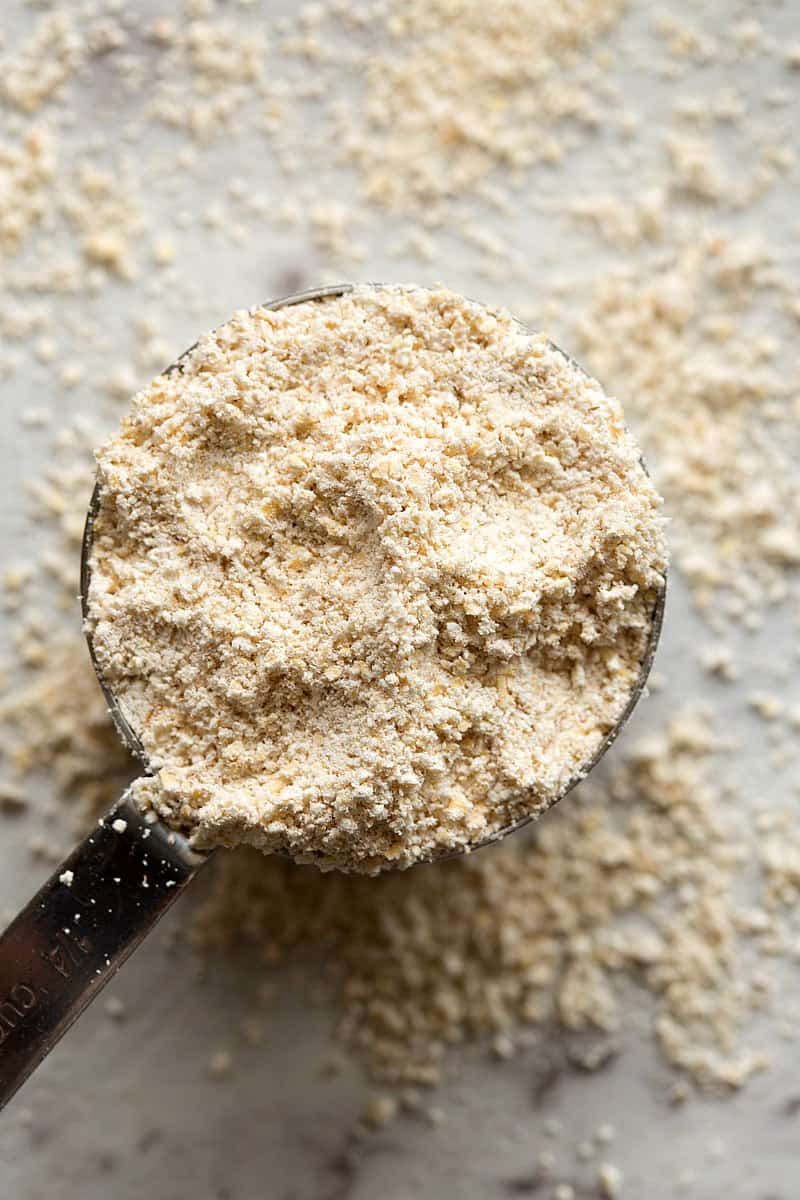 We love making our own pantry staple ingredients from scratch.
This includes flours. We've made almond flour, coconut flour, and even self rising flour. Our most-used flours, though, is the oat kind!
What is oat flour?
This flour is simply finely ground rolled oats which in turn, produces a flour-like consistency. It literally takes less than a minute to make, and all you need is one blender or food processor! 
It works in place of white or wheat flour in many recipes.
Benefits of oat flour
One ingredient. Either rolled oats or quick oats and that is it.
Cost effective. A package of store bought oat flour retails for close to $8 a package. When made using a 90 cent package of oats, it costs a fraction of that price.
A flour replacement. Instead of using white or wheat flour, try oat instead and you'll be pleasantly surprised.
Healthy. Compared to wheat based flour, the oat version has extra fiber, protein, and nutrients in it.
What we love about making our own oat flour is that it comes in handy whenever we run out of all other kinds of flour. I mean, we eat oats almost every single day so we've never run out of the option of turning it into flour!
What is oat flour made of?
As mentioned earlier, this recipe takes just one ingredient to make. Here is what you'll need:
Rolled Oats– Either gluten free oats or traditional oats. You can use quick cooking oats, but I find them to lack the added texture.
How to make it
Making this recipe takes less than a minute and yields fluffy and ready-to-use flour. Ready to whip some up?
Step 1- Blend the oats
Start by placing your rolled oats into a blender or food processor. Next, blend your oats until roughly chopped. This will take roughly 10 seconds, as you want the oats to be nice and easy to blend. Blend your oats once again, until the chopped oats become even more finely ground.
Step 2- store the flour
Finally, Transfer to a sealable container and think up ways to use it!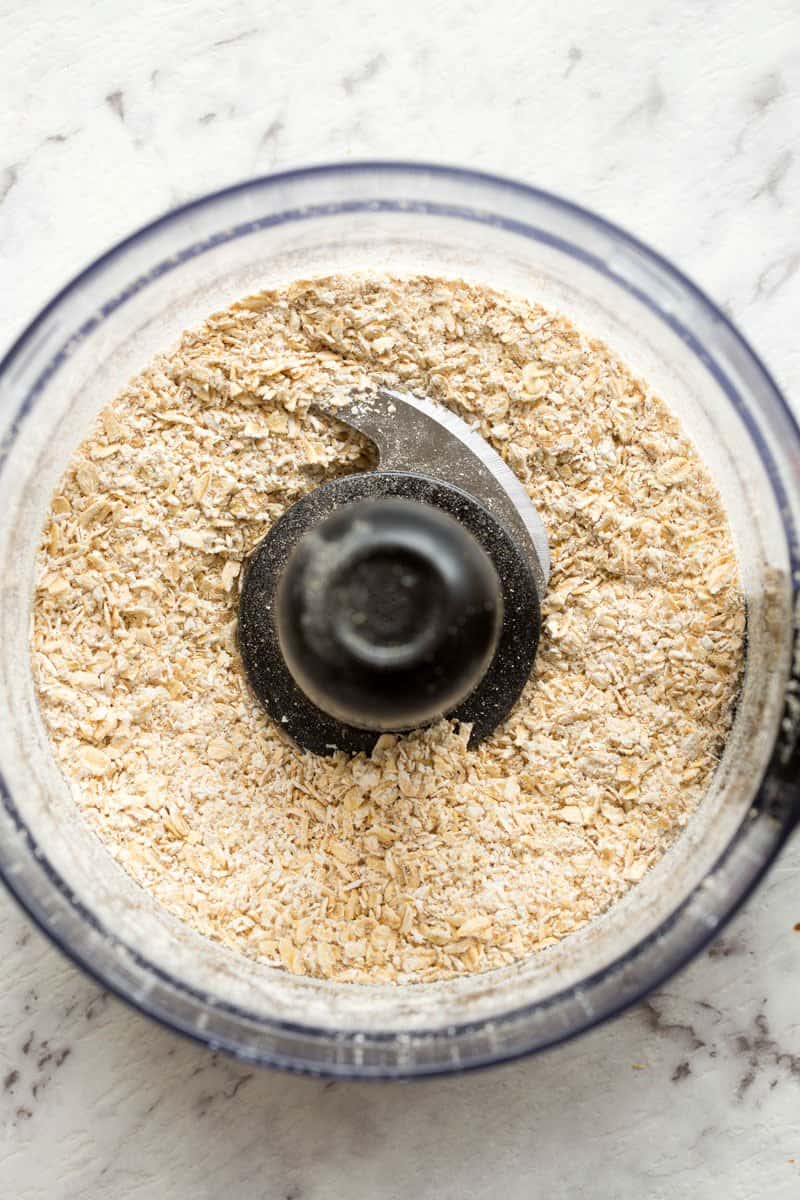 Calories and nutrition
Compared to white or wheat flour, this one is far superior, nutritionally.
This flour contains more fiber, fewer carbs and higher amounts of protein.
Per 1/4 cup serving, there are 105 calories, 17 grams of carbs, 2 grams of fiber, and 4 grams of protein.
Is this gluten-free? 
Provided you use gluten-free rolled oats, it IS 100% gluten-free.
While some may argue all rolled oats are gluten-free, I stick to brands that commit to being tested in a gluten-free environment.
Storing and freezing instructions
To store: Leftovers should be stored in a sealable container, at room temperature. It will keep fresh for up to 6 months.
To freeze: Place flour in a ziplock bag and store in the freezer for up to 6 months.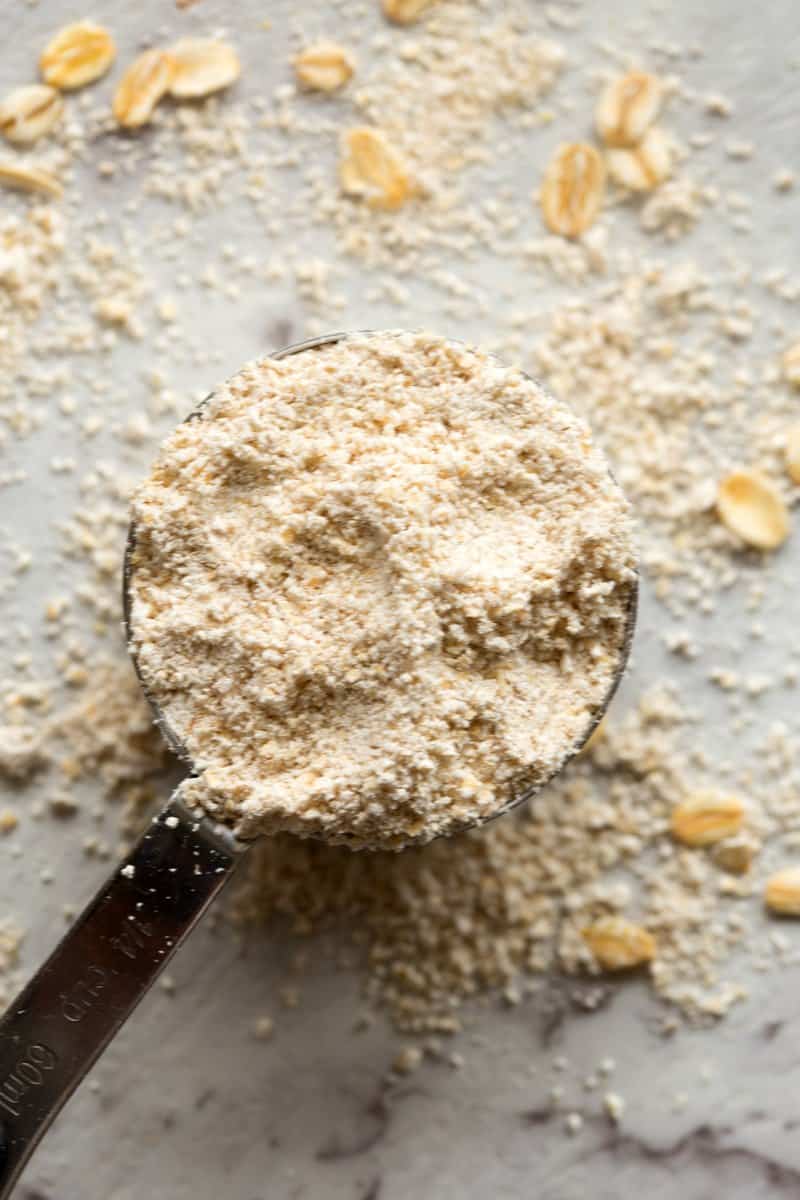 Ways to use it
Frequently Asked Questions
Can you use this flour like regular flour?
If taste and texture isn't an issue for you, you CAN technically swap out all-purpose flour for oat flour. where you will find trouble with is the texture- Oat flour can usually dry out baked goods easier than all-purpose flour, so you may need to add some extra liquid to compensate. 
Is this good for baking?
Compared to other flours, the oat version is a fantastic option to use in baking. It yields a more tender crumb and a heartier texture.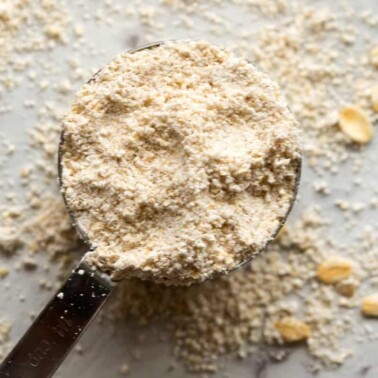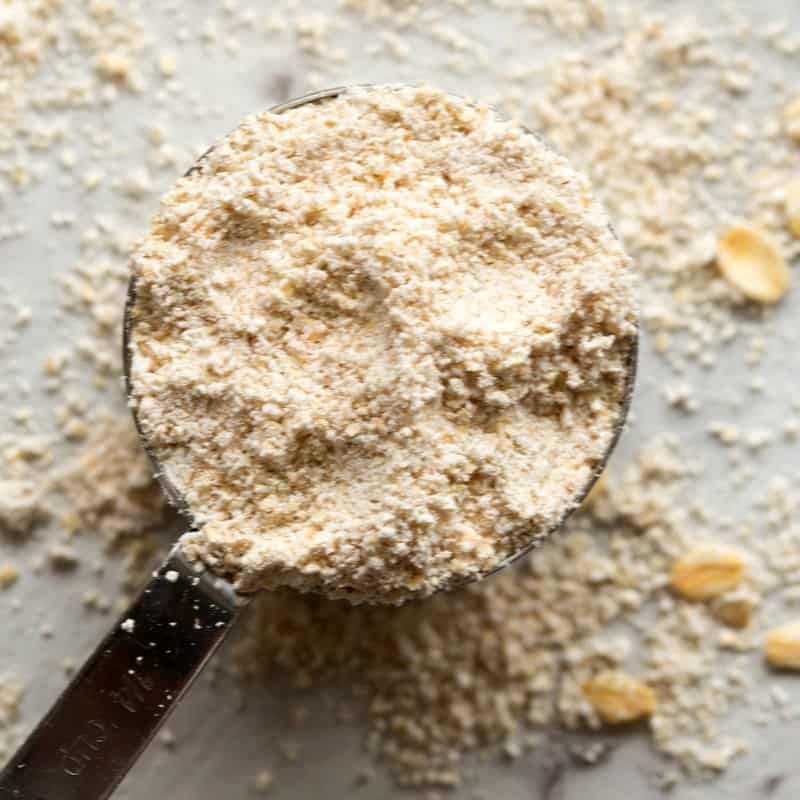 Oat Flour In 30 Seconds | Just 1 Ingredient
Learn how to make oat flour in 30 seconds! Made with just one ingredient, it's a fabulous replacement for wheat and white flour!
Instructions
In a high-speed blender or food processor, add your rolled oats

Blend for 15 seconds until oats are coarsely chopped. Blend once more until a fine, flour-like texture appears.

Transfer to a jar or sealable container.
Notes
TO STORE: Leftovers should be stored in a sealable container, at room temperature. It will keep fresh for up to 6 months. TO FREEZE: Place flour in a ziplock bag and store in the freezer for up to 6 months.
Nutrition
Serving:
1
serving
Calories:
192
kcal
Carbohydrates:
34
g
Protein:
7
g
Fat:
3
g
Sodium:
3
mg
Potassium:
183
mg
Fiber:
5
g
Calcium:
26
mg
Iron:
2
mg
NET CARBS:
29
g
Disclosure: This post may contain affiliate links. I may earn a small commission for my endorsement, recommendation, testimonial, and/or link to any products or services from this website.