This protein cheesecake is rich and creamy, and can pack in over 30 grams of protein per serving! It's a healthy and easy dessert recipe that comes together in no time!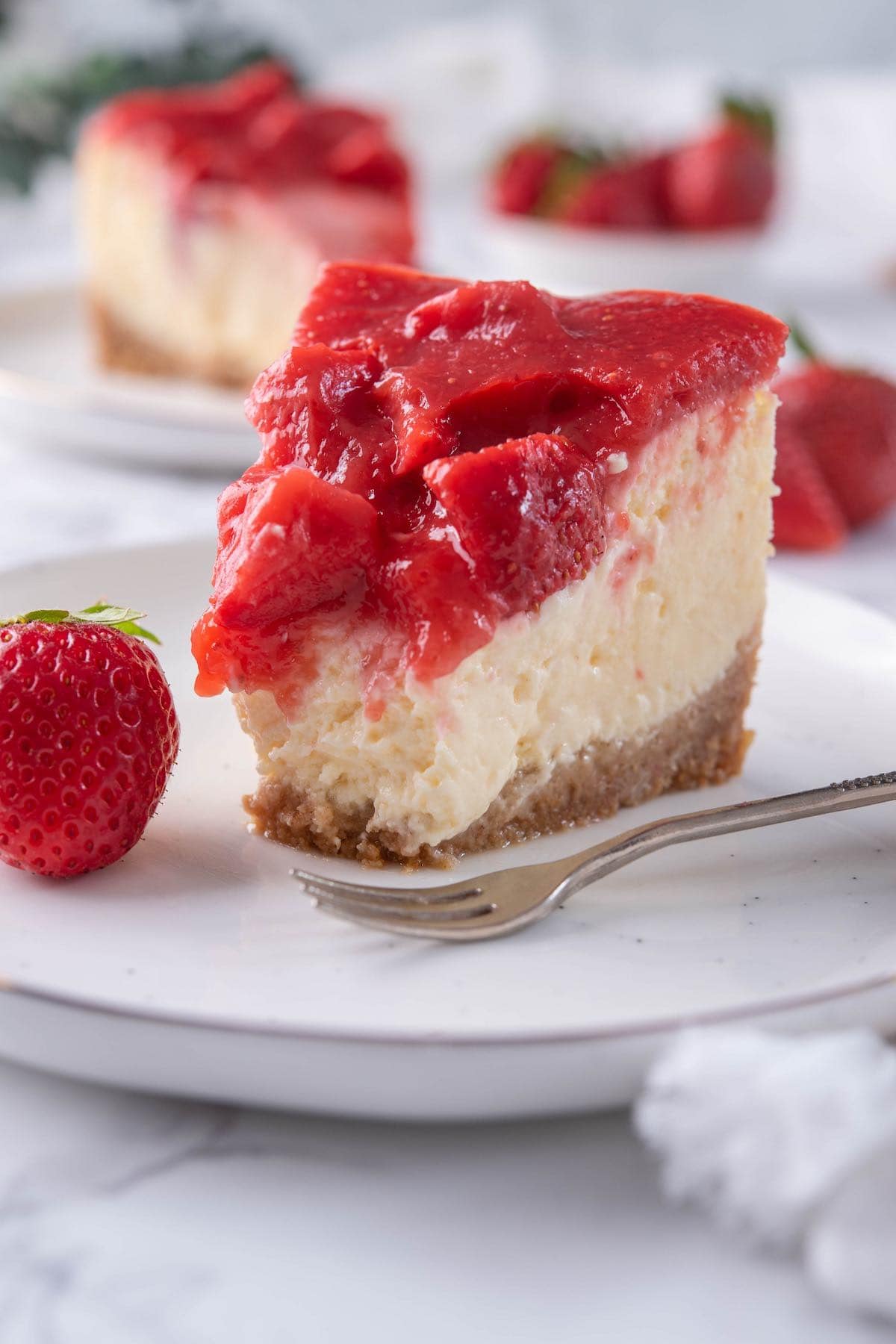 You've come to the right place.
Gone are the days of protein being reserved for shakes, waffles, or oatmeal. Sure, they are a fast and easy way to amp up the protein but we have a new food group where you can hit your protein goals too- desserts, especially cheesecakes!
Table of Contents
The best protein cheesecake recipe
Yes, protein and cheesecake can belong in the same sentence. Classic cheesecake ingredients like cream cheese and yogurt are both already higher in protein and with a few tweaks, this classic dessert is a protein powerhouse!
This protein cheesecake recipe is rich, creamy, and will have you falling in love with it!
Protein powder is optional. Most protein cheesecake recipes call for protein powder in them but in this one, it's totally optional!
Easy to make. Just like my other cheesecake recipes, this one is a cinch to make.
Crustless option. If you don't want to make a crust or buy one, why not make this sans crust? It tastes just as delicious and let's face it- the filling is the best part.
Tastes like real cheesecake. Similar to our healthy cheesecake, just because it uses healthier ingredients, it does NOT sacrifice taste.
This recipe uses classic cheesecake ingredients but with a few simple swaps that adds extra protein and nutrients. Here is what you'll need:
Greek yogurt. Either non-fat or regular Greek yogurt work. I like using non-fat yogurt as it contains extra protein.
Cream cheese. Softened to room temperature. Keep your eyes peeled for protein-enriched cream cheeses which are now becoming readily available at many grocery stores. These contain twice as much protein as the standard kind.
Eggs. Room temperature.
Substitution idea
Allergic to eggs? Try making this with an egg substitute.
Sugar OR substitute. Any granulated sweetener works. I like to use white sugar but when I'm keeping the sugar and the calories down, I like to use allulose.
Cornstarch. Thickens the cheesecake filling.
Vanilla extract. A must for any good cheesecake.
Salt.
Crust. I like to make a cookie crust using actual protein cookies in them, but you can use a store-bought crust or keep it crustless.
For the strawberry topping
Strawberries. Fresh or frozen.
Cornstarch. Thickens the sauce so it sticks to the cheesecake.
Sugar OR substitute. Again, either white sugar or a zero calorie sweetener like allulose.
Protein powder. Optional, but if you want a greater protein boost, add 1/2 cup of your favorite protein powder.
How to make a protein cheesecake
Step 1- Prep the crust
If you choose to make a crust, prep one that is enough to fit a 9-inch pie pan. You can also use a store bought kind or keep the cheesecake crustless.
Step 2- Make the filling
In a mixing bowl, add the cream cheese and beat until fluffy. Slowly add the yogurt, then the sugar and vanilla extract. Gradually add the cornstarch to prevent clumps from appearing.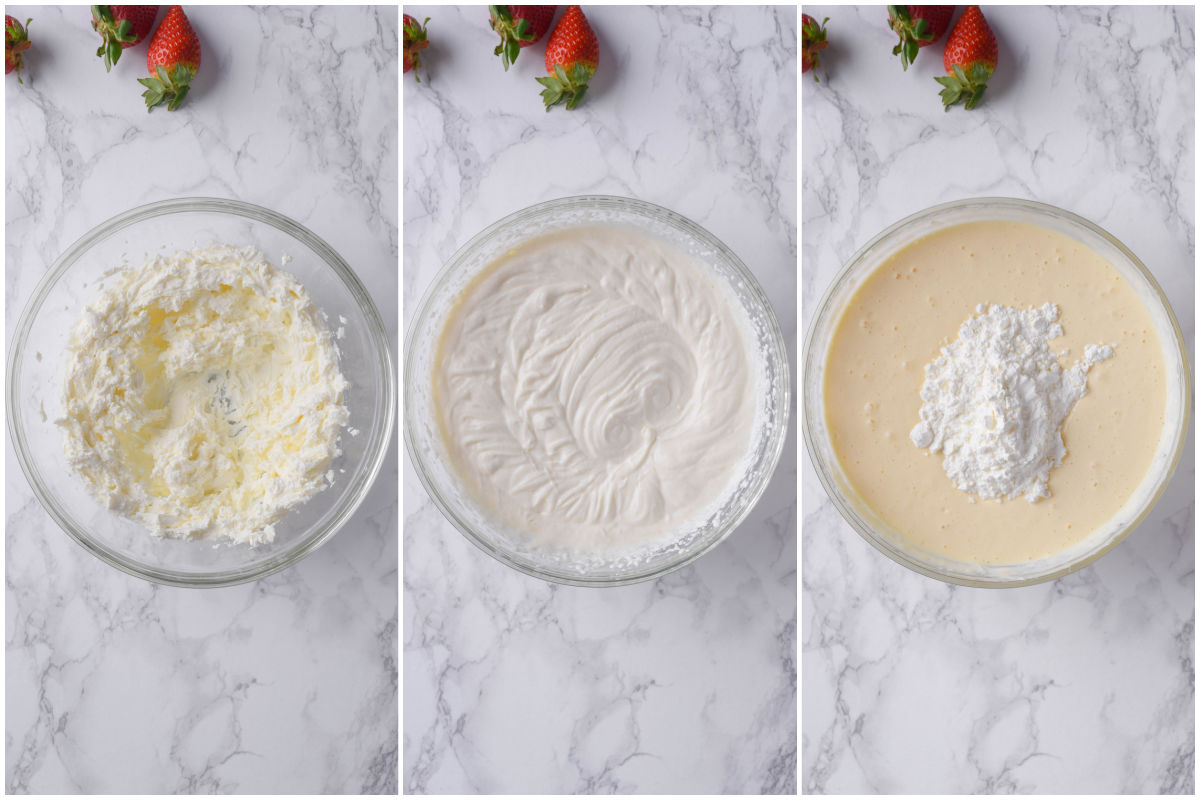 Step 3- Bake the cheesecake
Transfer the cheesecake filling to the crust and bake for 60 minutes or until the edges are set.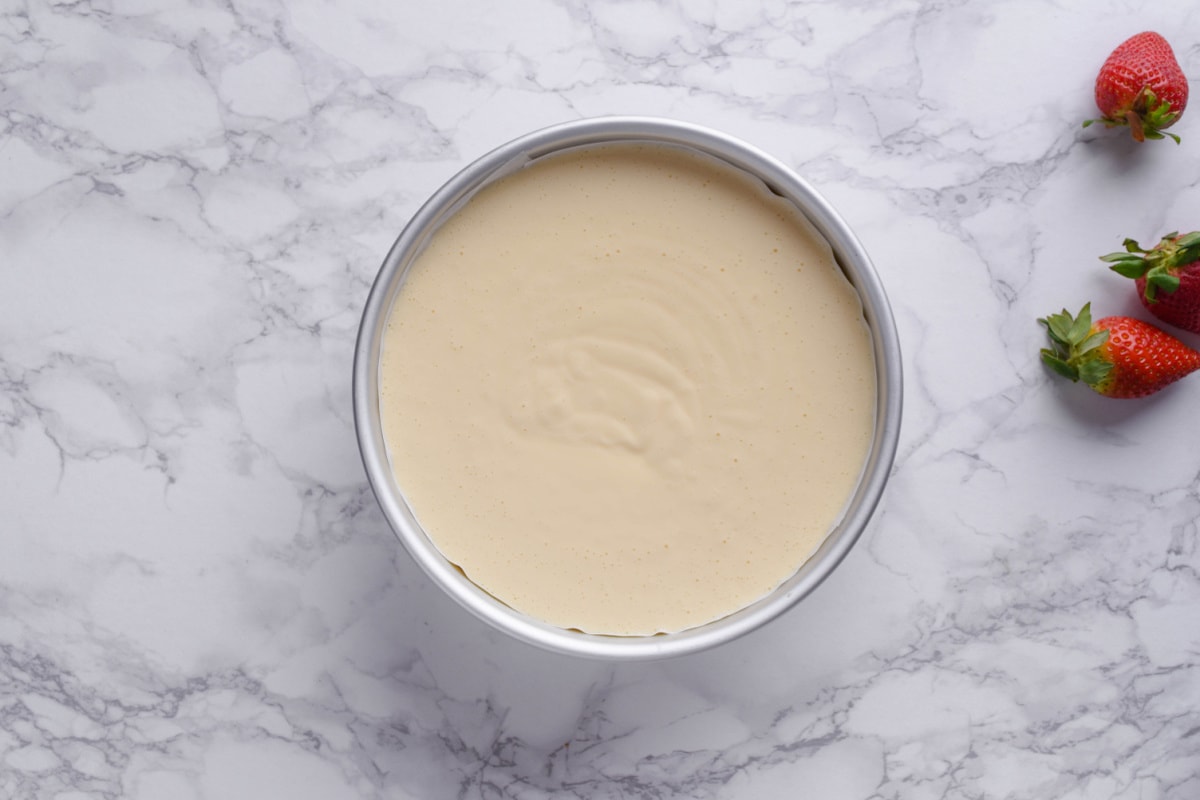 Step 4- Make the topping
Blend around half the strawberries until smooth. Add the cornstarch then transfer into a small saucepan, along with the sugar. Heat the mixture over low heat until it thickens. Fold through the remaining strawberries.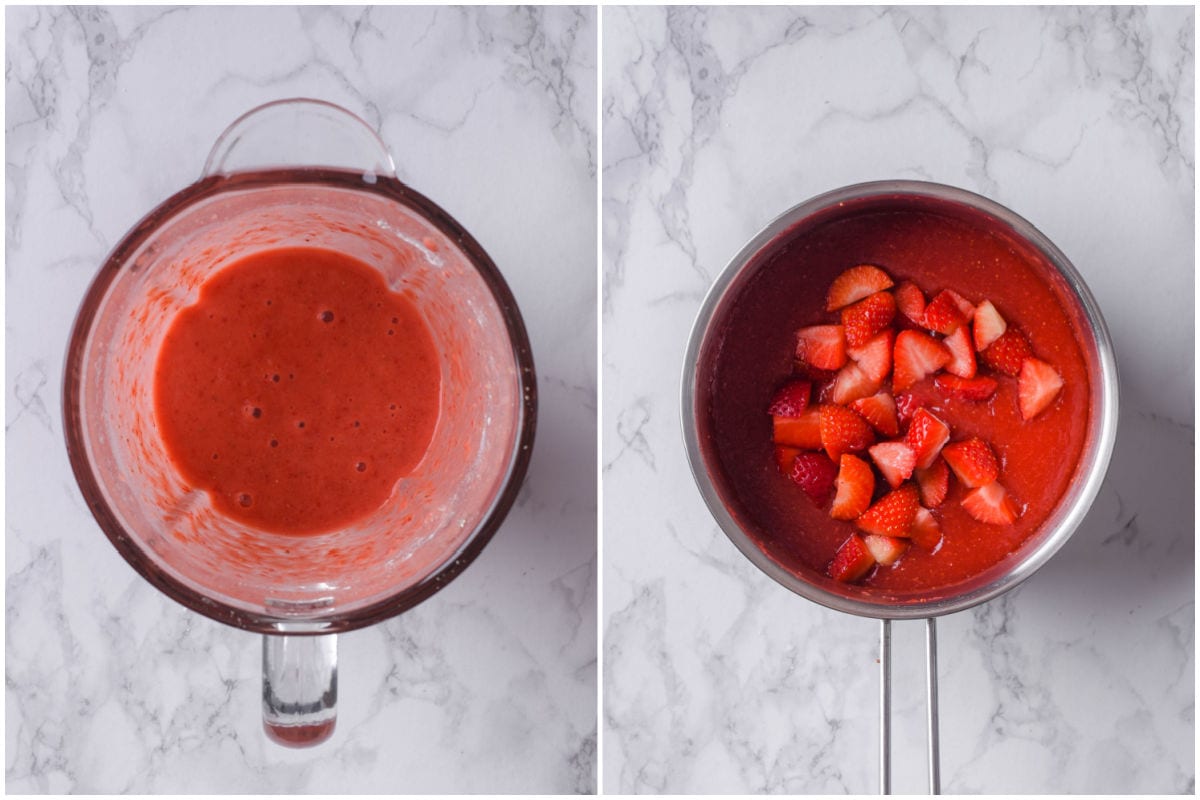 Step 5- Assemble
Spread the strawberry topping over the cheesecake and refrigerate until the topping has cooled down.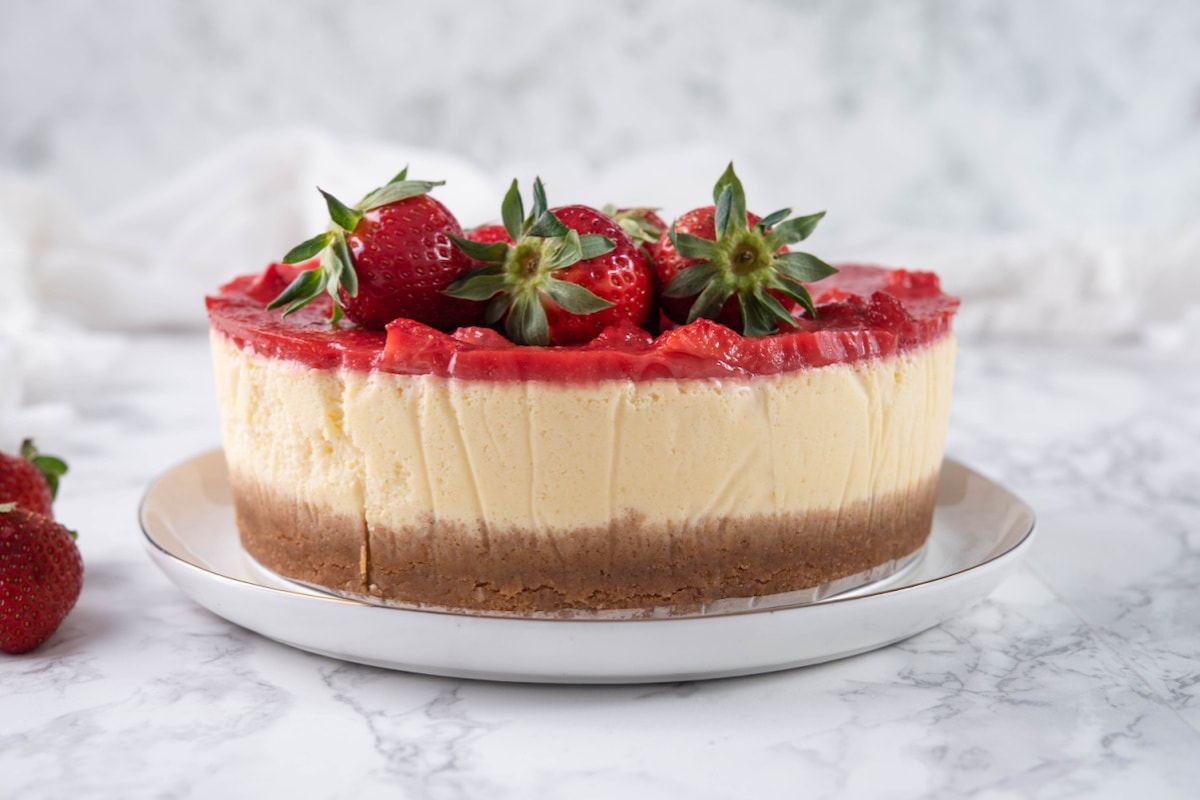 Keep an eye on the cheesecake as it bakes. If the middle continues to be a little too soft, cook it a little longer. Once it is firm to touch, it's fine to remove from the oven.
Always use room temperature yogurt and cream cheese, as it will yield a creamier cheesecake.
The topping is completely optional. The cheesecake tastes just as good on its own.
How to add even more protein?
Each slice of this cheesecake packs in around 12 grams of protein. However, you have the option to add even more protein to it.
Fold 1/2 cup of protein powder into the cheesecake filling. This will take up the cheesecake to having 30 grams per slice.
Make a protein frosting to top the cheesecake with. Whisk together non-fat Greek yogurt with protein powder and a touch of maple syrup or honey. Thin it out with more yogurt as needed.
Swap out half the Greek yogurt for equal parts of non-fat cottage cheese. Be sure to blend it completely first or else there will be clumps.
Drizzle peanut or almond butter over the top.
To store: Leftovers can be stored in the refrigerator, covered, for up to one week.
To freeze: Place the baked and cooled cheesecake in a shallow container and store it in the freezer for up to 6 months.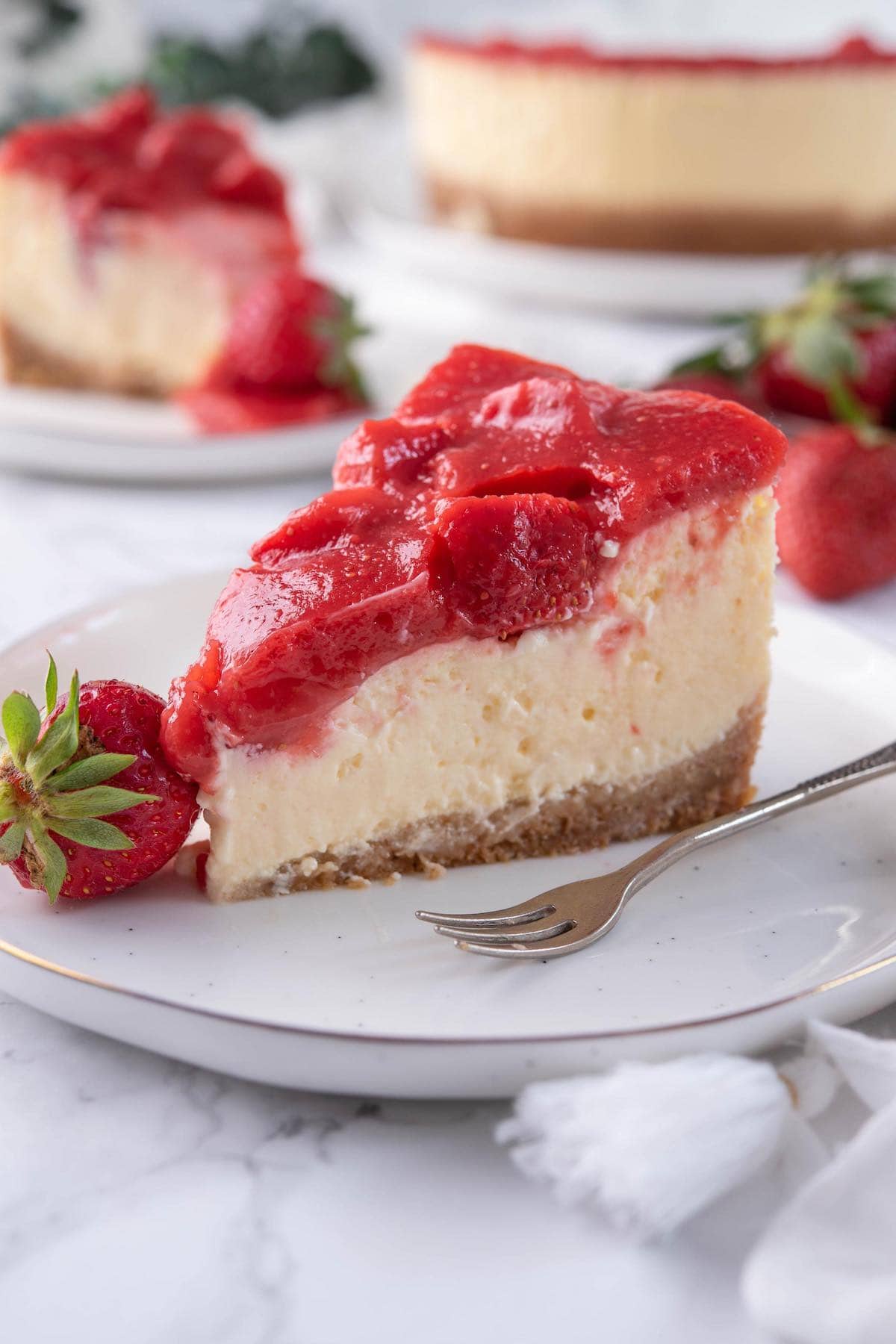 More protein dessert recipes to try
How many calories are in protein cheesecake?
Is this recipe gluten-free?
If you use a gluten free crust or make this crustless, this recipe is suitable for celiacs.
Can I make this cheesecake vegan?
Replace the yogurt and cream cheese with dairy free counterparts.
Can I make this crustless?
Yes, you can bake this as a crustless protein cheesecake. Bake the filling in a glass baking dish for 45-50 minutes, until the edges are slightly golden.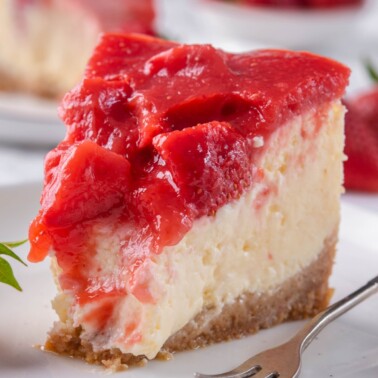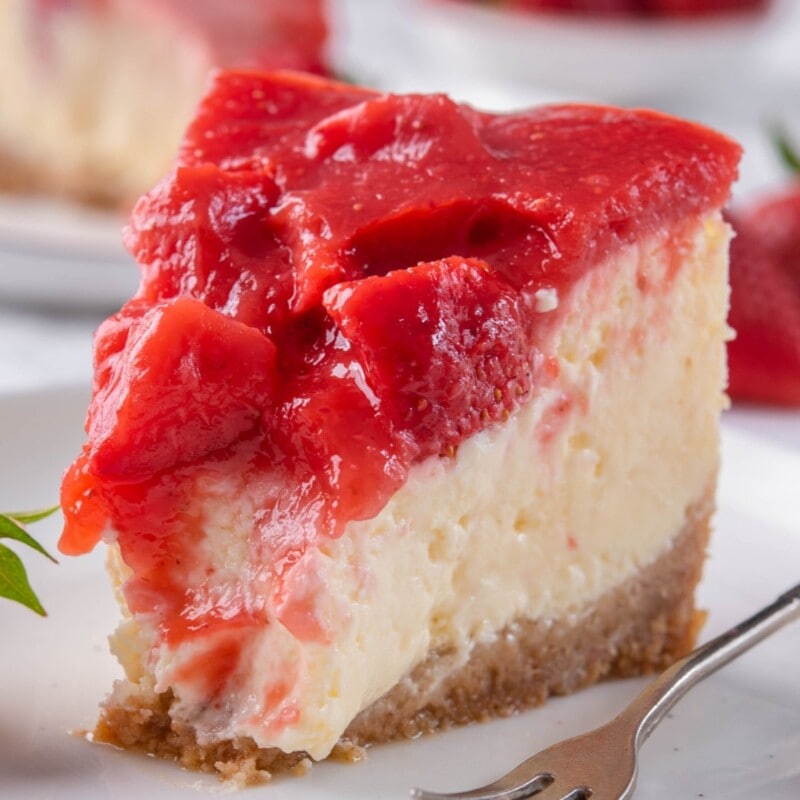 Protein Cheesecake
This protein cheesecake is rich and creamy and packs in up to 30 grams of protein per slice! It's a simple recipe that works with or without protein powder.
Instructions
Preheat the oven to 160C/320F. Grease a 9-inch pie pan or springform cake pan.

To make the crust, crush up your protein cookies and measure out 1 3/4 cups of it and place it in a bowl. Add the melted butter and mix until combined. Transfer to the pan and press down into it.

In a mixing bowl, beat the cream cheese until smooth and fluffy. Add the yogurt, then the sugar, then the vanilla extract. Gradually stir through the cornstarch, ensuring there are no clumps.

Transfer the cheesecake mixture to the prepared crust and bake for 60-70 minutes, or until the edges are set.

Once the cheesecake is baked, allow it to cool completely.

In a food processor or blender, add 2 cups of the strawberries with cornstarch and blend until smooth. Transfer to a small saucepan and add the sugar. Cook over medium heat for around 15 minutes, until thick.

Remove from the heat and add the remaining chopped strawberries. Let the mixture cool.

Spread over the cheesecake and refrigerate it until it sets.
Notes
* I used a protein cream cheese which has twice the amount of protein as regular cream cheese.
** The protein powder is completely optional. When made without it, each slice of cheesecake has 19 grams of protein. When made with it, each slice will have around 30 grams of protein.
Nutrition
Serving:
1
slice
Calories:
195
kcal
Carbohydrates:
15
g
Protein:
19
g
Fat:
10
g
Sodium:
225
mg
Potassium:
253
mg
Fiber:
1
g
Vitamin A:
423
IU
Vitamin C:
21
mg
Calcium:
132
mg
Iron:
1
mg
NET CARBS:
14
g
Disclosure: This post may contain affiliate links. I may earn a small commission for my endorsement, recommendation, testimonial, and/or link to any products or services from this website.