These 3 Ingredient Keto Almond Butter Cups are an easy, homemade three ingredient healthy dessert or snack which is low carb, dairy-free and gluten-free. A foolproof fat bomb recipe to keep you satisfied and hunger at bay! Paleo, Vegan, Gluten Free,
A satisfying snack or dessert which is deceptively filling and takes less than 5 minutes to prepare? These keto friendly almond butter cups (or to some, almond butter fat bombs!) are your answer.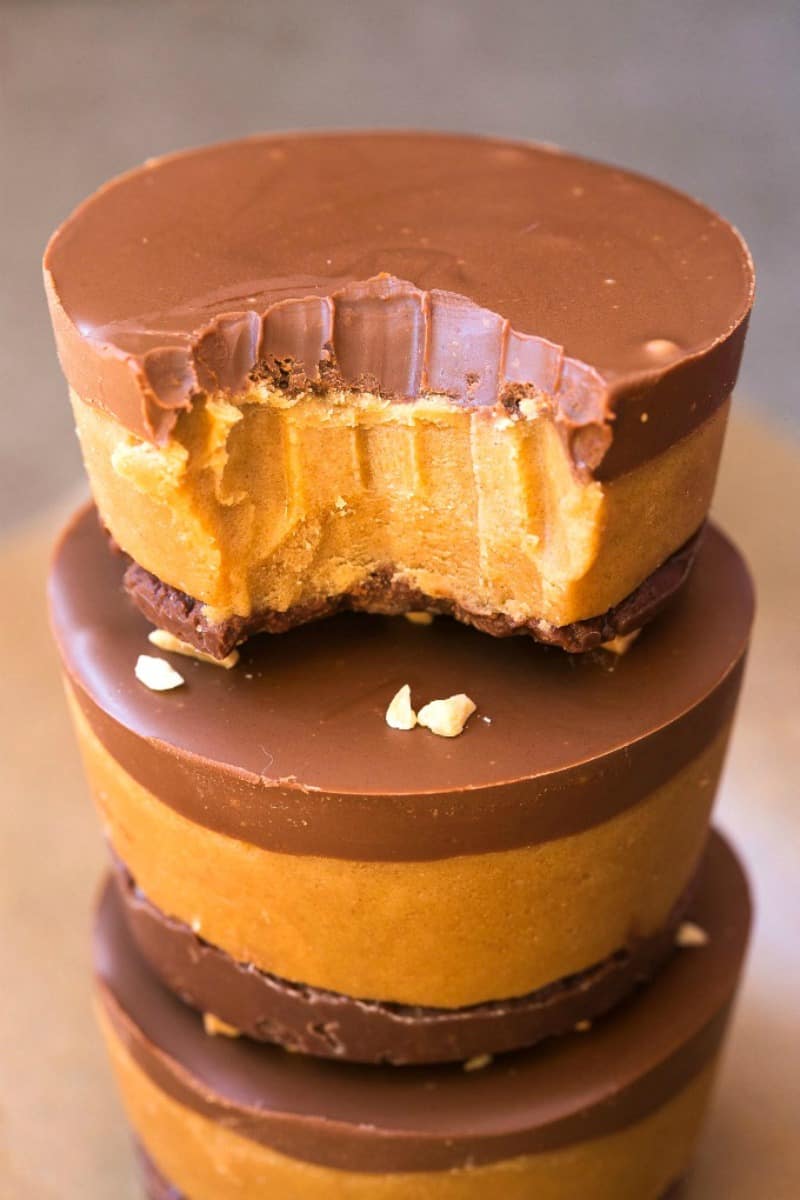 As someone who goes through almond butter like its going out of style, I'm surprised that I'm yet to share a recipe where it is the ultimate star of the show. These Keto Almond Butter Cups have just rectified that.
I use almond butter in many of my recipes, more than the more popular peanut butter. Using the former provides a creamy and satisfying texture, without being overpowering. I use it in no-bake protein bars, cookies, and in super fluffy muffins.
Like the coconut based keto cups, more and more health food stores and supermarkets are selling almond butter keto fudge cups.
Similarly, the price of these cups is on par- VERY EXPENSIVE. As such, this easy recipe will prove you can easily make your own and in no time at all. Besides, this homemade version ensures you know exactly what goes in them too!
Let's quickly talk taste and texture of these almond butter cups cups.
You guys, these are seriously satisfying. They are fudgy, smooth, creamy and slightly sweet. They have a sweet, almond flavor, without being overpowering!
How to make almond butter cups
Besides two very minor ingredients, these fudge cups are pretty much solely made of almond butter. An easy, three-step process–
Melt your almond butter and coconut oil together and mix until combined.
Add the desired level of sweetness
Transfer to lined muffin tin or pan and refrigerate or freeze until firm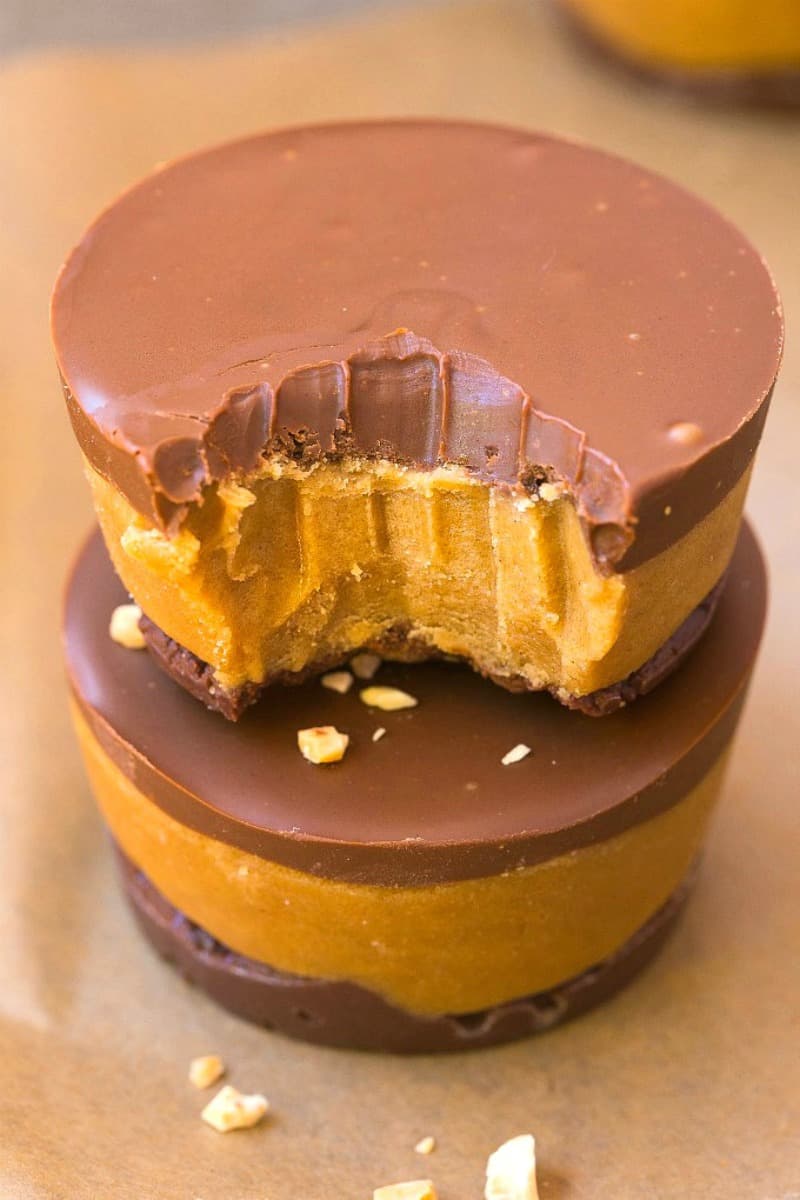 Almond Butter Cup Ingredients (and substitutions!)
Almond Butter
Coconut Oil
Liquid Sweetener
Chocolate (optional!)
Homemade Almond Butter
As someone who uses almond butter in a plethora of my recipes, buying store bought almond butter became a little too costly. Instead, I make my own, which is ridiculously simple if you have a good quality blender or food processor.
Making homemade almond butter needs just 1 ingredient- Almonds! However, the kind of almonds can really affect the final taste and texture.
Raw unsalted almonds- A more nutty flavor, more natural sweetness and generally lighter in color.
Oven roasted or toasted almonds- A delicious prominent flavor, more savory tasting and a little darker in color.
Flavored roasted almonds- These will make this recipe not keto-friendly, but you can use flavored almonds like cocoa roasted or cinnamon sugar.
Store Bought Almond Butter
Not all store-bought almond butter yield the same flavors or textures. Some are super crunchy and others are a little too sweet or salty. For these keto almond butter cups, as long as it is a drippy kind (smooth, mixes well when a spoon is inserted into the jar), it will work beautifully.
Personally, I love this almond butter, as it is super drippy and creamy. If you prefer one which is a little sweeter, I can vouch for this maple almond butter.
Keto Friendly Sweeteners
There are a handful of sweeteners you can use for these cups. I wanted to also keep them paleo and vegan-friendly, so stuck to two favorites-
Liquid Stevia- This is my favorite sweetener for these fudge cups, as it doesn't require any additional mixing. Just be wary that the brand you use does not leave you with a bitter aftertaste.
Monk Fruit Sweetener- Granulated monk fruit sweetener has the same texture and taste of table sugar. If you choose to use this form of sweetener, you'll notice that you will need to ensure the almond butter/coconut oil mixture is still quite warm and liquid-like, otherwise, clumps will form. Monk fruit also comes in a liquid form too, which will be similar to the liquid stevia.
Chocolate Options
Any chocolate can be used. If you want these to remain keto and/or dairy free, ensure that the chocolate you use is stevia sweetened or dairy-free!
Storing Almond Butter Cups
To store: Almond butter cups must be stored in the refrigerator, otherwise they will become soft and melt. Keep them in a sealed container, and they will remain fresh for at least 2 months.

To freeze: Keto almond butter cups are freezer friendly. You can either keep them in a freezer friendly container or in a ziplock bag. They will keep well frozen for up to 6 months.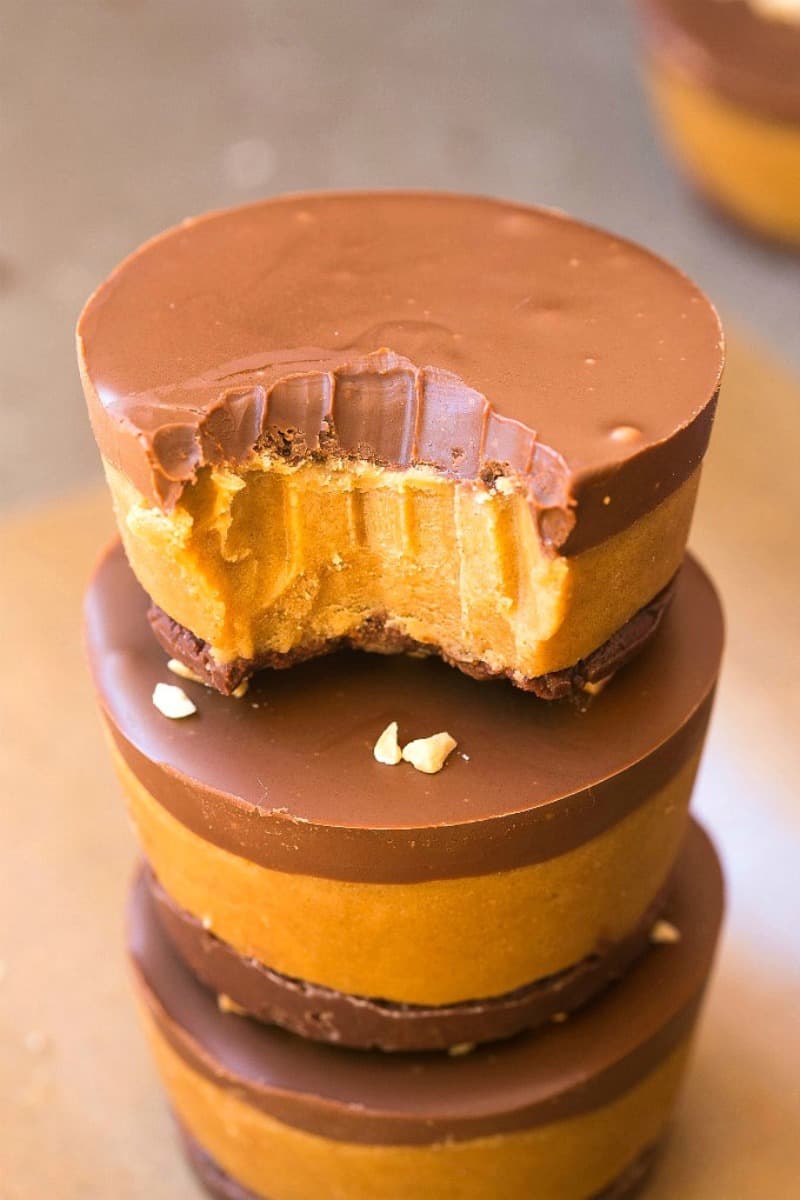 More EASY Keto No Bake Snacks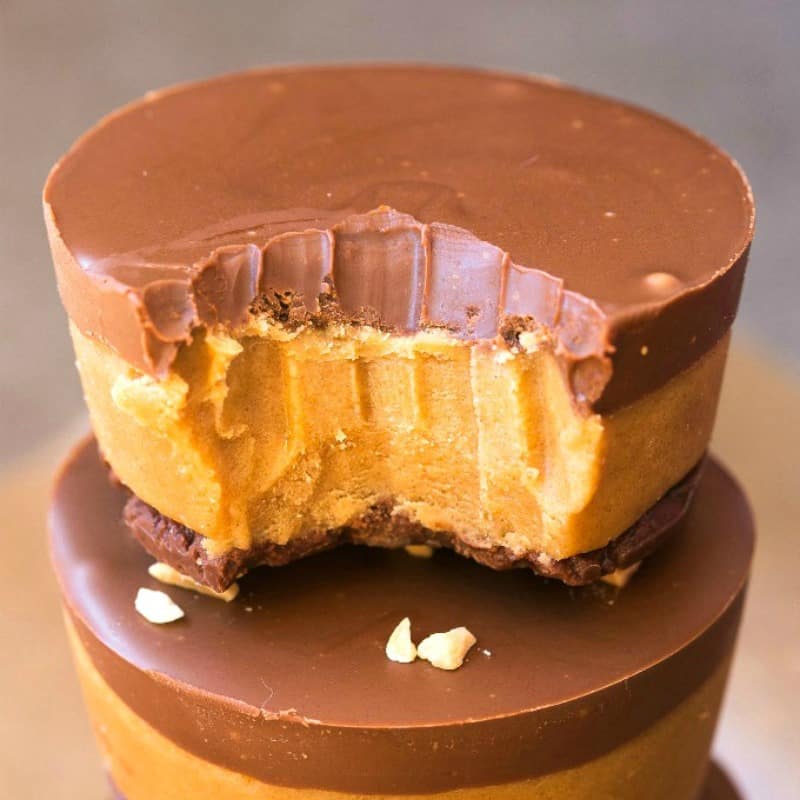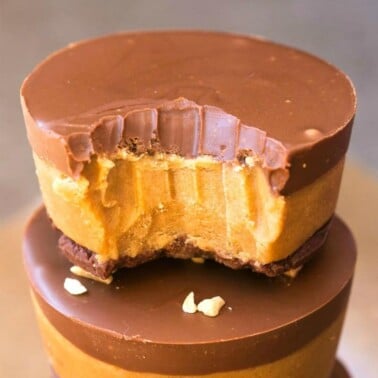 Almond Butter Cups
3 Ingredient Keto Almond Butter Cups (Paleo, Vegan, Sugar-Free)- An easy, homemade three ingredient healthy dessert or snack which is low carb, dairy-free and gluten-free. A foolproof fat bomb recipe to keep you satisfied and hunger at bay!
Instructions
Line an 18 count mini muffin tin with liners and set aside. Alternatively, coat a small loaf pan with parchment paper.

In a mixing bowl, add your almond butter, coconut oil, and sweetener and mix well, until fully combined.

Evenly distribute the almond butter mixture amongst the muffin liners. Refrigerate or freeze until firm.

Once firm, cover or top the almond butter cups with chocolate, if desired.
Notes
3 Ingredient Keto Almond Butter Cups need to be kept refrigerated but can be enjoyed at room temperature for ultimate fudginess. They can be stored in the freezer too.
* Either keto maple syrup or liquid stevia. Adjust to taste.
Nutrition
Serving:
1
cup
Calories:
95
kcal
Carbohydrates:
1
g
Protein:
1
g
Fat:
10
g
Sodium:
1
mg
Potassium:
52
mg
Fiber:
1
g
Calcium:
24
mg
Iron:
1
mg
Disclosure: This post may contain affiliate links. I may earn a small commission for my endorsement, recommendation, testimonial, and/or link to any products or services from this website.