These peanut butter cornflake bars are a delicious no bake dessert that combines the irresistible flavor of peanut butter with the satisfying crunch of cornflakes.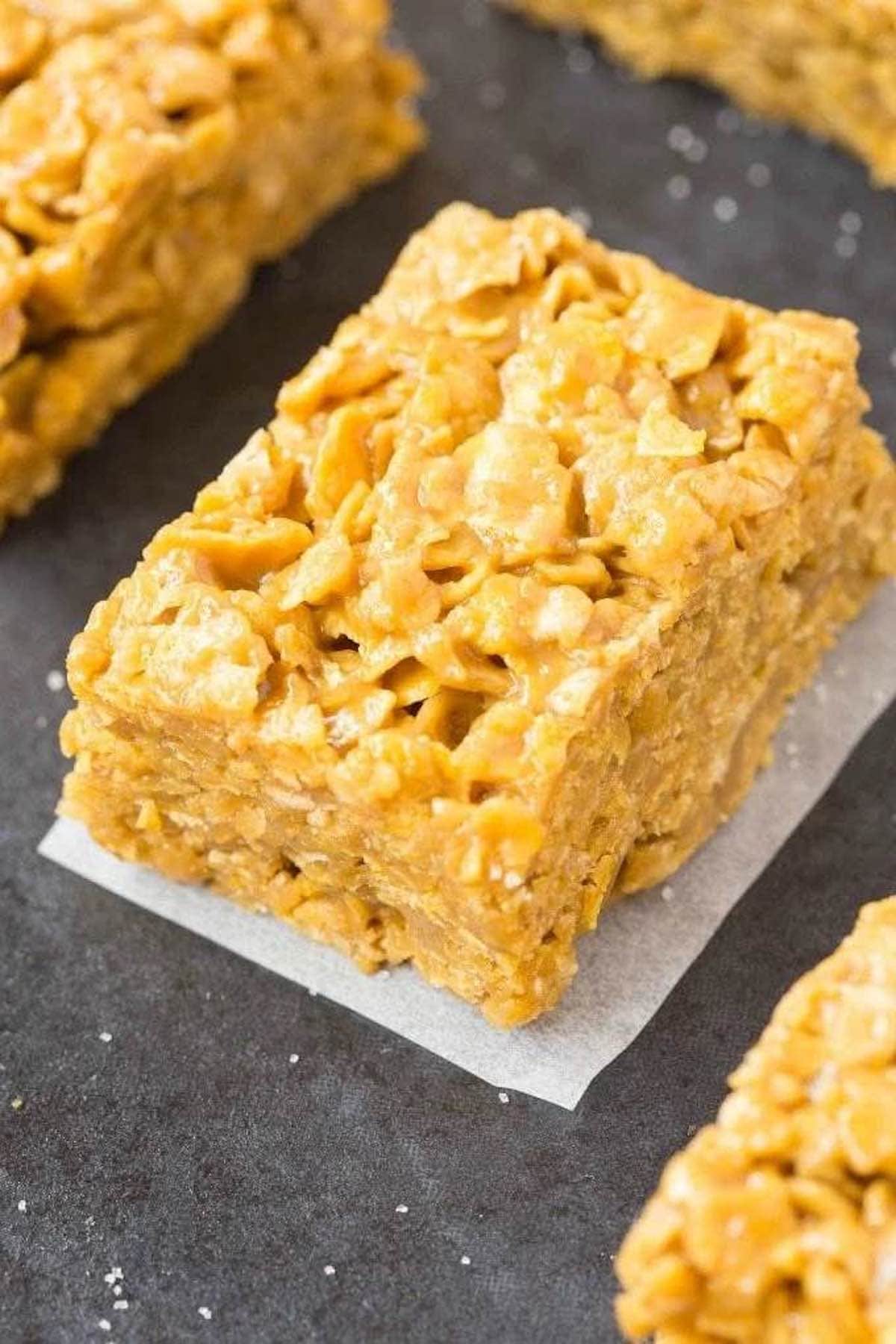 Crispy, sweet, crunchy, peanut buttery, and sticky.
That is how you'd describe cornflake bars. I grew up eating these at my friend's birthday parties. Along with a chocolate or caramel slice, these were the birthday party staples!
Twenty years later, these no bake bars aren't just reserved for parties anymore- they make a guilt free snack, too!
Table of Contents
The best cornflake bars
Now, this isn't your classic cornflake bar recipe. We skipped the corn syrup and refined sugar but kept the texture and flavor you'd expect. I made my mom try this very recipe and she couldn't tell the difference!
It's only 3 ingredients. You need three pantry staples to make these bars. They don't contain any dairy or gluten.
Takes 5 minutes to make. Simply mix all ingredients and let the bars set. You won't have to worry about snacks for the coming days.
It doesn't have added sugar. These cornflake bars are sweetened with pure maple syrup to avoid refined sugar.
These crunchy and sticky bars are made with three of your most-used breakfast items. Here's what you need to make them.
Corn flakes. This simple cereal provides a lot of crispiness and allows the peanut butter flavor to shine through.
Peanut butter. Both homemade and store-bought peanut butter will work so long as it is smooth. Avoid using peanut butter with added sugar.
Maple syrup. I use pure maple syrup. It helps sweeten the bars and makes the cornflakes sticky enough to be shaped into bars.
How to make peanut butter cornflake bars
These 3-ingredient and no-bake cornflake bars are obviously very easy to make.
Start by melting the peanut butter and maple syrup in the microwave. Pour this mixture over the cornflakes and mix until fully combined. If the mixture is not sticky enough, add more maple syrup.
Now, transfer the sticky cornflake mixture into an 8×8-inch pan lined with parchment paper. Wet your hands and start pressing down the cornflakes in an even layer. Press firmly and refrigerate for 30 minutes or until firm. Slice into bars and serve.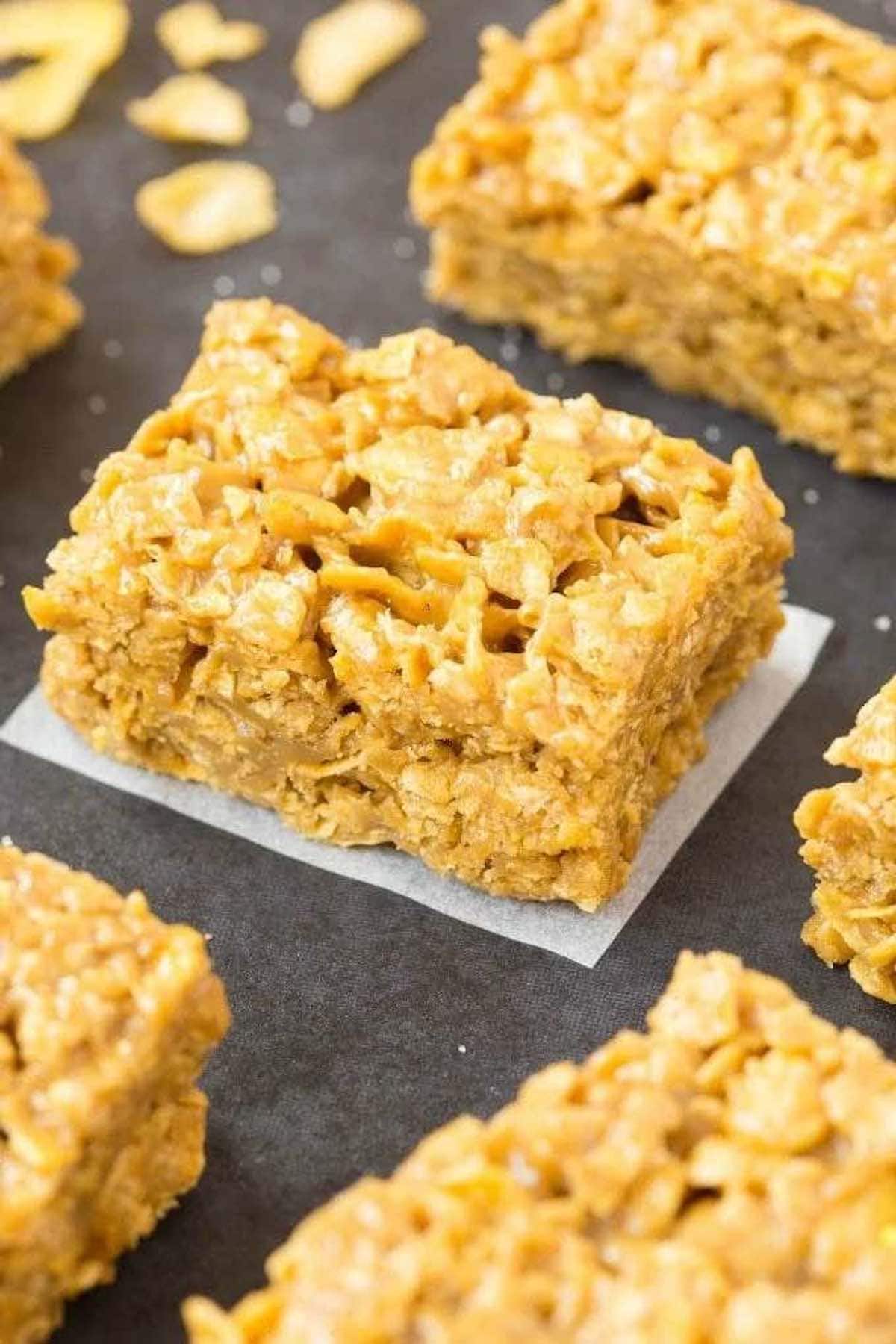 Dietary swaps and substitutions
These bars are made of three components – crunchy cereal, creamy butter, and syrup to sweeten and hold everything together nicely. So long as you have all three components, you can switch things up to make these bars fit your preferences.
Swap the peanut butter. Any smooth nut butter you have will work, like almond butter. If you are allergic to nuts, use sunflower seed butter instead.
Switch the sweetener. You can use honey or any sticky sweetener of your choice to sweeten these bars. Light corn syrup and agave nectar will work too.
Replace the cornflakes. If you don't have cornflakes at home, substitute them with another simple cereal you have at hand. You may also enjoy rice crispy treats or cereal bars instead.
Add-ins are a great idea if you will be serving these bars for a fun party or gathering. Mini marshmallows, chocolate chips, coconut flakes, and finely chopped dried fruits will be a nice addition.
Cover the bars with melted chocolate. Dark, milk and even white chocolate will work.
If you don't have parchment paper to line the pan, use food wrap or spray the pan with cooking spray.
To store. Store cornflake bars in an airtight container in the fridge for up to 2 weeks. You can keep these bars at room temperature if you want them to be extra gooey.
To freeze. Freeze individually wrapped crunch bars for up to 2 months. Bring the bars to room temperature before eating them.
Are these bars keto-friendly?
Cornflakes are very high in carbohydrates which means you should try to avoid them if you are on a keto diet. You may prefer keto granola bars or keto crunch bars instead.
Are cornflakes good for you?
While high in carbs, unsweetened cornflakes can make part of a balanced breakfast or snack. Avoid cornflakes that contain added sugars.
Why are my cornflake bars not sticking together?
Cornflake bars may not stick together if you have added less syrup than needed. Another reason why they won't stick together is not pressing them firmly enough into the pan.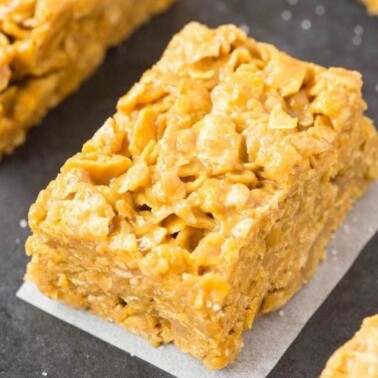 Peanut Butter Cornflake Bars (3 Ingredients)
These peanut butter cornflake bars are a delicious 3 ingredient dessert recipe that combines the irresistible flavors of peanut butter and crispy cornflakes.
Instructions
Line an 8 x 8 pan with parchment paper and set aside.

Add your corn flake cereal into a large mixing bowl and set aside.

In a microwave safe bowl or stovetop, melt your peanut butter with pure maple syrup. Pour over the corn flakes and mix until fully combined. For ultra gooey corn flake crunch bars, add an extra tablespoon or two or maple syrup.

Pour mixture into the lined pan and lightly wet your hands. Press bars firmly into place and refrigerate for at least 30 minutes, or until firm. Cut into bars.
Notes
TO STORE: Store cornflake bars in an airtight container in the fridge for up to 2 weeks. You can keep these bars at room temperature if you want them to be extra gooey.
TO FREEZE: Freeze individually wrapped crunch bars for up to 2 months. Bring the bars to room temperature before eating them.
Nutrition
Serving:
1
bar
Calories:
98
kcal
Carbohydrates:
12
g
Protein:
3
g
Fat:
5
g
Fiber:
2
g
Vitamin A:
100
IU
Vitamin C:
1.7
mg
Calcium:
20
mg
Iron:
0.4
mg
NET CARBS:
10
g
Disclosure: This post may contain affiliate links. I may earn a small commission for my endorsement, recommendation, testimonial, and/or link to any products or services from this website.