No Bake Chocolate Oatmeal Bars (Secretly healthy!)
These chocolate oatmeal bars are thick, chewy, and require no baking! Made with rolled oats and peanut butter, they are a healthy no bake dessert recipe ready in 10 minutes- they are secretly healthy! Vegan, Gluten-Free.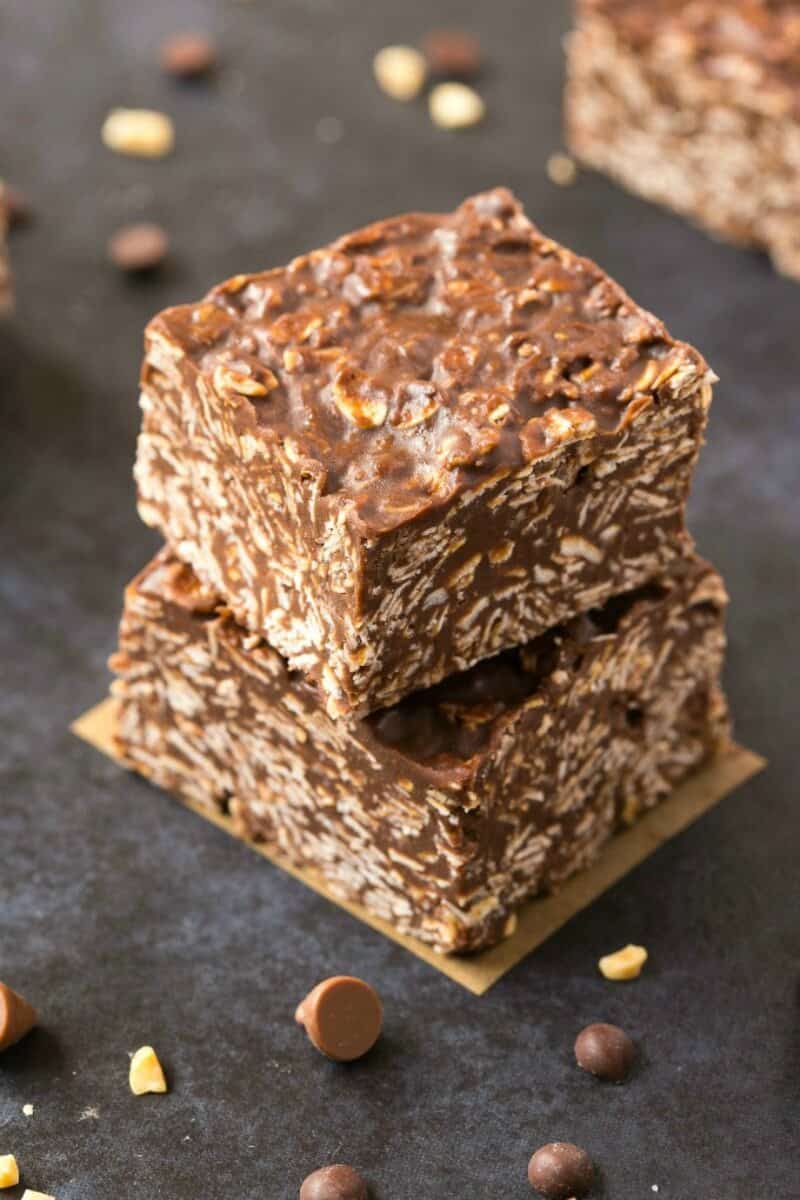 Chocolate Oatmeal No Bake Bars
I'm a huge advocate of catering to those who love different textures. Last time, we had healthy no bake chocolate peanut butter CRUNCH bars and this time, we have their chewier, oat-ier version!
Initially, I thought by switching out the crispy rice cereal for rolled oats, it would be too similar to a granola bar. I've shared a chewy granola bar recipe here before, along with a simple 3 ingredient oatmeal bar recipe. What I HAVEN'T shared is one which focuses on the chocolate aspect, rather than the oatmeal side.
Why make these healthy chocolate no bake bars?
I think what makes this the ideal no bake bar is that the chocolate to oatmeal to peanut butter ratio is so on point. It could be a snack, a dessert, a healthy treat or something to bring to an office potluck or brunch!
Five easy ingredients and five minutes preparation are all you'll need to whip these delicious bars up and it's completely fool-proof! They also happen to be completely vegan, dairy-free, and gluten-free.
Taste-wise, they are sweet and LOADED with chocolate and peanut butter flavor. In terms of texture, they are somewhat chewy, thick, and absolutely satisfying- you won't stop at one!
How to make healthy chocolate oat bars from scratch
Start by placing your peanut butter, coconut oil, chocolate chips, and maple syrup into a microwave-safe bowl. Alternatively, you can use a saucepan. Heat up the ingredients, until the chocolate and coconut oil have melted. Whisk the mixture together, until smooth and glossy.
Next, your stir through your oats, ensuring it is properly mixed into it. Finally, transfer the mixture into a lined pan (8 x 8-inch works well for me). Refrigerate for at least 30 minutes, so that it firms up. Once firm, slice up into bars.
No Bake Chocolate Oat Bar Ingredients and Substitutions
Rolled Oats
Chewy, super chewy or slightly chewy, this can be customized specifically for you! I prefer thinks to be more on the chewy side, so I used thick cut rolled oats. If you want them to be super chewy, use quick oats or even oat bran– The latter will be a little more course, but will still work. If you want the perfect mix, use half rolled oats and half quick oats.
Oats are one food which some have intolerances to, so I did test it with something which has become quite a regular on my gluten free cereal/grain rotation- Quinoa flakes! I find them a little nuttier and dense than oats, but it totally fits as a replacement in these chewy chocolate peanut butter bars! You can find them online or at most grocery stores in the health food aisle.
Peanut Butter
To keep the texture even chewier, using crunchy peanut butter will be the best bet! Smooth is my preferred blend, but use whichever you have on hand. If you have a peanut allergy, you can use smooth almond butter or cashew butter instead.
Chocolate Chips
For the chocolate portion of it, use your favorite type, whether that be non-dairy chips, milk, dark, or the full-throttle- Unsweetened chocolate. The unsweetened one is perfect if you are wanting to keep this completely sugar free, or alternatively, you can use these sugar-free baking chips (I like this brand as it is stevia-sweetened).
Maple Syrup
Similarly, you'll notice this recipe includes a sticky sweetener. I used maple syrup, but it definitely works with agave nectar or golden syrup. Honey works well, but the flavor is overpowering, so ensure you like honey flavored treats if that is all you have. To ensure this remains sugar free, I recommend this sugar free maple syrup, which isn't filled with artificial sweeteners or additives.
Coconut Oil
Some readers aren't a fan of using coconut oil and have often asked for a substitute. For this recipe, the only substitute I can really recommend is grass-fed or standard butter.
Can I make these bars nut-free?
These no bake bars are fantastic for lunch boxes. As many schools are now banning nuts and/or peanut butter, here is how to easily make it nut-free!
Instead of using peanut butter (or another butter), use either smooth sunflower seed butter or tahini. They have the same texture as peanut butter and mixes beautifully with the other ingredients.
Storage Tips
To store

: Leftover no bake bars can keep well at room temperature, in a sealed container. They will keep well, covered, for up to 1 week. To keep them longer, store them in the refrigerator.

To freeze

: Place chocolate oat bars in a freezer-friendly container, or ziplock bag, and store them in the freezer. They will keep well frozen for up to 6 months.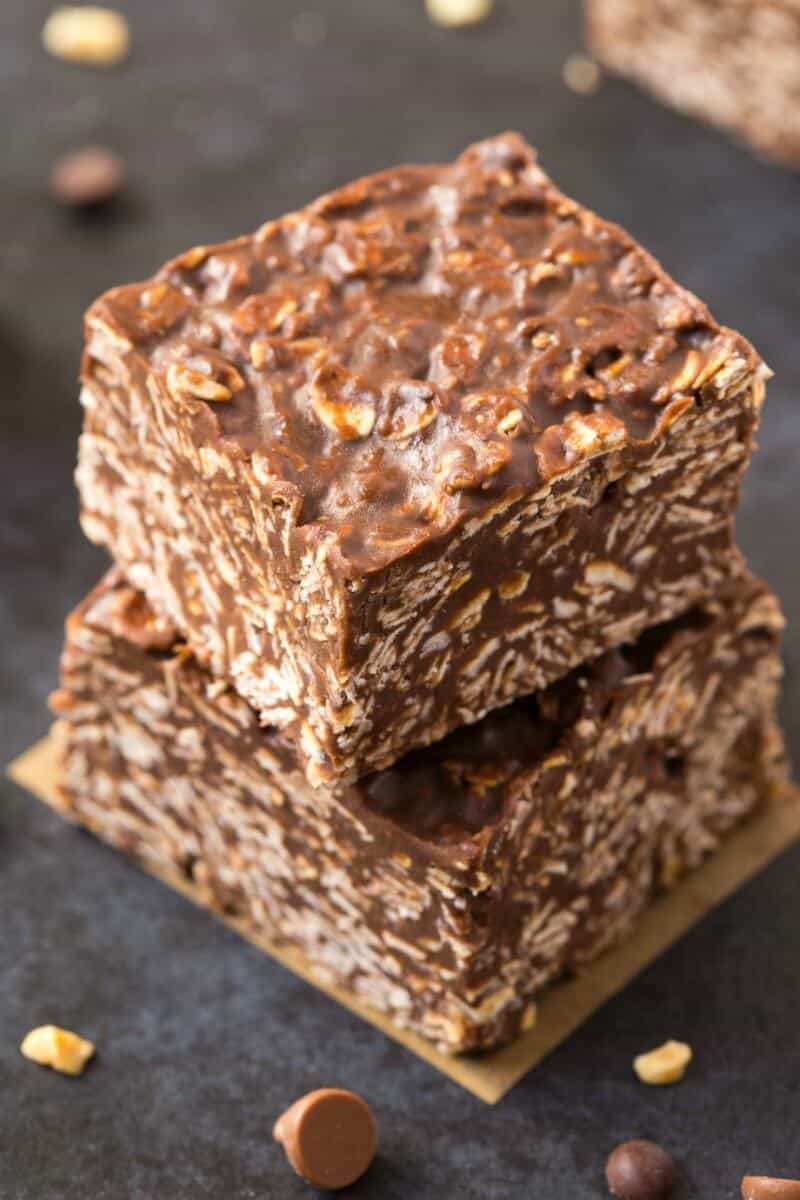 More Delicious No Bake recipes you'll enjoy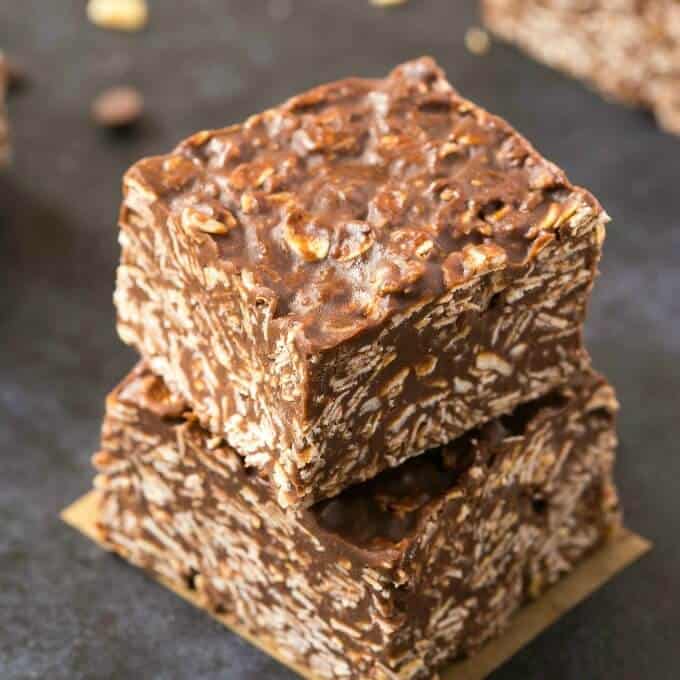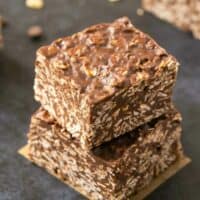 No Bake Chocolate Oatmeal Bars
Easy and healthy No Bake Chocolate oat bars using just one bowl, 5 ingredients and less than 2 minutes! Thick, chewy and loaded with chocolate flavor, they are vegan, gluten free and dairy free!
Print
Rate
Instructions
Line an 8 x 8-inch baking dish or deep baking tray of choice with parchment paper and set aside.

Add rolled oats into a large mixing bowl and set aside.

In a microwave-safe bowl or stovetop, combine all your other ingredients and heat until melted. Remove from microwave/off stove and whisk until completely incorporated.

Pour the chocolate/peanut butter mixture over the oats and mix until combined. Pour into the lined baking dish and refrigerate until firm, for at least 30 minutes. Remove and cut into bars. 
Key Recipe Equipment and Ingredients
Nutrition
Serving:
1
Bar
|
Calories:
196
kcal
|
Carbohydrates:
20
g
|
Protein:
5
g
|
Fat:
12
g
|
Sodium:
51
mg
|
Potassium:
122
mg
|
Fiber:
2
g
|
Calcium:
32
mg
|
Iron:
1
mg
|
NET CARBS:
18
g