3 Ingredient No Bake Oatmeal Cookies (No oil, No butter!)
Foolproof 5-minute recipe for no-bake oatmeal cookies made with just 3 ingredients- rolled oats, peanut butter and a sticky sweetener of choice! Soft, chewy and made with EASY pantry staple ingredients! No milk, no butter, no oil!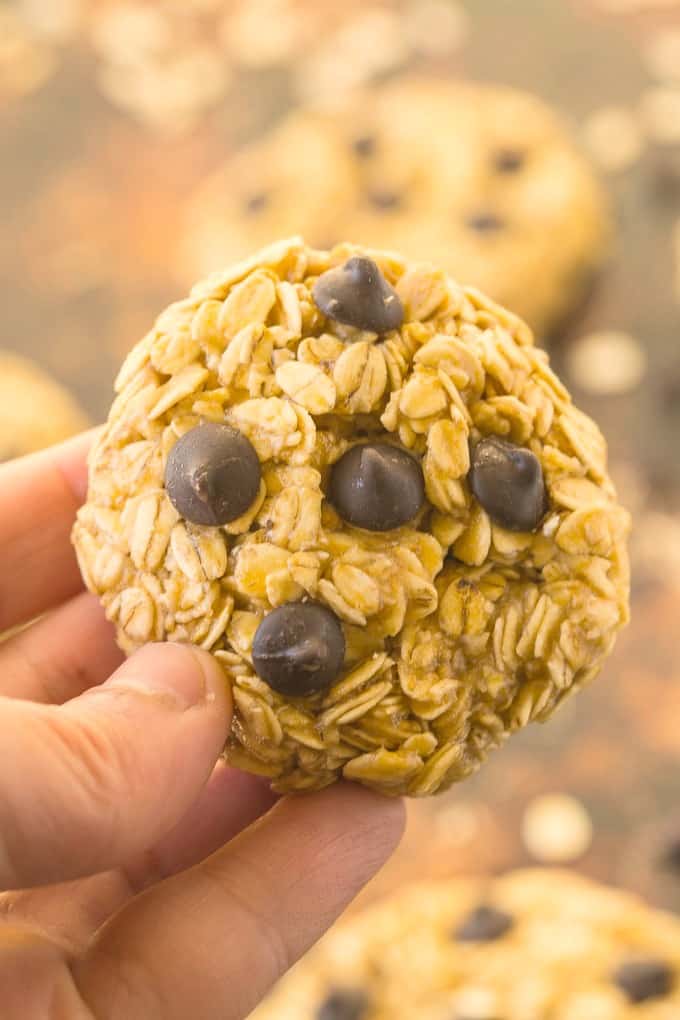 Whenever the snack monster hits, I'm always in the mood for something sweet, and these healthy no-bake oatmeal cookies are my lifesaver.
With many of us finding ourselves with flour shortages, I'm here to prove that you CAN have cookies without flour. We've had flourless peanut butter oatmeal cookies, flourless monster cookies and now? Flourless no-bake cookies!
Made with easy and simple pantry ingredients, these no-bake cookies fit the bill.
Are no bake cookies healthy for you?
They are healthier than traditional no bake cookies, which usually are full of butter or oil. My healthy version has no milk, no refined sugar, no flour, and no butter, but you'd never be able to tell.
Taste-wise, they are peanut buttery, naturally sweet and like eating an un-baked oatmeal cookie!
Texture-wise, they are soft and chewy. For ultra-chewy and thicker cookies, enjoy from the fridge.
How to make no bake oatmeal cookies from scratch
Seriously, these cookies are fool-proof and take 5 minutes to make. Be sure to check below for easy ingredient swaps and substitutions!
The ingredients
Rolled Oats– Also called oat fashioned oats, they provide the chewy texture we love in a good oatmeal cookie! You can use quick oats if you like, but it will have a softer texture.
Peanut Butter– Smooth and drippy peanut butter works best, as it is the easiest to mix into the dough. Try and avoid peanut butter that has added sugar, or ones that have a crunchy texture.
Sticky sweetener– Any sticky sweetener of choice will work, like maple syrup, honey, agave nectar or brown rice syrup. Avoid using sugar free maple syrup, as it has the texture of water and won't hold the cookies together.
The instructions
No fancy mixers or kitchen gadgets needed!
To start, add all your ingredients into a large mixing bowl and mix well until fully incorporated. Then, you'll want to line a plate or tray with parchment paper. Lightly wet your hands and form 12 balls of dough. Place them on the plate or tray and refrigerate for 30 minutes, to firm up!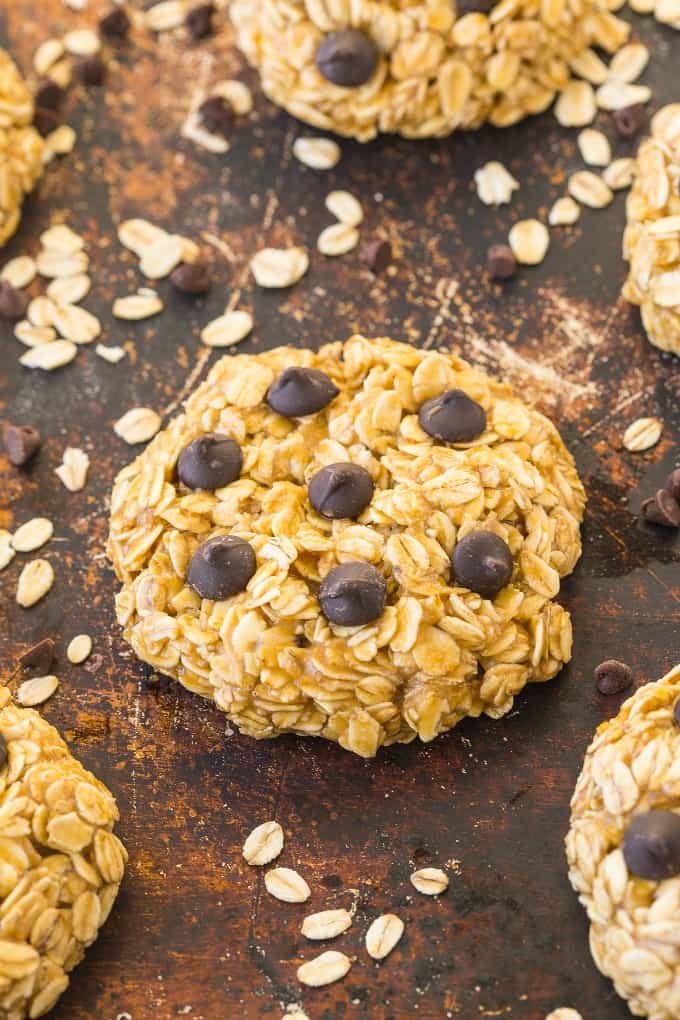 Are these no bake cookies vegan and gluten-free?
YES! Provided you use certified gluten free rolled oats (as I did) and any of the sticky sweeteners, except for honey.
Strict vegans tend to avoid honey, so if you follow a vegan diet, use one of the other sweeteners, like maple syrup.
Why did my no bake cookies not set up?
You shouldn't find this to be an issue, but if you use a thicker peanut butter, you might find that you'll need to add some extra sweetener to be able to form into balls.
Alternatively, if your peanut butter is too drippy, you may need to add an extra tablespoon or two of oats.
Ingredient Swaps and Substitutions
Can I substitute the oats for something else? Yes! If you cannot tolerate oats, you can also use quinoa flakes. Try to use the larger flaked ones, as they will hold up better.
I'm not a fan of peanut butter. What can I use instead? Easily swap out the peanut butter for another spread, like almond butter or cashew butter.
Easily keep this recipe nut-free, by using tahini or sunflower seed butter.
Can I make this recipe sugar free? You CAN make this recipe sugar-free, by swapping out the sweetener for keto maple syrup.
Keto maple syrup uses monk fruit as the sweetener and has a thicker texture than sugar free syrup (e.g. sugar free pancake syrup).
Storing no bake oatmeal cookies
You can store the cookies at room temperature or in the fridge. Place the cookies in a sealable container, or keep them on the plate, covered in plastic wrap.
How long do no bake cookies keep? If stored at room temperature, they will keep for 3 days. If refrigerated, they will keep well for 7 days.
Can you freeze no bake oatmeal cookies? Easily freeze these no bake cookies to enjoy at a later time or for quick, grab-and-go snacks. Either wrap cookies individually in parchment paper and place in a ziplock bag, or place them all together in one ziplock bag (no parchment paper needed).
Frozen cookies will keep fresh for up to 6 months.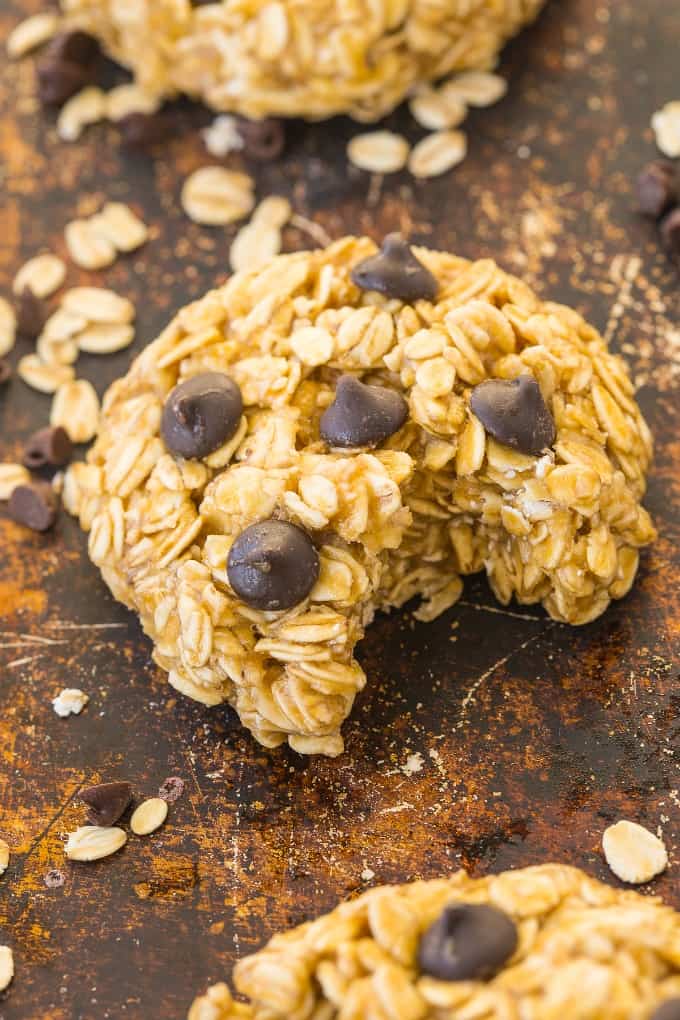 More delicious no bake recipes you'll love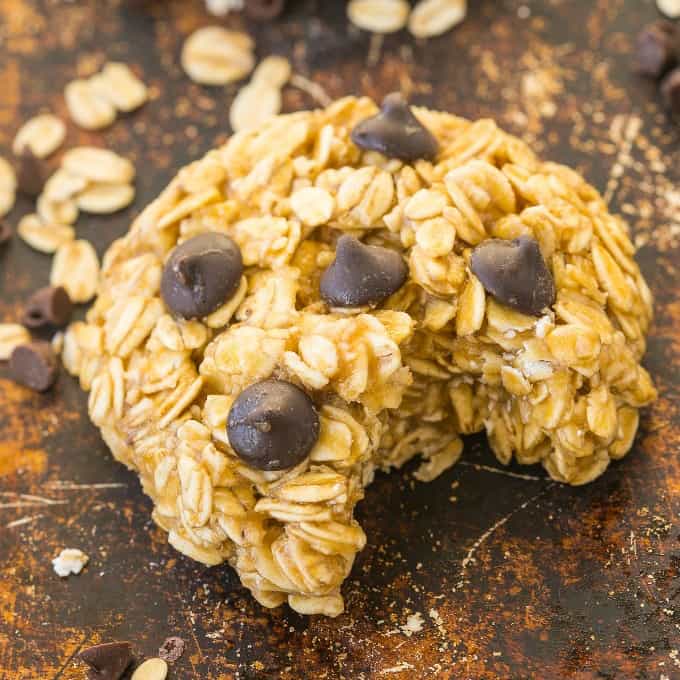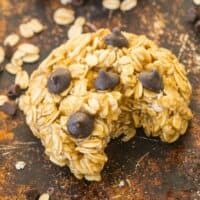 3 Ingredient No Bake Oatmeal Cookies (No oil, No butter!)
You only need three ingredients and five minutes to whip up these healthy 3 ingredient no bake oatmeal cookies! Chewy and refined sugar free, these cookies are suitable for those following a gluten free, dairy free and vegan diet- The perfect healthy snack!
Print
Rate
Instructions
Line a large plate with parpchment paper and set aside.

In a large mixing bowl, add all your ingredients and mix well, until combined.

Using your hands, form into 12 small balls and place on the lined plate. Press each ball into a cookie shape and if desired, top with chocolate chips. Refrigerate for at least 30 minutes to firm up.
Notes
* Can substitute this for smooth almond butter, cashew butter, sunflower seed butter or tahini.
** Can substitute this for maple syrup, agave nectar, honey (not strictly vegan)
To keep this recipe sugar free, use keto maple syrup.
More no bake snack recipes here
More healthy cookie recipes here
Key Recipe Equipment and Ingredients
Nutrition
Serving:
1
cookie
|
Calories:
140
kcal
|
Carbohydrates:
19
g
|
Protein:
4
g
|
Fat:
6
g
|
Sodium:
11
mg
|
Potassium:
115
mg
|
Fiber:
2
g
|
Vitamin A:
5
IU
|
Vitamin C:
5
mg
|
Calcium:
51
mg
|
Iron:
1
mg
|
NET CARBS:
17
g