These hazelnut cookies are loaded with chocolate flavor and are a simple yet delicious way to satisfy the sweet tooth! No flour needed, they bake up in under 15 minutes.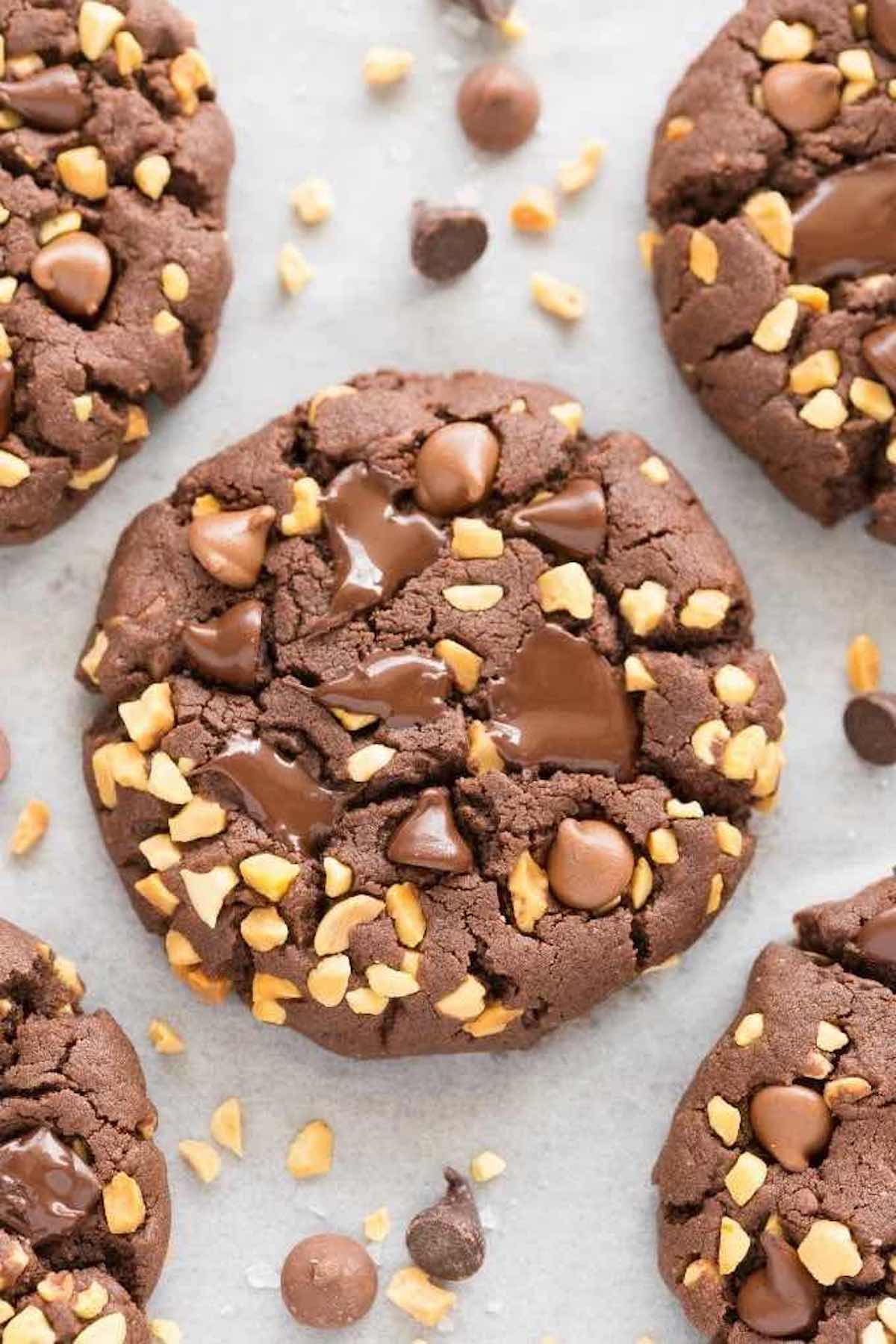 If you've tried our almond butter or peanut butter cookies before, these chocolate hazelnut ones MUST be next on your agenda!
Who knew that a humble jar of almond butter could form the base of these delicious cookies?
Table of Contents
The best chocolate hazelnut cookies
If you love ferrero rocher chocolates, then this hazelnut cookie is a no brainer. In actual fact, it was those very chocolates, coupled with my love of nutella, that inspired these cookies!
They are flourless. The fact that there is no flour in this cookie recipe means two things – it's gluten-free and utterly fudgy.
It has a rich chocolate flavor. The cocoa powder and the dark chocolate come together to create the richest chocolate cookies with chunks of hazelnuts in each bite.
It takes only 15 minutes to make. Quick cookie recipes tend to yield mediocre results. But it is definitely not the case with these hazelnut chocolate cookies. Only 15 minutes and the most decadent cookies are ready.
While you can customize this recipe to make it nut-free, here's a double chocolate cookie recipe with an ultra-rich chocolate flavor, fudgy texture, and no nuts.
This cookie recipe needs a few basic ingredients. You most likely already have everything you need to make these cookies.
Egg. Use one large for this recipe. Make sure to bring eggs to room temperature when baking. Room-temperature eggs mix well with other ingredients and result in a smooth batter and dough.
Nut butter. I use almond butter for this recipe. Raw chocolate hazelnut butter will work too.
Substitution idea
Allergic to nuts or don't want to use almond butter? Try peanut butter, cashew butter, or, for a nut-free alternative, use tahini or sunflower seed butter.
Sugar. Use light or dark brown sugar. While white sugar will still work for this recipe, the caramel hints of brown sugar complement these cookies really well.
Dietary swap
Watching your sugar and/or carbs? Use a brown sugar substitute to replace the sugar in these cookies.
Cocoa powder. Use unsweetened cocoa powder. Dutch-processed cocoa powder can be used too. Unlike regular cocoa powder, Dutch-processed cocoa powder is darker and has a smoother yet more intense chocolate flavor.
Chocolate. I prefer using high-quality chopped dark chocolate for these cookies. Sugar-free dark chocolate chips will work too.
Baking soda. Unlike baking soda, baking powder results in chewier cookies while still making the cookies rise.
Hazelnuts. Chop them roughly.
How to make hazelnut cookies
Step 1 – Make the cookie dough
Add the egg into a mixing bowl and whisk it until beaten. Add the almond butter, sugar, baking soda, and cocoa powder. Depending on how cold the almond butter is, it may take you some effort to achieve a smooth dough.
Chop the hazelnuts and dark chocolate and fold them into the dough.
Step 2 – Shape and bake the cookies
Use a 1.5-tablespoon cookie scoop to scoop out the dough. Place the dough balls on a baking sheet lined with parchment paper or a silicone mat. Depending on the size of your baking sheet, you may need to bake the cookies in two batches.
Gently press on the cookie dough balls with the back of a spoon. If the almond butter has made the cookies too oily, blot them using paper towels.
Bake the cookies in the oven preheated to 350F degrees. Bake the cookies for 9-10 minutes if you are aiming for a softer texture and 11-12 if you want the cookies to be crispier.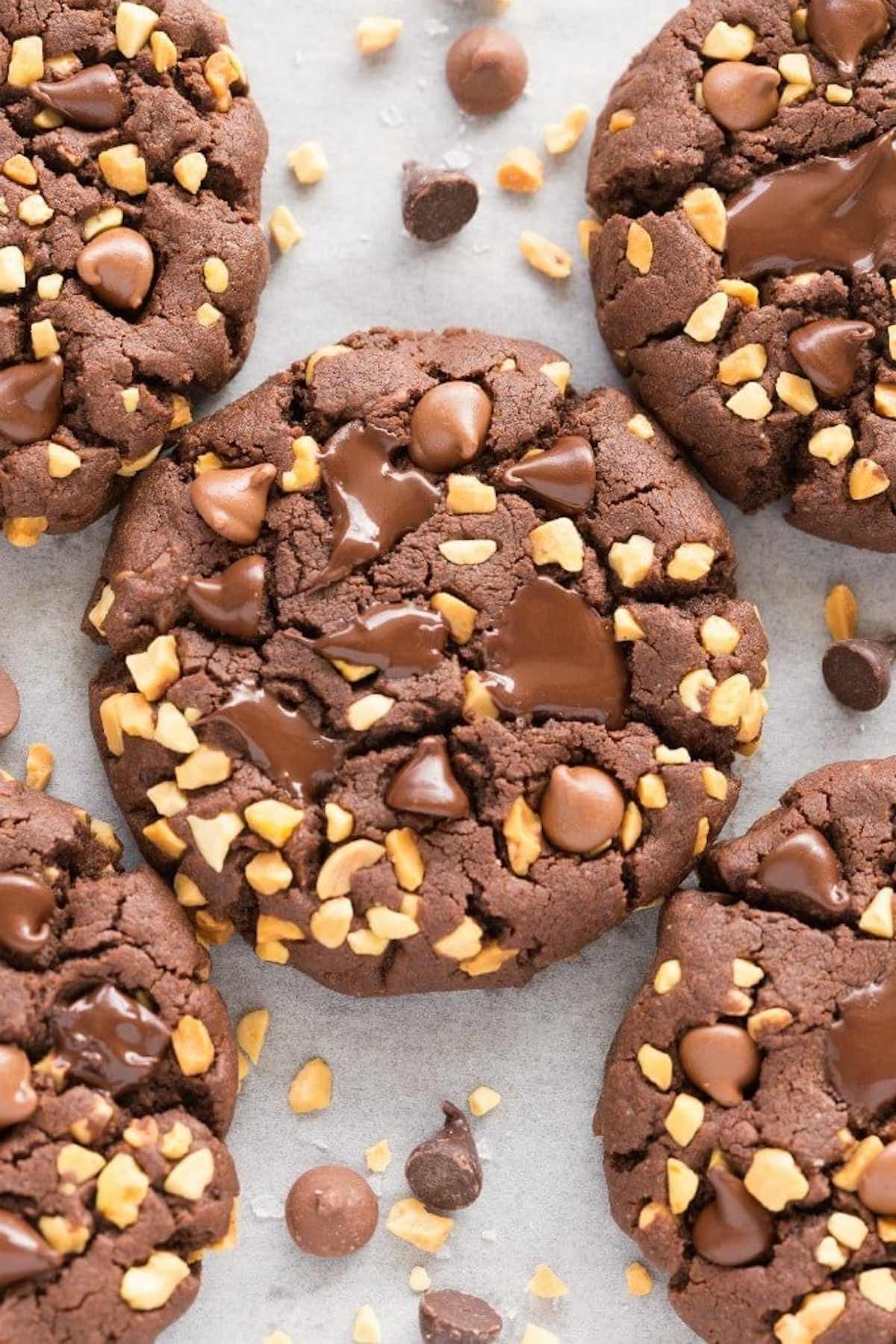 Toast the nuts. Doing this gives the hazelnuts a deeper and sweeter flavor.
Whisk the egg whites separately. For lighter cookies that are crispier on the outside, whisk the egg whites separately and only then mix them with the remaining ingredients.
Replace egg white with yolk. If you like fudgier cookies, use two egg yolks instead of a whole egg. Being high in fat, egg yolks take away some of the crispiness that egg whites create.
Variations
While the combination of hazelnuts and chocolate is perfect in and of itself, you can change up the flavor and aroma of these cookies by adding these ingredients.
More nuts. You can replace hazelnuts with cashews, pecans, walnuts, or almonds. You can also use a mix of your favorite nuts.
Cardamom and cinnamon. These woody and warm spices create a complex flavor profile for hazelnut chocolate cookies and give them an enticing aroma.
Orange zest. A hint of citrusy flavor will elevate these chocolate cookies making everyone wonder what is so special about them.
Coffee. A teaspoon of espresso powder or instant coffee mixed with cocoa powder will enhance the chocolate flavor of the cookies.
To store. Once the cookies cool, transfer them into an airtight container or bag and store them at room temperature for 3 to 5 days.
To freeze. Freeze the cookies for up to 3 months. Put parchment paper in between the cookies to prevent them from sticking to each other. Bring the cookies to room temperature before enjoying them.
Are these cookies gluten-free?
Yes, these cookies are gluten-free. If you are using store-bought nut butter, check the ingredient list to make sure it doesn't have gluten-containing ingredients.
How to toast hazelnuts?
To toast the hazelnuts, add them to a baking sheet in a single layer. Bake the hazelnuts in the oven preheated to 350F degrees for 10-15 minutes. If you want to remove the hazelnut skin, cover the pan with a clean kitchen towel as soon as you remove the nuts from the oven. The steam created under the towel will loosen the hazelnut skins, helping you peel them more easily.
Do you have to peel hazelnuts before baking?
While baking with unpeeled hazelnuts is perfectly safe, hazelnut skin does have a slightly bitter taste. It is recommended to peel the hazelnuts before baking.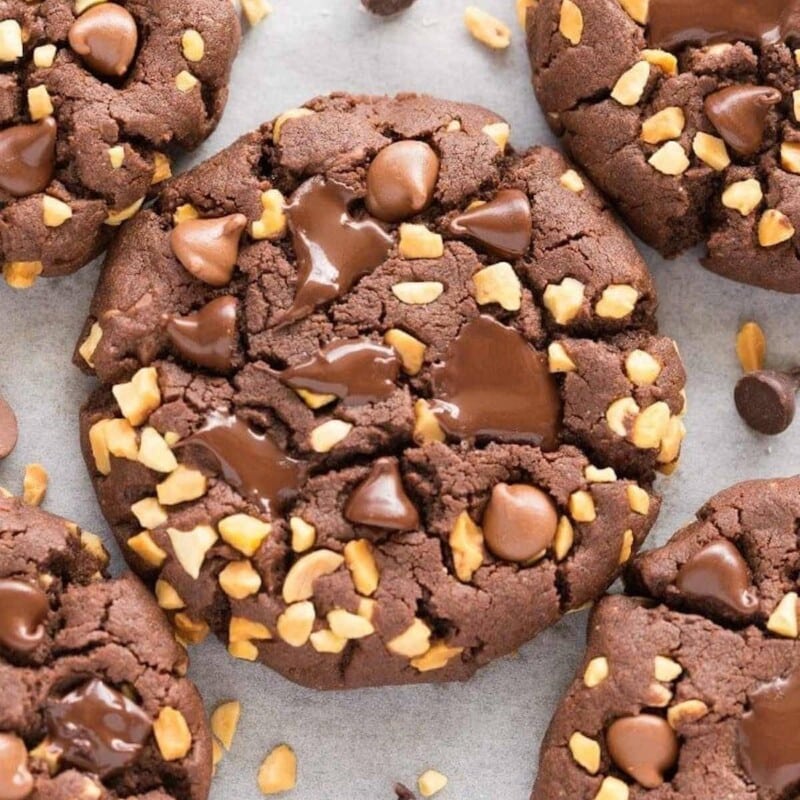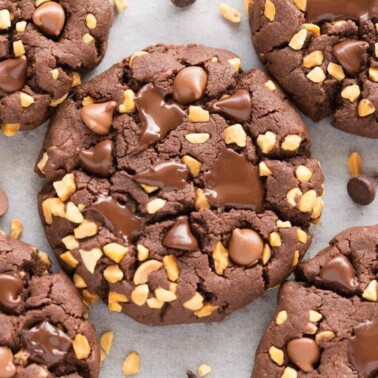 Hazelnut Cookies
These chocolate hazelnut cookies are perfectly soft and chewy, and have no flour in them! They take less than 15 minutes to make.
Instructions
Preheat the oven to 180C/350F. Line a large baking tray with parchment paper or a cookie sheet and set aside.

In a mixing bowl, combine the egg, almond butter, and sugar and mix well. Add the cocoa powder and baking soda and mix until combined. Fold through the chocolate chips and hazelnuts.

Using your hands, shape 12 balls of cookie dough and place them on the lined baking sheet. Press down on each ball of cookie dough into a thick disk.

Bake the cookies for 10-12 minutes. Remove the cookies from the oven and let them cool completely.
Notes
TO STORE: Once the cookies cool, transfer them into an airtight container or bag and store them at room temperature for 3 to 5 days.
TO FREEZE: Freeze the cookies for up to 3 months. Put parchment paper in between the cookies to prevent them from sticking to each other. Bring the cookies to room temperature before enjoying them.
Nutrition
Serving:
1
cookie
Calories:
266
kcal
Carbohydrates:
24
g
Protein:
6
g
Fat:
18
g
Sodium:
109
mg
Potassium:
212
mg
Fiber:
4
g
Vitamin A:
57
IU
Vitamin C:
0.3
mg
Calcium:
98
mg
Iron:
1
mg
NET CARBS:
20
g
Disclosure: This post may contain affiliate links. I may earn a small commission for my endorsement, recommendation, testimonial, and/or link to any products or services from this website.