Healthy No Bake Unicorn Cookies (Paleo, Vegan, Gluten Free)
Easy and secretly healthy no bake unicorn inspired cookies made with just four ingredients and ready in 5 minutes! These fudgy cookies are completely paleo, vegan, gluten free, dairy free, refined sugar free and grain free!

Why should unicorn frappuccinos have all the fun? Skip the drinkable unicorn and instead, eat it, in this healthy no bake cookie form using just four ingredients!
Let's be real here- I haven't tried a unicorn frappuccino and from what I've read about it, it's pretty much a vanilla slash creamy slash colorful hybrid which is supposed to resemble a unicorn.
Excuse me, but where is your horn?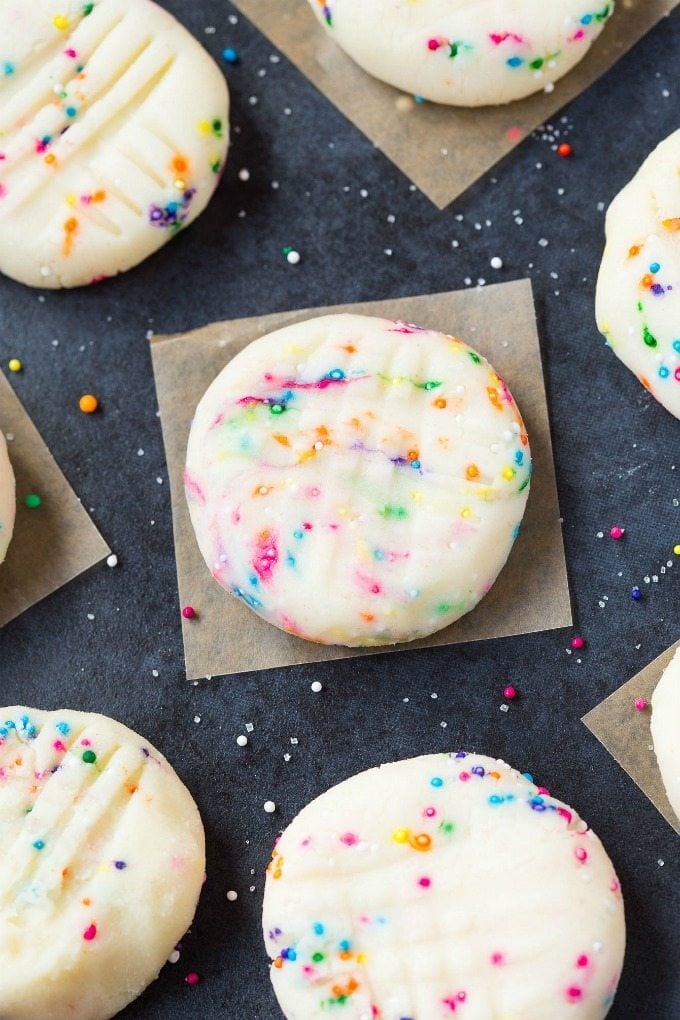 I'm not one to jump on trends, but unicorn fever has hit hard and when making a new no bake bite recipe, I spotted some sprinkles (not to be mistaken with the ones which literally cover my kitchen floor) and saved half the batter and BOOM- a basic no bake cookie dough got a unicorn makeover.
Before the paleo police or super health nuts come after me, I want to preface this- Yes, sprinkles aren't paleo and technically, sprinkles aren't considered healthy. However, there is barely two tablespoons in the entire recipe, and if you want to keep it strictly paleo, omit it.
Here is your pictorial proof.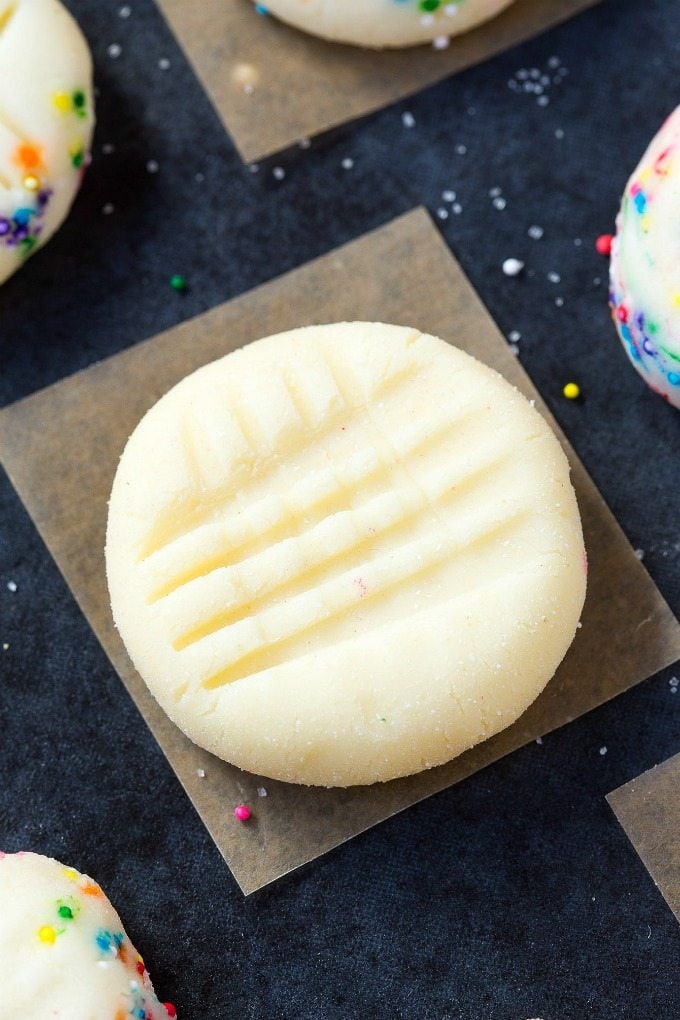 Without the sprinkles, it really loses the 'unicorn' aspect, but c'est la vie. Besides this colorful, rainbow beauties, you'll need just THREE Ingredients to form the chewy, fudgy and cookie base. Besides being paleo, these cookies are also completely vegan, gluten free, dairy free, refined sugar free and grain free! Bonus? I'm also including a hack to keep it COMPLETELY SUGAR FREE!
Texture wise, they are chewy, fudgy and depending on how you eat them, can be more firm and super creamy. If you want it thick, firm and chewier, eat it slightly thawed from the freezer or directly from the fridge. For super soft and ultra fudgy no bake cookies, eat it at room temperature!
To kickstart this super-simple recipe, you'll need to whip out my favorite grain-free flour- coconut flour. Just a quick note, every single brand of coconut flour differs, so please read the notes included with the recipe card, as you may need less or more, dependant on the two other ingredients used. Furthermore, you'll be doing yourself a favor by sifting it to avoid any clumps (because I'm sure unicorns didn't like clumps in their cookies). If you have don't want to use coconut flour or have a coconut allergy, you CAN sub it for oat flour, but you'll need to use twice as much and also be warned that the end result will be very sticky.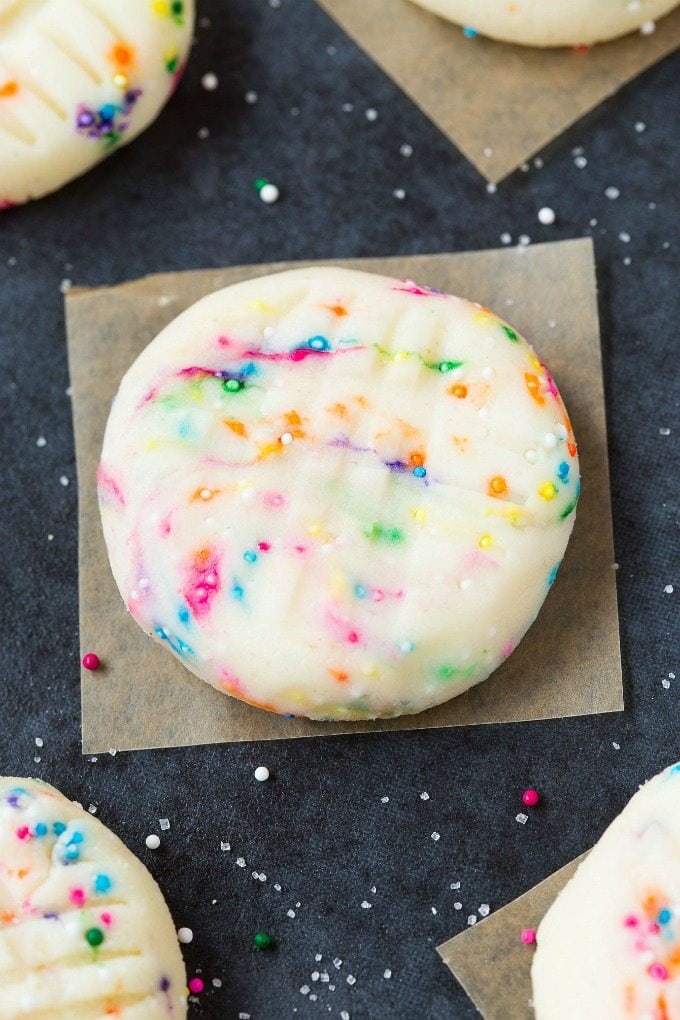 The final two ingredients are the smooth nut butter and the pure maple syrup. For the smooth nut butter, I used drippy cashew butter, purely because it is mild tasting and also kept the cookies light colored. If you don't have cashew butter, this works fine with any nut or seed butter. Almond butter will ensure it's still mild tasting, but if you like peanut butter (and don't mind the overpowering flavor profile of it), this is a perfect option too.
For those with nut allergies, sunflower seed butter, soynut butter, or tahini are all perfectly fine to substitute it with. Please note that if you use sunflower seed butter, your final cookies will have a green hue. This probably will enhance the unicorn factor of the recipe. If you use tahini, consider using a slightly sweetened kind, as raw tahini is quite distinct and a little bitter.
A quick note on drippy VS thick nut butter– Drippy nut or seed butter is pretty much a more specific term for smooth. It's mixable with a spoon and when turned upside down for a few minutes beforehand, it is well mixed and creamy. A non-drippy nut or seed butter is more coarse and very, very thick- You'll be best sticking with the former, especially to avoid textured no bake cookies!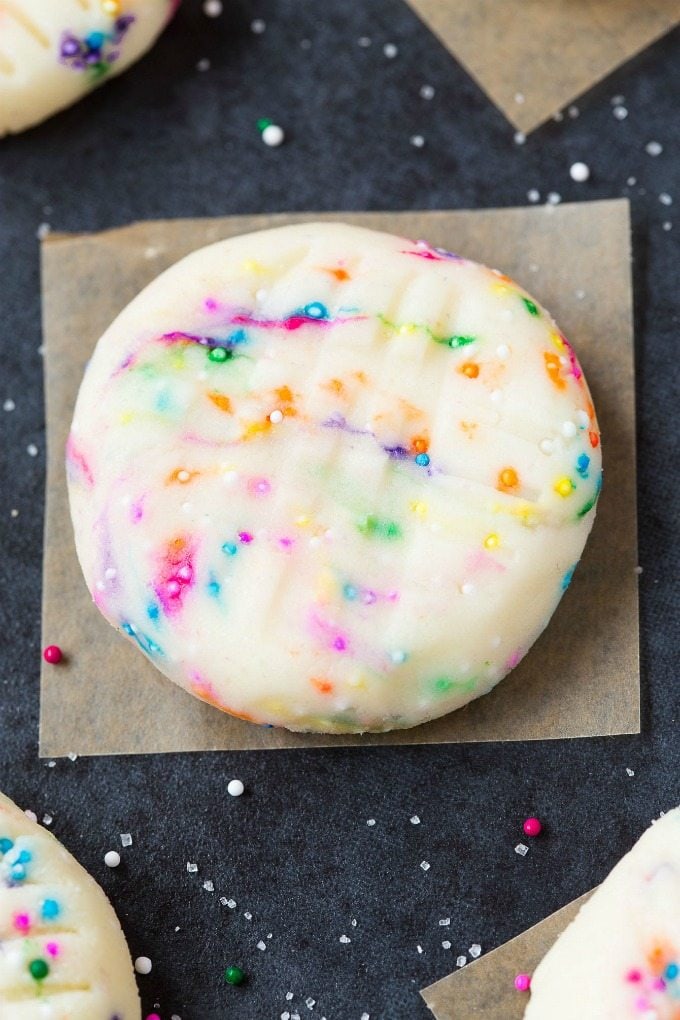 Finally, you'll be adding your sticky sweetener. I opted to use pure maple syrup, as it gave a delicious sweetness to the cookies, without being overpowering. I would also recommend using agave nectar or coconut nectar if these are easier for you. If you aren't strictly paleo or vegan, brown rice syrup is a fantastic substitute also. I know many of you also enjoy using honey. Texture wise, it will work. However, similar to peanut butter, it is VERY evident and very overpowering, so just be wary!
Trend, gimmeck, one hit wonder, or overhyped foodie of the moment- These healthy 4-Ingredient no bake unicorn cookies are delicious. Set five minutes aside and whip these up, horn in tow.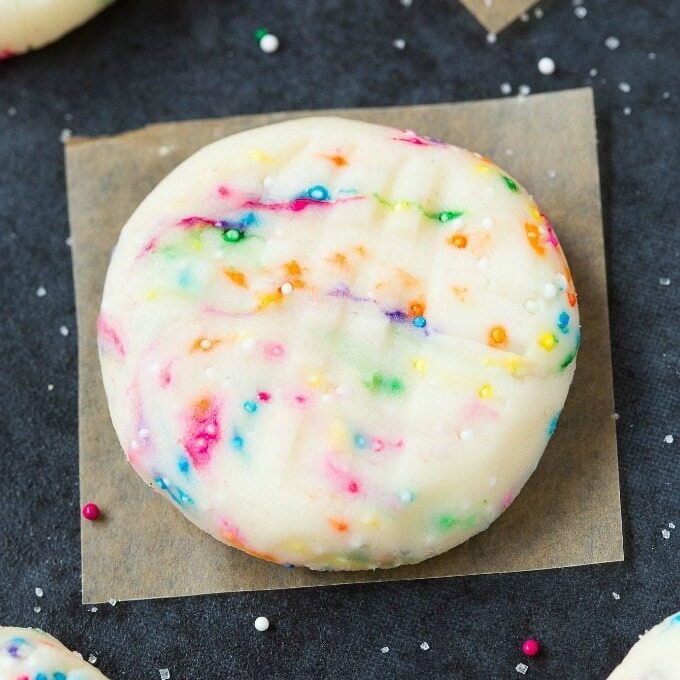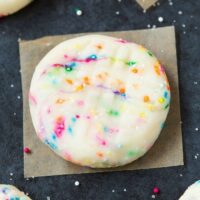 Healthy No Bake Unicorn Cookies (Paleo, Vegan, Gluten Free)
Easy and secretly healthy no bake unicorn inspired cookies made with just four ingredients and ready in 5 minutes! These fudgy cookies are completely paleo, vegan, gluten free, dairy free, refined sugar free, keto, and grain free! 
Print
Rate
Instructions
Line a baking tray or large plate with parchment paper and set aside.

In a large mixing bowl, add your coconut flour. Add your cashew butter and pure maple syrup and mix until combined. Stir through your sprinkles. If batter is too thin, add more coconut flour until a thick batter remains. If batter is too thick, add some milk or water until a thick batter remains.

Using your hands, form small balls and place onto the parchment paper. Press each ball into a cookie shape. Refrigerate for at least 30 minutes to firm up.
Notes
* You may need more or less, depending on the brand of coconut flour you use.
No bake unicorn cookies are best kept refrigerated or in the freezer. They can be kept at room temperature, but drop each cookie in extra coconut flour.
Key Recipe Equipment and Ingredients
Nutrition
Serving:
1
Cookie
|
Calories:
179
kcal
|
Carbohydrates:
8
g
|
Protein:
5
g
|
Fat:
13
g
|
Sodium:
24
mg
|
Potassium:
140
mg
|
Fiber:
5
g
|
Calcium:
12
mg
|
Iron:
1
mg
|
NET CARBS:
3
g
More delicious no bake cookies? Gotcha covered!
No Bake Cinnamon Roll Cookies
No Bake Vanilla Cake Batter Cookies
No Bake Superfoods Breakfast Cookies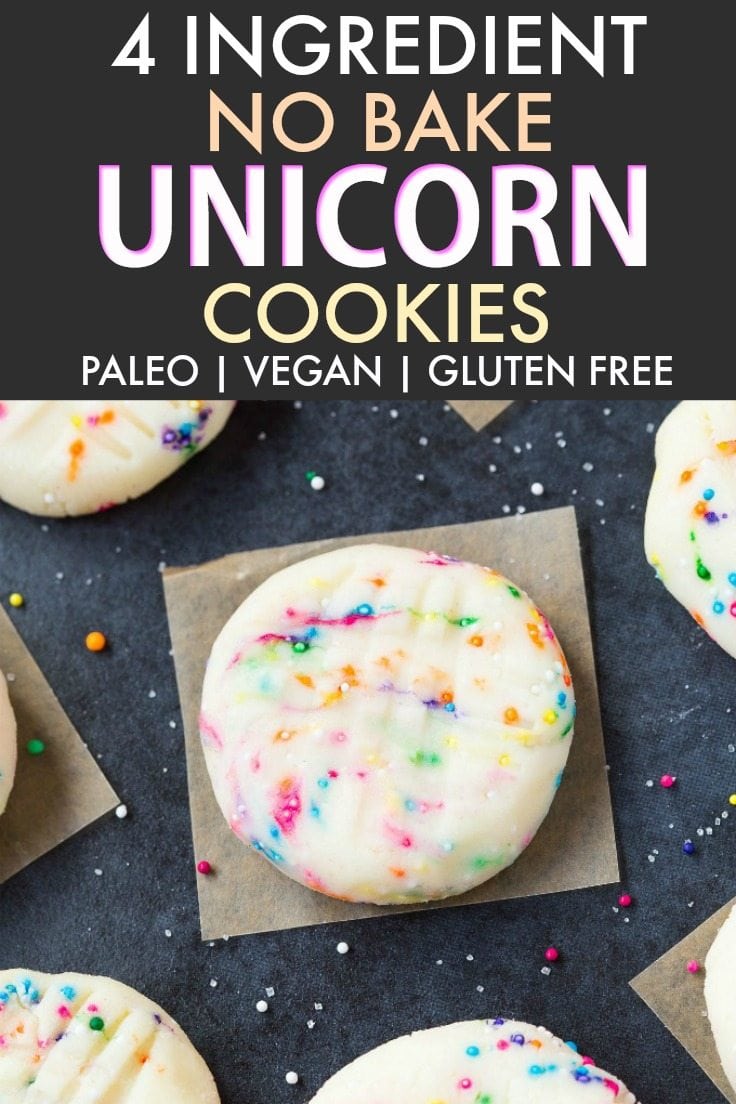 Have you tried the infamous unicorn frappe yet?
The Big Man's World is a participant in the Amazon Services LLC Associates Program, an affiliate advertising program. This means that if you click and make a purchase, TBMW receives a small commission, at no cost to you. Cheers, hugs, and handshakes for supporting TBMW!