These healthy homemade mars bars are better than store bought and guilt-free! Made with easy, simple ingredients, they are also paleo, vegan, gluten free, sugar free and keto approved!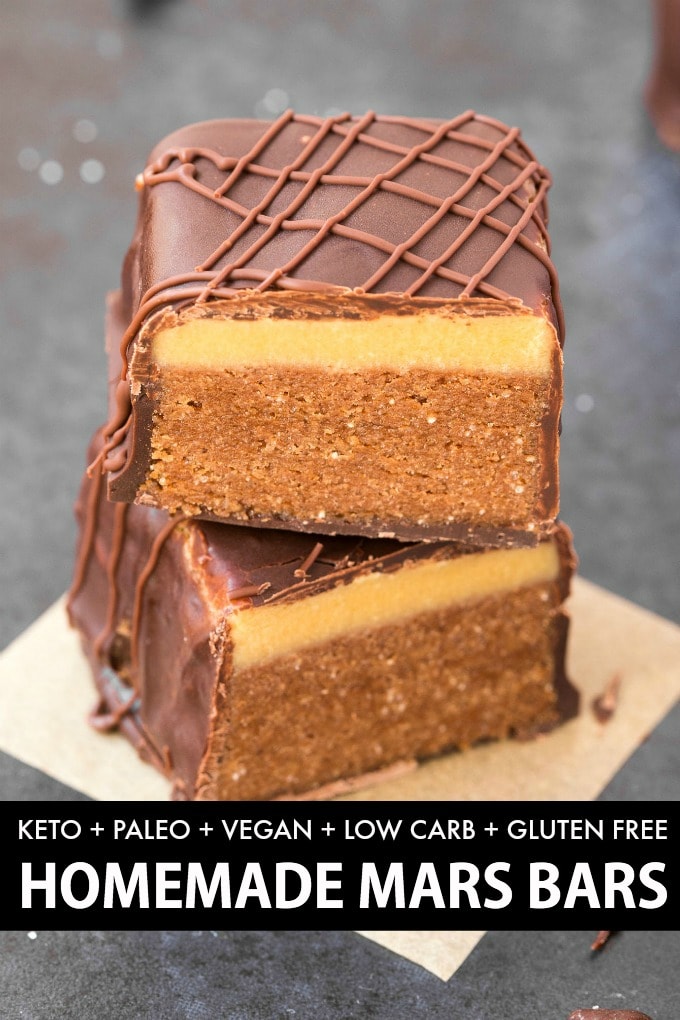 Homemade Mars Bars Recipe
Mars bars are a popular candy bar famous for its layers of nougat, caramel, and chocolate. Wildly popular in Australia and the United Kingdom, it's slowly getting momentum within the American market.
What is in a mars bar?
Store bought mars bars not a traditionally healthy dessert or candy bar. The main ingredients in a mars bar are sugar, cocoa, glucose syrup, various powders, and emulsifiers. It is definitely something you'd enjoy in moderation.
Are mars bars good for you?
Mars bars are high in sugar, high in fat and contain barely any nutritional value. While they may be good for the soul, they provide very little nutritionally.
My homemade healthy mars bars are completely different!
A delicious homemade nougat, chewy caramel and coated in chocolate….but 100% healthy.
Healthy Homemade Mars Bars
It sounds deliciously calorific and sinful, but trust me on this- All those terms describe these healthy homemade mars bars, but given a completely healthy makeover.
Whenever I hear the word 'mars bar', the first thing that comes to mind is 'Snickers bars' which instigates the MARS VS SNICKERS Debate.
Are you more of a Mars bar fan or more of a Snickers fan? Before I made this homemade version, I actually messaged a handful of my friends to get their opinions.
The feedback received when I first shared my homemade snickers bars was pretty epic.
Who knew homemade chocolate candy bars could taste BETTER than the original?
I never realized that making your own homemade candy bars could be so easy!
HOW DOES SOMETHING SO HEALTHY TASTE SO SINFUL?
Oh and let's not forget that my homemade candy bars are also paleo, vegan, gluten free, sugar free, dairy free and low carb…without sacrificing on taste!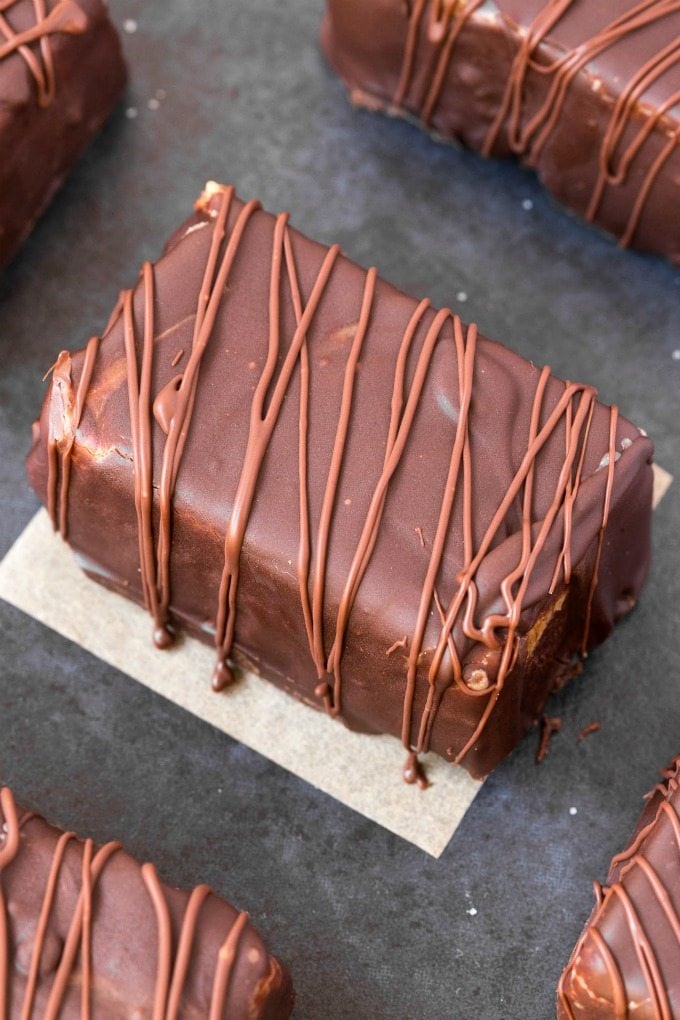 How to make homemade mars bars
These healthy homemade mars bars have three delicious layers- The soft and chewy nougat layer, the caramel layer and the chocolate coating. While it may seem time-consuming and difficult, I promise it's a super simple three-step process.
STEP 1- Prepare the chewy nougat layer
STEP 2- Prepare the 3-ingredient caramel layer
STEP 3- Coat in your favorite healthy chocolate
I know you shouldn't play favorites, but I am obsessed with the chewy nougat layer. It's thick, fudgy and has just the right amount of nuttiness and sweetness, without being overpowering.
The chewy paleo nougat layer
Traditional nougat needs several kinds of sugar (white, sugar syrup, egg whites, and even confectioners sugar), but my version requires none of those! You only need coconut flour, a nut or seed butter of choice, a sticky sweetener of choice and a dash of cocoa powder.
Many readers have asked for alternatives to coconut flour and this CAN be replaced in these homemade mars bars. You can replace it with either almond flour or oat flour, but with these adjustments. You need to double the amount of the dry ingredients (so 2 cups of almond or oat flour) and consider adding some granulated sweetener of choice (I prefer using this monk fruit sweetener). You may also need to add some extra milk or liquid of choice to form the batter.
Any nut or seed butter works, but I prefer using almond butter. The almond butter isn't overpowering and tastes delicious with the caramel topping. If you want a full-blown peanut butter taste, use creamy peanut butter or sunflower seed butter (the latter is perfect to keep it nut free and peanut free).
Like the nut/seed butter, any sticky sweetener works. I opted to keep this recipe 100% keto friendly and sugar-free, so used my favorite monk fruit sweetened maple syrup. General maple syrup and agave nectar are two sticky sweeteners which also work.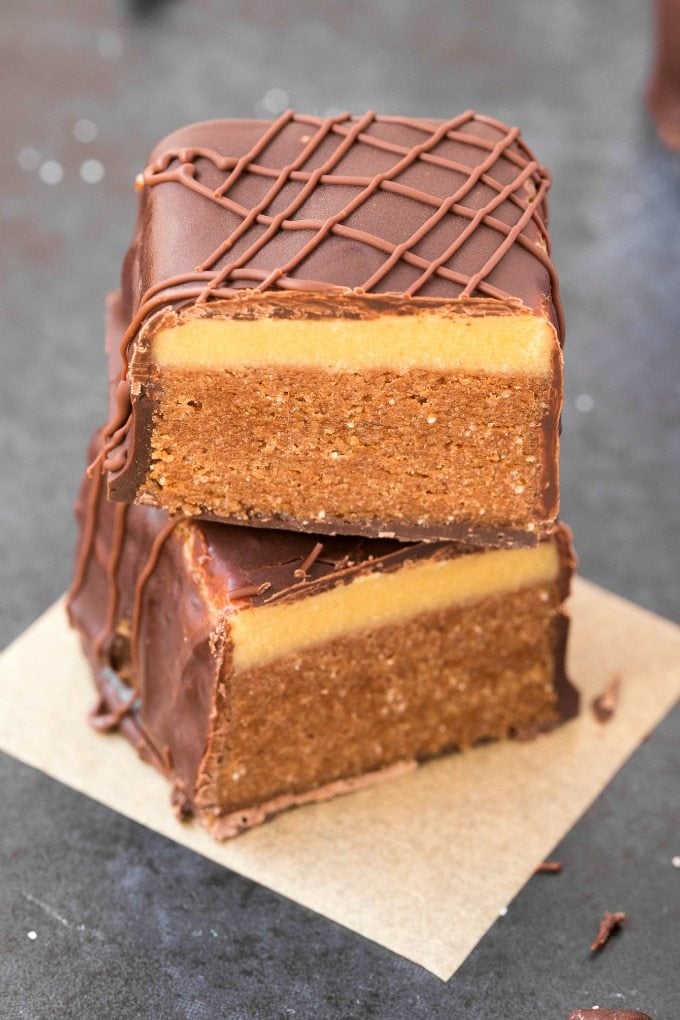 The dairy free caramel layer
The best part about this portion of the healthy homemade mars bars is that you can adjust it based on your texture preference. If you want your final mars bar to be more on the smooth and creamy side, transfer the batter to the lined pan when 'just' firm. If you prefer a more fudgy, dense and firm nougat (SUPER chewy!), transfer to the lined pan when the batter 'just' forms.
Now for the sticky caramel layer, let's backtrack to the two aforementioned ingredients- The sticky sweetener and nut or seed butter of choice. To create the caramel layer, you'll need to just combine the two, melt and voila- Instant, healthy caramel.
To take the caramel up a notch, add the optional coconut oil to the mixture. It not only adds a silky and smooth texture, but you won't be able to taste it whatsoever!
The Healthy Chocolate Layer
The final step is to coat these delicious bars in a smooth layer of chocolate. You can literally use any chocolate of choice, but be wary of your dietary requirements.
I always use dairy free and refined sugar free baking chips or these completely sugar free chocolate chips. Using the former chips ensures these homemade mars bars maintain a keto, paleo, grain free, vegan, and dairy free label. The latter ensures my sugar-free friends are covered!
How to store homemade mars bars
Store mars bars in the fridge in a sealed container or on a plate covered in a wrap. They will keep well for up to 4 weeks.
Mars bars are freezer friendly and keep well frozen for up to 2 months.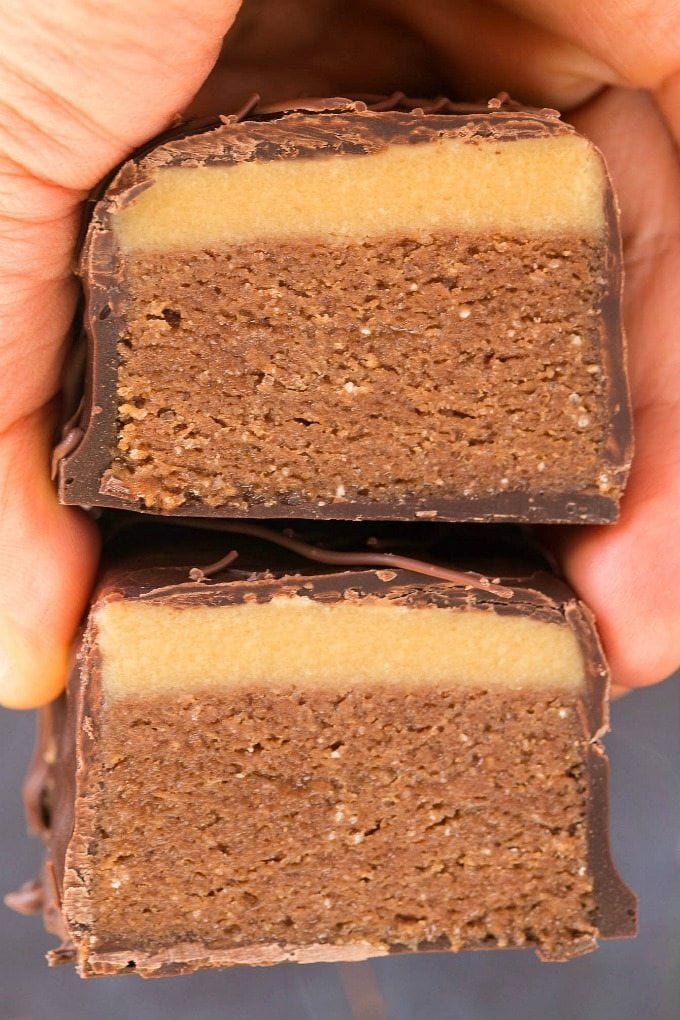 More healthy candy bar recipes
Almond Joy Bars
Bounty Coconut Bars
Homemade Twix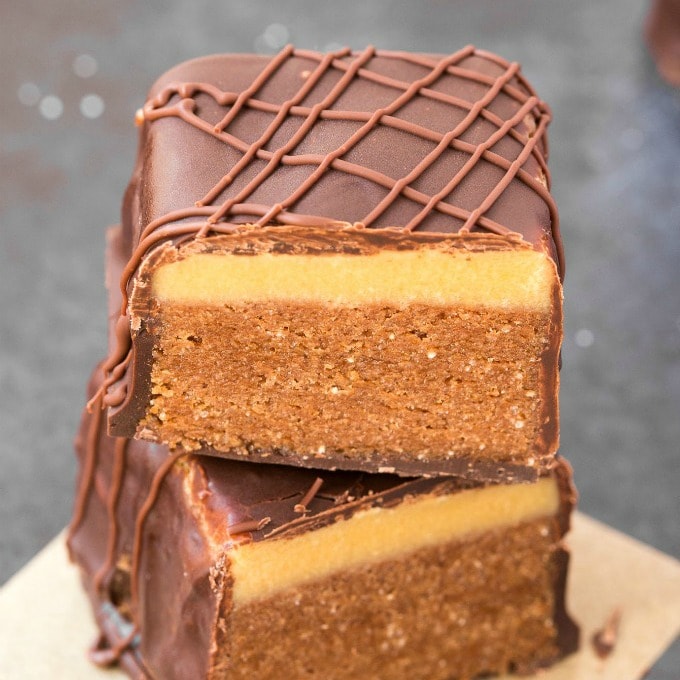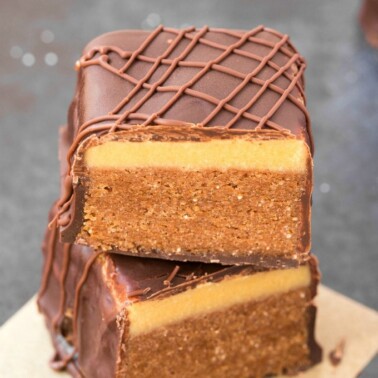 Mars Bars
The popular Mars Bar candy bar just got a healthy homemade makeover! These no bake candy bars are better than store bought and guilt-free! Made with easy, simple ingredients, they are also paleo, vegan, gluten free, sugar free, keto and low carb!
Ingredients
For the chocolate coating
Instructions
Line an 8 x 8 or deep dish pan with parchment paper and set aside.

In a large mixing bowl, add your coconut flour and cocoa powder and mix until combined.

In a microwave-safe bowl or stove top, Add your almond butter and sticky sweetener and melt until combined. Pour into the dry mixture and mix until a crumbly texture remains.

Using a tablespoon, add milk of choice until a thick batter remains. For a softer nougat, add a little more liquid. Transfer the batter to the lined pan and refrigerate.

Make your caramel by combining the almond butter, sticky sweetener, and optional coconut oil in a microwave-safe bowl or stove-top. Melt until combined and silky. Pour over the nougat and place in the freezer.

Once firm, cut into bars. Melt your chocolate chips of choice and dip each bar in the chocolate until evenly coated. Once all are coated, refrigerate until chocolate has firmed up.
Notes
* For a sweeter nougat, add granulated sweetener of choice
** Depending on what dry mixture you use, you may need more- Adjust accordingly
*** Coconut oil is optional but lends a super creamy and smooth texture.
**** For a very thin coating, stick to 1-1 1/2 cups. For a thick chocolate layer, aim for closer to 3.
Healthy Homemade Mars Bars can keep at room temperature, in a sealed container. Mars bars are best kept refrigerated but are also freezer friendly.
Nutrition
Serving:
1
bar
Calories:
267
kcal
Carbohydrates:
10
g
Protein:
6
g
Fat:
24
g
Fiber:
6
g
Vitamin A:
100
IU
Vitamin C:
1.7
mg
Calcium:
20
mg
Iron:
0.2
mg
NET CARBS:
4
g

Disclosure: This post may contain affiliate links. I may earn a small commission for my endorsement, recommendation, testimonial, and/or link to any products or services from this website.