Healthy 4 Ingredient Pumpkin Peanut Butter Cups (Vegan, Gluten Free)- A healthy no bake copycat version of Reese's Peanut Butter Pumpkins candy.
These Pumpkin Peanut Butter Cups have converted EVERYONE who has ever been skeptical of the pumpkin and chocolate combination. It's due to one magical ingredient- Peanut butter.

I was once not a fan of pairing pumpkin in sweet recipes, but have since changed. When I first tried a Reese's Peanut Butter Pumpkins , I was instantly a fan. What could be better than a fudgy, peanut butter-y pumpkin filling, covered in delicious chocolate?
An easy, homemade and HEALTHY version, of course.
My homemade peanut butter pumpkin cups are just like the original Reese's ones, but with a healthy twist. A rich, fudgy, gooey and creamy interior with a delicate chocolate coating- Waiting for your teeth to break into!
Each bite is a taste and texture lovers dream- Sweet, salty, fudgy and rich in one.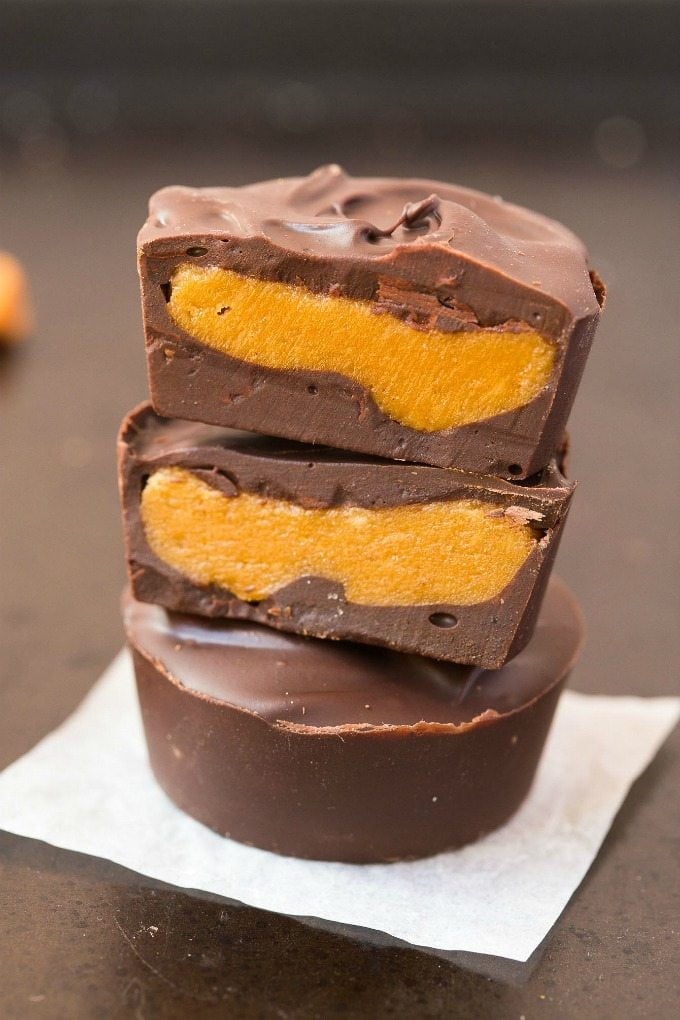 You'd assume to replicate Reese's peanut butter pumpkins, I'd need a laundry list of ingredients, but that is completely false- You literally only need four ingredients and less than 10 minutes to whip up!
The pumpkin and peanut butter filling are seriously addictive in itself. When I first experimented with ingredient combinations, I literally couldn't decide which was too much or too little.
One attempt had too much peanut butter flavor, but that was perfect for this peanut butter loving lad.
Another attempt was a little too sweet then a little too salty, but hello- What combination is better than that?
The fourth, fifth or tenth attempt had too much, too little or juuuuust the right amount of pumpkin.
In the end, I couldn't decide, so you'll notice ingredient proportions can be a little less or a little more in some regards to suit YOUR taste buds!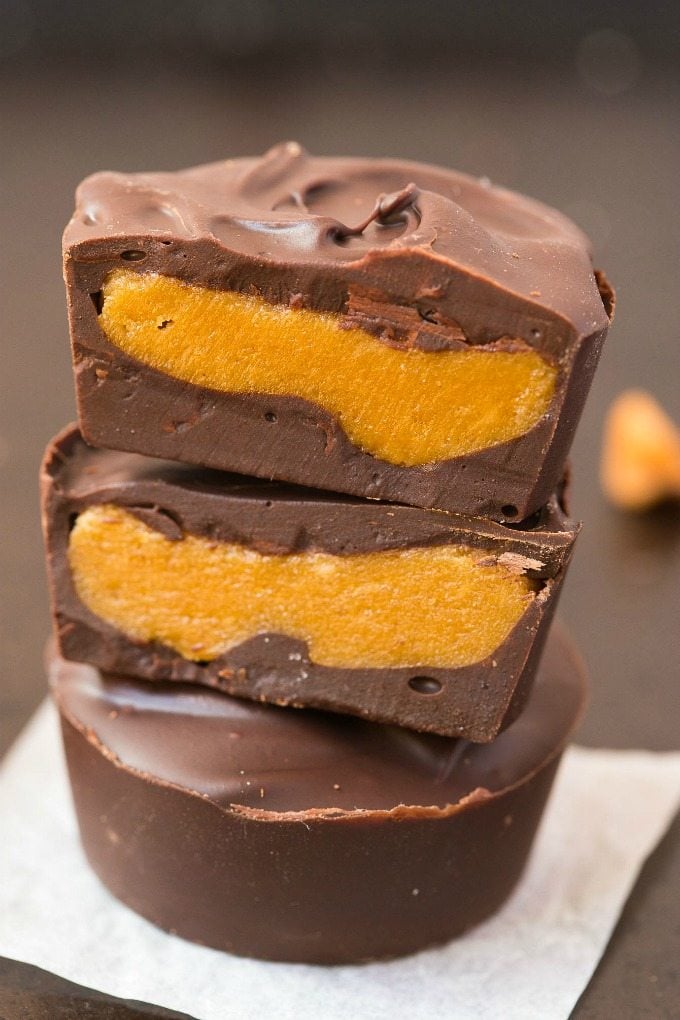 The original Reese's peanut butter pumpkins are chock full of MULTIPLE forms of sugar, processed ingredients, and flavorings. My version not only needs four ingredients, it is also is suitable for those following a vegan, gluten free, dairy free AND sugar free lifestyle!
This seriously addictive candy bar copycat is one you can feel good about eating two, three or ten in one go. That is what I've been telling myself, anyway. It uses all natural ingredients and technically we could count the pumpkin as a hidden vegetable.
For the gooey, fudgy center, you only need salted natural peanut butter, a sticky sweetener and pumpkin puree. You can easily make your own pumpkin puree (roast or steam pumpkin and mash or blend until smooth) or use the canned variety. Be sure to use an unsweetened kind and NOT pumpkin pie filling.
For those with peanut allergies, you can use either tahini or sunflower seed butter. If either of those are all-natural, add a pinch of sea salt to it. For the sticky sweetener, use either maple syrup or agave nectar (honey works well too) or a monk fruit sweetened maple syrup, which is sugar-free
The final and fourth ingredient is the chocolate coating. I alternate between using dairy free baking chips (also vegan and gluten free) or stevia sweetened chocolate chips. The latter ensures the entire recipe is completely sugar free.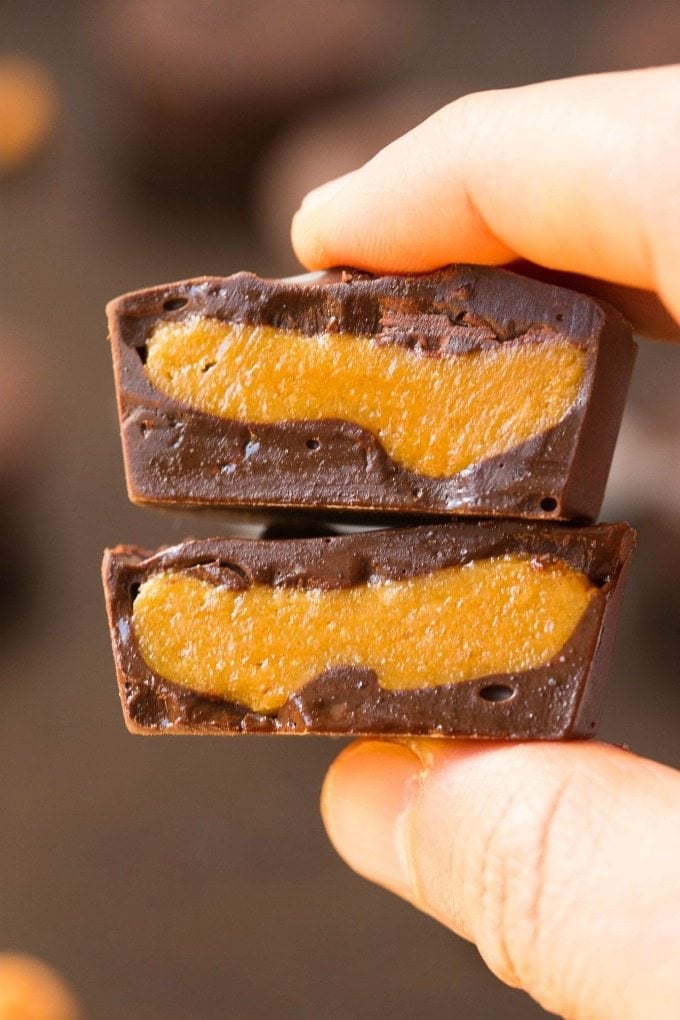 For ANYONE skeptical of pumpkin in sweet recipes like candy, chocolate or desserts, this is it. These healthy 4 Ingredient Peanut Butter Pumpkin Cups will have them converted.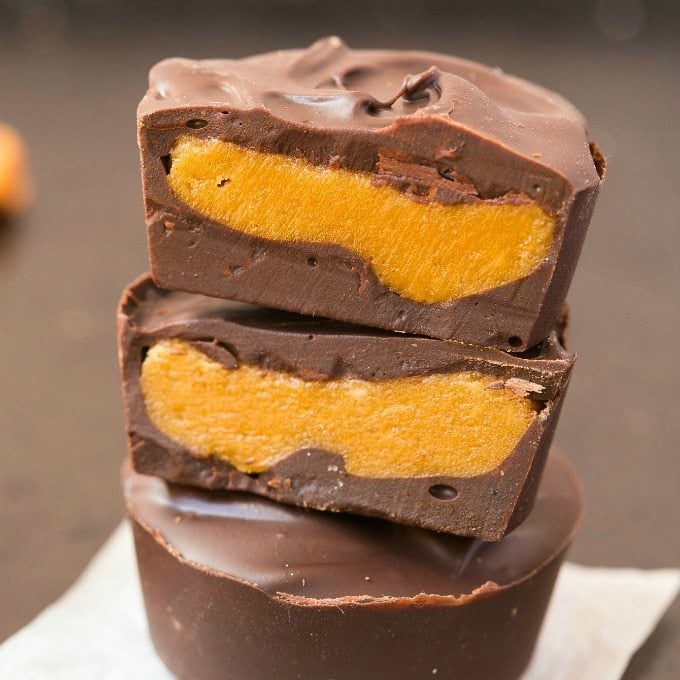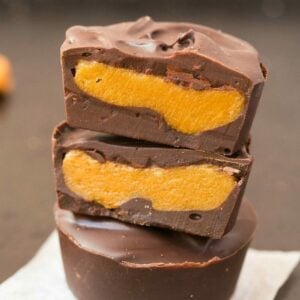 Healthy 4 Ingredient Pumpkin Peanut Butter Cups
Healthy 4 Ingredient Pumpkin Peanut Butter Cups (Vegan, Gluten Free)- A healthy no bake copycat version of Reese's Peanut Butter Pumpkins candy.
Instructions
Line an 18 count mini muffin tin with muffin liners and set aside.

In a microwave safe bowl or stove top, melt 1 1/2 cups of the chocolate chips of choice. Divide the melted chocolate amongst the mini muffin liners, two-thirds full. Use your spoon to ensure the sides are coated with chocolate. Refrigerate.

In a mixing bowl, add your smooth peanut butter and sticky sweetener of choice until combined. add 1/4 cup of pumpkin puree and mix until fully combined and smooth.

Pour pumpkin peanut butter mixture evenly amongst the hardened chocolate cups. Melt the remaining chocolate chips and cover each cup completely. Refrigerate until firm.
Notes
* Depending on how much pumpkin flavor you want, you can increase to half a cup.
Healthy 4 Ingredient Pumpkin Peanut Butter Cups can be kept at room temperature, in a sealed container. They can be kept refrigerated for up to 4 weeks or frozen for up to 2 months.
Nutrition
More delicious pumpkin recipes? Gotcha covered!
Healthy No Bake Pumpkin Spice Latte Bites
Healthy 4 Ingredient Pumpkin Fudge
Healthy 3 Ingredient Flourless Pumpkin Brownies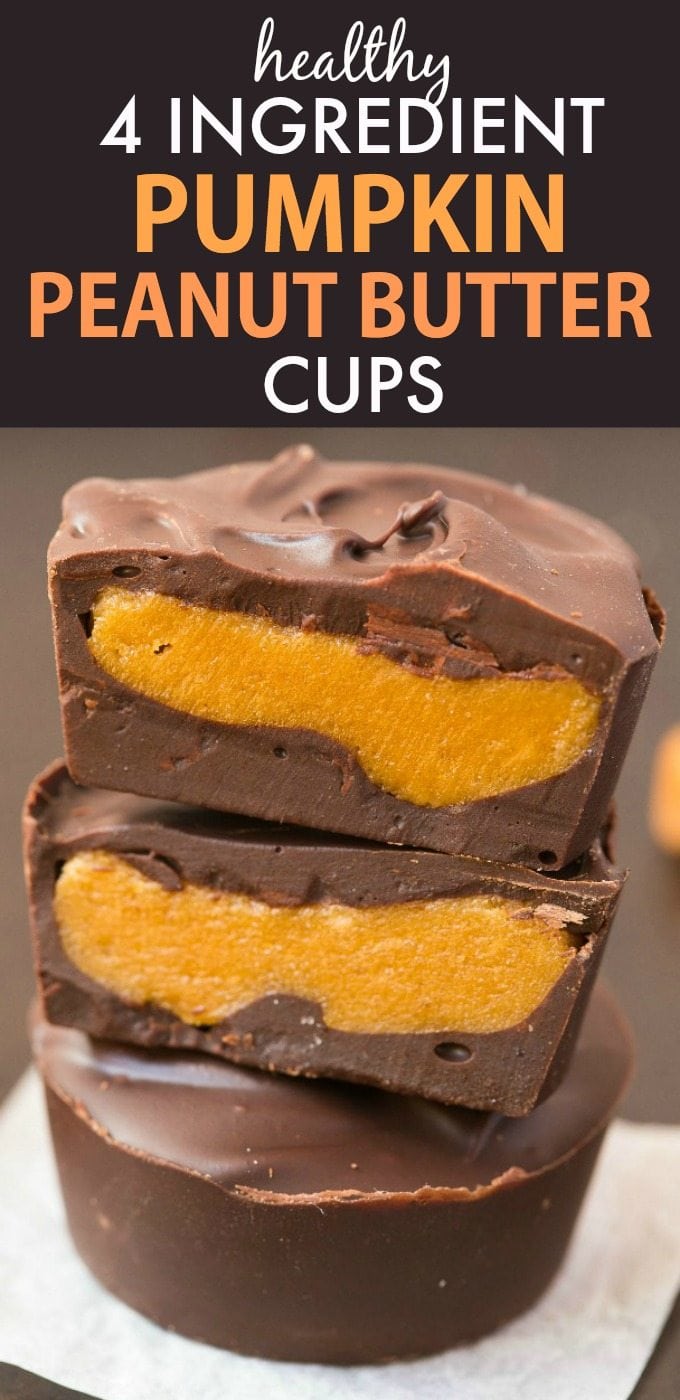 Disclosure: This post may contain affiliate links. I may earn a small commission for my endorsement, recommendation, testimonial, and/or link to any products or services from this website.