The popular white peanut butter cup gets a vegan, keto, and dairy-free makeover- A sweet and salty center covered in a creamy shell, these 4 Ingredient white chocolate peanut butter cups could not be any easier! No milk, sugar or cream, but you'd never tell- Gluten-free with a nut-free version too!

Keto White Chocolate Peanut Butter Fat Bombs
White chocolate is one of the most underrated forms of chocolate. Technically, it isn't really considered chocolate, seeing as it doesn't contain cocoa powder. However, it IS located in the candy aisle, the baking aisle and has chocolate chips made of it.
So chocolate it is. I mean…Reese's Peanut Butter Cups come in milk, dark and white so there is your answer.
With that said, white chocolate has often received an unfair stigma because there really isn't a good dairy free or vegan-friendly white chocolate out there. Granted, you can make your own (which I do enjoy from time to time) but sometimes, you want something easy and convenient.
I've been experimenting with a few recipes calling for white chocolate. Because I want to keep my readers happy, the had to be made without any dairy, eggs, or cream.
I've tried my fair share of dairy free chocolate. Long term readers know I actually prefer dairy free chocolate over traditional milk chocolate. Most recipes on TBMW exclusively use these mini chips or these baking morsels. It's not because I follow a dairy-free or vegan diet, but rather they taste better and melt beautifully.
When it comes to white chocolate made without any milk or dairy, that is another story. I've tried a handful of brands and had some very mixed results. While all of them did taste good in a firm state, when melted, there were some disasters. Luckily, amidst the several brands I tried, I DID find one which melted beautifully and tasted like traditional white chocolate.
One of Reese's most popular chocolates is their White Chocolate Peanut Butter Cups. Unfortunately, these aren't suitable for those following a vegan, gluten free and dairy free lifestyle.
Not anymore- I have the easiest copycat recipe which tastes better than the original!
Not only that- I've just tested out a keto and sugar-free white chocolate bar, which melts beautifully. Thus- My keto friends have now got a keto-friendly white chocolate recipe to use in these white chocolate cups!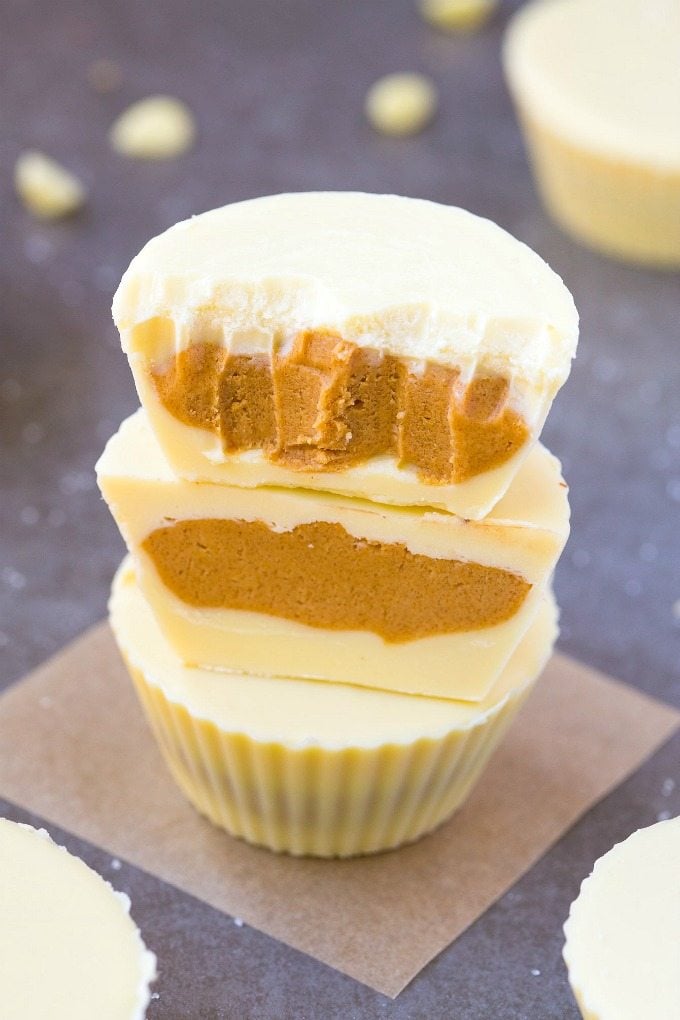 When I say this recipe is easy and fool-proof, I'm really not kidding. You only need four ingredients-
White chocolate
Peanut butter (or sunflower seed butter, to keep it nut-free)
Flour or grain-free flour of choice (I either use oat flour or coconut flour)
Milk of choice (I used unsweetened almond milk to keep it 100% vegan + dairy free)
One bowl. 5 Minutes. Fuss Free. Fool Proof.
These homemade keto and vegan white chocolate peanut butter cups are a walking sales pitch.
Having been a fan of Reese's White Chocolate Peanut Butter Cups, these had a lot to live up to. They had to have a thick, fudgy peanut butter center. The exterior had to melt in the mouth and be the perfect balance of sweet and salty.
Let's just say my homemade dairy free version lived up to it, and more!
Because white chocolate is typically sweeter tasting than milk chocolate, the filling needed to be completely void of any sweetness.
Baking with Dairy Free White Chocolate- Tips and Tricks
After trying 3 different dairy free white chocolate baking chips (NOT ready to eat dairy free white chocolate), I noticed a few important things to take note of.
When melting the chocolate, I noticed that it melted considerably faster than standard white chocolate. It also tends to clump together faster, so you'll need to move quickly when coating your cups.
If you use a microwave to melt the chocolate, use at half the power mode. This will ensure even melting time.
If you opt to use a stovetop, melt at low heat and stirring consistency. Once the chocolate has completely melted, remove from the heat immediately.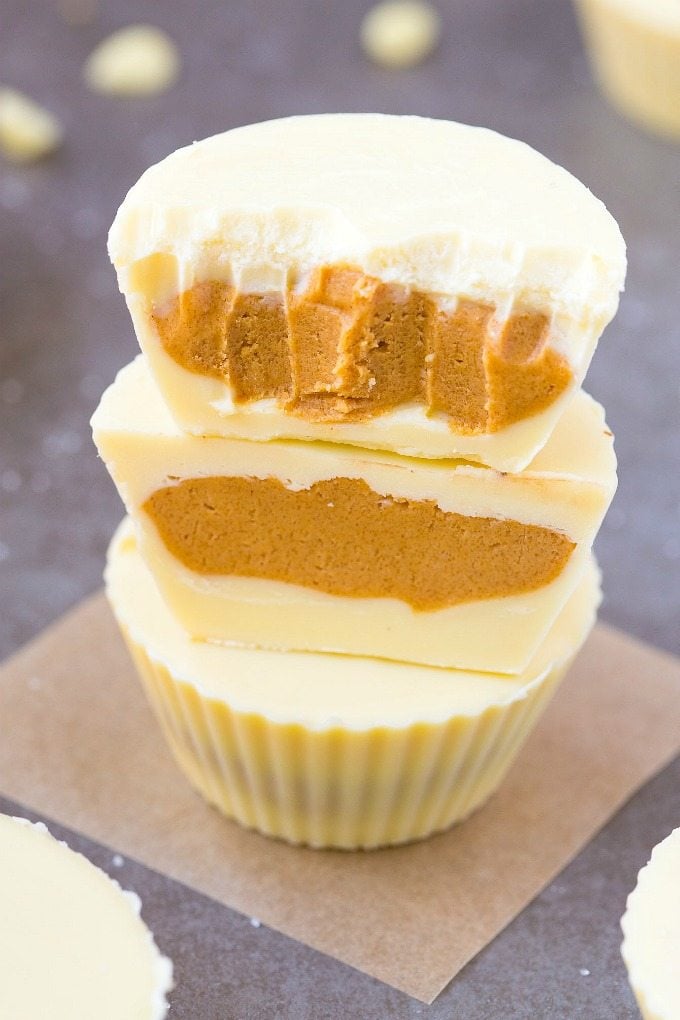 Grain Free Flour or Regular Flour
You have the choice as to what flour you add to the center filling. In all honesty, you don't really need this, especially if you prefer a super creamy filling. However, it does provide a thicker, fudgier center.
I would suggest using coconut flour (as pictured and in the recipe video below), as a little goes a long way. Coconut flour is also naturally more 'doughy', which only enhances the fudge-like texture.
Alternatively, you can use oat flour or almond flour, but be wary that the almond flour flavor is more evident. You can also use traditional gluten-free wheat or white flour.
Creamy VS Fudgy peanut butter filling
Adding flour to the center really gives the peanut butter filling a superior texture. However, if you do want to have that texture but maintain a creamy and smooth center, you can easily do so by increasing the milk of choice.
Start by adding a tablespoon at a time, until your desired texture is achieved. Remember, once cooled, they will naturally firm up, so consider adding more than you may think is necessary.
What kind of Peanut Butter?
Be sure to also use 100% natural creamy/smooth peanut butter. There are many brands out there which contain a little bit of sugar, which will make the overall cups too sweet. If you like, use a drippy peanut butter which has a little salt added. This will only bring out the flavor contrast.
If you have a peanut or nut allergy, the best alternative would be sunflower seed butter. It mimics the texture of peanut butter and also pairs beautifully with the white chocolate.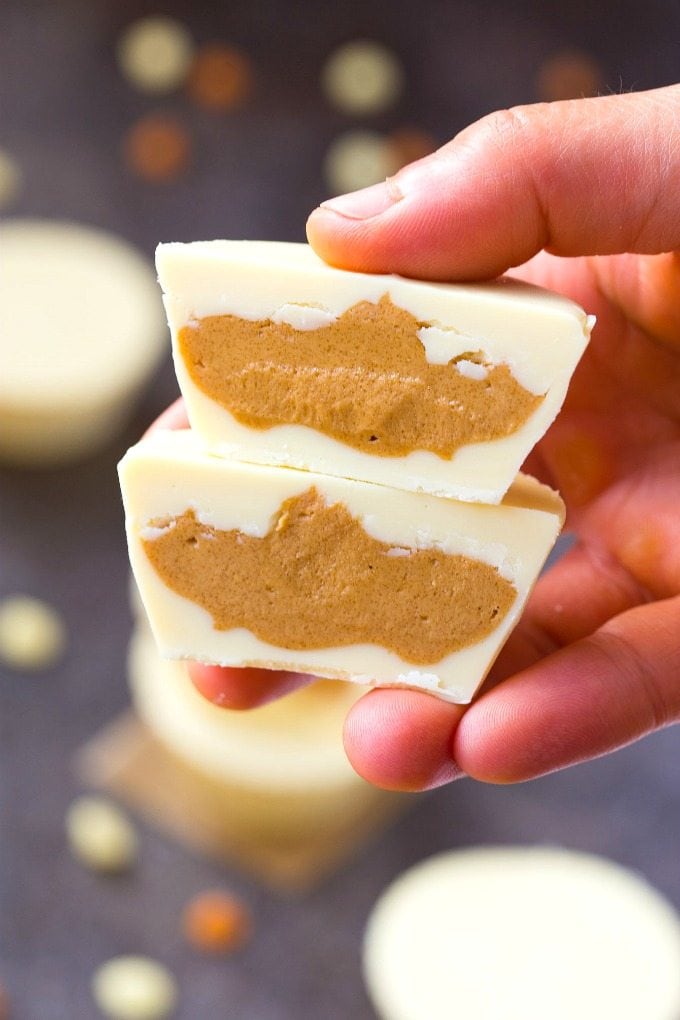 With all of this said, if you have no dietary issues and can tolerate milk/dairy, by all means, use standard white chocolate chips. Like any baking chocolate, the more expensive the baking chocolate is, the better the quality and taste are.
For all my keto, vegan, sugar-free and dairy free friends who have suffered FOMO when seeing Reese's White Chocolate Peanut Butter Cups- You now have NO excuses not to indulge in them too.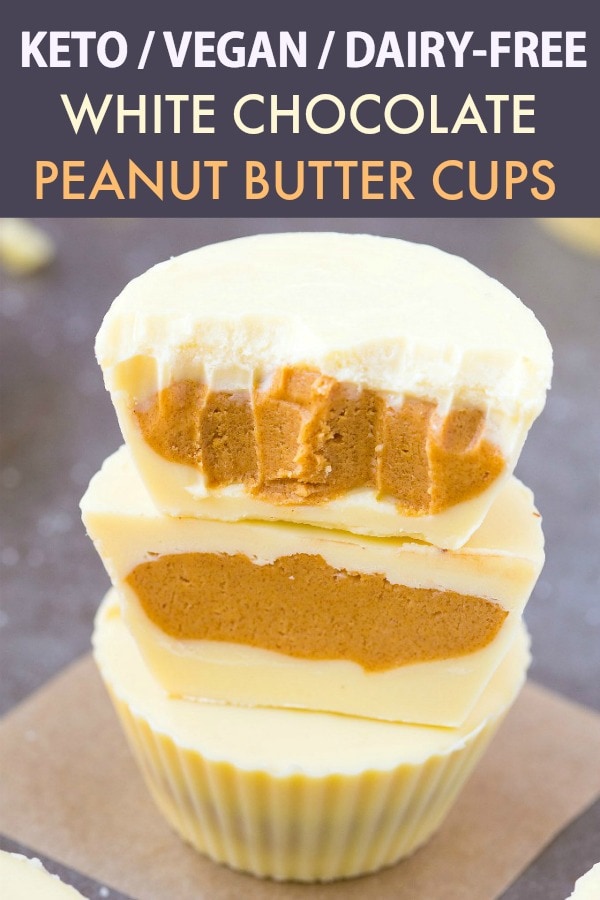 Watch a step-by-step video for these homemade white chocolate cups below!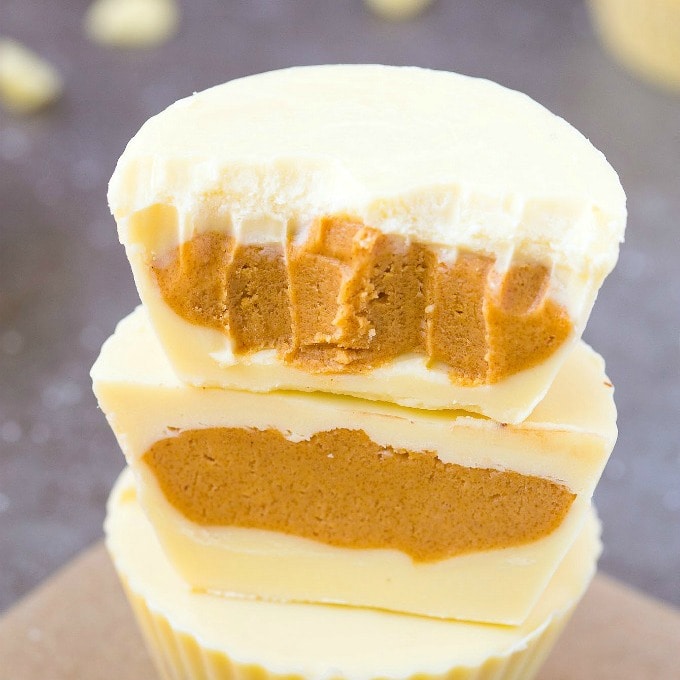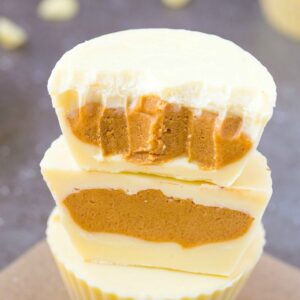 White Chocolate Peanut Butter Cups
The popular white peanut butter cup gets a keto, vegan and dairy-free makeover- A sweet and salty center covered in a creamy shell, these 4 Ingredient vegan white chocolate peanut butter cups could not be any easier! No milk, sugar, or cream, but you'd never tell- Gluten-free, low carb and with a peanut-free version too!
Instructions
Line a 20 count mini muffin tin or 12-count standard muffin tin with muffin liners and set aside.

Set aside half a cup of the white chocolate chips. In a microwave-safe bowl or stovetop, melt the 3 1/2 cups remaining chocolate chips until smooth and silky. Moving quickly, distribute the melted white chocolate amongst the lined muffin cups, scraping down the sides. Once it is all done, place in the freezer.

While the white chocolate cups are freezing, start preparing your peanut butter filling. Add your peanut butter and flour and mix well. Using a tablespoon, add milk of choice until desired texture remains.

Remove chilled white chocolate cups from the freezer and evenly distribute the peanut butter filling amongst them all. Once it is all used up, melt the remaining half cup of white chocolate chips and pour to cover each of the cups. Refrigerate until firm.
Notes
* To keep it keto-friendly, use a sugar-free white chocolate bar.
** I used unsweetened coconut milk. For a creamier filling, add more milk
Keto Vegan White Chocolate Peanut Butter Cups (Dairy Free) can keep at room temperature, in a sealed container, for up to a week. They are best kept refrigerated and are freezer friendly.
Nutrition
Serving:
1
cup
Calories:
117
kcal
Carbohydrates:
14
g
Protein:
3
g
Fat:
6
g
Fiber:
10
g
Vitamin A:
2600
IU
Vitamin C:
3.3
mg
Calcium:
30
mg
Iron:
0.4
mg
NET CARBS:
4
g
More vegan, gluten-free and paleo homemade candy? Gotcha covered!
3 Ingredient Sugar Free Almond Joy Cups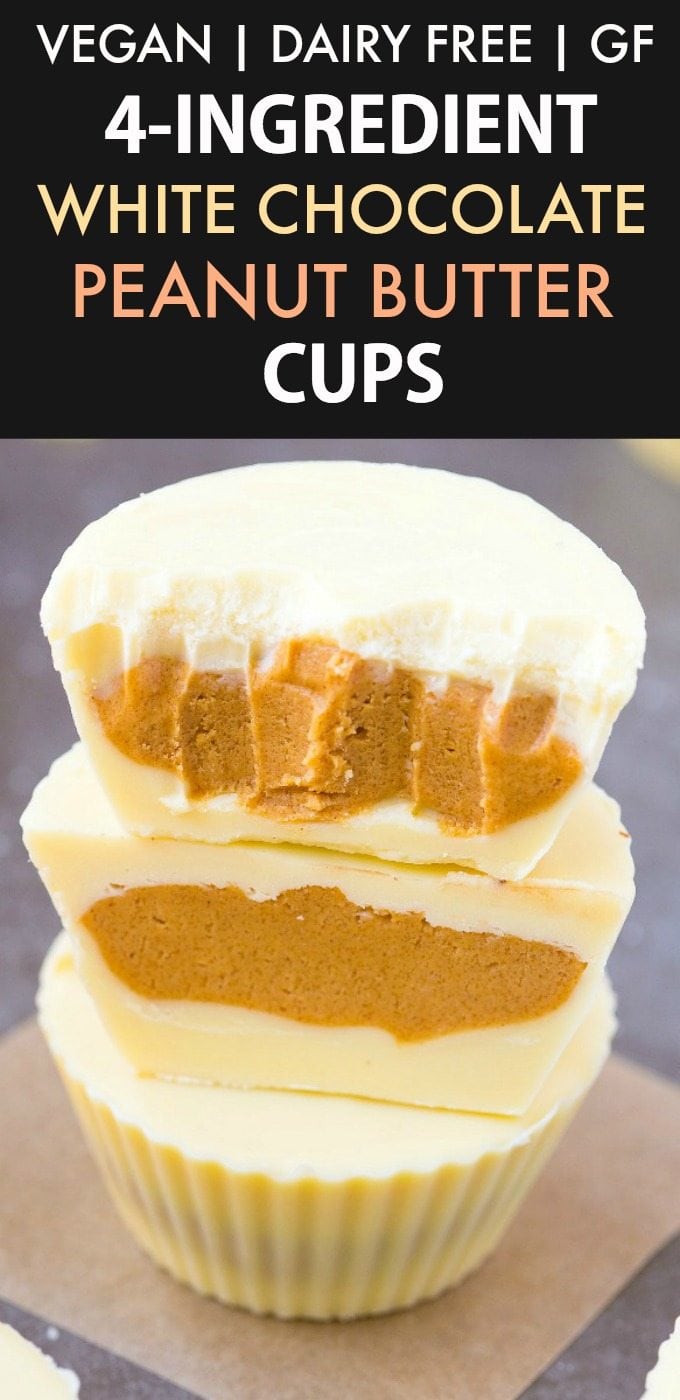 Disclosure: This post may contain affiliate links. I may earn a small commission for my endorsement, recommendation, testimonial, and/or link to any products or services from this website.