4 Ingredient Paleo Vegan Chocolate Coconut Cookies (Keto, Sugar Free, No Bake)- An easy recipe for chocolate coconut no bake cookies using just 4 ingredients! Easy, delicious low carb cookies which take less than 5 minutes to whip up- The perfect snack or holiday gift.
Cookie season is in full swing, and I had to do one better with my coconut no bake cookies– Dip them in my favorite chocolate chips!

I was tossing up the idea of sharing a more holiday-centric cookie, but really- Why have cookies which are only seasonally appropriate when these beauties can be enjoyed year round?

MY OTHER RECIPES
I'm not complaining.
Then again, I am that person who makes pumpkin recipes in summer and eats brownie inspired ice cream in winter.
No shame.
Holidays and cookies are something that goes hand in hand. Another curveball to add to the mix is, of course, time.
The amount of TIME spent in the kitchen making cookies, especially during Christmas or other festive events is staggering. My friends tell me they set weekends aside specifically for holiday baking. My mum spends the better part of her weekend baking cookies for her Monday morning meeting. My blogging buddies complain about making recipes for their own sites while making cookies for exchanges.
TIME, once again, gets eaten up.
Um, can we say bah humbug to that?
I'm here to rectify that.
If my recent onslaught of no bake cookies and bars have been any indication, I'm here to share quick and easy recipes which won't require you to spend hours in the kitchen. In fact, you could probably set a timer for 30 minutes and have churned out three recipes.
Let's see- these no bake peanut butter cookies, these no bake peppermint chocolate cookies and the famous unicorn no bake cookies.
You'd still have time to make a coffee and enjoy it too.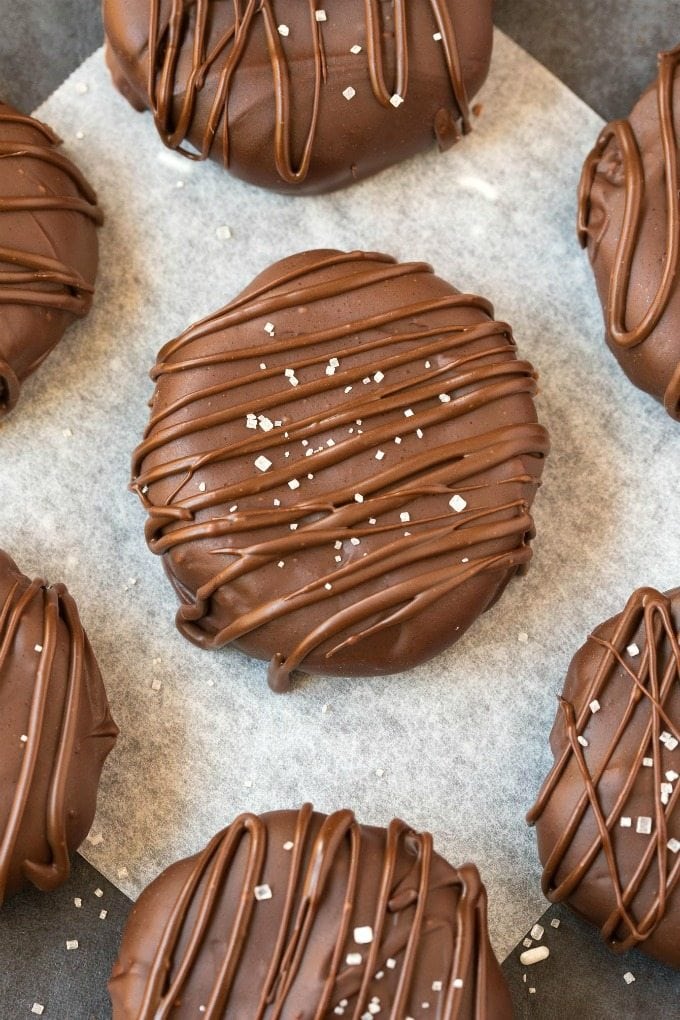 To say today's chocolate coconut no bake cookies are simple to make would be a gross understatement. They are pretty much fool-proof and follow a 3 step process-
Add ingredients in mixing bowl and form into no bake cookies
Dip each cookie in chocolate
Wait for it to firm up and enjoy
These cookies can be even prepared in advance. The coconut batter can be kept refrigerated until ready to be given the chocolate dousing treatment.
No baking
5 minutes
No sugar
4 ingredients
Flourless and Grain Free
You have no excuses.
If you are planning on giving homemade healthy cookies during the holiday season, these fit the bill. Not only are they great for those fans of the chocolate coconut combination, NO ONE can tell that they are healthy!
Coconut is naturally sweet without any added sweetness. When paired with the dairy free, vegan and paleo chocolate coating, it takes it up a notch.
The no bake cookies would be perfect to gift to your pals or family with dietary restrictions. Not only are the paleo, vegan and low carb, they are also refined sugar free and keto friendly!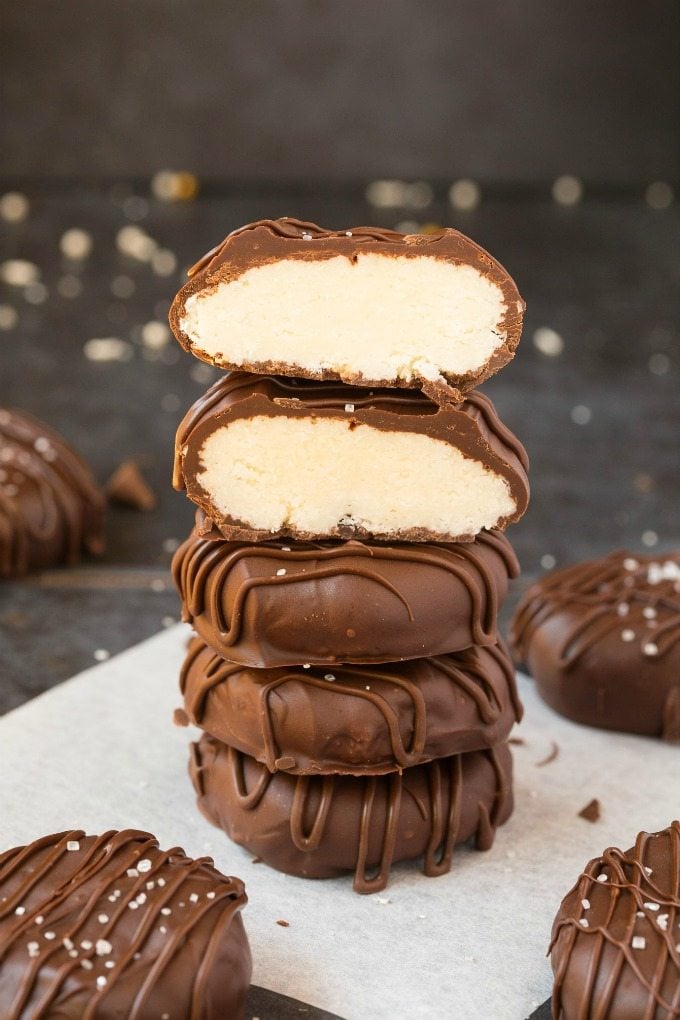 If you just want a healthy and satisfying snack to enjoy anytime, these fit the bill too! I've mentioned how I've been ensuring my snacks lately to be ketogenic diet friendly, purely because of the lower carb, higher fat content has been way more satisfying.
Society tends to preach that to be satisfied (when snacking), you need to balance out carbs, protein, and fats. Personally, this works well for me when it comes to meals but snacks and desserts- The higher the fat, lower the sugar and lower the carbs- The more satisfied I am!
DAIRY FREE, VEGAN AND PALEO FRIENDLY CHOCOLATE CHIPS
If you've been a long-term reader or make any of my recipes involving chocolate of some sort, you know which one I choose every single time- Enjoy life chips.
Whether it be their mini chips (perfect for snacking), their baking morsels (perfect for snacking) or their massive chunks (perfect for snacking), I don't discriminate. They all work beautifully.
For this recipe, I used half chunks and half mini chips, mainly because I had accidentally eaten misplaced half the mini chips.
A big shout out to my epic buddy Kathleen who is a huge fan of these chips (*nose tap*) AND who is celebrating a special day on the 7th December- Still holding on the promise of Disney times 10.
ALTERNATIVE SWEETENERS
For my friends who follow a ketogenic diet or lifestyle, you have two choices for the chocolate coating-
Homemade chocolate- An easy two ingredient (or three!) recipe made purely of equal parts coconut oil and cocoa powder. You can adjust the sweetness by adding either maple syrup or liquid stevia.
Stevia Sweetened chocolate chips- I've previously used these stevia sweetened baking chips which work really well and have no bitter aftertaste.
Be wary that if you do the homemade chocolate route, you need to keep these cookies refrigerated at all times. At room temperature, the chocolate coating will be very flimsy and start melting.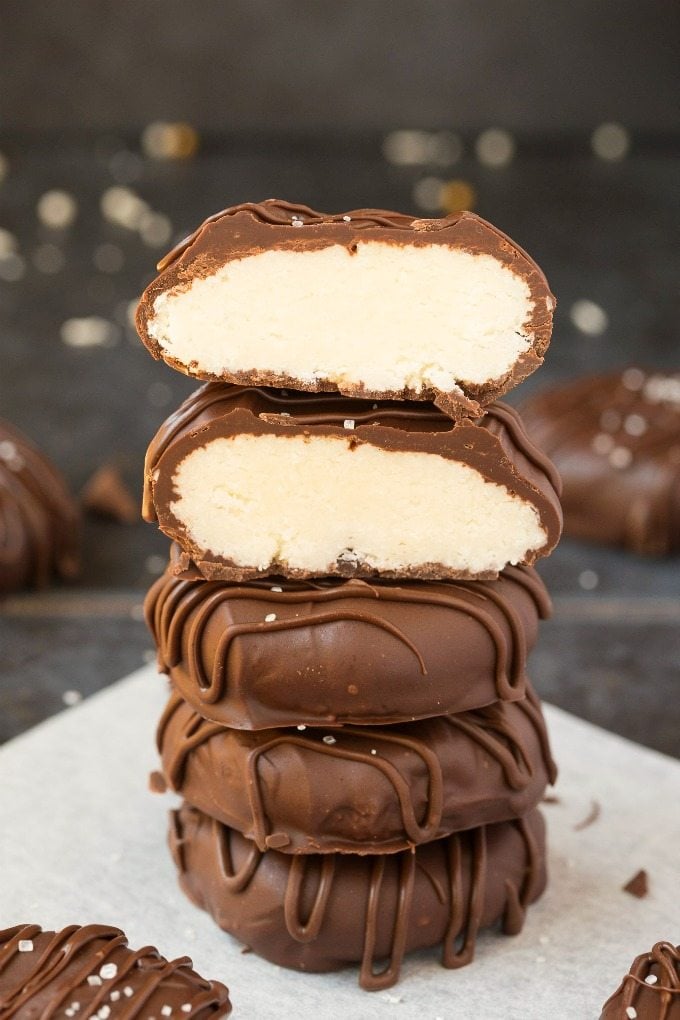 Whether your intentions are to make a secretly healthy cookie for the holidays, a cheeky cookie exchange or an everyday snack, these no bake chocolate coconut cookies are your answer. 4 ingredients, low carb, refined sugar free, and tastes like a chocolate coconut candy bar in cookie form!
More delicious chocolate coconut recipes? Gotcha covered!
Want to see a similar recipe but in bar form? Check out these no bake chocolate coconut candy bars using just four ingredients- The recipe video below will show you the step-by-step process!
4 Ingredient Paleo Vegan Chocolate Coconut Cookies (Keto, Sugar Free, No Bake) adapted from my no bake coconut snowball cookies.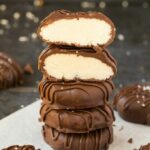 4 Ingredient Paleo Vegan Chocolate Coconut Cookies
4 Ingredient Paleo Vegan Chocolate Coconut Cookies (Keto, Sugar Free, No Bake)- An easy recipe for chocolate coconut no bake cookies using just 4 ingredients! Easy, delicious low carb cookies which take less than 5 minutes to whip up- The perfect snack or holiday gift.
Print Recipe
Instructions
Line a large baking tray or platter with parchment paper and set aside.

In a high-speed blender or food processor, add your unsweetened coconut and blend until a fine consistency remains. Add your granulated sweetener of choice and blend for an extra minute.

Add your coconut milk and continue blending, scraping down the sides. Once a thick dough remains, remove and place in a large mixing bowl. Lightly wet your hands and form small balls. Place on the lined baking tray and press each ball into a cookie shape. Place cookies in the freezer to firm up.

Once cookies are firm, melt your chocolate chips. Using two forks, dip each cookie in the melted chocolate until completely combined. Repeat process until all cookies are covered. Refrigerate until firm.
Notes
* For a thicker chocolate coating, feel free to increase chocolate chips by an extra cup or two. See notes above for keto friendly options. If using Enjoy Life Chocolate Chips, 4 Ingredient Paleo Vegan Chocolate Coconut No Bake Cookies can be kept at room temperature. If using homemade chocolate, no bake cookies need to be kept refrigerated.
Nutrition Facts
4 Ingredient Paleo Vegan Chocolate Coconut Cookies
Amount Per Serving (1 cookie)
Calories 43
Calories from Fat 36
% Daily Value*
Total Fat 4g 6%
Total Carbohydrates 3g 1%
Protein 1g 2%
* Percent Daily Values are based on a 2000 calorie diet.
Nutrition
Serving:
1
cookie
|
Calories:
43
kcal
|
Carbohydrates:
3
g
|
Protein:
1
g
|
Fat:
4
g
|
Fiber:
2
g
|
Vitamin C:
3
%
|
Calcium:
6
%
|
Iron:
4
%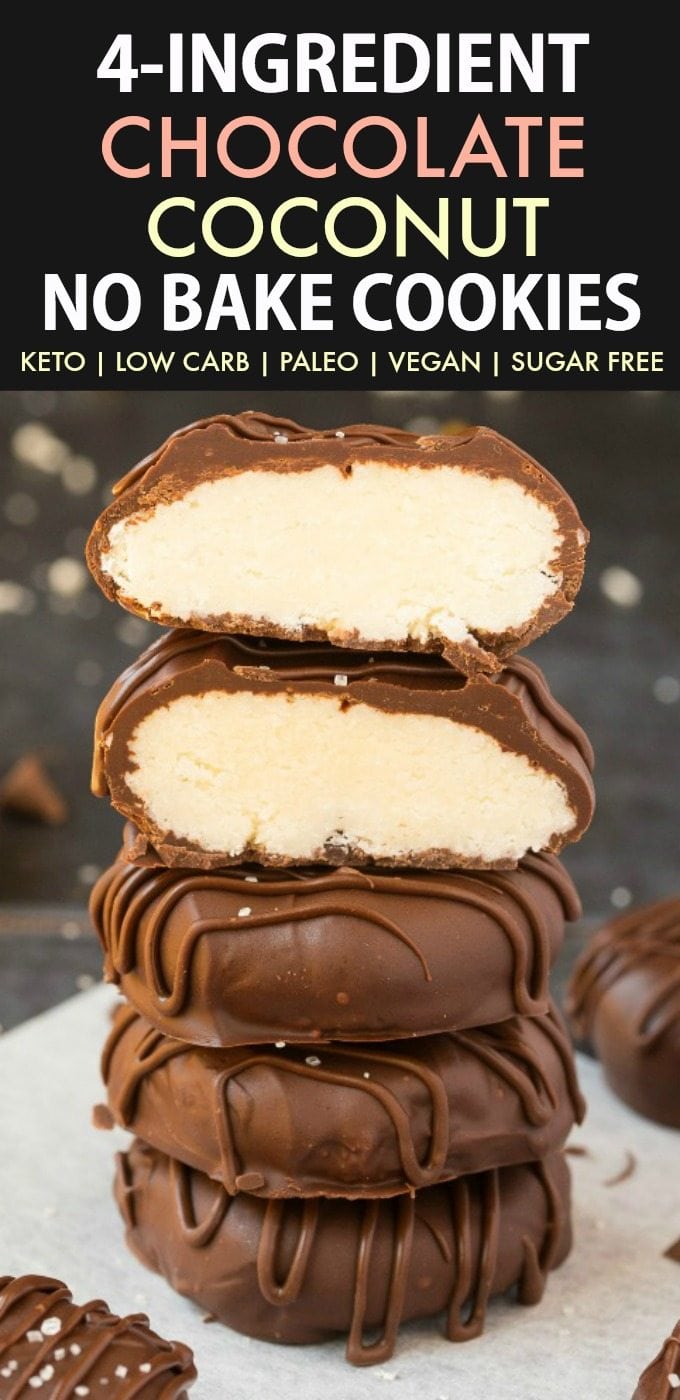 This post is sponsored by Enjoy Life Foods. Cheers, hugs, and handshakes for supporting companies and brands which allow me to do what I'm passionate about every day, and continuing to make The Big Man's World possible.
The Big Man's World is a participant in the Amazon Services LLC Associates Program, an affiliate advertising program. This means that if you click and make a purchase, TBMW receives a small commission, at no cost to you. Cheers, hugs, and handshakes for supporting TBMW!