The best and healthy way to enjoy the chocolate coconut combination, these chocolate coconut crack bars require no baking and are completely sugar free! A 5-minute, easy recipe to satisfy the sweet tooth, which is also paleo, vegan and keto friendly!
You guys loved the simplicity and deliciousness of my original coconut crack bars that I had to do one better- Add a chocolate coating to it!

If the original version didn't live up to the 'crack' in it, this chocolate spiked version certainly will- Not only is it impossible to stop at one serving, you'll be struggling to stop at just one batch!
Luckily for you, this recipe could not be any easier and takes less than 5 minutes prep time. Still sticking with the dietary friendly theme, these chocolate coconut bars are completely paleo, vegan and keto-friendly.
I hate to play favorites, but I really think the chocolate coconut combination is really giving my chocolate peanut butter combination a run for its money.
Granted, both of these combos are a common theme here, but just over the last two months, we've had the coconut winning over the peanut butter. Case in point? Homemade bounty bars, no bake brownies, and even snuck in some chocolate chips in these coconut based pancakes.
See? It's like Romeo and Juliet, in edible form.
Inseparable.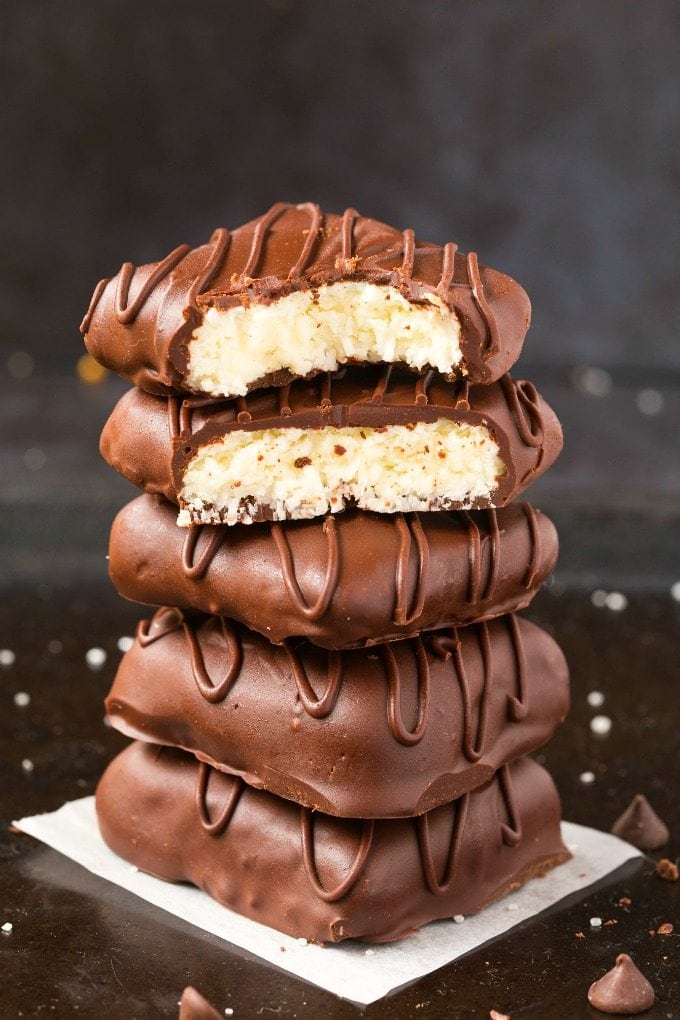 Although I don't follow a ketogenic, low carb or sugar-free diet, I have found that snacks which fit into these lifestyles to be the most satisfying. I'd always been one to struggle to find a snack or dessert which satisfies the sweet tooth, without the urge to go back for more.
The combination of high healthy fats, no added sugar, and no processed carbs really work wonders and honestly, I have found a small serving goes a long way and my sugar cravings are slowly decreasing!
That isn't to say my main meals follow this format- On the contrary. However, in between meals, after dinner or when hunger strikes- This recipe (along with other keto-friendly treats) has been a savior!
When I say this recipe is fool-proof and ridiculously easy, I'm not exaggerating.
5 minutes
No baking
No sugar
4 ingredients
100% grain free and flourless
What are you waiting for?
I briefly mentioned keto-friendly sweeteners in strictly coconut version, but I'll reiterate it, as you'll need (if you choose) to utilize it in the chocolate portion of the recipe.

Low carb and keto friendly sweeteners
Luckily for me, the sweeteners I use in almost all of my recipes are naturally low carb and keto-friendly. These are usually in the form of monk fruit sweetener.
You can get monk fruit sweetener in either liquid form, granulated (what I use in all my recipes calling for a granulated sweetener) or a monk fruit sweetened maple syrup.
I opted to use a monk fruit sweetened maple syrup, as it provided the best sticky texture for the coconut bars. It mimicked the texture of traditional maple syrup, honey or other like-sweeteners.
If you don't follow a sugar-free or low carb lifestyle, any of the above-mentioned sweeteners work beautifully.
A reader advised me that they tried using the granulated sweetener in the original recipe, but added milk to firm up. You can try this, but I honestly cannot vouch for the end result as I haven't tried it myself. I'd assume if you were to do this, you'd need to keep the bars frozen at all times or move quickly when coating it with chocolate.
Low carb and sugar free chocolate options
The easiest way to make a low carb and sugar free chocolate (whether it be for coating the bars or allowing to firm up into bars themselves) is to simply combine coconut oil with cocoa powder and your preferred sweetener.
Granted, not all of us have time to do this or find it easier to use a packaged chocolate alternative.
My two tried and tested chocolate are as follows-
Paleo/Vegan/Dairy-Free friends- These mini chips or baking morsels by Enjoy Life are my go-to for any recipe calling for baking chocolate/chocolate chips, etc. They taste fantastic and melt beautifully.
Keto/Sugar free friends- I use these stevia sweetened chocolate chips, which are great to bake with and perfect for making chocolate desserts for my dad, who is diabetic.
As someone with an evident sweet tooth, having snacks or healthy desserts like these no bake chocolate coconut crack bars are a lifesaver! Perfect to prep in minutes and ready to grab-and-go whenever the snack monster needs to be tamed!
More delicious keto-friendly sweets and desserts? Gotcha covered!
3 Ingredient No Bake Coconut Cookies
3 Ingredient Keto Peanut Butter Fudge Cups
Sugar Free Stovetop Caramelised Nuts
See how easy these no bake bars are to whip up, by following the step-by-step recipe video below! You'll never buy store-bought candy or chocolate bars again!
4 Ingredient Paleo Vegan Chocolate Coconut Crack Bars (Keto, Sugar Free, No Bake) adapted from my No Bake Bounty Bars and Coconut Crack Bars.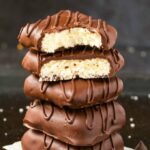 4-Ingredient No Bake Chocolate Coconut Crack Bars
The best and healthy way to enjoy the chocolate coconut combination, these chocolate coconut crack bars require no baking and are completely sugar free! A 5-minute, easy recipe to satisfy the sweet tooth, which is also paleo, vegan and keto friendly!
Print Recipe
Instructions
Line an 8 x 10 inch pan or large loaf pan with parchment paper and set aside.

In a large mixing bowl, add all your ingredients and mix very well. Pour batter into the lined pan. Lightly wet your hands and press firmly in place. Place in the fridge or freezer to firm up.

Once firm, remove and cut into bars. Place in the refrigerator.

Melt your chocolate chips of choice and individually, dip each coconut bar in the melted chocolate until coated evenly. Repeat until all the bars are evenly coated. Refrigerate until chocolate firms up and enjoy!
Notes
* For a thinner chocolate coating, unless 1 cup. For a thicker chocolate coating, use a full 2 cups or more. 4-Ingredient No Bake Chocolate Coconut Crack Bars can keep at room temperature, in a sealed container. These bars are thick and very firm- Enjoy at room temperature. If you keep them refrigerated or frozen, ensure they are thawed completely before enjoying.
Nutrition Facts
4-Ingredient No Bake Chocolate Coconut Crack Bars
Amount Per Serving (1 Bar)
Calories 106
Calories from Fat 99
% Daily Value*
Total Fat 11g 17%
Total Carbohydrates 3g 1%
Protein 2g 4%
* Percent Daily Values are based on a 2000 calorie diet.
Nutrition
Serving:
1
Bar
|
Calories:
106
kcal
|
Carbohydrates:
3
g
|
Protein:
2
g
|
Fat:
11
g
|
Fiber:
2
g
|
Vitamin C:
1
%
|
Calcium:
4
%
|
Iron:
1
%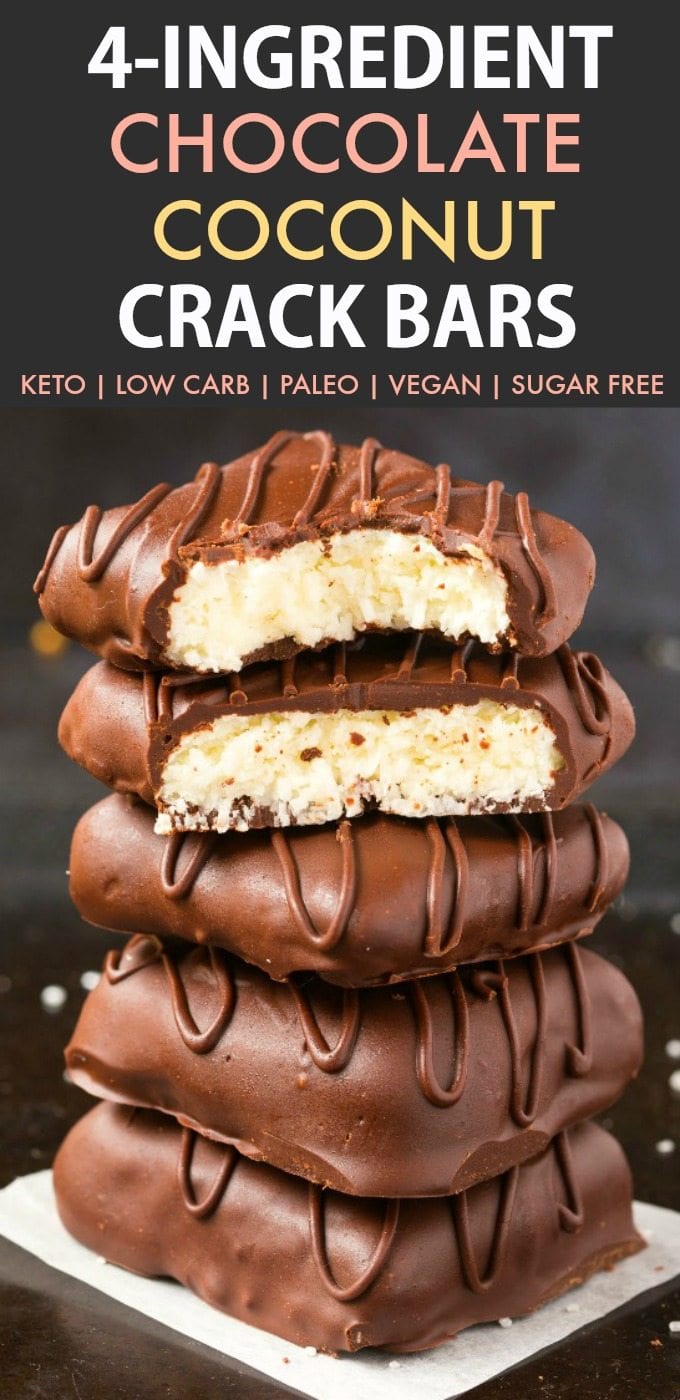 The Big Man's World is a participant in the Amazon Services LLC Associates Program, an affiliate advertising program. This means that if you click and make a purchase, TBMW receives a small commission, at no cost to you. Cheers, hugs, and handshakes for supporting TBMW!