Get your protein fix the delicious way, in these instant protein balls! Easily customizable and with over 40 flavor options, they need just 4 ingredients and take less than 5 minutes to make.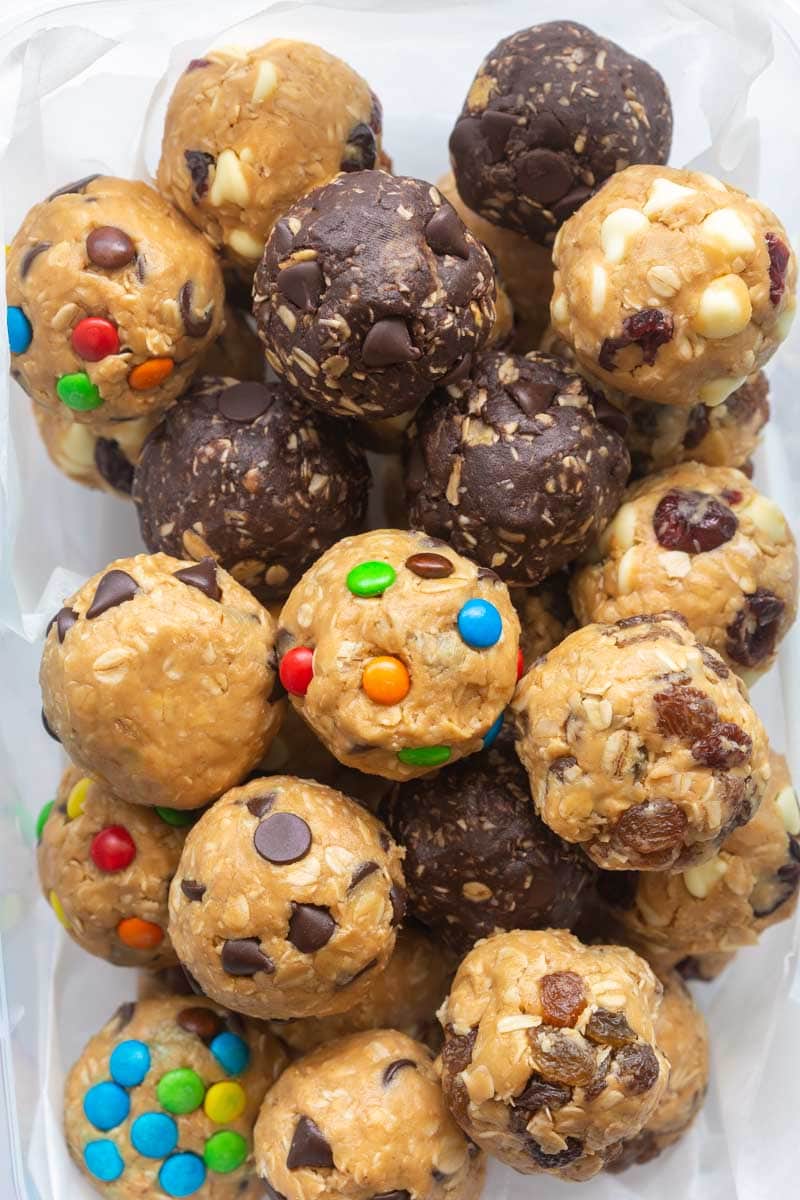 The Best Protein Balls Recipe
I'm the person who ALWAYS needs a snack between meals.
For as long as I can remember, I've always had a morning snack and an afternoon snack. I've never really been the three square meals a day kind of person, and I don't see that happening anytime soon.
When I started regularly weight lifting, I had to ensure every meal and snack had protein in it. Breakfasts were fine, with either a bagel or a smoothie. Lunches included pasta or meal prep, and dinners were… well, pretty much anything. For snacks, though, I started making protein balls.
What are protein balls?
Protein balls are energy balls or bliss balls that have added protein in them, thanks to protein powder. They are made with peanut butter and oatmeal, and can be flavored a variety of ways. They make the perfect snack and keep you satisfied between meals.
Why this protein energy balls recipe will be a weekly snack staple for you-
4 Ingredients only. Unlike other energy ball recipes, this one only needs four ingredients. Bonus? No butter, no eggs, no oil!
Ready in 5 minutes. From prep to plate, this entire recipe takes just five minutes.
Over 20 flavor options. From peanut butter, to chocolate chip, to oatmeal raisin, there are over 20 flavors to try.
Vegan and gluten free! Yep, these tick both these dietary boxes!
What I love about this recipe is just how easy to customize with your favorite flavors! We've included 40 delicious flavors, including-
Chocolate chip
Peanut butter
Oatmeal raisin
White chocolate cranberry
Monster cookie
They have a chewy, yet doughy texture, similar to raw cookie dough. Taste-wise, it's like an un-baked oatmeal cookie, with a protein twist!
Ingredients needed
This is a very simple and very short ingredient list. If you've made any of my healthy snacks before, you've probably got everything on hand!
Rolled oats– Gives the energy balls a chewy texture. This is a fabulous slow-releasing energy carb.
Protein powder– The key ingredient giving this recipe the added boost! I prefer using casein or brown rice protein powder, but some whey protein brands can work.
Peanut butter– Hold the balls together, along with providing a rich flavor. See below for easy substitutions and nut-free options!
Maple syrup– Adds sweetness and helps hold the balls together.
How do you make protein balls?
This recipe literally takes 5 minutes to make. All you do is mix everything together, roll them, and let them chill!
Ready to whip some up?
Step 1- Combine ingredients
In a large mixing bowl, mix the oats and protein powder together. Add the peanut butter and maple syrup and mix until combined. Fold through your flavor mix-ins of choice.
Step 2- Roll them into balls
Next, using your hands, roll out balls and place them on a lined plate and refrigerate them for five minutes, to firm up.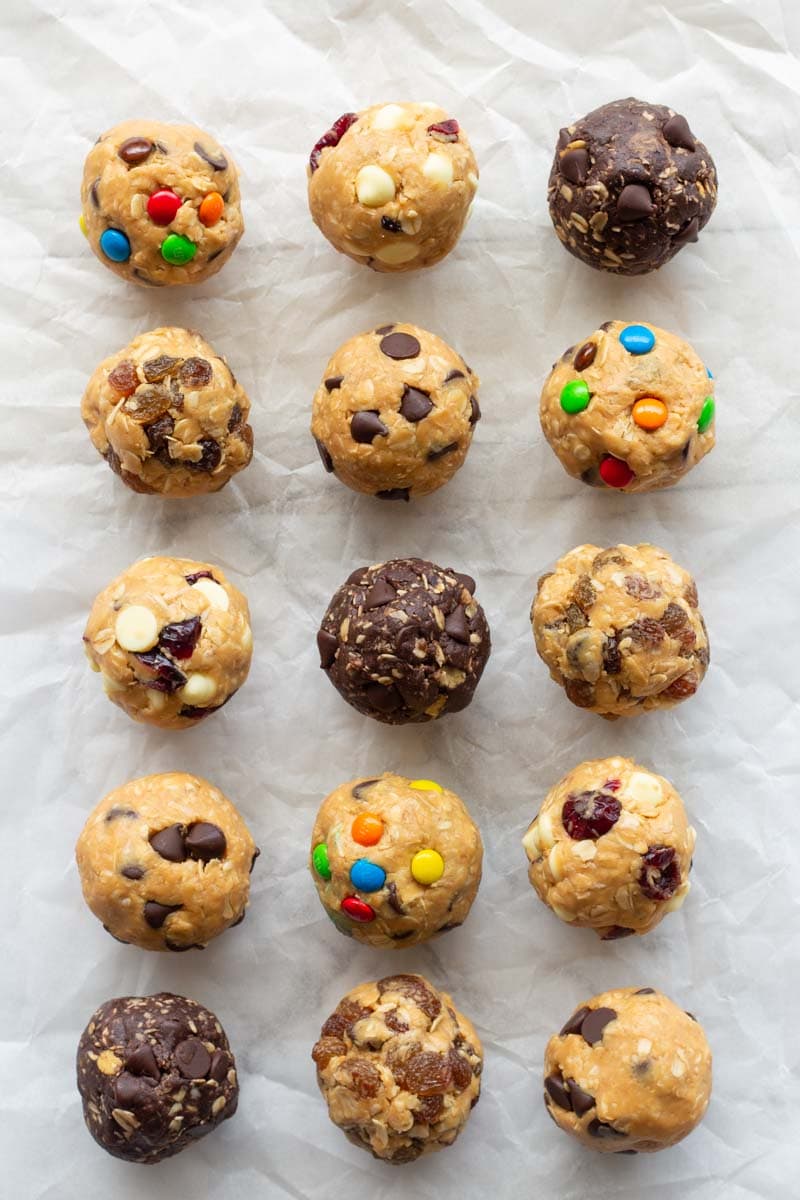 Flavor variations
For the flavor variations, make the basic base recipe first. Then, fold through the extra ingredients to change up the flavors.
Monster cookie protein balls
Protein ball base
1/2 cup mini m & m's or vegan candy buttons
White chocolate cranberry balls
Protein ball base
1/4 cup white chocolate chips
1/4 cup unsweetened dried cranberries
Chocolate peanut butter balls
Protein ball base
1/2 cup cocoa powder
1/4 cup chocolate chips
Oatmeal raisin balls
Protein ball base
1 teaspoon cinnamon
1/2 cup raisins
Chocolate chip balls
Protein ball base
1/2 cup chocolate chips
Dietary swaps and substitutions
The beauty of any kind of protein energy balls is that you can customize them in tons of ways or make them suitable for other diets. Here is what we've tried:
How long do protein balls last?
Wondering what is the best way to store leftovers? Here are best practices:
To refrigerate: Place no bake balls in a sealable container and keep in the fridge. They will keep fresh for up to 4 weeks.
To freeze: If you make a big batch of these balls, they can be placed in a ziplock bag and stored in the freezer for up to 6 months.
More high protein snacks to try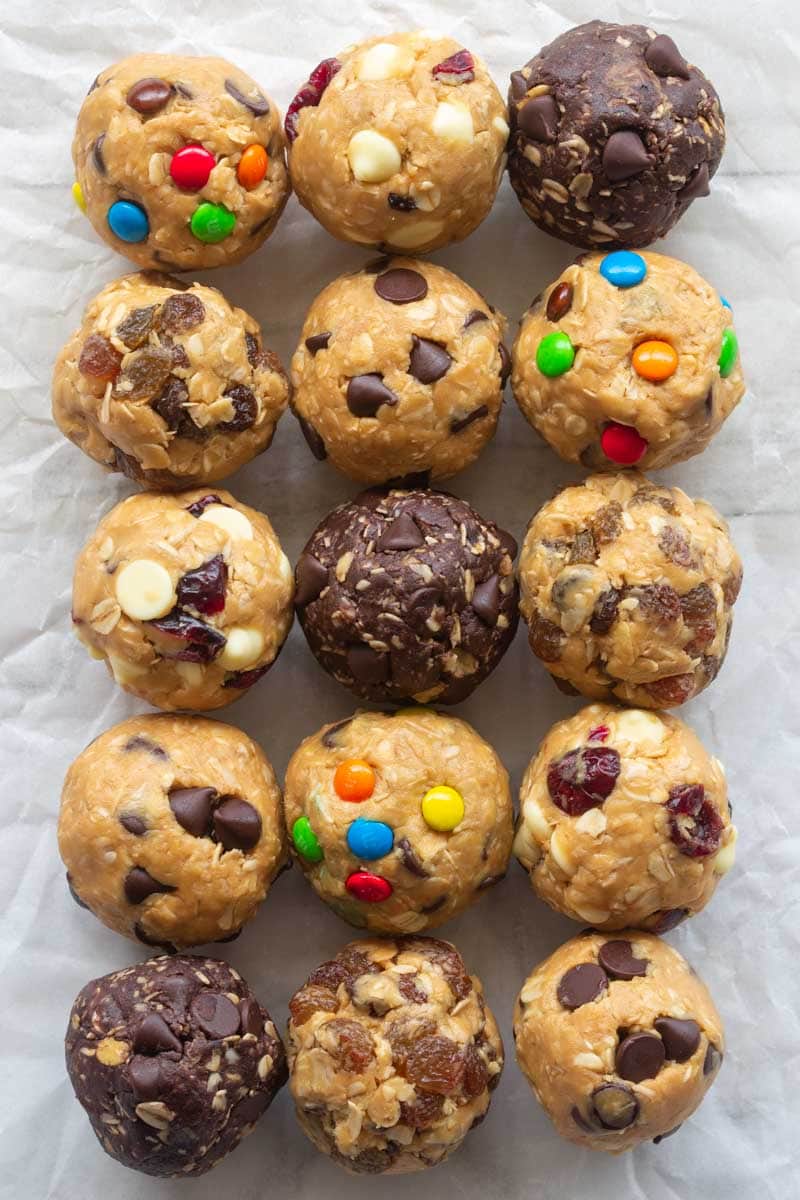 Frequently Asked Questions
Are protein balls good for you?
Protein or energy balls are a great snack to enjoy between meals, as they contain ample amounts of protein, healthy fats, and fiber. One or two balls will keep you satisfied and energised between your main meals.
Are protein balls good after a workout?
As these balls contain a good amount of protein and carbs, they are a fantastic option after a workout. Studies show that eating something with a balance of carbs and protein 30 minutes after a workout improves recovery time and also aids muscle growth.
How many calories in an energy ball?
These protein energy balls have less than 100 calories each. Enjoy two or three for a well balanced and satisfying snack, without going overboard on your caloric needs.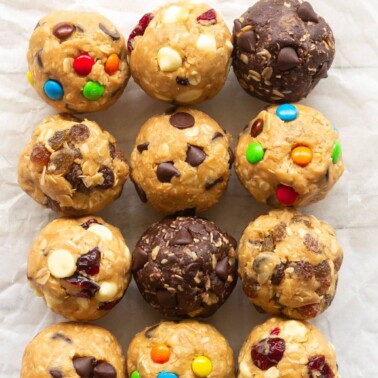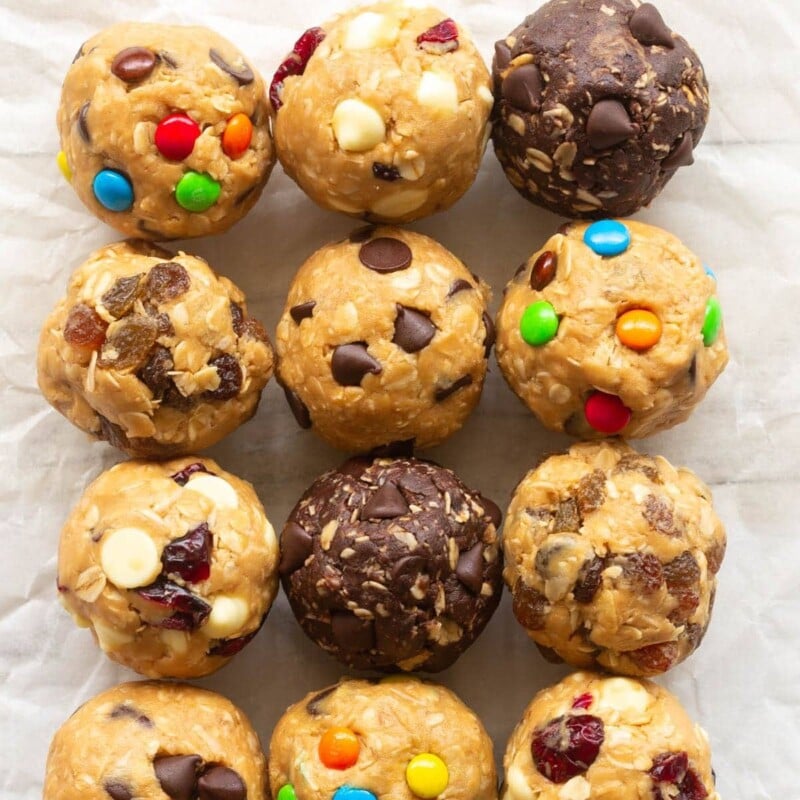 Protein Balls (4 Ingredients)
An easy 5-minute recipe for homemade protein energy balls made with 4 ingredients! Chewy, easy and made in one bowl, they are EASILY customizable with a myriad of options!
Instructions
In a large mixing bowl, mix your oats with protein powder until combined. Add your peanut butter and syrup and mix well. Fold through your mix ins of choice.

Lightly wet your hands (or spray them with cooking spray). Form 20-24 small balls of dough. Place on a plate and refrigerate until firm.
Notes
* Any nut or seed butter can be used.
TO STORE: Place no bake balls in a sealable container and keep in the fridge. They will keep fresh for up to 4 weeks.
TO FREEZE: If you make a big batch of these balls, they can be placed in a ziplock bag and stored in the freezer for up to 6 months.
Nutrition
Serving:
1
Protein ball
Calories:
98
kcal
Carbohydrates:
12
g
Protein:
6
g
Fat:
5
g
Sodium:
57
mg
Potassium:
131
mg
Fiber:
2
g
Calcium:
32
mg
Iron:
1
mg
NET CARBS:
10
g
Disclosure: This post may contain affiliate links. I may earn a small commission for my endorsement, recommendation, testimonial, and/or link to any products or services from this website.