5 Minute Protein Energy Balls
Get your protein fix the delicious way, in these instant protein energy bites! Easily customizable, these homemade energy balls are a blank canvas to a plethora of options and mix-ins!
Easy 5-minute protein energy balls recipe made with just 5 simple ingredients. Using just one mixing bowl, they are loaded with protein, fiber, and healthy fats, and keep you energized and satisfied between meals! Vegan, Gluten-Free, Dairy-Free and Refined sugar-free.
What are good protein snacks during quarantine?
After sharing my vegan pantry staple recipes, I got a request for a way to boost protein WITHOUT fresh protein options.
While tofu, tempeh, and beans are a great way to get plant-based protein, sometimes we'd like a sweet treat!
With so many under quarantine, the BEST way to get a protein boost is via protein powder.
Now, protein powder isn't overly delicious on its own.
Instead, we can add protein powder into various sweet snack recipes.
Protein balls are one of my favorites, and it's a quick and delicious way to get your protein.
Also, Try- Homemade No Bake Protein Bars (4 Ingredients)
Are protein balls good for you?
If you walk down the supermarket health food aisle, no doubt you will see a plethora of packaged protein balls.
While they do tout high levels of protein, they actually could be considered glorified candy bars. One protein ball I saw had more calories, carbs, and fat than two snickers bars!
My homemade protein balls ARE good for you and made with easy, everyday ingredients. In fact, you probably have all of them right this second.
In case you don't, I've included many TESTED ingredient substitutions.
They have a chewy, yet doughy texture, similar to raw cookie dough. Taste-wise, it's like an un-baked oatmeal cookie, with a protein twist!
You may also like: Flourless Protein Brownies– They taste like dessert!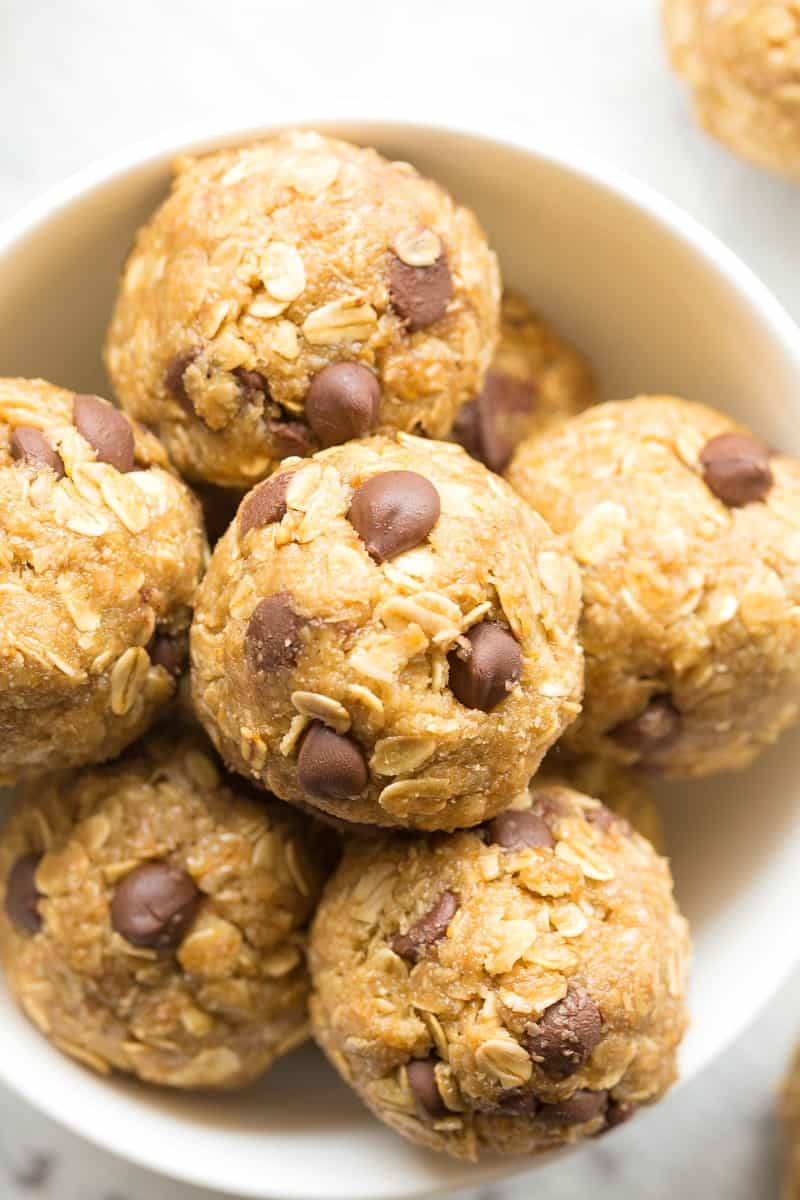 How to make protein energy balls
What ingredients are protein balls made of-
Rolled Oats (Old fashioned oats)– Gives the energy balls a chewy texture. This is a fabulous slow-releasing energy carb.
Protein Powder– To give a protein boost, and add some optional sweetness.
Peanut Butter– Hold the balls together, along with providing a rich flavor. See below for easy substitutions and nut-free options!
Maple Syrup– Provides sweetness, and holds the energy bites together.
Milk of choice– To ensure the batter is smooth and able to form into balls! I used unsweetened almond milk, but any milk will work.
Add-ins of choice– I used chocolate chips, but this is completely optional.
Instructions to make protein bites
Making these energy bites is ridiculously easy. It needs one bowl, one wooden spoon to mix and your hands to form balls.
Mixing the protein powder together with the oats will ensure that no clumps remain. Add your peanut butter and maple syrup and mix well, until completely combined. Slowly add the milk of choice, one tablespoon at a time, until no clumps remain.
To form balls, I recommend wetting your hands slightly or spraying them with cooking spray. You can enjoy them right away, but I prefer letting them firm up by refrigerating them for around 20 minutes.
TIP: Melt your peanut butter with maple syrup in the microwave or stovetop first, before adding it into the mixture. It makes it SO much easier. If you do this, be sure to wait 5 minutes to cool down, otherwise, you will melt your chocolate chips (if using them!).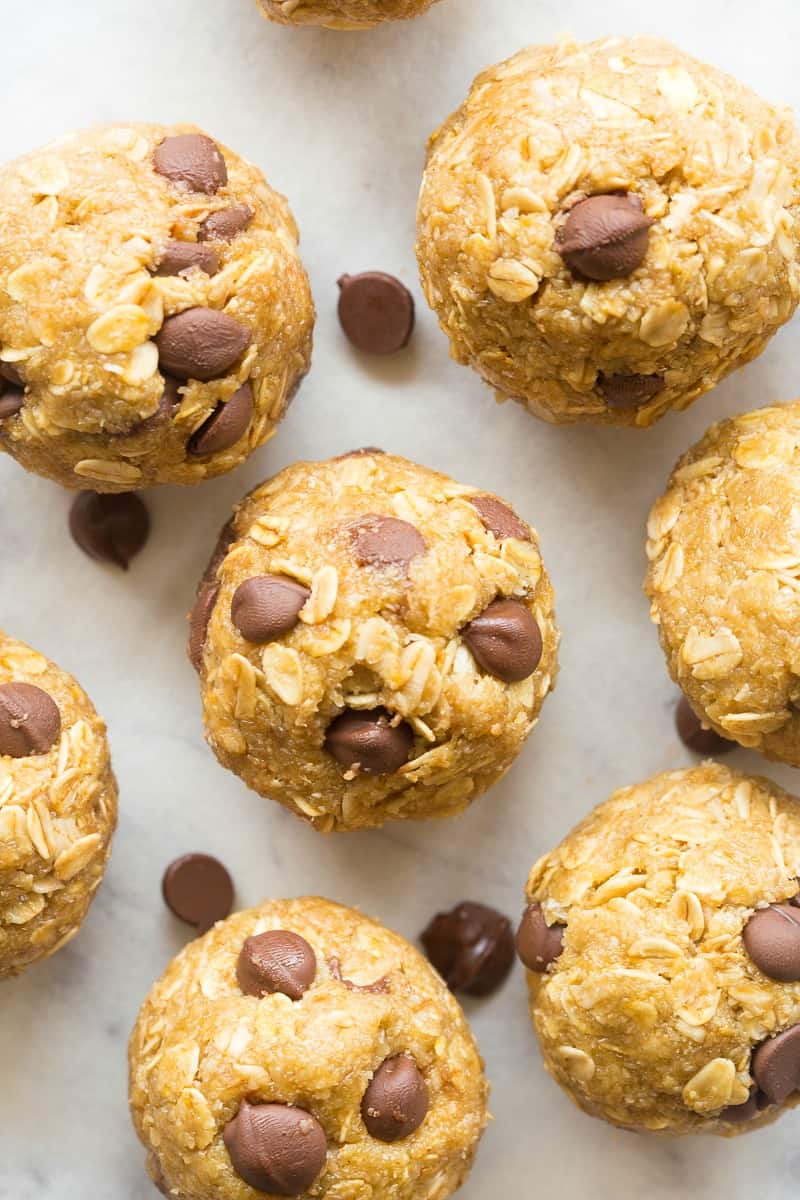 EASY Ingredient Substitutions
As mentioned earlier, these protein balls can use ANY kitchen pantry staple ingredients you have and have many substitutions.
Maple Syrup
You can substitute maple syrup or either honey (not strictly vegan), agave nectar or brown rice syrup. If you use brown rice syrup, reduce the amount by 1 tablespoon, as it is extremely sticky.
Peanut Butter
Any smooth nut butter will work- almond butter, cashew butter, and even hazelnut butter.
To keep this recipe nut-free, substitute the peanut butter for sunflower seed butter, tahini or wow butter (soy nut butter).
Also, try Homemade Almond Butter– Just 1 ingredient!
Old Fashioned Oats (Rolled Oats)
I have tried these protein balls with quinoa flakes, but the texture was a little off. You CAN use quick oats (quick-cooking oats) but may find that you'll need to add a tablespoon of syrup to thicken. As always, be sure to use gluten-free oats, if needed.
Chocolate Chips
While optional, you can add a variety of mix-ins into the batter-nuts, seeds, dried fruit, coconut and more. Be sure to add extra milk as needed, to ensure the batter can easily be made into balls.
Protein Energy Ball Recipe Ideas
There is a myriad of flavor options for these protein energy balls. Simply keep the base the same, but make the following tweaks-
Blueberry Muffin Protein Balls– Add 1/4 cup of freeze-dried blueberries to the batter, along with 1/8 teaspoon of vanilla extract.
Chocolate Chip Cookie Dough Protein Balls– Use vanilla protein powder and add 1/4 cup mini chocolate chips.
Double Chocolate Brownie Protein Balls– Use chocolate protein powder, add 2 tablespoons of cocoa powder and increase the milk by 2 tablespoons.
Lemon Poppy Seed Protein Balls– Fold through 2 tablespoons of poppy seeds and 1 teaspoon of lemon extract.
Cake Batter Protein Balls– Use vanilla protein powder and add 1-2 tablespoons of sprinkles. Also, add 1/8 teaspoon of vanilla extract.
Storing and Freezing Protein Energy Balls
To store: Place protein balls in a sealable container and keep in the fridge. They will keep fresh for up to 4 weeks.
To freeze: Place balls in a freezer friendly bag or container. They will keep well frozen for at least 6 months.
Can I make protein balls without protein powder?
You don't need to make these protein balls with protein powder.
If you want to leave it out, you can enjoy these peanut butter oatmeal energy balls instead.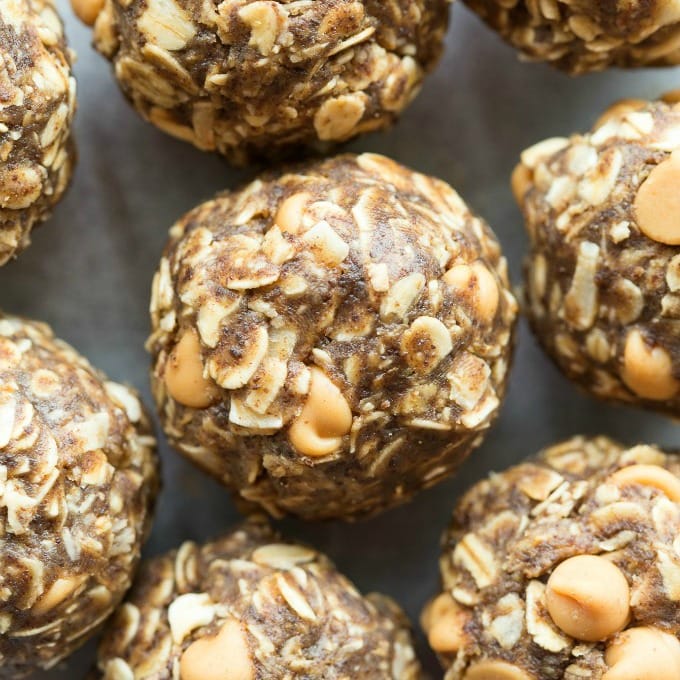 How to make keto protein balls
These protein balls are NOT keto-friendly (they use oats).
Instead, you can enjoy these keto energy balls (whole30 approved too!).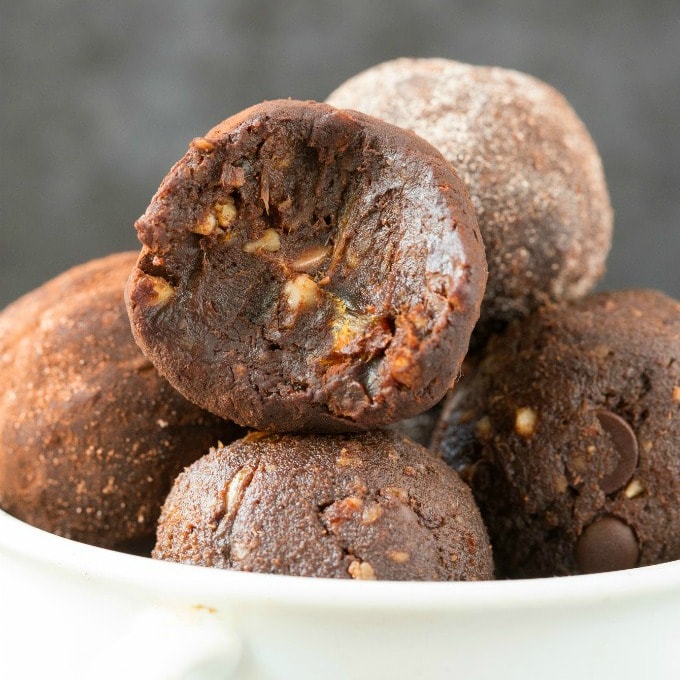 More no-bake snacks you'll love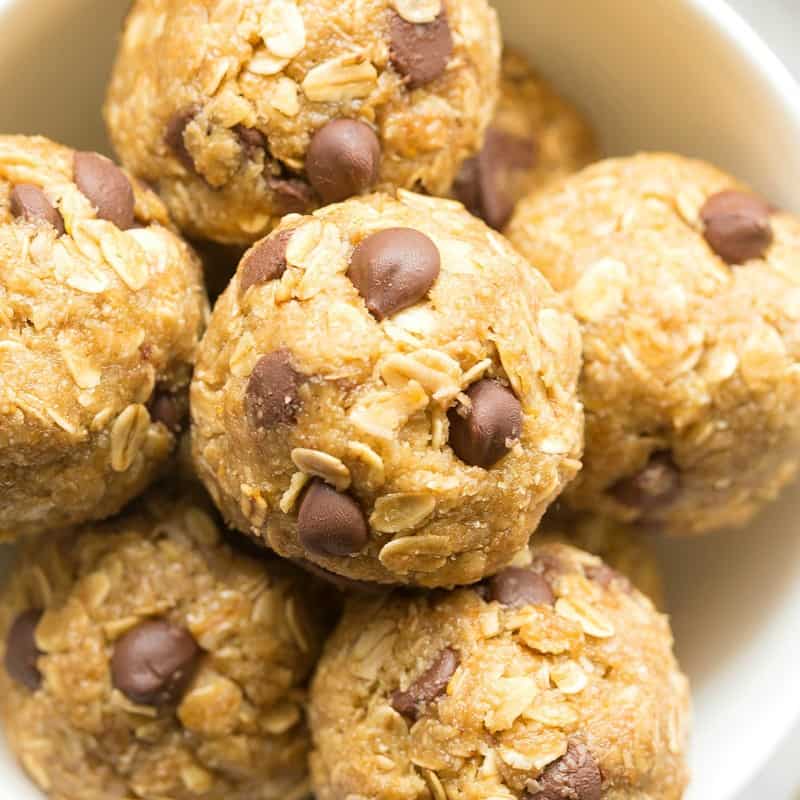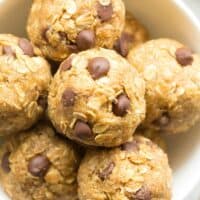 4 Ingredient Protein Energy Balls (Vegan, Gluten Free, No Bake)
An easy 5-minute recipe for homemade protein energy balls made with 4 ingredients! Chewy, easy and made in one bowl, they are EASILY customizable with a myriad of options!
Print
Rate
Instructions
In a large mixing bowl, mix your oats with protein powder until combined. Add your peanut butter and syrup and mix well. Fold through your mix ins of choice.

Using a tablespoon, add milk of choice, one tablespoon at a time, until a thick dough remains.

Lightly wet your hands (or spray them with cooking spray). Form 20-24 small balls of dough. Place on a plate and refrigerate until firm.
Notes
Please check out the body of the post for EASY substitutions with pantry staple ingredients.
Key Recipe Equipment and Ingredients
Nutrition
Serving:
1
Ball
|
Calories:
98
kcal
|
Carbohydrates:
12
g
|
Protein:
6
g
|
Fat:
5
g
|
Sodium:
57
mg
|
Potassium:
131
mg
|
Fiber:
2
g
|
Calcium:
32
mg
|
Iron:
1
mg
|
NET CARBS:
10
g