A quick and easy recipe for vegan protein bars made with just 4 ingredients! These gluten-free protein bars take 5 minutes- You'll never buy packaged protein bars again! Thick, chewy and satisfying snack bars under 80 calories!
Protein bars are a daily staple in my snacking life. Since I've started working out regularly, I'm in need of a healthy high protein snack several times a day.
I've moved away from buying expensive high protein energy bars from the stores, for several reasons.
They were super EXPENSIVE! ($3-$5 for a single bar!)
The ingredient list on packaged snack bars was not impressive
The serving size was minuscule
THEY DIDN'T EVEN HAVE MUCH PROTEIN!
Sorry for yelling, but really…how do you a snack bar 'high protein' if it only has 2 grams?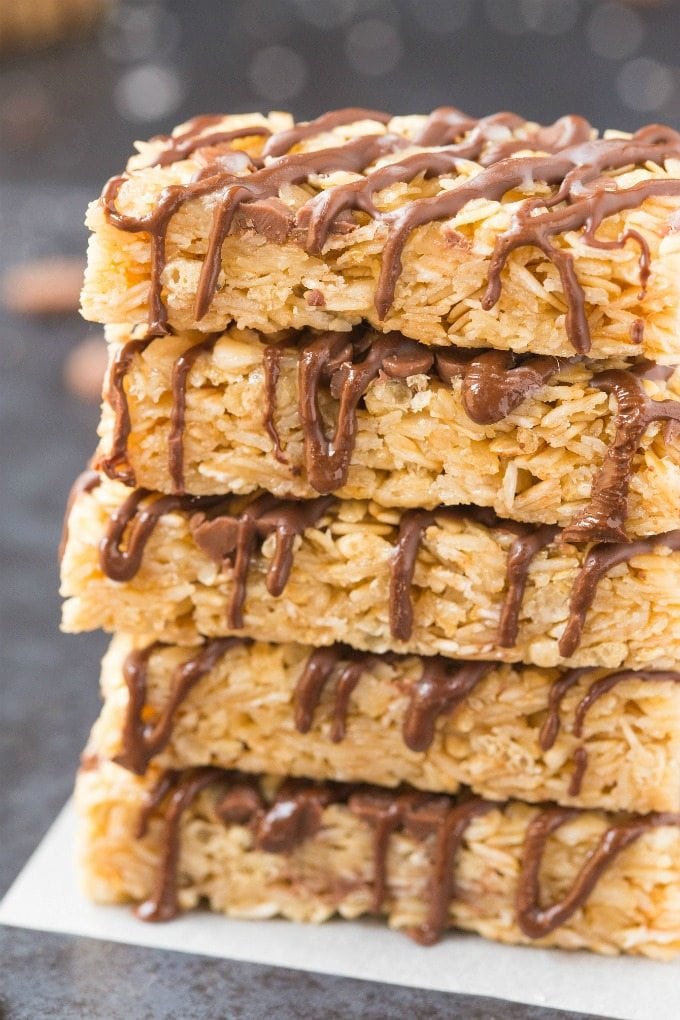 Vegan protein bars recipe
I've tried most packaged protein snack bars on the market and let's just say there have been some duds. Some of the bars I tried had a gritty taste and texture, and others were so soft, they were like chewing gum.
Let's not talk about one particular protein bar which was like edible punishment…
Ever since then, homemade protein bars have been a staple in my diet. The beauty of making your own homemade bars is that you know exactly what goes into them. It may seem cumbersome and time-consuming to making healthy no bake protein bars, but really- It could not be any easier and they take 5 minutes!
What I also love about homemade protein bars is that they make the perfect pre-workout and post-workout snack! As mentioned here, I've started training with a personal trainer, who has made it a rule that I have a protein-rich snack after every session.
As someone who isn't a huge fan of protein smoothies, these quick and easy homemade bars have been my savior!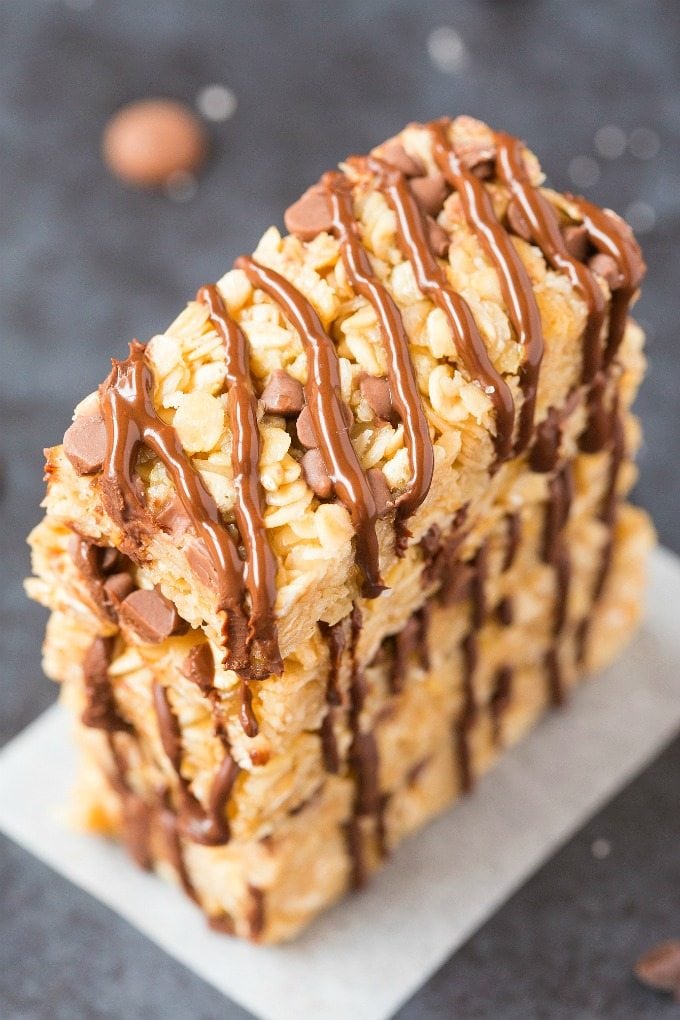 How to make vegan protein bars 
To make protein bars (or to make protein balls), you only need four ingredients-
Are protein bars healthy?
Did you see the ingredient list above? They are all wholesome and healthy ingredients!
Saying that, if you did add other things to it or buy one from the shops, then that could be questionable. If you do resort to the latter (let's be real…we've all done it!), then check to make sure the ingredient list is minimal and that there is a hefty dose of protein in it!
Gluten free protein bars
To keep these protein bars nut-free, dairy-free and top 8 allergen friendly, there are some smart swaps-
Use sunflower seed butter
Use quinoa flakes instead of rolled oats
Drizzle with melted dairy free chocolate chips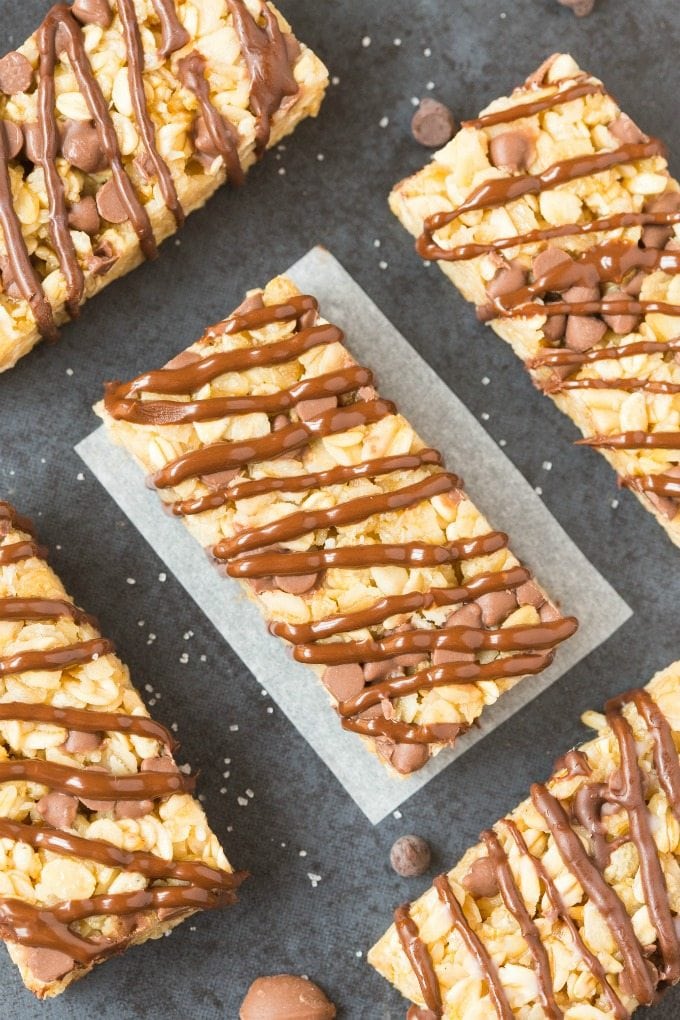 Let's quickly talk protein powder!
There are many protein powders on the market and not all protein powders are created equal. I've tried and tested many vegan-friendly, gluten-free and paleo protein powders and have my favorites here-
Vegan protein powder- Brown rice protein powder works really well for these protein bars, as they have a thicker consistency. It's also naturally dairy-free and gluten-free.
Casein protein powder- While this type of protein powder does contain dairy, it is still low carb and tastes great. If you are familiar with using casein protein powder, you'll know that it is super thick- You may need to add an extra tablespoon or two of liquid to help shape the protein bars
I never recommend using whey protein powder for my recipes, as the consistency just doesn't work well, and they yield sticky and gritty bars. If you only have this kind of hand, you'd be best to omit it completely or pair your homemade energy bars with a high-protein food.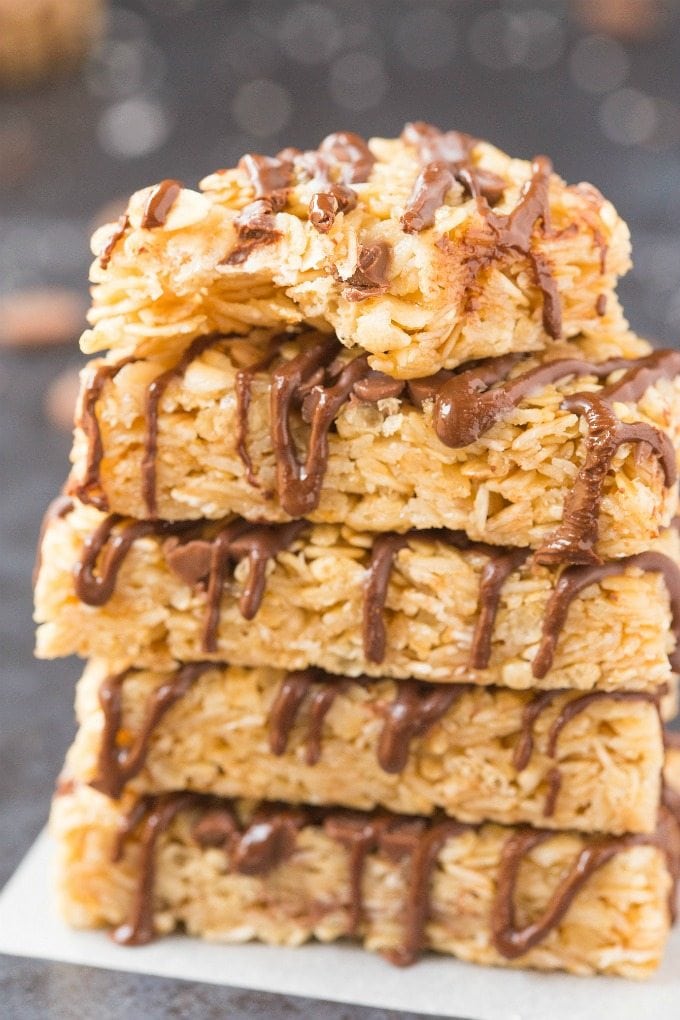 Stop buying expensive and questionable protein bars! These healthy no bake homemade protein bars need just 4 ingredients and they take 5 minutes and clock in at under 100 calories (only 80!)- You have no excuses! They are the ultimate gluten-free, vegan and sugar free protein-packed snack to keep you satisfied between meals!
Need more easy, quick and delicious homemade protein bars? Gotcha covered!
Easy 4 Ingredient No Bake Protein Bars (Vegan, Gluten Free, Sugar Free) adapted from my
3-Ingredient No Bake Oatmeal Cookies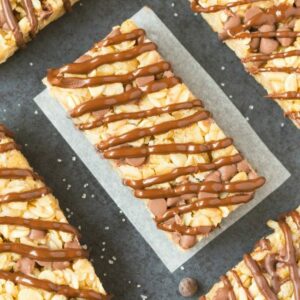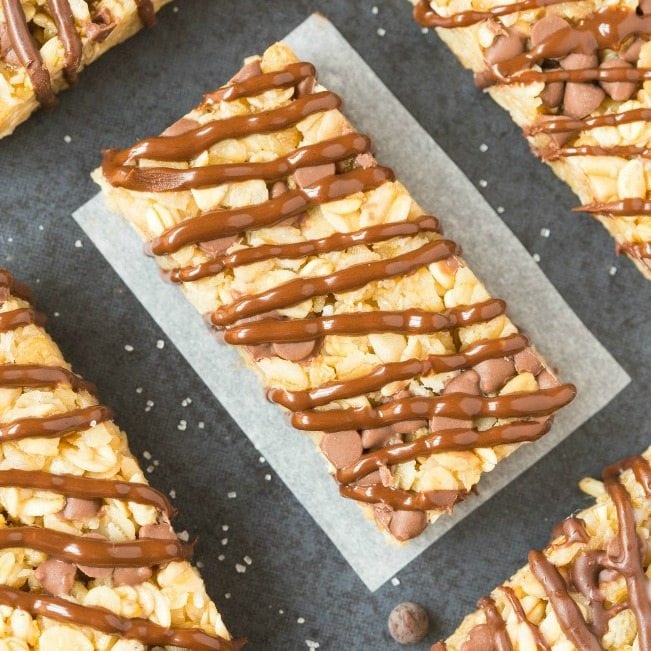 Vegan Protein Bars (4 Ingredients)
A quick and easy recipe for homemade no bake protein bars made with just 4 ingredients! These vegan and gluten-free protein bars take 5 minutes- You'll never buy packaged protein bars again! Thick, chewy and satisfying snack bars under 80 calories!
Instructions
Line a 10 x 10-inch pan with parchment paper and set aside.

In a large mixing bowl, add your gluten-free rolled oats with your protein powder and mix well. Set aside.

In a microwave-safe bowl or stovetop, combine your almond butter (or nut/seed butter of choice) with your brown rice syrup (or sticky sweetener of choice) and melt until combined.

Add your wet mixture into the dry mixture and mix until fully incorporated. If needed, add some liquid of choice to form a thick batter.

Pour your no bake protein bar batter into the lined pan and press firmly in place. Melt your chocolate chips and drizzle over the top. Refrigerate for 30 minutes, or until firm. Slice into 25 bars.
Notes
* You may need some extra liquid if your batter is too crumbly. Use milk for the best texture.
Easy 4-Ingredient No Bake Protein Bars (Vegan, Gluten Free, Sugar Free) can be kept at room temperature, individually wrapped. They are best kept refrigerated and are freezer friendly.
Nutrition
Serving:
1
Bar
Calories:
73
kcal
Carbohydrates:
9
g
Protein:
3
g
Fat:
3
g
Potassium:
4
mg
Fiber:
3
g
Vitamin A:
200
IU
Vitamin C:
3.3
mg
Calcium:
30
mg
Iron:
0.7
mg
NET CARBS:
6
g

Disclosure: This post may contain affiliate links. I may earn a small commission for my endorsement, recommendation, testimonial, and/or link to any products or services from this website.