Easy Pumpkin Protein Balls made with just 4 ingredients and ready in minutes! Soft and chewy balls to satisfy the sweet tooth, which tastes like pumpkin pie- It's keto, low carb and sugar-free!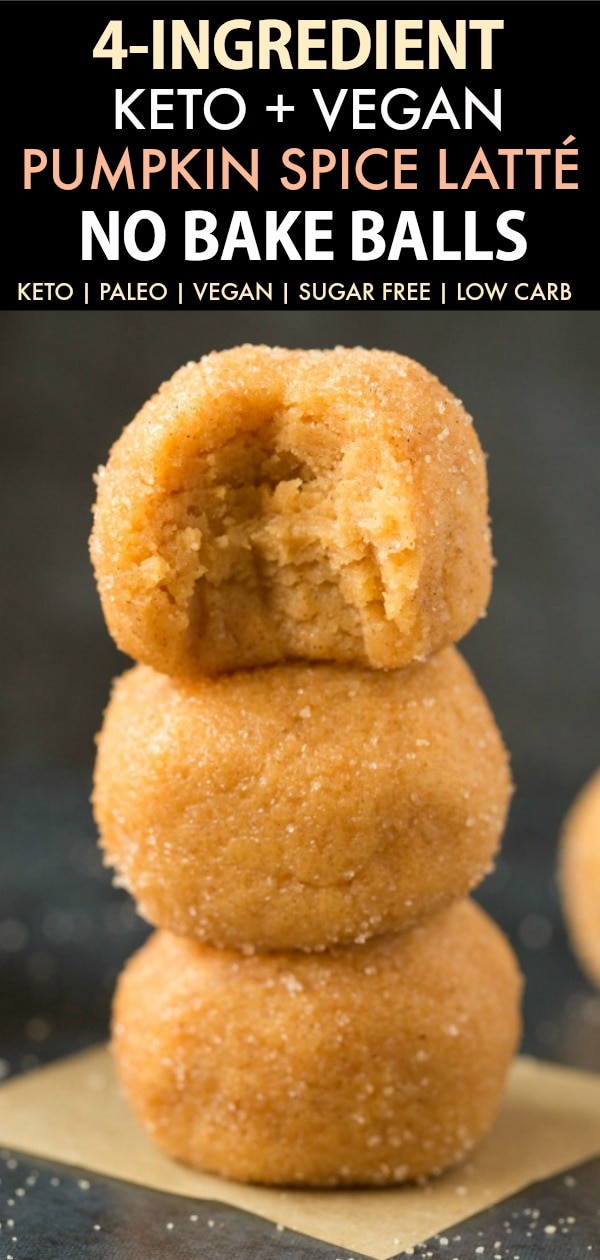 Pumpkin Energy Bites
Energy balls and energy bites are a snack I make weekly. I've found that they are the quick and easy fuel between meals, or when I have a training session but don't have time for a meal.
This week, when I went to make a new batch to have on hand, I noticed an almost empty can of pumpkin puree in my fridge. There was barely enough to make flourless pumpkin brownies, but adapted into one of my no bake energy bite recipes? I could make that work!
Starbucks has just announced that everyone's favorite Pumpkin Spice Latte is now officially being served, and I wanted to give my energy balls a healthy pumpkin spice latte twist!
I'll wholeheartedly admit that I have tried the pumpkin spice latte, but wasn't a huge fan of it. It was incredibly sweet, lacked any real punch of coffee (which ironically, was a good thing) and the pumpkin taste was barely evident.
Luckily, it was easy to combine the best bits of the pumpkin spice latte into a healthy no bake energy ball recipe. Not only are these bite-sized balls completely paleo and vegan, but because they are chock full of healthy fats and protein packed, they are also keto friendly and low carb!
So far, we've had chocolate coconut fat bombs, coconut energy balls, peanut butter energy balls and nut-free energy bites…
Pumpkin spice fat bombs, anyone?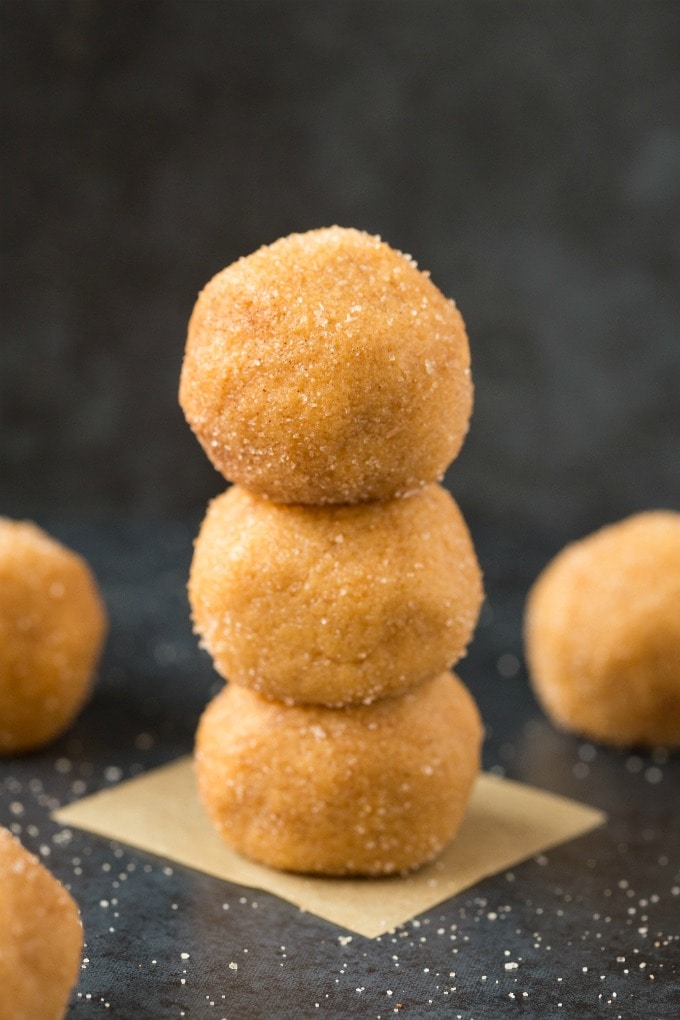 What are the spices in a pumpkin spice latte?
A traditional pumpkin spice latte contains a mixture of pumpkin pie spice and apparently, a dash of black pepper. I (luckily) couldn't taste the latter.
How to make homemade pumpkin spice
Homemade pumpkin pie spice is so easy to make, and something I'm so grateful to have on hand. For my friends outside of America, finding pumpkin pie spice at the supermarket is almost impossible.
As such, here is how to make your own homemade pumpkin pie spice–
1/3 cup ground cinnamon (I love using Saigon cinnamon, as the flavor is much more evident)
1 tablespoon + 1 teaspoon ground nutmeg
1 tablespoon + 1 teaspoon ground ginger
1 tablespoon ground cloves
1 tablespoon ground allspice (sometimes referred to as mixed spice)
Simply combine all the ingredients in a small bowl and store in a sealed container or jar!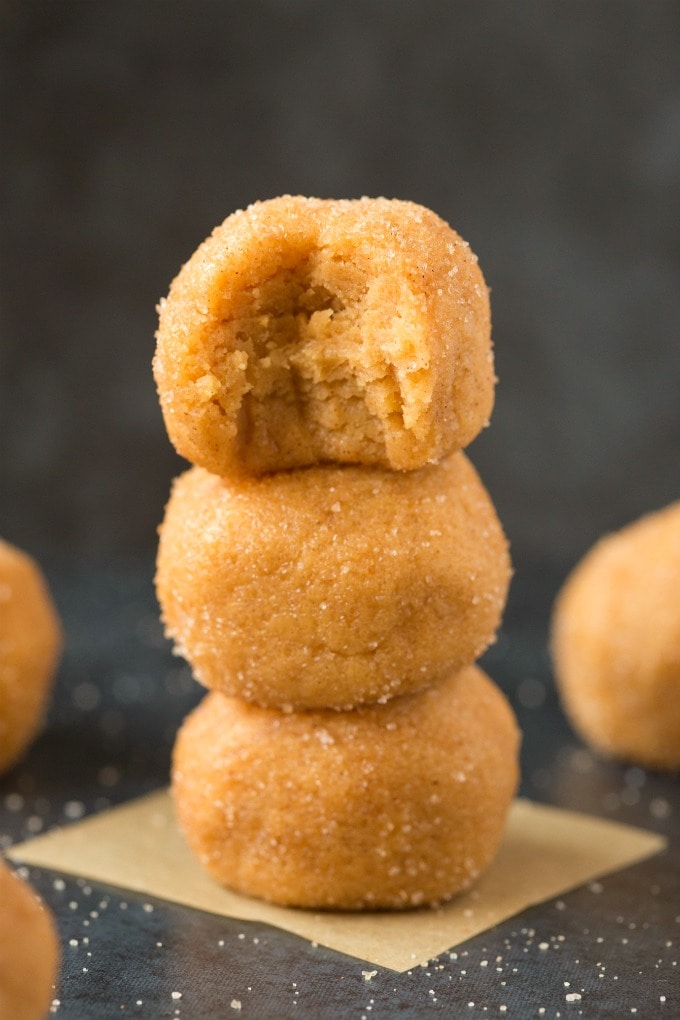 Pumpkin Pumpkin Protein Balls Ingredients
Nut or seed butter of choice
Coconut Flour
Pumpkin puree
Pumpkin Pie Spice
Sweetener of choice (optional, but highly recommended!)
The nut or seed butter of choice-
I'm a huge fan of using almond butter, as the flavor isn't overpowering and it is drippy enough (more liquid than stiff) to ensure it can easily be mixed. You can use peanut butter, but this isn't paleo-friendly or suitable for those with nut allergies.
Sunflower seed butter and soy nut butter are both nut-free alternatives, which are still keto AND vegan-friendly.
Coconut Flour-
Please do not substitute the coconut flour for another type of flour on a 1: 1 swap- It just won't work. Coconut flour is like a sponge and absorbs liquids unlike any other.
For those with a coconut allergy, you CAN substitute it for almond meal or almond flour, but ensure you double the amount, and continually add more until the desired consistency is achieved.
For a non-keto, non-paleo flour, oat flour (rolled oats ground to a flour) can also be substituted. Like almond flour, you'll need to double the amount.
Pumpkin Puree-
Only a small amount of pumpkin puree is needed, so either use a leftover portion of canned pumpkin or even make your own!
Simply steam pumpkin until soft and tender. Using a fork, mash the pumpkin until it is smooth. You can also blend it up for an even superior consistency.
Sweetener of choice-
There are several sweetener options you can use for these pumpkin spice latte no bake bites.
I used liquid stevia and added several drops (around 2 servings for the entire recipe). It provided ample sweetness, and there was no bitter aftertaste.
If you don't follow a ketogenic diet, you can use paleo and vegan-friendly sticky sweeteners, like pure maple syrup or agave. Start with 2-3 tablespoons, and taste to make sure it is sweet enough.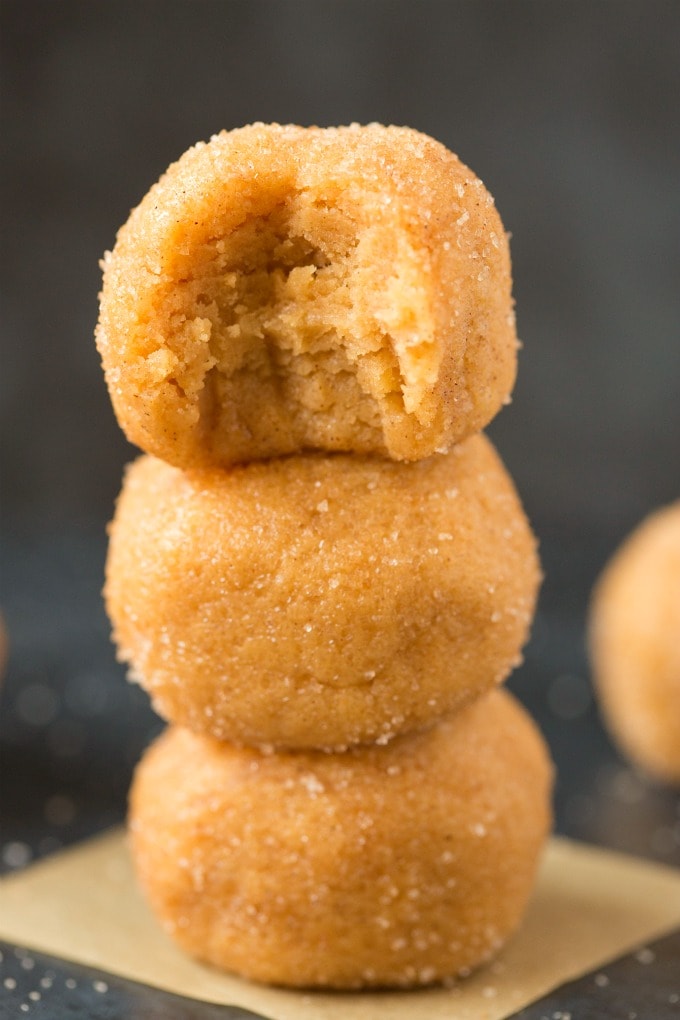 Recommended ingredients and tools to make these No Bake Paleo Vegan Pumpkin Spice Latte Energy Balls (Keto, Low Carb)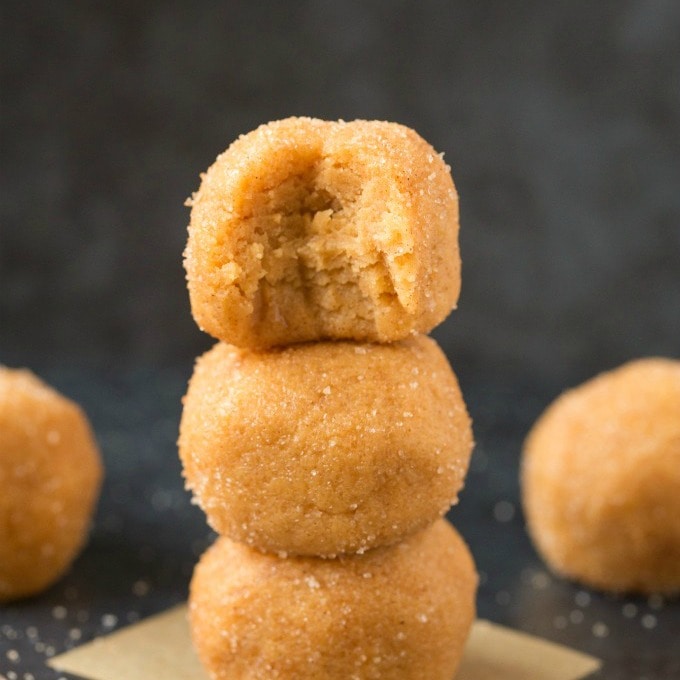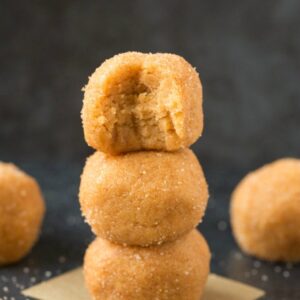 Pumpkin Protein Balls
Pumpkin Protein Balls with just 4 ingredients and ready in minutes! Soft and chewy balls to satisfy the sweet tooth, which tastes like pumpkin pie- It's keto, low carb and sugar-free! 
Instructions
In a large mixing bowl, combine your almond butter with pumpkin puree and mix well.

Add your coconut flour, pumpkin pie spice and liquid sweetener and mix until fully incorporated, and a thick batter remains. If the batter is too thin, add a little extra coconut flour.

Line a large plate with parchment paper. Using your hands, form 18 small balls and place in the plate. Refrigerate until firm.
Notes
* Check the batter and if the batter is too thin, add extra coconut flour. Too thick or crumbly? Add some extra liquid/milk.
** For a non-keto option, use pure maple syrup or agave nectar.
No Bake Paleo Vegan Pumpkin Spice Latte Energy Balls (Keto, Low Carb) should be kept refrigerated at all times. They are freezer friendly too.
Nutrition
Serving:
1
Bite
Calories:
97
kcal
Carbohydrates:
3
g
Protein:
3
g
Fat:
8
g
Fiber:
2
g
Vitamin A:
100
IU
Vitamin C:
0.8
mg
Calcium:
20
mg
Iron:
0.5
mg
NET CARBS:
1
g

Disclosure: This post may contain affiliate links. I may earn a small commission for my endorsement, recommendation, testimonial, and/or link to any products or services from this website.