An easy low carb recipe for homemade no bake crunch protein bars! A crispy, crunchy protein bar filling, covered in a sugar-free chocolate- It only takes 5 minutes! The ultimate healthy snack and post workout fuel- With or without protein powder. Keto, Vegan, Paleo, Gluten Free.
Homemade low carb protein bars are one of my favorite recipes to share- These homemade peanut butter protein bars, paleo protein bars, and snickers protein bars are some of the best!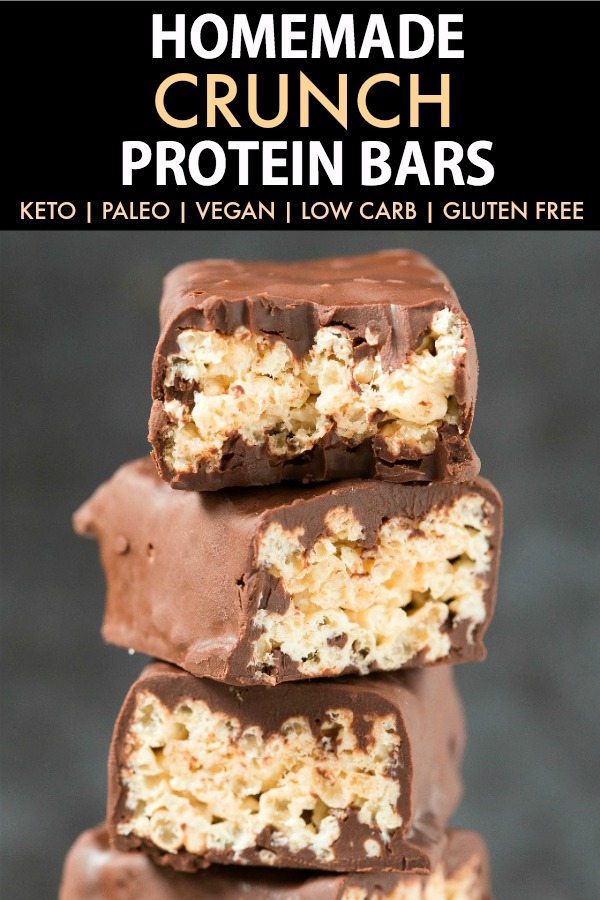 Homemade Protein Bars Recipe
Three reader requests in one! You guys have been asking for a ketogenic protein bar recipe, coupled with a recipe for homemade protein bars without protein powder.
The third? I've had a number of you guys asked for a copycat version of the protein crunch bars so I'm here to deliver on all THREE fronts!
These homemade protein crunch bars are the ultimate snack or healthy treat to enjoy anytime. It's a taste and texture lovers dream- A chewy, crispy and crunchy filling covered in a secretly healthy chocolate coating.
The protein bar recipe comes with two options- A ketogenic protein bar option and a gluten-free vegan protein bar option.
For the ketogenic low carb version, the crunch factor comes from roasted almonds and seeds. The gluten-free and vegan option is more true to the original, using crispy rice cereal. Regardless of which option you choose, it will the satisfying grab-and-go snack to enjoy in between meals, lunch box treat or even a high protein dessert!
How do you make your own protein bars?
It's ridiculously easy and fool-proof! For these ones, you only need 5 ingredients-
Crispy cereal or crunchy nuts/seeds
Nut or seed butter
A sticky sweetener of choice
Protein Powder (optional!)
Chocolate chips of choice
Be wary of the ketogenic option, which will need some coconut flour to form the base, but it's an easy addition.
Homemade Protein Bars without protein powder
If you don't want to use protein powder, you can either stick to the ketogenic/low carb option or simply omit it from the gluten-free vegan option.
Not using protein powder in the vegan option will make them into healthy chocolate rice crispy treats!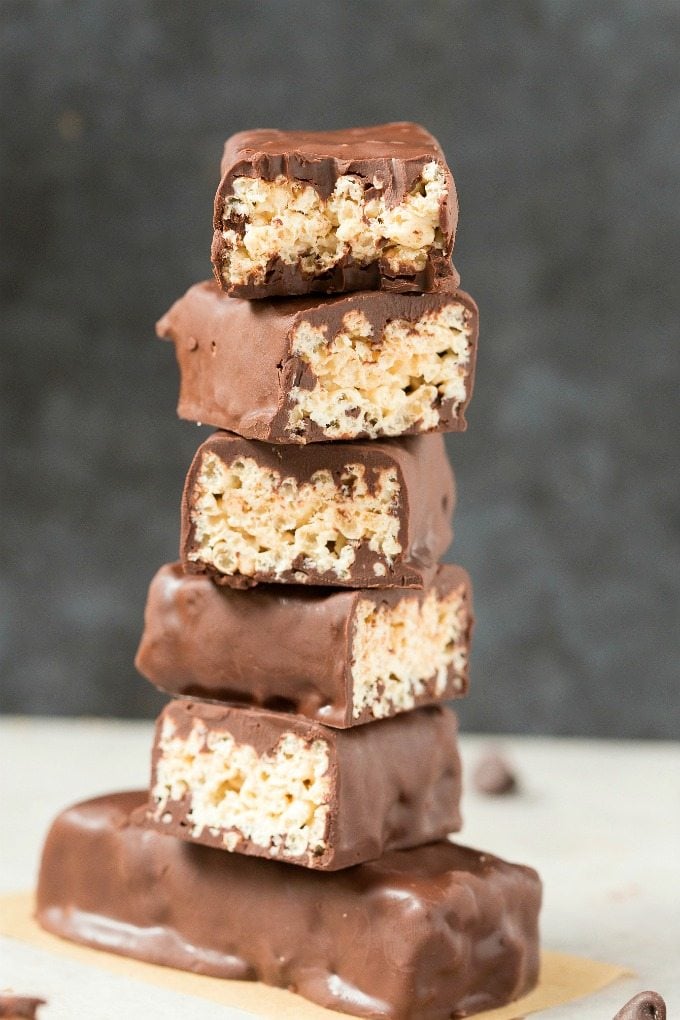 Vegan and Paleo Chocolate
A few commenters have asked if all dark chocolate is vegan and my answer is to definitely read the labels. My go-to chocolate chips are naturally dairy free and vegan, so it is never an issue.
Vegan chocolate chips can easily be bought online and many grocery stores stock them too.
For my keto/low carb friends, I use stevia sweetened sugar free chocolate chips. They melt well and are perfect to coat these homemade protein bars with.
What is the best type of protein powder?
The type of protein powder you use really impacts the taste and texture of your homemade protein bar recipes.
Firstly, be sure you like the taste of it! Secondly, I strictly use three types of protein powder, depending on what dietary requirement I'm fulfilling, coupled with the overall texture of it.
The three protein powders I often use (which work for my recipes) are-
With that said, each brand differs and I can only vouch for the ones I have included. I NEVER use whey protein powder for homemade bars, as they yield negative results.
More easy homemade no bake protein bar recipes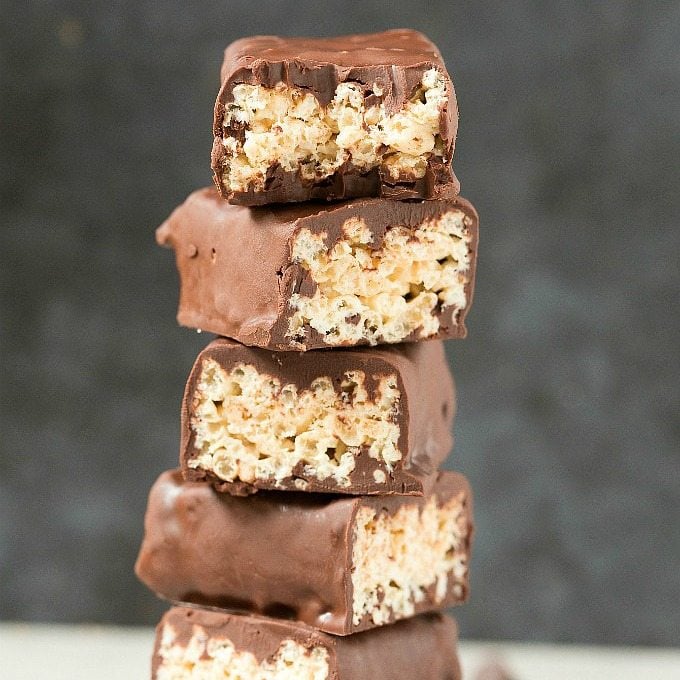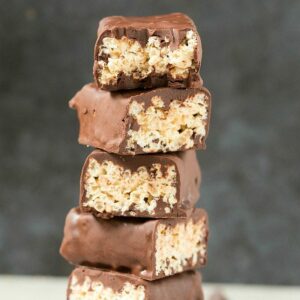 Protein Crunch Bars
An easy low carb recipe for homemade Protein Crunch Bars! A crispy, crunchy protein bar filling, covered in a sugar-free chocolate- It only takes 5 minutes! The ultimate healthy snack and post workout fuel- With or without protein powder. Keto, Vegan, Paleo, Gluten Free. 
Instructions
Line an 8 x 8-inch pan or 8 x 10-inch pan with parchment paper and set aside.

In a microwave-safe bowl or stovetop, combine your nut butter with syrup and mix until combined. Add your dry ingredients and mix very well, ensuring it is all fully incorporated.

Transfer the mixture to the lined pan and press firmly in place. Refrigerate until firm. Once firm, use a sharp, slightly wet knife, and cut into 20 bars.

Melt your chocolate chips and moving quickly, use two forks to dip each bar in the melted chocolate, ensuring each one is evenly coated. Repeat until all bars are covered in chocolate and refrigerate until firm.
Notes
* pure maple syrup, agave and honey (not strictly vegan) are all fantastic 100% refined sugar free syrups. Brown rice syrup works well too, especially due to its stickier texture.
** If you don't follow a strict keto diet, any refined sugar free sticky sweetener (maple syrup, agave etc) work.
Homemade Low Carb Crunch Protein Bars (Keto, Vegan, Paleo) can keep at room temperature, in a sealed container, for up to 2 weeks.
Nutrition
Serving:
1
Bar
Calories:
137
kcal
Carbohydrates:
5
g
Protein:
9
g
Fat:
10
g
Potassium:
3
mg
Fiber:
3
g
Vitamin A:
50
IU
Vitamin C:
2.5
mg
Calcium:
20
mg
Iron:
0.4
mg
NET CARBS:
2
g

Disclosure: This post may contain affiliate links. I may earn a small commission for my endorsement, recommendation, testimonial, and/or link to any products or services from this website.