Spicy Honey Roasted Peanut Butter
Just 5 minutes and a high speed blender is all you'll need to whip up the BEST tasting peanut butter ever- Spicy, sweet, salty- It's a texture lover's dream which is also gluten free, refined sugar free and a vegan option!

I think it's safe to say, within the Healthy Living bloggers community, it is borderline criminal to not have at least three jars or nut butter on hand at any one time. Anything less than that and you may as well be banished and volunteer yourself as tribute….(I'm not sure to what though. Katniss- help me out).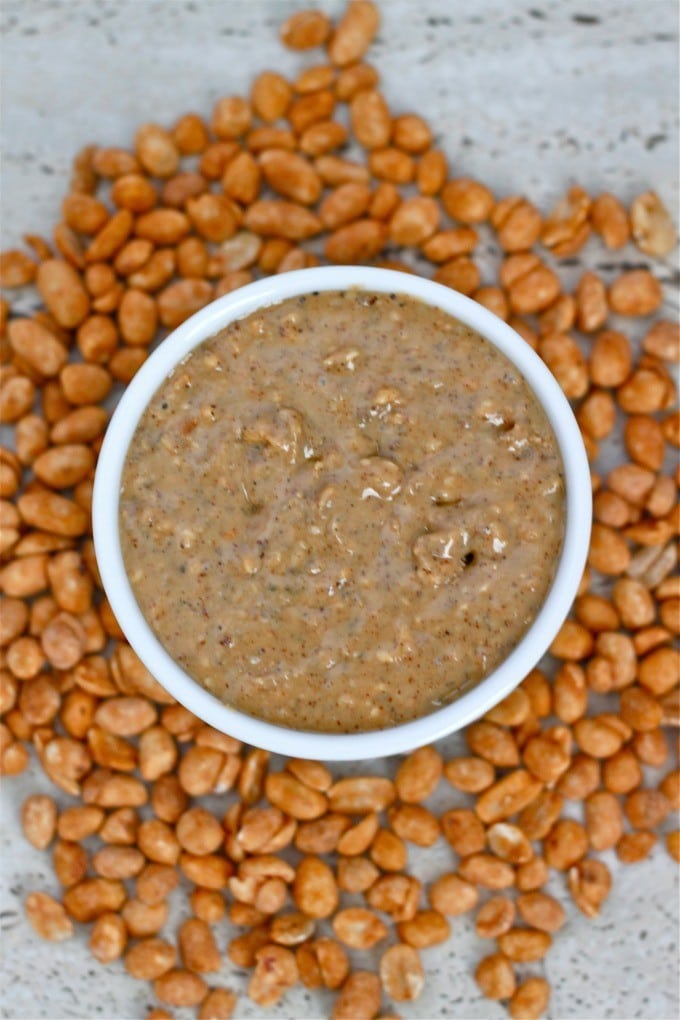 Almond butter, peanut butter, coconut butter- the list can go on but you get the point- there would be some version lying in your cabinet/pantry/spoon as we speak (blog).
The other day, I had made a batch of these no bake cookies using almond butter (from Dav's E-book- do it!) and had used it all up in the recipe. Come Sunday morning, all I wanted was toast with some nut butter. Any form of nut butter. Yet I had none. Blasphemy.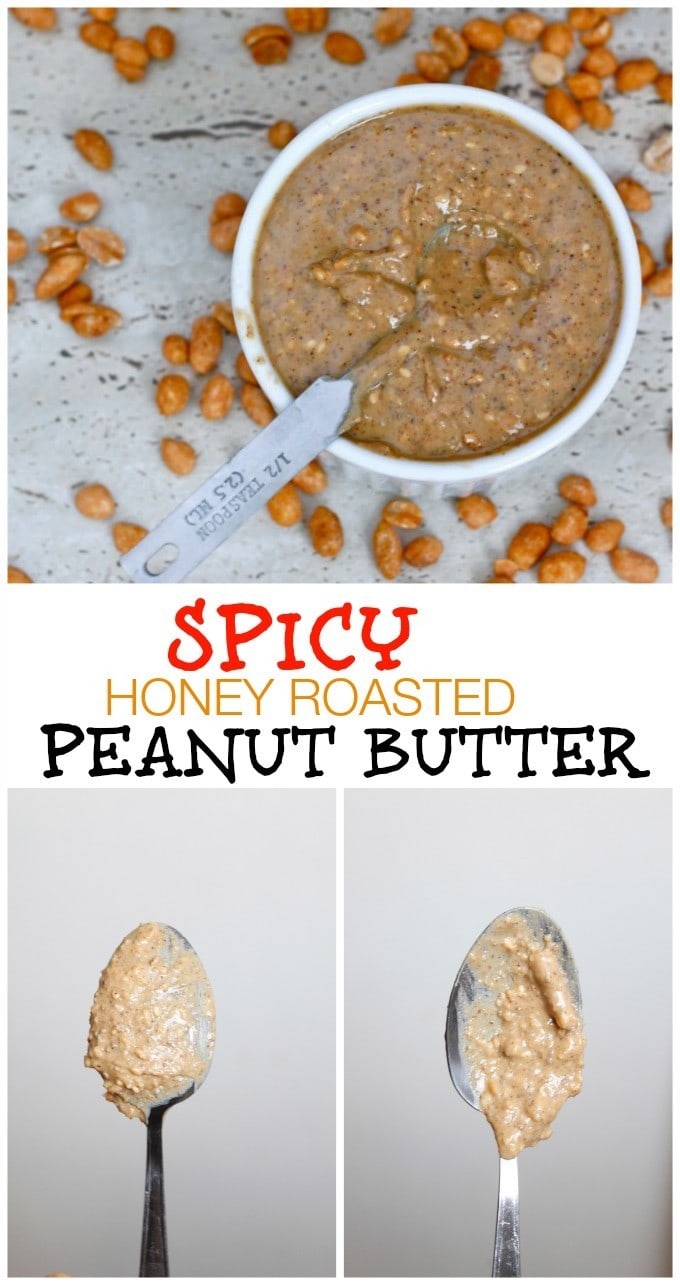 Technically, I had a few jars, but those were packed in my suitcase as gifts. Gifting someone an already opened jar of nut butter may not be the best first impression…unless I could make it sound like an endearing thought (Davs..would you have minded a half opened jar of peanut butter?). No, that wasn't possible. Besides, my suitcase was already packed in such a way to avoid any potential breakages. (i.e. wrapped in scarves and t-shirts and stuffed at the bottom).
What do to?
stop being a twat and just eat something else
go out and buy a jar
Make my own
I pondered.
No
No
But need to hunt down some nuts.
You know what is coming next. Zilch.
…Until I remembered I had made another batch of my spicy honey roasted peanuts to bring to Charlotte to force her to tell me they were better than Nutz4nuts when we would meet up in NYC.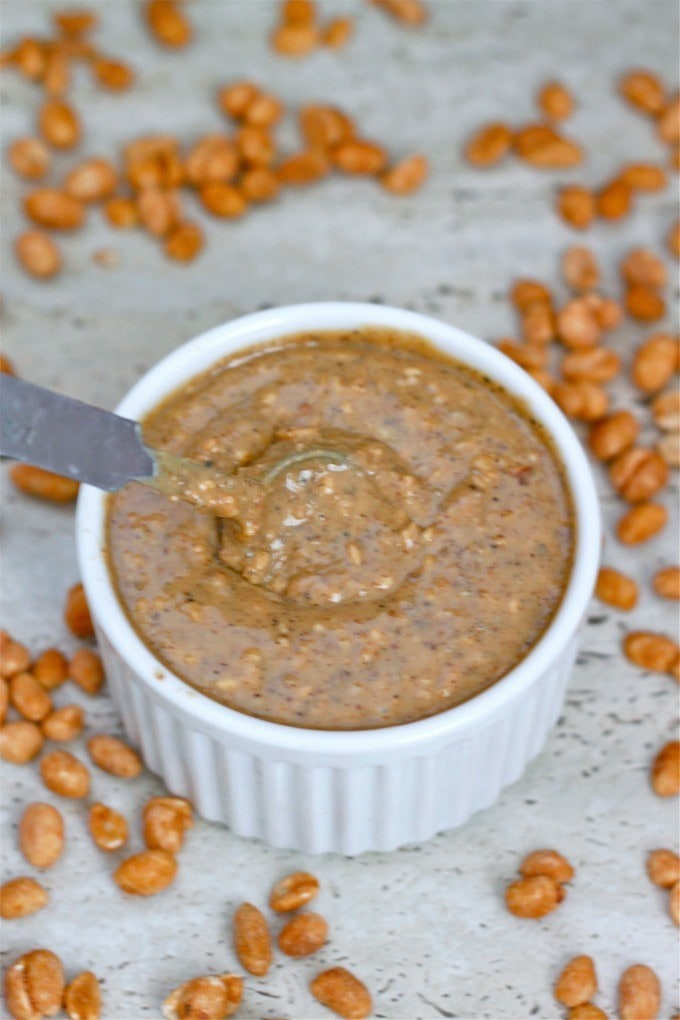 Blender + Spicy honey roasted peanuts = spicy honey roasted peanut butter. Done. 5 minutes. BOOM.
Craving = satisfied.
Before you think I'm a twat for robbing Charlotte of this gift- NO ONE will ever beat Nutz4nuts.
Well, that's what I'm going to keep telling myself to alleviate the guilt.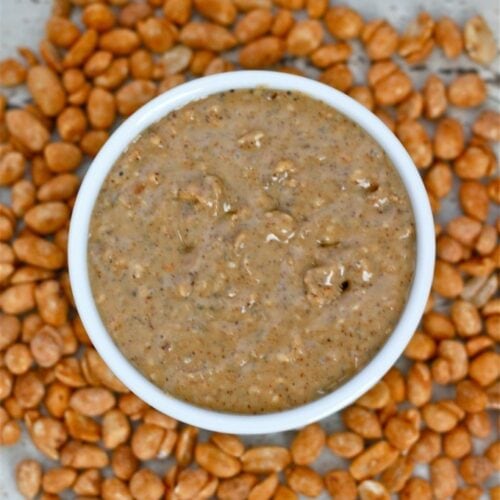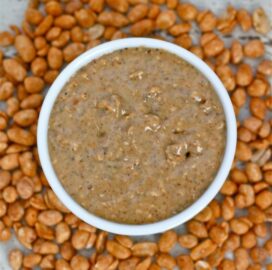 Spicy Honey Roasted Peanut Butter
A simple and delicious twist to the classic peanut butter- with an added zing!
Print
Rate
Ingredients
3

cups

of Spicy Honey Roasted Peanuts

see link under recipe card for recipe

1

tablespoon

canola/coconut oil

optional
Instructions
1. Pour nuts into a strong food processor or blender which has food processing capabilities and process until a very crumbly texture is formed and scrape down the sides every so often. Continue pulsing until a smooth nut butter is formed.

2. Add the extra cayenne pepper and cinnamon and process once more for an extra 20-30 seconds. If you prefer your nut butter extra smooth, add the 1 T of oil and pulse once more.
Notes
For a vegan option, I've tried subbing the honey with agave and maple and prefer the agave.
For the above recipe- the nuts I used were from
here
.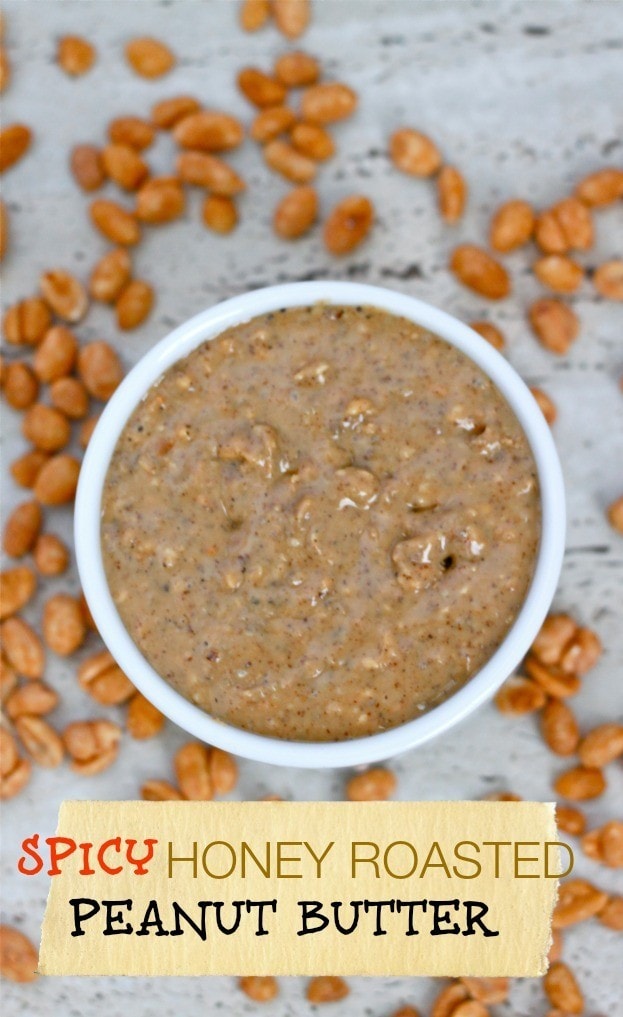 Linking up with these amazing parties- #recipeoftheweek, RealfoodWednesdays, Share your stuff Tuesdays, simple supper Tuesdays and Gluten Free Wednesdays, and what's cookin' Wednesdays,#glutenfreefridays, glutenfreetuesdays with some weekend pot luck lovin
Linking up my with the epic crew- Taylor, Krista, Melanie and Gloria for some Show Stopper Saturday action! Also linking up with the SIT Girl's Saturday Sharefest, DIY With the SITS and Foodie Friday!
Have you ever gone to great lengths to satisfy a craving?
Ever taken back a present before gifting it to someone?
How many jars of nut butter do you currently have?