Learn how to make vegan overnight oats and have breakfast prepped for the entire week! Healthy and filling, you can customize the base recipe with 8 AMAZING flavors and topping ideas!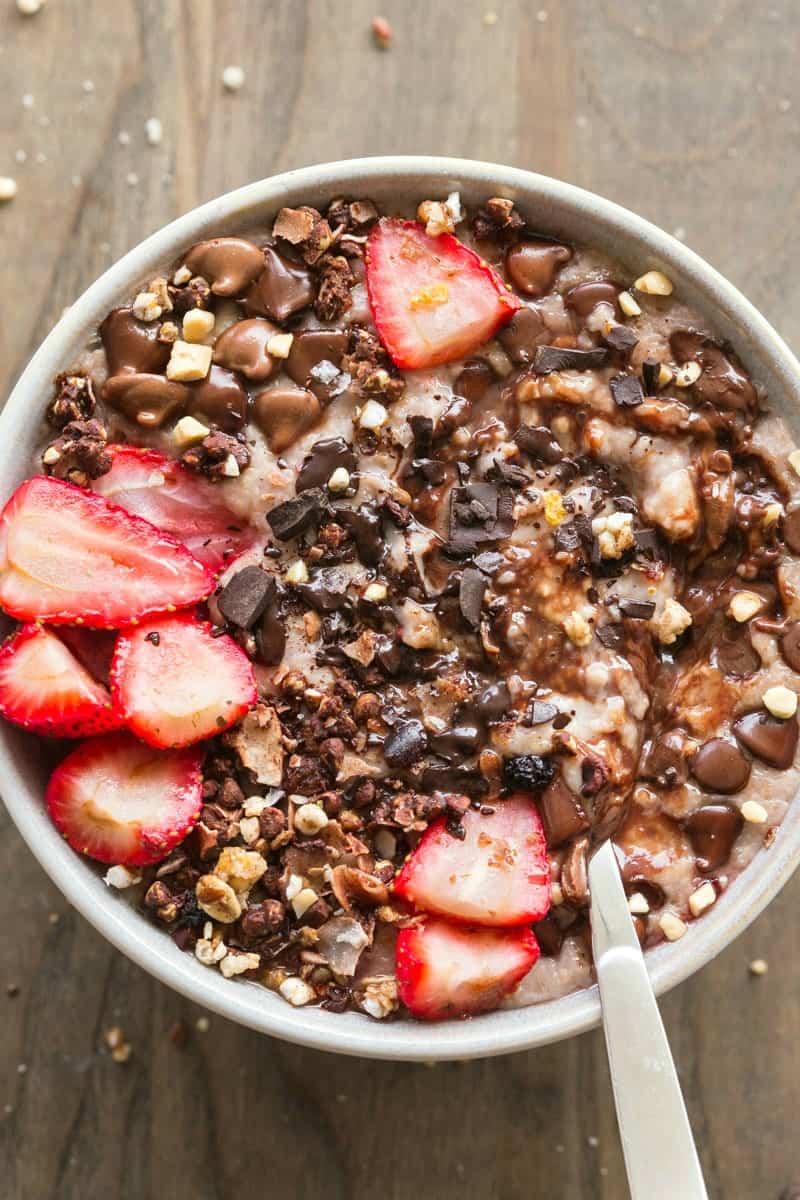 Everyone needs a staple breakfast recipe that is easy to prepare, tastes delicious, and keeps you fuelled and satisfied until lunch.
Oatmeal, or a variation of it, is my go-to breakfast.
It's filling, hearty, packed with fiber, and can be dressed up or dressed down in a multitude of ways!
Oats can also come in a few varieties- Classic stovetop or microwave oats, or my personal favorite- Overnight oats.
Ever since I learned that I could prep my oatmeal the night before, I have never looked back and ten years later, it is STILL my go-to breakfast choice!
Easy Vegan Overnight Oats
If you've never had overnight oats before, or are only familiar with the traditional and more common stovetop or instant oats, here are the details.
Overnight oats can sometimes be referred to as refrigerator oats or no-cook oatmeal.
Essentially, it is a no cooking method of preparing oatmeal. You can either prepare it the night before or at least 2 hours before consuming it. This gives the oats enough time to soak up the liquid, without the need for cooking it or heating it up prior.
Personally, I prefer the night before method (hello, OVERNIGHT oats!) as it has a much more satisfying texture, but to each their own.
It's convenient, easy to prepare, and best of all, you can make a week's worth of oatmeal in advance, without the fear of it spoiling or having the texture change!
Overnight Oats with no yogurt
Yes, there are vegan and dairy-free plant-based yogurts on the market, but that is not why we are omitting it here!
You've probably seen a plethora of overnight oatmeal recipes calling for yogurt, but unless you personally love yogurt, it doesn't do much to change the texture. You can achieve the exact same texture with plant-based milk, like almond milk, soy milk, or coconut milk.
I also prefer making it without yogurt, as you can prepare an even bigger batch in one go- Up to 2 weeks in advance!
Here are the flavor combinations–
Chocolate Overnight Oats
Blueberry Overnight Oats
Cookie Dough Overnight Oats
Strawberry Overnight Oats
Brownie Batter Overnight Oats
Peanut Butter Cup Overnight Oats
Banana Overnight Oats
Peanut butter Jelly Overnight Oats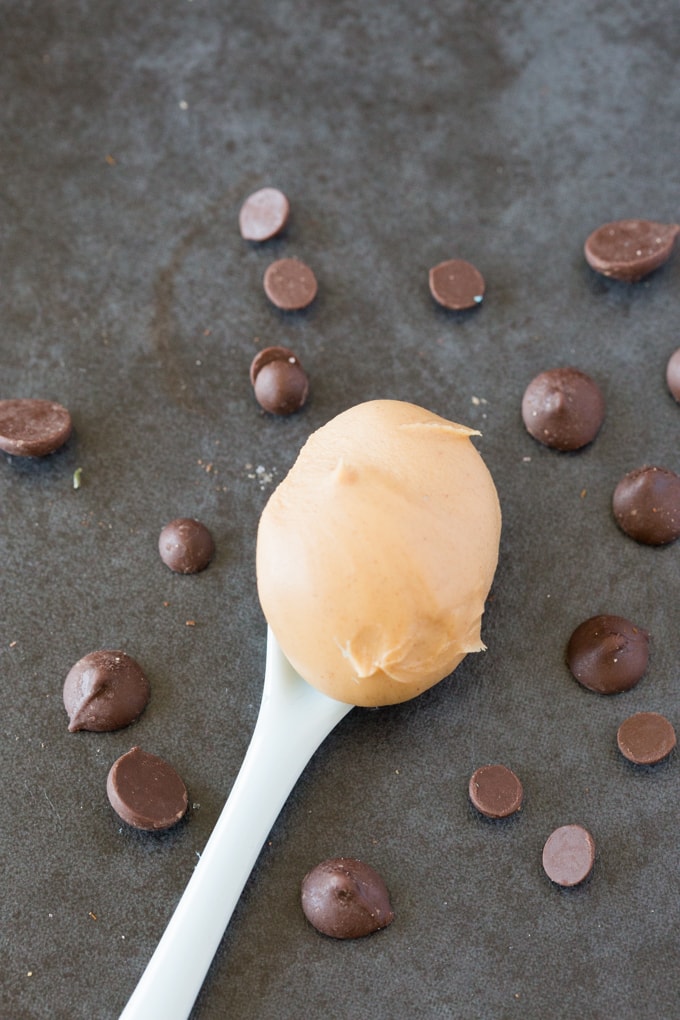 How to make vegan overnight oats from scratch
The base vegan overnight oatmeal recipe calls for just 2 ingredients, but the fun part comes when using one of the amazing flavor combinations below, which makes breakfast that much more exciting!
Everyone's appetites and energy needs differ, so one serving of oats will differ based on the individual. Personally, I need at least 1 cup of dry oats.
My ratio for overnight oats– Equal parts oats and Equal parts milk.
The Ingredients
Rolled Oats– Also known as old fashioned oats, I opted to use gluten-free oats to keep them gluten-free.
Non-Dairy milk– Any plant-based milk of choice. I prefer using vanilla unsweetened almond milk, but cashew, coconut, soy, and standard almond milk are all fine.
Salt– I add a dash of salt to bring out the sweetness of whatever I mix into it.
The Instructions
To start, gather up your bowl(s), jar(s), or portable container you plan on eating your oats out of.
Then, you'll want to measure out the amount of oatmeal you usually eat in each of the bowls/jars/containers. Once you've done that, pour the non-dairy milk over the top of each one. Then, follow one of the flavor ideas below. give it a mix, and refrigerate overnight.
Finally, the next morning, give the oats another mix and add more milk, if you prefer a smoother texture.
Overnight Oats Flavors and Add-Ins
For all the overnight oatmeal flavor variations, make the basic overnight oats mixture first. Then, add the rest of the ingredients to change up the flavor!
Chocolate Overnight Oats
Basic overnight oats base
1 tablespoon cocoa powder
1-2 tablespoons sweetener of choice (granulated)
1/2 teaspoon vanilla extract
1-2 tablespoons chocolate chips or homemade sugar free chocolate chunks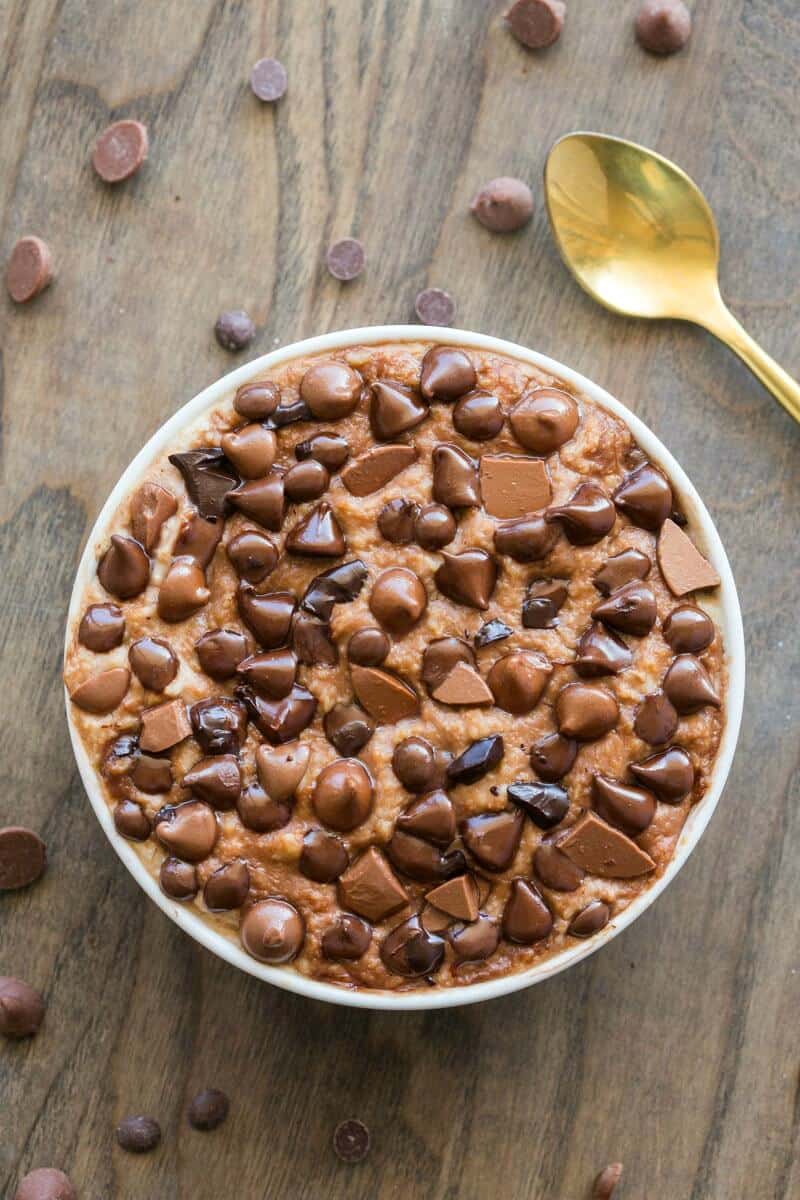 Blueberry Overnight Oats
Basic overnight oats base
1 teaspoon vanilla extract
1 tablespoon maple syrup (or agave nectar)
1/2 cup fresh or frozen blueberries
1- 2 tablespoons granola, to sprinkle on top
Crumbled blueberry muffins or blueberry bread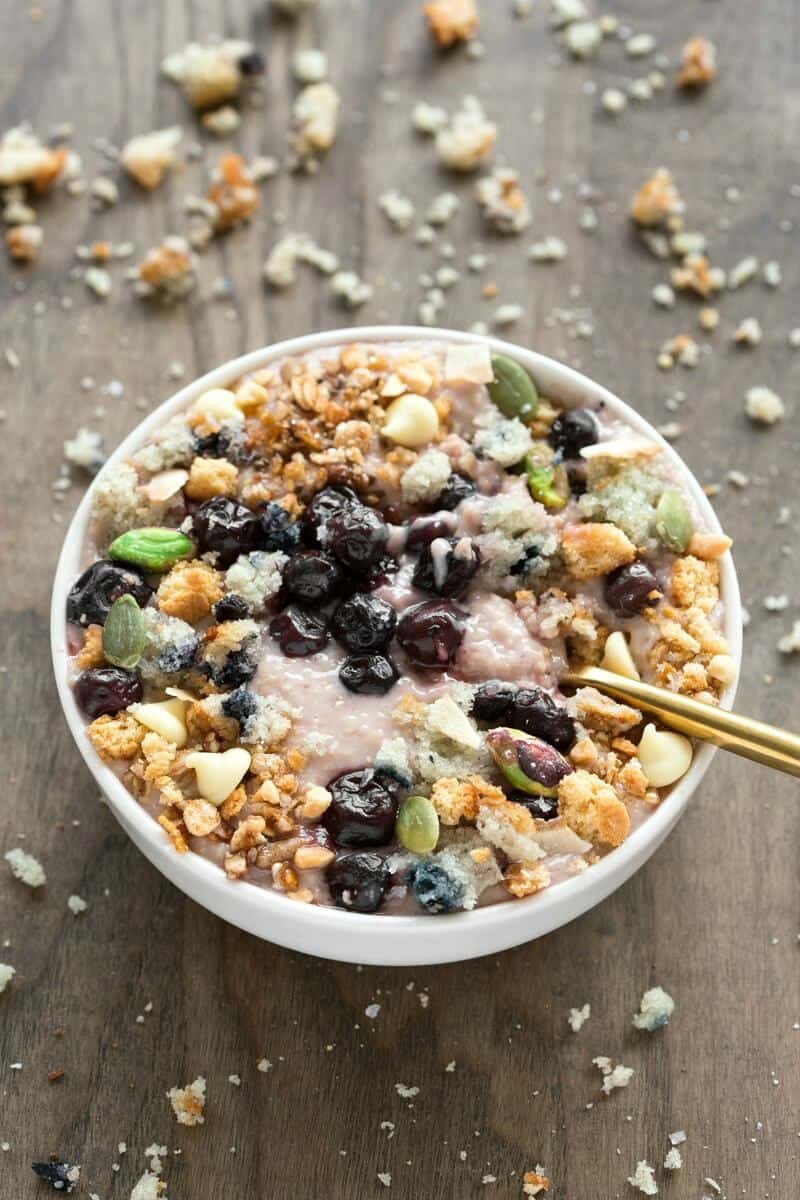 Cookie Dough Overnight Oats
Basic overnight oats base
1 tablespoon chia seeds (to thicken)
1-2 tablespoons sweetener of choice (granulated)
Crumbled healthy chocolate chip cookies
1-2 teaspoons chocolate chips (optional)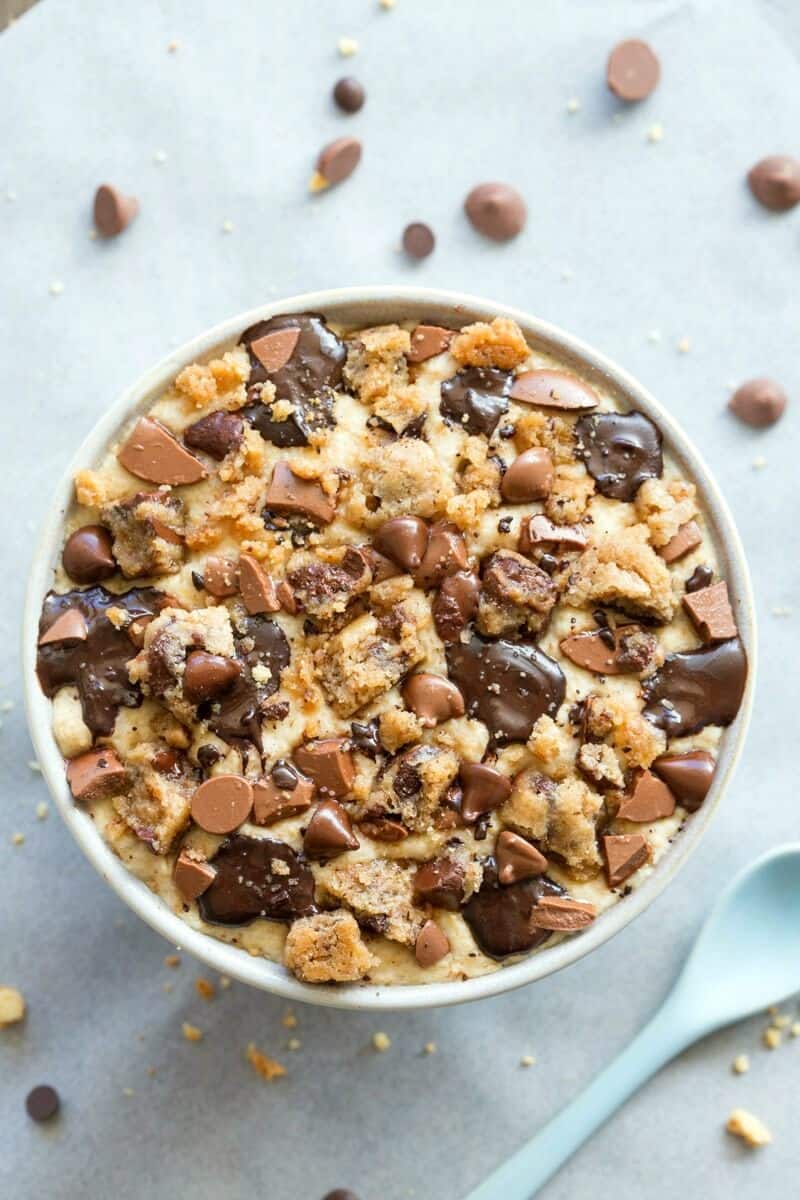 Strawberry Overnight Oats
Basic overnight oats base
1 teaspoon vanilla extract
1 tablespoon maple syrup (or agave nectar)
1/2 cup fresh or frozen strawberries
1-2 tablespoons mix-ins (chocolate chips, chopped nuts, granola, seeds, etc).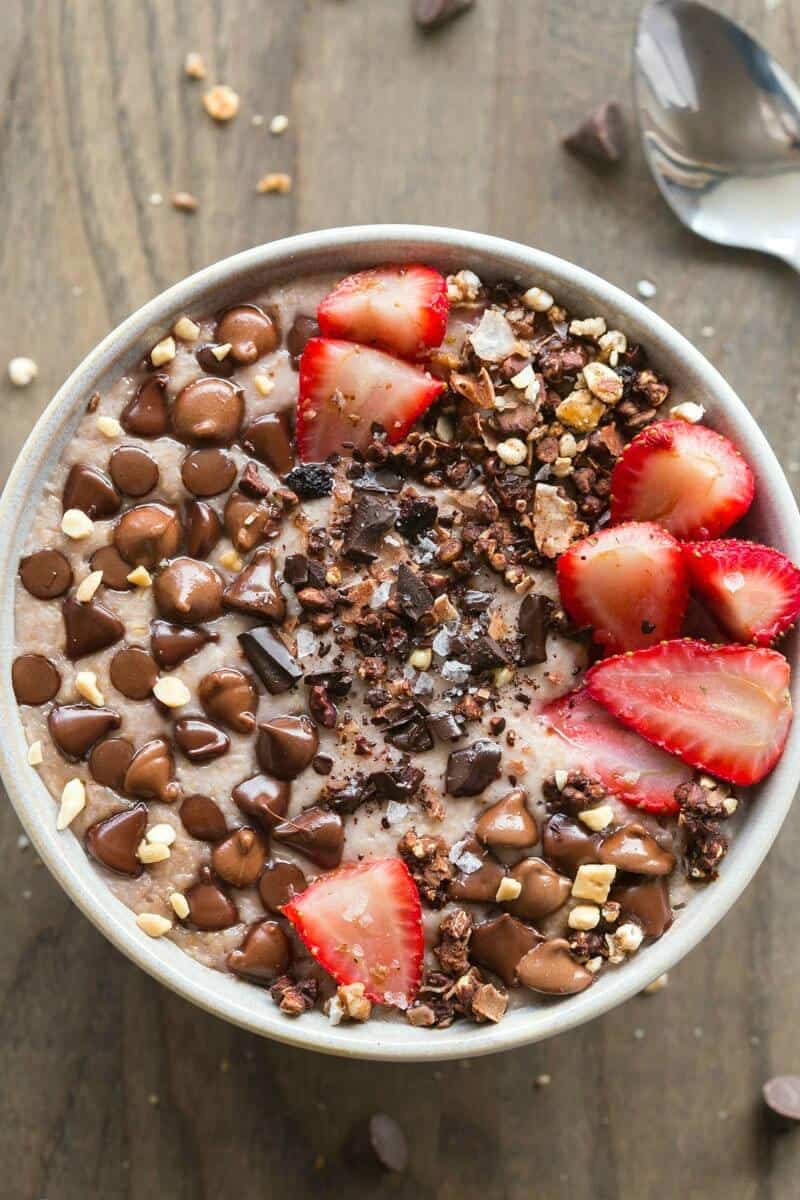 Brownie Batter Overnight Oats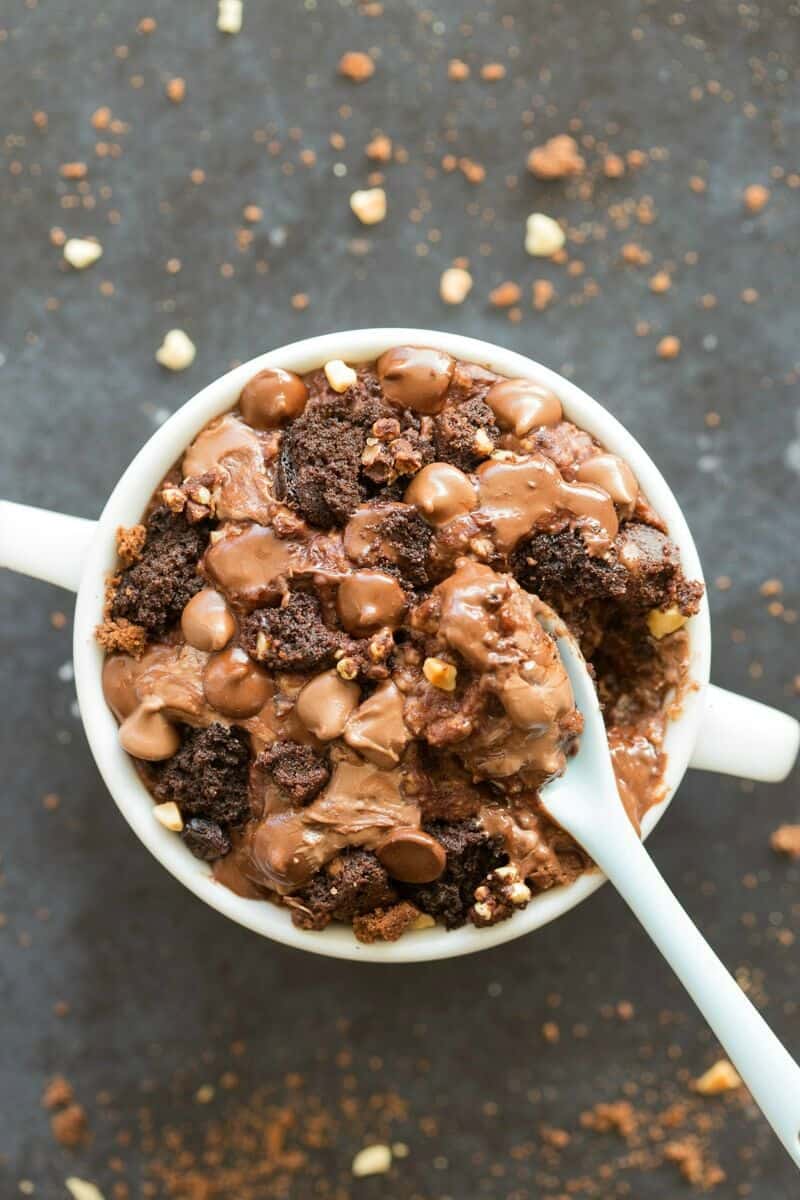 Peanut Butter Cup Overnight Oats
Basic overnight oats base
1/2 tablespoon cocoa powder
1 tablespoon maple syrup (or agave nectar)
1-2 tablespoons peanut butter (to mix in and to drizzle on top)
1 chocolate chips (optional)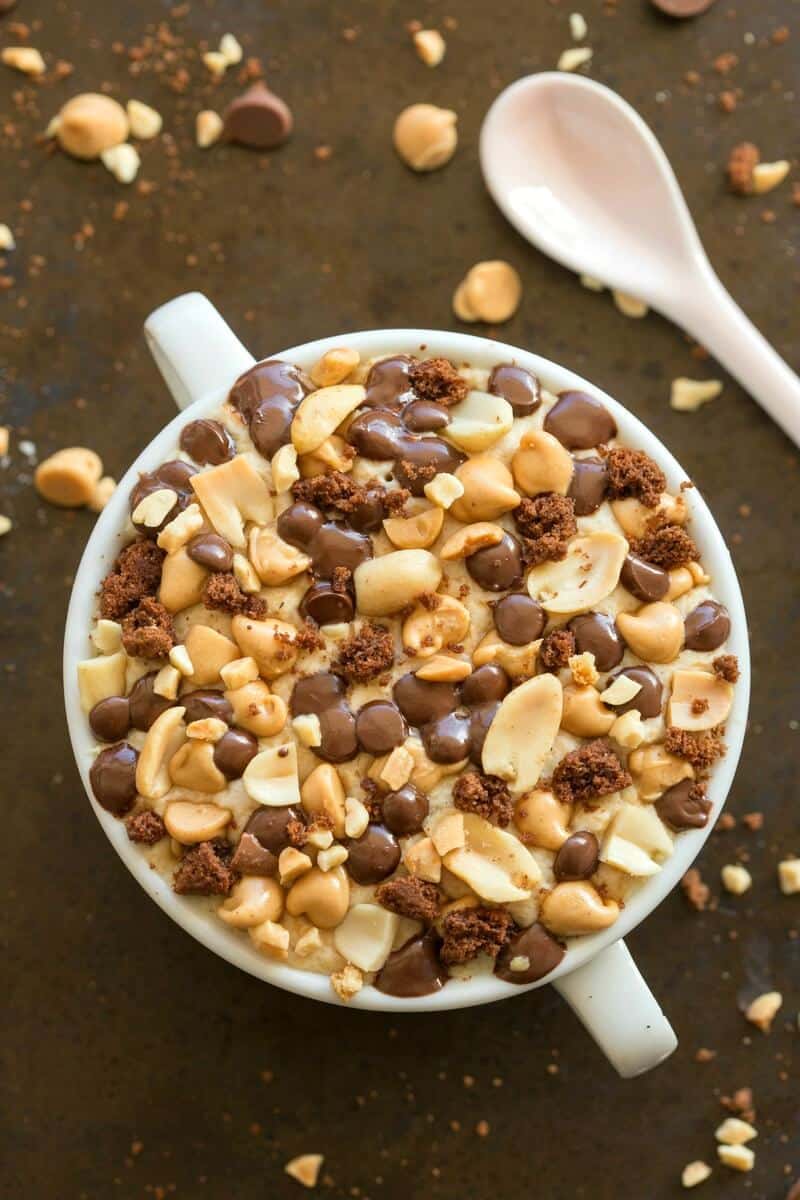 Banana Overnight Oats
Basic overnight oats base
1 large mashed banana (mixed into the oats)
1 teaspoon maple syrup (or agave nectar)
Toppings of choice (cereal, chocolate chips, sliced banana, etc).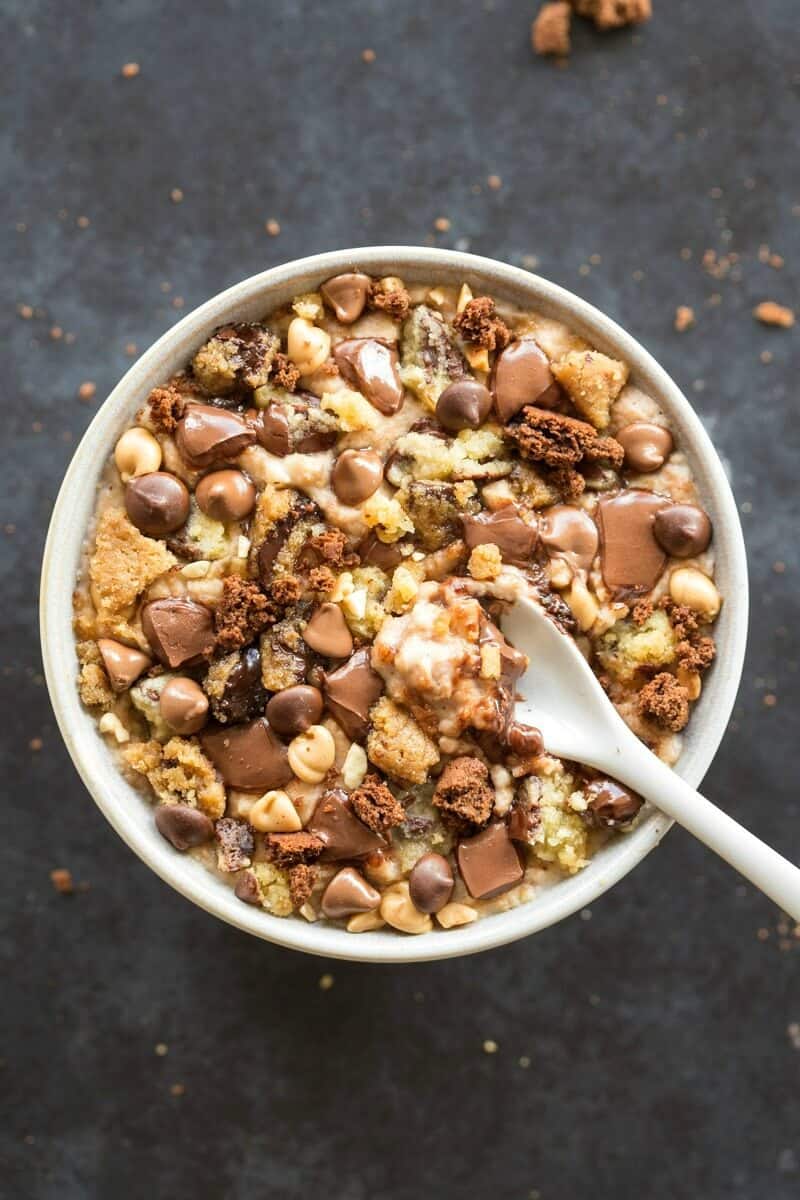 Peanut Butter Jelly Overnight Oats
Basic overnight oats base
1 tablespoon maple syrup (or agave nectar)
1 tablespoon peanut butter
1/4 cup fresh or frozen strawberries
1 tablespoon jam of choice (to mix in and top)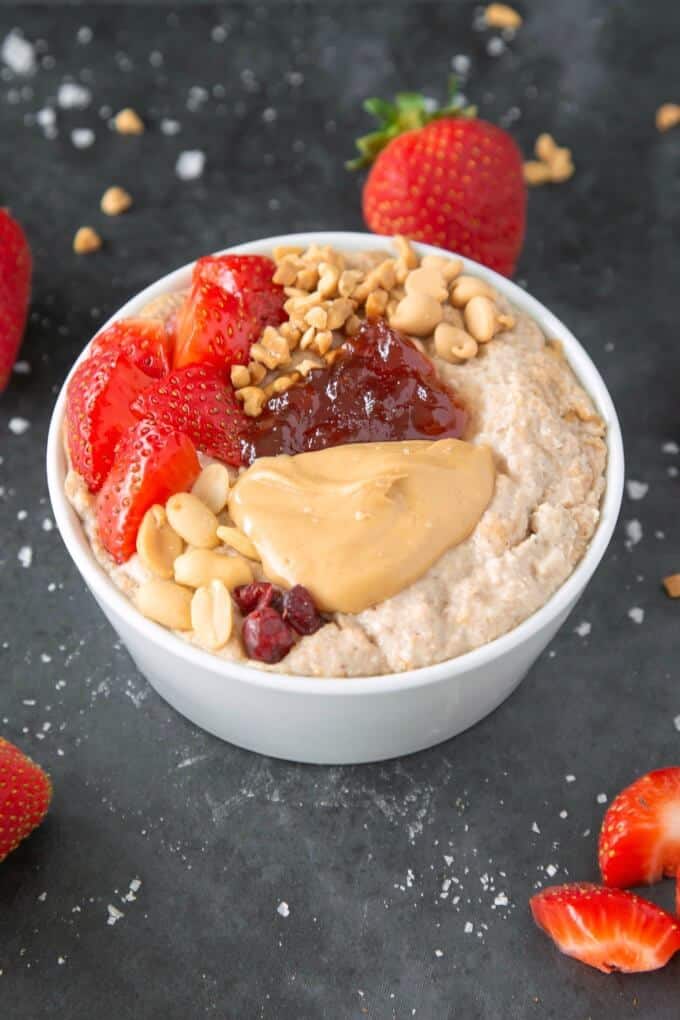 FAQ's about Vegan Overnight Oats
Can I use steel cut oats or quick oats instead of rolled oats?
You can use quick oats if you like, although they are less chewy.
Steel-cut oats will work too, but they MUST be refrigerated overnight.
Vegan overnight oats with water- Can I use that instead of milk?
If you plan on using one of my flavor combinations or adding some sweetness and mix-ins into it, absolutely.
Using water instead of milk will still achieve the texture, but minus any flavor whatsoever.
Can I make vegan overnight oats with yogurt?
Sure, if you DO prefer yogurt in your overnight oats, reduce the milk by 1/4 cup and replace that with yogurt instead.
Vegan Overnight Oats with Protein?
Easily give your overnight oats a protein punch, by adding protein powder! There are many plant-based protein powders on the market, so be sure you use one you enjoy the taste of.
TIP: For the chocolate oatmeal recipes, use chocolate protein powder. For all non-chocolate oatmeal ones, use either unflavored or vanilla.
Can I heat or microwave overnight oats?
Even after you've prepared overnight oats, you still have the option to heat it the next morning, if you'd prefer.
Microwave it or heat it on the stovetop, but be sure to add extra milk or liquid, if needed.
NOTE: If you've added yogurt into the mix, I don't recommend heating it up.
How long will overnight oats keep for?
Vegan overnight oats, made without yogurt, will keep fresh for up to 7 days. This is perfect to prep a week's worth in advance.
If you add yogurt to the base, it's best to enjoy it within 3-4 days.
Overnight oats must be stored in the fridge at all times.
Can I make a keto and grain-free version?
This recipe isn't keto or grain-free but try a keto low carb overnight oatmeal base instead.
Carrot cake oatmeal and chocolate chip cookie dough oatmeal are both keto oatmeal alternatives.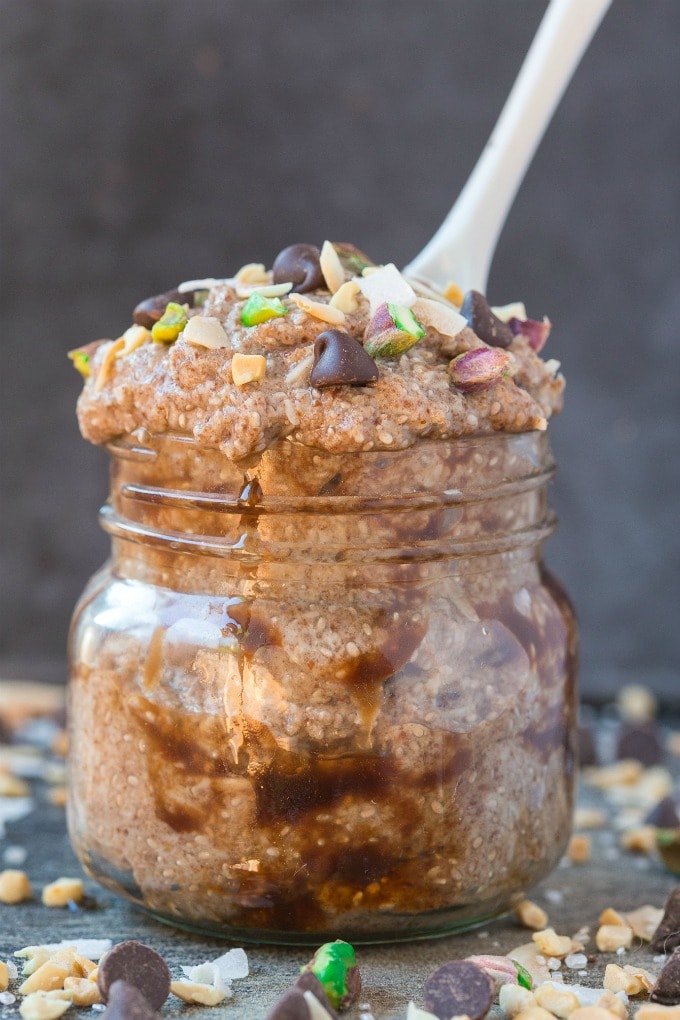 More healthy recipes using oats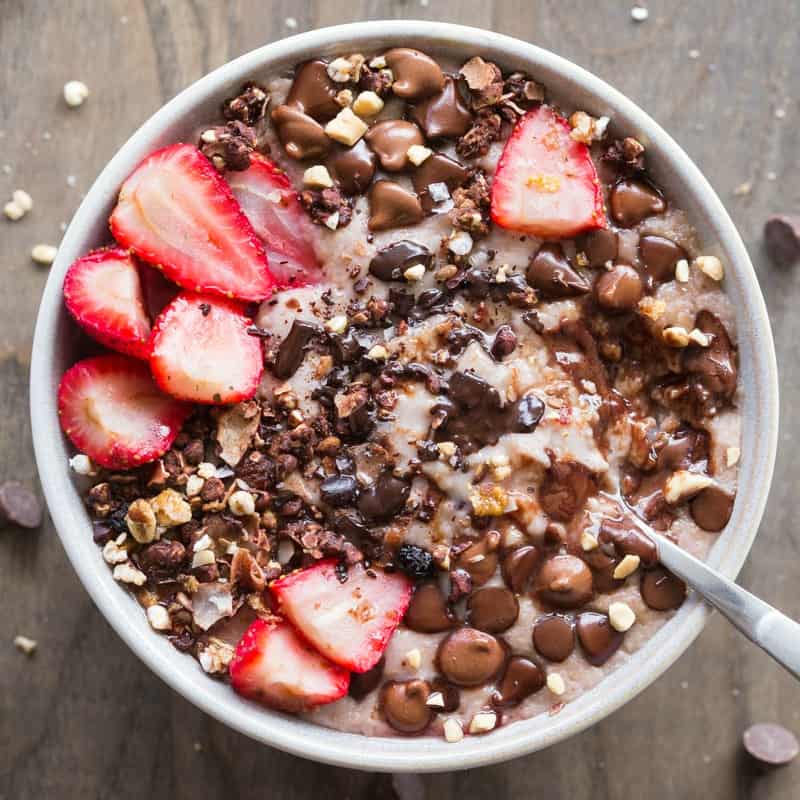 Overnight Oats- 8 ways!
Learn how to make easy vegan overnight oats without yogurt, and with 8 amazing flavor options! Hearty, filling and packed with fiber and protein, it's a make ahead breakfast recipe to keep you satisfied until lunch!
Ingredients
Instructions
In a bowl, jar, or small portable container, add your oats, milk and salt, and mix well.

Choose your flavor, and add those specific ingredients. Mix it together and refrigerate overnight, or for at least 2 hours.

Remove from the fridge and if desired, add more milk and extra toppings.
Notes
Nutritional values will depend on which overnight oats flavor you choose, and what add-ins or mix-ins you use.
Overnight Oats must be stored in the fridge at all times. Do not freeze it.
To ensure these are 100% vegan and gluten-free, always use gluten-free oats and dairy-free milk (almond milk, oat milk, soy milk, cashew milk, coconut milk, or nut milk blends).
Keto/Paleo- Keto Low Carb Overnight Oats
Overnight Oats with protein- Add 1/2- 1 scoop (34 grams) of your favorite plant-based protein powder to any of the flavors.
Sugar Free Overnight Oats- Replace all the syrups, chocolate chips, and sweeteners with sugar-free versions.
Nutrition
Serving:
1
serving
Calories:
175
kcal
Carbohydrates:
27
g
Protein:
6
g
Fat:
4
g
Sodium:
456
mg
Potassium:
147
mg
Fiber:
4
g
Vitamin A:
3
IU
Vitamin C:
3
mg
Calcium:
171
mg
Iron:
2
mg
NET CARBS:
23
g
Disclosure: This post may contain affiliate links. I may earn a small commission for my endorsement, recommendation, testimonial, and/or link to any products or services from this website.