Healthy Keto Blueberry Breakfast Cake (Vegan, Paleo)
A Healthy Keto Blueberry Breakfast Cake topped with a protein-rich frosting! Made with coconut flour and almond flour, it's moist, fluffy and bursting with fresh blueberries. It also comes with a flourless, eggless and vegan option! Paleo, Low Carb.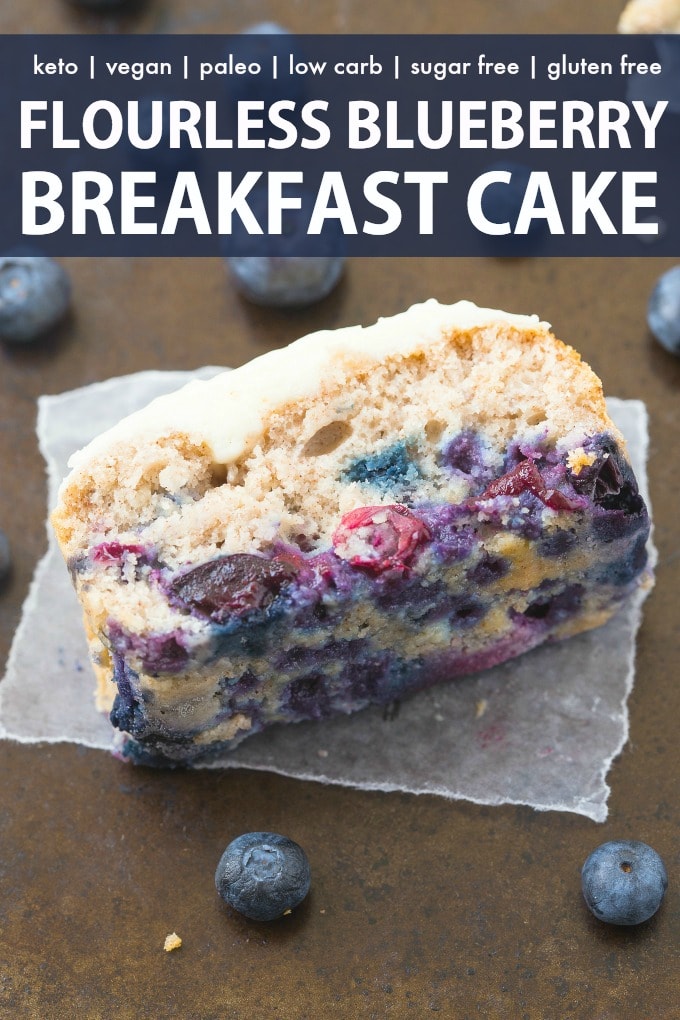 Healthy Blueberry Breakfast Cake
Growing up, one of my mum's most made recipes was a healthy flourless Breakfast Cake.
Her blueberry loaf was different to most sweet breakfast cakes out there- She'd bake it in two layers; the bottom layer would be mostly blueberries with the upper layer being mostly 'cake.'
Not only was it packed with protein, it didn't taste the least bit healthy!
HEALTHY BLUEBERRY CAKE
As with many things in life, the price of blueberries increased and mum stopped making it. That, or she was sick of me playing with my food and consistently polishing off the family tub of vanilla ice cream….on my own.
My goal has been to attempt my mum's famous breakfast cake, but there was a need for two pints- I was going to make one version completely eggless (vegan) and flourless.
The second would be 100% keto and paleo!
LOW CARB BLUEBERRY CAKE
It's no secret that I'm a fan of healthy paleo and keto breakfasts, especially if they aren't solely eggs. This breakfast cake fits the bill- It's like dessert for breakfast and packed with protein.
It's also perfect for meal prepping, is freezer-friendly and is quick and easy to whip up.
Texture wise, it's fluffy and moist on the inside (thanks to the blanched almond flour, coconut flour, and eggs), yet tender on the outside. It's bursting with fresh blueberries too.
It's also naturally sweetened, thanks to the combination of unsweetened applesauce and monk fruit sweetened maple syrup.
This maple syrup alternative is keto friendly, sugar free and super low carb. If you simply want this cake to be paleo and gluten-free, you are welcome to use pure maple syrup or agave nectar.
HOW TO MAKE THIS CAKE EGGLESS AND VEGAN
To keep this blueberry breakfast cake eggless, vegan and flourless, you'll make some swaps listed in the recipe card below.
The main two changes are that you'll be using ground rolled oats and replacing the egg with a flax egg.
FRESH BLUEBERRIES OR FROZEN BLUEBERRIES
I prefer using fresh blueberries, as they don't 'bleed' into the cake batter as much as frozen blueberries do. However, you can use frozen blueberries if that is all you have on hand!
To use frozen blueberries, ensure they have thawed completely. Simply pat them dry before adding to the batter and you'll be fine!
HEALTHY FROSTING RECIPES
While this healthy blueberry breakfast cake tastes delicious on its own, it tastes even better with a thick layer of frosting!
Healthy Cream Cheese Frosting-
Soften 1 package (250 grams/8 ounces) of cream cheese of choice (dairy free or full-fat).
In a large mixing bowl, add softened cream cheese with 3 tablespoons of sticky sweetener of choice (I used monk fruit maple syrup) and 1/2 teaspoon of cinnamon. Mix very well- If the batter is too thick, slowly add some milk of choice until thick and creamy.
Spread the cream cheese frosting over the blueberry cake.
Low Carb Protein Frosting-
Combine 1-2 scoops of vanilla protein powder, 1/2 teaspoon of cinnamon and 1/4 cup of your favorite granulated sweetener in a large mixing bowl. Mix well.
Add 1 cup of yogurt of choice (I used coconut) and a 1/4 teaspoon of vanilla extract and mix until fully incorporated- The batter should be incredibly thick.
Spread on top of your cooled blueberry cake.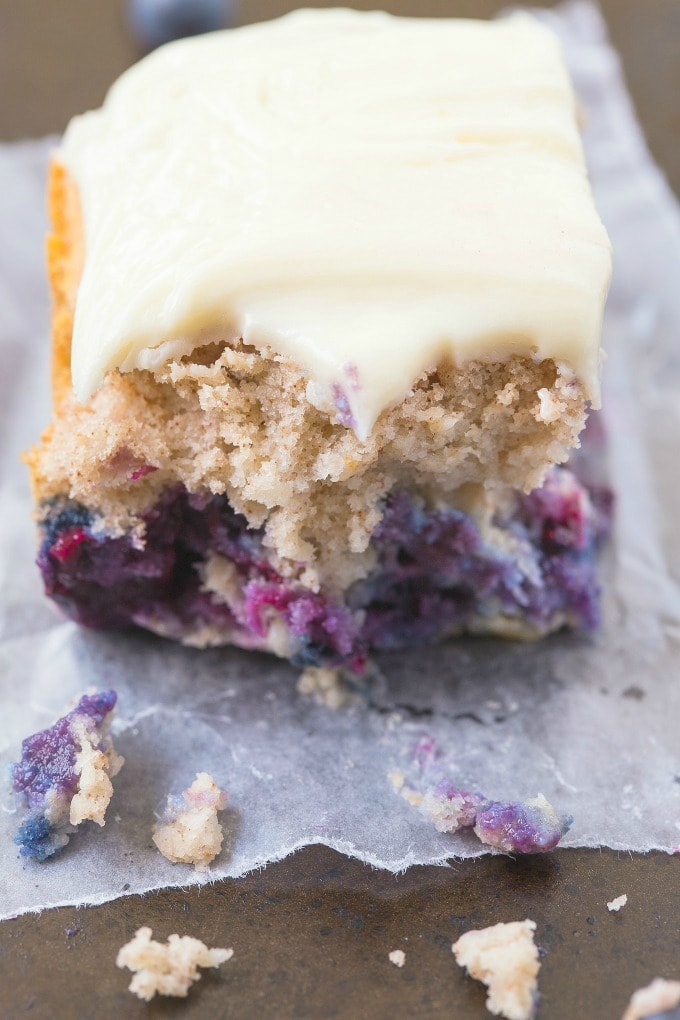 Other ketogenic sweet breakfast recipe ideas-
WATCH HOW TO MAKE THE VEGAN VERSION BELOW!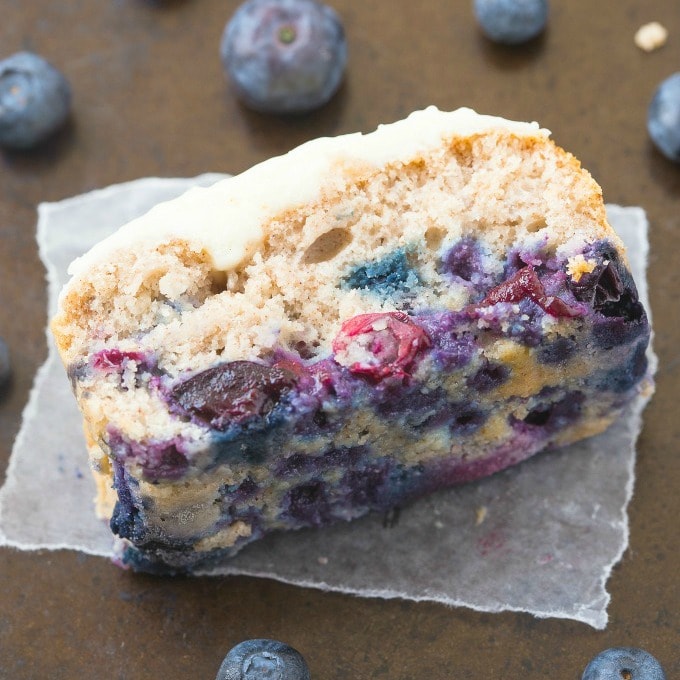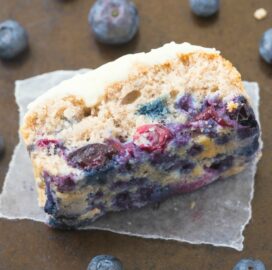 Healthy Keto Blueberry Breakfast Cake (Vegan, Paleo)
A delicious quick and easy breakfast cake recipe loaded with blueberries and packed with protein! Perfect for meal prep, it's paleo and keto friendly, and with a vegan and flourless option!
Print
Pin
Rate
Ingredients
Original Recipe (Keto, Paleo, Grain-Free)
Vegan Flourless Recipe (Gluten-Free)
Instructions
For the original recipe
Preheat the oven to 350F/175C. Line a square pan or loaf pan with parchment paper and set aside.

In a large mixing bowl, add your dry ingredients and mix well.

In a separate bowl, whisk your eggs well. Add your melted coconut oil, unsweetened applesauce and sticky sweetener of choice and mix very well.

Combine your wet ingredients with your dry ingredients and mix very well. Fold through your blueberries.

Pour your blueberry breakfast cake batter in the lined pan and bake for 35-40 minutes, or until a toothpick comes out clean from the center. Allow cooling in the pan for 10 minutes, before transferring to a wire rack to cool completely.

Once the cake is cooled, prepare your frosting before topping the cake and cutting into slices.
For the flourless vegan recipe
Combine all ingredients in a high-speed blender and blend until a smooth batter remains. Follow the instructions as above.
Notes
* I used a monk fruit sweetened maple syrup. Paleo friendly sweeteners include pure maple syrup and agave nectar.
Healthy Keto Blueberry Breakfast Cake (Vegan, Paleo) should be kept refrigerated, for up to 5 days. It's freezer friendly and keeps for up to 2 months.
To enjoy as breakfast meal prep, freeze individual slices in parchment paper and thaw overnight.
Nutrition
Serving:
1
Slice
|
Calories:
135
kcal
|
Carbohydrates:
7
g
|
Protein:
8
g
|
Fat:
11
g
|
Fiber:
4
g
|
Vitamin A:
200
IU
|
Vitamin C:
2.5
mg
|
Calcium:
20
mg
|
Iron:
0.7
mg
|
NET CARBS:
3
g