Easy stovetop sugar free candied pecans which use just three ingredients and with no sugar, sticky sweeteners or any additives! A simple one pan/skillet recipe perfect for the holidays, Christmas, DIY, gift giving, or anytime snacking! It's also completely paleo, vegan, gluten free, dairy free, keto, and sugar free!

It's that time of the year where we gather with our friends and share a meal, exchange gifts and….split the bill.
Remember the days when we had to ALWAYS have cash in our wallets? I do.
Remember the days when you would stop by the ATM before heading out? I do.
Remember the days where you'd spend a good 20 minutes before leaving a restaurant to work out how to split the dinner bill?
Matt would run to the ATM to get his portion out, Janine would fork out a couple of bills, along with her change. I'd put it all together, put it on my card, and then add a reminder in my phone for Luke to pay me back next week.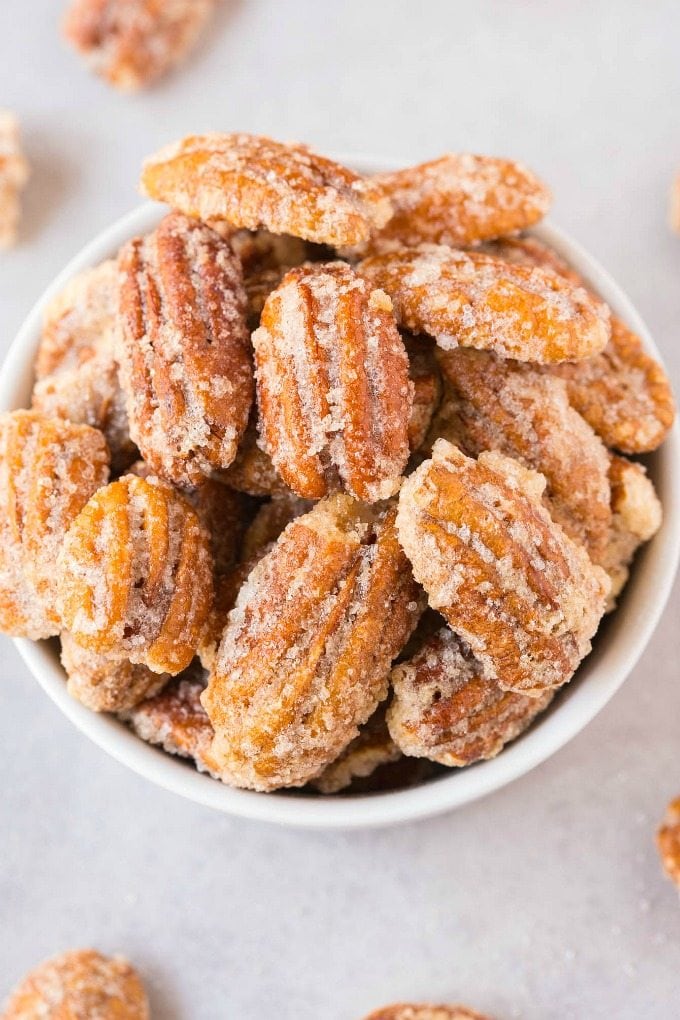 Well, these common situations will happen no more…thanks to Square Cash.
I've always been skeptical of applications which involve anything with money, especially with transferring it. I think I'm old school in that regard, often thinking a secondary or third party may have access to my information. Fortunately, the Square Cash application maintained strong security measures, continually double checking my login along with my card's CVV code. Not only that, I was comforted in knowing that I would be protected of any possible fraud!
So how was using it?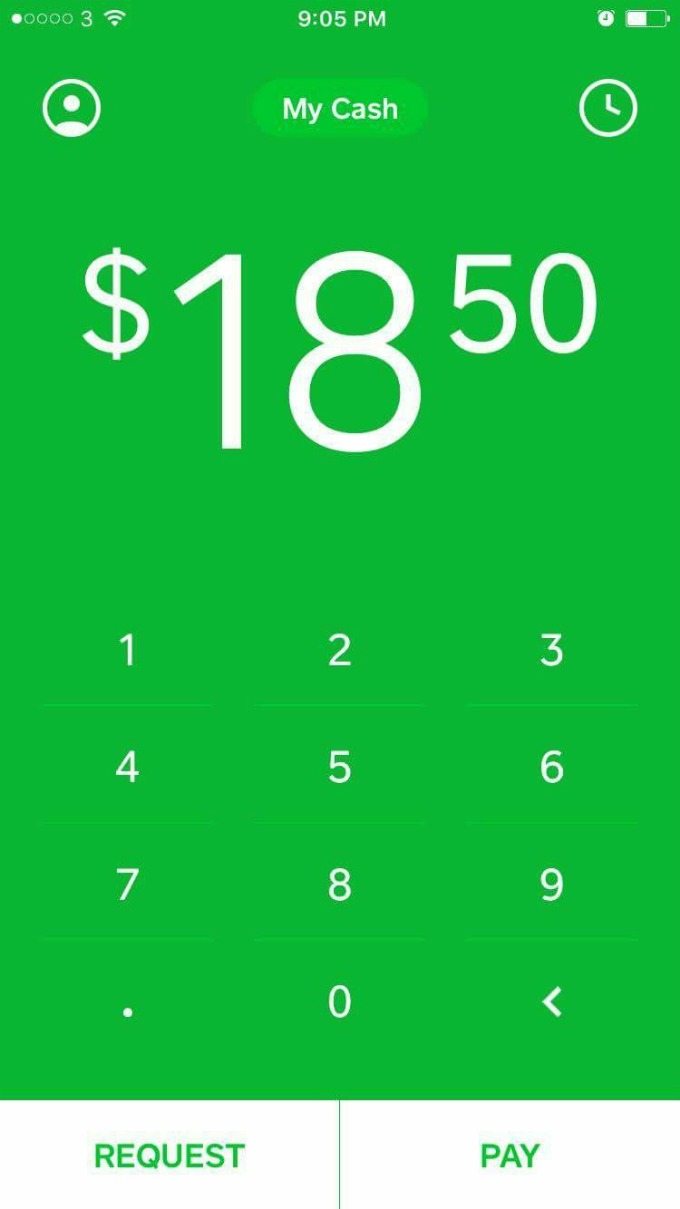 SEAMLESS!
Last week, we went to the local bar for drinks and dinner. Our meals ranged from $8 for a house burger to $27 for a pasta meal with two desserts. Instead of wasting time at the end of our meal trying to do ridiculous maths of how to split a bill, I simply send out the reminders via the Square Cash app to my dining partners and BAM- Instant transfers to my account!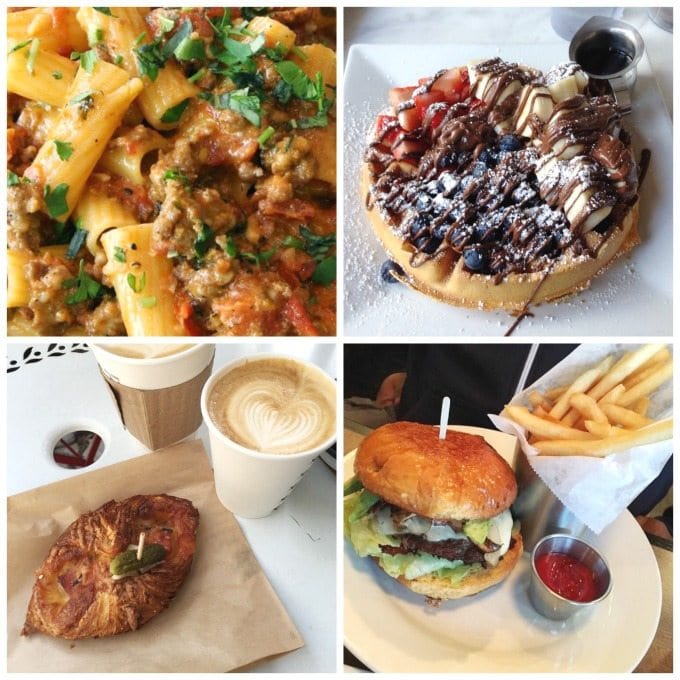 It was so easy and simple to set up, even my friends who hadn't heard of it before and installed it there and then. Oh, and if you are worried about your mates not paying you back, just double check the balance on there. It should increase with every deposit.
BOOM.
(Just checked, and I just got my funds paid to me. No sneaky 'I forgot's here!')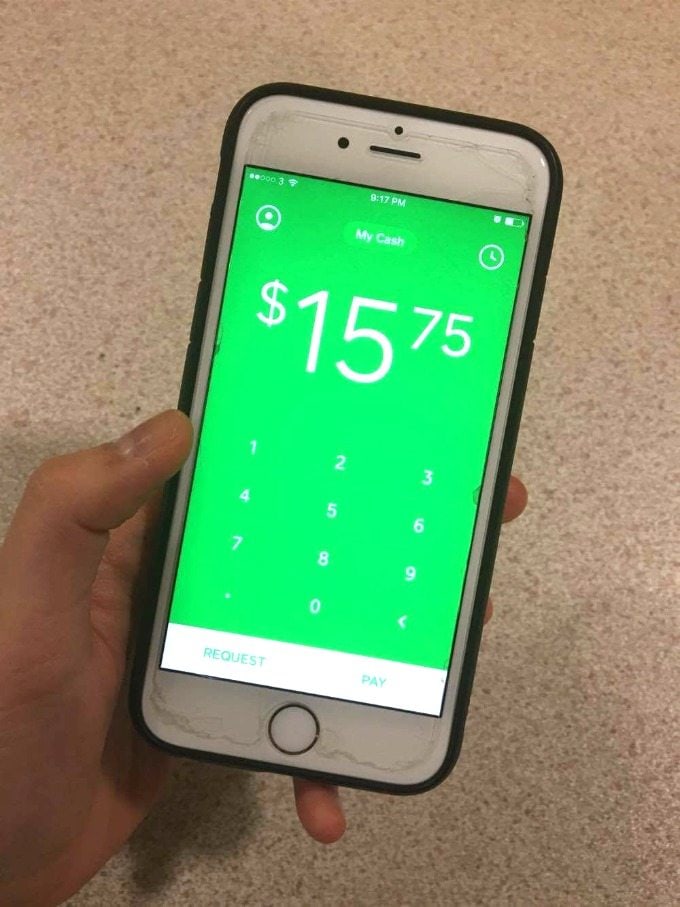 Now…who wants to go out for dinner?
Your shared shout.
At the end of the meal, I decided to pawn off my latest recipe as a hybrid Christmas gift/and food pawning.
BOOM.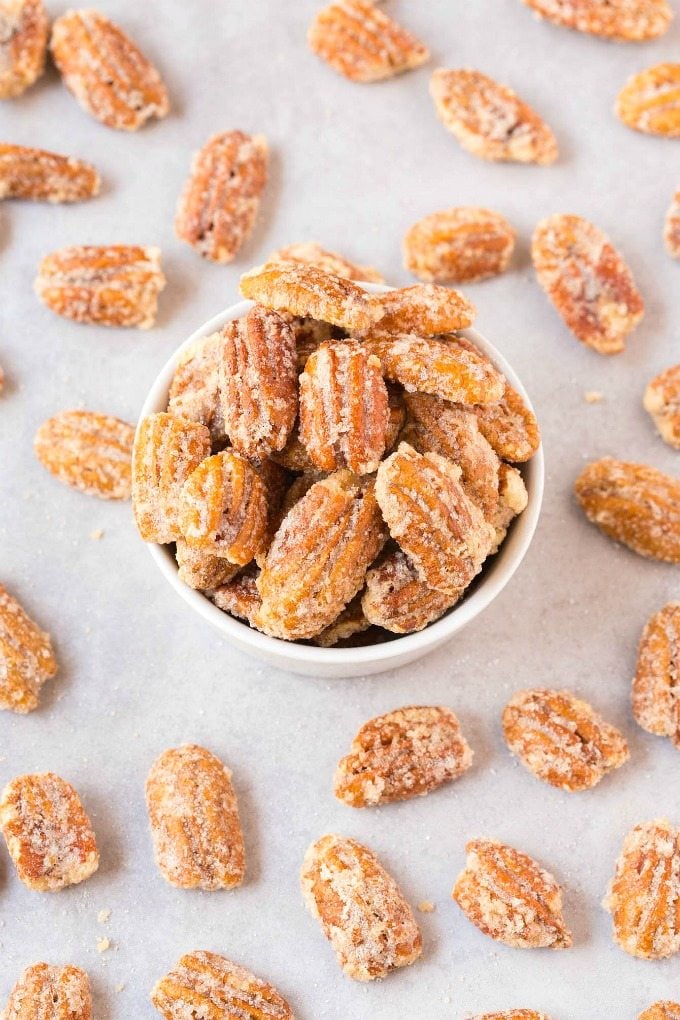 You guys have been a huge fan of the original sugar free candied mixed nuts and the recently shared sugar free candied almonds– In fact, I was stoked that many of you shared your recreations on Facebook and Instagram soon after the almonds went live!
As such, I had to share one which takes the most festive, seasonally appropriate nut in contention- The pecan!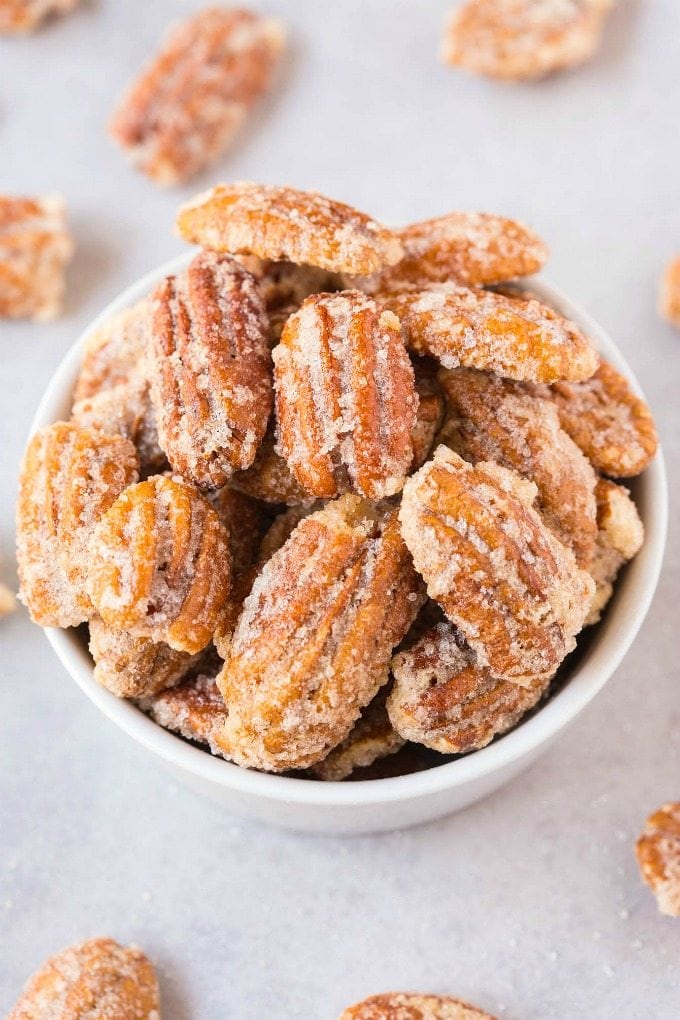 These healthy stovetop sugar free candied pecans are the ultimate holiday/Christmas/festive treat to have on hand….or an anytime snack! They are easy, take minutes to whip up, and require no oven whatsoever! It's made stovetop, but there are directions for those who do want to bake them. Unlike traditional candied pecans, these don't contain any sugar, butter, oil, thickeners or sticky sweeteners! Instead, we'll be using a natural sweetener, monk fruit, which replicates sugar really well! Unlike other stevia blends, monk fruit doesn't have a bitter after taste and maintains the sugary, crusty exterior! Pecans can generally be quite pricy, but these packaged unsalted pecans were a steal and they tasted great- If you have a Costco near you, definitely check it out!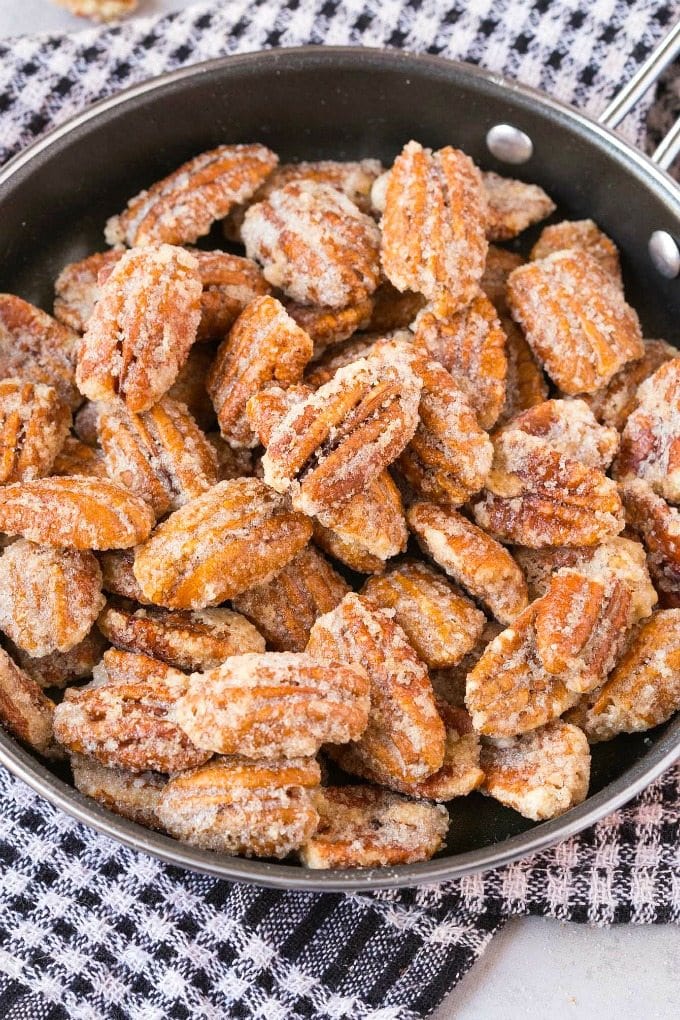 For those who tolerate sucralose-based sweeteners well, follow the instructions in this recipe– It works, but it doesn't leave the same texture and comes out really sticky. Also, because of the minimal ingredients used (and type!), these easy stovetop sugar free candied pecans are naturally gluten free, vegan, paleo, dairy free, and grain free!
HACK! These make the perfect Christmas or holiday edible gifts- What I did for my friends was buy some large, fancy jars and made a double batch of the pecans and gifted them up.
Oh and in full disclosure, I also made this fudge and these almond butter and jelly cups too, in case they didn't seem too thrilled with the zero sugar aspect of this recipe.
BURN.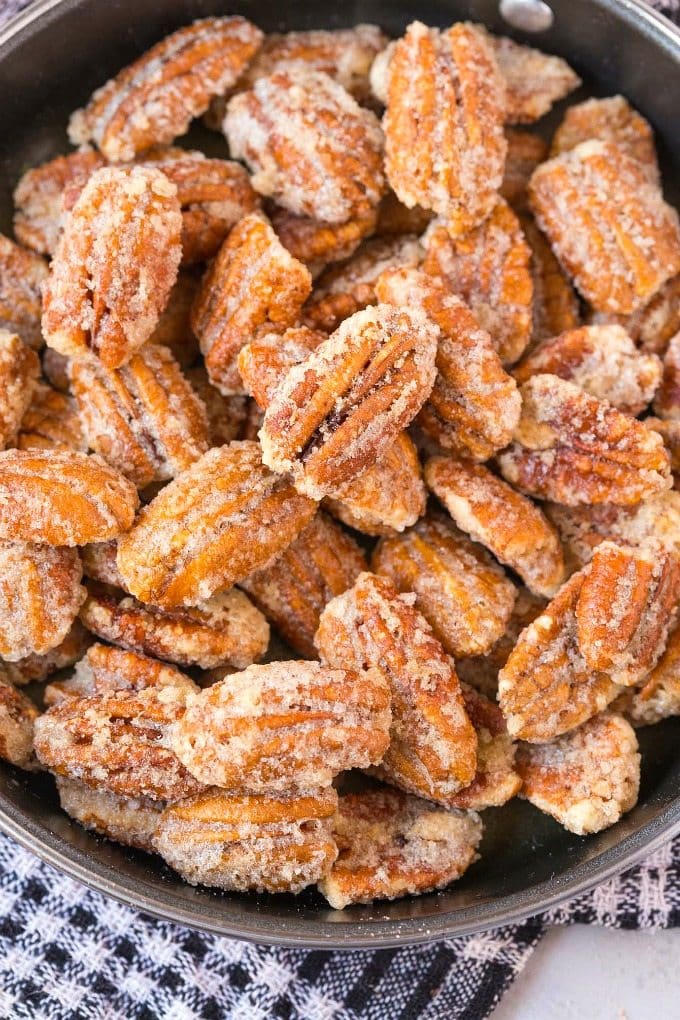 Make these easy, healthy Sugar Free Stovetop Candied Pecans and gift these to all your friends this festive season over lunch…or dinner..or brunch.
Bill split evenly.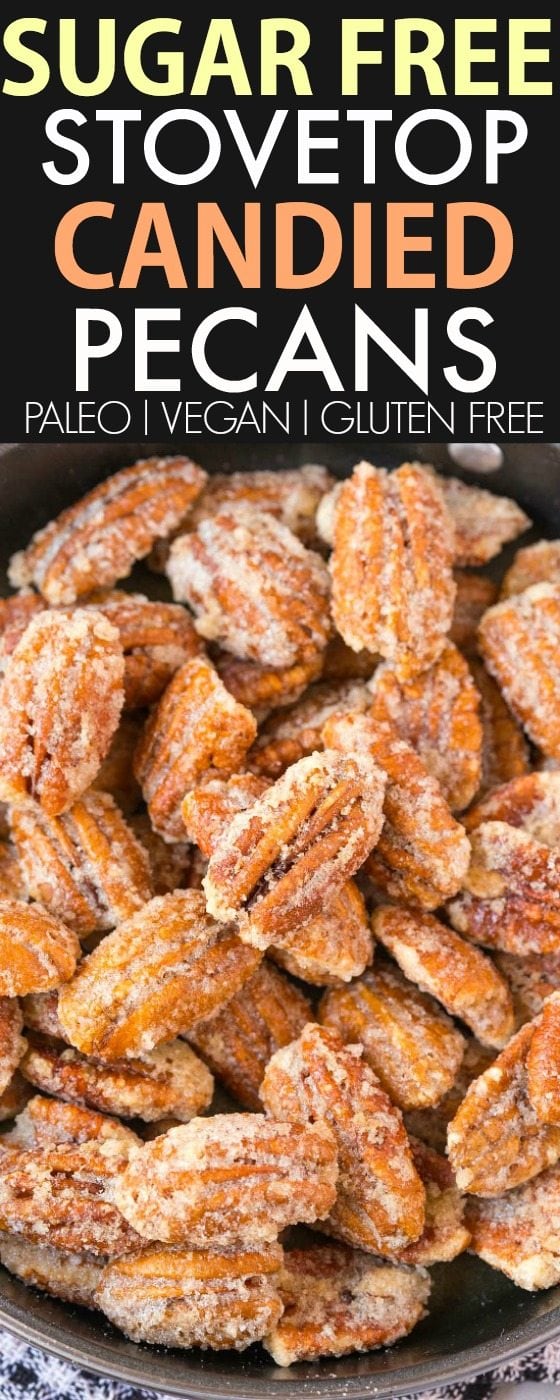 Want to see just how easy these are to make? Check out the step-by-step recipe video below- You'll never buy store-bought candied pecans again!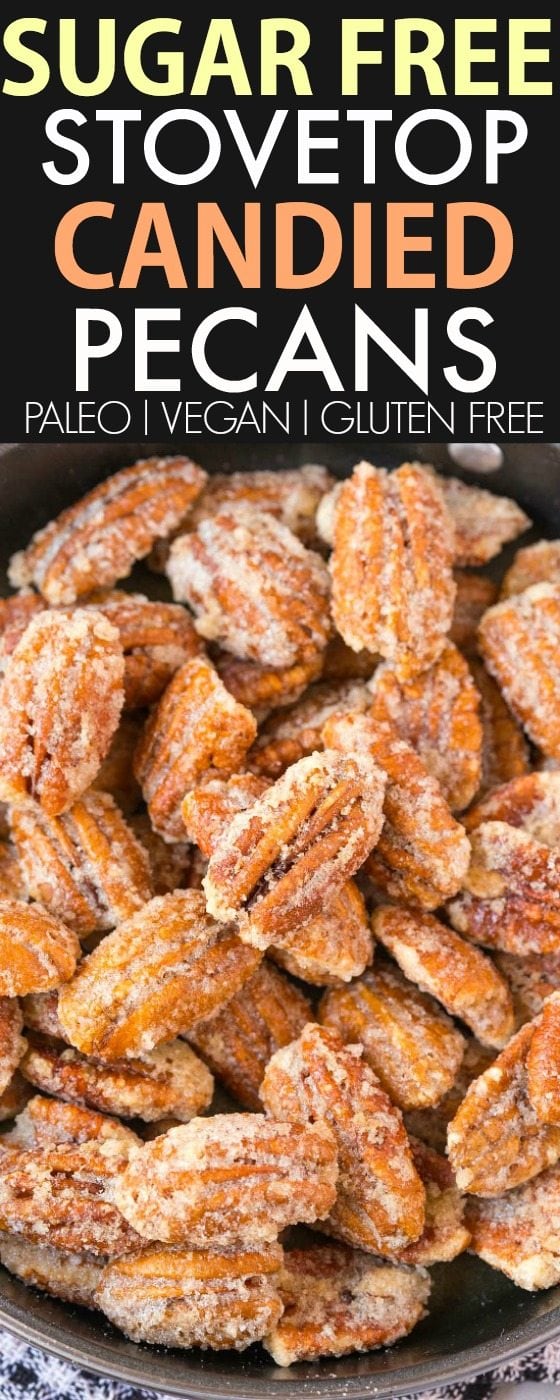 Easy Stovetop Sugar Free Candied Pecans
2016-12-02 02:46:29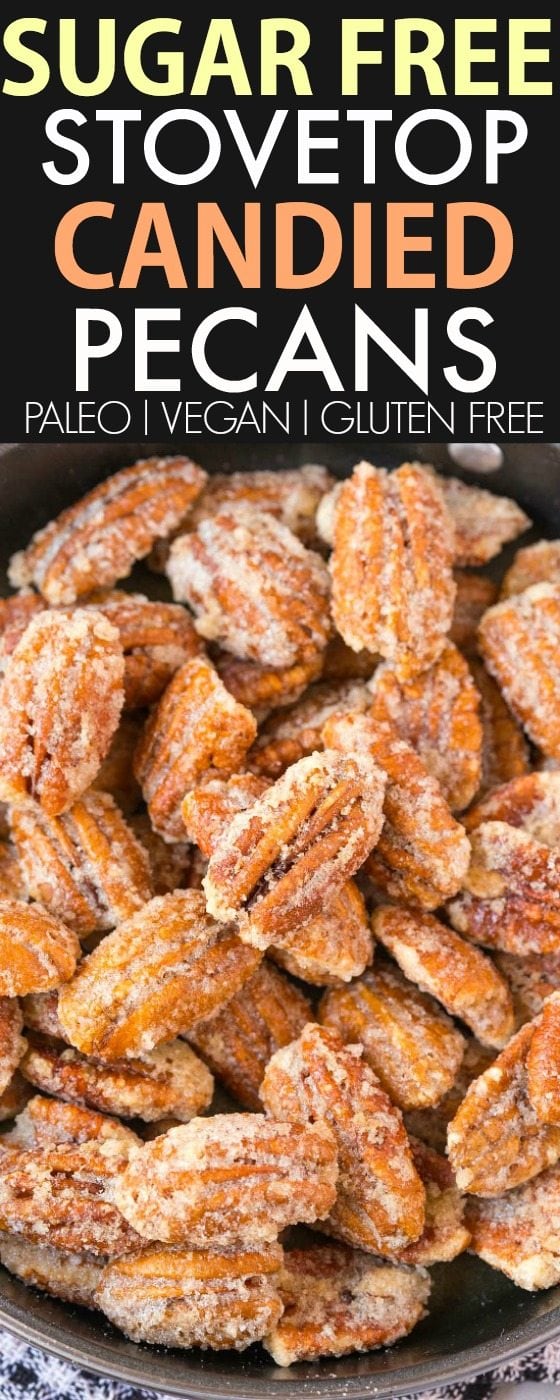 Easy stovetop sugar free candied pecans which use just three ingredients and with no sugar, sticky sweeteners or any additives! A simple one pan/skillet recipe perfect for the holidays, Christmas, DIY, gift giving, or anytime snacking! It's also completely paleo, vegan, gluten free, dairy free and sugar free!
Ingredients
3 cups raw, unsalted pecan halves
1 cup granulated monk fruit sweetener (see notes above for alternative granulated sweeteners)
1/4 cup water
1 tsp vanilla extract
Pinch sea salt
Pinch cinnamon (optional)
Stovetop option
Heat a large frying pan or skillet pan on medium heat. When hot, add the monk fruit sweetener, water, vanilla extract, sea salt and optional cinnamon and mix until fully combined. Allow to heat up, stirring occasionally.
When the monk fruit has completely melted, add the raw, unsalted pecans. Watch over the pan and continue stirring often until most of the monk fruit sweetener has been coated and beginning to crystallize.
Remove pan from the heat and allow to sit for 1-2 minutes, before using a wooden spoon to stir almonds together to avoid immediate, overlarge clusters forming. Allow to cool completely before breaking up properly.
Oven option
Preheat oven to 250 degrees. Line a large baking tray with parchment paper and set aside.
Follow directions as above then spread out pecan halves on a single flat layer. Bake for 45 minutes, stirring occasionally. Once almonds have just begun to crystallize, remove and allow to cool for 1-2 minutes, before stirring once again to avoid immediate overlarge clusters forming. Allow to cool completely, before coating in an extra tablespoon or two of monk fruit sweetener.
Notes
Pecan halves can be kept in a sealed container for at least 2 months. For even longer storage, freeze in an airtight container.
For large pecan clusters, allow to cool for 10 minutes, before breaking up
The Big Man's World ® https://thebigmansworld.com/
More delicious holiday inspired appetizers, gifts, Christmas or….well, festive snacks? Gotcha covered!
These no bake bars taste just like a sugar cookie, minus the actual sugar!
Make your own protein-packed hot chocolate mix with a few basic ingredients!
Not a fan of protein powder? The sugar free version of hot cocoa is just as good!

Do you still carry cash in your wallet/purse?
Random- Team Android or Team iOS?
The Big Man's World is a participant in the Amazon Services LLC Associates Program, an affiliate advertising program. This means that if you click and make a purchase, TBMW receives a small commission, at no cost to you. Cheers, hugs, and handshakes for supporting TBMW!