Easy Stovetop Sugar Free Candied Pecans (Paleo, Vegan, Gluten Free)
Easy stovetop sugar free candied pecans which use just three ingredients and with no sugar, sticky sweeteners or any additives! A simple one pan/skillet recipe perfect for the holidays, Christmas, DIY, gift giving, or anytime snacking! It's also completely paleo, vegan, gluten free, dairy free, keto, and sugar free!

Keto Candied Pecans with Swerve
You guys have been a huge fan of the original sugar free candied mixed nuts and the recently shared sugar free candied almonds– In fact, I was stoked that many of you shared your recreations on Facebook and Instagram soon after the almonds went live!
As such, I had to share one which takes the most festive, seasonally appropriate nut in contention- The pecan!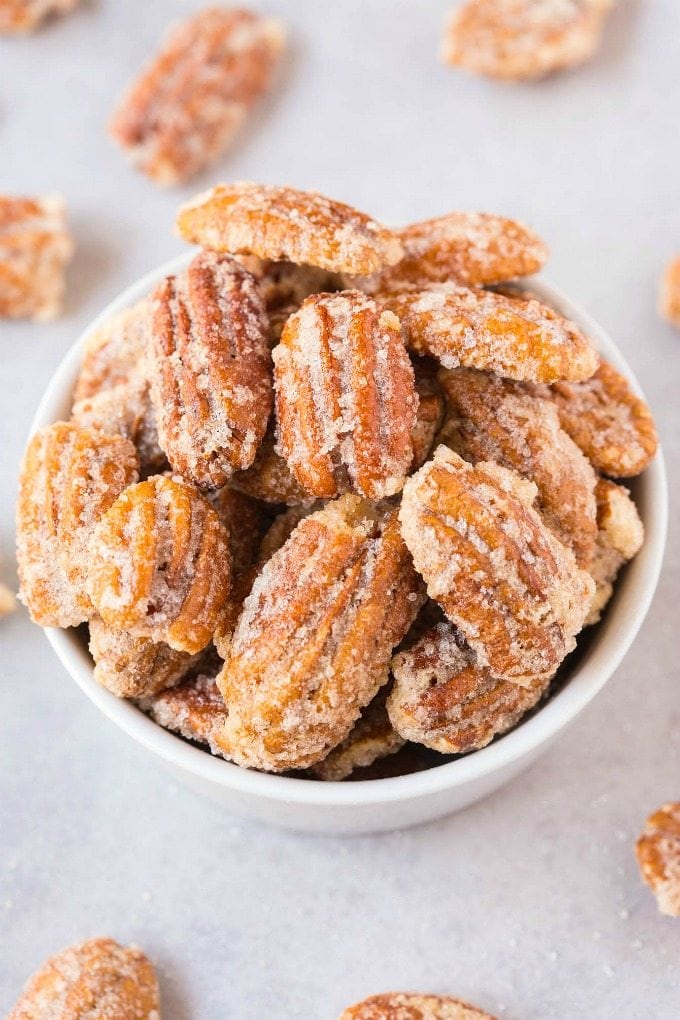 Foolproof candied pecans recipe
These healthy stovetop sugar free candied pecans are the ultimate holiday/Christmas/festive treat to have on hand….or an anytime snack!
They are easy, take minutes to whip up, and require no oven whatsoever! It's made stovetop, but there are directions for those who do want to bake them. Unlike traditional candied pecans, these don't contain any sugar, butter, oil, thickeners or sticky sweeteners!
Instead, we'll be using a natural sweetener, monk fruit, which replicates sugar really well! Unlike other stevia blends, monk fruit doesn't have a bitter after taste and maintains the sugary, crusty exterior!
Pecans can generally be quite pricy, but these packaged unsalted pecans were a steal and they tasted great- If you have a Costco near you, definitely check it out!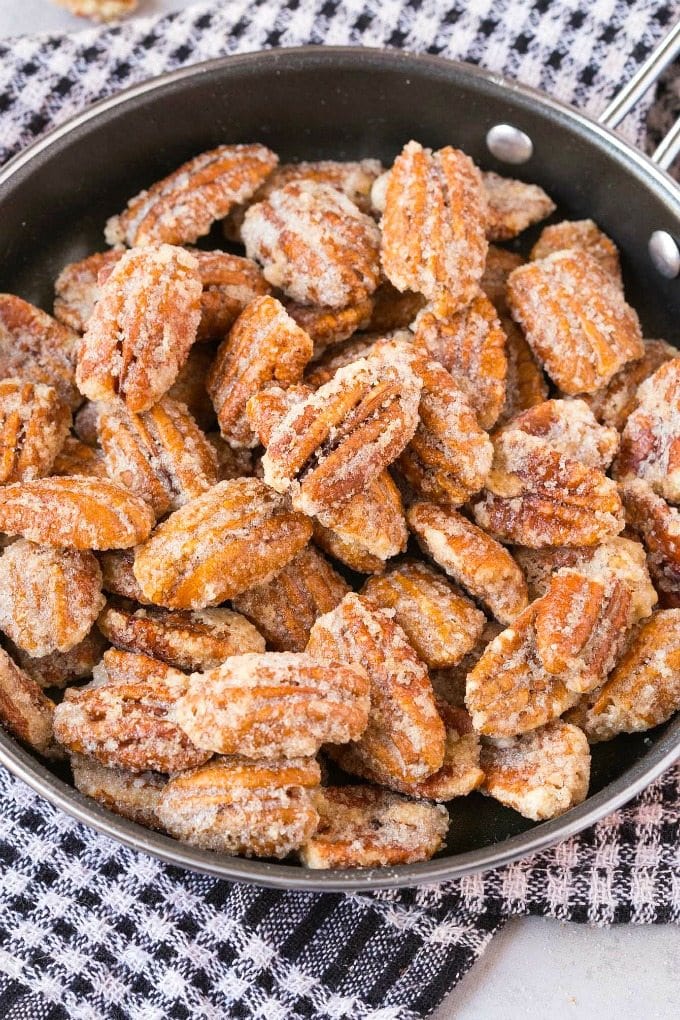 Why make these keto candied pecans?
For those who tolerate sucralose-based sweeteners well, follow the instructions in this recipe– It works, but it doesn't leave the same texture and comes out really sticky.
Also, because of the minimal ingredients used (and type!), these easy stovetop sugar free candied pecans are naturally gluten free, vegan, paleo, dairy free, and grain free!
These make the perfect Christmas or holiday edible gifts- What I did for my friends was buy some large, fancy jars and made a double batch of the pecans and gifted them up.
Oh and in full disclosure, I also made this fudge and these almond butter and jelly cups too, in case they didn't seem too thrilled with the zero sugar aspect of this recipe.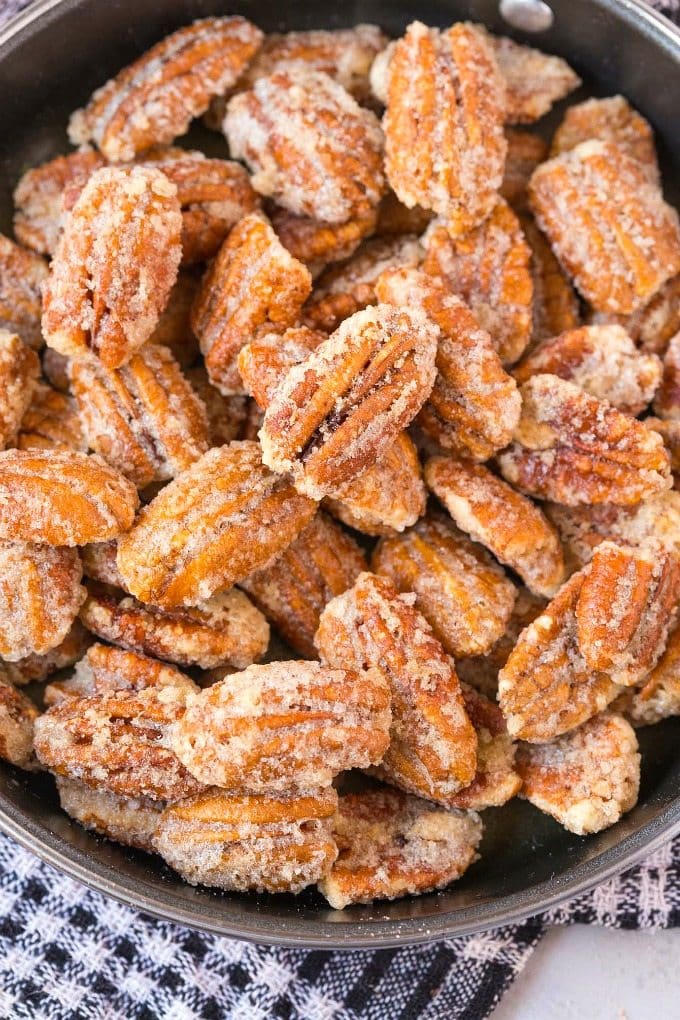 More delicious keto snacks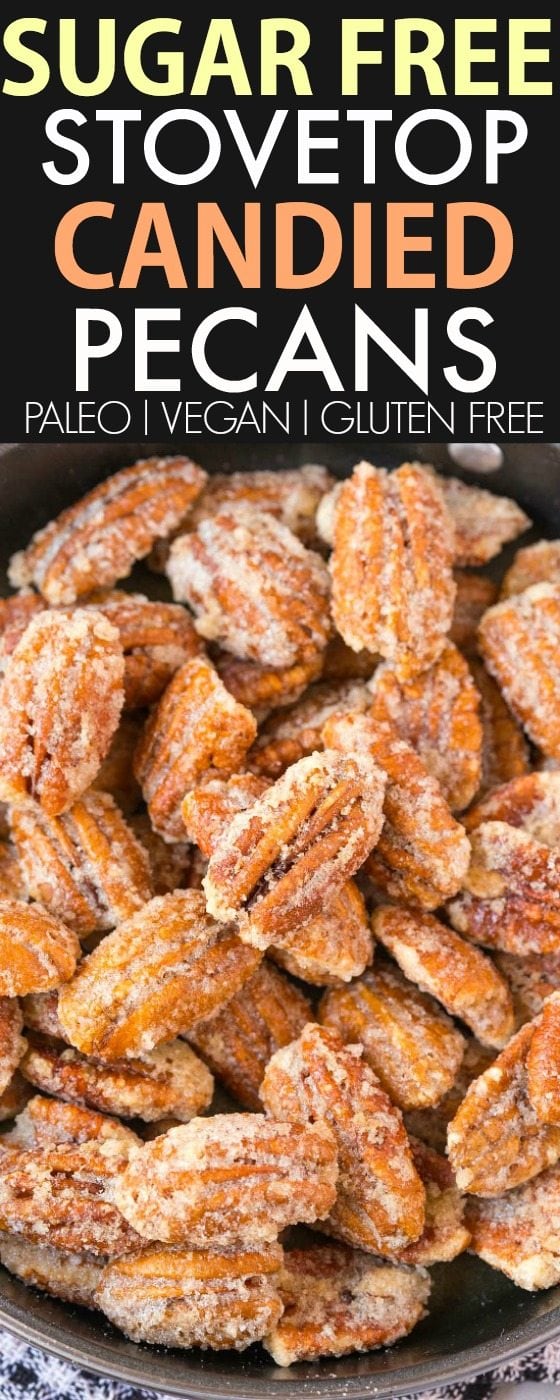 Watch the step-by-step video below!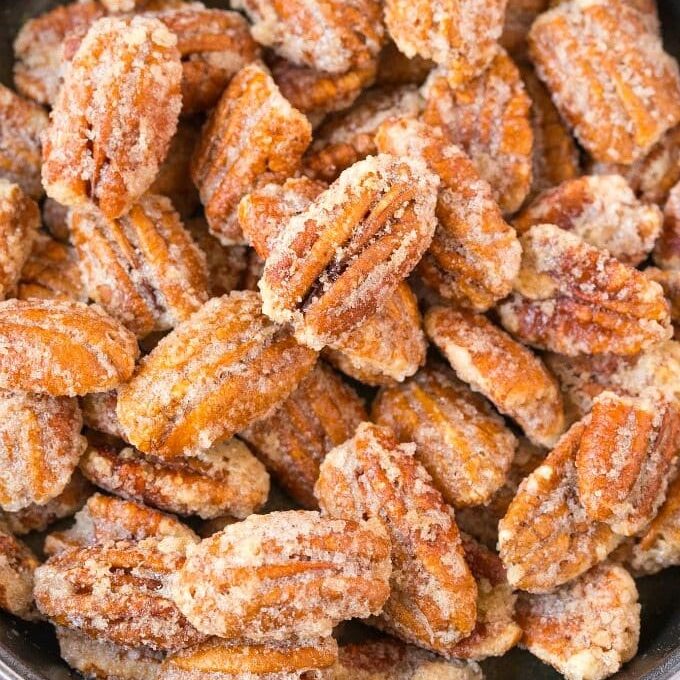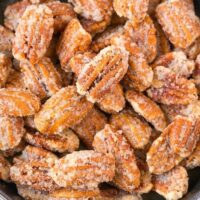 Stovetop Candied Pecans
Easy stovetop sugar free candied pecans which use just three ingredients and with no sugar, sticky sweeteners or any additives! Keto, paleo, vegan, low carb, sugar free, dairy free.
Print
Rate
Instructions
Stovetop option
Heat a large frying pan or skillet pan on medium heat. When hot, add the monk fruit sweetener, water, vanilla extract, sea salt and optional cinnamon and mix until fully combined. Allow to heat up, stirring occasionally.

When the monk fruit has completely melted, add the raw, unsalted pecans. Watch over the pan and continue stirring often until most of the monk fruit sweetener has been coated and beginning to crystallize.

Remove pan from the heat and allow to sit for 1-2 minutes, before using a wooden spoon to stir almonds together to avoid immediate, overlarge clusters forming. Allow to cool completely before breaking up properly.
Oven option
Preheat oven to 250 degrees. Line a large baking tray with parchment paper and set aside.

Follow directions as above then spread out pecan halves on a single flat layer. Bake for 45 minutes, stirring occasionally. Once almonds have just begun to crystallize, remove and allow to cool for 1-2 minutes, before stirring once again to avoid immediate overlarge clusters forming. Allow to cool completely, before coating in an extra tablespoon or two of monk fruit sweetener.
Notes
Pecan halves can be kept in a sealed container for at least 2 months. For even longer storage, freeze in an airtight container.
For large pecan clusters, allow to cool for 10 minutes, before breaking up
Key Recipe Equipment and Ingredients
Nutrition
Calories:
171
kcal
|
Carbohydrates:
4
g
|
Protein:
2
g
|
Fat:
13
g
|
Sodium:
18
mg
|
Potassium:
76
mg
|
Fiber:
2
g
|
Vitamin A:
10
IU
|
Vitamin C:
1
mg
|
Calcium:
14
mg
|
Iron:
1
mg
|
NET CARBS:
2
g