These caramelized nuts are sweet, crunchy, and most importantly, guilt-free. They are made in a few minutes with only 5 ingredients.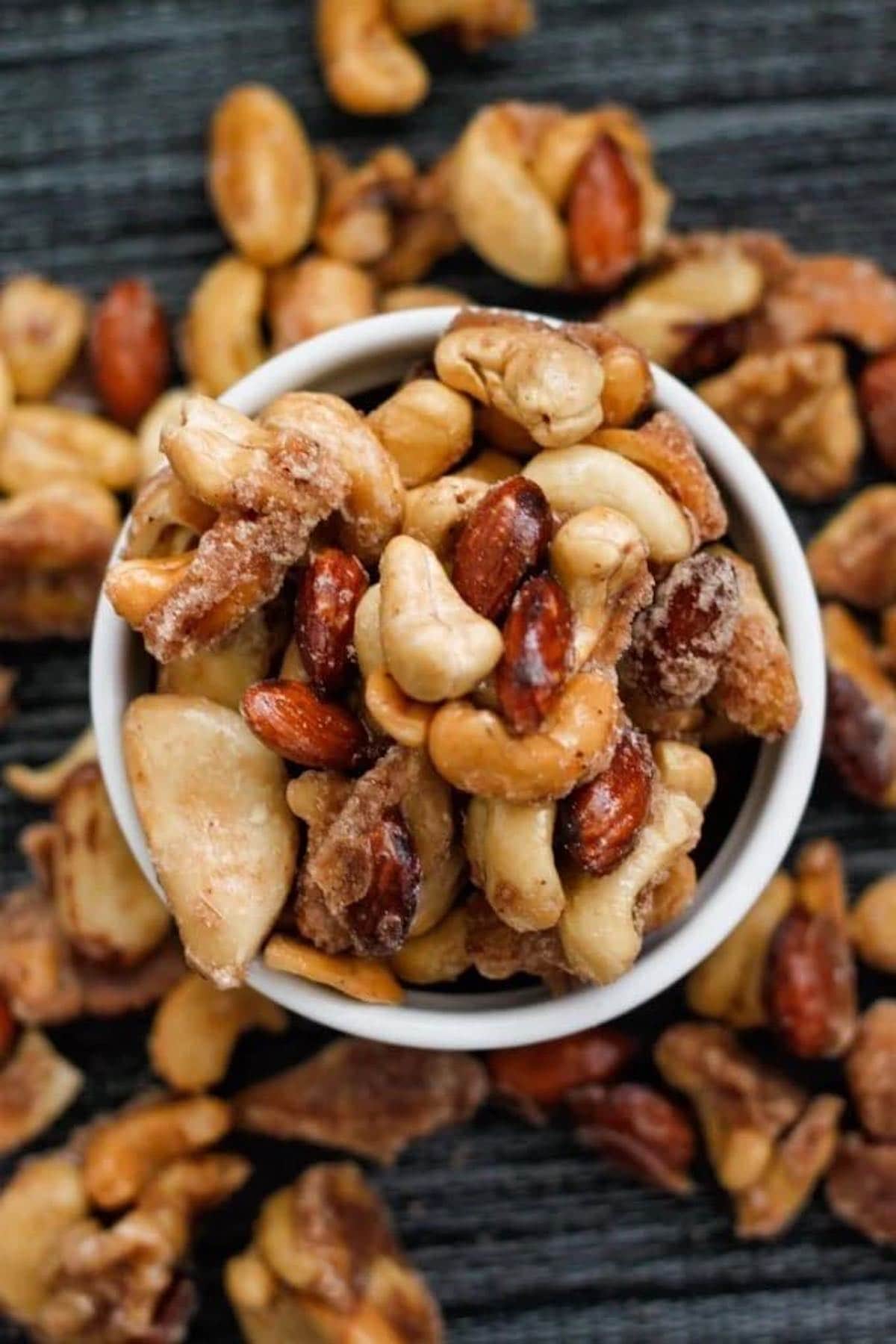 Candied nuts are a sweet and crunchy snack that everyone loves. We grew up having tubs of this around the house and we'd often sneak a handful between meals or after dinner for that satisfyingly sweet crunch (much to my mom's dismay!).
Now, as much as I love the packaged kind, it is loaded with corn syrup, multiple kinds of sugar, and random additives. My candied almonds and pecans are proof that making them at home is easy, so why not make a batch using all kinds of nuts? Oh, and you can also make it without the sugar.
Table of Contents
Recipe highlights
My mom's classic recipe with a healthier twist. Come the holiday season, we'd make big batches of them for edible gifts. They also make a fabulous addition in a homemade trail mix.
You can make it sugar-free and low-carb. The sugar-free version of these candied nuts is low-carb and perfect for people on a keto diet.
Works for the stove and the oven. This recipe will give your perfectly caramelized nuts whether you use the oven method or in a skillet pan.
You can use any nuts you like. This is a universal recipe that can be used for any nuts of your choice.
This recipe calls for a handful of ingredients that are pretty much pantry staples. Here is everything you will need:
Nuts. You can use mixed nuts of your choice. I like using a combination of almonds, cashews, and Brazil nuts.
Allulose or sugar. If you want to keep this recipe sugar-free, use allulose to caramelize the nuts. It provides crispy results without any weird aftertaste. If you don't mind sugar, use white or brown sugar instead.
Cinnamon. This warm and woody spice is a perfect addition to candied nuts. You can skip it if you want to though I highly recommend that you don't.
Vanilla extract. Another flavoring agent that provides a richer flavor for the caramelized nuts.
Sea salt. Helps balance the sweetness of the candied nuts.
which sweetener is best?
For glazed nuts, using a sugar substitute that dissolves like sugar is key. While monk fruit sweetener and erythritol are both good in other recipes, they aren't great for this recipe. Choose allulose, as it dissolves exactly like what sugar.
How to make candied nuts
Caramelizing nuts on the stove is easier and quicker than doing it in the oven.
Start by placing a heavy-bottomed pan over medium heat. When the pan is hot, add the allulose or sugar along with the cinnamon, sea salt, and water. Mix using a wooden or silicone spatula. Keep stirring until the sweetener melts.
Once melted, add the nuts and mix until they are fully coated in the sweet mixture. Remove the pan from the heat when the sugar starts to crystalize.
Now, let the nuts sit for a couple of minutes and give them a stir to get rid of any large clusters.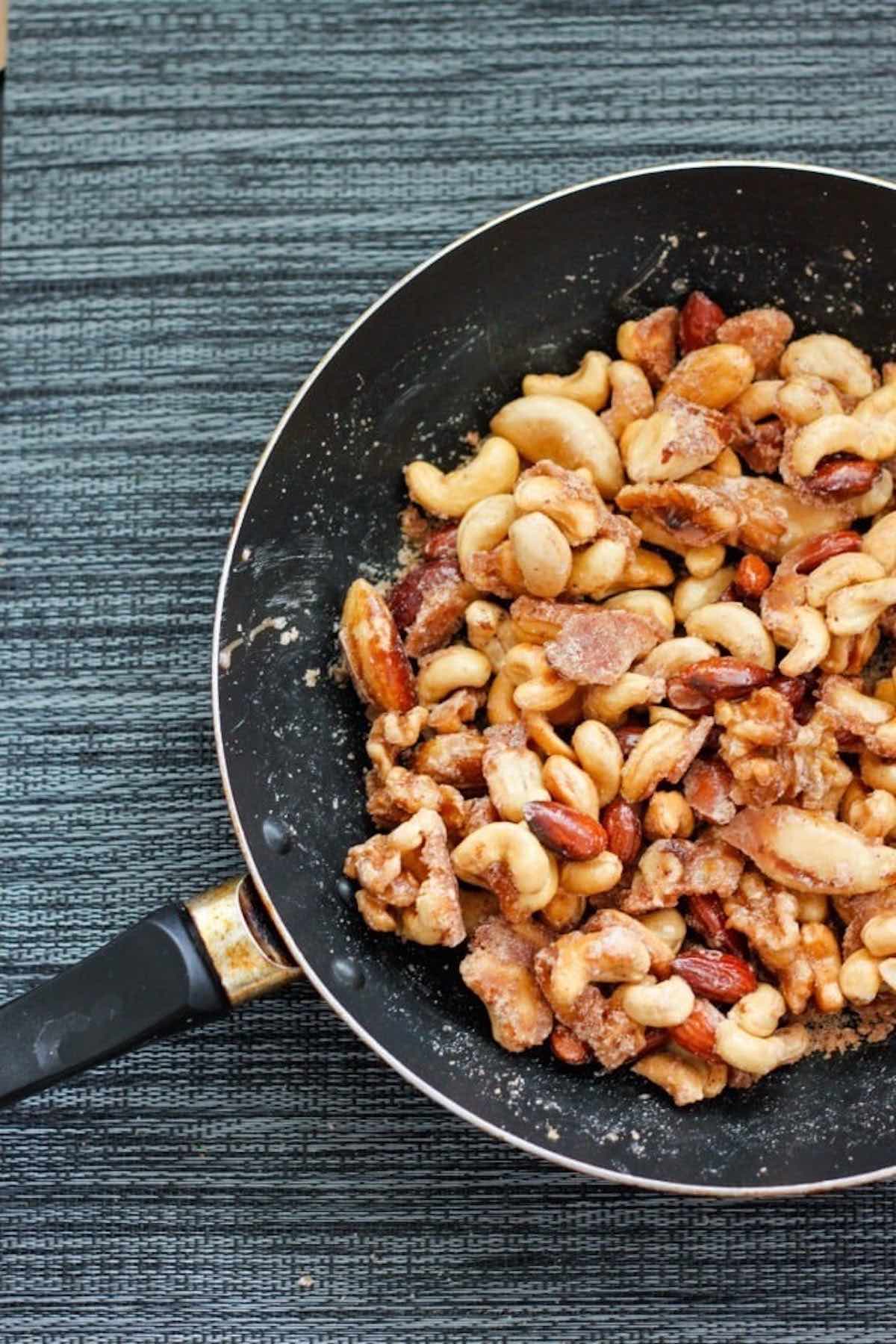 Can I bake these?
Yes, you can bake these nuts. But you will need to use egg whites to make the nuts caramelize in the oven whether you are using allulose or sugar. Here's how to candy nuts in the oven.
Preheat the oven to 250F degrees.
Whip an egg white with water and add the nuts. Mix to coat the nuts in the egg white mixture.
Next, toss the nuts in a mixture of allulose (or sugar), salt, and cinnamon.
Add the nuts to a baking tray lined with parchment paper and bake for an hour or until they are nicely caramelized. Stir the nuts one 1-2 times while they bake.
Cinnamon is not the only spice you can use for glazed nuts. You can also use ground nutmeg, cardamon, and pumpkin spice. If you like candied nuts with a spicy kick, add a pinch of cayenne pepper.
Swap the vanilla extract with maple extract if you enjoy the maple flavor paired with nuts.
Add a splash of bourbon. The alcohol will cook off leaving behind sweet notes of caramel and vanilla.
Wait for the nuts to cool before you break them up and store them away.
To store. Place candied nuts in an airtight container for 2 weeks and longer. Keep them in a cool and dry place to prevent the nuts from getting sticky.
To freeze. Caramelized nuts also freeze well. Put them in a freezer bag, push out the excess air, and freeze for up to 2 months.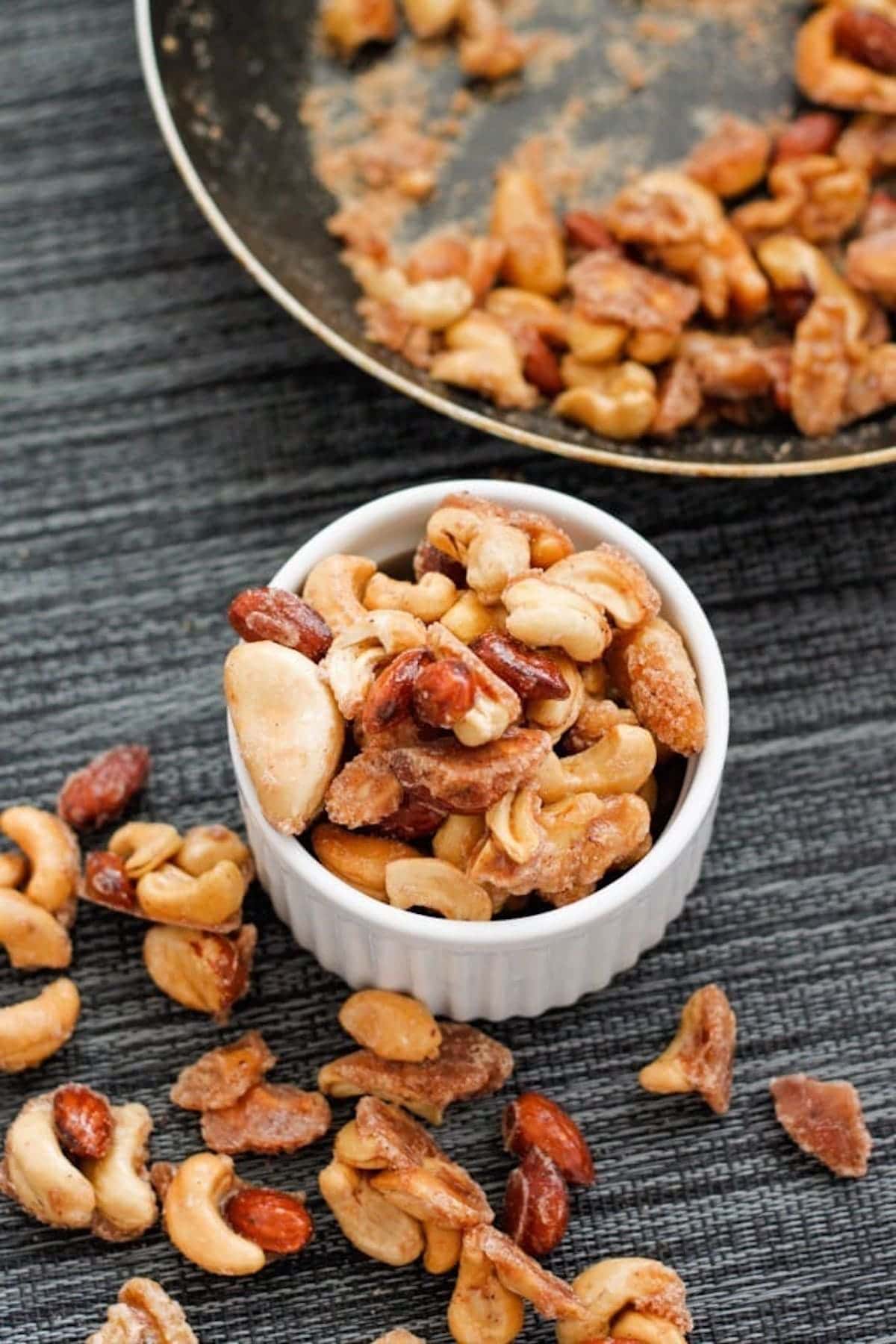 More simple snack recipes to try
Nuts are super moreish and make a fabulous snack. Here are some other ideas to add to your snack rotation!
Are candied nuts good for you?
Nuts are a source of healthy fats. They are also low in carbs and high in minerals and vitamins. Candied nuts are unhealthy if they are loaded with lots of processed sugar.
Sugar-free or naturally sweetened candied nuts can be a part of a healthy diet. As overeating candied nuts are easy, keep track of how much you eat.
Why are my caramelized nuts sticky?
Candied nuts made with sugar remain sticky if you haven't cooked them long enough. If you are using a sugar-free sweetener, you may need to leave the nuts out to dry for a few hours until they fully harden.
Should glazed nuts be refrigerated?
You don't have to refrigerate candied nuts. But if it's too hot where you live and the caramelized nuts get sticky when left at room temperature, transfer them to an airtight container or bag and store them in the fridge.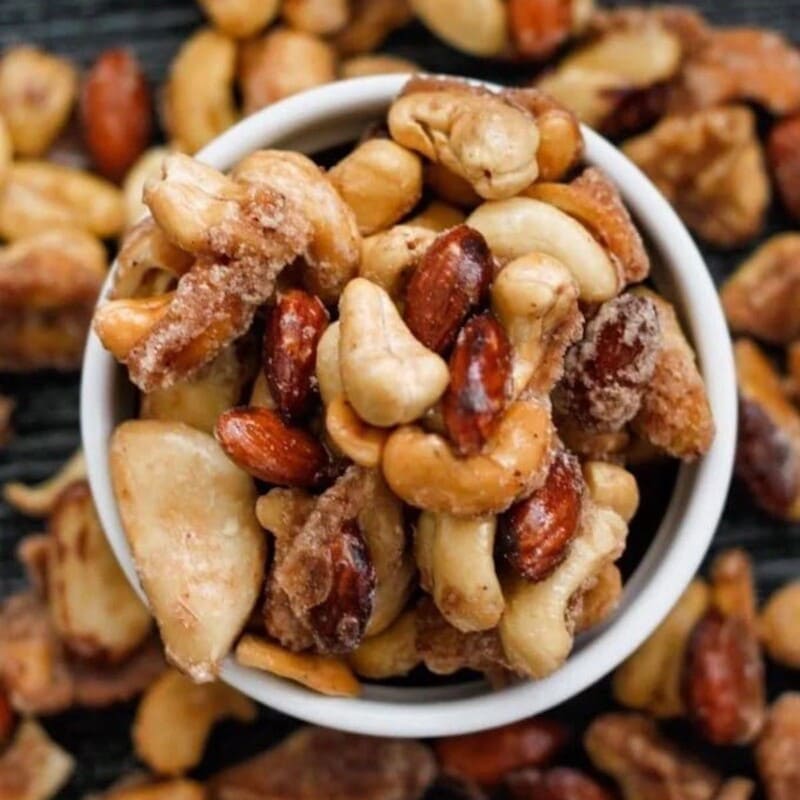 Candied Nuts (Stovetop or Oven)
These candied nuts can be made stovetop or in the oven, and come together in minutes! You can easily make it sugar free, too!
Ingredients
3

cups

nuts

I used cashews, almonds and Brazil nuts

1

teaspoon

salt

1

tablespoon

cinnamon

1

teaspoon

vanilla extract

1

cup

sugar

or allulose * see notes

1/4

cup

water
Instructions
Heat a large frying pan or deep pot on medium heat. When hot, add the sugar, salt, cinnamon, and water and mix until fully combined. Allow to heat up, stirring occasionally.

When the sugar (or sweetener) has completely melted, add the nuts and mix until fully incorporated. Watch over the pan and continue stirring often until most of the sugar has been coated and beginning to crystallize.

Remove pan from the heat and allow to sit for 1-2 minutes. Using a spatula or wooden spoon, stir the nuts once more to avoid overly large clusters and set on a plate or chopping board to cool completely.
Notes
For more cluster-sized portions, allow to sit for 10 minutes.
TO STORE: Place candied nuts in an airtight container for 2 weeks or longer. Keep them in a cool and dry place to prevent the nuts from getting sticky.
TO FREEZE: Caramelized nuts also freeze well. Put them in a freezer bag, push out the excess air, and freeze for up to 2 months.
Nutrition
Serving:
1
serving
Calories:
210
kcal
Carbohydrates:
20
g
Protein:
5
g
Fat:
14
g
Sodium:
149
mg
Potassium:
164
mg
Fiber:
3
g
Vitamin A:
6
IU
Vitamin C:
0.1
mg
Calcium:
24
mg
Iron:
1
mg
NET CARBS:
17
g
Disclosure: This post may contain affiliate links. I may earn a small commission for my endorsement, recommendation, testimonial, and/or link to any products or services from this website.