Tested out three ways, these delicious, easy nuts taste exactly like the warm nuts served on airplanes. Made with a delicious spice blend, they are designed to be reheated in the microwave or stovetop before serving! Naturally paleo, vegan, whole 30 compliant and gluten free!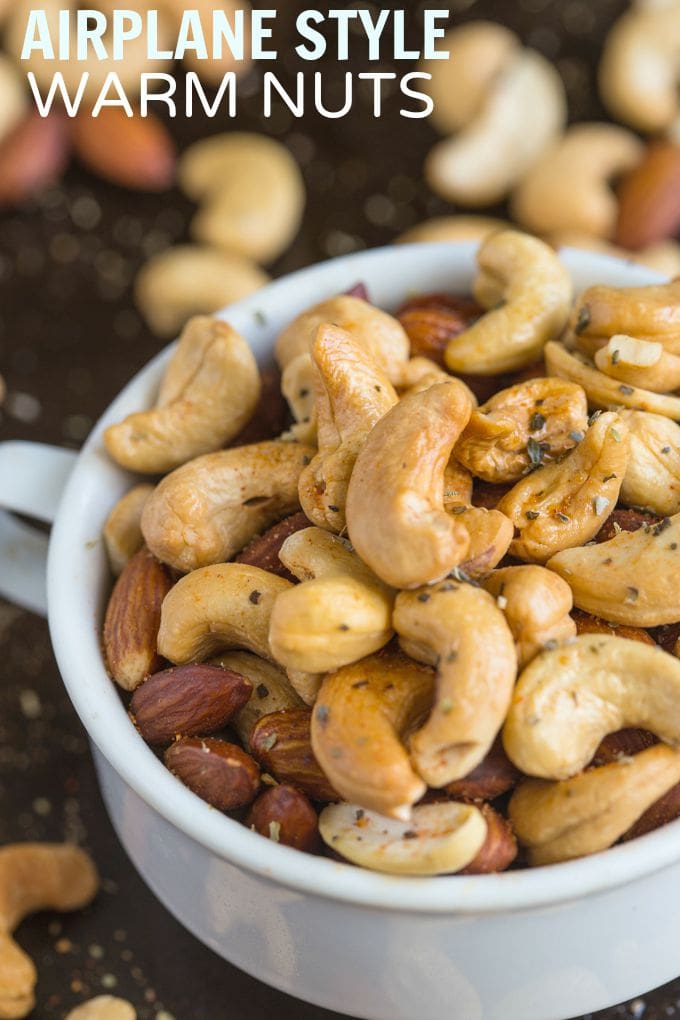 Rosemary Kristina– This one's for you.
The day I win the lottery and strike it rich, I shall be renaming myself to Nigel, buying a silver Ferrari and will request the best class seating on planes all the time.
Especially the last one.
Having an Australian accent can have it's perks, but also it's downfalls. In 2012, it worked in my benefit which resulted in me having my seat upgraded.
I was in Los Angeles and boarding my flight to New York. I was accustomed to Australian airport systems which at the time (pre self check in, self everything days) required you to be at the airport 2-3 hours before a flight. In America, for interstate flights, I was only required to arrive 60 minutes before gates closed. My flight was scheduled for 3pm and there I was at 12pm.
The check in counter was completely empty except for one lady whom was 65. I know this because she brought it up in our conversation. I walked up to the desk, feeling like a cheeseball for being ridiculously early. After the awkward niceties at the start we started conversing.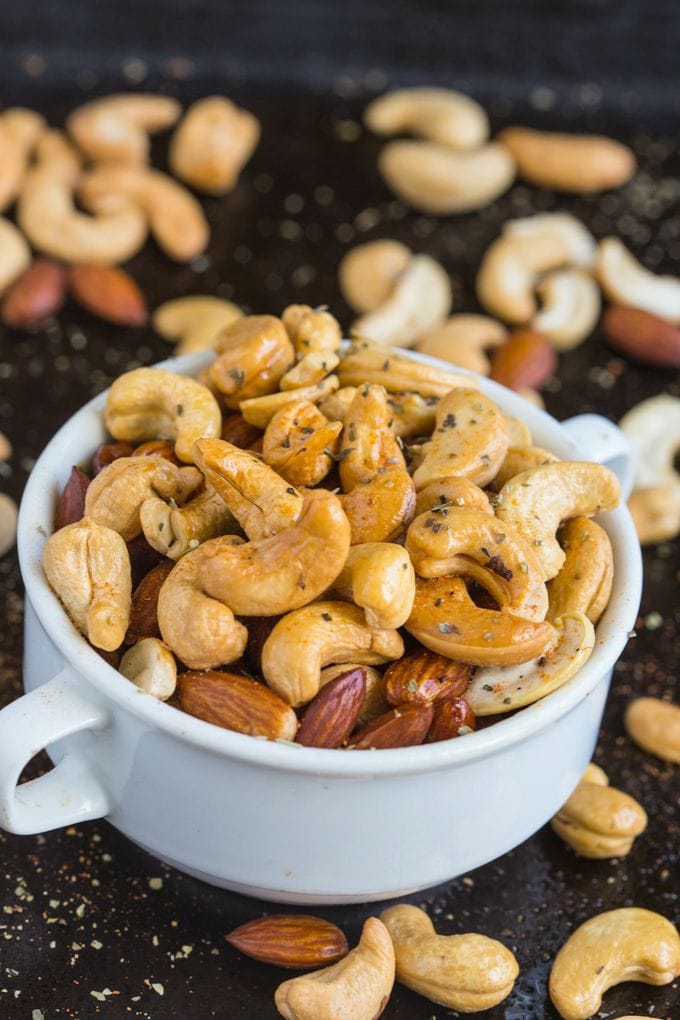 "Oh you're from AUSTRALIA! I've always wanted to go there! Is it true you ride in kangaroo pouches?"
….Yes.
"No, haha, that's just a silly rumour that's become a global phenomenon. We actually ride in giraffes."
Okay, so I didn't actually say that.
I told her about my reasoning for being there (my semester abroad) and how much I loved the country. She told me how she hated kids (lol) and had a puppy named 'Kimchi.'
I already liked her.
We continued conversing and I told her how I went to Whole Foods and was charged $12 for damn broccoli and she told me how you to make the most of your Starbucks order.
Man, this lady was epic.
She passed me my ticket, and we parted ways. I looked down at my ticket and my seat number was in the 10's which meant I was no longer in economy- Kimchi's owner had upgraded me to the best section on the aircraft.
Oh Kimchi's owner. You're not epic. You're gold.
***
The flight was amazing as was the extra space and legroom. The icing on the cake, however, were the inflight snacks. I was prepped for some generic pretzels and peanuts (which honestly, I wouldn't have minded!) but here was the air hostess providing me with a bowl of warm, spiced nuts. Warm, spiced, GOURMET nuts.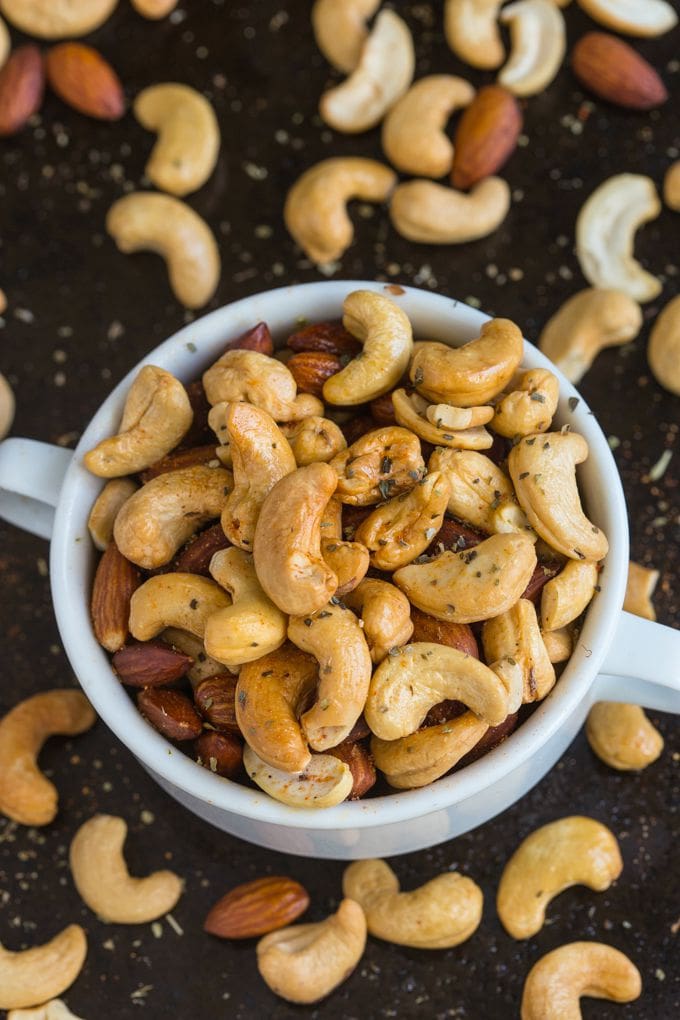 This recipe for airplane style warm nuts has been tested out using three different cooking methods and ALL tested out reheated both stovetop and in the microwave. The key is NOT to have them reheated and coming out either soft or over crispy. The three ways tested out were stovetop, oven roasted and in the slow cooker. That's right- SLOW COOKER. To replicate the flavour of the airplane style nuts, I used a delicious spice blend based off sea salt, cumin, rosemary and a dash of cayenne- The final spice is optional but trust me- It adds a delicious zing.
The best way to serve these (After the initial cook) is to microwave or toast over the stove (covered) on high heat and cooled slightly (covered) before serving.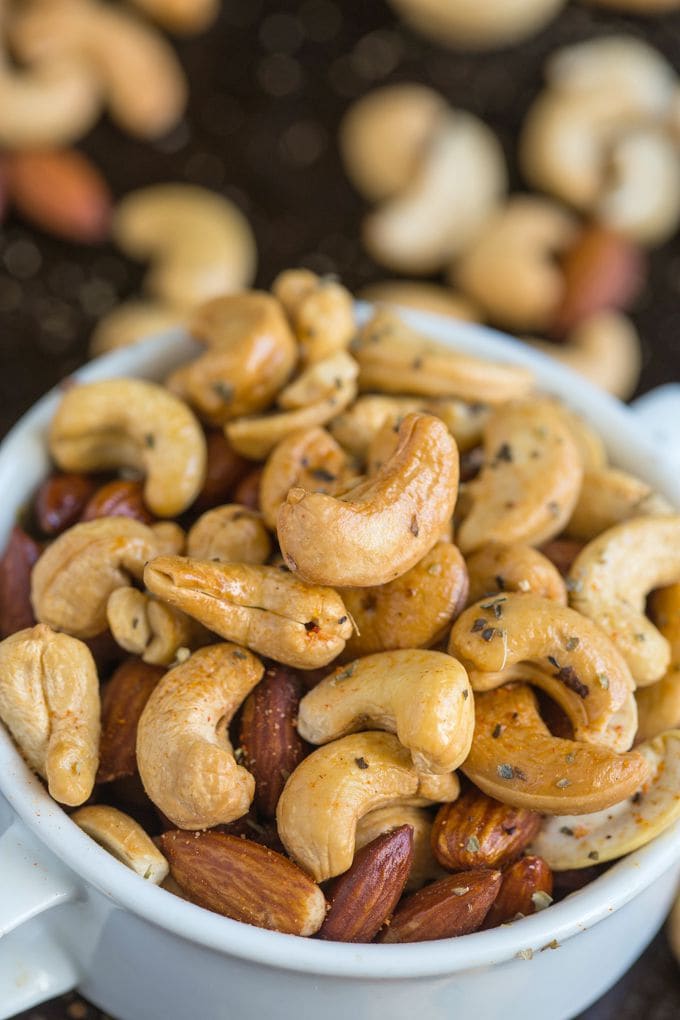 Make these airplane style warm nuts and if you can't use your accent to get a free upgrade, at least you have the nuts.
Warm nuts. (keke).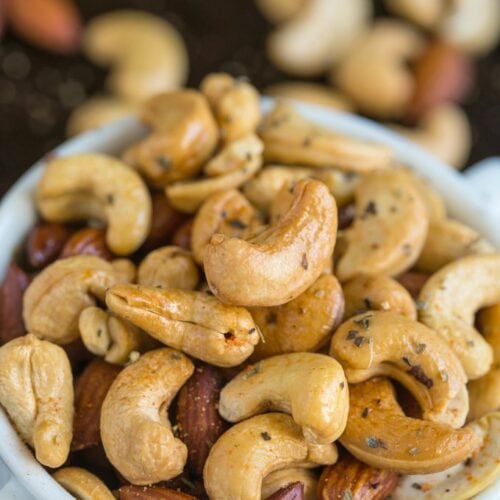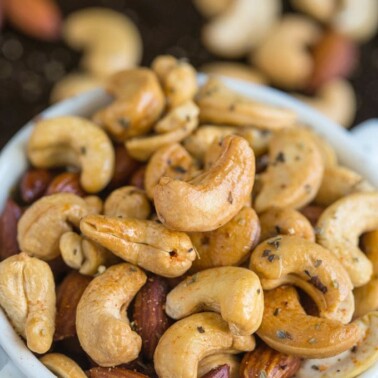 Airplane Warm Nuts Recipe
Tested out three ways, these delicious, easy nuts taste exactly like the warm nuts served on airplanes. Made with a delicious spice blend, they are designed to be reheated in the microwave or stovetop before serving! Naturally paleo, vegan and gluten free!
Instructions
Stovetop directions
In a small bowl, mix together the nuts, spices, salt and optional sugar and set aside.

Heat a pan on low heat with olive oil until hot. Add the spiced nut mixture and on low heat and covered, cook until golden and warm.
Oven Directions
Preheat the oven to 180 degrees Celsius and and line a large baking tray with baking paper and set aside.

In a large mixing bowl, combine all the ingredients and spread in a single layer on the pan and place in the oven for 10-12 minutes, until just golden.
Slow cooker directions
In a small bowl, mix the spices and oil and set aside.

Add the nuts to the slow cooker, cover in the spice/oil mixture until fully coated and cook on high for 30 minutes. Uncover and let sit for 30 minutes.
To reheat
Microwave the nuts for 1 minute or until very hot and remove and cover with a cloth or towel for 5 minutes before serving.

You can also do this stovetop by lightly toasting until hot WITHOUT added oil (continue to stir the entire time) and remove, cover for 5 minutes before serving.
Notes
Nuts can be stored in an airtight container for up to a month.
Try to consume warm nuts as is and not reheat previously reheated nuts- They do turn soggy.
Nutrition
Serving:
1
serving
Calories:
308
kcal
Carbohydrates:
15
g
Protein:
12
g
Fat:
25
g
Sodium:
1178
mg
Potassium:
708
mg
Fiber:
7
g
Sugar:
7
g
Vitamin A:
216
IU
Vitamin C:
1
mg
Calcium:
127
mg
Iron:
6
mg
NET CARBS:
8
g
More delicious recipes featuring the humble nut?
Sugar Free Caramelised Nuts (Made stovetop)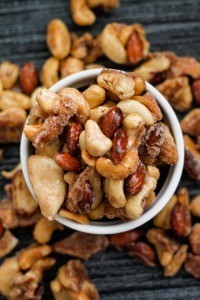 Spicy Honey Roasted Peanuts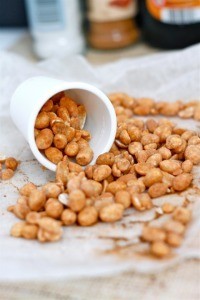 Crispy Flourless Peanut Butter Cookies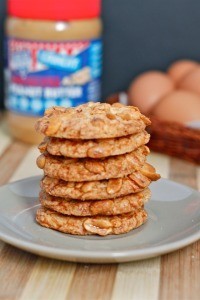 Disclosure: This post may contain affiliate links. I may earn a small commission for my endorsement, recommendation, testimonial, and/or link to any products or services from this website.