Save money by making your own cinnamon pita chips at home which are much more delicious and healthier than store bought! This quick and easy recipe is also packed with protein and is also completely sugar free !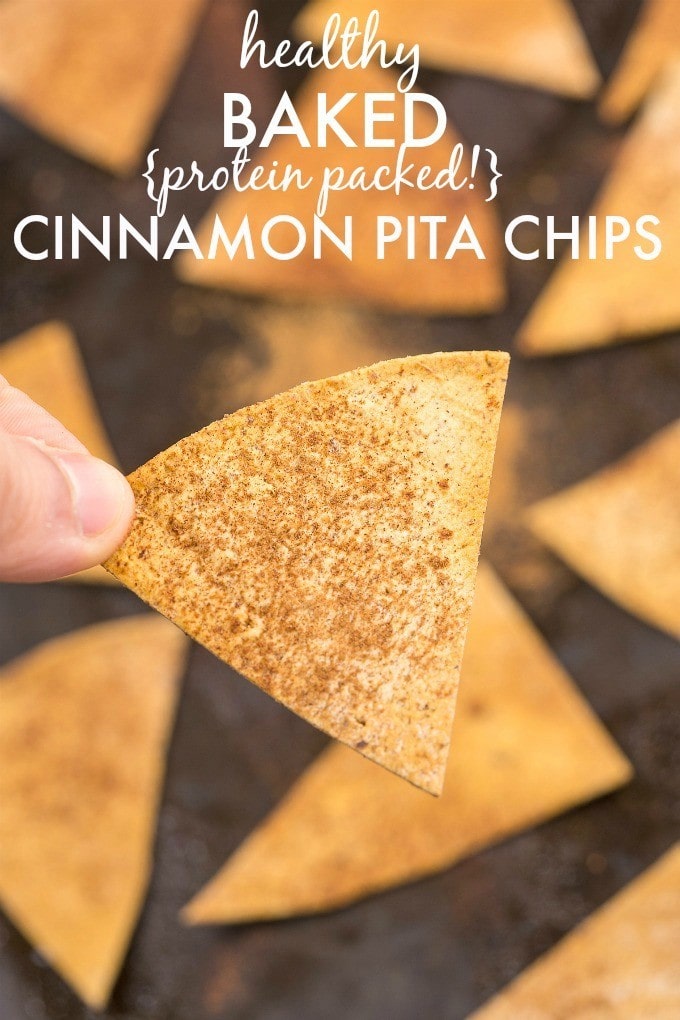 Can we talk goals/intentions for just one second?
Before coming out to LA, I told myself that I'll try to get into the habit of enjoying home-cooked meals more and saving brunch/lunch/meals out for special occasions and/or weekends. It's not that I don't eat at home- I do! However, I think my body (and mind) is getting sick of eating no-bake protein bars, cake batter oatmeal and brownies on repeat.
What's wrong with eating brownies and bars though?
Nothing. It's just this boy needs some variety.
Seeing as I eat whatever I shoot and/or leftovers for breakfast/lunch, dinners have been savory and OUT. I just can't look at the kitchen, and the thought of turning on an oven or chopping some fresh ingredients makes me want to turn into an eggplant.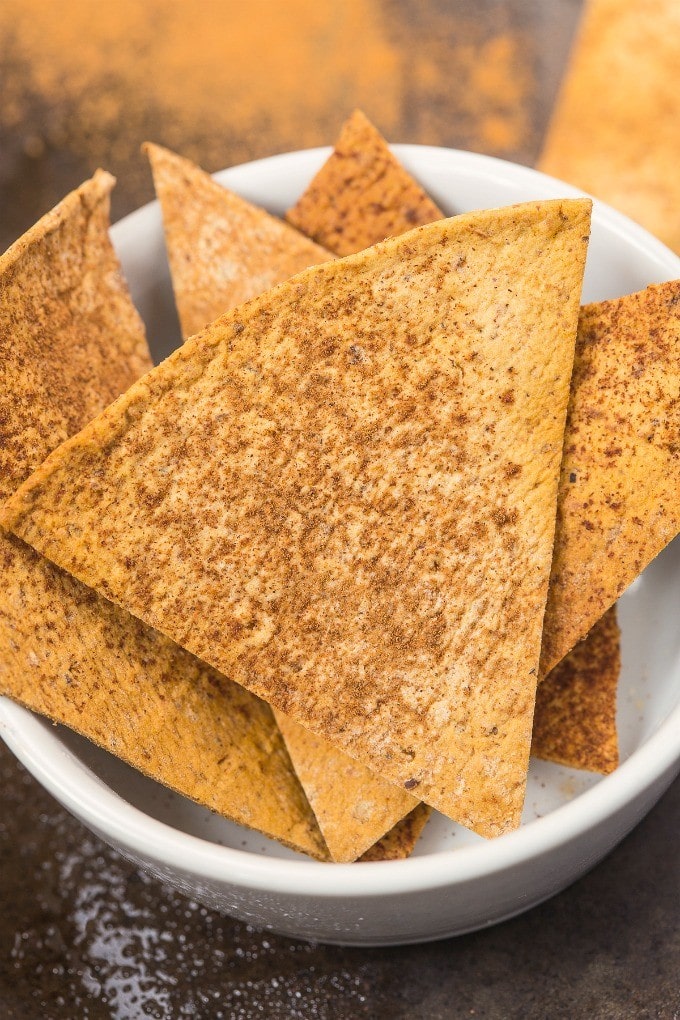 Safe to say, my intention to eat more home cooked meals have gone out the window. Don't worry though- Next WIAW, it will be all home-made and 100% not reliant on bars/bites/balls/brownies.
Maybe.
How are you all today? It's Wednesday which is the day I share a FULL day of eats with you and I'll also be sharing a delicious (and ridiculously easy!) recipe!
Now on to today's recipe! I'm stoked to be collaborating with Flatout Bread again in 2016.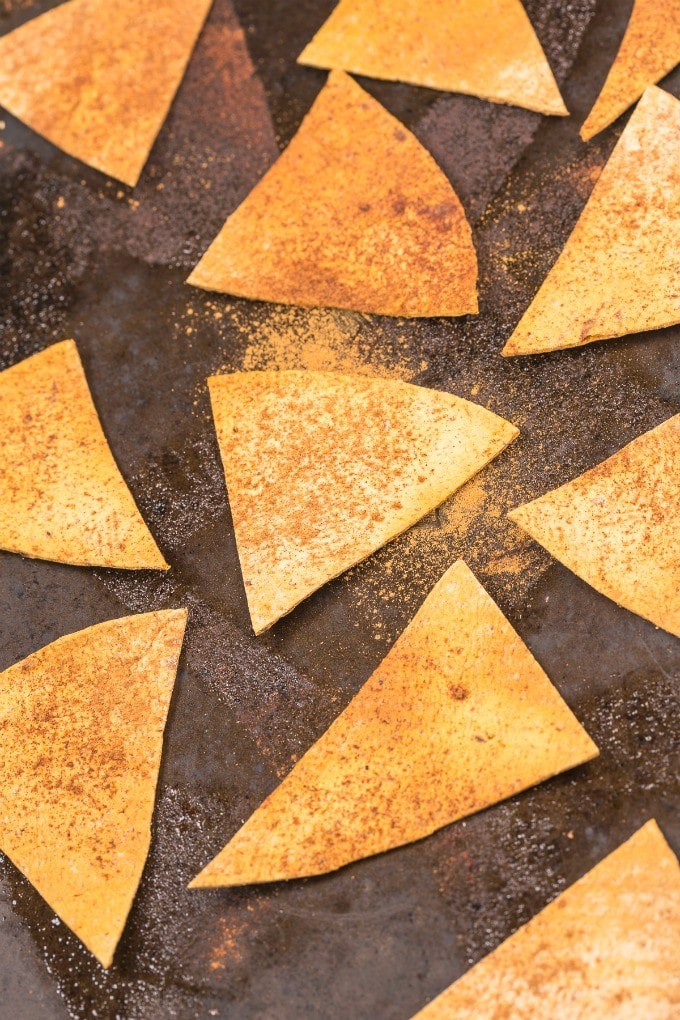 I've loved being able to showcase the versatility of wraps and bread and proving that it's not just a vehicle for sandwiches. What I love most about Flatout is that unlike most flatbreads on the market- You can actually load it with fillings and toppings and not be left searching around for a fork to eat it. They are sturdy, delicious and come in a range of flavors and styles.
You guys might remember when I ate Flatout wraps for an entire day. I followed that up by……doing it again. I then decided to go cray-cray and make breadcrumbs from it and turn them into No Bake Butterfinger bites. Today? I'm showing their versatility in what will be your new favorite snack- Healthy Baked Cinnamon Pita Chips!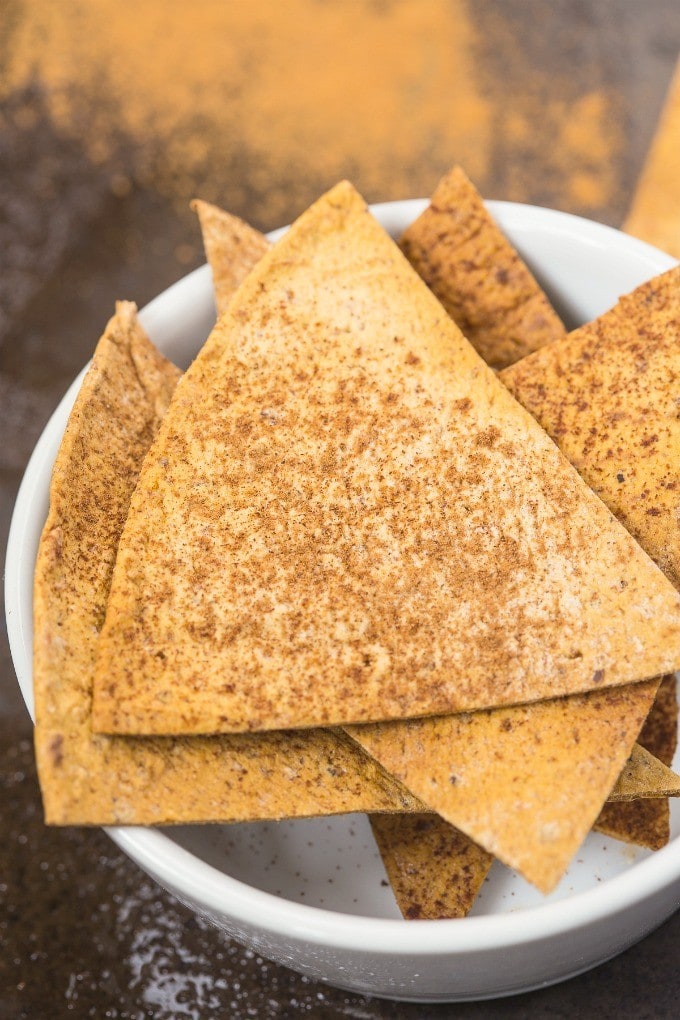 Over the past few months, one of my 'healthy' snack choices were these pita chips. They came in a few flavors, but my favorite was hands down the cinnamon sugar one. This might be TMI but I'd…..like the cinnamon/sugar off being scoffing the crunchy chips. After polishing off over 25 a few packages of them, I realized I could just as easily make them myself.
Winning.
These healthy baked cinnamon pita chips literally take 15 minutes to whip up and are a texture lovers snack- Sweet, salty, crunchy and crispy all in one! Because of its thin style, you really don't need any more than 10 minutes in the oven to bake them! Unlike traditional pita chips, these are baked and only use a dash of oil to avoid sticking and to give it a delicious, golden crunch! It's also completely sugar-free because I used my favorite granulated sweetener, Norbu! I also took it up a notch by adding a scoop of vanilla protein powder to it to give it more staying power and aiding the sweet and salty texture!
HACK! Want an extra boost of protein? I made these with both the Flatout original AND the ProteinUP wraps which already boast a generous punch of protein- Both work great for this recipe!
Make these healthy baked cinnamon pita chips and give your taste buds a party- Healthy style.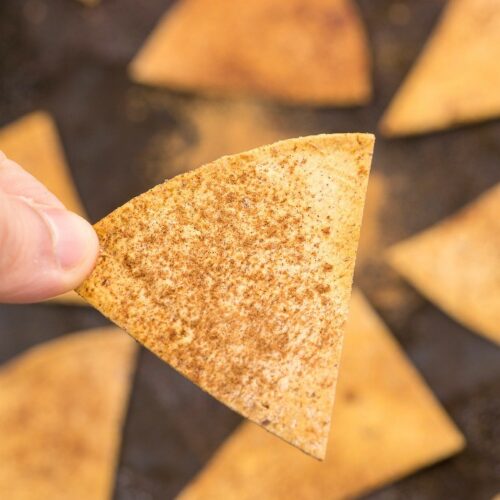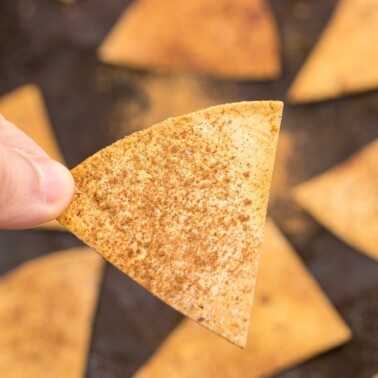 Cinnamon Pita Chips
Save money by making your own cinnamon pita chips at home which are much more delicious and healthier than store bought! This quick and easy recipe is also packed with protein and is also completely sugar free!
Instructions
Preheat the oven to 350 degrees.

Spray a large baking tray/dish with cooking spray. Cut the Flatout wrap into triangles and lay out evenly. Spray the triangles lightly with more cooking spray and set aside.

In a small bowl, mix the cinnamon, sweetener of choice, sea salt and and optional protein powder until combined. Cover the Flatout bread triangles evenly with the mixture and bake for 8-10 minutes, or until crispy and golden on the edges.

Remove from the oven and allow to cool before enjoying!
Notes
These baked pita chips can be kept for up to 5 days in a sealed container. However, they are best eaten fresh or within 24 hours.
Nutrition
Serving:
1
serving
Calories:
120
kcal
Carbohydrates:
16
g
Protein:
7
g
Fat:
2
g
Potassium:
2
mg
Fiber:
8
g
Vitamin A:
100
IU
Vitamin C:
1.7
mg
Calcium:
20
mg
Iron:
0.4
mg
NET CARBS:
8
g
Disclosure: This post may contain affiliate links. I may earn a small commission for my endorsement, recommendation, testimonial, and/or link to any products or services from this website.