Oil Free Baked Veggie Chips (Paleo, Vegan, Gluten Free)
Oil Free Baked Veggie Chips (Paleo, Vegan, Gluten Free) which are ready in under 20 minutes with an easy prep. Crunchy, crispy and a guilt-free snack, use your favorite root vegetables to create the ultimate snack.

For anyone who has been picky when it came to regularly eating vegetables, this crispy baked veggie chips will have you converted. I mean, crispy chickpeas can only go so far…
Say goodbye to store bought savory snacks as this WILL be your new favorite- They are crispy, crunchy, salty and seriously addictive. The best part is that they are a guilt-free and easy snack which can be whipped up in no time. They are also super customizable.
Let's not get ahead of ourselves here as my fav Natalie is back with another monthly addition.
It should come as no surprise, as this IS a savory recipe. We've moved away from baked sweet potato curly fries (still a favorite!), 3 Ingredient zucchini and sweet potato tots and these gorgeous fritters packed with TWO vegetables!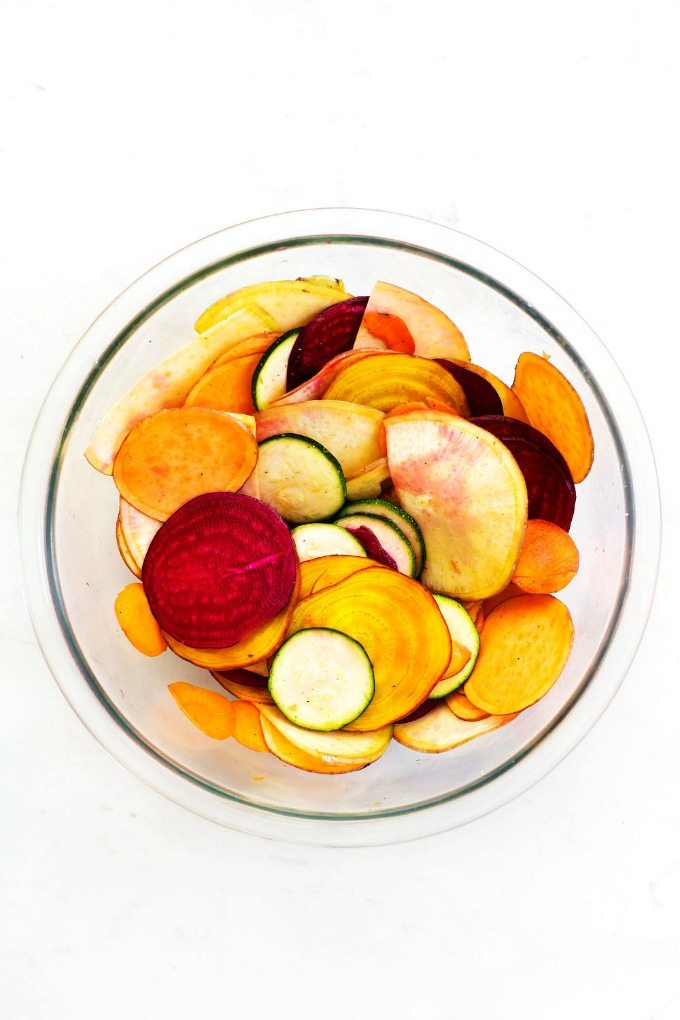 There are these mixed vegetable chips you can find at most any grocery store. Usually in the bulk foods section with the nuts and granola and other brand-less yet somehow all the same snacks. They are a mix of sweet potato and carrots and green peas/beans of some sort and the mysterious taro and sometimes other thinly sliced things in the orange color family.
You know what I'm talking about, right? If you've ever purchased them, tried them, and plowed through the whole crunchy three-serving bag as one, then you definitely know what I'm talking about.
They are the epitome of salty crunchy snacking. And even as someone who identifies much more as a sweet snacker, I've munched through my fair share of them too.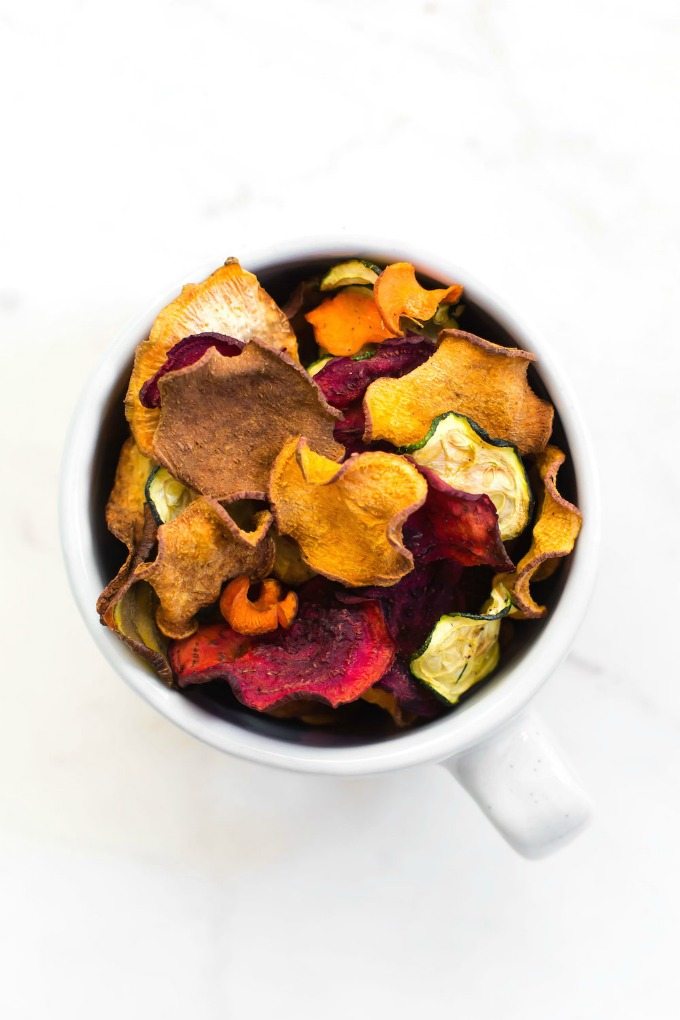 I remember the first time I tried them I thought surely I'd stumbled upon some sort of impossible vegetable wizardry–nothing with "veggie" in the name can possibly taste so salty and crunch so addictively.
Me + veggie consumption = sorted FOR LIFE.
Or so younger me thought…
Wait…they're fried? And almost all the vegetables used are actually starches? And they contain more salt than salted caramel so I should just eat that by the spoonful instead?
What I was hearing was that they weren't quite on par with kale in terms of health benefits like I had hoped. I flipped over the package and read the facts for myself. Turns out they were basically just glorified potato chips in more fun colors and shapes. And POP went the veggie-chips-are-the-secret-to-health delusion bubble.
So maybe the fried veggie chips you buy don't exactly qualify as a nutritious serving of plants, but that doesn't mean we can't make our own at home that do!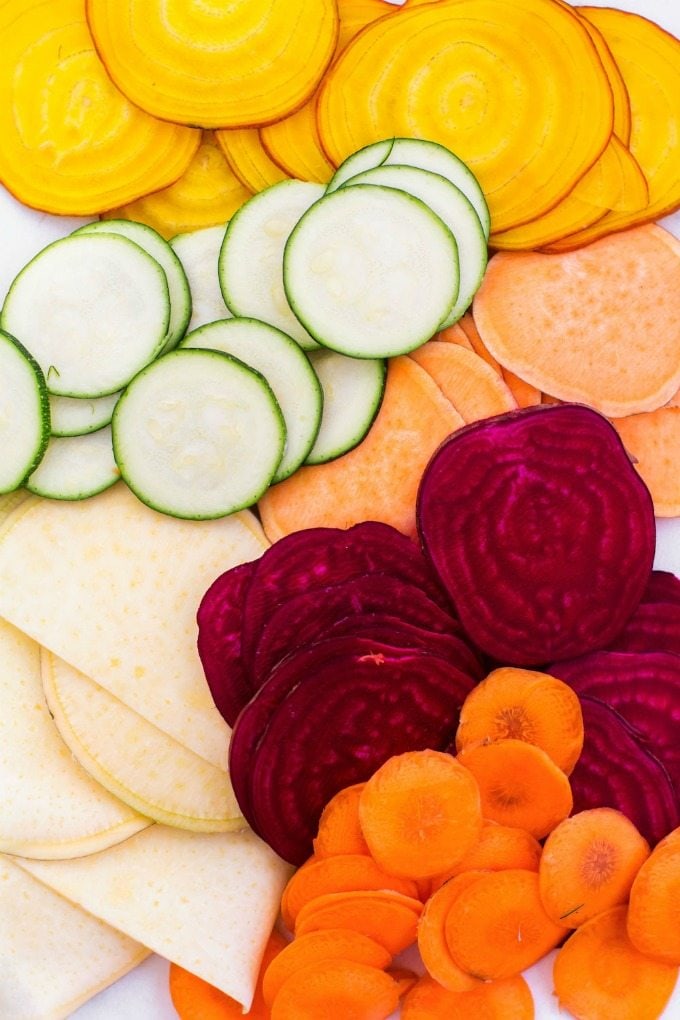 This recipe is very simple but also very customizable, with a long list of possible veggies to choose from. I personally went with as many different colors as I could fit on one pan which translated to a mix of red beets, yellow beets, rutabaga (surprisingly amazing!), sweet potato, zucchini, and carrots. You could swap in regular potatoes for sweet, parsnips instead of carrots, yellow squash in place of zucchini, or even add turnip or celery root if you like. Lots of possibilities!
Every veggie has a different starch and moisture content, so which ones you choose will affect the cook time. The goal is crispy and slightly golden but not burnt. Keep a close eye on them (especially if you slice them really thin) because they can burn quite easily. How well spaced the veggies are on the pan will also affect the cook time and crispy-ness, the less crowded the better. I ended up using 3 pans to give them all plenty of space.
Between all those factors plus the inevitable oven-to-oven variation, the baking time is an estimated range. By that I mean don't pop them in the oven and walk away, they need to be supervised. And giving them a flip halfway through while you're there isn't a bad idea either.
While they do crunch better with a spritz of oil pre-baking if you really want to make them oil-free that's optional too. If you do go the oil-free route, I recommend baking them for longer (60-90 mins) at a lower temp (around 300F).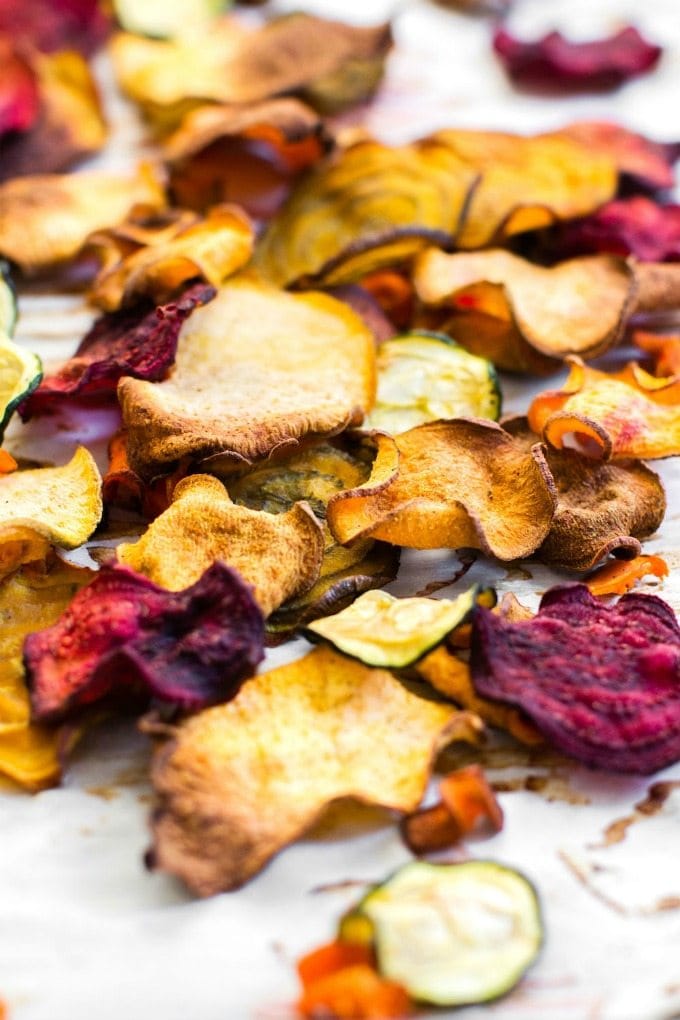 Editor's notes-
I tried out this recipe 3 ways- Completely oil-free, very lightly sprayed with oil and a generous portion of oil (2-3 tablespoons).
Personally, I found the best texture (crispy and super crunchy) were from using a tiny bit of oil (by spraying the pan before placing the veggies on top and lightly spraying them once more). They didn't feel or taste oily whatsoever.
The oil-free version was just as good. However, you REALLY need to keep on this- A mere minute can take a perfectly crispy chip to a burnt flake.
The worst version was the one with the most oil. The veggie chips remained soggy and it was soo greasy to enjoy too many of them.
Store-bought veggie chips certainly won't be replacing green juice anytime soon, but this homemade rainbow of veggie variety is a perfect way to sneak in some nutrients disguised as salty crunchy snacking.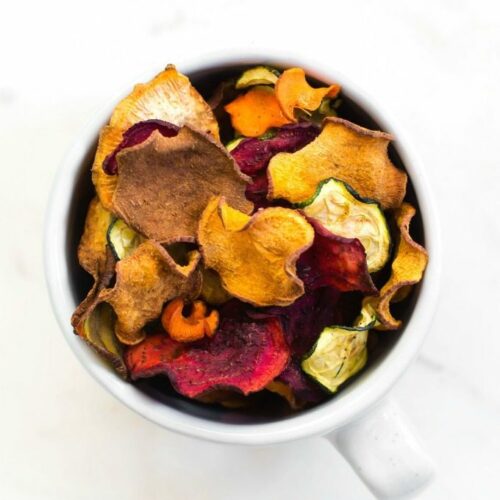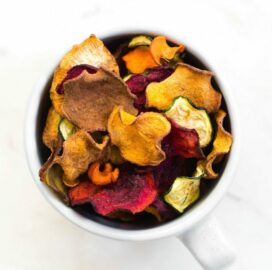 Oil Free Baked Veggie Chips
Oil Free Baked Veggie Chips (Paleo, Vegan, Gluten Free) which are ready in under 20 minutes with an easy prep. Crunchy, crispy and a guilt-free snack, use your favorite root vegetables to create the healthy recipe!
Print
Rate
Ingredients
1

Medium

Golden Beetroot

1

Medium

Beetroot

1

Medium

Zucchini

1

Large

Carrot

1

Small

Sweet Potato

1

Small

Rutbaga or turnip

1/2

teaspoon

sea salt

Adjust to taste

1/2

teaspoon

pepper

Adjust to taste

1

spritz

Oil

Optional
Instructions
Preheat the oven to 400F.

Slice all the veggies into uniformly thin slices with a knife or mandoline.

In a bowl, toss them with the oil, salt, and pepper until evenly coated.

Spread out on baking pan(s) lined with parchment paper, minimizing overlap.

Bake for 10 minutes at 400F. Flip. Bake for another 5-10 minutes until crispy and slightly brown but not burnt. Watch them carefully and even remove some early if they are browning before the others.

Remove from the oven and allow to cool for a few minutes before eating.
Nutrition
Serving:
4
g
|
Calories:
77
kcal
More delicious snacks? Gotcha covered!
Healthy No Bake Peanut Butter Crunch Cookies
Healthy Cookies and Cream Protein Bars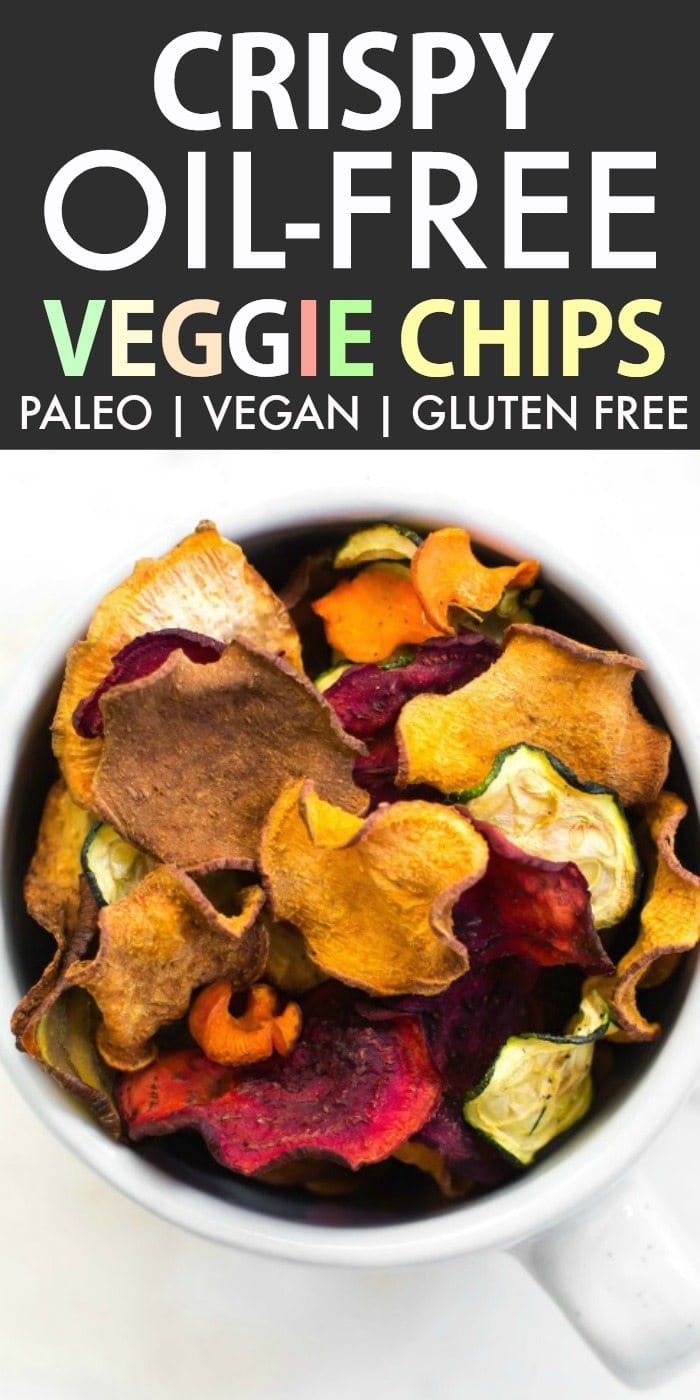 Friends, you'd be doing yourselves a favor by connecting with Natalie not just on her blog, but via social media- She can be found on Facebook, Twitter, Instagram, Youtube and Pinterest.
The Big Man's World is a participant in the Amazon Services LLC Associates Program, an affiliate advertising program. This means that if you click and make a purchase, TBMW receives a small commission, at no cost to you. Cheers, hugs, and handshakes for supporting TBMW!