This keto hummus is so smooth, thick, and creamy, you won't believe it is low carb! Made with cauliflower, there are no chickpeas or legumes needed! 2 grams net carbs per serving.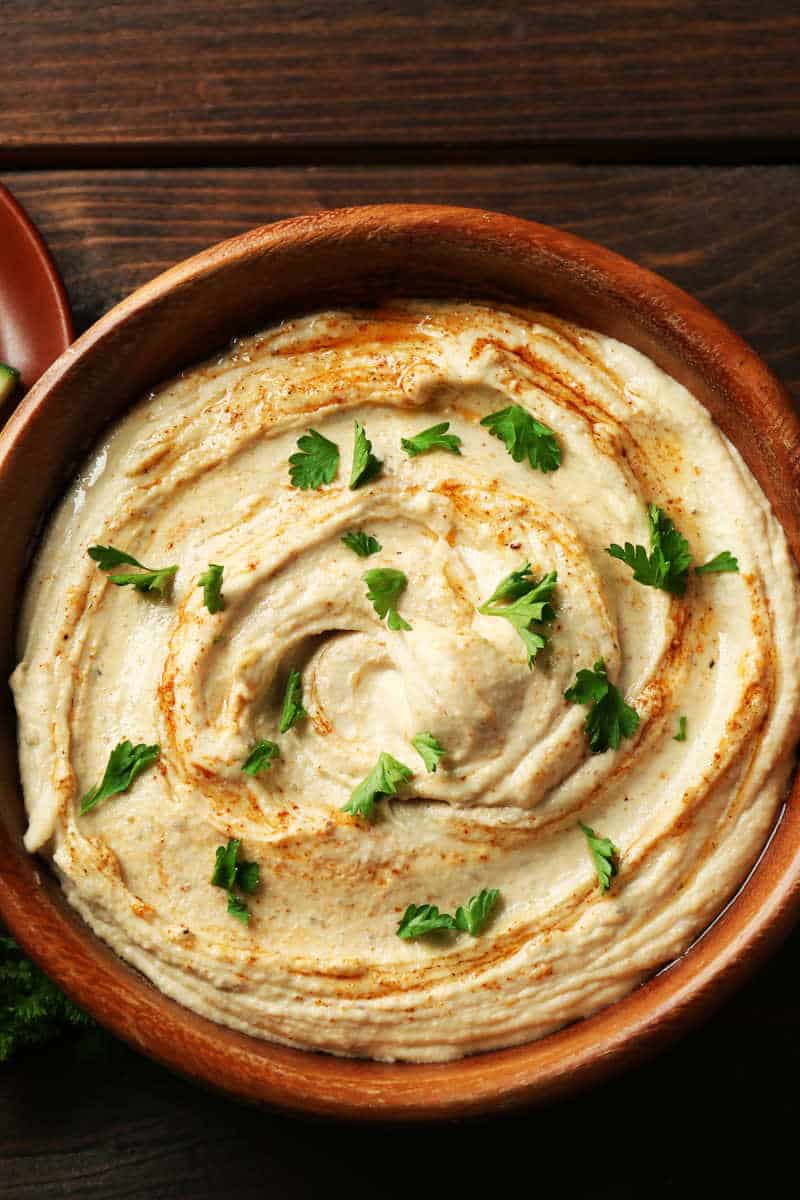 Keto Hummus
When it comes to keto appetizers, my favorite recipes to make are mozzarella sticks, jalapeno poppers, and this cauliflower hummus.
If I had to pick a food group that I could eat indefinitely, it would have to be appetizers. Sure, I have a sweet tooth and love some good salads, but if there's an appetizer table at a party, I'll be the one making the biggest dent in it.
While I love all kinds of appetizers, it's the dips, especially the hummus, that win me over every single time.
Is hummus keto?
Hummus is not keto friendly, as it contains chickpeas. Chickpeas, while high in protein, are still primarily made of carbs and one serving can easily knock someone out of ketosis! Luckily making your own low carb version is possible using a secret ingredient- cauliflower!
I've been meaning to share a keto hummus recipe for quite some time. It's the kind of dip to make and serve and parties and trick everyone there thinking it's actual hummus. It's always something I include on my charcuterie board. Now, this keto hummus may look incredibly fancy but it's so easy to make and needs just one blender or food processor!
No chickpeas and no legumes are needed, but you'd never tell. The texture is thick, creamy, and incredibly rich. It's smoky, salty, and tastes delicious, you won't taste any cauliflower whatsoever!
I had some friends over for a small party the other night and served this hummus with the appetizers and NO ONE believed me when I told them it was made with cauliflower- They thought it was a classic hummus!
How do you make cauliflower hummus?
Being such an easy and simple recipe, this is one of those dishes that benefit from using the best quality ingredients possible. this means using a good quality olive oil, freshly mincing the garlic, and squeezing an actual lemon. We all love short cuts but take the extra minute or two and you won't regret it!
The Ingredients
Cauliflower florets– Steamed or roasted cauliflower florets. I simply steamed my cauliflower but I must admit, roasting the cauliflower gives it a much better flavor.
Tahini– Smooth and drippy tahini that has been roasted. Raw tahini can be used, but the flavor can sometimes be a little bitter so avoid any potential mistakes!
Olive oil– The only oil that should be used for hummus!
Garlic– Freshly minced garlic or bottled garlic. Garlic is a must for any good hummus recipe, keto or not!
Lemon juice– Balances out the richness of the olive oil and the intense spices.
Salt– To taste.
Smoked paprika– Quite a controversial hummus ingredient, but it gives the dip a lovely smokey flavor.
Cumin– Gives the hummus the Middle Eastern spices and takes the overall flavor up a notch.
Water– To make the hummus as smooth or as thick as you like.
The Instructions
Start by steaming or roasting your cauliflower florets until tender and cooked. Allow it to cool slightly. Next, add the tahini and olive oil to a high speed blender or food processor and pulse until combined and smooth. Add the cooked cauliflower, garlic, lemon juice, seasonings, and half the water and blend until just combined and smooth. Depending on how thick or thin you want your hummus to be, add extra water or continue to pulse.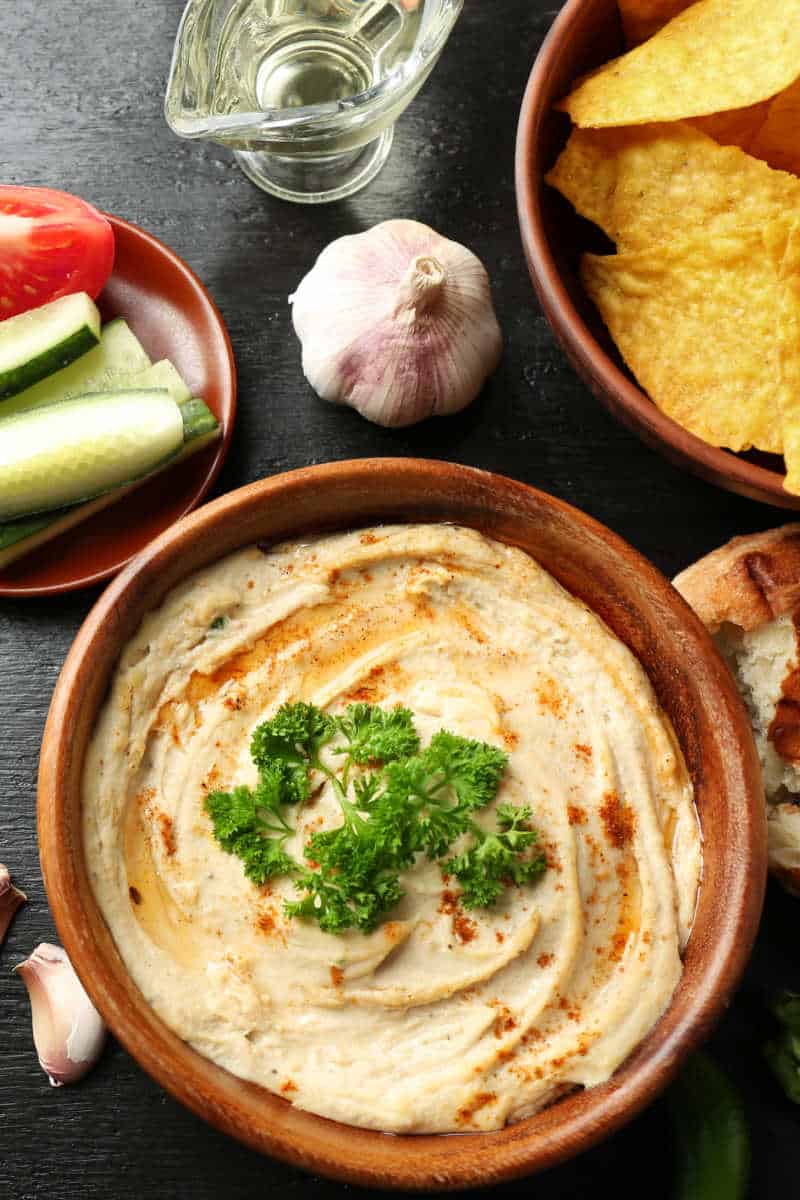 How to cook the cauliflower for hummus
While I prefer the roasting method of cooking the cauliflower for this hummus, steaming and microwaving works just as well.
Steaming– Place your steam basket in a large wok or saucepan. Fill the wok/saucepan with water, until it is about an inch in thickness, and just covers the base of the basket. Add the cauliflower and place the saucepan over medium heat. Once it begins to boil, reduce to low and let it simmer for 6-7 minutes, until tender.
Microwaving– Place the cauliflower florets into a microwave-safe bowl and cover them with plastic wrap. Microwave for 4-5 minutes, or until the cauliflower is tender.
Roasting– Preheat the oven to 200C/400F. Line a large baking dish with parchment paper. In a mixing bowl, add the cauliflower florets with 2 tablespoons of olive oil, 1/2 a teaspoon of salt, and 1/4 teaspoon of pepper. Mix together before transferring onto the baking dish. Roast the cauliflower for 20-22 minutes, until golden brown.
Tips to make the best recipe
Do not over blend if you want thicker hummus. The more you blend (regardless of whether you add water!), the smoother it becomes. I tend to pulse everything until no thick chunks of cauliflower remain. Then, I pulse in 10-15 second spurts,
Taste the hummus before serving it. The amount of spice listed is a recommendation, so feel free to add extra salt, paprika, or even more lemon juice!
Don't use frozen cauliflower! Whether you steam or roast your cauliflower first, it must be from a fresh one. Frozen cauliflower, even after cooking it, will continue to seep out extra liquid and will result in an extra watery hummus!
Storing and freezing hummus
To store: Cauliflower hummus should be stored in the refrigerator, covered. It will keep well for up to 2 weeks.
To freeze: Place leftovers in a shallow container and store in the freezer for up to 2 months.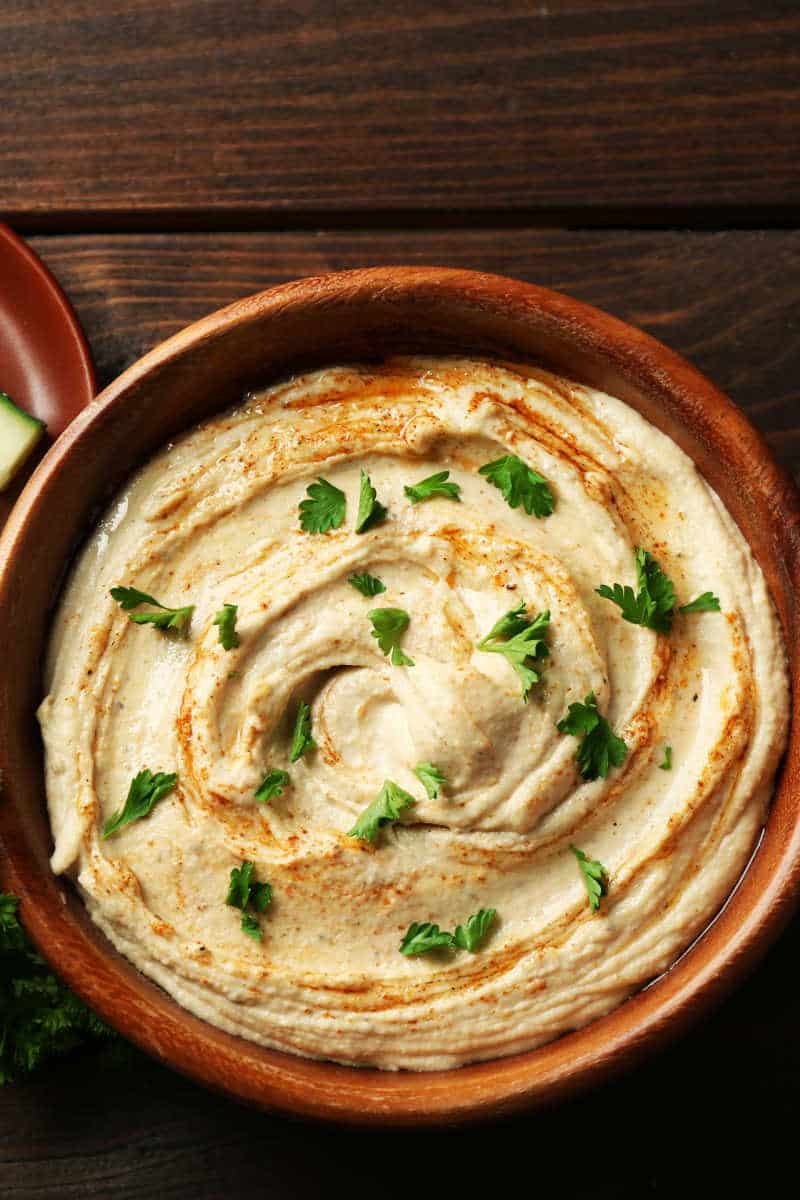 What to serve keto hummus with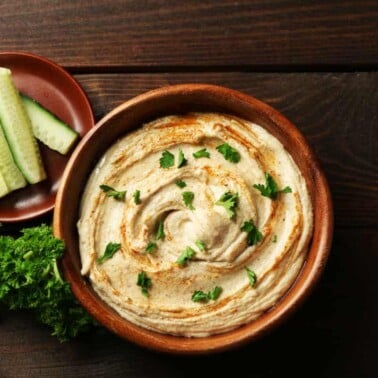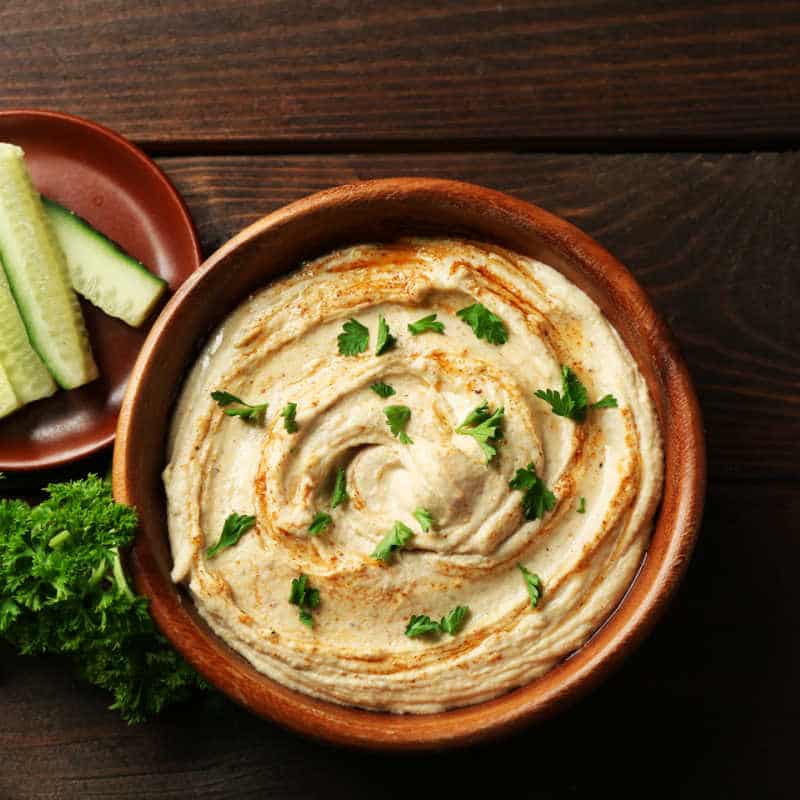 Keto Hummus (No chickpeas!)
This keto hummus is so smooth and creamy, you won't believe it is low carb! Made without chickpeas or legumes, it uses cauliflower as the base!
Ingredients
Instructions
Either steam, microwave, or roast your cauliflower florets until tender. Set aside.

In a high speed blender or food processor, combine your tahini and olive oil and blend until smooth. Add the cauliflower, garlic, lemon juice, salt, smoked paprika, and cumin, and the water, and blend until just combined. Taste the hummus and if it needs more salt, add it as needed. For a smoother hummus, continue blending or add extra water.

Transfer your cauliflower hummus into a serving dish and serve immediately.
Notes
See the body of the post for ways to cook the cauliflower (steaming, microwaving, or roasting).
* Only add the water as needed. For a thinner or smoother hummus, you can add more.
TO STORE: Cauliflower hummus should be stored in the refrigerator, covered. It will keep well for up to 2 weeks.
TO FREEZE: Place leftovers in a shallow container and store in the freezer for up to 2 months.
Nutrition
Serving:
1
serving
Calories:
178
kcal
Carbohydrates:
8
g
Protein:
5
g
Fat:
15
g
Sodium:
183
mg
Potassium:
399
mg
Fiber:
6
g
Vitamin A:
74
IU
Vitamin C:
54
mg
Calcium:
48
mg
Iron:
1
mg
NET CARBS:
2
g
Disclosure: This post may contain affiliate links. I may earn a small commission for my endorsement, recommendation, testimonial, and/or link to any products or services from this website.