Healthy Edible Cookie Dough For One (Keto, Vegan, Paleo)
An easy single serve recipe for healthy edible eggless flourless cookie dough for one! Made with no butter, no chickpeas and no sugar, it's a perfectly portioned no bake dessert and treat!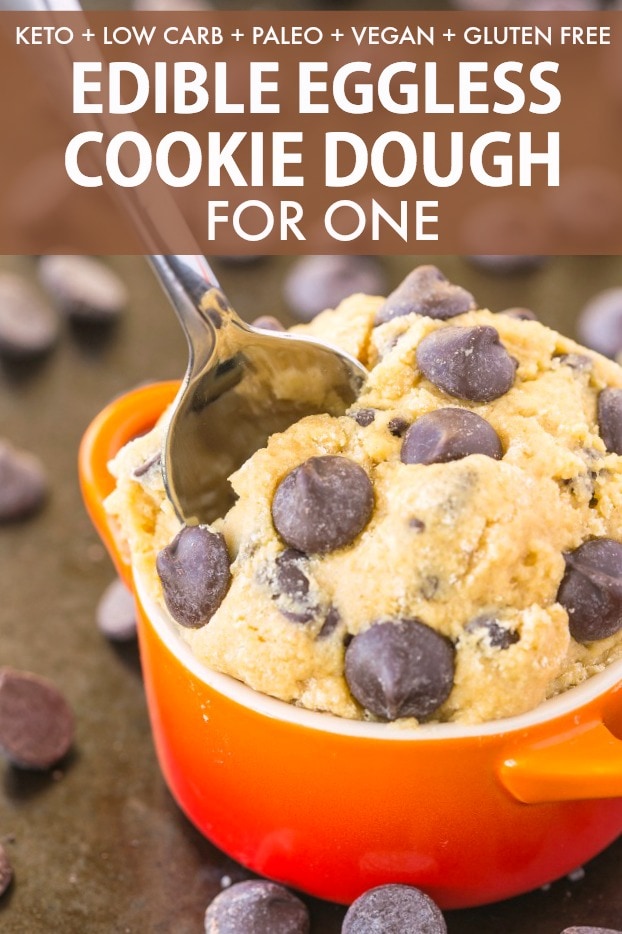 Healthy Cookie Dough For One
I'm all about portioned controlled recipes, especially when it comes to dessert.
As someone who is a fan of recipes for one, desserts obviously needed to fit this mold too! We've had mug brownies, chocolate cake in a mug, vanilla mug cake and even a chocolate raspberry cake….and now some cookie dough!
If you've ever been to my house, you know that having the ingredients to make chocolate chip cookies will always be on hand. It's my go-to dessert, especially when I crave that freshly baked cookie!
Saying that I also tend to have those ingredients on hand because I am a fan of the dough too! You may be a little taken aback as to why I'd eat the raw dough, but don't be- It's perfectly acceptable!
BEST EDIBLE COOKIE DOUGH
My healthy edible cookie dough is safe to eat raw, thanks to the ingredients used. It's made without raw flour, no milk, no butter, no brown sugar, and definitely no eggs. It's also made without chickpeas, a popular ingredient in many edible cookie dough recipes.
Instead, it uses a mix of grain-free flours, syrup and coconut oil, to produce the most delicious cookie dough ever!
The taste of my edible cookie dough for one is incredible- It's sweet, slightly nutty, slightly salty, and bursting with bits of chocolate, thanks to the chocolate chips.
Texture-wise, it has everything you want in raw edible cookie dough- It's slightly crumbly, slightly smooth and melts in your mouth!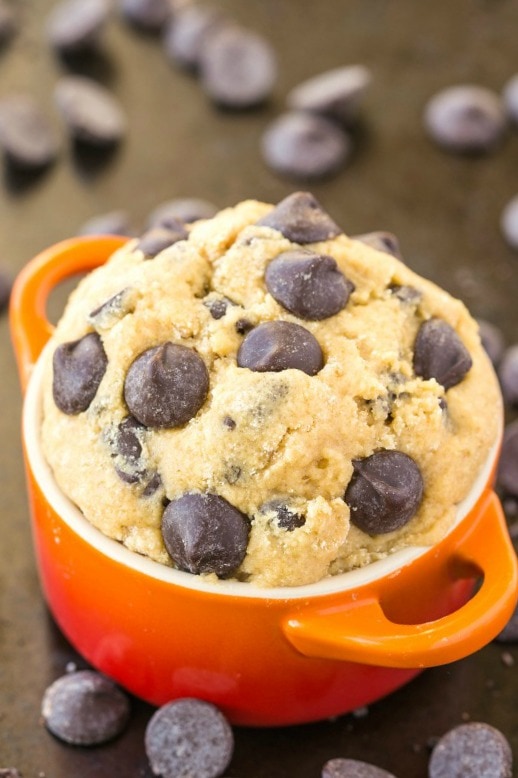 To make my single serve cookie dough recipe, you only need SIX ingredients-
Blanched almond flour
Coconut Flour
Granulated sweetener of choice
Keto Maple Syrup
Coconut Oil
Chocolate Chips
That's it!
Not only is this edible cookie dough for one keto-friendly, but it's also completely vegan, paleo and gluten-free!
EDIBLE RAW FLOURS
I always get asked if eating eggless raw cookie dough is safe because of the flours.
Because my edible cookie dough is paleo and keto-friendly, it doesn't use grain-based flours. Instead, my recipe uses almond flour and coconut flour.
Both almond flour and coconut flour are completely safe to eat raw, as they are merely blended and ground almonds and blended coconut, respectively.
KETO SWEETENERS
Both a granulated sweetener and sticky sweetener are needed to yield the perfect edible cookie dough texture.
Swerve or granulated monk fruit are both keto approved sweeteners, which replicate the same texture and taste of sugar.
For the sticky sweetener, use a keto maple syrup. If you have trouble finding a keto approved syrup, you can technically use a sugar free maple syrup, but be sure you enjoy the cookie dough immediately, or it will lose its flavor and leave the cookie dough crumbly.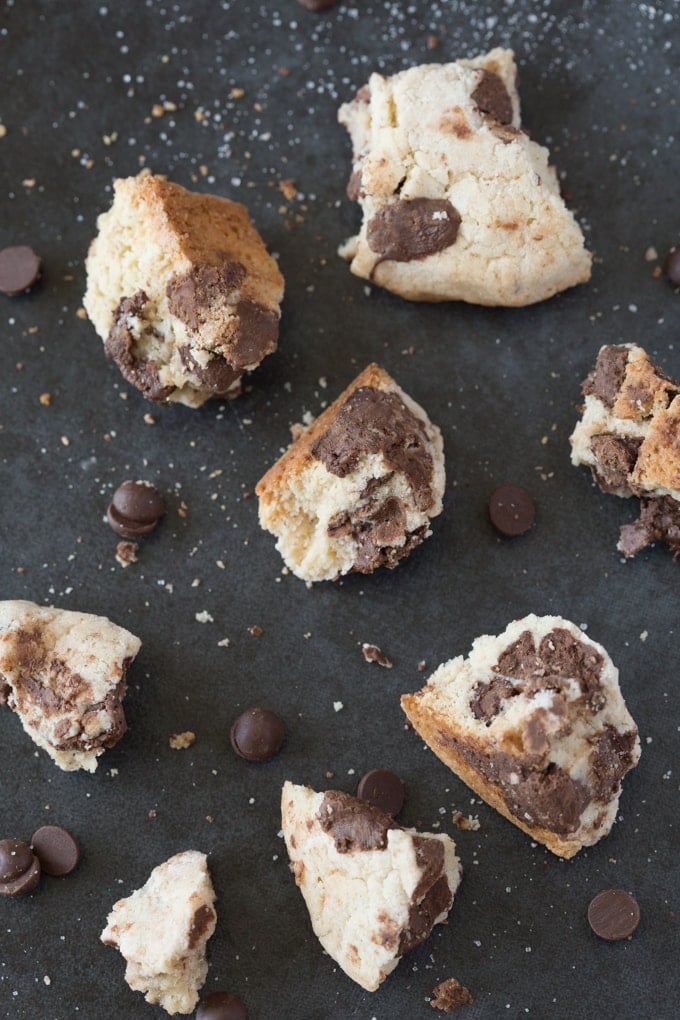 TIPS AND TRICKS FOR THE PERFECT EDIBLE COOKIE DOUGH FOR ONE
Use a blanched almond flour to ensure a lighter color and smoother flavor. Almond meal and almond flour will work fine, but be darker and nuttier.
Sift your coconut flour to ensure no clumps are in the batter.
Ensure your coconut oil is cooled before mixing into the dough, otherwise, your chocolate chips will start to melt.
A combination of chocolate chips and chocolate chunks can be used, to really amp up the texture.
If your edible cookie dough is too crumbly/thick, use a tablespoon and add some milk to make it creamier and smoother.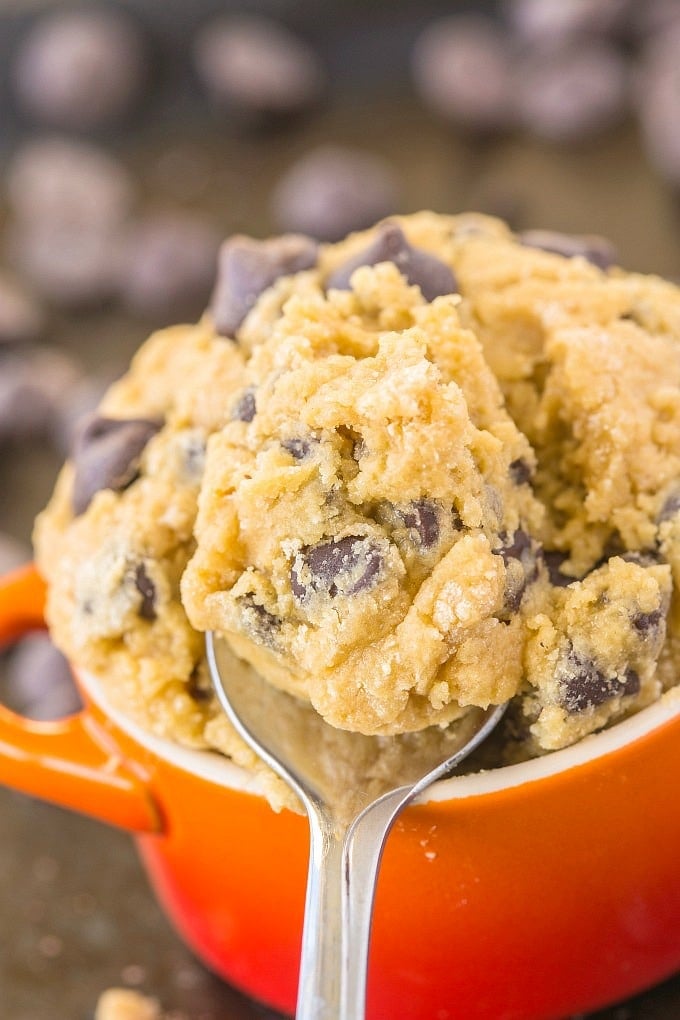 This healthy edible keto eggless cookie dough for one will be your new, perfectly portioned treat or dessert to enjoy in minutes! It's quick, easy, satisfying, you won't be tempted for more!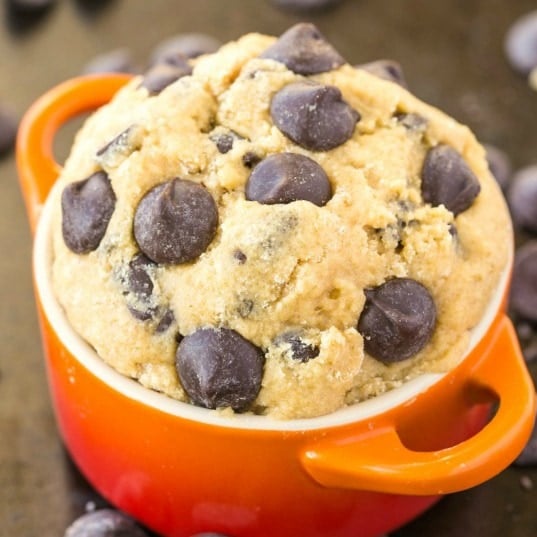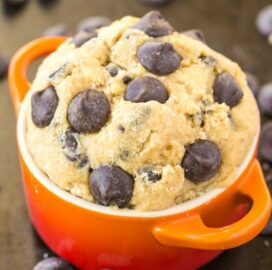 Healthy Edible Cookie Dough For One (Keto, Vegan, Paleo)
An easy single serving recipe for healthy edible and eggless cookie dough for one, made sugar free and keto friendly! Quick, easy and made with 6 ingredients, it's made without butter, without sugar, without flour and without chickpeas- It's vegan and paleo too!
Print
Pin
Rate
Instructions
In a small mixing bowl, combine all your dry ingredients and mix well.

Add your syrup and softened coconut oil, and mix into the dry mixture. The mixture should be slightly creamy, but will minor crumbs. Stir through the chocolate chips and mix well. If the batter is too crumbly, add some milk until desired texture is achieved.

Transfer edible cookie dough to a small bowl or ramekin and enjoy!
Notes
* If you don't follow a keto diet, you can sub this for maple syrup or agave nectar.
** Only add milk if the mixture is crumbly. Continue adding in small amounts until you reach your desired consistency. For the smoother cookie dough, at more.
Healthy Edible Cookie Dough For One (Keto, Vegan, Paleo) can be made in advance and enjoyed later, just be sure to thaw it, as the coconut oil will have hardened the mixture. This single serve cookie dough lasts for up to a week refrigerated and is also freezer friendly.
Nutrition
Serving:
1
serving
|
Calories:
206
kcal
|
Carbohydrates:
9
g
|
Protein:
5
g
|
Fat:
15
g
|
Fiber:
5
g
|
Vitamin A:
50
IU
|
Vitamin C:
1.7
mg
|
Calcium:
10
mg
|
Iron:
0.5
mg
|
NET CARBS:
4
g