This keto cookie dough is a low carb edible cookie dough that takes minutes to make! No raw eggs, no grains and no sugar, you won't stop digging your spoon in!
Keto Chocolate Chip Cookie Dough
Is there anything better than cookie dough? We love cookie dough bites, cookie dough bars, and this keto edible cookie dough.
Whenever I make cookies, I always have to fight off the temptation to dig into a bowl of the raw cookie dough.
Growing up, I'd always stand around the kitchen when mum was making cookies, hoping to sneak a bite or two of the cookie dough batter. Even though she lamented to me multiple times the dangers of it, I could never resist!
Ever since going keto, I've been craving a big bowl of raw cookie dough. Before keto, I'd often make vegan cookie dough but I needed to make a low carb version.
This low carb cookie dough fits the bill. It's made with grain free flours and sugar free syrup, and produces a smooth, creamy and addictive cookie dough. It's sweet, rich, and studded with sugar free chocolate chips.
How to make keto cookie dough
The Ingredients
Almond flour– I prefer using blanched almond flour over the almond meal or traditional almond flour, as the skins of the almonds are removed prior to becoming a flour state. It also has a lighter texture, instead of gritty.
Coconut flour– Adds a little extra thickness. Do not omit this, unless you increase the almond flour.
Granulated Sweetener– Either monk fruit sweetener or erythritol can be used.
Sugar Free Maple Syrup– Monk fruit sweetened maple syrup, that has a lovely sweet flavor, without being overpowering. Do not use sugar free pancake syrup, as that will not hold the cookie dough together.
Coconut oil– Adds a buttery texture to the cookie dough! You want your coconut oil to be soft, not melted.
Sugar Free Chocolate Chips– A must for any good cookie dough recipe! You can also use a chopped up sugar free chocolate bar.
The Instructions
In a large mixing bowl, add your almond flour, coconut flour, and granulated sweetener and mix well. Add your keto maple syrup and coconut oil and mix well, until a thick cookie dough is formed. Gently fold through the chocolate chips and enjoy immediately, or refrigerate it for 30 minutes, to thicken.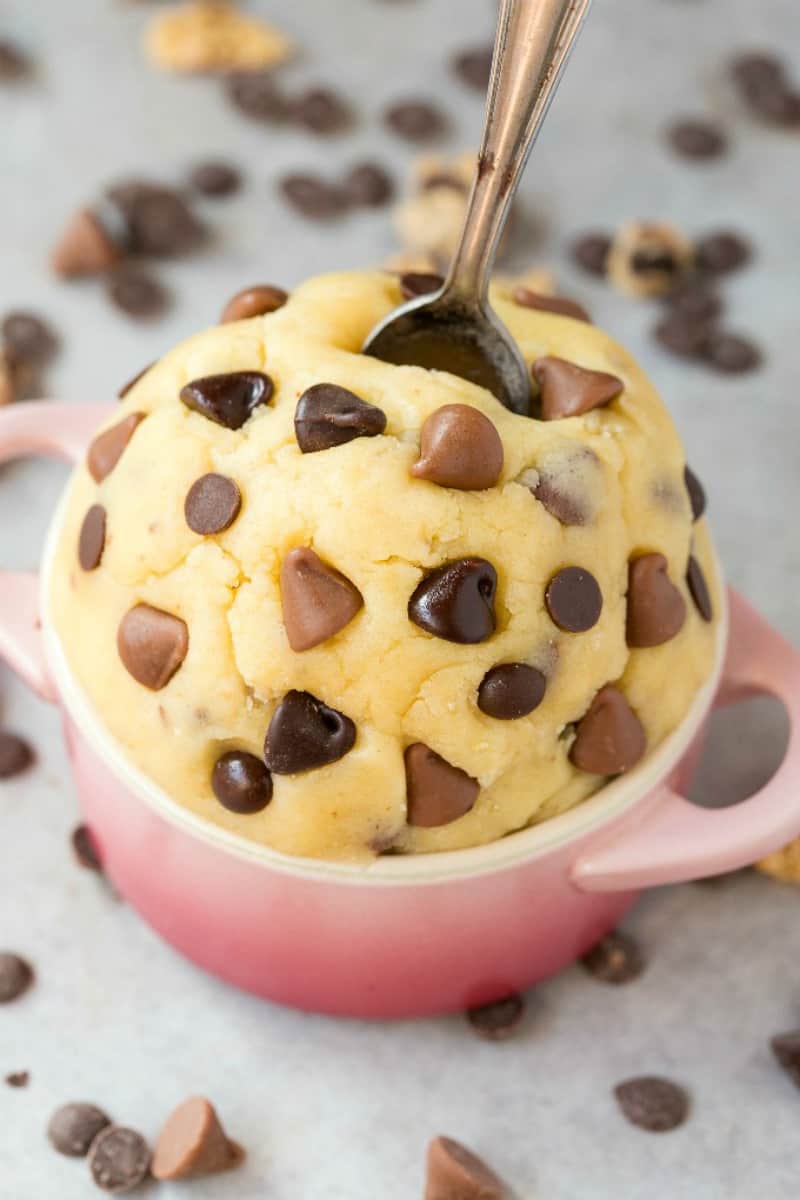 Keto Chocolate Chip Cookie Dough Tips
Do not melt your coconut oil completely, otherwise, it will leave the cookie dough oily and greasy. It will also melt the chocolate chips. You want it to be soft- the same texture as room temperature butter.
Feel free to mix through any nuts or seeds into your cookie dough, for some added texture. I love adding some coconut flakes to it.
If your coconut flour and/or almond flour has some clumps, sift them first.
Instead of keto chocolate chips, chop up a keto chocolate bar instead.
Storing and Freezing Low Carb Cookie Dough
To store: Keto cookie dough should be kept in a sealed container and stored in the fridge. It will keep well for up to 2 weeks.
To freeze: You can freeze portions of chocolate chip cookie dough to enjoy at a later time. Place them in a freezer friendly container and will freeze well for up to 6 months.
More Easy Keto Desserts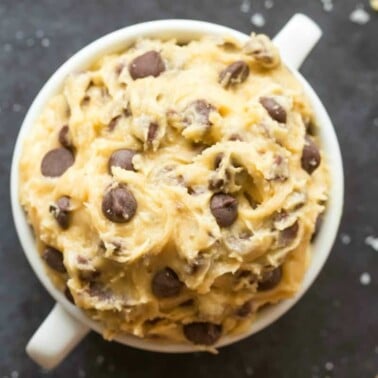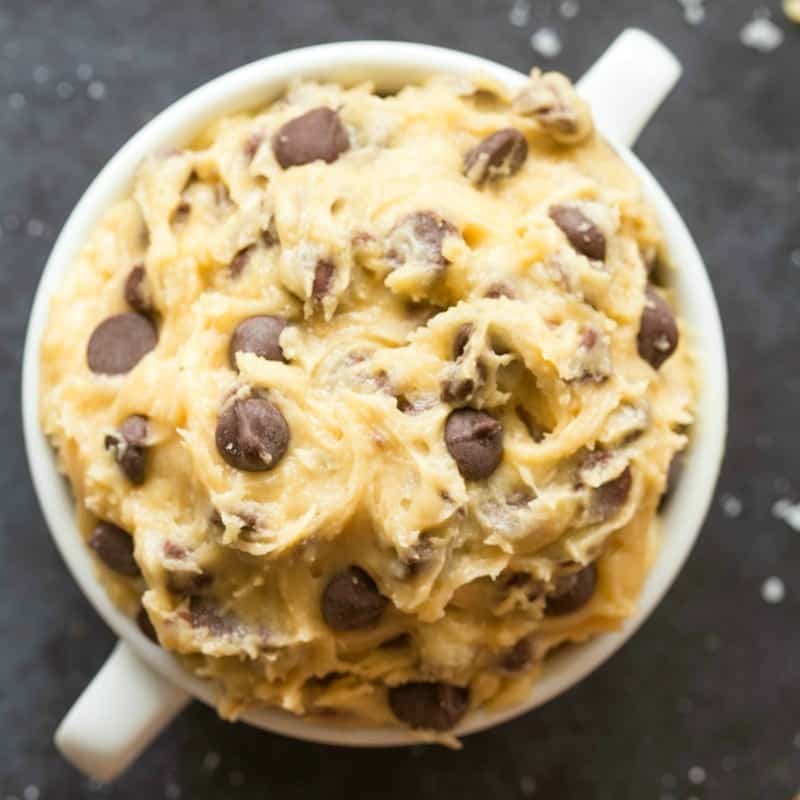 Keto Edible Cookie Dough
An easy 5-minute recipe for low carb keto edible eggless cookie dough! Keto cookie dough made with no grains, no refined sugar and completely flourless! An easy low carb dessert.
Instructions
In a small mixing bowl, combine your blanched almond flour, coconut flour and granulated sweetener of choice. Mix well.

Add your sticky sweetener of choice and coconut oil and mix very well, until fully combined. The mixture should resemble a creamy cookie dough. Stir through chocolate chips. If it is too crumbly, add either some extra sticky sweetener or a few drops of liquid (milk works great).

Either enjoy immediately or for a thicker, dense cookie dough, refrigerate for 30 minutes.
Notes
* I used a granulated monk fruit sweetener. Adjust this to taste- You can reduce the amount or omit altogether.
** I used a monk fruit sweetened maple syrup to keep it keto-friendly and 100% sugar free. Refined sugar free alternatives include light agave nectar and pure maple syrup.
Edible Low Carb Keto Cookie Dough can keep for up to a week, refrigerated.
Nutrition
Serving:
1
Serving
Calories:
143
kcal
Carbohydrates:
6
g
Protein:
3
g
Fat:
13
g
Sodium:
7
mg
Fiber:
4
g
Calcium:
29
mg
Iron:
1
mg
NET CARBS:
2
g

Disclosure: This post may contain affiliate links. I may earn a small commission for my endorsement, recommendation, testimonial, and/or link to any products or services from this website.