This no bake keto cheesecake is so creamy and rich, you won't believe it is low carb! Made without dairy or sugar, it's one showstopping keto dessert! Less than 2 grams carbs per serving.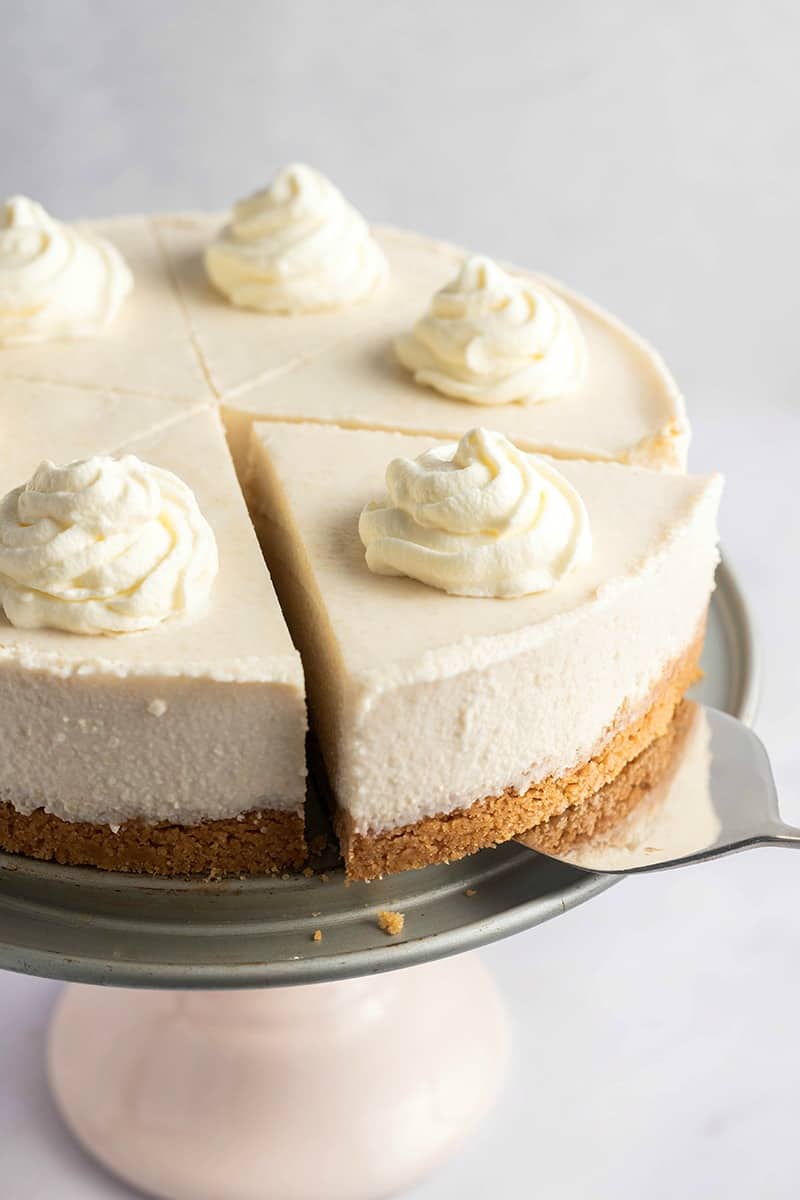 No Bake Keto Cheesecake
We love a good keto cheesecake around here. Our favorites include a blueberry cheesecake, chocolate cheesecake, and an easy no bake cheesecake.
One of my favorite things to do is entertaining my friends and family. I love having them around for a big dinner party, which always ends in a dessert of some sort. I always try and outdo myself each time, and ensure it is something different. While I typically bake a cake or whip up some brownies, I've recently loved making cheesecake!
I've been meaning to share a no bake cheesecake recipe for quite some time now. With all the baked varieties I have already shared, it was due time to do so! With the weather warming up, I'm making an effort to keep my oven turn off BUT still have plenty of desserts. One of my friends has a dairy allergy but loves cheesecake, so this recipe was perfect to create for her.
Now, this low carb cheesecake may look incredibly fancy, but I promise you, it is one the most foolproof recipes ever. No baking and no hard to find ingredients are needed.
No dairy, no eggs, and no sugar is needed, but you'd never tell. The texture is thick, rich, and extra creamy. The flavor is sweet and tart, with a hint of vanilla throughout.
I gifted my friend this cheesecake for her birthday and she could not believe that it was both low carb and dairy free- It tasted like any good cheesecake out there!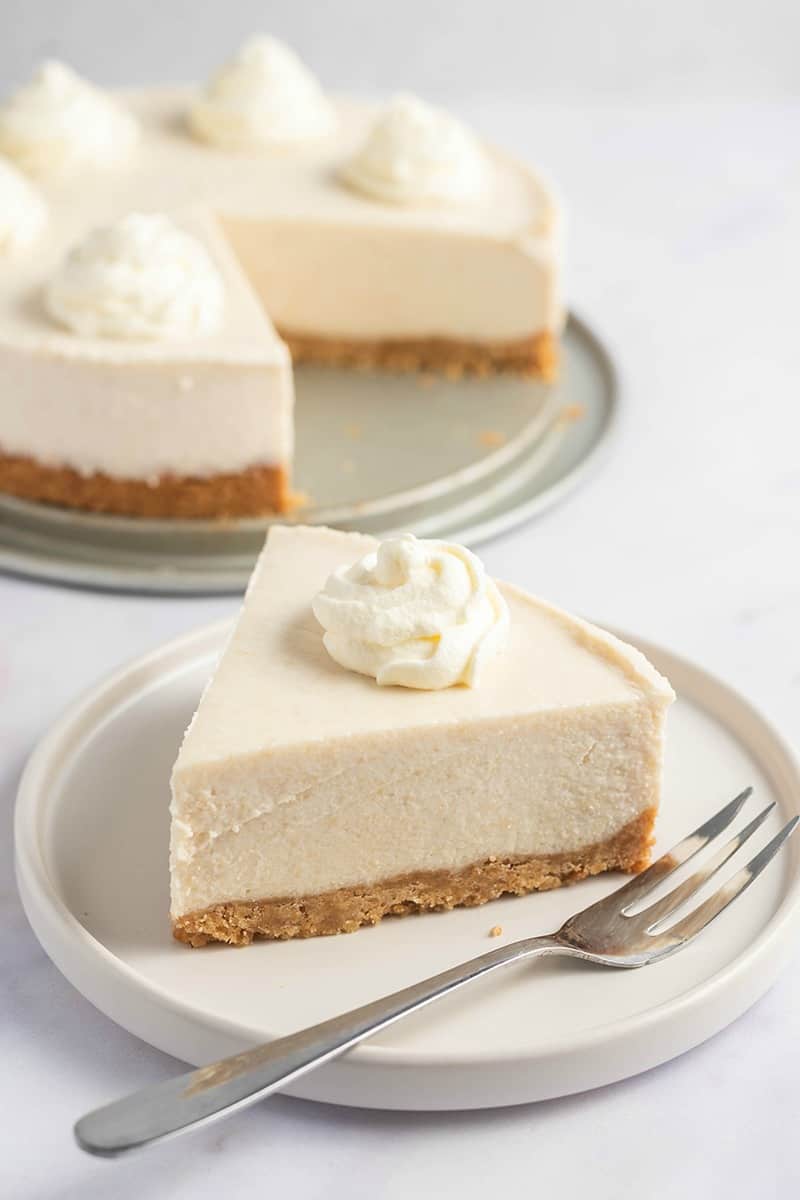 How to make a keto cheesecake
This recipe for keto cheesecake can be made with a crust or be kept crustless. You can use any crust recipe you like or make a simple low carb pie crust, as I used in my millionaire bars.
The Ingredients
Cashews– The cashews are soaked for 6 hours, making them easy to blend. Blended cashews produce a cream-like texture, and perfect for this cheesecake filling. Be sure your cashews are unsalted.
Coconut milk– Thicker than other plant-based and non-dairy milk. You won't be able to taste the coconut at all. You can use any milk you'd like.
Coconut oil– Helps the no bake cheesecake hold shape, once firm. Use refined coconut oil, to avoid any coconut flavor.
Granulated sweetener– I used monk fruit sweetener, but erythritol will work well too. Avoid using other sugar free sweeteners, as they don't have the same texture as sugar, which is needed for the recipe.
Vanilla Extract– A must for all cheesecake recipes- it brings a little vanilla flavor!
Cream Cheese– I used dairy-free cream cheese, to keep it vegan. You can use traditional keto cream cheese if that is what you prefer.
The Instructions
Making this low carb cheesecake is much easier than you think, and requires minimal prep. There's no heavy mixing and no melting of any ingredients at all.
Soaking the cashews for several hours prior may seem cumbersome, but it will help when you blend them with the other ingredients. Adding the cream cheese in last ensures the mixture remains ultra-creamy and thick.
If you use a pie crust, prepared crust, or homemade crust, be sure that it can fit an 8-inch pan. While any pan works, using a springform pan makes the removal of the keto cheesecake seamless and without any mess.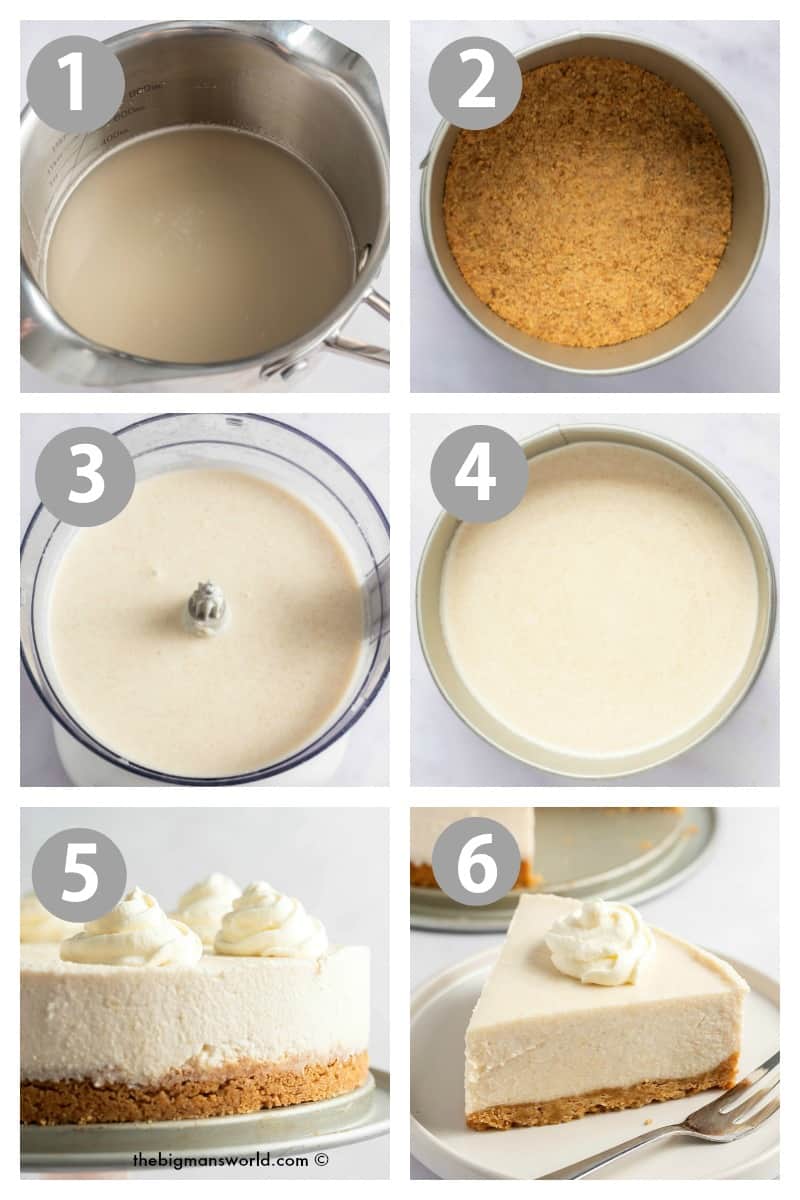 Can I make this a no carb cheesecake?
Unless you all use cream cheese in the filling and avoid any type of crust, you'll find it quite difficult to make a no carb cheesecake.
If you'd like this to have the lowest carbs possible, you could try using macadamia nuts instead of cashews. Again, they will contain negligible trace carbs.
Tips to make the best low carb no bake cheesecake
You must soak the cashews prior, otherwise, when you blend them, you'll be left with cashew butter. If you want to soak them in less time, soak them in boiling water for 2 hours.
If you make a keto crustless cheesecake, slice, and serve directly from the pan. Removing it will be extremely difficult. Alternatively, let it set in a square pan and serve them as cheesecake bars.
Do not refrigerate the cheesecake to firm up- it must be frozen. The longer you freeze it, the better the cheesecake will hold up.
Avoid over blending the mixture. You want the mixture to remain thick.
How do you store and freeze cheesecake?
To store: No bake cheesecakes must always be stored in the refrigerator in either a sealable container or covered. It will keep well for up to 1 week.
To freeze: Place slices of the cheesecake in a shallow sealable container, and store in the freezer for up to 6 months.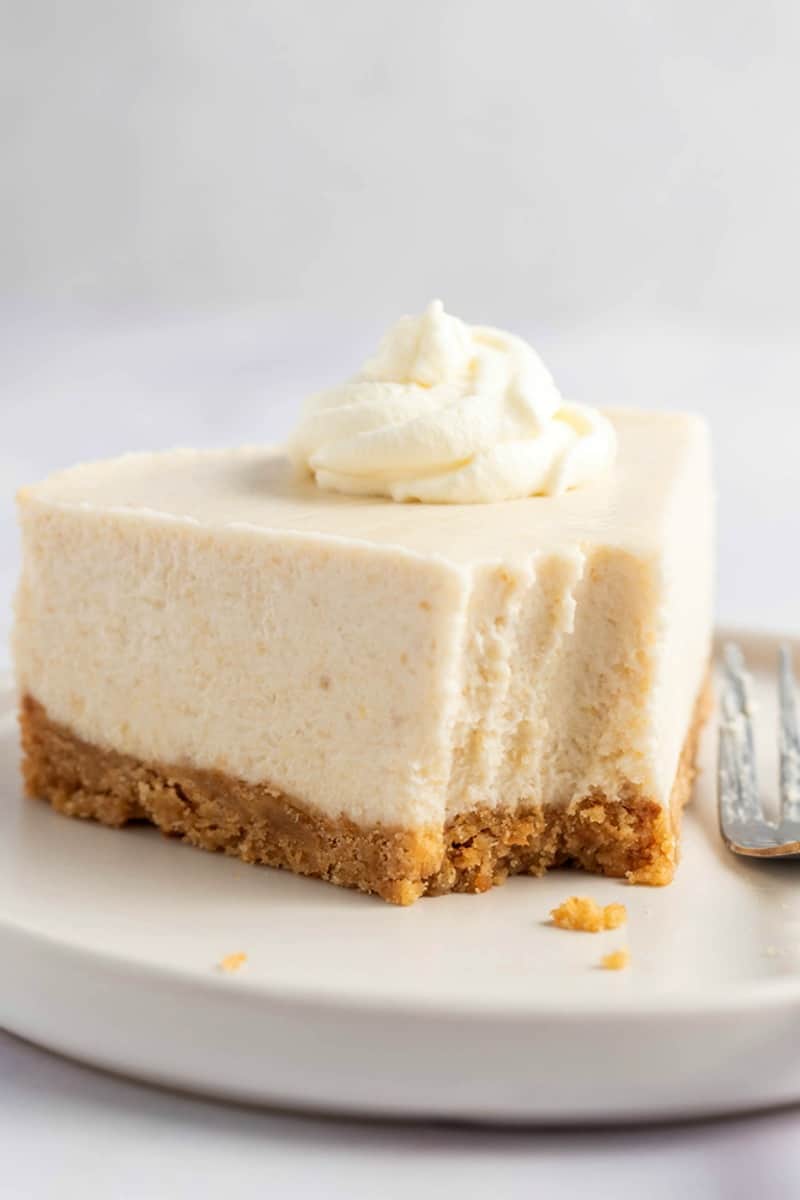 More keto no bake dessert recipes to try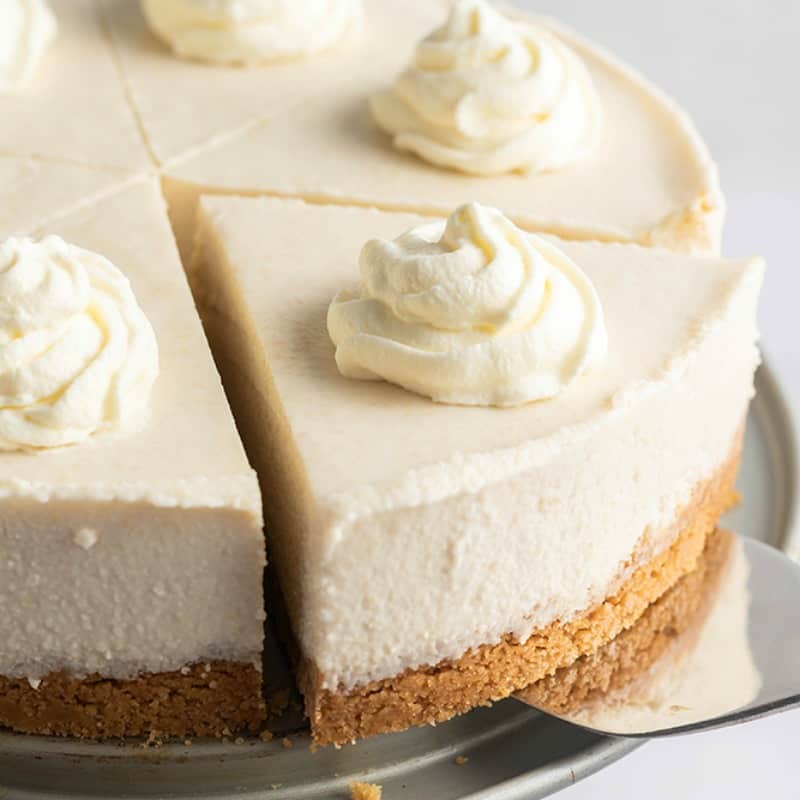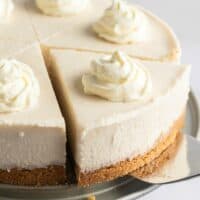 No Bake Keto Cheesecake
This no bake keto cheesecake is so thick and rich, you won't believe it is low carb! No eggs or dairy needed, this is one showstopping keto dessert!
Print
Rate
Instructions
Prepare your crust of choice into an 8 inch springform pan. If leaving the cheesecake crustless, grease an 8-inch pan and set aside.

In a small saucepan, combine your coconut milk with sugar and heat until the sugar has dissolved. Remove and set aside to cool slightly. 

In a high-speed blender or food processor, add your soaked cashews, coconut oil, cooled milk/sugar mixture, and vanilla extract, until smooth. Add your cream cheese and blend until combined.

Pour the mixture over the crust and freeze for at least 3 hours, or overnight. 

Remove from the freezer and assemble the cheesecake by removing it from the springform pan. Top with extra whipped cream and slice into pieces.
Notes
* You can use a store-bought crust or make a simple shortbread crust.
** To soak cashews, place raw cashews in a bowl and cover with water for at least 6 hours. For a quicker method, top cashews with boiling water and let sit for 2 hours.
*** Monk fruit sweetener or erythritol.
TO STORE: No bake cheesecakes must always be stored in the refrigerator in either a sealable container or covered. It will keep well for up to 1 week.
TO FREEZE: Place slices of the cheesecake in a shallow sealable container, and store in the freezer for up to 6 months.
Nutrition
Serving:
1
Slice
|
Calories:
192
kcal
|
Carbohydrates:
5
g
|
Protein:
4
g
|
Fat:
21
g
|
Sodium:
49
mg
|
Potassium:
149
mg
|
Fiber:
3
g
|
Vitamin A:
191
IU
|
Vitamin C:
1
mg
|
Calcium:
22
mg
|
Iron:
1
mg
|
NET CARBS:
2
g