Keto Chocolate Peanut Butter Truffles (Vegan, Paleo)
A quick and easy recipe for keto chocolate peanut butter truffles made with just 4 ingredients! Made with no cream cheese, no dairy and no coconut oil, you won't believe how delicious and simple they are. Bonus? They are also completely nut-free and take 5 minutes to prep!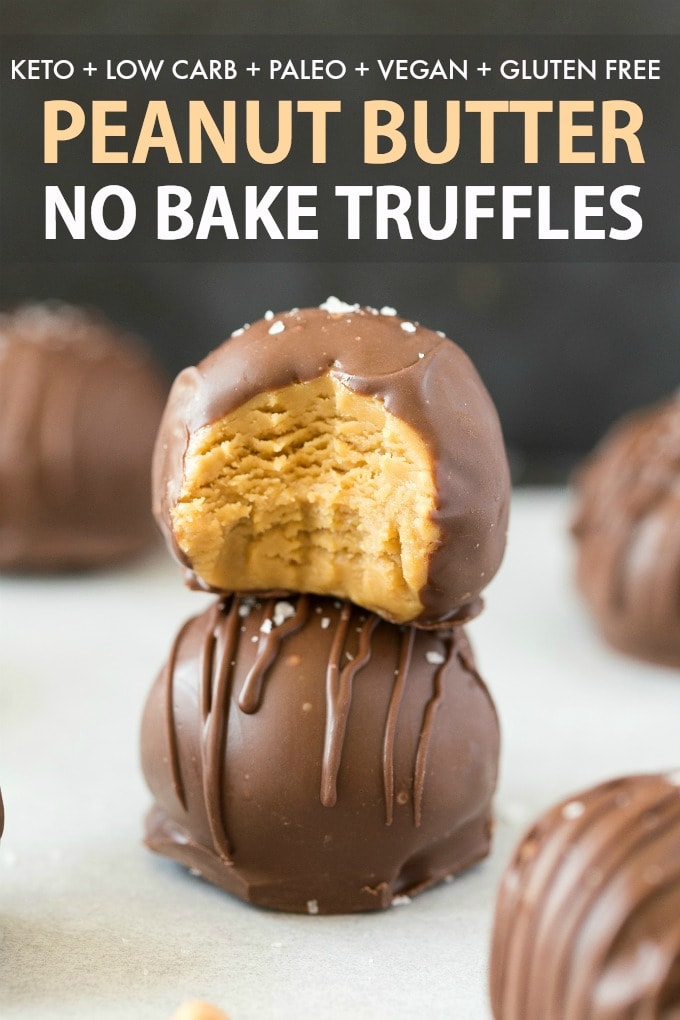 Keto Peanut Butter Truffles
Valentine's Day is literally days away, and while I'm not one to celebrate, I will use any excuse to make a holiday-inspired dessert.
After a recent jaunt to the shops, I noticed many stores were spruiking chocolate truffles for Valentine's Day. Beautiful heart shaped boxes, filled with rich, decadent looking truffles.
After checking out a few of the vendors, I noticed a trend with the ingredients used- Nothing I'd typically use.
Obviously, I had to give the truffles a healthy makeover. The beauty of truffles is that they can have many fillings, and I, of course, decided to start off with peanut butter.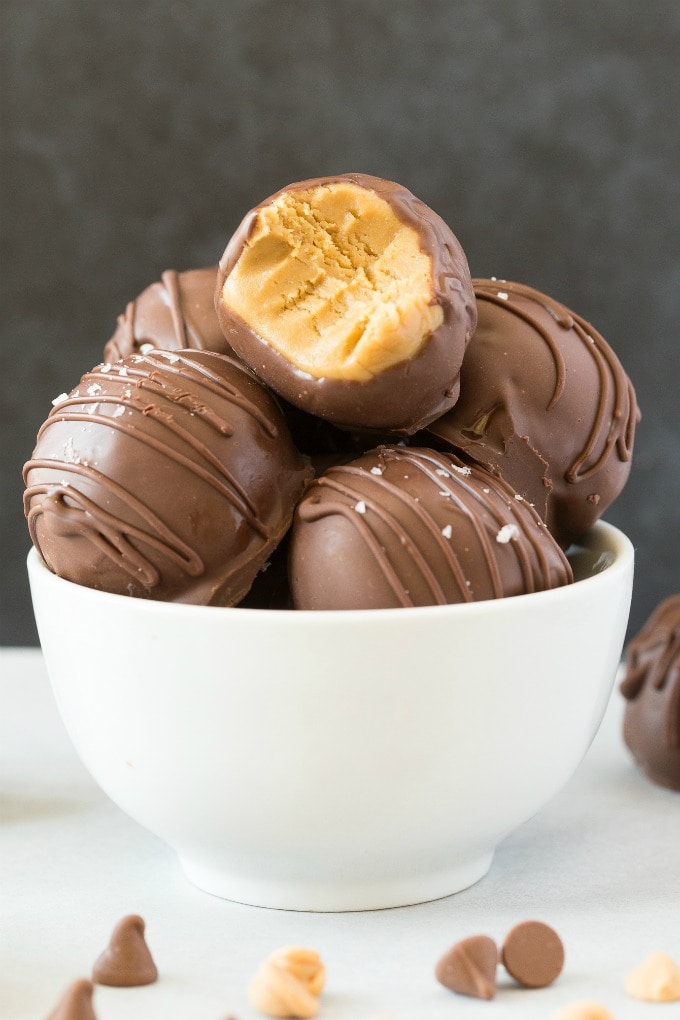 My homemade keto peanut butter truffles recipe is not like a typical peanut butter truffle. It has no condensed milk, no butter, no cream cheese, and no dairy, but you'd never be able to tell.
Some homemade healthy truffles even use coconut oil or nuts, but I went one better- If you use a nut-free spread, it will be completely nut-free and paleo friendly!
It would be easy to assume that these truffles will taste 'healthy' or have an odd texture, but I promise you, it's the opposite!
These keto peanut butter truffles are creamy, fudgy, sweet and salty (thanks to the dash of sea salt!), and all covered in a delicate chocolate shell. It definitely has one of the best textures ever!
Taste-wise, these truffles taste almost like a Reese's Peanut Butter Cup, but much healthier and without the sugar!
Not only are these homemade peanut butter truffles keto friendly and make the ultimate keto Valentine's day dessert recipe– They are also vegan, sugar free and gluten free!
When I say these peanut butter truffles are quick and easy, I wasn't kidding.
You only need FOUR ingredients to make these homemade healthy truffles-
Peanut Butter (or alternatives)
Coconut Flour
Keto Maple Syrup (or alternatives)
Chocolate to coat
PEANUT BUTTER SUBSTITUTIONS
The main ingredient is of course, is peanut butter. However, I do want to offer a tested paleo and nut-free option!
To keep it peanut-free, you can swap out the peanut butter for almond butter or cashew butter. This will ensure it is paleo and still be keto-friendly.
You can also make it nut-free too (while being dietary compliant!) by using sunflower seed butter or tahini.
Tip! Regardless of whichever nut or seed butter you use, ensure it is of the smooth variety. This will make it so much easier to mix and form into soft and creamy truffles.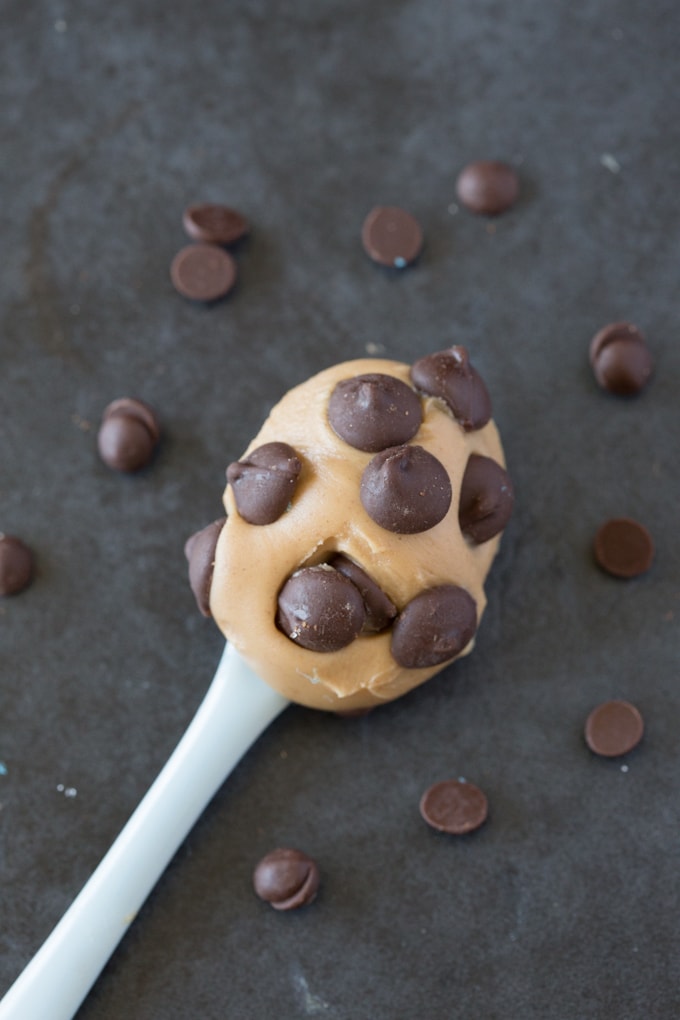 COCONUT FLOUR SUBSTITUTIONS
I often get asked what can coconut flour be subbed with. Unfortunately, coconut flour is a very tricky ingredient to substitute, as it absorbs liquid like a sponge.
Substituting coconut flour in my recipes involving baking is extremely tricky, and I rarely try out alternatives. However, with no bake recipes and desserts, it's doable.
To sub out the coconut flour, you have two options- Blanched almond flour or gluten-free oat flour.
Blanched almond flour is the best option, as it will still remain keto-friendly, low carb and paleo. If you do sub it with this, you'll need to at least double the amount, and be prepared to add a little bit extra to compensate.
Oat flour will also work, but as this is a grain, it will only be suitable for keeping this vegan and gluten-free. Again, this amount will need to be doubled to compensate for it.
The final two ingredients are the keto maple syrup and chocolate, to coat the truffles in.
KETO SWEETENERS
Keto maple syrup is based around monk fruit, and is low carb, sugar free, but has the same texture of pure maple syrup.
Please do not omit the maple syrup, as this provides the creamier texture, and is needed to combat the doughy consistency of the coconut flour.
Keto approved chocolate to cover the peanut butter truffles- You can use either keto chocolate chips or melt a keto chocolate bar. I prefer the chocolate chips route, as it is easier to melt and coat the truffles.
HOW TO STORE HOMEMADE TRUFFLES
These peanut butter truffles can keep at room temperature, as long as the chocolate coating is firm and solid, and in a sealed container. They will remain fresh for up to 2 weeks.
Refrigerating or freezing the truffles will be fine, and will ensure they last longer. They will last for up to 2 months in the refrigerator, or up to 6 months in the freezer.
Valentine's day, Galentine's day or just a quick and easy dessert recipe to impress your friends, these keto peanut butter truffles fit the bill!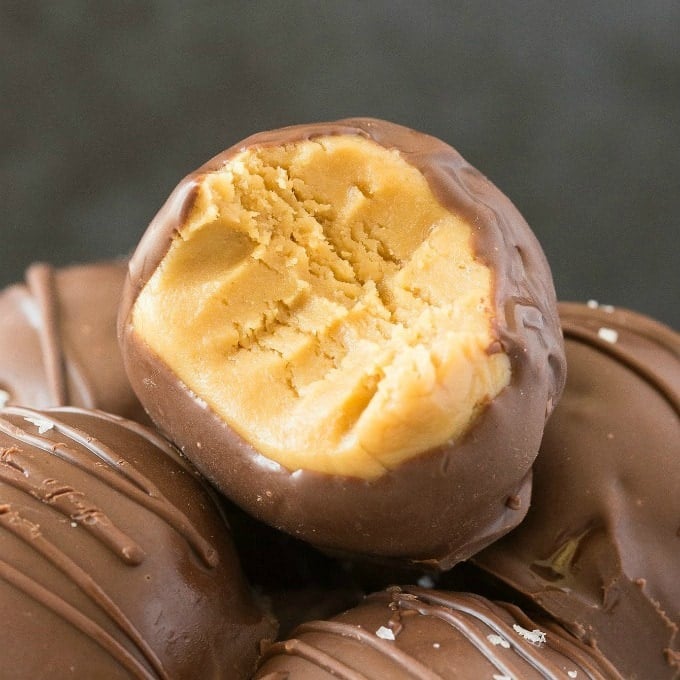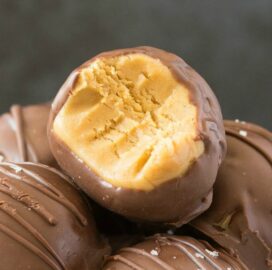 Keto Chocolate Peanut Butter Truffles (Vegan, Paleo)
These keto chocolate peanut butter truffles need just 4 ingredients and 5 minutes to prepare! Smooth and sweet peanut butter filling covered in sugar free and low carb chocolate! No condensed milk, no cream and completely vegan! Peanut-free and nut-free options!
Print
Pin
Rate
Instructions
In a large mixing bowl, combine your peanut butter and syrup and mix very well.

Sift in your coconut flour, to ensure no lumps remain. Stir very well, until a smooth dough remains. Refrigerate for 15 minutes, to firm up slightly.

When the peanut butter truffle mixture has thickened, form into 20 small balls and place in the freezer, on a lined plate or tray.

Melt your chocolate chips of choice. Remove your peanut butter truffles from the freezer, and using two forks, dip each truffle in the melted chocolate. Place each truffle on the lined plate/tray and refrigerate until the chocolate has firmed up.
Notes
* If you don't have keto maple syrup, you can sub it for a granulated sweetener, but add some milk/liquid to form into a smooth dough. This will ensure it doesn't become too gritty.
Keto Chocolate Peanut Butter Truffles (Vegan, Paleo) can keep at room temperature in a sealed container, for up to 2 weeks. They are best kept refrigerated, for up to 2 months. These truffles are also freezer friendly, for up to 6 months.
Nutrition
Serving:
1
Truffle
|
Calories:
108
kcal
|
Carbohydrates:
6
g
|
Protein:
4
g
|
Fat:
8
g
|
Fiber:
1.5
g
|
Vitamin A:
150
IU
|
Vitamin C:
1.7
mg
|
Calcium:
50
mg
|
Iron:
0.5
mg
|
NET CARBS:
5
g