These 3 ingredient keto cups are an easy, homemade three ingredient healthy dessert or snack which is low carb, dairy free and gluten free. A guilt-free way to keep hunger at bay while satisfying the sweet tooth! 2 grams net carbs.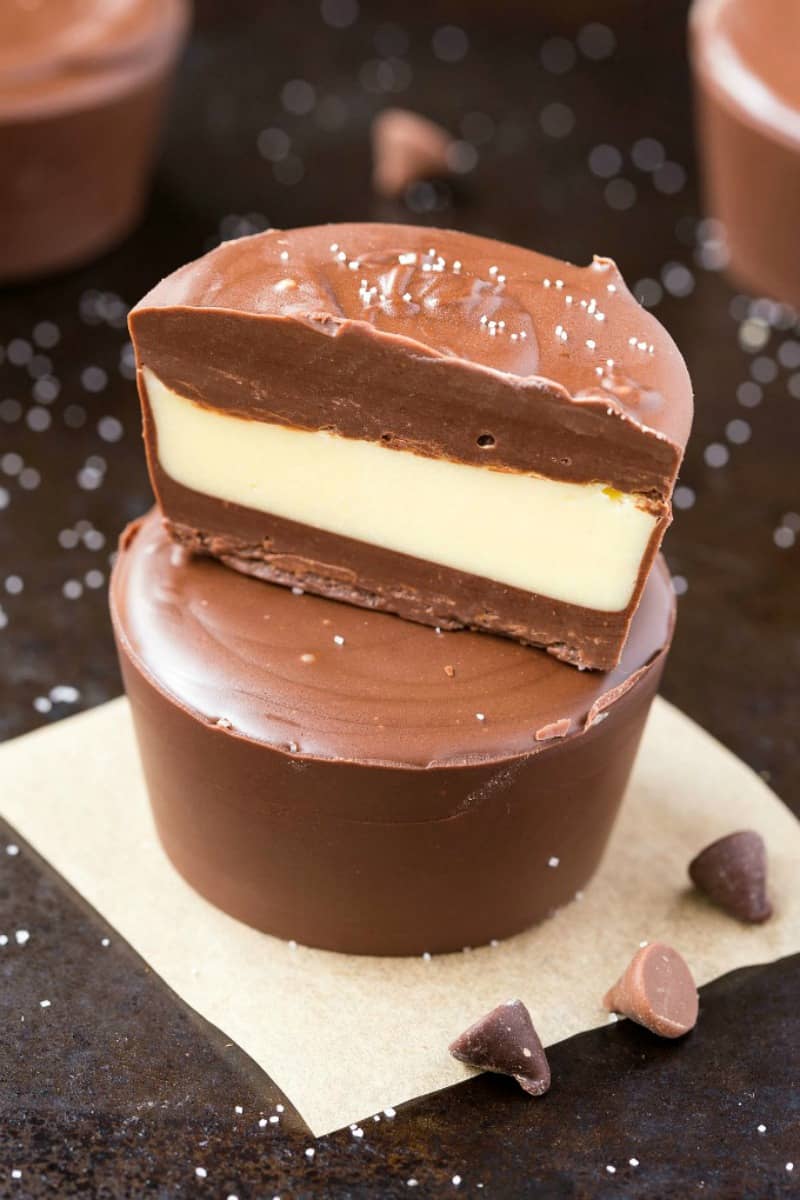 Homemade Keto Cups
As a dark chocolate lover, these homemade keto chocolate coconut cups are my downfall. A keto candy I can enjoy anytime? You bet.
While I love me some bounty protein bars, homemade mound bars, and even some chocolate coconut brownies, sometimes I want something a little more satisfying and candy-like!
It's the best of both worlds, especially if you are a fan of flavors and textures- A delicious mix of dark, rich, and bitter chocolate coating. The coconut center is smooth, creamy, naturally sweet without being overpowering.
Health food stores and grocery stores are filled with keto cups, but let's face it- The price tag for a mere TWO cups cost the same as a jar of gourmet coconut butter or some quality baking chocolate.
Who knew that you could make your own keto cups using just three ingredients? You do now! Not only that, it literally takes less than five minutes to make and is so much cheaper than anything store bought.
How to make keto cups
The Ingredients
Coconut Butter– For the creamy, coconut filling. Coconut butter is NOT the same as coconut oil- the coconut butter is smooth, creamy and naturally sweet.
Chocolate Chips– Stevia sweetened chocolate chips or you can also use a sugar free chocolate bar of choice. Just be sure whatever you use has no sugar and a very low net carb count.
Coconut Oil– Mixed with the chocolate to make it easier to bite into once the chocolate has firmed up.
The Instructions
These homemade 3 Ingredient keto chocolate coconut cups are fool-proof and require an easy, 5-step process–
Melt your chocolate
Pour into muffin liners or silicone cups
Add in softened coconut butter
Top with remaining chocolate
Refrigerate until firm then enjoy!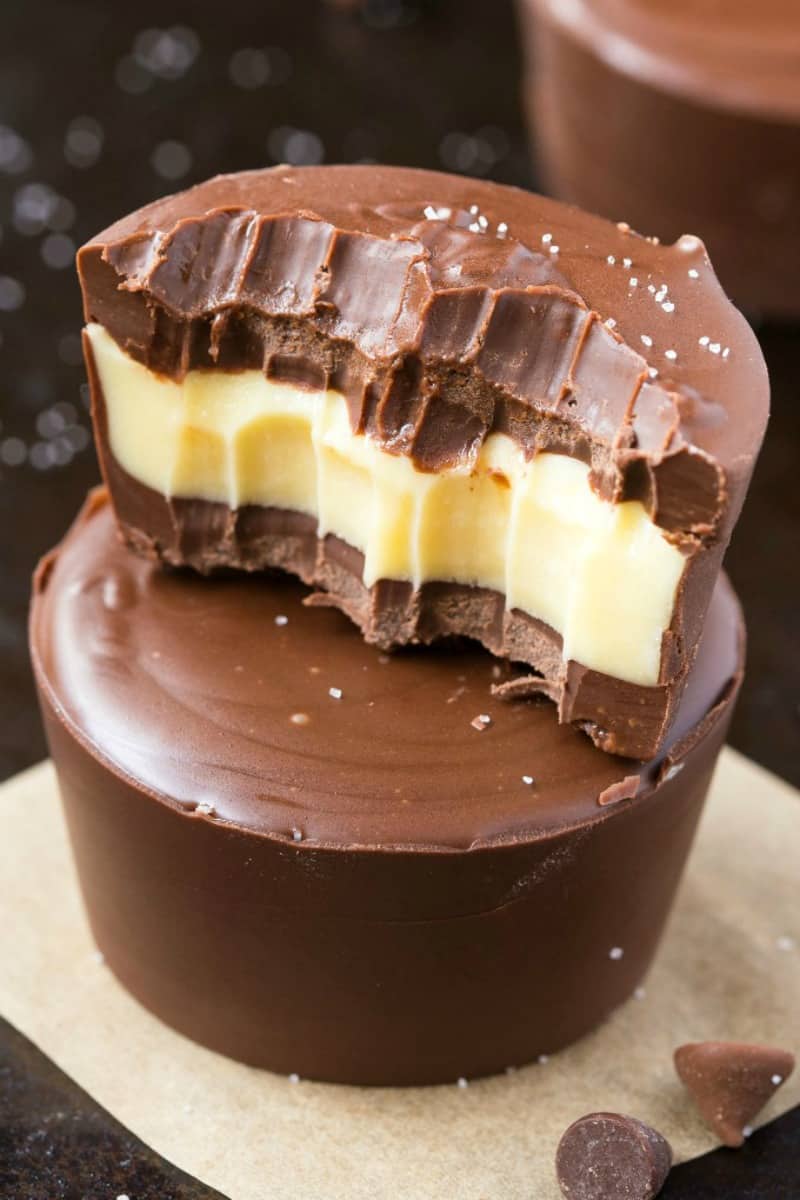 Why use coconut butter?
How do you enjoy chocolate without any sugar or sugar substitute? You rely on the natural sweetness of the other key ingredient- Coconut butter!
Coconut butter is a magical ingredient. I'm not going to lie, I used to use my container of coconut butter to dictate a room's temperature. If the coconut butter was in a solid state, clearly the weather was on the cooler side.
If the coconut butter was easily spreadable and creamy, then we knew either the heater was on or we were in the middle of summer.
Tips and Tricks
If you have a preferred chocolate bar, feel free to use that! You'd be surprised that some non-specific baking chocolate bars actually do melt really well. I've tried chocolate recipes before using Green and Blacks Dark 85% chocolate bars and Lindt 70% Dark chocolate.
Coconut butter is smooth and creamy when in a warm temperature, around 20 degrees celsius (68F). If your coconut butter is solid, you can heat it up in the microwave or place the jar in a bowl of hot water. It should have a drippy consistency.
Use silicone muffin cups or cupcake molds for easy removal. You won't need to use muffin liners or muffin pans for them.
For mini keto cups, use a mini muffin tin or silicone mold.
Keto Cup Flavor Variations
Coffee Keto Cups– Replace the coconut butter with almond butter, and add 1/8 teaspoon espresso powder to it.
Hazelnut Butter Keto Cups– Fill the keto cups with homemade healthy Nutella.
Almond butter Keto Cups– Make these almond butter cups.
Unsweetened Keto Cups– Use a 100% unsweetened bar of chocolate for the chocolate coating.
Storing and Freezing Keto Cups
To store: Chocolate keto cups can keep at room temperature in a sealable container. To keep them longer, store them in the refrigerator. They will keep well for up to 2 months.
To freeze: Store leftover coconut cups in a ziplock bag and keep in the freezer. They will freeze well for up to 6 months.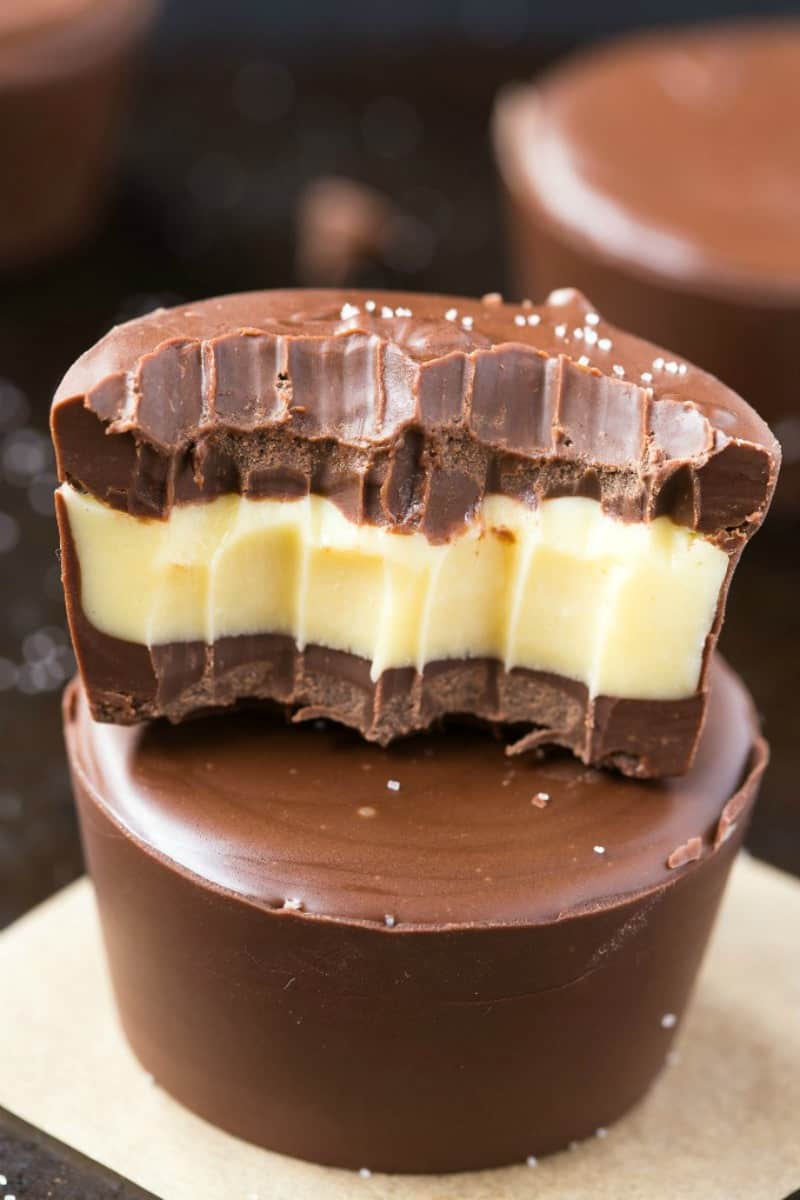 More EASY keto candy recipes
Watch how to make it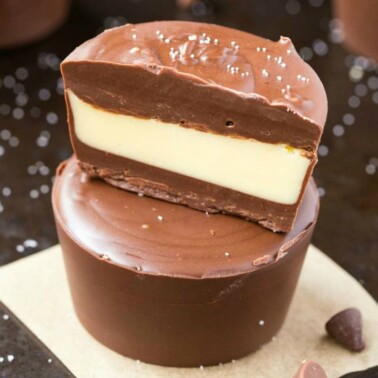 Keto Cups (3 Ingredients!)
Homemade Keto Cups are an easy, homemade three ingredient healthy dessert that is low carb, dairy free and gluten free. A low carb way to keep hunger at bay- an EASY keto candy recipe!
Instructions
Line a 18-count mini muffin tin with mini muffin liners and set aside.

In a microwave safe bowl or stove top, melt your coconut oil with chocolate chips.

Moving quickly, coat the bottom and sides of the muffin liners with melted chocolate. Ensure a little is leftover to top with later. Place the chocolate coated muffin tins in the freezer to firm up. 

Once firm, drizzle the coconut butter amongst the cups. Top with the remaining chocolate and freeze until firm. 
Notes
* Any sugar free chocolate or chocolate chips will work
** Your coconut butter should be drippy and spoonable. If it is hard, you should either melt it or place the jar in hot water until smooth.
3 Ingredient Keto Chocolate Coconut Cups should be kept frozen. For a smooth and creamy consistency, allow thawing slightly at room temperature.
Nutrition
Serving:
1
cup
Calories:
120
kcal
Carbohydrates:
6
g
Protein:
1
g
Fat:
8
g
Sodium:
1
mg
Fiber:
4
g
Vitamin C:
1
mg
Calcium:
1
mg
Iron:
1
mg
NET CARBS:
2
g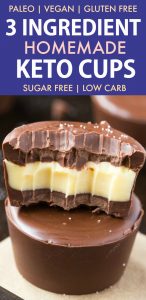 Disclosure: This post may contain affiliate links. I may earn a small commission for my endorsement, recommendation, testimonial, and/or link to any products or services from this website.