Just started a keto diet and overwhelmed by what to have for breakfast? These keto breakfast ideas are your answer! Over 40 EASY and DELICIOUS keto breakfast recipes, including sweet ones, savory ones, and everyday classics.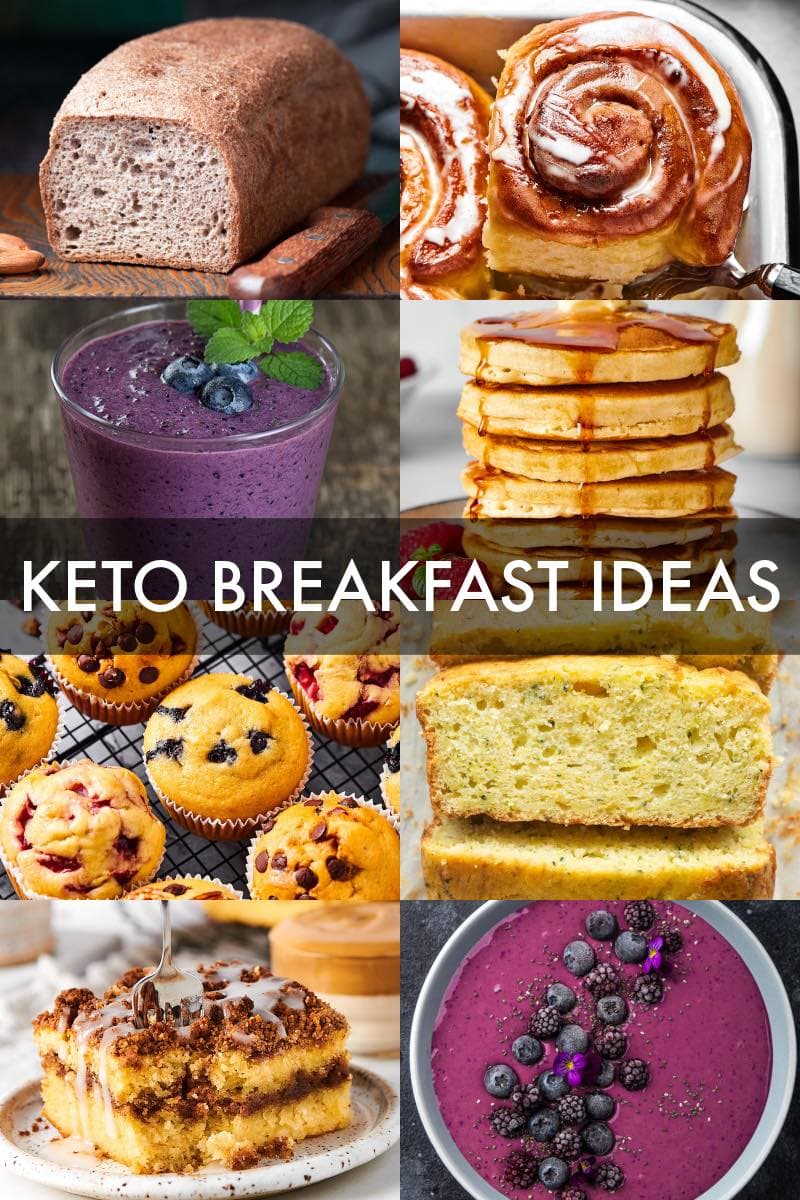 Keto Breakfast
Having a variety of meal options is key to sticking to any sort of diet.
There is an incorrect assumption that keto breakfast recipes lack variety and involve not much more than eggs. Sure, eggs are a fantastic option, as they are virtually carb free, but there are SO much more other things you eat that will not kick you out of ketosis.
A keto breakfast should be easy to make, taste delicious, and use few ingredients. There are many options that can be prepared in advance, but most take less than five minutes to make.
What can I eat in the morning on a keto diet?
Here are the BEST Keto breakfast recipes and ideas to help you seamlessly transition into a keto diet or to add some variety in your meals. You'll find low carb bread recipes, cereal, baked goods, smoothies, and more. The key to sticking to any diet is to have lots of variety, and we have over 40 easy and delicious breakfast ideas for you to try.
Breakfast classics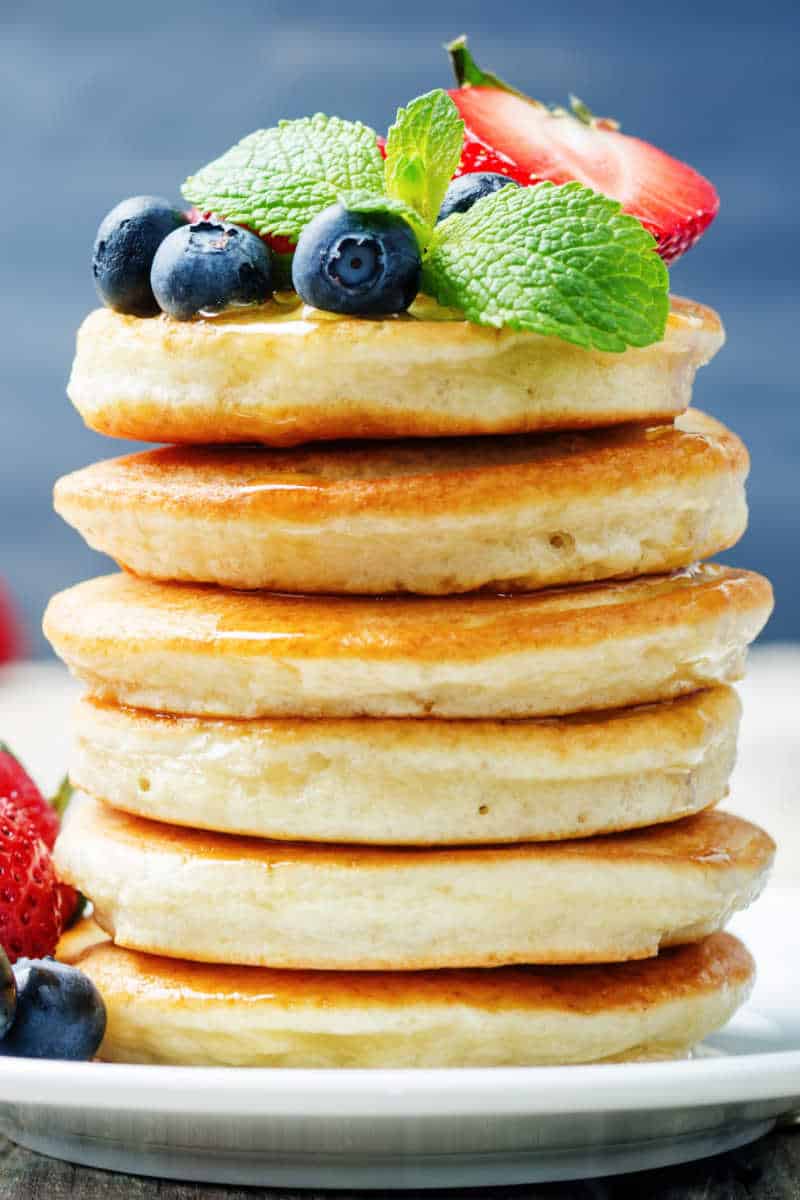 Thick, fluffy, and made with just 5 ingredients, give these low carb pancakes a try. They come together in no time and can be jazzed up with a drizzle of keto maple syrup or some low carb fruit.
Made with coconut flour, egg whites, and a touch of keto brown sugar, these waffles are not just low carb but also low calorie! Make an extra batch and freeze leftovers for quick grab-and-go breakfasts during the week.
No, this is not an oxymoron! Also known as 'noatmeal', this low carb oatmeal is perfectly thick and creamy and needs just 4 ingredients. Enjoy it hot or chilled (overnight oats style).
Got leftover keto bread? Soak it in eggs and milk and turn it into keto French toast. This breakfast comes together quickly and can be customized with anything and everything.
Crunchy cereal that can be doused in milk and remain crunchy? This low carb cereal is for all cereal lovers! 4 ingredients and can be made in big batches so you'll never run out!
Another cereal alternative, this keto granola recipe is packed with nuts, seeds, and bound with sugar free honey. It's perfect with milk or eaten by the handful.
Keto diet or not, everyone loves chia pudding. With just 2 grams of net carbs per serving, you can go crazy with adding fun toppings like berries, almond butter, or even some chocolate chips.
Most store bought yogurt contains TONS of sugar and are not keto friendly. Try this homemade yogurt at home which uses just 2 ingredients and has less than 2 grams of net carbs!
The thinner version of pancakes, these light and fluffy keto crepes are perfect filled with sweet or savory fillings. Try it with ham and cheese for a fun savory twist.
Keto breads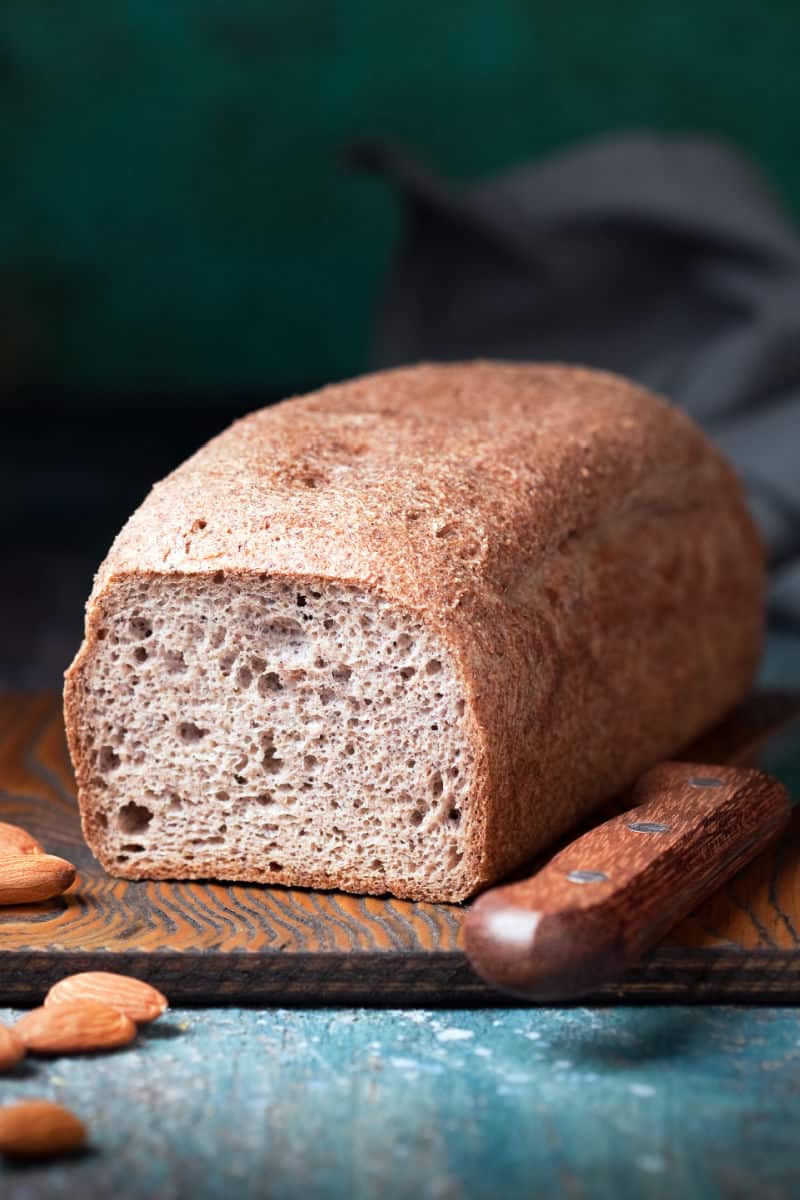 Everyone raves about this low carb bread which tastes like any good sandwich or toast bread out there. Spread it with your favorire breakfast spreads like sugar free Nutella or almond butter.
A fantastic English muffin substitute that takes less than two minutes to make? You can whip this up in the microwave or in the oven!
Sounds like an oxymoron, but this low carb banana bread uses a secret ingredient to give it all the banana flavor without using any actual bananas!
Who said pumpkin bread is seasonal? You'll be making this low carb version year-round and it is so moist and tender.
Everyone raves about this zucchini bread, thanks to it's moist and fluffy middle and gorgeous tender crumb. You can make this as a sweet or savory loaf.
Keto drinks and smoothies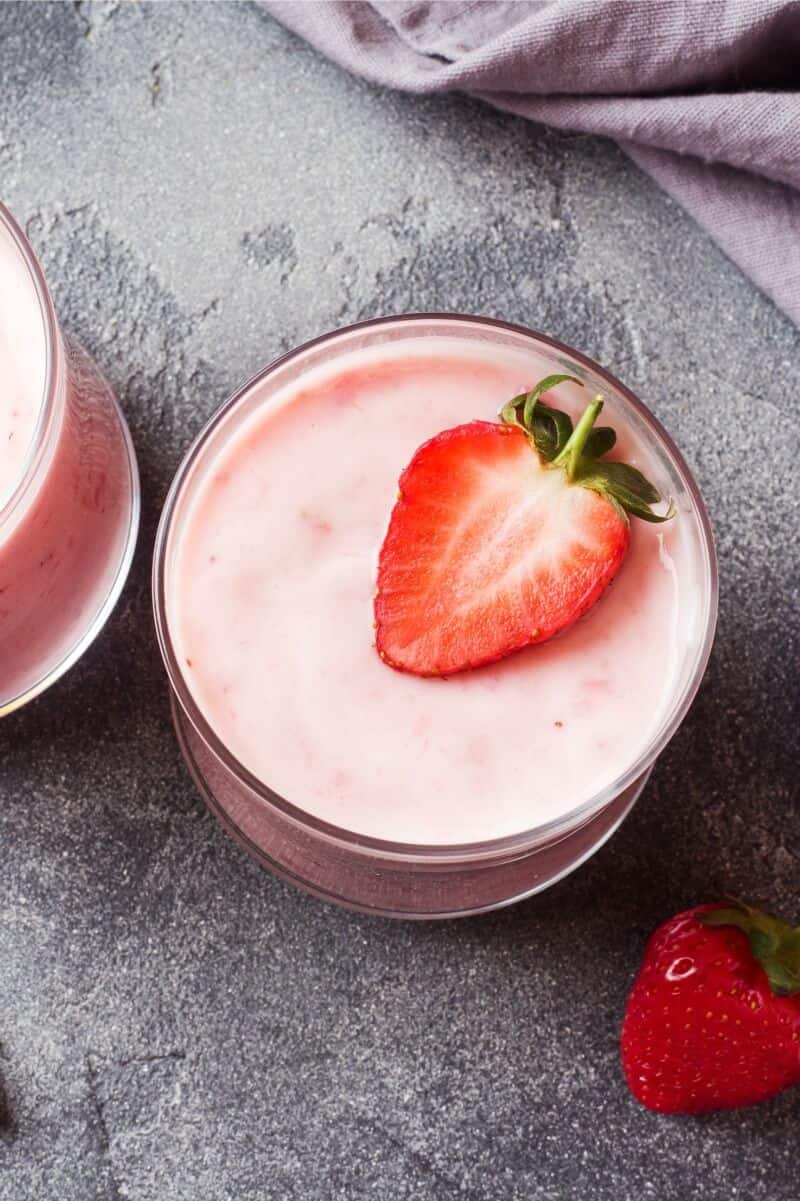 The OG of all smoothies, this one uses keto condensed milk for creaminess AND sweetness that you'd think you were having dessert for breakfast!
Ever added greens to your smoothie? This one includes spinach, which is a fantastic low carb vegetable that packs in tons of nutrients without affecting the flavor!
With just 5 grams of net carbs per serving, this blueberry smoothie is thick, creamy, and full of antioxidants.
Also known as a coffee protein shake, the combination of protein powder and caffeine keeps you fuller for longer, with the added benefit of tons of energy.
No, avocado is not just for guacamole. Add it to a smoothie for extra richness and creaminess minus the carbs!
The combination of MCT oil and coffee creates a magical combination that keeps you energized and full for hours: everyone raves about it!
Who said you can't have hot chocolate on a low carb diet? By using keto milk and sugar free substitutes, this creamy hot beverage screams comfort.
Most store-bought strawberry milk is full of sugar and carbs, but not this one: it's sweetened naturally and the almond milk keeps the calories and carbs down.
Keto sweet breakfasts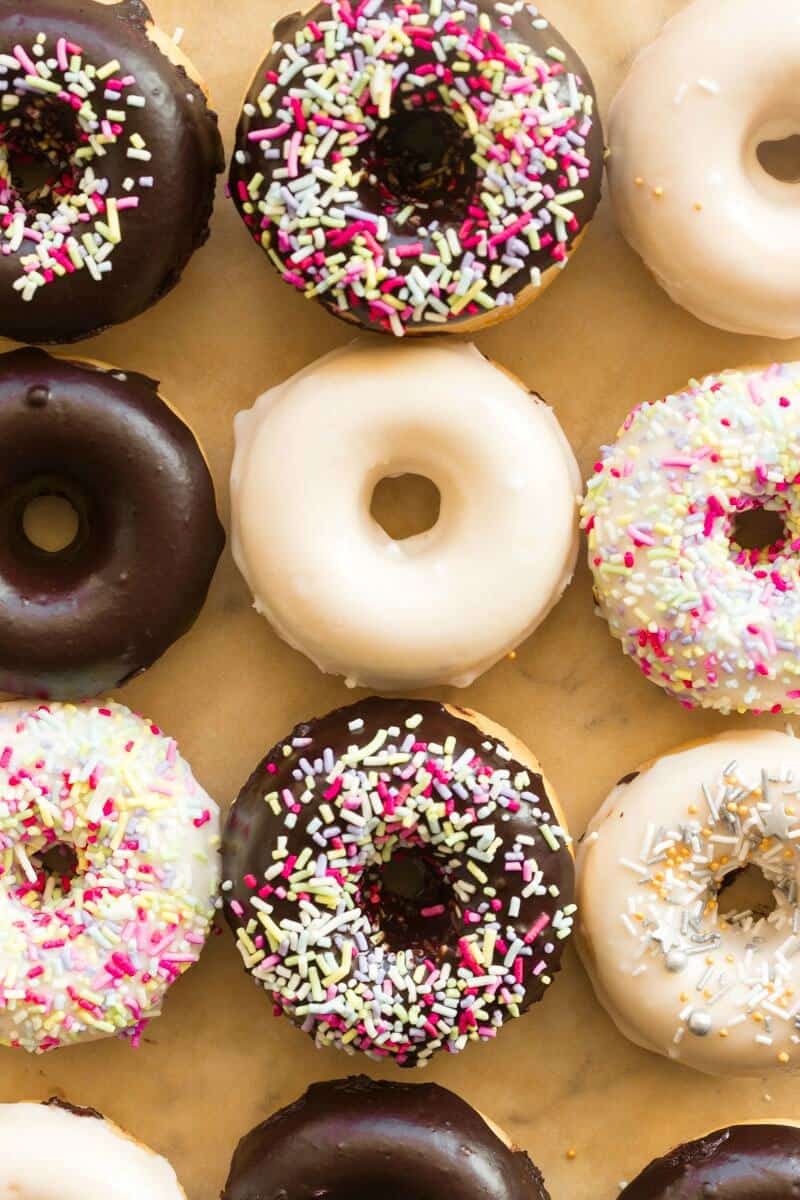 Fluffy and cakey donuts that use almond flour in the batter. You can frost these any way you like: we love using one of our keto frosting recipes.
Adults AND kids love these blueberry muffins for a quick grab-and-go breakfast. Thanks to the almond flour, coconut oil, and sugar free maple syrup, these muffins are moist and fluffy.
Yes, cake for breakfast IS possible. This breakfast cake is full of low carb fruit (blueberries) and packed with protein. One slice can keep you full until lunch!
Everyone loves a good cinnamon roll in the morning and this one is no exception. Tender and fluffy rolls drizzled with the most irresistible cream cheese frosting.
A low carb take on my popular breakfast cookies, a combination of flaxseed and almond flour yields an almost identical texture.
Similar to my blueberry muffins, this one has the addition of cocoa powder and raspberries (another low carb fruit!) which works well if you love chocolate first thing in the morning.
Made with just 4 ingredients, these thick and chewy 'granola' bars are packed with nuts and bound by keto syrup. They work well as a snack, too.
For when you want a refreshing breakfast that you can enjoy with a spoon, dig into a smoothie bowl. Instead of using bananas or other high carb fruit, a secret ingredient gives it all the thickness we love.
Acai is considered a low carb fruit (6 grams net carbs per serving) which is great for Acai Bowl lovers! Keep the frozen base simple then go crazy with the toppings: coconut flakes, peanut butter, and more!
While often enjoyed as a snack, coffee cake makes a fabulous breakfast too! The low carb crumb topping is truly decadant.
Keto savory breakfasts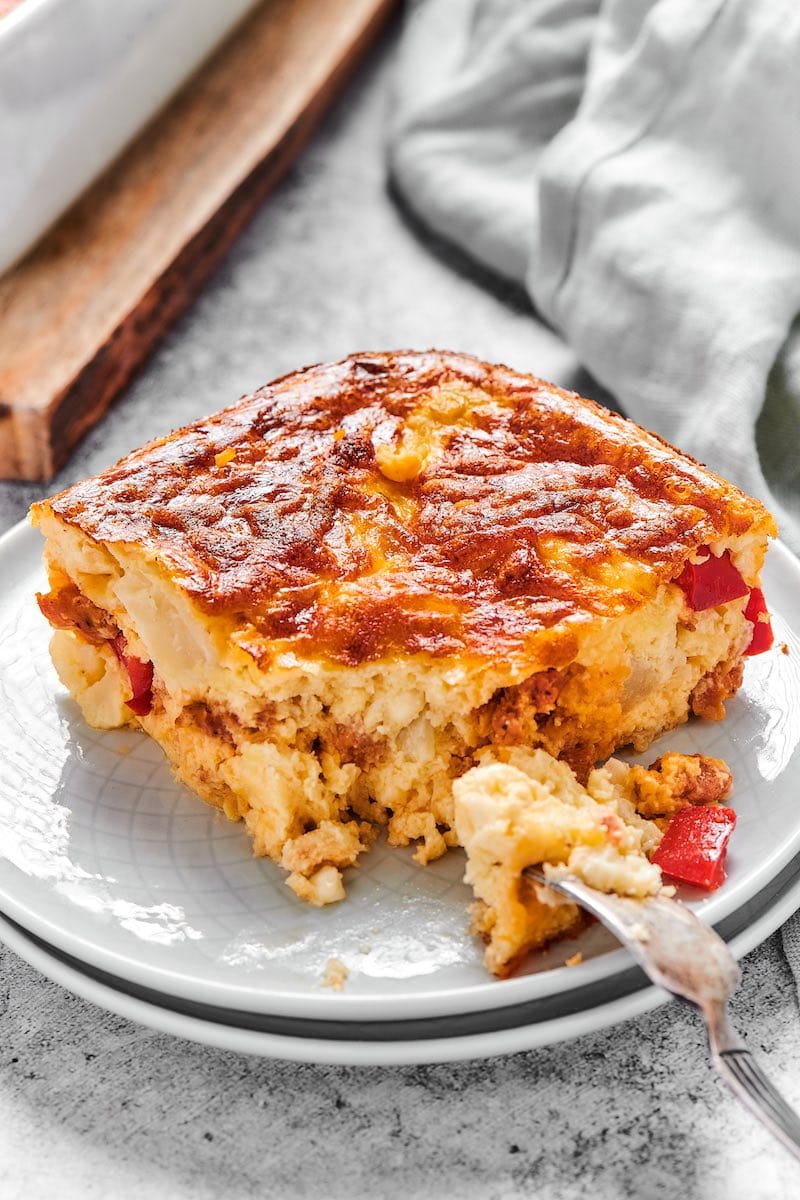 A traditional breakfast casserole uses hash browns and/or potatoes. This low carb version uses chopped cauliflower that tastes the same! Make two casseroles and freeze up leftovers.
A combination of cheese and eggs, this combination creates something that looks and tastes like a true blue waffle. Jazz it up to be sweet or savory.
A brunch or breakfast staple, this version uses toasted keto bread and my go-to guacamole recipe. It's simple, satisfying, and tastes fancy.
Comfort food in the morning: this is perfect for kids and adults. Keep it simple with your favorite cheese or add some ham, bacon, or even sausage.
Swapping out the potatoes for hash browns, these taste like the real deal. They are healthier too, by baking them instead of deep frying them.
Whenever we make our famous pie crust, we make a second one so we can use it to make a quiche! This freezes beautifully too, so you can enjoy it throughout the week.
Ever enjoyed a breakfast sandwich from McDonald's or any other fast food joint? This turkey sausage tastes just like it! Juicy, delicious, and comes together in just ten minutes.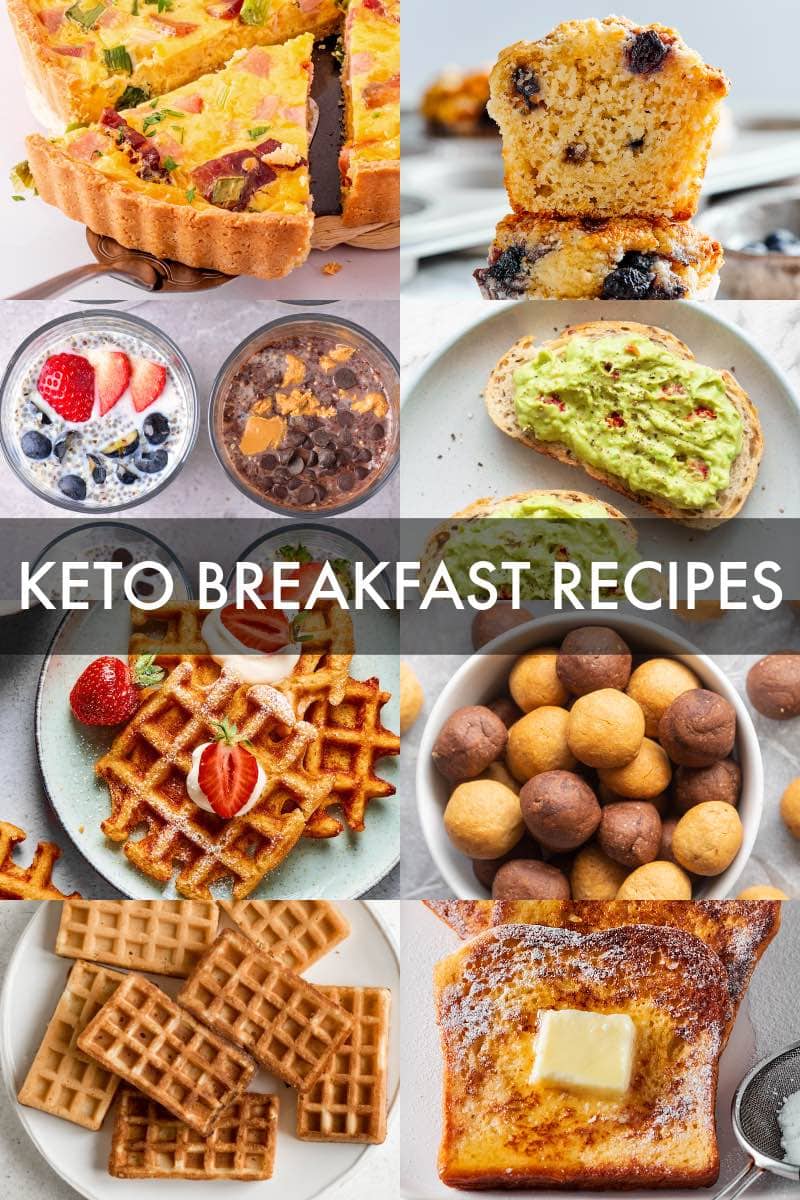 You may also like
Frequently Asked Questions
Are scrambled eggs keto friendly?
Scrambled eggs are a fantastic, keto friendly breakfast option. It's full of protein and healthy fats, especially if it's made with extra heavy cream and butter.
Is bacon and eggs good for keto?
Bacon and eggs are a wonderful combination to eat on a keto diet, provided they don't have any added ingredients that have hidden carbs. Be careful when choosing which bacon to eat, as some have added sugar and/or maple syrup.
What can I eat for breakfast instead of eggs?
There are plenty of keto breakfast recipes that aren't eggs. In fact, except for the recipe shared in this post, none of the other recipes use eggs as their starring role.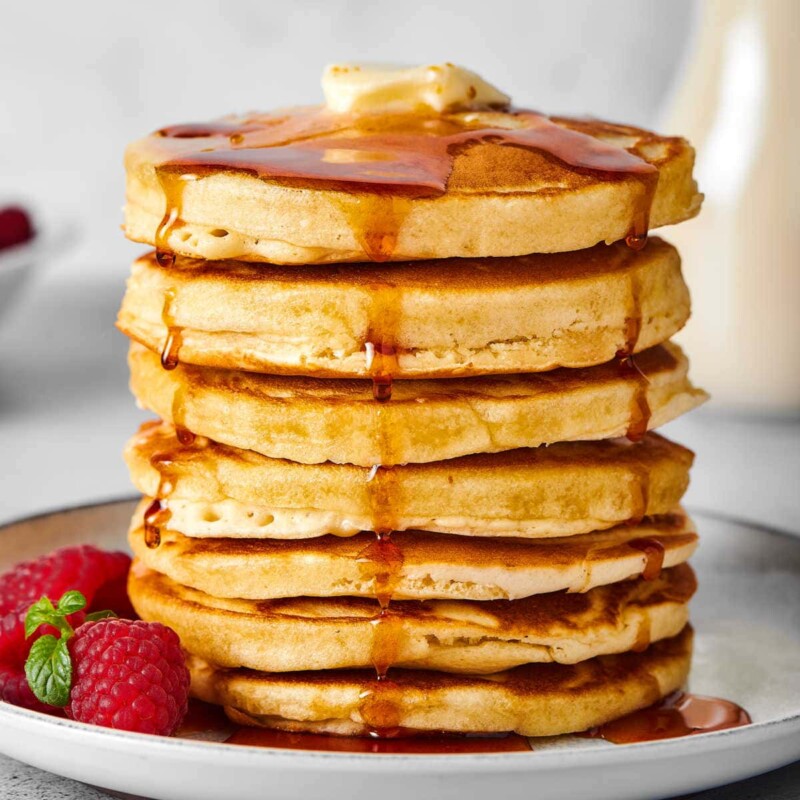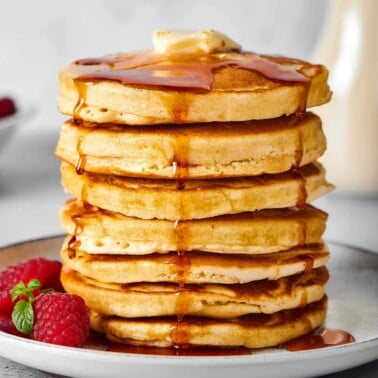 40 Best Keto Breakfasts
Just started a keto diet and overwhelmed by what to have for breakfast? These keto breakfast ideas are your answer! Over 40 EASY and DELICIOUS keto breakfast recipes, including sweet ones, savory ones, and everyday classics. 
Instructions
In a small bowl, whisk the almond flour, allulose, and baking powder. In a separate bowl, whisk the eggs.

Combine the ingredients, then whisk in the cream cheese.

Grease a non-stick pan and place it over medium heat. Once hot, add scant 1/4 cup portions of the pancake mix. Cook the pancakes for 2-3 minutes, flipping halfway through.
Nutrition
Serving:
1
serving
Calories:
293
kcal
Carbohydrates:
10
g
Protein:
13
g
Fat:
23
g
Sodium:
519
mg
Potassium:
558
mg
Fiber:
8
g
Vitamin A:
417
IU
Vitamin C:
10
mg
Calcium:
41
mg
Iron:
1
mg
NET CARBS:
2
g
Disclosure: This post may contain affiliate links. I may earn a small commission for my endorsement, recommendation, testimonial, and/or link to any products or services from this website.