Keto Chocolate Peanut Butter Smoothie (Vegan, Paleo)
A healthy, thick and creamy keto chocolate peanut butter smoothie made in under 60 seconds and loaded with peanut butter flavor! Coconut milk, peanut butter, avocado, and cocoa blended together for a deliciously satisfying breakfast or snack. Peanut free option included, this smoothie tastes like a milkshake!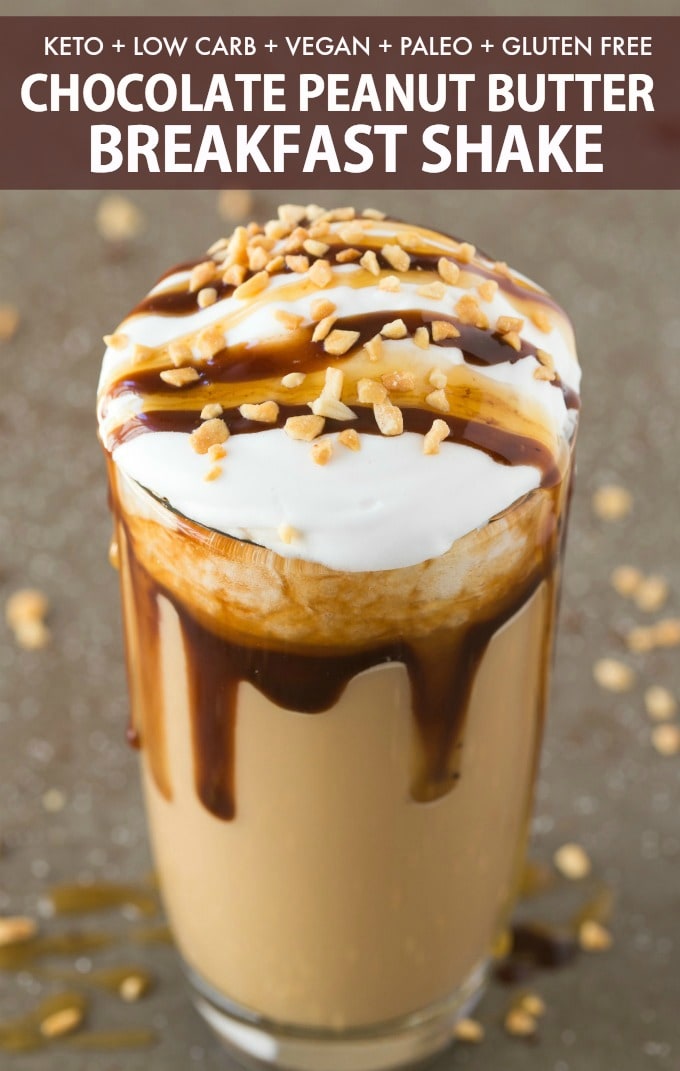 Keto Chocolate Peanut Butter Shake
I used to always think that smoothies and shakes were more of a snack, and never a breakfast.
As someone who preferred to eat their breakfasts (as opposed to drinking it), I never thought to test this theory out for my morning meal.
Over the last few months, my schedule has changed. Instead of slow mornings at home, I'm rushing out the door for a workout before heading to various meetings.
The concept of a stack of keto pancakes, banana bread or even some hot keto oatmeal has become slightly foreign.
Granted, any of those options could work, but I'll let you in on a secret- I've resorted to having breakfast in my car after my gym session and before my first meetings.
Enter- Healthy Breakfast smoothies.
I had to give the 'smoothie for breakfast' another chance and I must admit- I'm a fan now.
Wanting to keep my smoothies and shakes keto-friendly, I couldn't rely on my standby, frozen fruit, to keep it thick and creamy.
Instead, I tried up using a combination of low carb fruits and nut butter to replicate it.
The texture of this chocolate peanut butter smoothie is everything, and more. Thick, creamy and velvety, thanks to the combination of avocado, peanut butter, and powdered peanut butter.
Taste-wise, this smoothie tastes like dessert, like my favorite chocolate peanut butter milkshake. Scrap that, this smoothie is so thick, it's like a thick shake!
To make this keto chocolate peanut butter smoothie, you only need SIX ingredients-
Milk of choice
Peanut Butter
Cocoa Powder
Avocado
Sweetener of choice
Powdered Peanut Butter
Ice (optional)
That's it!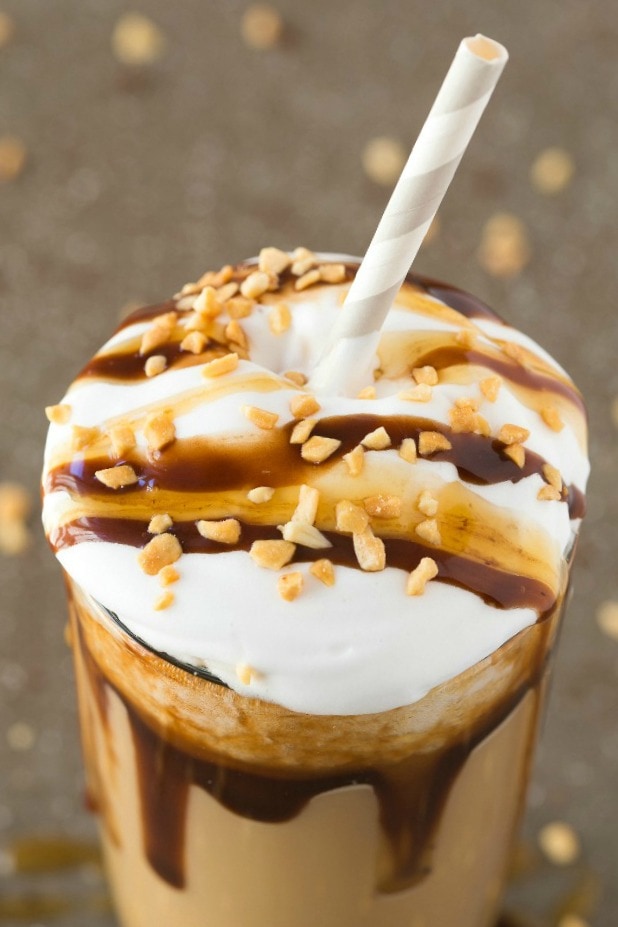 PEANUT BUTTER AND PEANUT-FREE OPTIONS
Unsweetened and natural peanut butter is keto friendly, and perfect to include in a ketogenic diet.
Granted, I know many readers have peanut allergies and my paleo friends, I wanted you to have a peanut butter free option.
To keep it peanut-free, using almond butter or cashew butter are fantastic options.
Nut-free friends, use sunflower seed butter or tahini.
As you will be blending it all up, the peanut butter/nut or seed butter can be smooth or crunchy!
AVOCADO
You may be raising your eyes by seeing avocado, but trust me, you won't be able to taste it. It adds a richness and creaminess to the smoothie and healthy fats.
KETO SWEETENERS
As this smoothie is fruit-free, you will need to add some sweetness to it.
I opt for several drops of liquid stevia, as it doesn't add any volume to change the texture at all.
You can use a keto approved syrup, but you will need to cut back on the milk and/or reduce the ice.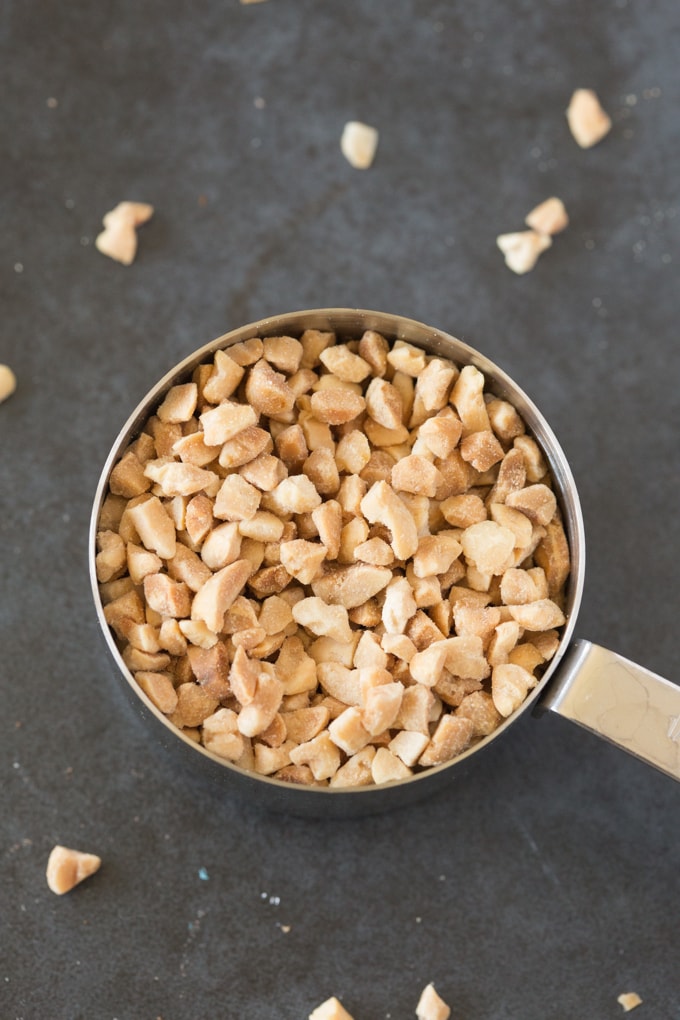 KETO POWDERED PEANUT BUTTER
My secret ingredient for achieving the ultra-rich peanut butter flavor AND giving the smoothie a protein boost- Powdered peanut butter.
Sometimes referred to as peanut flour, powdered peanut butter is simply defatted peanuts resulting in a powdered consistency. Once a liquid is added to it, it slowly thickens and can even be used as a low-fat peanut butter substitute.
Be sure the powdered peanut butter you use is unsweetened, as several brands tend to have added sugars to it.
ADDING PROTEIN POWDER
Adding protein to my smoothies and shakes has become second nature to me, but it is optional.
I tend to add 1 scoop of protein powder to the recipe, and it really keeps me satisfied and full. Bonus? It thickens the smoothie up even more!
TIPS AND TRICKS FOR THE PERFECT THICK AND CREAMY KETO SMOOTHIE
Ensure you use a good quality high-speed blender to ensure all the ingredients are fully incorporated. Alternatively, a food processor works just as well.
Any milk will work, but I prefer canned coconut milk, as it adds a creamier flavor and richness.
The recommended amount of peanut butter is just that- a recommendation. Please don't hesitate to increase it, as it will only make it taste better!
To reduce the fats or make this smoothie without avocado, you can omit it. To compensate, simply reduce the amount of milk and if it's not thick enough, add a handful of ice.
You can omit the sweeteners if you add protein powder which is pre-sweetened.
If keeping this smoothie peanut-free, omitting the powdered peanut butter is fine, especially if you sub it with almond flour. If you use neither, just start with the minimal amount of liquid and add ice as needed.
Using ice is optional, and not necessary. Provided you start with the minimum amount of milk, you can still ensure the texture is creamy and thick without it.
Whether you enjoy this keto chocolate peanut butter smoothie for breakfast or a filling snack between meals, you will be a huge fan- Especially as it tastes like a creamy milkshake!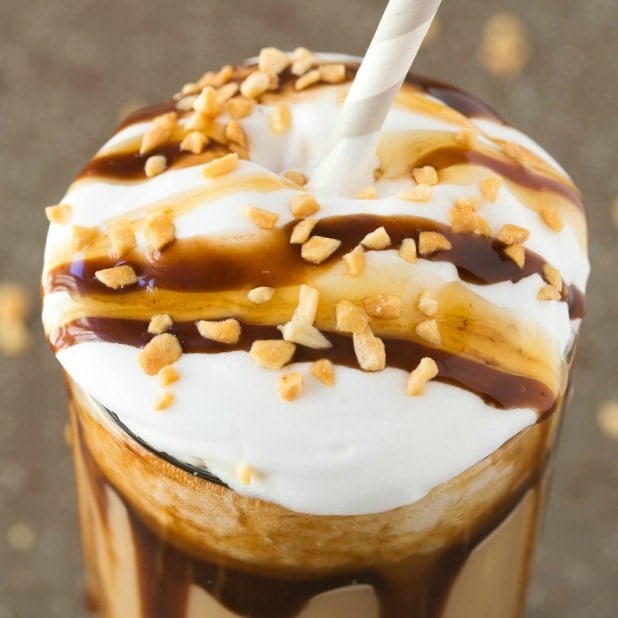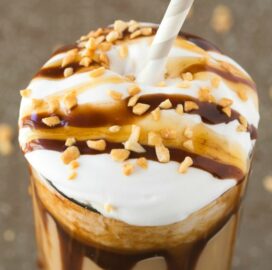 Keto Chocolate Peanut Butter Smoothie (Vegan, Paleo)
A healthy and filling keto chocolate peanut butter smoothie recipe which tastes like a milkshake! Loaded with peanut butter, peanut butter powder and avocado, this thick and creamy shake is low carb, sugar free and comes with a peanut free option! Paleo, Vegan, Gluten Free and Dairy Free.
Print
Pin
Rate
Instructions
In a high-speed blender or food processor, add all your ingredients, except the ice, and blend well.

If the smoothie is too thick, add enough milk to reach your desired consistency. If the smoothie is too thin, add some extra ice or powdered peanut butter.

Pour into a glass and enjoy!
Notes
* My liquid stevia is 5 drops per serving. Adjust to taste.
** Only add ice if you want your smoothie thicker. For a more milkshake-like consistency, add extra ice.
Keto Chocolate Peanut Butter Smoothie (Vegan, Paleo) should be enjoyed immediately, or within 3 hours of making it. I keep it in a cooler bottle to ensure it is consistently cold.
If you pre-make it to enjoy it later, give it a good stir before drinking, as it may have separated.
Nutrition
Serving:
1
Glass
|
Calories:
185
kcal
|
Carbohydrates:
6
g
|
Protein:
12
g
|
Fat:
14
g
|
Fiber:
4
g
|
Vitamin A:
150
IU
|
Vitamin C:
2.5
mg
|
Calcium:
20
mg
|
Iron:
2
mg
|
NET CARBS:
2
g