Brownie Batter Oatmeal Smoothie
This oatmeal smoothie recipe is a blend of old fashioned oats, cocoa powder, and milk, all mixed together to create a thick and creamy drink. The perfect high protein healthy breakfast or filling snack than just happens to be vegan and gluten free.
Smoothies are one of my favorite quick and easy breakfasts. I love whipping up a peanut butter smoothie, banana breakfast smoothie, and this oatmeal smoothie, especially when I want more staying power!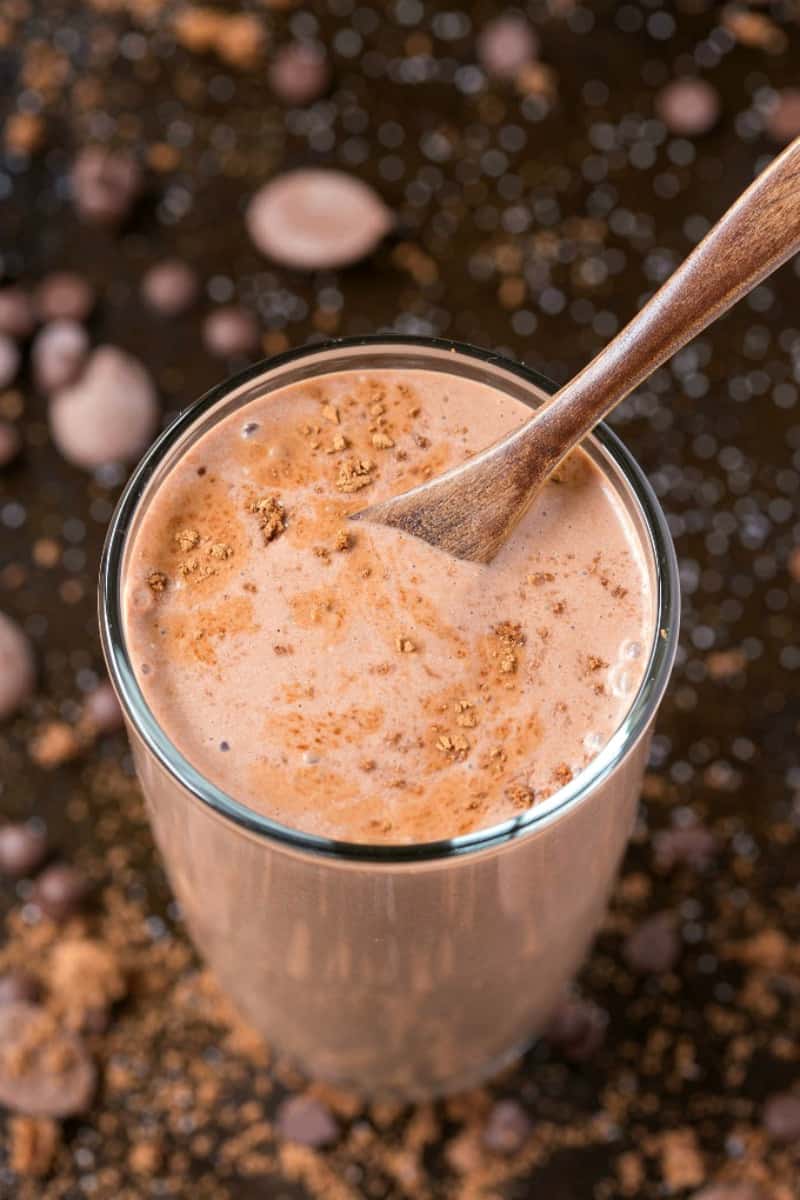 When your rushing in the mornings, there is nothing better than a filling smoothie to keep you going until lunch. As someone who can never skip breakfast, enjoying an oatmeal smoothie has been a game changer for me. All I need to do is add a handful of healthy ingredients into a blender and in just 30 seconds, I have my breakfast ready to be enjoyed!
Can you put oatmeal into a smoothie?
Ever enjoyed overnight oats? Well, oatmeal smoothies are essentially a thinner and drinkable version of them.
I used to always be someone who'd make smoothies with fruit, which would naturally thicken a smoothie. However, I wanted to make ones without a banana. It's not that I dislike bananas (hello banana bread and banana breakfast bars), it's just I found I would always be hungry 5 minutes later!
Adding oatmeal to my smoothie not only gave it a thickness that a frozen banana would, but it kept me full for HOURS. The added fiber and protein kept me going all morning, I'd sometimes forget it was lunchtime! You don't need to pre-cook the oats, so you can add them in their raw state!
Don't let the oatmeal fool you though- I promise you won't taste it. Besides, the added cocoa powder makes this smoothie taste and have the texture of brownie batter.
Now you DO have an excuse to have chocolate for breakfast, without the dairy or sugar!
How do you make an oatmeal smoothie?
The Ingredients
Rolled Oats– Also known as old fashioned oats, these give the smoothie added thickness, without the need for any banana. It also makes the smoothie EXTRA filling and hearty. Be sure to use gluten free oats, if needed.
Cocoa Powder– Adds some chocolate flavor, which is always welcome in the mornings. For a richer flavor, use dark or black cocoa powder.
Protein Powder- Optional, but highly recommended if you'd like more staying power and extra chocolate flavor.
Sweetener of choice– You can use either a granulated sweetener (like erythritol or coconut sugar) or a sticky sweetener (like maple syrup or agave nectar). Add as little or as much as you'd like.
Chia seeds– Optional, but gives both an extra boost of fiber and nutrients, and added thickness.
Peanut Butter or alternative– A spoonful or two of peanut butter or almond butter gives the smoothie a fabulous flavor and texture. Keep it nut free by using sunflower seed butter or tahini.
Milk of choice– To mix it all around! I used unsweetened vanilla almond milk, as I love the subtle vanilla flavor. The amount of milk is open ended, depending on your smoothie thickness preference.
The Instructions
Simply add all your ingredients into a high speed blender and blend well, until your desired texture is achieved. Give it a quick taste and add more sweetness, if desired.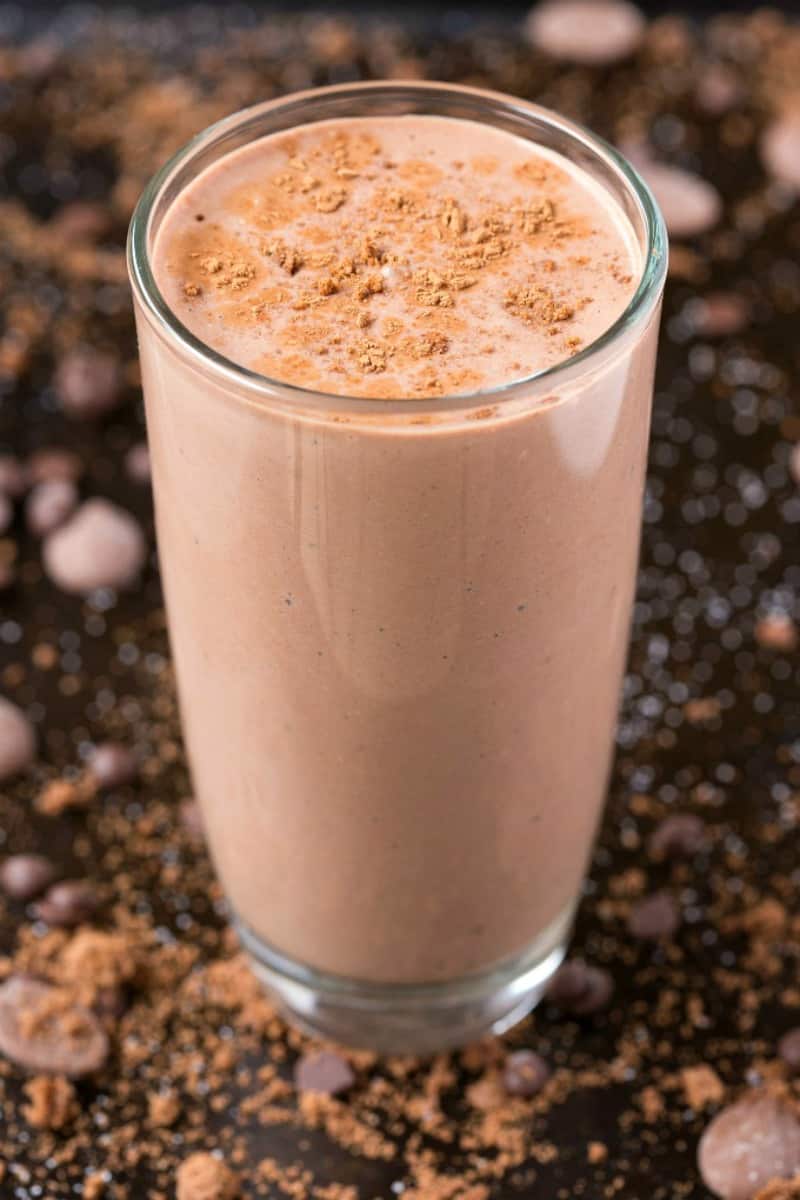 Tips to make the best oatmeal smoothie
Oatmeal smoothies are incredibly forgiving. If your smoothie is too thick, continue to add more milk (or water) until your preferred texture.
For ultra-thick smoothies, you can add some ice.
If you'd like a richer flavor, use canned coconut milk instead of the carton variety.
You can also use quick cooking oats if you don't have rolled oats. I prefer the rolled kind as they have more staying power.
Oatmeal Smoothie Flavor Variations
Peanut Butter Banana Oatmeal Smoothie– Reduce the milk by half, use peanut butter, and add 1 frozen banana.
Strawberry Oatmeal Smoothie– Omit the cocoa powder and add 1/2-1 cup of frozen strawberries. Add more milk as needed.
Overnight Oatmeal Smoothie– Add all the ingredients into the blender the night before. The next morning, add an extra 1/2 cup of milk and blend until combined.
Protein Oatmeal Smoothie– Add both protein powder and either Greek yogurt or cottage cheese. You won't taste it at all, I promise!
Oatmeal Shake– Use instant oats and increase the milk by 1/2 cup. It will have the consistency of a milkshake!
Storing and Freezing Smoothies
To store: Sometimes I make a double batch of my oat smoothie recipe and store the second in the refrigerator, to enjoy as an afternoon snack. If you intend to consume the smoothie on the same day, it will keep well for under 24 hours there. If you store it longer, you will need to re-blend it before consuming it. Refrigerated smoothies will keep for up to 5 days.
To freeze: As part of my weekly meal prep, I portion out a single oat smoothie serving and freeze it to have later in the week. The night before I plan to have it for breakfast, I let it the smoothie block thaw at room temperature, and in the morning, I re-blend it. Frozen oatmeal smoothie blocks freeze well for up to 1 month.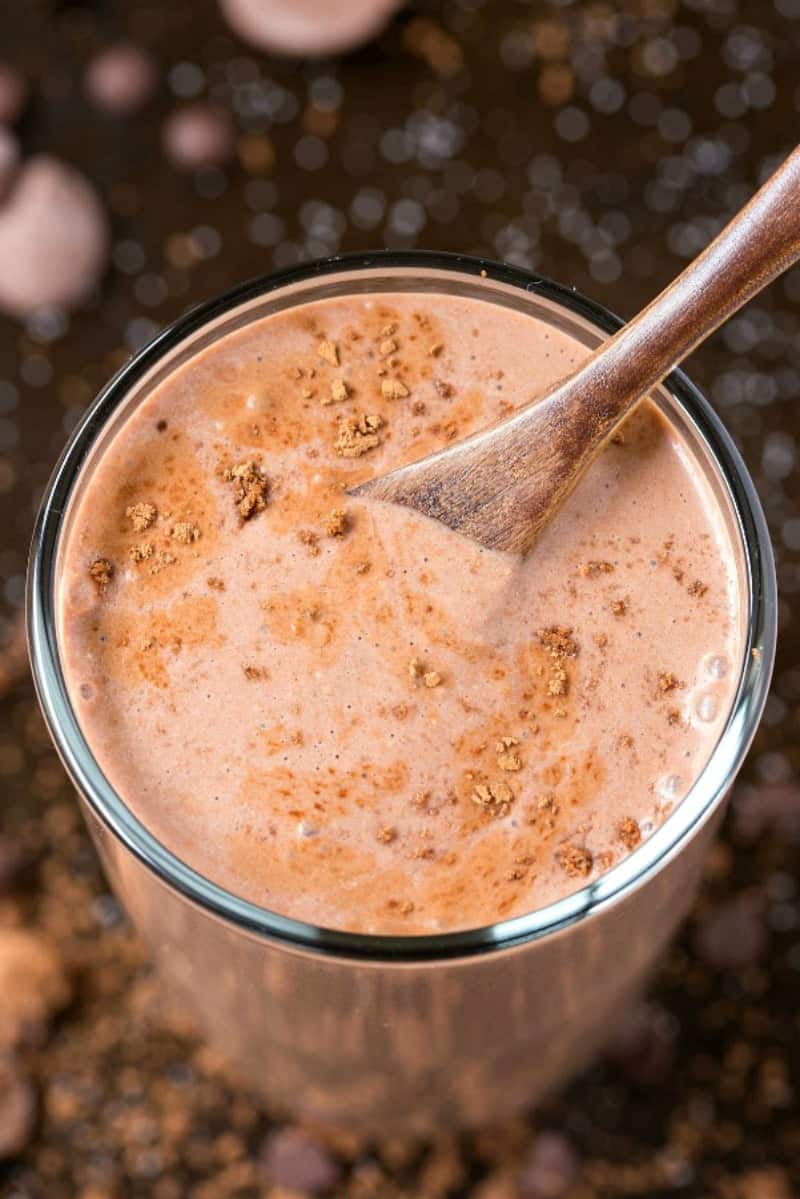 More Healthy Breakfast Recipes
Watch how to make it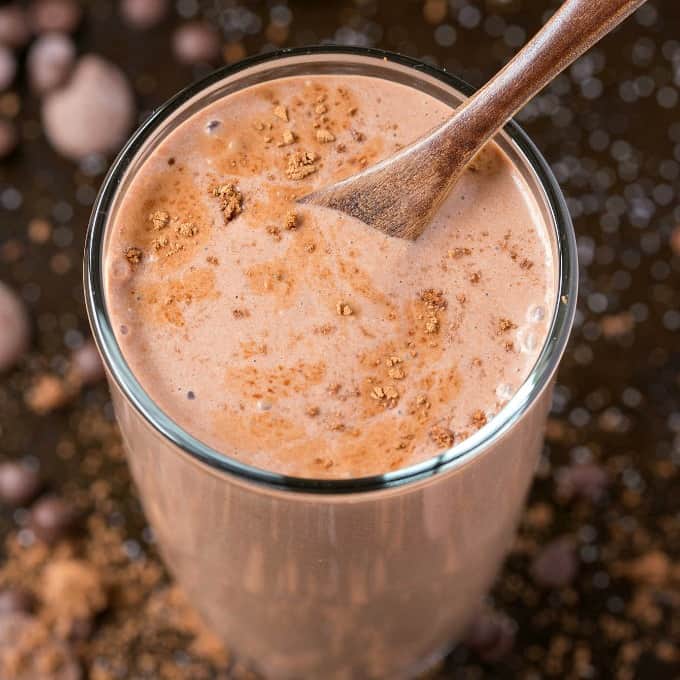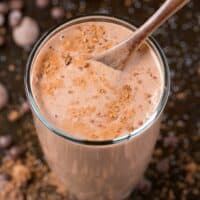 Brownie Oatmeal Smoothie
A thick and creamy oatmeal smoothie which has the taste and texture of real brownie batter! This quick and easy protein packed smoothie is perfect for breakfast, snack or post workout shake! Vegan, gluten free, and dairy free.
Print
Rate
Instructions
Add all your ingredients in a high-speed blender and blend until desired consistency. If too thick, add more milk.

Transfer to a glass and enjoy.
Notes
For a more filling and thicker smoothie, feel free to add a frozen banana or frozen berries.
* I used monk fruit sweetener. You can also use maple syrup or agave or coconut sugar.
TO STORE: If you store the smoothie in the refrigerator, for more than 1 day (24 hours), you will need to re-blend it before enjoying it. Refrigerated smoothies will refrigerate well for up to 5 days.
TO FREEZE: Place smoothie in a small container and store in the freezer. Thaw smoothie block at room temperature, before re-blending. It will freeze for up to 1 month.
Key Recipe Equipment and Ingredients
Nutrition
Serving:
1
serving
|
Calories:
138
kcal
|
Carbohydrates:
18
g
|
Protein:
12
g
|
Fat:
3
g
|
Sodium:
185
mg
|
Potassium:
188
mg
|
Fiber:
5
g
|
Calcium:
224
mg
|
Iron:
1
mg
|
NET CARBS:
13
g