This easy air fryer bacon recipe is quick, hands-off, and yields perfectly cooked and crispy bacon every time.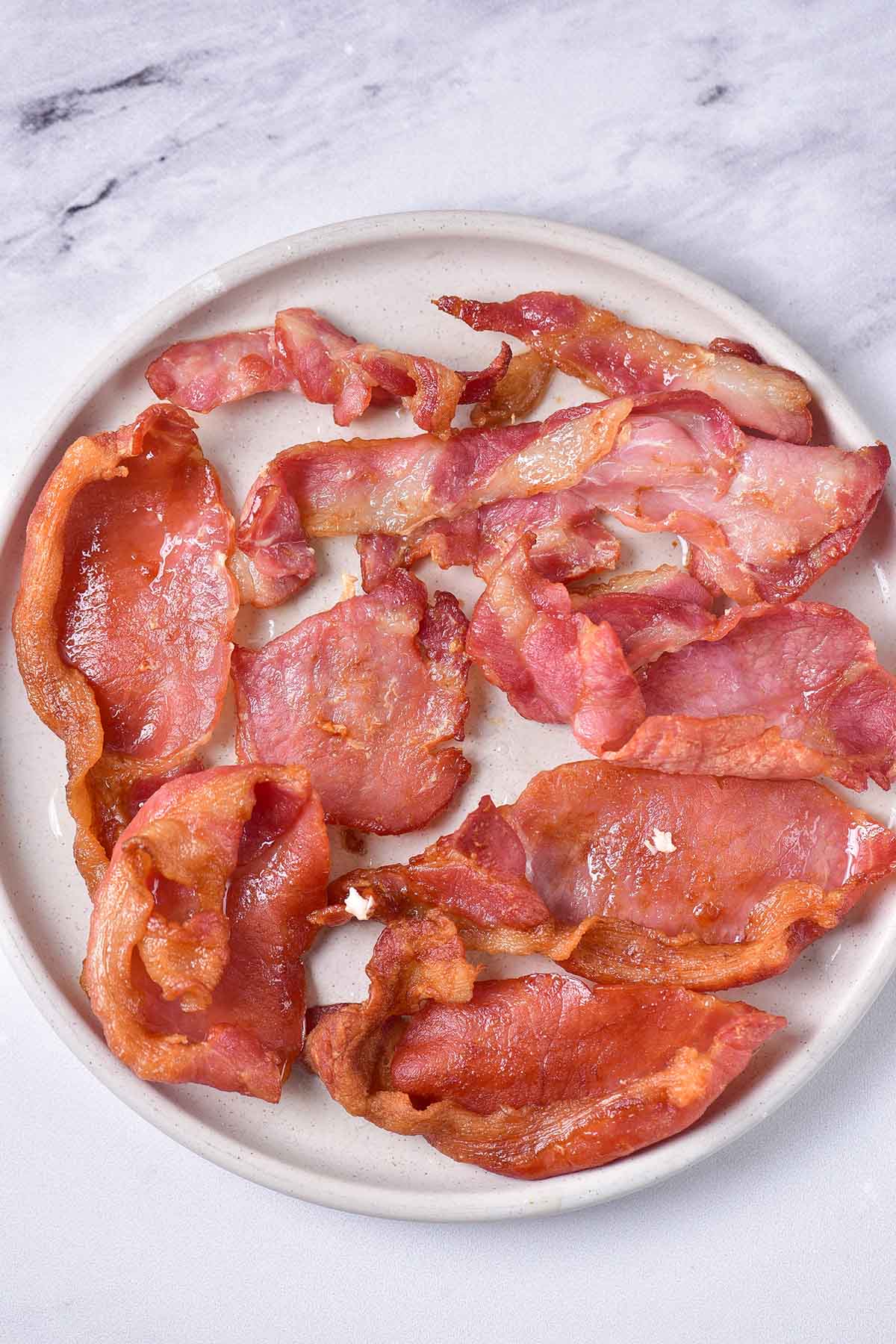 We are a family of bacon lovers, but cooking it up is another story. Making bacon in the air fryer has been an absolute game-changer!
No more greasy stovetops and an unwanted sheen to my kitchen counters- cooking bacon in this magical gadget that has proven we CAN, and we WILL enjoy splatter-proof bacon. And the best part? It results in a perfectly cooked treat for breakfast every time.
Table of Contents
Why this recipe works
It's quick and easy. All you need to do is preheat the air fryer, arrange the bacon in the basket, and wait for it to give you succulent, crispy bacon in 10 minutes or less.
Mess-free. Unlike frying in a skillet, the air fryer confines the excess oil, which is much easier to clean than grease splattered all over your kitchen.
Perfect texture. I'm sorry, but I'd still be happy for all the stovetop mess if the bacon isn't crispy. Luckily, the air fryer guarantees extra crispy and meaty bacon every time.
A healthier method. The excess oil drips off the bacon as it cooks, yielding less greasy bacon slices without compromising taste and texture.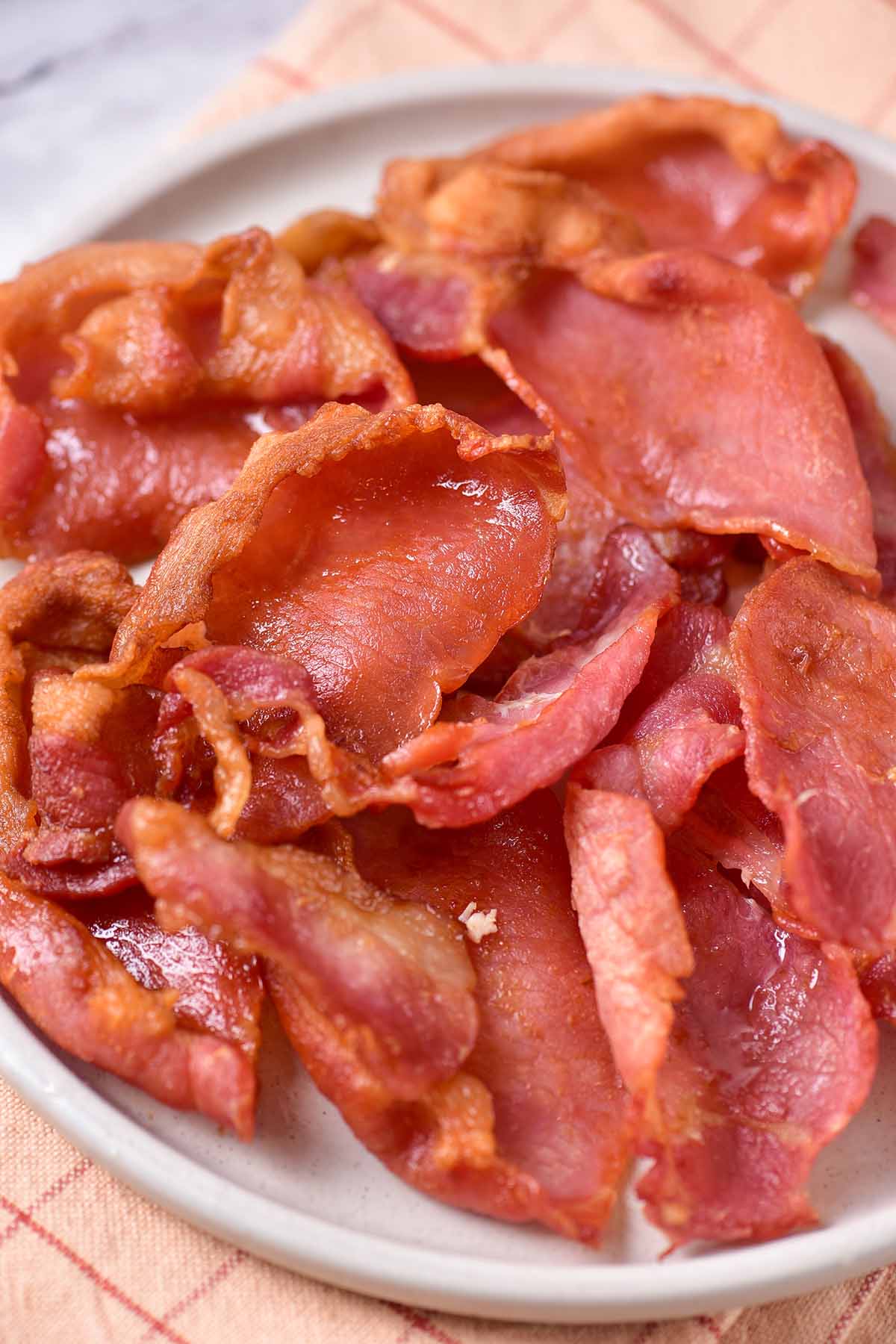 Ingredients needed
This straightforward recipe requires only one ingredient: BACON. Here is what to look for when you get to the store:
Thick-cut bacon. I highly recommend using fresh, thick-cut bacon that's evenly marbled with fat for the best results. Of course, any bacon will work and check below for some ideas and cooking times to match.
How to cook bacon in an air fryer
Air fried bacon is so easy: just remember to cook the bacon in batches if you can't fit all the slices in comfortably.
Preheat the air fryer: Preheat your air fryer to 400°F (200°C) to help the bacon sizzle as soon it hits the basket.
Add the bacon: Carefully place the bacon slices in a single layer in the air fryer basket.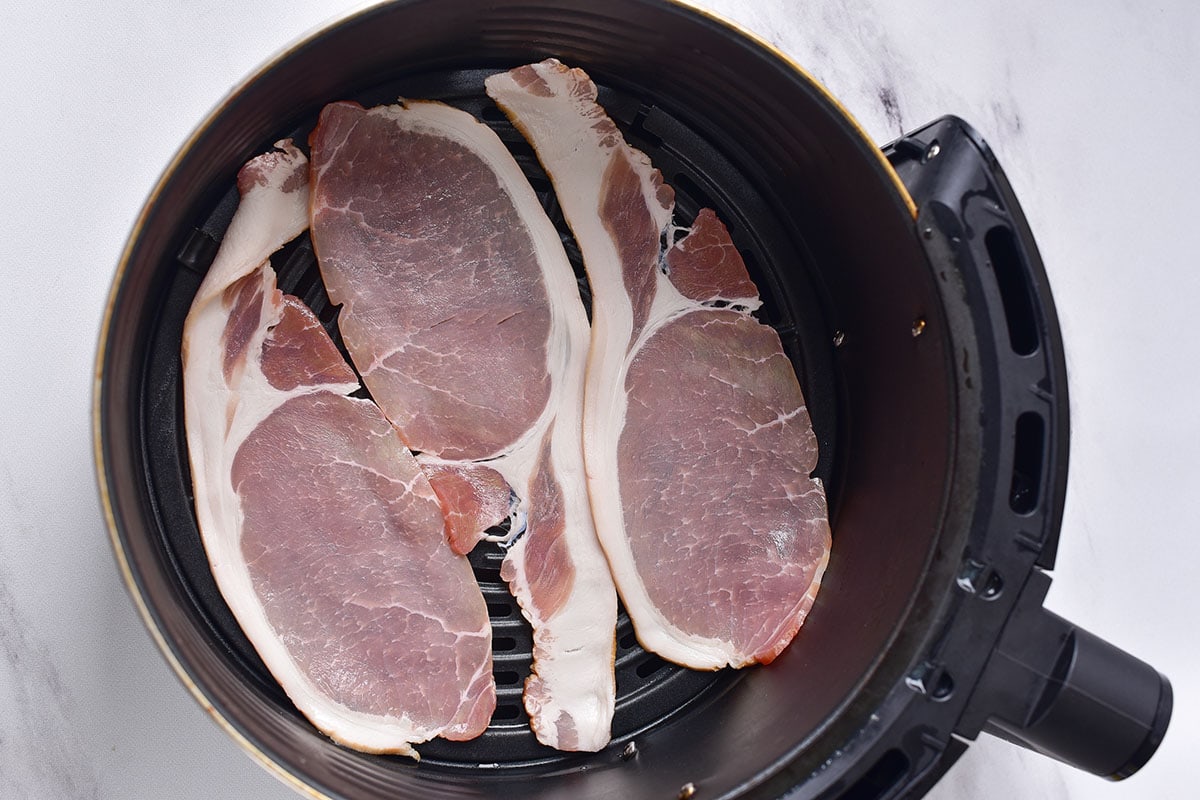 Air fry: Cook the bacon in the air fryer until it's as crispy as you like.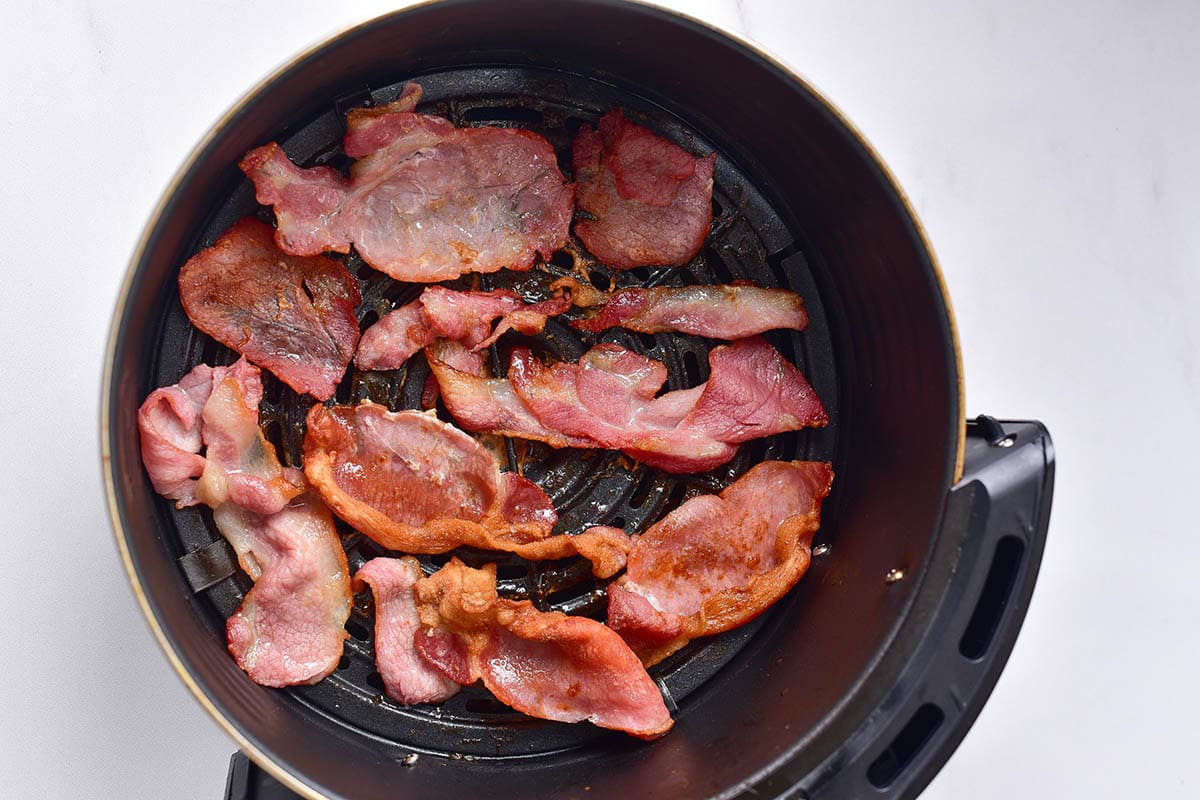 Drain, then serve: Transfer the cooked bacon to a paper towel-lined plate to drain. Afterward, serve and enjoy!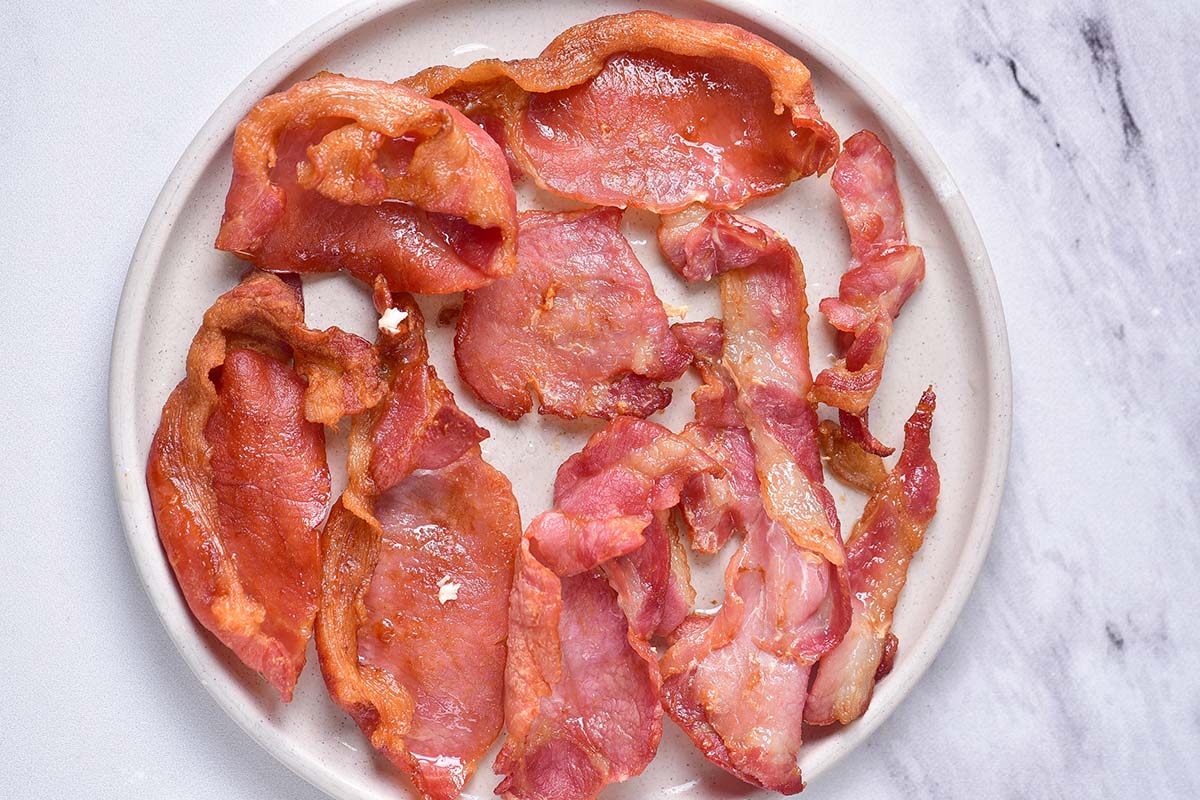 Recommended cooking times
The time it takes to air fry bacon at 400°F (200°C) will vary depending on the type of bacon you use and also the make and model of your gadget. I tested this both in my Phillips XXL Air Fryer and the Ninja Air fryer and had identical results. Use these cooking times to find your perfect level of doneness:
Regular-cut bacon: 5 to 6 minutes
Thick-cut bacon (recommended): 6 to 7 minutes
Canadian bacon: 5 to 6 minutes
Turkey bacon: 4 to 5 minutes *at 350°F (180°C)
Remember you can always increase the cooking time if you want extra crispy air fryer bacon.
Tips to make the best recipe
Cook in a single layer: This allows the hot air to circulate around each slice evenly, leaving you with crispy, never-soggy bacon. If we're making a larger serving, I like to cook them in batches and keep the cooked bacon warm in a preheated oven.
Watch it carefully: Keep an eye on the bacon as it cooks, and remember to flip it halfway through the cook time! This way, the bacon browns evenly and reaches your desired level of doneness.
Use air fryer liners: While the bacon won't get as crispy, using air fryer liners or parchment paper will catch all the grease, which means no washing up!
Storage instructions
To store: Store the leftover cooked and cooled bacon in an airtight container in the refrigerator for 4 to 5 days.
To freeze: You can freeze the cooked bacon in freezer-safe bags for up to 1 month. Thaw in the fridge before reheating.
To reheat: Reheat the bacon in a skillet over low-medium heat or the air fryer at 350ºF until warm and crispy.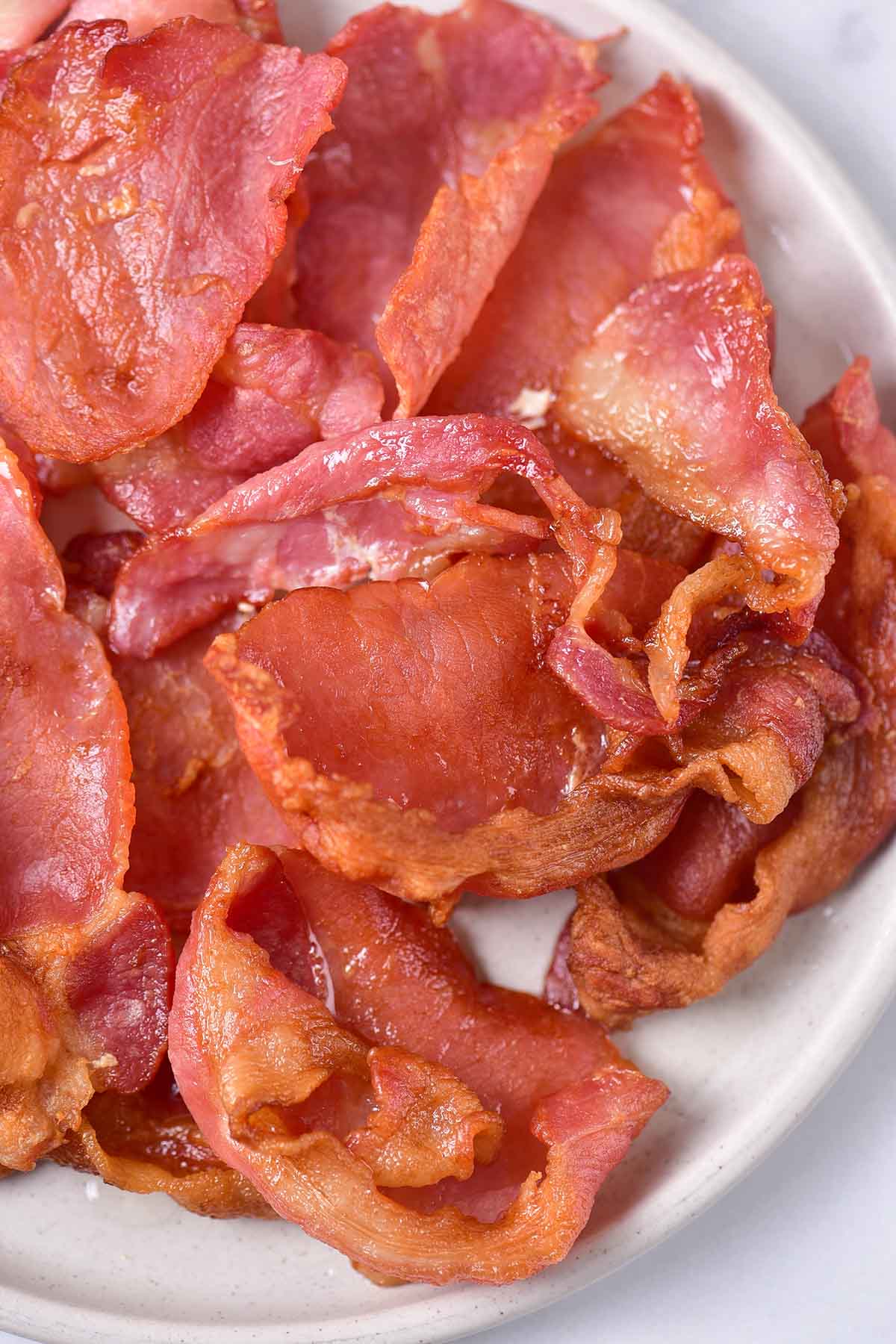 More air fryer breakfast recipes
Frequently asked questions
Can you cook frozen bacon in the air fryer?
Yes! To do so, place the frozen bacon in the air fryer and cook at 350°F until it's defrosted enough for you to separate the slices. Arrange the thawed slices in a single layer and air fry at 400°F to your desired level of crispiness (flipping halfway through).
Why didn't my bacon get crispy?
Overcrowding the bacon slices in the air fryer likely prevented them from getting crispy. Always cook the slices in a single layer (do so in batches if needed), and check out the recommended cooking time above to help you make perfectly crispy bacon.
Should you put water in the bottom of the air fryer when cooking bacon?
Some air fryer bacon recipes recommend adding water to the bottom of the air fryer to minimize splatter and smoke. We don't find it to be a necessary step, as the water can actually do the opposite and cause splatter and smoke.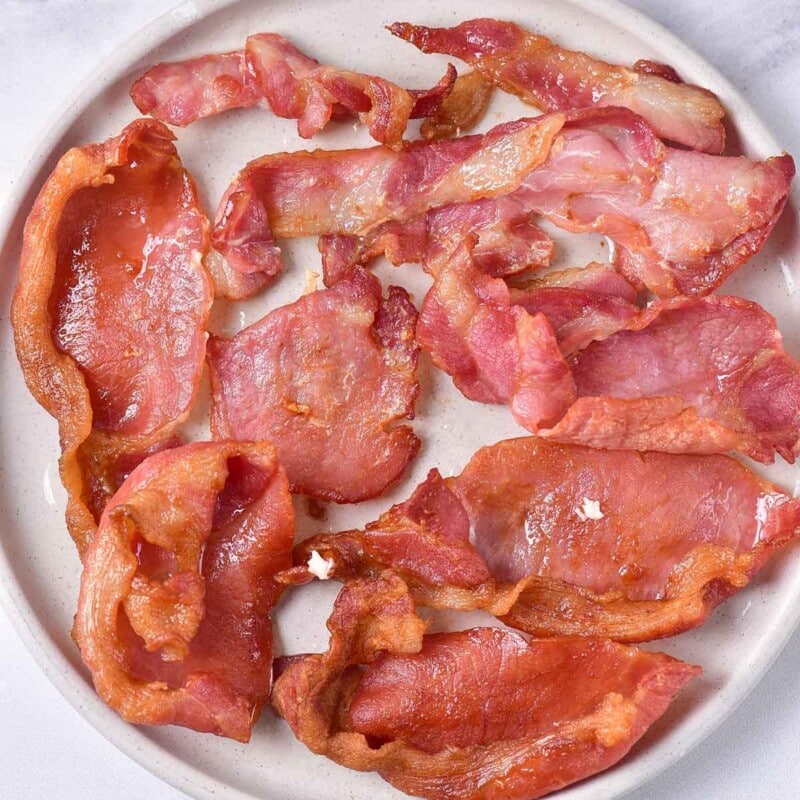 Crispy Air Fryer Bacon
Learn how to cook bacon in the air fryer! This easy air fryer bacon recipe is quick, hands-off, and yields perfectly cooked and crispy bacon every time.
Instructions
Preheat your air fryer to 400°F (200°C) for 5 minutes.

Place the bacon slices in a single layer in the air fryer basket.

Air fry the bacon for 6-7 minutes, depending on the level of crispiness you want.

Remove the bacon from the air fryer basket and serve immediately.
Nutrition
Serving:
1
serving
Calories:
150
kcal
Carbohydrates:
0.5
g
Protein:
5
g
Fat:
14
g
Sodium:
238
mg
Potassium:
71
mg
Vitamin A:
13
IU
Calcium:
2
mg
Iron:
0.1
mg
NET CARBS:
1
g
Disclosure: This post may contain affiliate links. I may earn a small commission for my endorsement, recommendation, testimonial, and/or link to any products or services from this website.