This keto yogurt is so smooth and creamy and made with just 2 ingredients! Less than 1 gram of carbs per serving and so easy to make.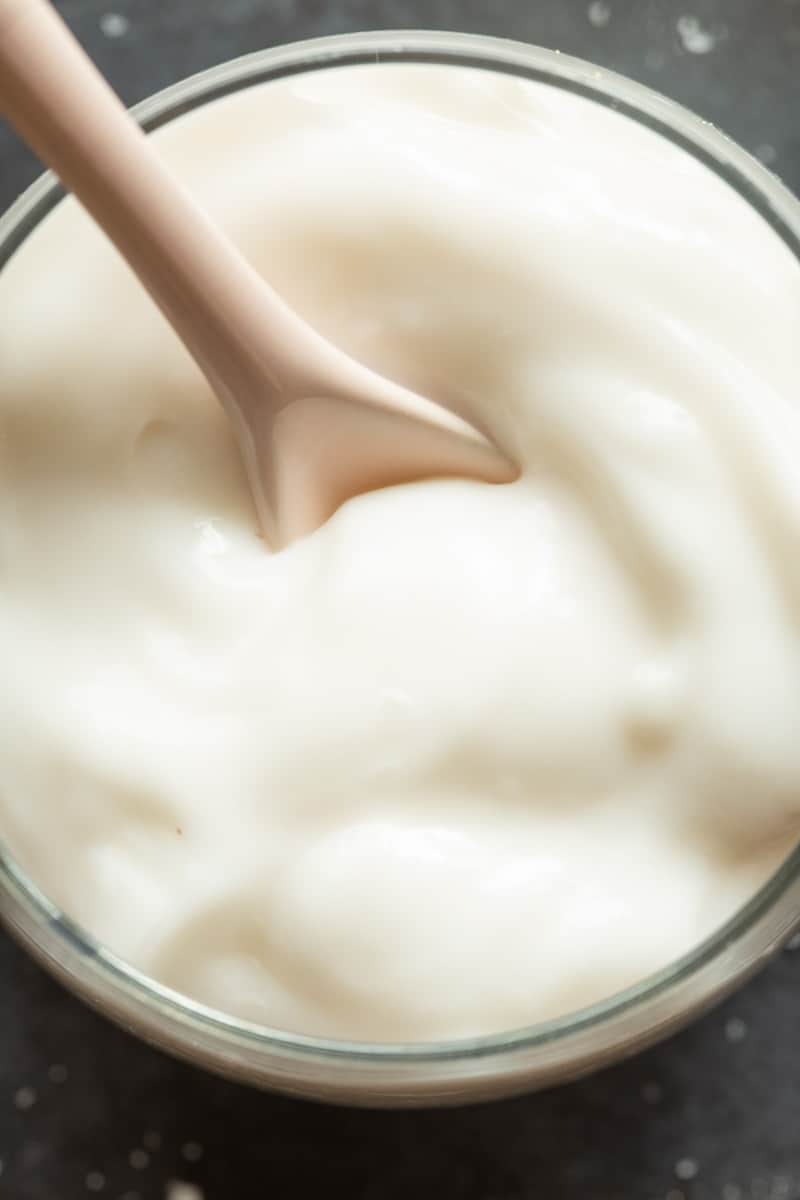 The Best Keto Yogurt
Just started a keto diet and not sure what basics to have on hand? I have you covered.
Throughout my keto journey, I regularly made a batch of keto staples to have on hand. These include keto maple syrup, homemade almond flour (to make pancakes and bread) and, of course, a big batch of yogurt.
Is yogurt keto?
There are several kinds of yogurt on the market that are keto friendly. Unfortunately, even if the yogurt is unsweetened and sugar free, it can still contain significant carbs, as the lactose converts to sugar.
The safest yogurt to buy is coconut milk based and that has no added sugar. However, they are ridiculously expensive and often hard to find! Luckily, you can easily make your own yogurt at home that is much more affordable.
We've been making homemade yogurt from scratch for years and honestly, it has saved us tons of money and it tastes better, too!
Why you'll love this keto yogurt recipe–
Just 2 ingredients. All you need is coconut milk and probiotic pills and Voila- you have instant yogurt!
No fancy kitchen gadgets to make. You'd think yogurt would require fancy ingredients to make but honestly, this is foolproof.
Low carb and low sugar. Not only is this yogurt low in carbs, but it is completely sugar free too.
Easy to customize. Not everyone is a fan of tart and unflavored yogurt. Luckily, this yogurt can be flavored with low carb fruit, flavor extracts, and more.
You guys, you'll never buy store-bought yogurt again. The texture is thick, smooth, and creamy, and can be even thicker if you want it to! It's tangy and tart and tastes exactly like any good yogurt!
Ingredients needed
You'll love the short and simple ingredient list to make this recipe. You'll find probiotic pills at any pharmacist and most grocery stores. Here is what you'll need:
Canned coconut milk– Use canned coconut milk with minimal additives or thickeners in them. It must be full fat and NOT from a carton!
Probiotic pills– You must use probiotic capsules, not pills. The capsules will be opened and the powder will be mixed in the yogurt. Ensure the probiotic pills do not contain any prebiotic in them, or else the yogurt will not turn out as required.
How do you make keto yogurt?
Making this recipe is quick, simple, and fuss free. The hard part is waiting for it to set but honestly, it is worth it!
Step 1- Combine ingredients
Start by shaking your coconut milk and transferring it into a glass mixing bowl. Whisk the coconut milk very well, until smooth and no clumps remain. Next, open the probiotic pills and pour them into the coconut milk. Gently mix together, until combined.
Step 2- Let the yogurt set
Now, place a cheesecloth or cloth napkin over the top of the glass bowl and use a rubber band to seal it into place. Let the yogurt sit at room temperature for 24-48 hours, for the yogurt to activate. Taste the yogurt after the time and if you'd prefer it to be more tart, cover it again and let it sit for a further 24 hours.
Step 3- Chill the yogurt
Finally, transfer the yogurt to the refrigerator for several hours, until chilled.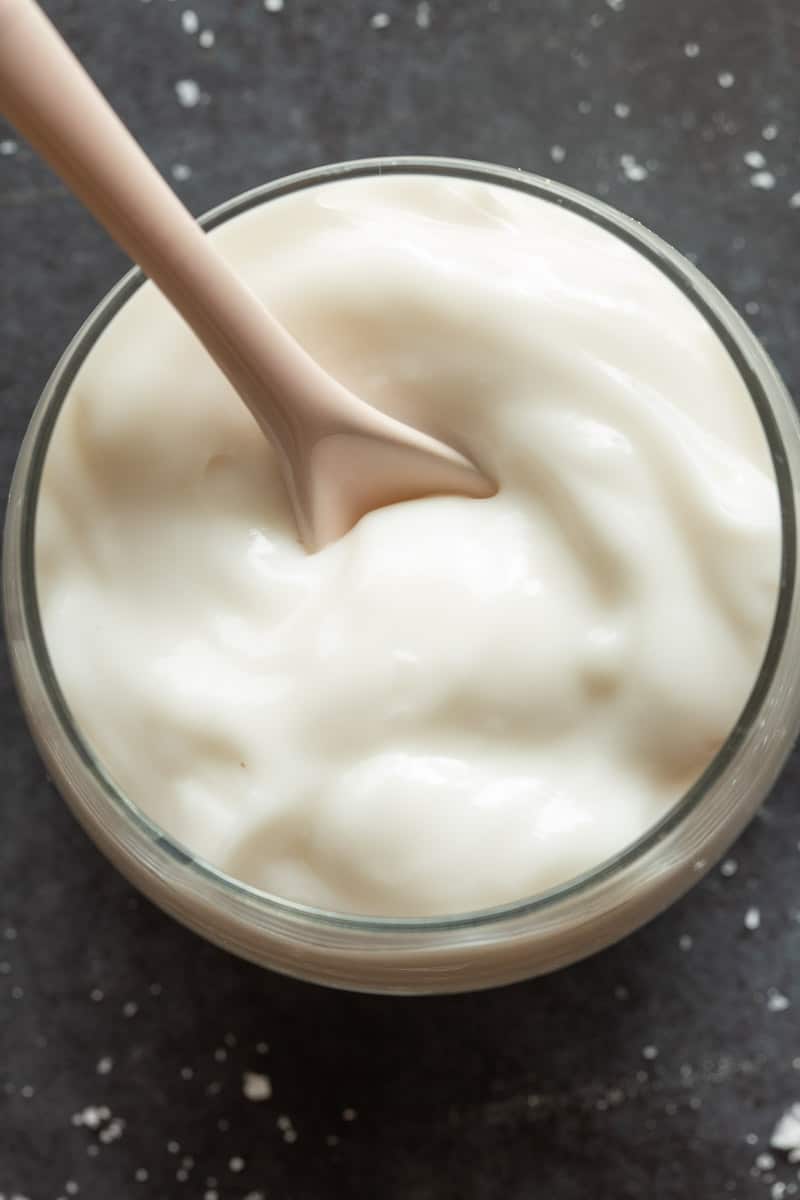 Tips to make the recipe
If the yogurt separates once it has set, simply mix it together until combined and smooth again. 
For an extra thicker texture, strain your yogurt through a fine-mesh strainer over a mixing bowl and refrigerate for 24 hours. The liquid will seep out and leave you with an extra thick and creamy yogurt.
Depending on how cool your house is, you may need to let your yogurt sit longer. If you live in a colder climate, aim for 72 hours (3 days) at minimum. 
For a sweeter yogurt, you can add 1-2 drops of liquid stevia or keto maple syrup before refrigerating it. 
Flavor variations
The beauty of this yogurt is just how easy it is to customize. Here are some ideas-
Add low carb berries. Blueberries, raspberries, strawberries, and blackberries all have low net carbs. Fold through either fresh or frozen fruit.
Fold through jam. My downfall, but I love adding a layer of sugar free jam to the bottom.
Add flavor extracts. Lemon, coconut, and even chocolate extracts all add lovely flavor to the yogurt without any calories or carbs.
What yogurt can I eat on keto?
There are quite a few keto approved yogurts out there. These four options are the best tasting and most affordable.
Fage total– The fat content varies between 0% (non fat) to whole milk (full fat). For those who are strictly keto, choose the whole milk versions because they have the least amount of carbs.
Chobani– Like Fage, Chobani has non-fat, low fat, and full fat options. Always choose the natural options as they have no added sugar.
Ratio– One of the best keto flavor options, try the strawberry which is a family favorite.
Siggi's– Perhaps the most delicious out of all yogurts, Siggi has several flavors that are keto friendly, including vanilla and coconut.
Storing and freezing instructions
To store: Yogurt should be stored in the refrigerator, covered, for up to 7 days.
To freeze: You can freeze the yogurt ONLY if it has been put through a fine mesh strain. Store it in a sealable container for up to 6 months.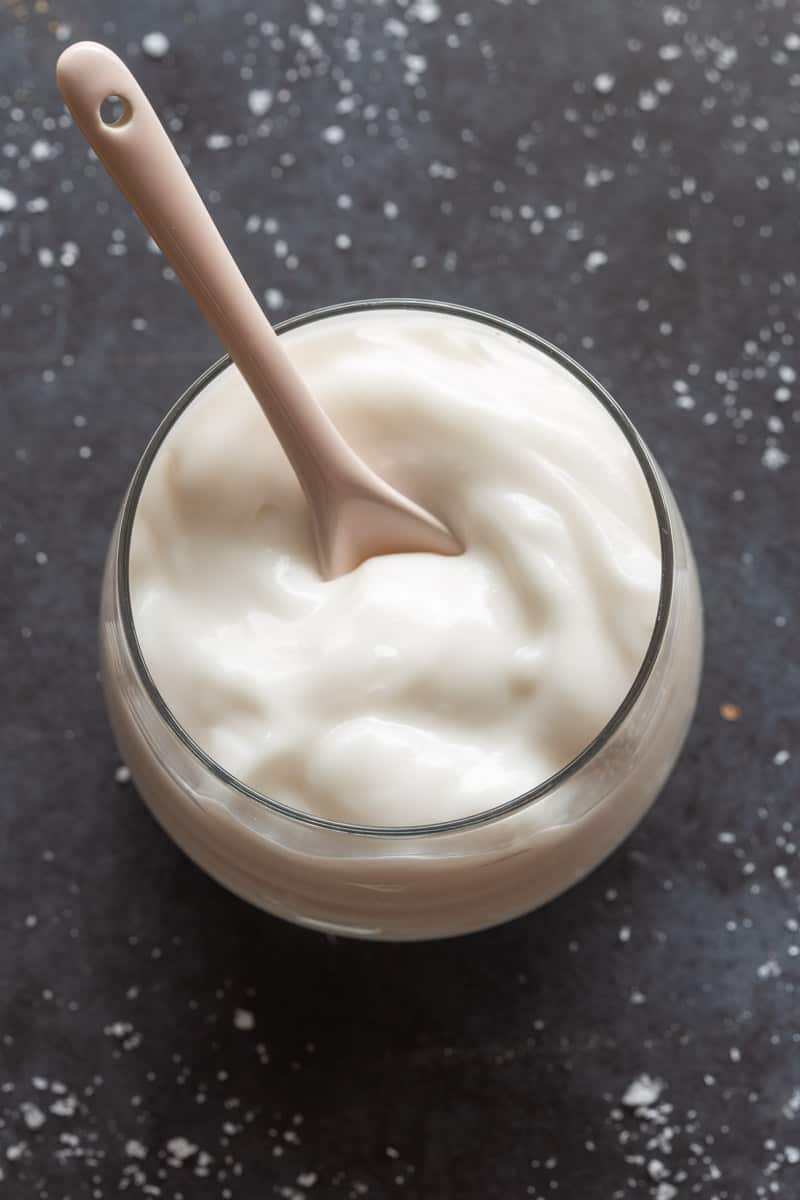 What to serve with yogurt
Like traditional yogurt, it's super versatile to add to your breakfasts and smoothies. Here are some ideas-
Frequently Asked Questions
Is Greek yogurt keto friendly?
Unsweetened and full fat Greek yogurt is suitable for low carb diets. The method of setting Greek yogurt omits plenty of the lactose which cuts down on the carbs.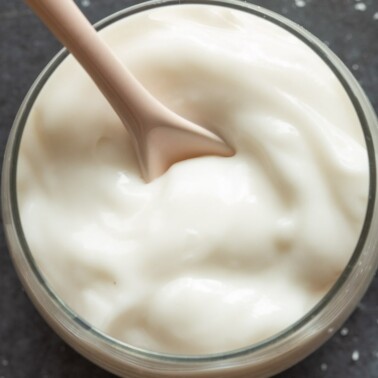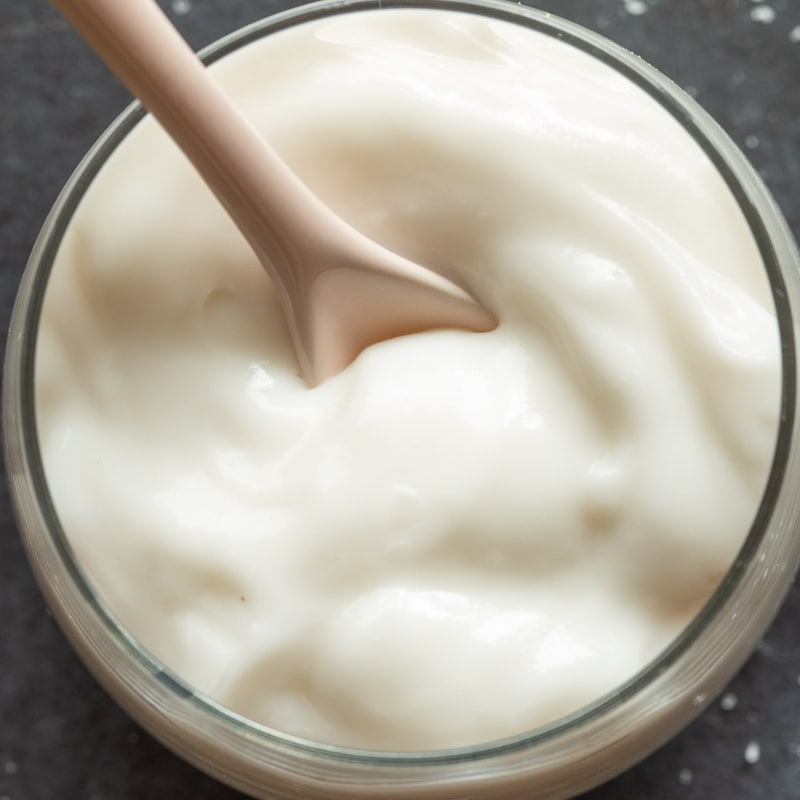 The Best Keto Yogurt Recipe | 2 Ingredients Only
This keto yogurt is so smooth and creamy and made with just 2 ingredients! Less than 1 gram of carbs per serving and so easy to make.
Ingredients
1

14 oz can

coconut milk

full fat

2

capsules

probiotics

* See notes
Instructions
Vigorously shake your coconut milk, before pouring it into a glass bowl. Whisk it very well, until smooth.

Open up your probiotic capsules and pour the contents into the coconut milk. Stir until smooth, before transferring to a glass jar or tube. Cover with a cheesecloth, using a rubber band to bind it.

Store the jar with the yogurt mixture in it at room temperature, or an area of your home which is warm. Keep it there for at least 24 hours, or up to 72 hours. Taste the yogurt and if it isn't tart enough, leave it out for a further 24 hours.

Once the yogurt is tart enough, place the jar in the refrigerator until chilled.
Notes
* You must use the capsules, not the pills.
TO STORE: Yogurt should be stored in the refrigerator, covered, for up to 7 days. It could last longer (depending on the brand you use), but smell it beforehand to make sure it is still edible.
TO FREEZE: You can freeze the yogurt ONLY if it has been put through a fine mesh strain. Store it in a sealable container for up to 6 months.
Barely adapted from Minimalist Baker's recipe.
Nutrition
Serving:
1
serving
Calories:
135
kcal
Carbohydrates:
2
g
Protein:
2
g
Fat:
13
g
Sodium:
1
mg
Potassium:
1
mg
Fiber:
1
g
Vitamin C:
1
mg
Calcium:
1
mg
Iron:
1
mg
NET CARBS:
1
g
Disclosure: This post may contain affiliate links. I may earn a small commission for my endorsement, recommendation, testimonial, and/or link to any products or services from this website.