This keto cereal is a low carb and grain free breakfast! Just like a classic cereal and milk combo, this low carb cereal is crunchy and perfect when covered in milk! 4 Ingredients and just 2 grams net carbs per serving.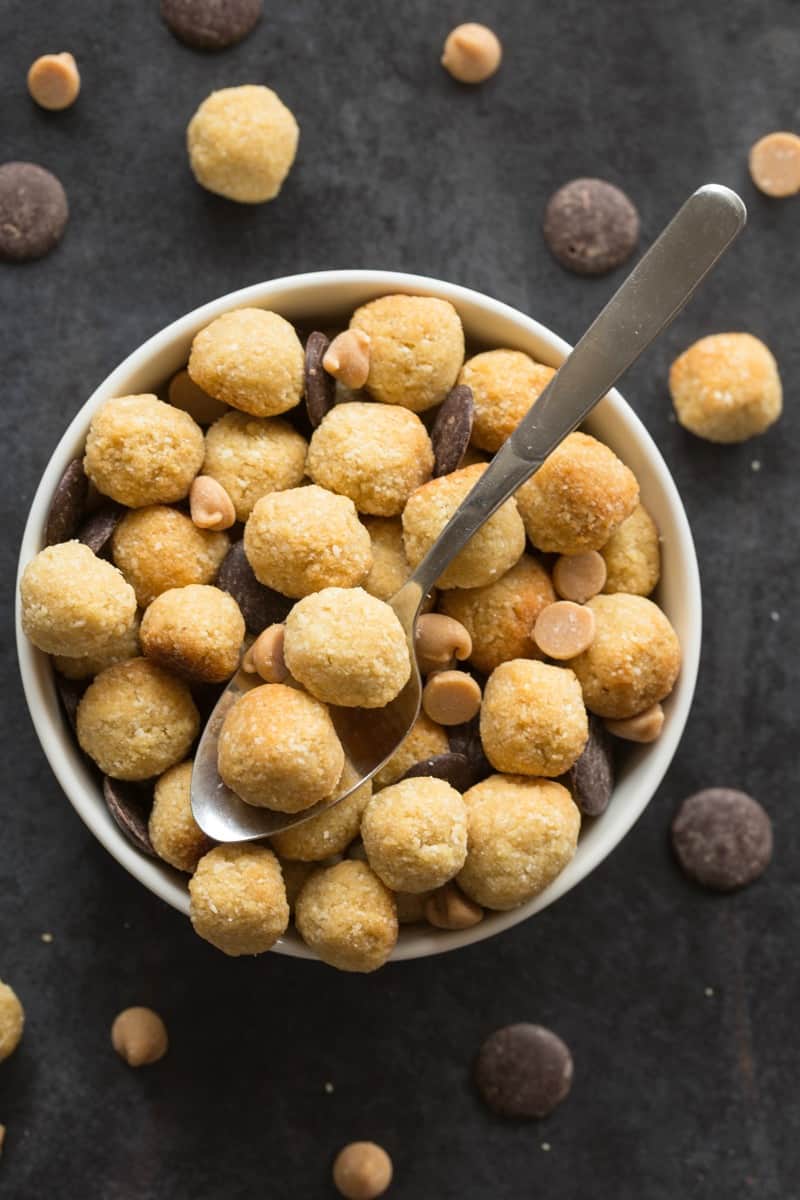 Low Carb Cereal
If you are anything like me, breakfast cereal has been the number one thing I've missed on a keto diet. While I do enjoy keto cinnamon rolls and keto blueberry muffins, nothing beats some keto cold breakfast cereal.
I grew up with the standard cereal and milk breakfast. From my early schooling days right through to college, nothing really changed (unless it was the weekend, and protein pancakes or blueberry pancakes would be on offer!).
Now, there are MANY keto cereal recipe ideas out there that claim to be cereal, but they are nothing more than keto granola. While granola IS delicious, to me, that is NOT the crunchy and delicious cereal we yearn for.
Until now.
My keto friendly cereal is just that. A crispy and crunchy texture that does NOT fall apart in milk, and tastes like a mix between rice crispies and cheerios…minus the carbs and sugar!
I'm not kidding when I say this is the best keto cereal recipe- even non-keto readers are OBSESSED with this new grain free cereal option!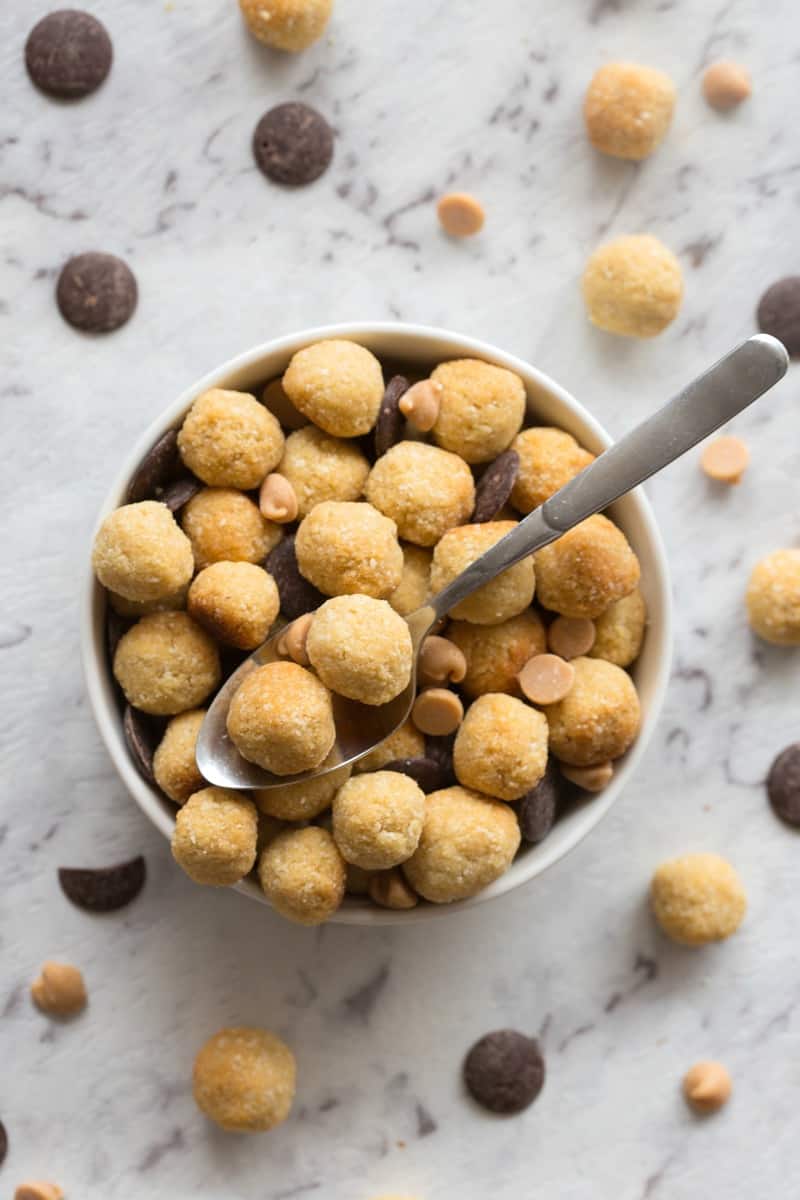 How to make keto cereal
Just 4 simple ingredients and 10 minutes are needed to make this recipe. It's so quick and easy to make, you can even make a smaller or larger batch, depending on how much you want to have on hand!
The Ingredients
Almond Flour– Try to use blanched almond flour, as it keeps the cereal light and crispy!
Coconut Flour– Works with the almond flour to achieve that crispy, while fluffy on the inside. Do not substitute this for other flours, otherwise, it will affect the overall recipe.
Sugar free maple syrup– To give the cereal some sweetness, while also helping hold the cereal balls together.
Coconut oil– Adds a buttery flavor, while also keeps the cereal intact, so it doesn't crumble and fall apart when added to milk. You want your coconut oil to be melted.
The Instructions
In a large mixing bowl, add your almond flour and coconut flour and mix well. Next, add your syrup and melted coconut oil and mix well, until a thick dough remains. Moving quickly, form tiny balls with the dough and place them on a lined baking sheet. Once all your dough has been used, bake the low carb cereal in the oven for 10-12 minutes. Remove from the oven and allow to cool completely.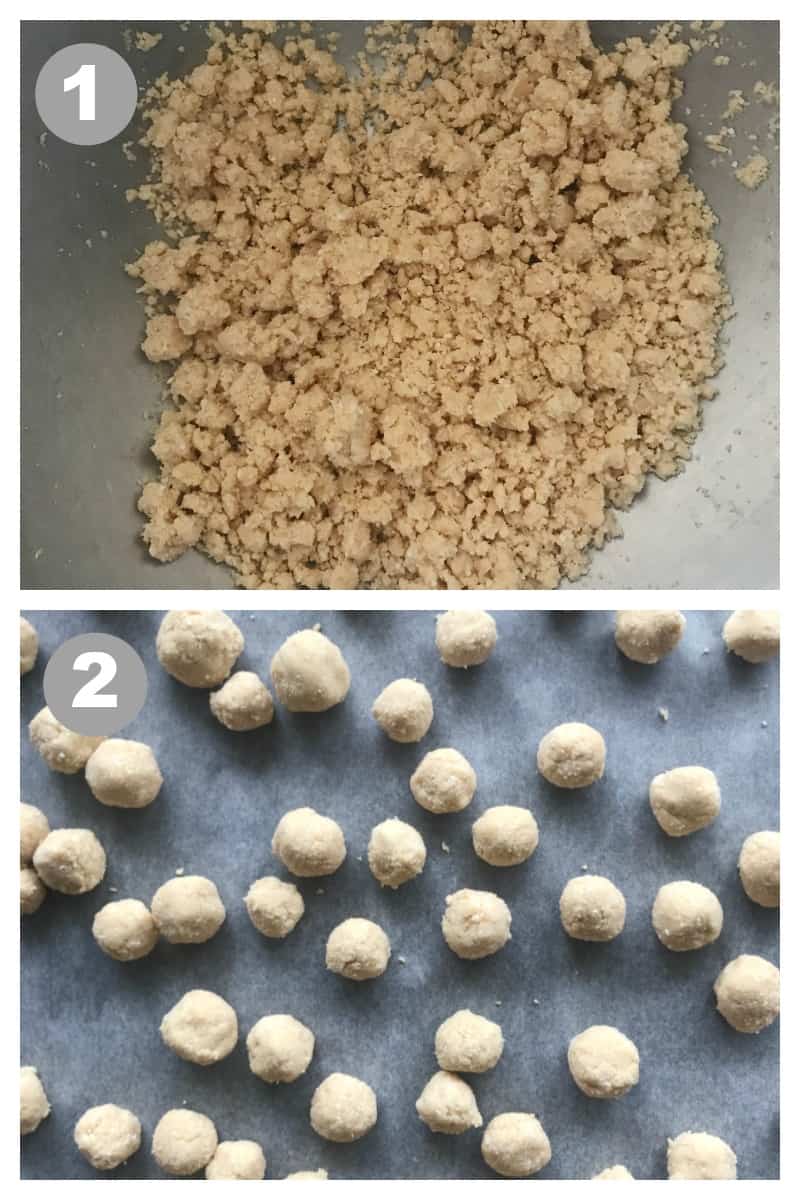 Tips for perfect keto cereal
Do not overbake the cereal at all- They are fragile and continue to cook as they cool down. If they begin to brown, they are already done. If they do happen to go golden brown, that is okay- your cereal will just be extra crispy!
This low carb cereal is designed to hold its shape when added to coconut milk, almond milk, or whatever milk you enjoy cereal with.
Don't worry if your cereal is all different shapes and sizes. As long as they are tiny pieces, that will be perfectly fine to still form cereal.
Can I make the cereal in the air fryer?
Instead of using the oven to make the keto cereal, use the air fryer!
Air fryer instructions: Prepare the cereal as instructed. Place them in the air fryer basket in a single layer. Bake for 6-7 minutes, and repeat until all the cereal has been baked!
Storing and Freezing Tips
To store: Cereal should always be stored in a sealable container, cereal container, or ziplock bag. It will remain fresh for at least a month, usually longer.
To freeze: Freeze extra portions of cereal in a ziplock bag, and store in the freezer for up to 6 months.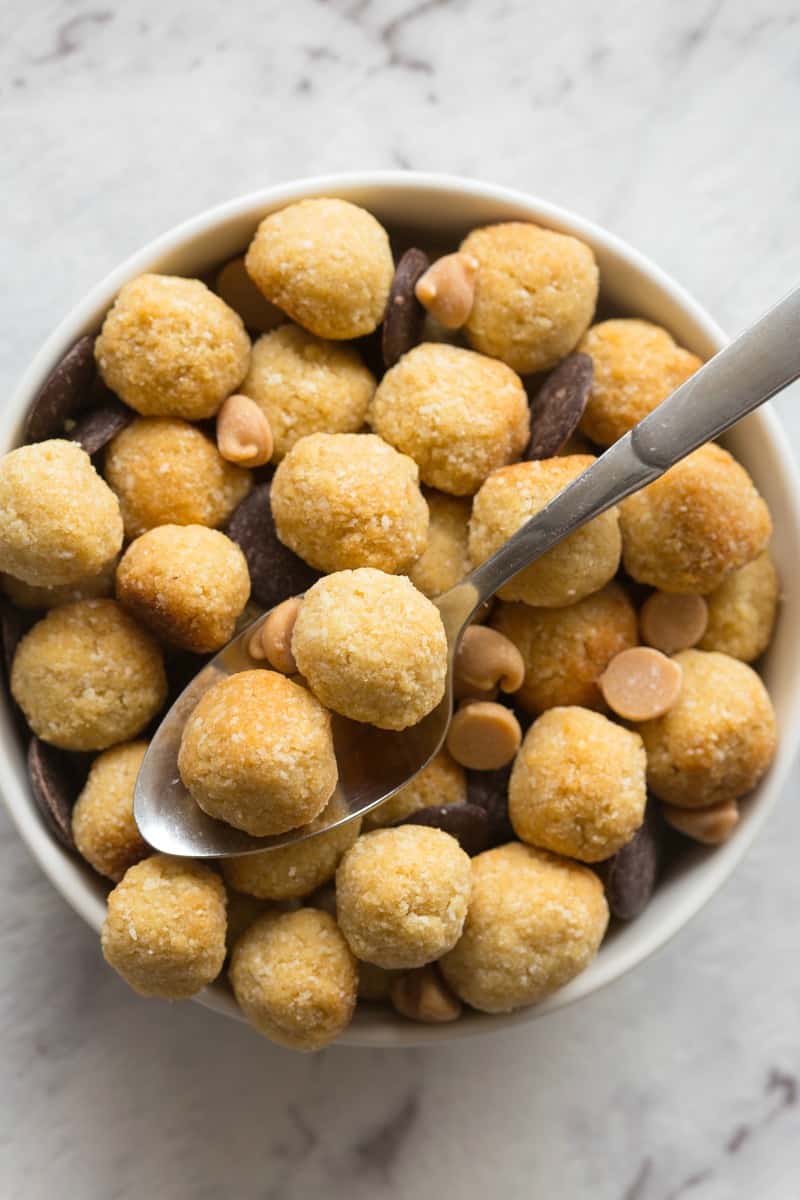 Best Keto Cereal Alternatives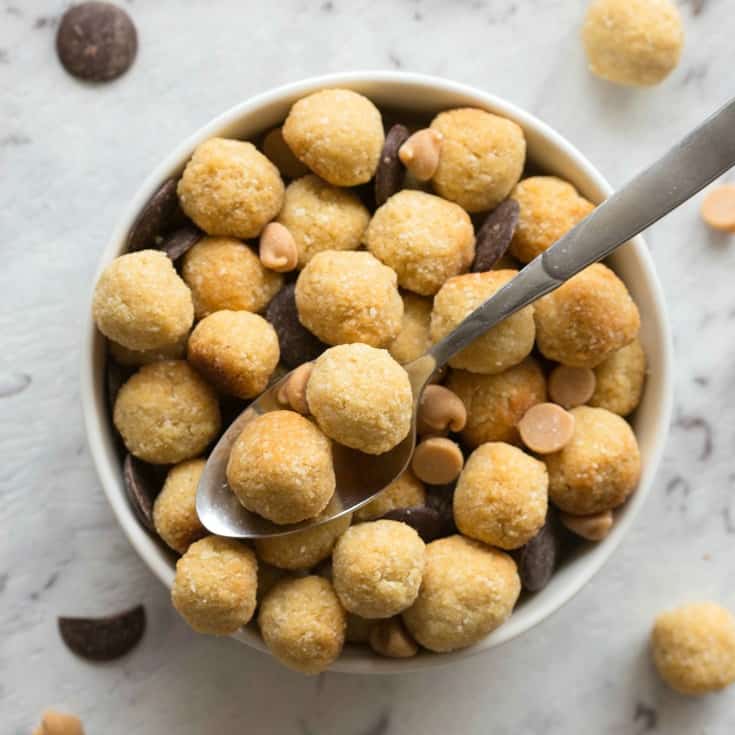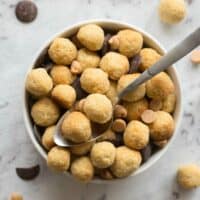 Keto Cereal
This keto cereal is the best keto cereal you will ever make- 4 ingredients and just 10 minutes! Crispy, crunchy and perfect for a cereal and milk breakfast, this low carb cereal is also vegan and gluten free!
Print
Rate
Instructions
Preheat the oven to 180C/350F. Line a baking sheet with parchment paper and set aside.

In a large mixing bowl, add your coconut flour and almond flour and mix well. Add your sugar free syrup and coconut oil and mix until a crumbly texture remains. Using your hands, form into a ball of dough.

Form tiny balls of dough (cereal sized) and place on the lined tray. Bake for 10-12 minutes.

Remove from the oven and let cool completely, before transferring to a sealable container.
Notes
Keep keto cereal stored in a cereal container or sealable container at all times.
Nutrition
Serving:
1
serving
|
Calories:
273
kcal
|
Carbohydrates:
6
g
|
Protein:
6
g
|
Fat:
34
g
|
Potassium:
3
mg
|
Fiber:
3
g
|
Vitamin A:
3
IU
|
Vitamin C:
3
mg
|
Calcium:
59
mg
|
Iron:
1
mg
|
NET CARBS:
3
g