Keto Cinnamon Rolls (No dairy or yeast!)
These are the BEST keto cinnamon rolls you will ever make! Made with almond flour and NO cheese, and drizzled with sugar free glaze. No yeast and perfect for breakfast or dessert! Grain free, gluten free, paleo, 2 grams net carbs.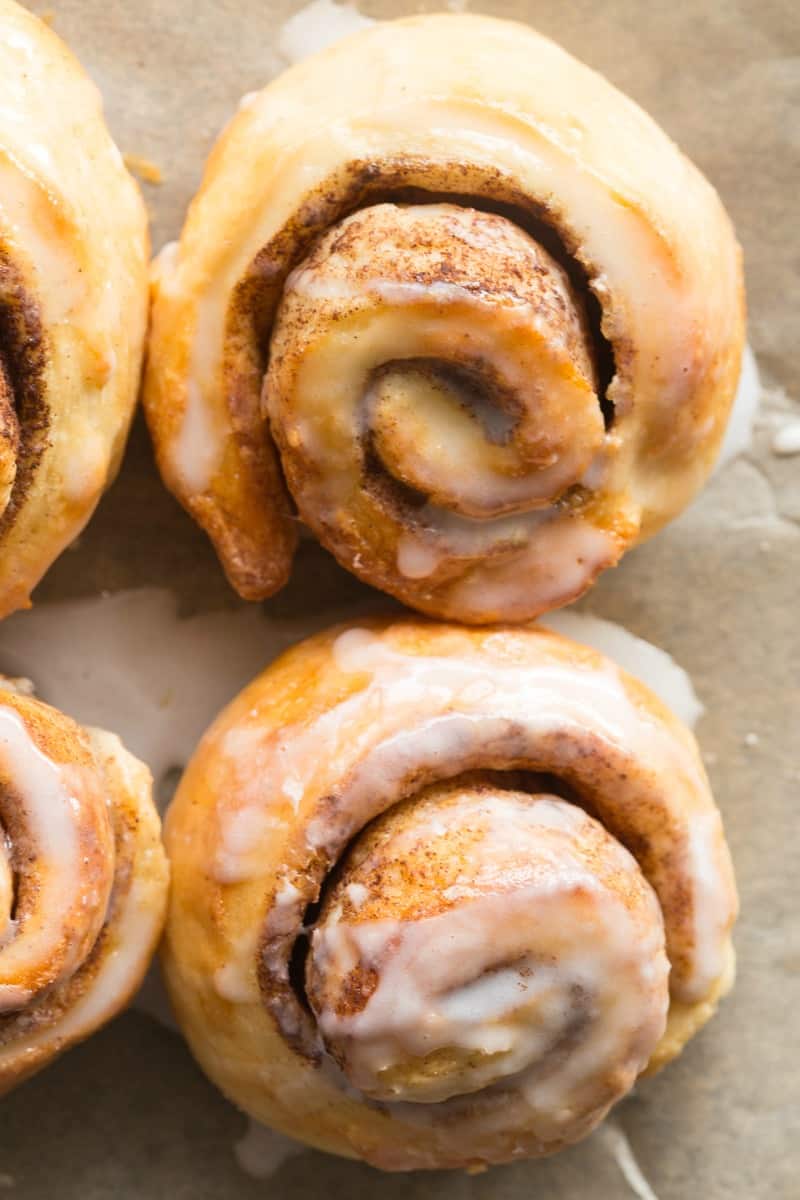 Low Carb Cinnamon Rolls
With all my keto desserts and easy dessert recipes here, I'm surprised it has taken me SO long to share a keto cinnamon rolls recipe!
I mean, we've had some twists of it- the keto cinnamon roll mug cake, cinnamon rolls made with 2 ingredient dough and of course, a cinnamon roll for one.
Now, making cinnamon rolls keto can have its challenges. See, you may have seen other keto cinnamon roll recipes that call for something called 'fathead dough' or 'fathead cinnamon rolls'.
Fathead dough uses a combination of cream cheese and shredded cheese to form a soft and fluffy dough that is low in carbs. Unfortunately, having a dairy allergy makes that a no-no.
Instead, my version uses almond flour, making delicious keto cinnamon rolls with no cheese!
Why make THIS low carb cinnamon roll recipe
These keto cinnamon rolls are dairy-free and need no yeast, making it an easy and simple recipe to make.
The texture of these keto cinnamon buns is incredible- A fall apart dough, light, and soft in the center, with a gooey cinnamon middle.
The taste is just like any good cinnamon roll- Full of cinnamon flavor, sweetness from the sugar free icing, and absolutely satisfying.
No one would know that these are a secretly dairy free keto recipe!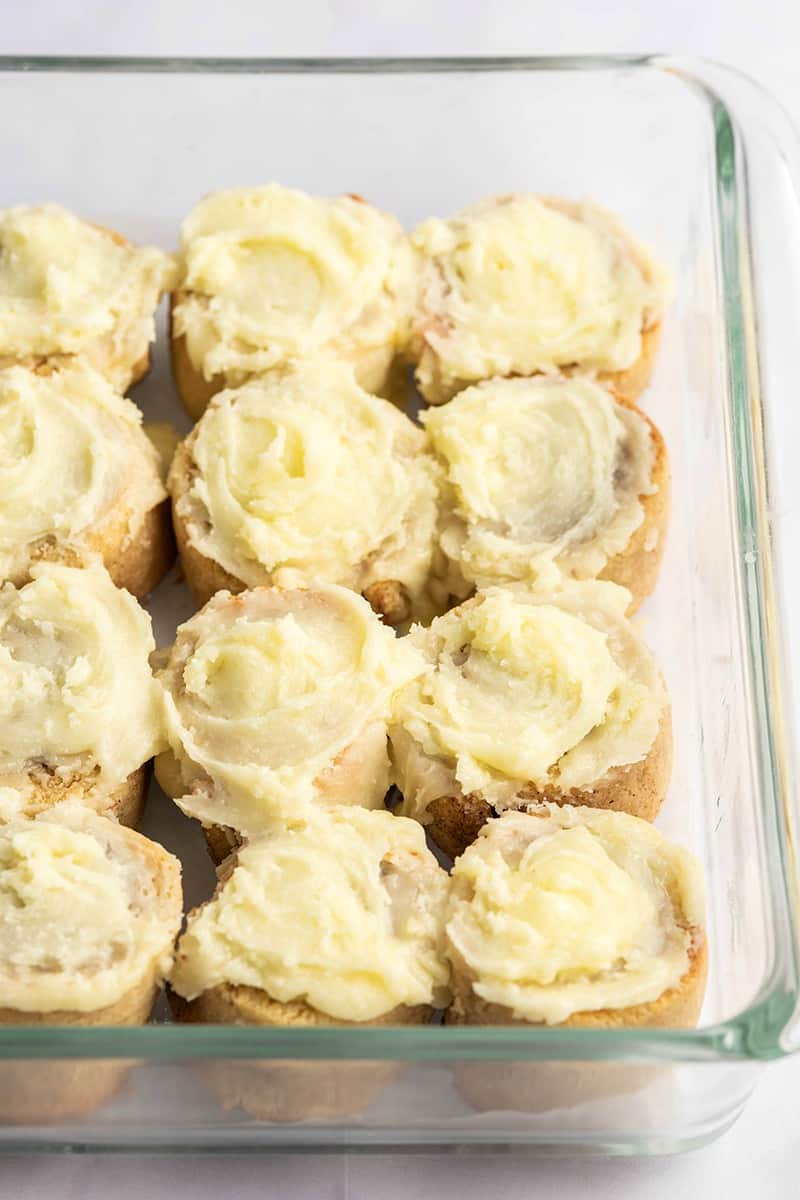 How to make keto low carb cinnamon rolls
The Ingredients
Almond Flour– I used blanched almond flour, as it has a lighter texture, perfect to roll up the dough. You can use almond meal, but it will be darker in color and be more prone to crumbling.
Tapioca flour– Works with the almond flour to form a dough, without being crumbly. Often called tapioca starch, while it isn't considered strictly keto, the amount used in the recipe is negligible, and still yields a very low net carb count.
Baking soda– helps the dough rise, and leaves it out.
Salt– Brings out the sweetness of the dough and the filling.
Coconut oil– Provides the buttery, rich texture of the cinnamon rolls.
Eggs– Helps hold the dough together. To make it vegan or eggless, you can try flax eggs.
Sugar Free Syrup– monk fruit sweetened maple syrup NOT sugar free pancake syrup.
Cinnamon– A must for any cinnamon heavy recipe!
Granulated Sweetener– Any keto sweetener works, like swerve or granulated monk fruit. You can also use something like Splenda, but you'd need to reduce the amount, as it is super sweet. I tried some as my father is diabetic, and wanted diabetic-friendly cinnamon rolls, but I botched them by making them ridiculously sweet!
The Instructions
Making these low carb keto cinnamon rolls is easier than traditional ones, as there is no need to wait for the yeast to rise, or any heavy kneading involved.
Refrigerating the dough for 10 minutes may seem a little cumbersome, but it helps ease the rolling process. Rolling out the dough between two pieces of parchment paper makes it so much easier, and ensures the dough doesn't stick to kitchen surfaces! When you are rolling up the dough, keep it in the parchment paper, before slicing it up.
When you are ready to bake them, place the sliced cinnamon rolls side by side as they won't spread much. Once cooked, let sit for several minutes before adding frosting or a glaze.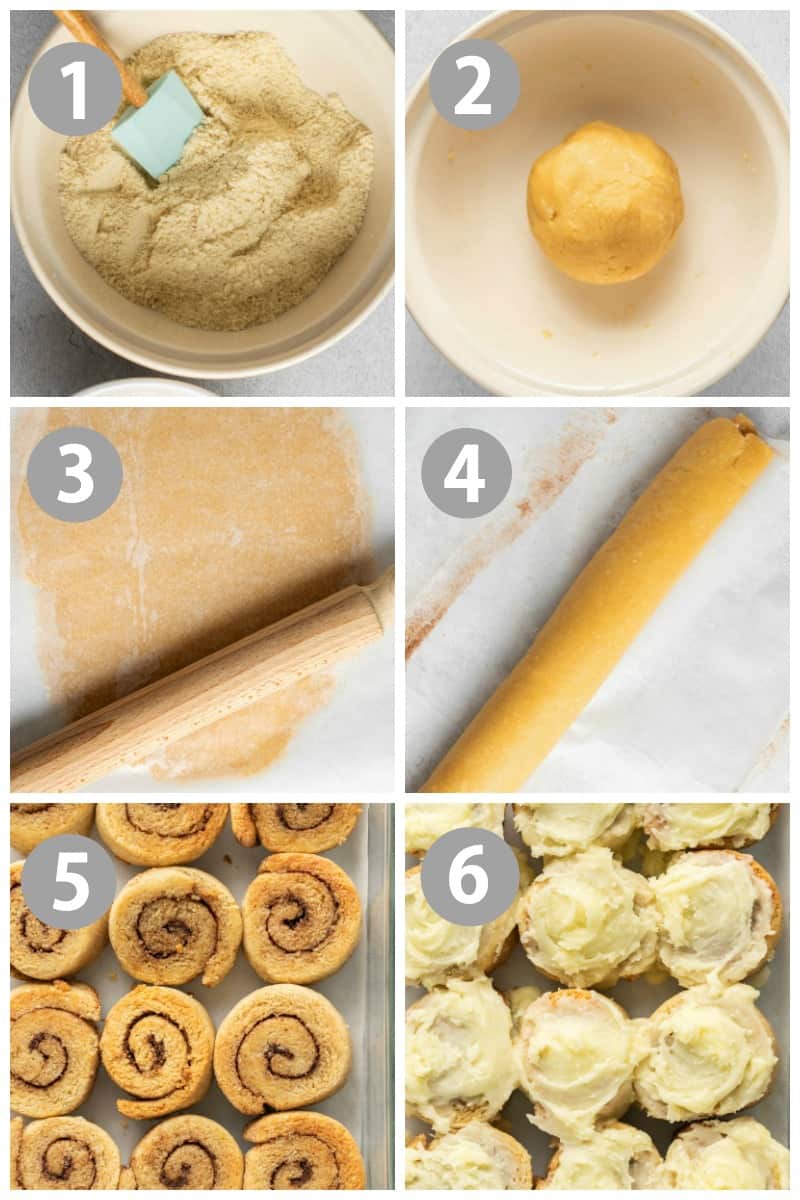 Keto Cinnamon Roll Glaze Ideas
Cashew Cream Cheese– My go-to frosting recipe. Simply combine 1 1/2 cups soaked cashews (rinsed), 1/4 cup sugar free maple syrup, 1/2 tablespoon apple cider vinegar, 1/2 teaspoon of lemon juice and 1-2 tablespoons of milk in a food processor or blender. Blend until desired texture is achieved.
Sugar Free Icing– Combine sugar free powdered sugar with water or almond milk and thin out, until desired texture. I used the sugar free frosting in the top and bottom pictures.
Coconut Butter– Let coconut butter reach room temperature, or place the jar in some boiling water, until smooth and drippy. Drizzle over the tops of the cinnamon rolls.
Keto Cinnamon Rolls Recipe Tips
Add a dash of almond flour to both the dough and the parchment paper, when rolling it out. It helps flatten it out easier.
Grease your baking dish or pan before adding the cinnamon rolls to them. This will ensure they avoid sticking.
Remove the keto cinnamon buns from the oven when they begin to brown, around the 25-minute mark.
If you have a thicker sugar free cinnamon rolls icing (as pictured), you can thin it out more by using adding extra almond or coconut milk. I prefer a thicker icing, so I didn't add any.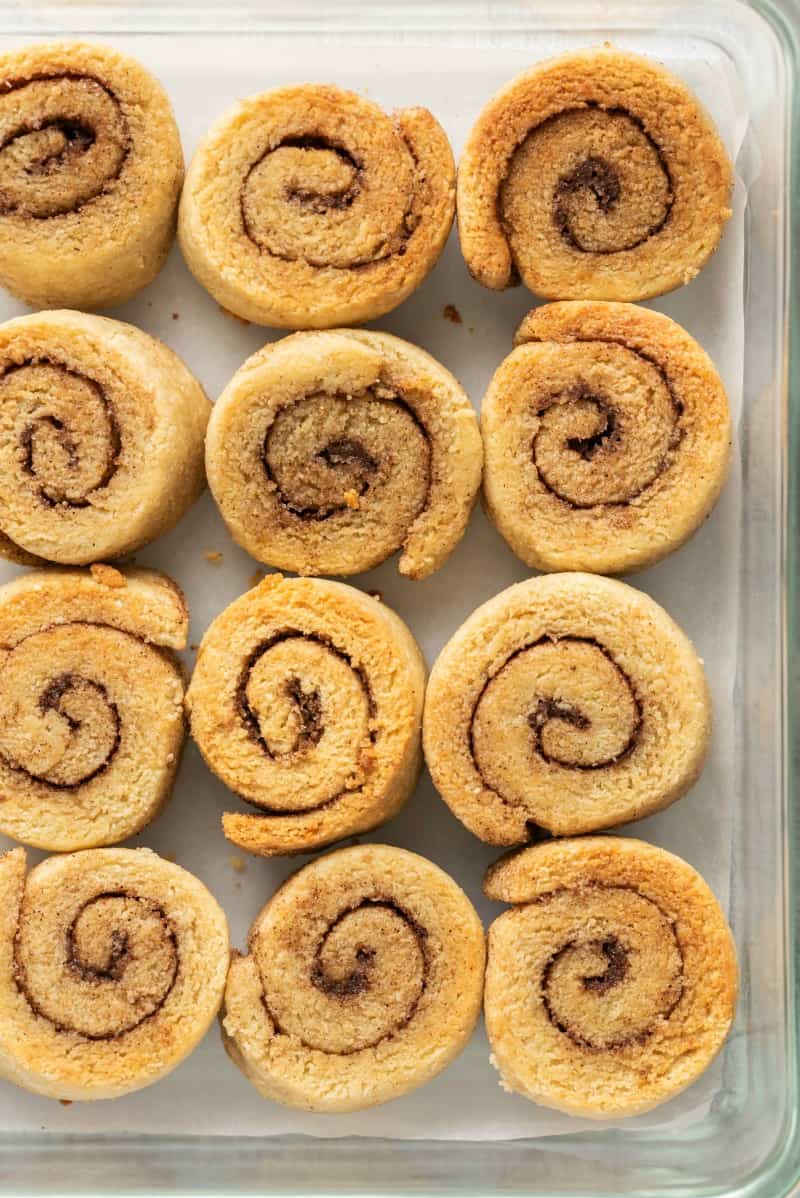 Can I make these keto cinnamon rolls overnight?
As these cinnamon rolls have no yeast and don't use any grains, I don't recommend preparing them overnight. The reason being the dough is already fragile, and when left uncooked, will begin to lose its elasticity and begin to crumble. Once baking begins, they will start to fall apart.
Storage Tips
To store: Keep leftover cinnamon rolls in a sealable container, in the refrigerator. They will keep well for up to 5 days. Any longer and the glaze will begin to become soggy.
To freeze: Cinnamon roll can only be frozen if they have not been frosted yet. Place unfrosted cinnamon rolls in a sealable container. They will store well in the freezer for up to 6 months.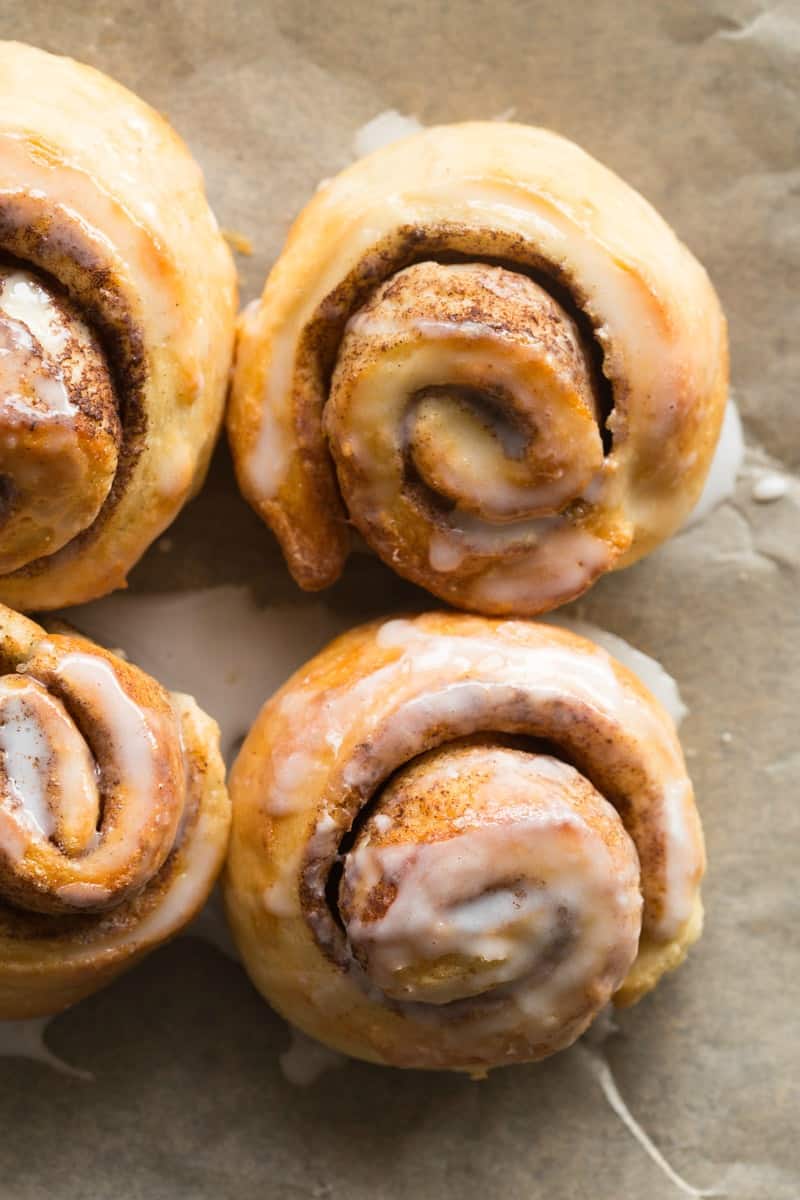 More delicious EASY Keto Dessert Recipes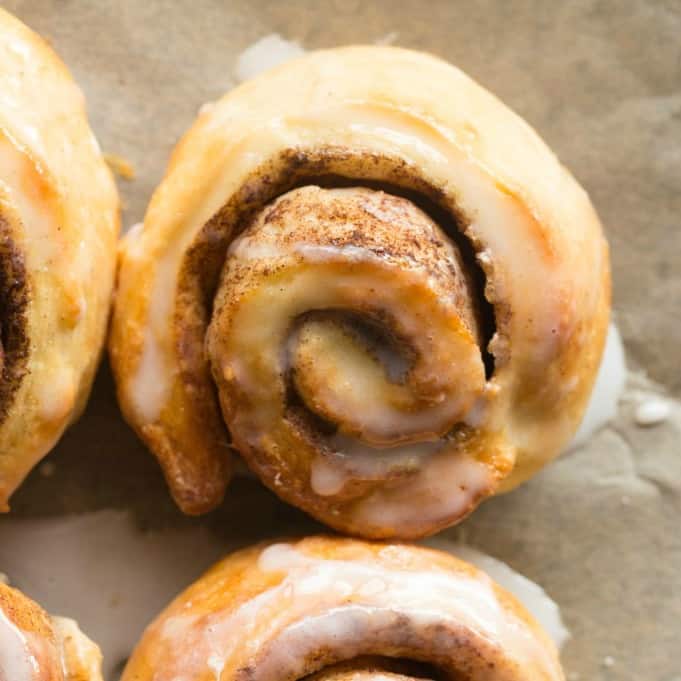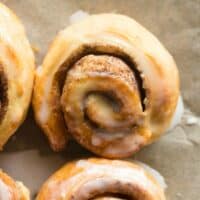 Keto Cinnamon Rolls (BEST low carb dessert!)
These quick and easy keto cinnamon rolls are a delicious low carb dessert recipe! No yeast and no cheese needed- Made with almond flour, they are fluffy and full of sweet cinnamon flavor!
Print
Rate
Instructions
Preheat the oven to 180C/350F. Lightly grease a baking dish or place parchment paper in it. 

In a large bowl, combine your almond flour, tapioca flour, salt, and baking soda. In a separate bowl, whisk together the coconut oil, eggs, vanilla extract, and maple syrup.

Combine the dry and wet ingredients together and mix well. Form a ball and refrigerate for 10 minutes.

Place a piece of parchment paper onto a kitchen surface and sprinkle some almond flour on top and place the ball of dough on it. Sprinkle more flour on top, and place the second piece of parchment paper on it. Using a rolling pin, roll out the dough into a rectangular shape, about a ¼-½ inch thick. 

Spread the top of the dough with coconut oil or butter, until covered on top. Sprinkle with cinnamon and sugar, and add more as needed (you want on the higher side). Carefully roll up the dough, using the parchment paper too, to hold it into place. Refrigerate it for several minutes, while you prepare the oven.

Slice up the cinnamon rolls and place on the lined baking dish. Bake for 20-25 minutes, or until golden on top. 

Remove from the oven and frost.
Notes
* If you aren't strictly keto you can use pure maple syrup or honey.
Key Recipe Equipment and Ingredients
Nutrition
Serving:
1
Cinnamon Roll
|
Calories:
174
kcal
|
Carbohydrates:
5
g
|
Protein:
6
g
|
Fat:
15
g
|
Sodium:
108
mg
|
Potassium:
9
mg
|
Fiber:
3
g
|
Vitamin A:
36
IU
|
Calcium:
51
mg
|
Iron:
1
mg
|
NET CARBS:
2
g