Blueberry Baked Oatmeal (No eggs!)
This easy and healthy blueberry baked oatmeal is a delicious and easy way to enjoy your blueberry oats! Sweetened with banana and loaded with fresh blueberries, it's a protein-packed, vegan, and gluten-free make-ahead breakfast recipe- It's easily customizable too!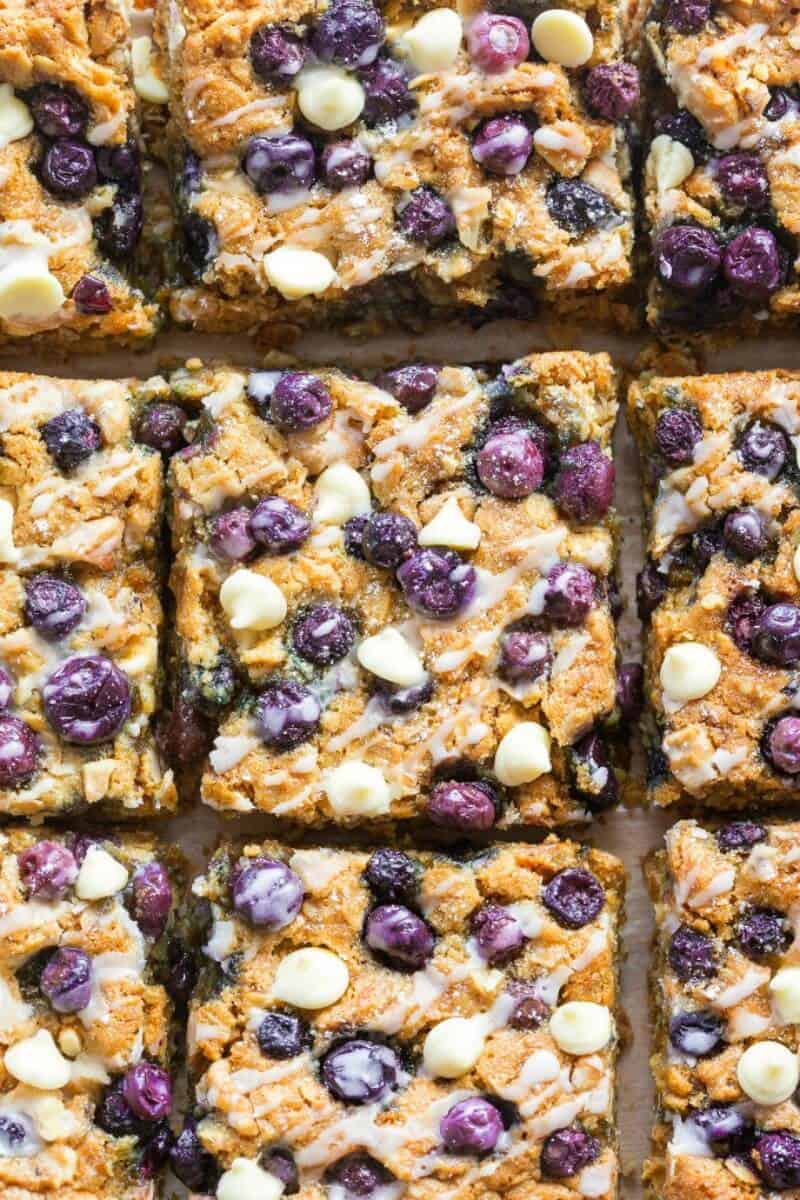 Healthy Blueberry Baked Oatmeal
The best parts about the warmer months are the cheaper prices of summer fruit, especially berries! I love incorporating berries in my breakfast, especially in strawberry oatmeal bars, flourless strawberry cookies, and blueberry breakfast muffins.
I knew a breakfast bake incorporating blueberries had to be next!
What I love about breakfast bakes, baked oatmeal, and breakfast casseroles is that you feel like you are eating dessert for breakfast.
Why make this blueberry baked oatmeal recipe?
This baked blueberry oatmeal recipe ticks ALL the boxes! It is made with no butter, no milk, and oil-free, but you'd never tell.
Taste-wise, it is sweet and loaded with juicy blueberries in every bite. It's completely naturally sweetened too, using some mashed banana for added sweetness.
Texture-wise, these baked oatmeal bars are soft, thick, chewy, and slightly moist- It's the kind of stick to your rubs breakfast a bowl of oatmeal does, minus all the prep time.
It's also high protein, high fiber and has no added sugar. Perfect for a vegan, gluten-free, AND dairy-free diet. It's also fabulous to feed a crowd or serve for brunch- It's a great make-ahead breakfast to prepare in advance!
How to make baked oatmeal with blueberries and banana
The Ingredients
Rolled Oats– Gives the breakfast bake a chewy and filling texture, while adding plenty of fiber and protein! Avoid using quick oats or steel-cut oats, as they require less/more liquids and differing cooking times.
Almond Butter (or any nut/seed butter)– Smooth and drippy almond butter gives the baked oatmeal a buttery texture, minus the need for any butter or oil! It also gives a hefty protein boost! You can use any smooth nut or seed butter.
Bananas– Gives the baked oatmeal some sweetness, and adds some moisture. You can also use unsweetened applesauce but will need to add some extra oats, to compensate for the more liquid-like texture.
Blueberries– Obviously needed for a blueberry recipe! Fresh or frozen blueberries work- just be sure to thaw it out completely if using frozen ones.
Mix-ins– Optional, but recommended to add some fun! Use any dried fruit, nuts, chocolate chips or more. I personally love vegan white chocolate chips, as they go SO well with blueberries!
The Instructions
You only need one bowl and 15 minutes to make this blueberry baked oatmeal!
Start by adding your oats, almond butter, and banana into a large mixing bowl. Once mixed, fold through blueberries and mix-ins of choice. Then, you'll transfer the mixture into an 8 x 8-inch pan, covered in parchment paper.
Bake the blueberry oatmeal for 20-25 minutes, or until it begins to go golden brown around the edges. Remove from the oven and allow to cool in the pan for 10 minutes, before slicing and serving.
NOTE: If you are making the baked oatmeal as part of meal prep, allow the blueberry baked oatmeal to cool in the pan completely, before slicing.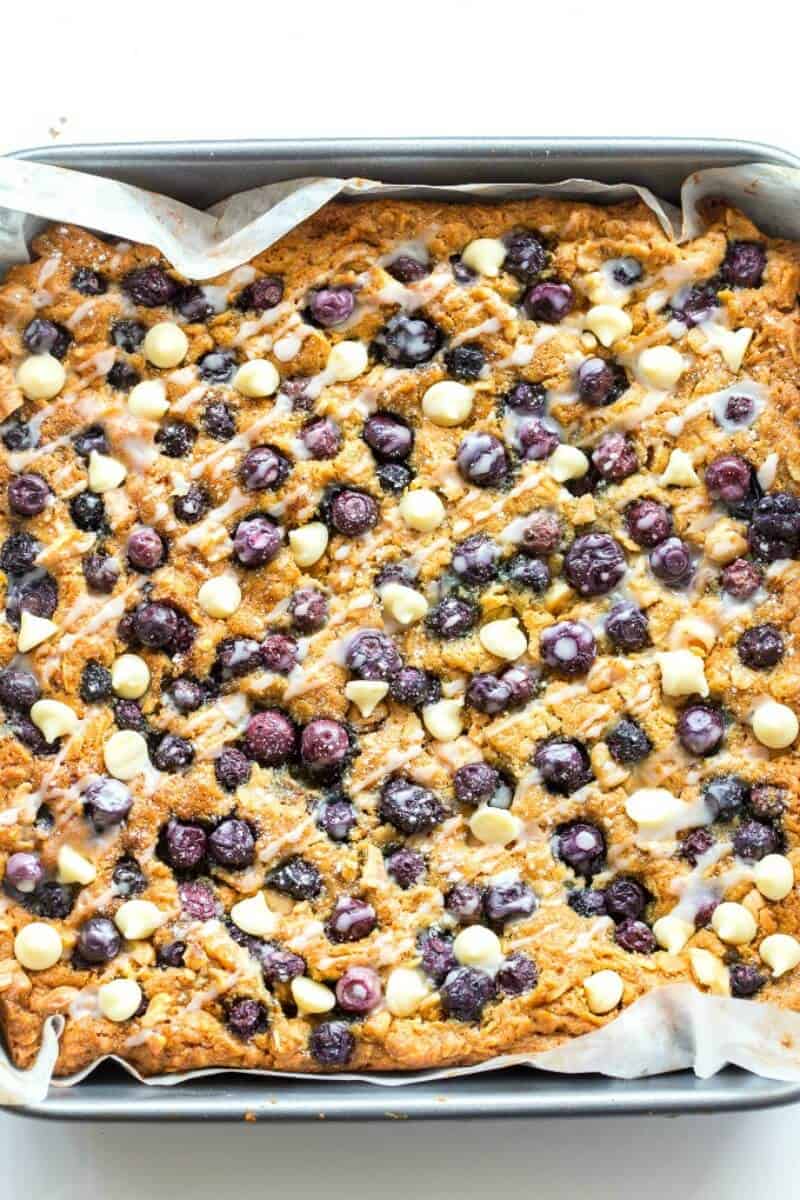 Blueberry Baked Oatmeal Tips
Use a ripe, but not an overripe banana
Bananas come in different sizes and weights, and it is hard to provide a ballpark amount. The texture of a banana (unripe, ripe, overripe), will affect the overall outcome of the recipe.
To combat this, use a ripe, but not overripe banana. This will ensure the baked oatmeal holds up, without being soggy in the center. It will also provide ample sweetness.
If you are worried that the bars may be too thick (after mixing your batter, it should be thick but NOT crumbly), you can adjust it by adding some milk to thin it out.
Ensure your nut or seed butter is smooth and drippy
Have you ever opened up a jar of peanut butter or almond butter only to find several inches of oil at the top? That is the kind of nut or seed butter you want.
The more drippy (smoother) your nut or seed butter is, the better the texture of the breakfast bake will be. different brands have different consistencies, but I've found this almond butter and this sunflower seed butter to be the best.
Divide your blueberries
There is nothing worse than digging into a piece of this blueberry baked oatmeal, only to find it had no blueberries in it. To avoid this happening, fold in half the blueberries in the batter, reserving the other half to top the bars with.
Taste the batter before baking
As someone who prefers the natural sweetness of fruit, I find this baked blueberry oatmeal to be sweet enough as it is (especially with the sweet frosting!). However, if you are someone who prefers really sweet breakfast bakes, add some extra sweetener to it, like pure maple syrup or a few drops of liquid stevia.
Add more oats or milk, if needed
Don't put the baked oatmeal in the oven if the batter is too thick (almost crumbly) or too thin (more liquid than thick). Make some adjustments to avoid this happening.
If your batter is too thin, add extra rolled oats. If the batter is too thick, thin it out with some milk.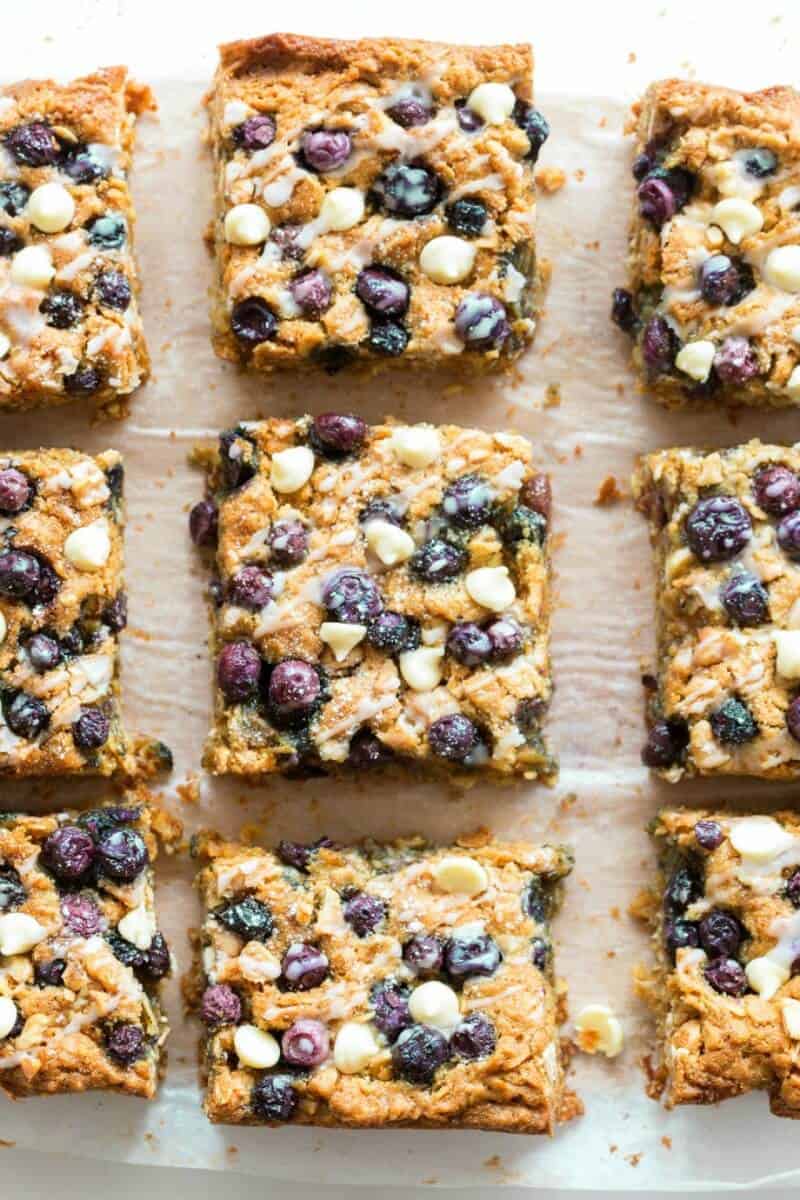 FAQ's about Blueberry Baked Oatmeal
How long to bake oatmeal?
Oven times and models vary, and there is no one set time that is universal.
I recommend checking on the breakfast bake around the 15-minute mark, inserting a skewer in the center. If it is too thin and sinks, continue baking.
Remove the baked oatmeal from the oven once it is golden around the edges and quite firm in the center. Remember, the blueberry bake will continue cooking while it cools down.
Can you substitute the oats for something else?
Not everyone on a vegan and gluten-free diet can tolerate oats. You can substitute the rolled oats for quinoa flakes.
Using quinoa flakes is a fantastic substitute and will yield a similar texture. The only difference is that it will be less chewy, similar to a soft-baked breakfast bar.
Can you use frozen blueberries in baking?
While fresh blueberries are preferred, using frozen blueberries works just as well! Just be sure to thaw them out completely, and use a paper towel to soak up any excess liquid from it.
Also, frozen blueberries are more prone to sinking when baked. If they aren't thawed properly, toss them in a handful of flour prior to baking them.
Other ways to enjoy blueberry baked oatmeal
Baked oatmeal muffin cups– Divide the blueberry oatmeal batter amongst a 12-count muffin tin and bake the oatmeal cups for 12-15 minutes, until golden on top.
Blueberry Baked Oatmeal Singles– Use mini loaf pans to bake the oatmeal, or bake it in individual ramekins. These are a great way to make them as part of a meal prep too.
Oatmeal Casserole– Transform the blueberry baked oatmeal into an oatmeal casserole by adding ½ cup of milk (almond, soy, etc) with 2 tablespoons of maple syrup. Bake for the same amount of time. You'll be left with a creamy, hearty, and thick breakfast casserole.
Storage Tips
To store: Blueberry breakfast bake needs to be stored in the fridge to avoid it spoiling. Cover the breakfast bake or store it in a sealed container. It will keep for at least 5 days.
To Freeze: Baked Oatmeal is freezer friendly and will keep well frozen for up to 6 months. If possible, avoid adding the sugar free glaze before freezing.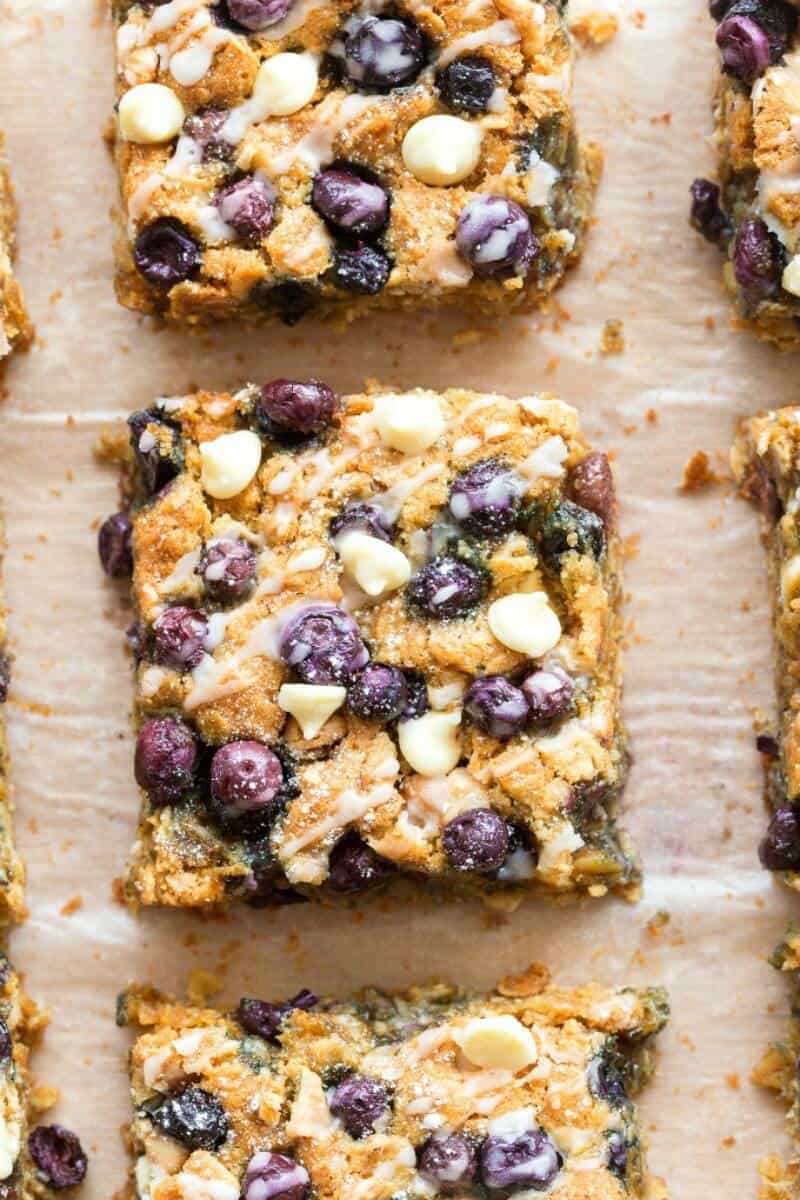 More healthy breakfast recipes you'll enjoy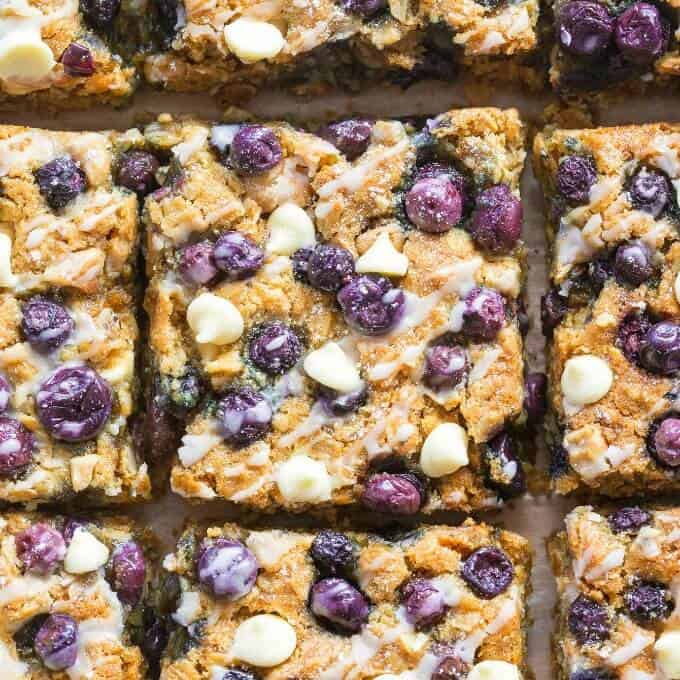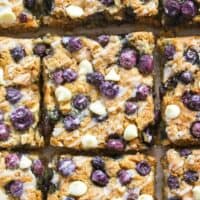 Blueberry Baked Oatmeal (The BEST recipe!)
This blueberry baked oatmeal recipe is an easy, delicious and healthy breakfast packed with protein and made with no added sugar! Loaded with fresh blueberries and sweetened with banana, these blueberry oatmeal bars are vegan and gluten-free!
Print
Rate
Ingredients
2

cups

rolled oats

gluten-free, if needed

1/2

cup

almond butter

can use any nut or seed butter

2

large

bananas

1/2

cup

blueberries

1/4

cup

mix-ins of choice

* See notes
Instructions
Preheat the oven to 180C/350F. Line an 8 x 8-inch pan with parchment paper and set aside.

In a large mixing bowl, combine all your ingredients, except for your blueberries and mix well. Fold in half your blueberries using a rubber spatula. If the batter is too thick, add some milk to thin out. If the batter is too thin, add some extra oats.

Transfer the batter to the lined pan. Top with remaining blueberries and bake for 20-25 minutes, or until the edges are golden brown and the center comes out just clean with a skewer.

Remove from the oven and allow the blueberry baked oatmeal to cool in the pan for 15 minutes, before carefully transferring to a wire rack to cool completely.

Once cool, drizzle over the top with the sugar free icing.
Notes
* Use nuts, seeds, or vegan white chocolate chips
Healthy blueberry baked oatmeal should be stored in the fridge and will keep for 5 days, in a sealed container.
Blueberry oatmeal freezes well and can keep well frozen for up to 6 months.
If you love baked oatmeal with blueberries, you'll also enjoy blueberry pancakes and blueberry breakfast cookies.
Key Recipe Equipment and Ingredients
Nutrition
Serving:
1
Bar
|
Calories:
208
kcal
|
Carbohydrates:
26
g
|
Protein:
6
g
|
Fat:
10
g
|
Sodium:
3
mg
|
Potassium:
319
mg
|
Fiber:
5
g
|
Vitamin A:
22
IU
|
Vitamin C:
4
mg
|
Calcium:
66
mg
|
Iron:
2
mg
|
NET CARBS:
21
g