Chocolate Protein Overnight Oats (Vegan!)
Thick and creamy chocolate protein overnight oats that taste like dessert! Prep the night before and wake up to a breakfast PACKED with chocolate flavor.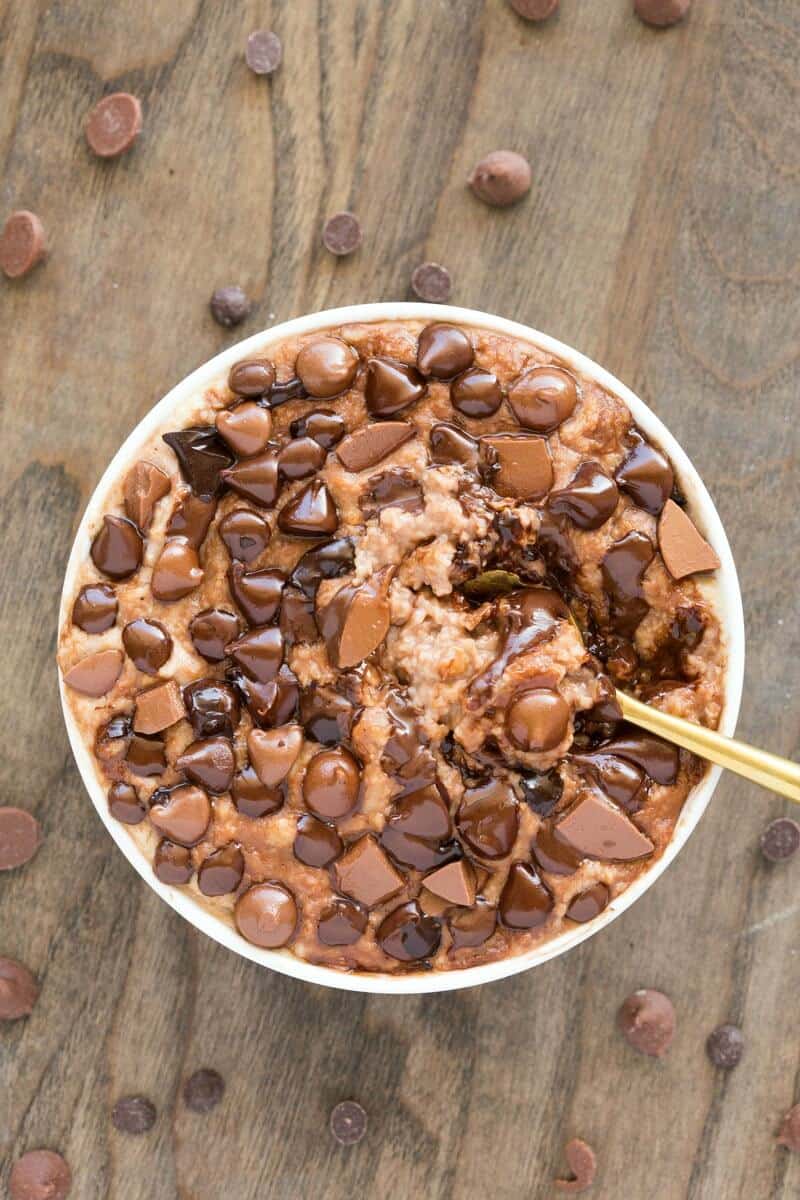 My go-to breakfast 9 times out of 10 is always overnight oats.
I love how filling and satisfying it is, and how you can flavor it a million and one ways.
As someone who weight trains regularly, I try to ensure I eat protein with every meal. Breakfast, being my first meal, is the easiest way to pack in over 30 grams of protein in ONE serving.
Is oatmeal high in protein?
You've probably heard nutritionists and dieticians saying that oatmeal has protein in it, which is correct.
Per 1/2 cup serving, you'd usually find at least 4 grams of protein.
Calling oatmeal a food that is high in protein, would be a bit of an overstatement. However, you can easily amp up a serving of oatmeal WITHOUT adding any extra oats but get a protein boost in several different ways.
How do you add protein to oatmeal
There are several ways to add protein to oatmeal. I will cover the 3 most popular ways, and which one I swear by.
Protein Powder
The easiest way to add protein to oatmeal is with protein powder.
I have been adding protein powder to my overnight oats for years now. So much so, I have tried so many flavors. Not only that, but I've tried out a bunch of blends (brown rice, casein, whey, and more) and know which ones work and which ones should be avoided.
On average, adding a serving of protein powder will provide a 26-gram addition of protein.
High Protein Yogurt
A few years back, it would be a hard task to find high-protein vegan and dairy-free yogurt.
Not anymore. Brands like YoPro and Chobani and now creating high-protein yogurts that are completely plant-based.
A typical serving of high-protein yogurt (170 grams/6 ounces) will provide 17 grams of additional protein.
Cottage Cheese
Okay, this is for my non-vegan friends, and I'm only mentioning it because I know not everyone here follows a plant-based diet.
Cottage cheese has similar macronutrients to high-protein yogurt, clocking in around 17-20 grams of protein per 100 gram/4-ounce serving.
This too can be added to oatmeal to amp up the protein.
How to make simple protein overnight oats
The Ingredients
Rolled Oats– I used gluten-free rolled oats, to keep this gluten-free.
Protein of choice– Either one serving of protein powder, protein yogurt or if not strictly vegan, cottage cheese.
Sweetener of choice– Optional, but if your protein powder or yogurt is unsweetened, I'd recommend adding either granulated or liquid sweetener of choice (e.g. brown sugar, granulated stevia, liquid stevia, maple syrup, etc).
Cocoa Powder– to give a rich, chocolate flavor! Be sure to use unsweetened cocoa powder.
Milk or water– I recommend using non-dairy milk, like almond milk or unsweetened vanilla almond milk. This provides an even creamier texture. However, if your protein powder or protein yogurt is sweetened, using water will be fine.
The Instructions
In a mason jar, bowl, or portable container, add your oats, protein of choice, sweetener, cocoa powder, and mix well. Then, add enough water or milk to cover everything. Give the mixture a stir until mixed together. If the oats are too thick, add an extra 1/4 cup of milk/water.
Then, place the protein oats in the refrigerator for at least 2 hours, but preferably overnight.
The next morning, remove and give the oats a stir- It should be incredibly thick. Add more milk/water, until your desired texture is achieved. Top with your favorite toppings and enjoy.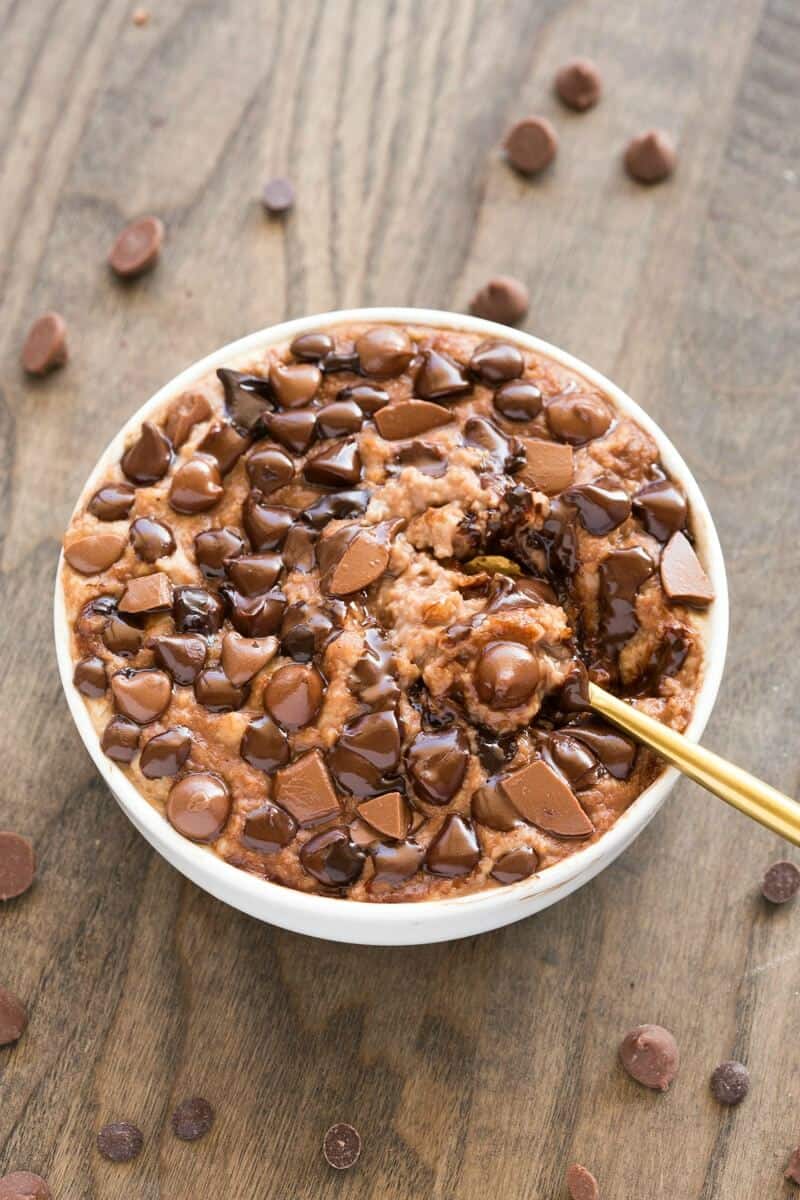 Best Protein Powder for Oatmeal
As mentioned earlier, I have tried pretty much every blend of protein powder, and every flavor ever created. I can give you the tried and tested flavors and blends to create the perfect bowl of protein oatmeal.
There are 3 main kinds of protein powder. I stick to two main kinds- Casein protein powder and brown rice protein powder.
Each of these 2 protein powders provides a very different texture to the oatmeal.
Casein protein powder– Unfortunately, casein protein powders are generally not vegan. However, this protein provides the thickest texture. If you add casein protein, you will need to add an extra 1/2-1 cup of liquid, to compensate for it.
Brown rice protein powder– Vegan and gluten-free protein powder. It's thick and mixes well, and can come in a variety of flavors. Be wary though, some brands can have an 'earthy' texture, meaning it can have a quite distinct taste. Stick to vanilla, chocolate, or plain varieties.
Can you put whey protein in oatmeal?
Whey protein powder is the one blend of protein powder I never recommend for adding into oatmeal, as it actually makes the oats more liquid-like.
If you use a blended protein powder, one that has whey protein but is mixed with either casein or brown rice protein, then using that will be fine.
Whey protein is great to add to smoothies.
Can I eat protein oatmeal warm?
If you'd prefer to enjoy protein oats warm, you can easily do that either in the microwave or stovetop.
Microwave method
Prepare your serving of oats as you usually would. Once all the liquid has been absorbed, remove from the microwave.
Add the protein powder, protein yogurt, or cottage cheese. Using a fork, whisk together very well, until fully combined. If the oats are too thick, add extra milk or water, until you achieve your desired texture.
Stovetop method
Prepare your oats over the stovetop. Once the liquid is mostly absorbed, reduce the heat. Moving quickly, add the protein of choice (powder, yogurt, or cottage cheese) and whisk very well, until combined. If desired, add more milk or water for a smoother texture.
What to add to protein oats
Fruit– Fresh or frozen fruit are fantastic healthy toppings for protein oats. They also provide natural sweetness, fiber and vitamins, and minerals. I love putting frozen berries in my oats the night before, as it thaws out beautifully when it is time to eat!
Nuts and seeds– Chopped almonds, walnuts, or any of your favorite nuts! Seeds are also great, like pepitas and pumpkin seeds.
Nut or seed butter– I always add a few tablespoons of peanut butter- it makes protein oats taste amazing. When I have homemade almond butter or homemade Nutella on hand, I add those too.
Trail mix- Chocolate chips, chopped dark chocolate, and coconut flakes are some of my favorites. If I'm being fancy, I love topping it with granola, for some crunch.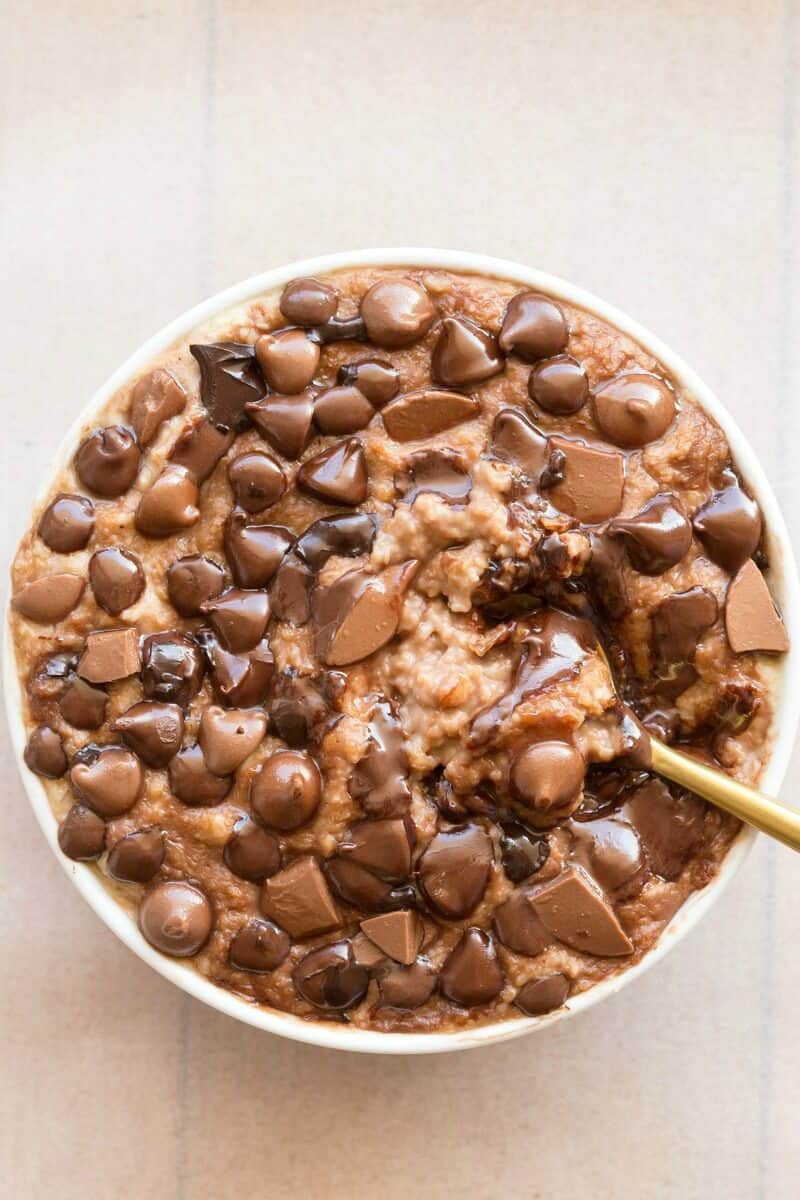 More delicious breakfast recipes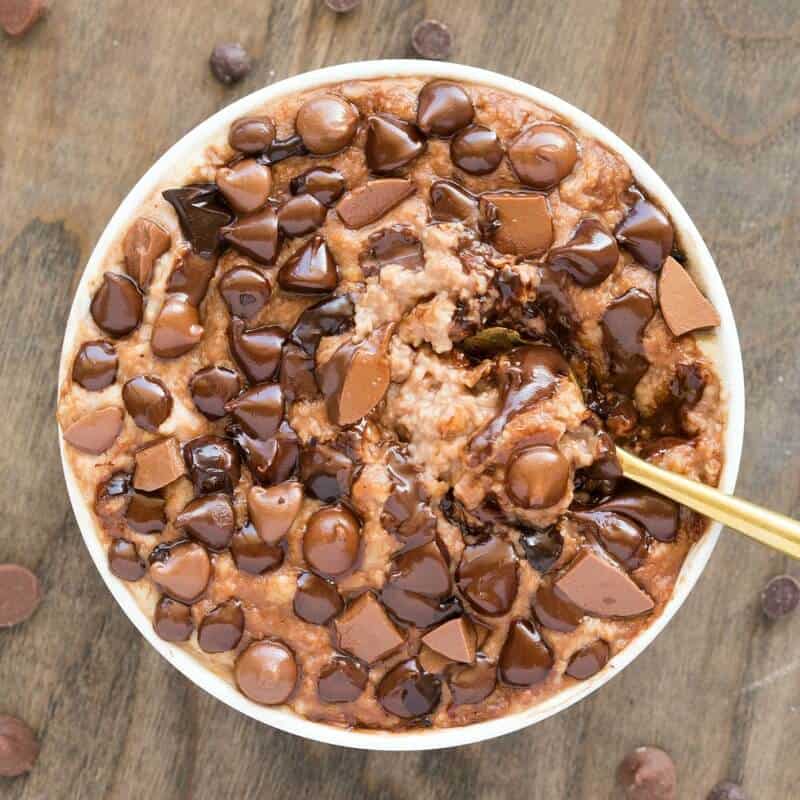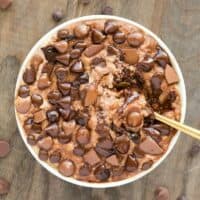 Chocolate Protein Overnight Oats
Chocolate for breakfast is perfectly acceptable with this bowl of oatmeal which tastes like dessert! Chock full of protein (with or without protein powder!) gluten free and vegan- It's thick, creamy and can be enjoyed overnight oats style or warm!
Print
Rate
Instructions
In a bowl, mason jar, or portable container, add your oats, sweetener, cocoa powder and protein of choice, and mix well. Add water or milk. Mix again, until fully combined.

Place the protein oats in the refrigerator for at least 2 hours, or overnight.

Remove from the oats from the fridge and mix once more. If desired, add more milk/water, to desired texture. Add toppings and enjoy.
Notes
* Protein of choice is- 1 scoop of protein powder (32-34 grams/1/3 cup), 1/2 cup vegan protein yogurt, or 1/2 cup cottage cheese.
Nutritional information is based on 1 serving of protein powder.
To enjoy warm- Prepare the oats with just water/milk first, until liquid absorbed. Add your cocoa powder, sweetener, and protein of choice, and mix well. Add toppings and enjoy immediately.
Nutrition
Serving:
1
serving
|
Calories:
263
kcal
|
Carbohydrates:
29
g
|
Protein:
25
g
|
Fat:
4
g
|
Sodium:
128
mg
|
Potassium:
541
mg
|
Fiber:
12
g
|
Vitamin A:
3
IU
|
Vitamin C:
3
mg
|
Calcium:
238
mg
|
Iron:
3
mg
|
NET CARBS:
17
g