These healthy banana oatmeal breakfast cookies are made with peanut butter and no flour, but you'd never tell! Rolled oats, banana, and peanut butter are combined to make thick and chewy cookies. No eggs, no sugar and an option to make this without banana!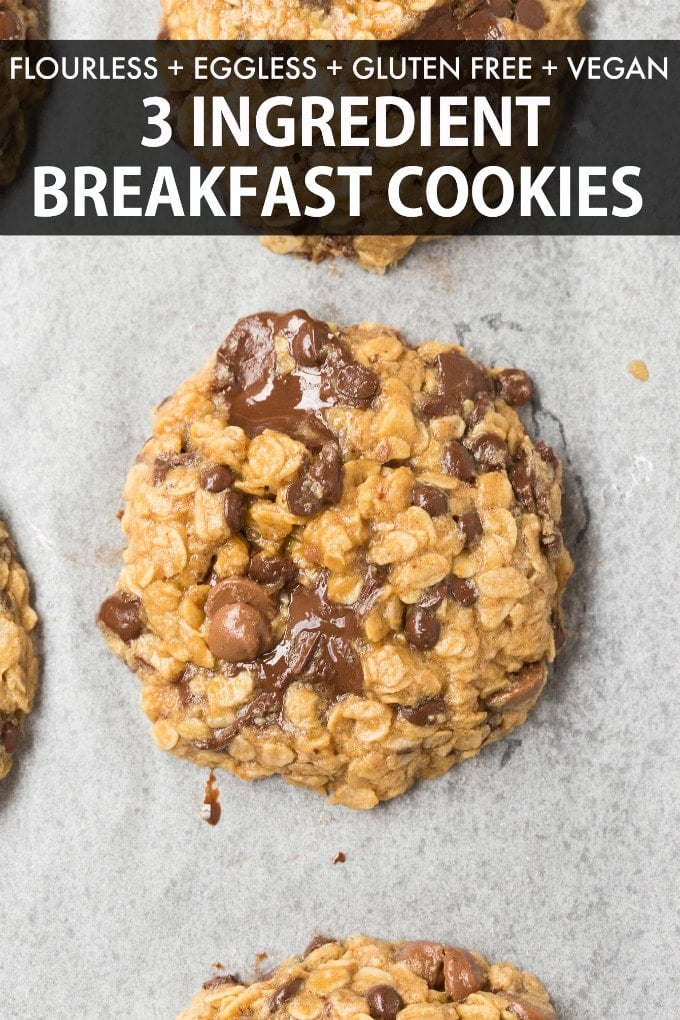 3 Ingredient Breakfast Cookies
When it comes to breakfast, I used to always think I was oatmeal, sweet bread, or a pancake kind of guy.
Not to play favorites, but as long as there was some banana in there too, I'd be a happy camper. No wonder some of my favorite breakfasts were banana pancakes, banana breakfast bread, and even a banana bread mug cake.
Now we can add cookies to the mix.
One of my favorite snacks are my flourless banana bread cookies, but enjoying them for breakfast would be a little bit generous. While delicious, they didn't have the staying power I needed.
I played around with the original recipe, wanting to see if I could adapt it to be more filling. I also wanted to see if I could keep them for a longer period of time, as I am ALL about prepping breakfasts in advance.
You guys, these oatmeal breakfast cookies have the BEST texture ever- Soft, chewy and
When it comes to taste, it is a mix between banana bread, oatmeal cookies and almost buttery, thanks to the peanut butter.
Not only are these quick and easy breakfast cookies made with just 3 ingredients, but they are also vegan, gluten-free, dairy free and refined sugar free!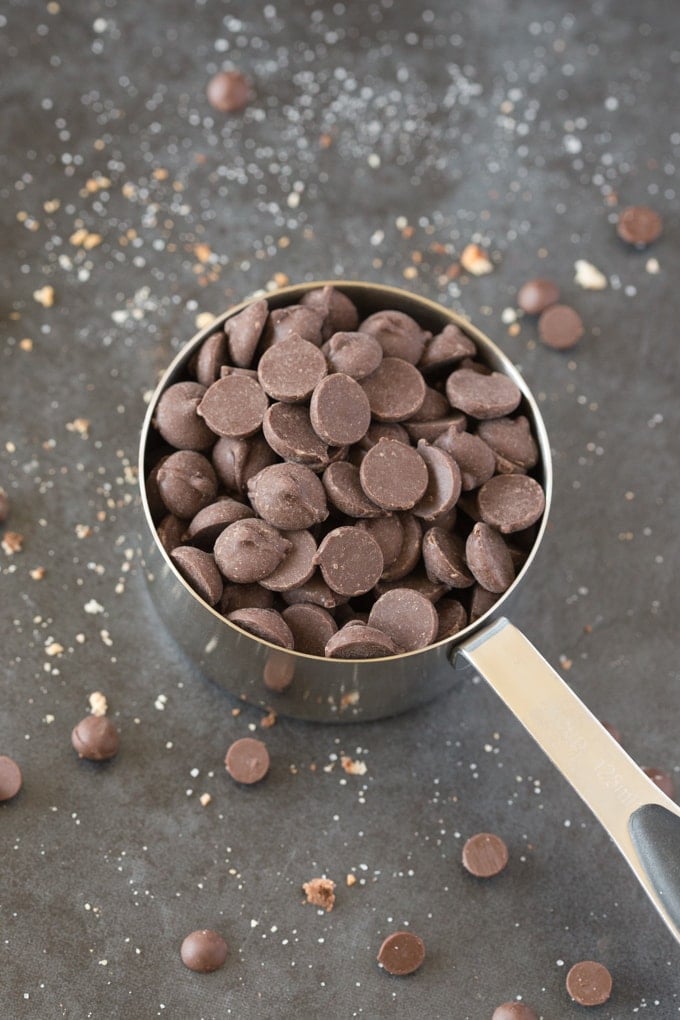 To make these oatmeal breakfast cookies, you only need THREE (or 4!) ingredients-
Rolled or Old fashioned oats
Peanut Butter
Banana
Chocolate Chips (optional)
That's it!
OATMEAL AND ALTERNATIVES
Gluten-free rolled oats (old fashioned oats) are the best type of oats to use, as it provides the best chewy texture, and helps hold the cookies together. Quick oats and oat bran will also work, but you will need to increase the amount by an extra tablespoon or two.
To make these cookies without oatmeal, you can substitute it for quinoa flakes or buckwheat flakes. I wasn't a fan of the buckwheat flakes, as it had a really chewy, almost nutty texture.
PEANUT BUTTER ALTERNATIVES
As a die-hard peanut butter fan, I LOVED these breakfast cookies, as the peanut butter flavor was really evident.
However, I know many readers can't tolerate peanut butter or aren't a fan of it. You can substitute it with almond butter or even cashew butter.
To keep it nut-free, sunflower seed butter and smooth tahini can also be used.
HOW TO MAKE OATMEAL COOKIES WITHOUT BANANA
Again, I'm a huge banana fan, especially at breakfast, so I was fine as it was.
However, I tested it out with unsweetened applesauce and pumpkin. Both of these work fine, but you'll need to take note of the changes below.
The best banana substitute is using both applesauce AND pumpkin. The applesauce will provide a slight sweetness, and the pumpkin helps keep the cookies firmer. However, you will need to add some sweetener, like granulated monk fruit, swerve or even liquid stevia.
If you only use unsweetened applesauce, you will need to add an extra 1/4 cup of rolled oats.
If you only use pumpkin, you may need to add a tablespoon more of pumpkin.
TIPS AND TRICKS FOR PERFECT 3 INGREDIENT OATMEAL COOKIES
Don't be afraid to add more oats if you find the batter to be too thin- This is often due to the amount of mashed banana used.
Definitely add some chocolate chips, for a little fun. I prefer using mini chocolate chips, as they spread evenly, but standard sized chocolate chips work well too.
Use a cookie mat to bake the cookies on, for easy removal. If you use a cookie sheet, ensure you lightly grease it.
When it comes to storage of the breakfast cookies, PLEASE refrigerate them. I tried leaving these cookies out at room temperature and after 2 days, it really lacked flavor and even started to spoil. These cookies can be refrigerated for up to 5 days.
These breakfast cookies are definitely freezer friendly too! They can be kept frozen for up to 2 months, just be sure to thaw overnight before eating!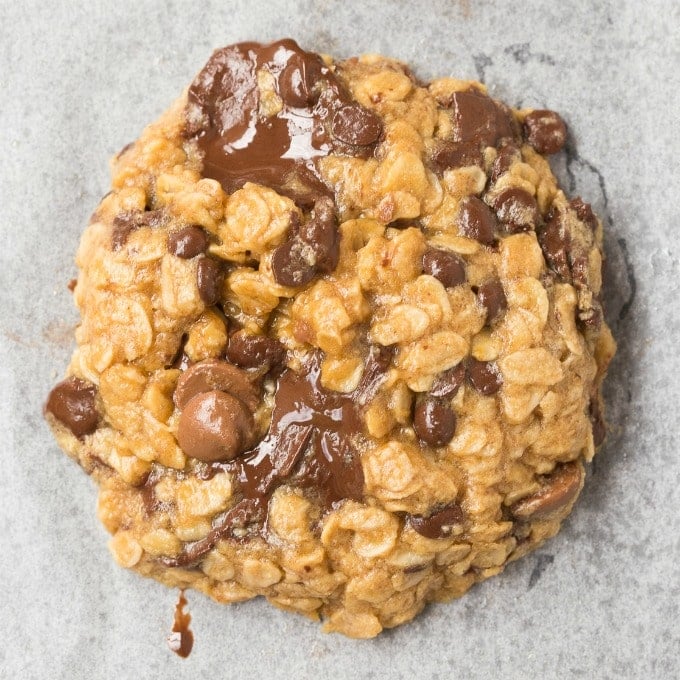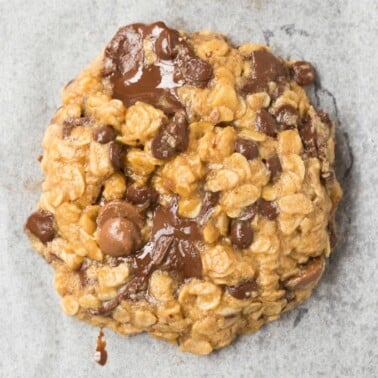 3 Ingredient Oatmeal Breakfast Cookies (Vegan, Gluten Free)
These healthy oatmeal breakfast cookies need just 3 ingredients and 12 minutes to whip up! Made with peanut butter and oatmeal, it can be made with or without the banana and is the perfect quick and easy breakfast! Eggless, vegan and gluten-free
Instructions
Preheat the oven to 175C/350F. Line a large cookie sheet with parchment paper and set aside.

In a large mixing bowl, add all ingredients and mix very well, until fully combined. If using chocolate chips, stir them in with a spatula.

Lightly wet your hands and form 8 balls with the cookies. Place each ball on the lined mat, and press each ball into a cookie shape. Bake for 10-12 minutes, until slightly golden on the edges. Remove from the oven.

Allow cooling on the mat for 10 minutes, before transferring to a wire rack to cool completely.
Notes
3 Ingredient Oatmeal Breakfast Cookies (Vegan, Gluten Free) should be kept refrigerated and will keep for 5 days. They are freezer-friendly, for up to two months.
Nutrition
Serving:
1
Cookie
Calories:
103
kcal
Carbohydrates:
19
g
Protein:
6.5
g
Fat:
6
g
Fiber:
6
g
Sugar:
1
g
Vitamin A:
1250
IU
Vitamin C:
1.7
mg
Calcium:
20
mg
Iron:
0.4
mg
NET CARBS:
13
g

Disclosure: This post may contain affiliate links. I may earn a small commission for my endorsement, recommendation, testimonial, and/or link to any products or services from this website.