Healthy Oatmeal Chocolate Chip Cookies (Award Winning Recipe!)
The easiest and most delicious healthy oatmeal chocolate chip cookies made with simple ingredients! No brown sugar, no eggs, and no butter needed! One bowl, 15 minutes, and no fancy kitchen mixers needed. Vegan, Gluten-Free, Dairy-Free.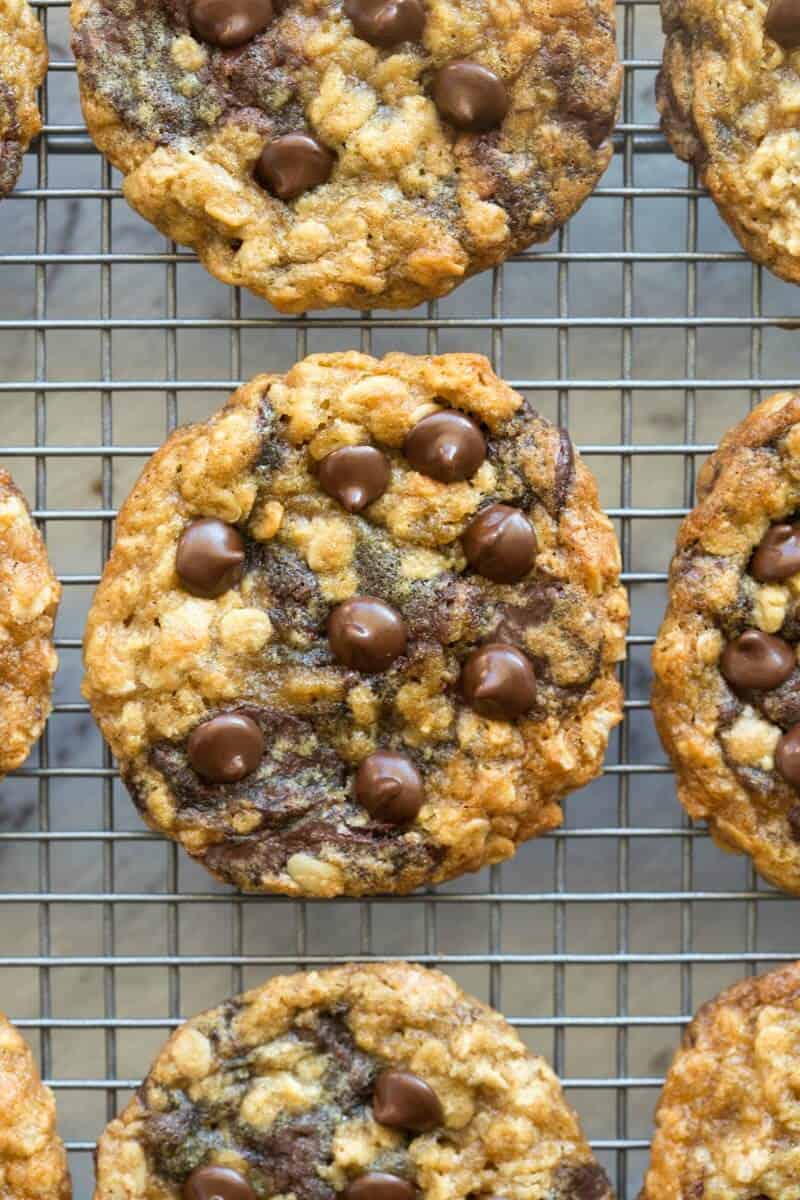 You can never go wrong with staple recipes, like a classic vanilla cake, rice crispy treats, and these secretly healthy chocolate chip oatmeal cookies.
Everyone needs a good old oatmeal chocolate chip cookie recipe, and this one ticks all the boxes.
Easy Healthy Oatmeal Chocolate Chip cookies
These oatmeal chocolate chip cookies are a spin on my oatmeal breakfast cookies and no flour cookies.
Just like the breakfast cookies and flourless cookies, these healthy oatmeal chocolate chip cookies use simple and affordable wholesome pantry staple ingredients. Oh, and they are insanely quick to make!
A big difference between this recipe and my other oatmeal cookie recipes is this one doesn't use any banana or peanut butter in them. While I love both of those in cookies, there are times you really don't want to have the overpowering flavors of them.
No eggs, no butter, and no brown sugar needed, but you'd never be able to tell.
It is just like an old school bake sale or bakery-style chocolate chip cookie- Ever so slightly crisp edges, with a soft and chewy overall texture.
They also happen to be naturally vegan (no eggs or dairy) and gluten-free, with certified gluten-free ingredients.
BONUS: I've gotten requests for low sugar chocolate chip cookies, so see my tips below for how to make these cookies sugar-free, too!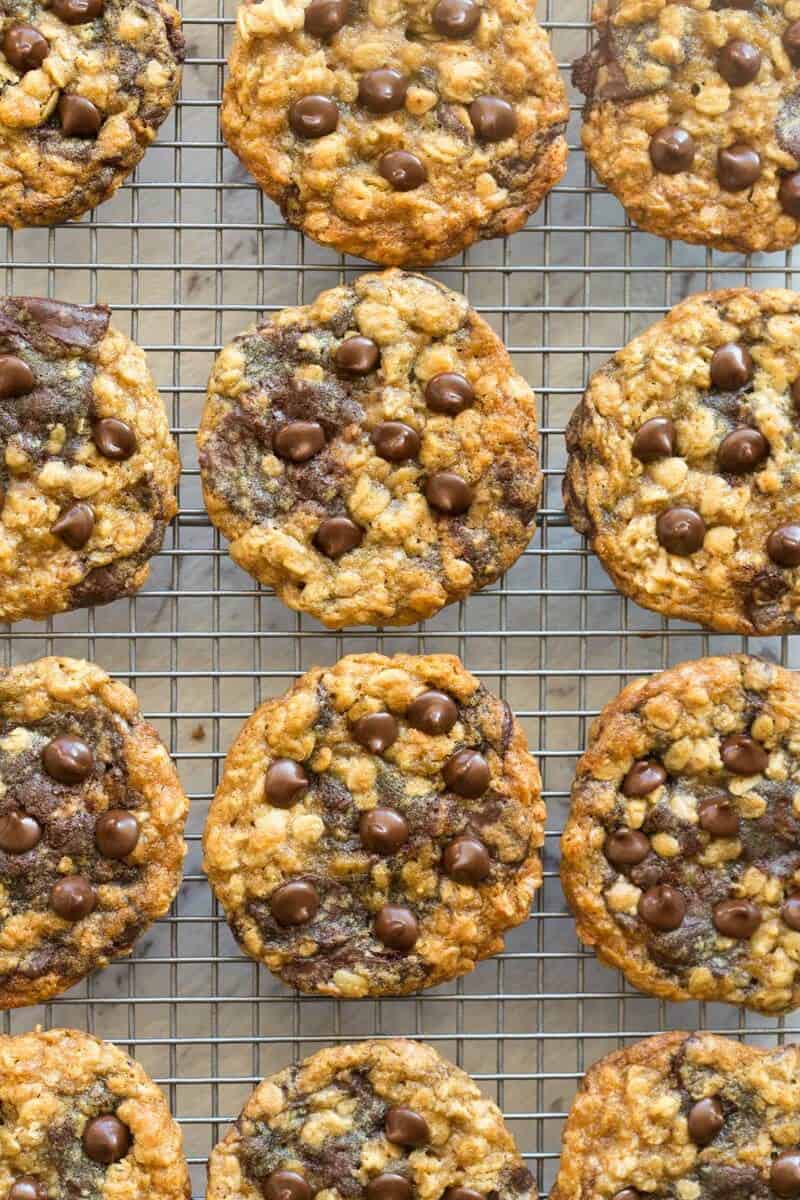 How to make healthy oatmeal chocolate chip cookies
Whether you already have a healthy oatmeal chocolate chunk cookie recipe or want a new one, you will LOVE the ingredient list and foolproof instructions!
The Ingredients
All-Purpose Flour– You can use white whole-wheat flour (plain flour) if you'd like an even healthier boost. I used gluten-free all-purpose flour, to keep it gluten-free.
Rolled Oats– Also known as old fashioned oats, I used gluten-free ones, again, to keep it gluten-free. Be sure to double-check the brand of oats you use to make sure it is 100% gluten-free.
Baking soda– Gives the cookies some rise, and stops them from flattening out too much.
Salt– Brings out the sweetness!
Coconut Sugar– A refined sugar free sweetener, I often replace brown sugar in recipes with coconut sugar. You can use brown sugar if that is all you have on hand.
Granulated Sugar– White sugar or table sugar. I only used a smaller amount. You can use extra coconut sugar instead. See my notes below to replace the sugar.
Maple syrup– Gives the cookies a little extra sweetness, and brings out the classic oatmeal cookie flavor. Only a little is necessary, so it won't be overpowering.
Applesauce– Adds extra moisture, and helps cut down on the coconut oil needed.
Coconut Oil– Gives the cookies a buttery texture, without any butter at all.
Vanilla Extract– A must for any good cookie recipe.
Chocolate Chips– I used a mix of dark chopped chocolate and dark chocolate chips. I find adding chopped chocolate to the batter ensures every bite has chocolate in it. I promise you the dark chocolate chip flavor is so much better than other kinds of chocolate!
The Instructions
Start by preheating the oven to 180C/350F. Line a large baking tray with parchment paper and set that aside. To avoid any chance of over-spreading, prepare two baking trays so you can keep the cookies several inches apart!
Then, in a large mixing bowl, mix together your sugars, maple syrup, applesauce, coconut oil, and vanilla, until fully combined. You'll then want to add the flour and baking soda and mix until combined. Finally, you'll add the rolled oats and dark chocolate chips, and mix until just combined. Be sure not to overmix, as this will stop the cookies from spreading!
Refrigerate your cookie dough for 20 minutes. This, again, helps prevent the cookies from spreading too much. After 20 minutes, remove them from the fridge. Using a cookie scoop or a large spoon, place balls of cookie dough onto the lined baking tray. Bake the cookies for 12-15 minutes, or just until the edges begin to brown. Remove them from the oven, and let cool on the tray for 10 minutes, before transferring to a wire rack to cool completely!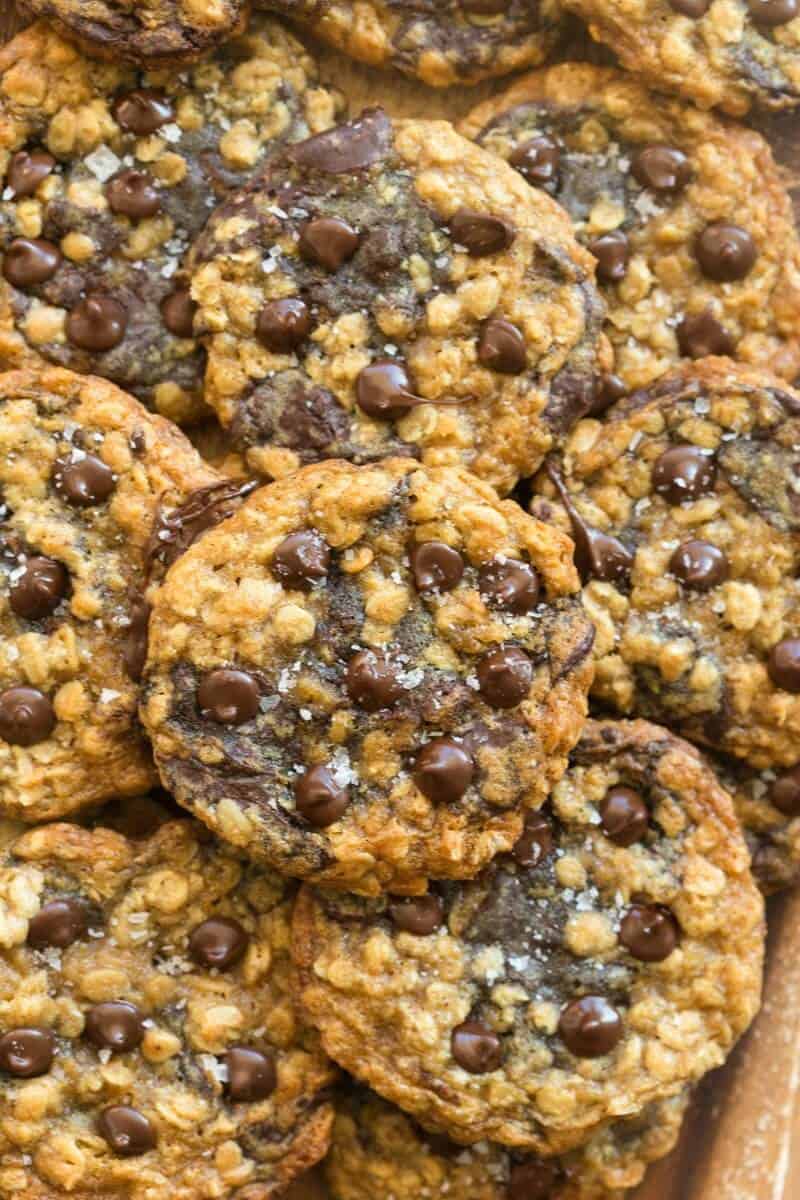 Tips to make cookies sugar free
Make low sugar oatmeal chocolate chip cookies by swapping out the sugars and syrup for the following-
Monk Fruit Sweetener– This replaces the white sugar. Monk fruit sweetener has zero calories and zero carbs but has the same texture as table sugar.
Golden Monk Fruit Sweetener– Similar to monk fruit, but darker in color. This replaces the brown sugar and has a more robust flavor.
Monk Fruit Maple Syrup– Please note that this is NOT sugar free maple syrup (the ones you can add to pancakes). This one is derived from monk fruit and is often used in keto recipes to replace syrups and sticky sweeteners.
Healthy Oatmeal Chocolate Chip Cookie Tips
Do not overbake the cookies, as they continue to cook as they cool down. Also, these cookies have no eggs, so even if they are underdone by a little bit, it is fine.
Avoid overmixing the dough. Overmixing cookie dough is the number one reason why cookies spread. Fold through the oats and chocolate chips at the very end.
If you don't have coconut oil on hand, use any neutral oil, like vegetable or canola oil.
For a more robust flavor, you can use whole wheat pastry flour or white whole wheat all-purpose flour. You can also try using oat flour.
To ensure there is plenty of chocolate dispersed throughout the cookies, use a mix of chopped chocolate and chocolate chips (see pictures- that is why there is a gorgeous marbled look).
For even more chocolate flavor, add chocolate chunks to the batter.
Can I freeze the dough?
Unlike my chocolate chip cookies, I don't recommend freezing the dough. Freezing this particular dough is difficult as it contains oats, which naturally, makes the dough less firm and more crumbly (even before baking!).
Storage Tips
To store: Store leftover cookies in a sealable container, for up to 5 days. You can also refrigerate them, to keep them longer.
To freeze: Place cookies in a freezer-friendly container and store in the freezer for up to 6 months.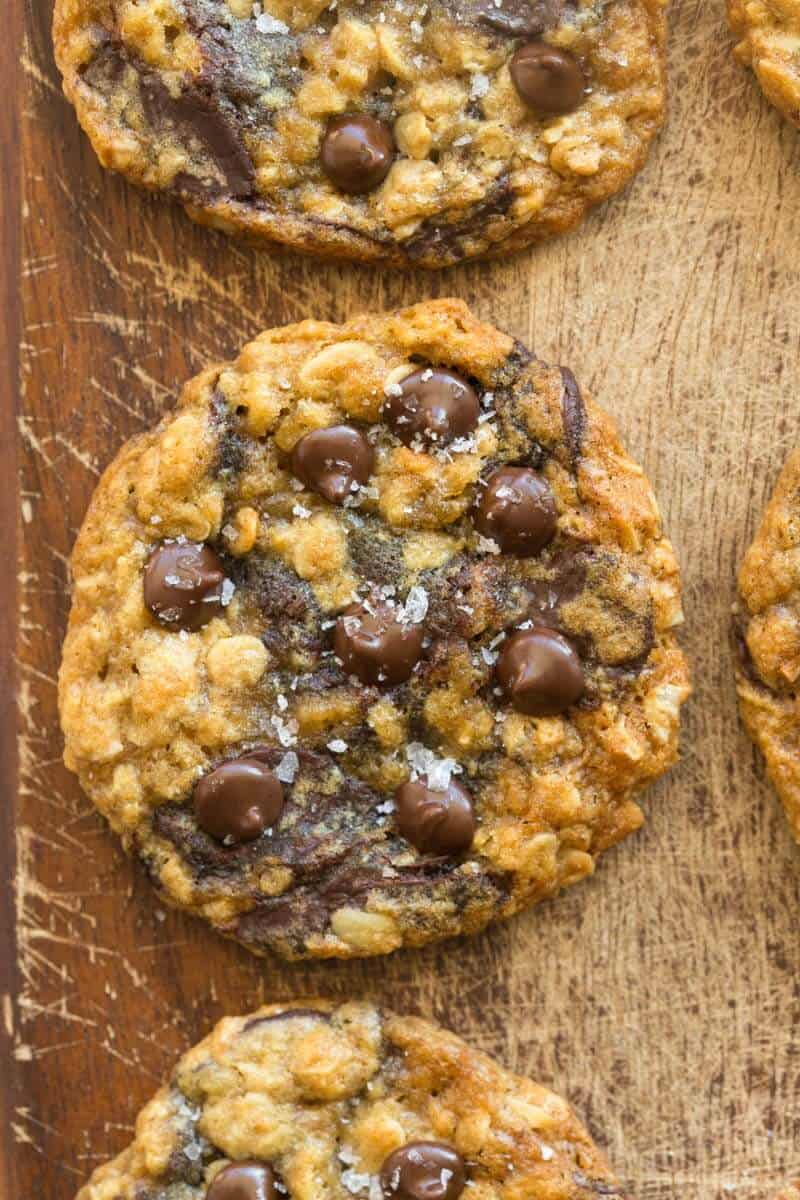 More delicious EASY cookie recipes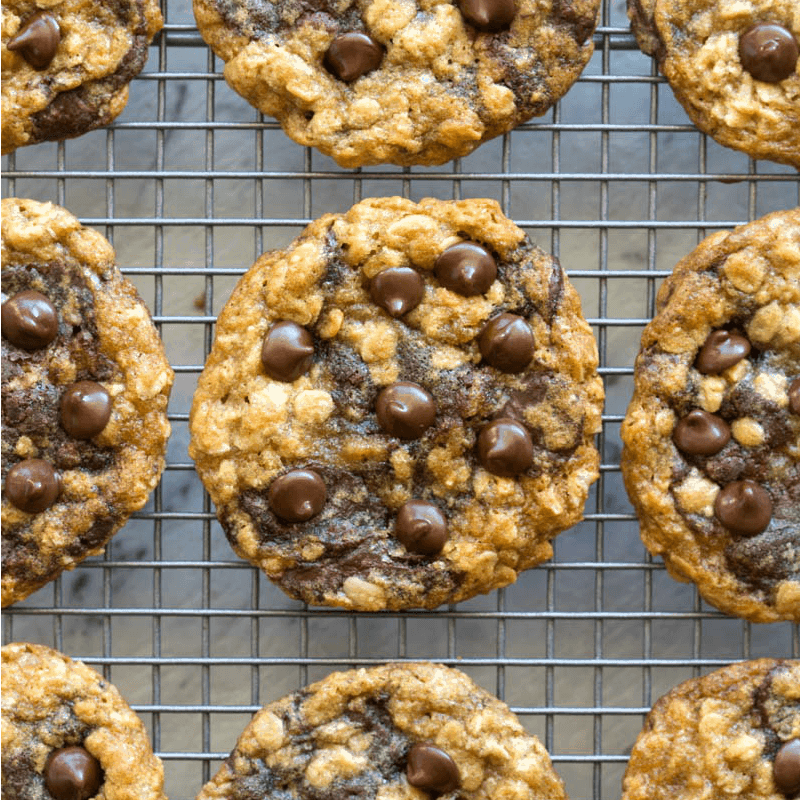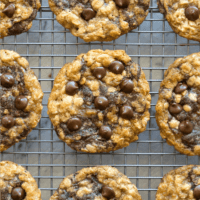 Oatmeal Chocolate Chip Cookies (Secretly Healthy!)
The most EASY and delicious oatmeal chocolate chip cookies that are secretly healthy! Made with no butter, no brown sugar and no milk, these soft and chewy cookies need just one bowl and use simple ingredients! One bowl, vegan, gluten-free, dairy-free.
Print
Rate
Instructions
Preheat the oven to 180C/350F. Line a large baking tray with parchment paper and set aside. Alternatively, use two baking trays, to avoid cookies from overspreading.

In a large mixing bowl, add your coconut sugar, white sugar, coconut oil, applesauce and vanilla extract, and mix until fully combined. Then, add your flour, baking soda, and salt, and mix well. Finally, fold through your oats and chocolate chips, until just combined. Do not overmix. Refrigerate the dough for 30 minutes.

Remove the dough from the refrigerator. Using a cookie scoop or large spoon, drop balls of cookie dough onto the lined trays, about 2 inches apart.

Bake the cookies for 15-17 minutes, or until just beginning to go golden brown around the sides. Remove from the oven and let cool on the tray for 10 minutes, before transferring to a wire rack to cool completely.
Notes
* Can use brown sugar.
** Can use more coconut sugar/brown sugar, or a sugar free substitute.
*** Can use any oil of choice (e.g. canola oil, vegetable oil, safflower oil, etc)
**** I used a mix of chopped chocolate and chocolate chips
If you love oatmeal cookies, you'll enjoy oatmeal cookie bars and flourless oatmeal bars.
Key Recipe Equipment and Ingredients
Nutrition
Serving:
1
Cookie
|
Calories:
97
kcal
|
Carbohydrates:
15
g
|
Protein:
1
g
|
Fat:
4
g
|
Sodium:
60
mg
|
Potassium:
28
mg
|
Fiber:
1
g
|
Vitamin A:
8
IU
|
Vitamin C:
4
mg
|
Calcium:
9
mg
|
Iron:
1
mg
|
NET CARBS:
14
g