This super simple arepas recipe is easy to make with only 3 ingredients. These soft and fluffy fried corn cakes are fantastic on their own or stuffed with meat, cheese, and more!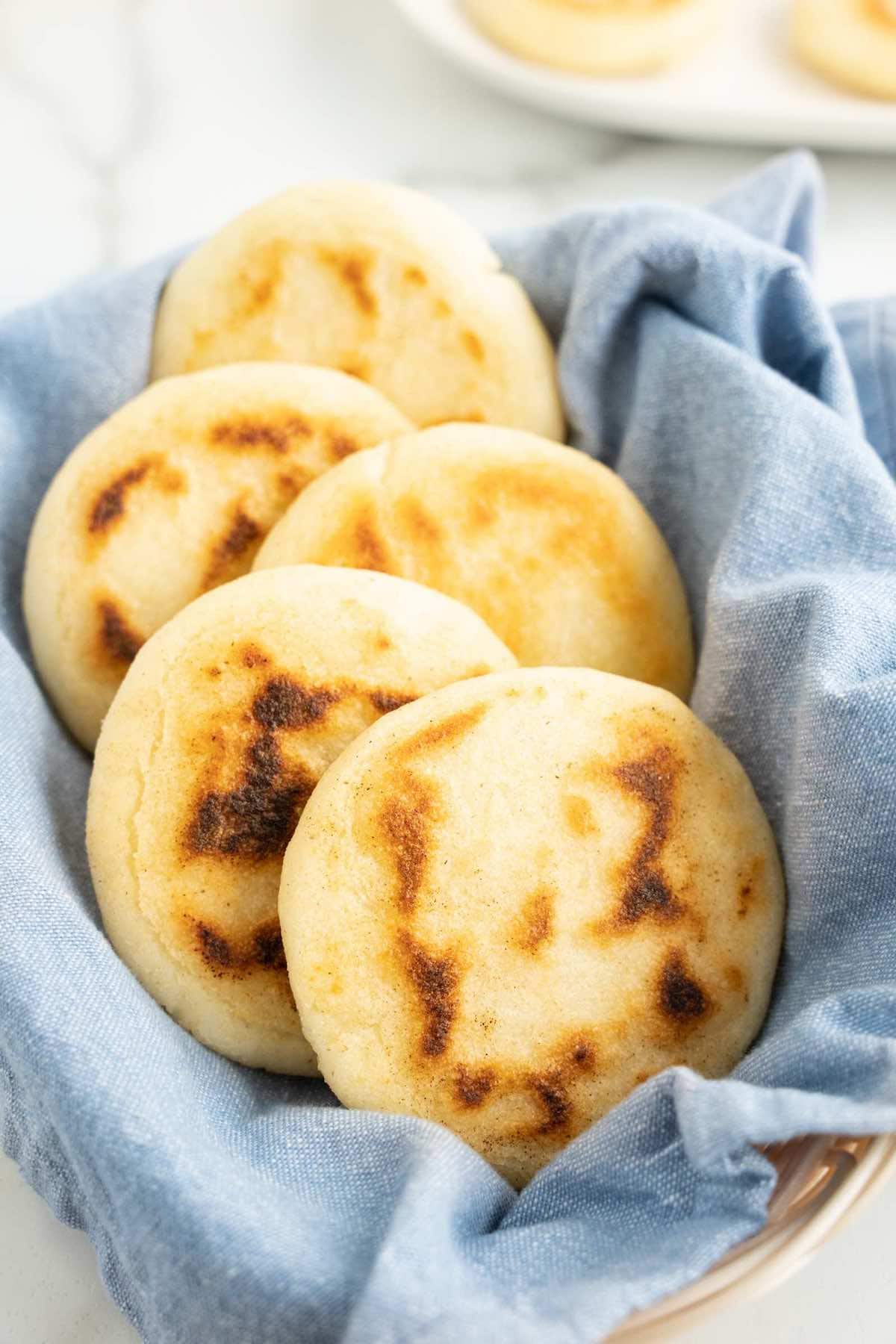 Looking for a handheld snack you can stuff with all of your favorites? Then arepas are for you! These South American fried corn cakes are deliciously savory and the best treat you can stuff with your favorite cheeses, meats, and more.
Table of Contents
What are arepas?
Arepas are fluffy handheld cornbread cakes made with masarepa (pre-cooked cornmeal flour), water, and salt. The recipe originated in South America and remains a popular dish throughout Columbia and Venezuela. Once formed into disks, arepas are fried until crispy on the outside and fluffy on the inside, then sliced in half and stuffed with cheese, avocado, carnitas, or anything else you like.
The best arepas recipe
Arepas are known for being easy to make but it's their versatility that really makes them special. Just like mulitas and sopes, their savory flavor pairs well with ground beef, shredded pork, guacamole, shredded cheese, and so much more. Best of all, they're naturally gluten free and vegan!
Only 3 ingredients. Cornmeal flour, water, and salt are the 3 budget-friendly ingredients you need to make homemade arepas.
Easy to make. The process is as simple as making the dough, forming it into small disks, then pan-frying each one. So easy!
Fun to eat. I love the versatility of arepas. The soft, pillowy corn cakes make for a fun and delicious pairing with meats, cheeses, spreads, and more. Check out the Serving Suggestions below to find your perfect match.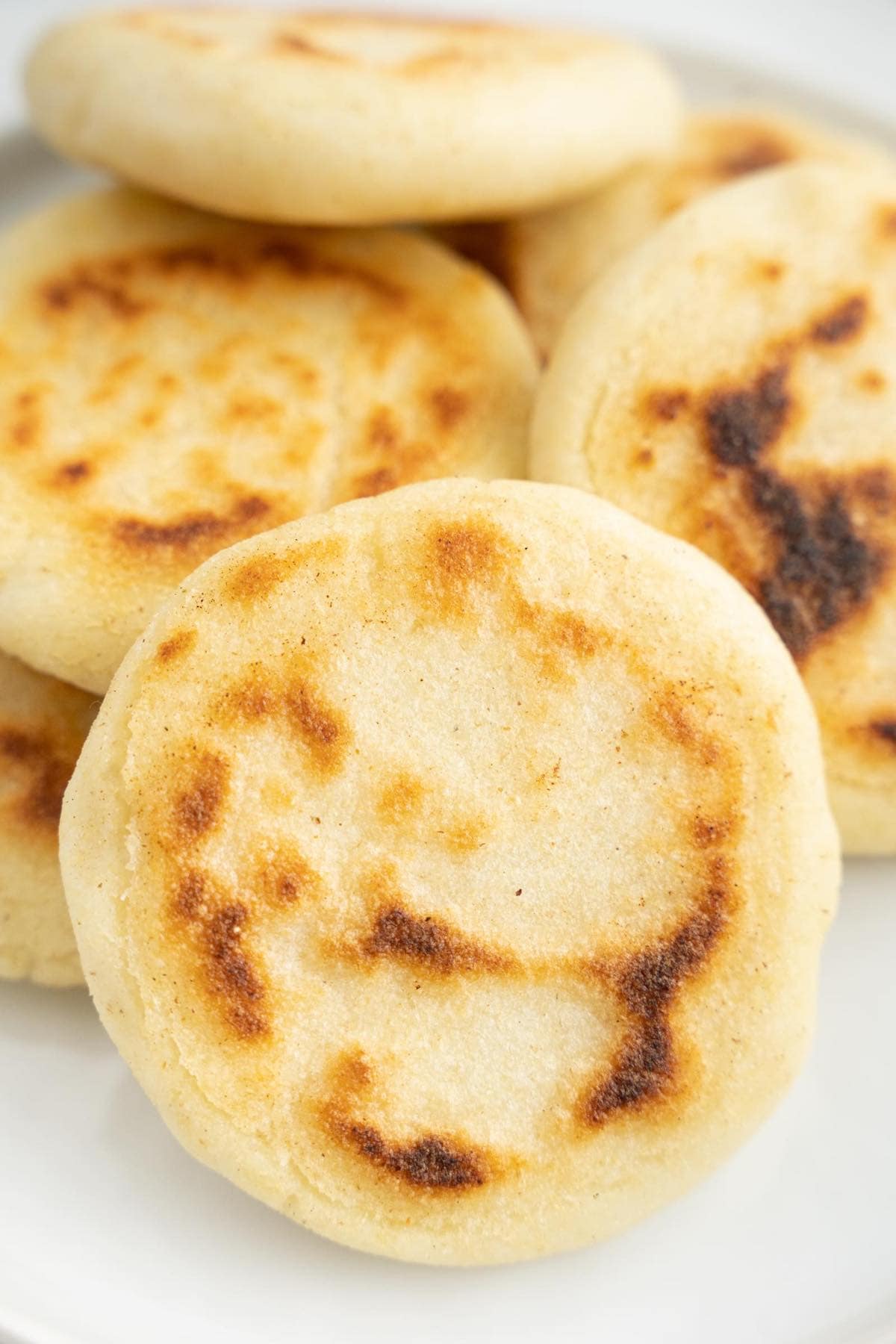 Arepas are so easy to make because they're only made from 3 ingredients. Here's exactly what you'll need:
Cornmeal flour. I made this with white cornmeal flour but yellow cornmeal flour works just as well. The most important thing is to use pre-cooked cornmeal flour (sometimes labeled as masarepa or arepa flour). It's softer and finely ground, unlike the coarser masa harina (used to make tortillas, tamales, and sopes).
Water. The water should be warm, like bath water.
Salt. Regular table salt works great.
Butter. For frying the arepas.
Dietary swap
Allergic to dairy or want to make these without butter? Swap this out for your favorite cooking oil.
How to make arepas
You'll have a lot of fun with this South American staple, even if you've never worked with dough before! Here's how it's done:
Step 1 – Make the dough
Combine the salt and warm water in a bowl. Slowly stir in the arepa flour when the salt has dissolved.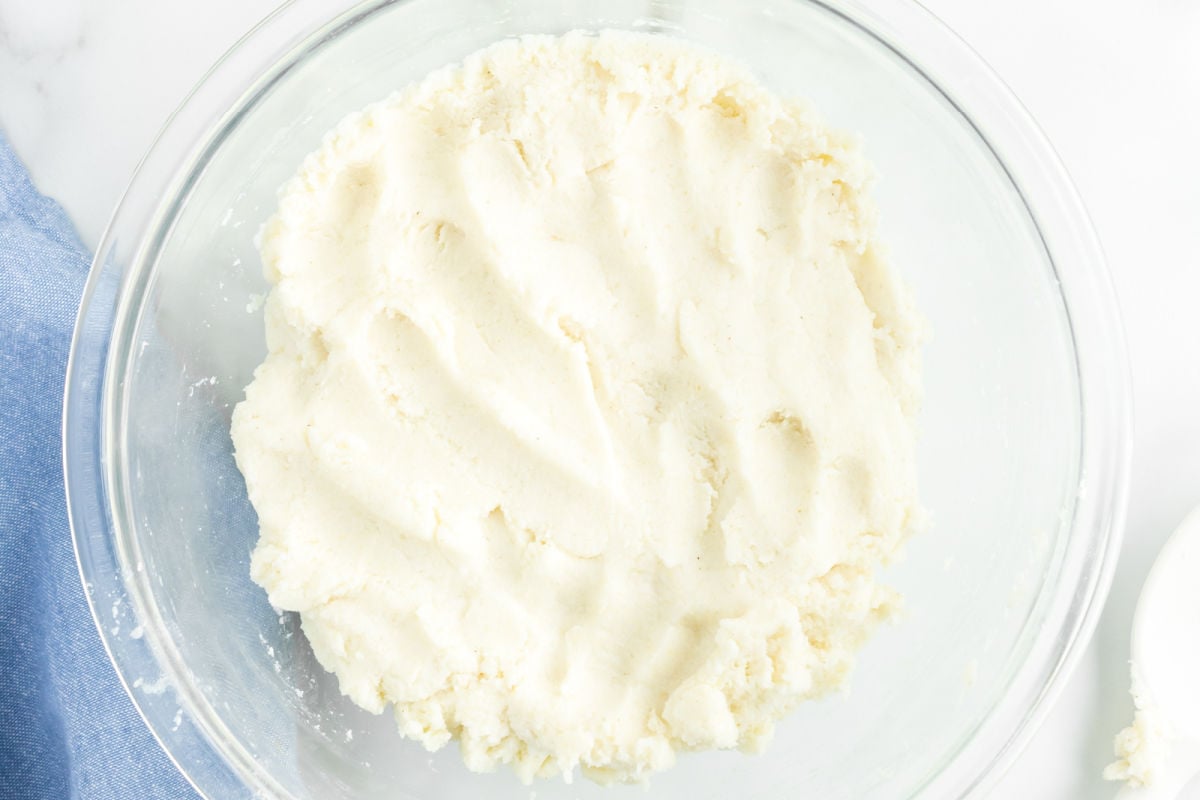 Gently knead the dough until it becomes a smooth ball. Next, cover the bowl with a clean kitchen towel and leave the dough to rest.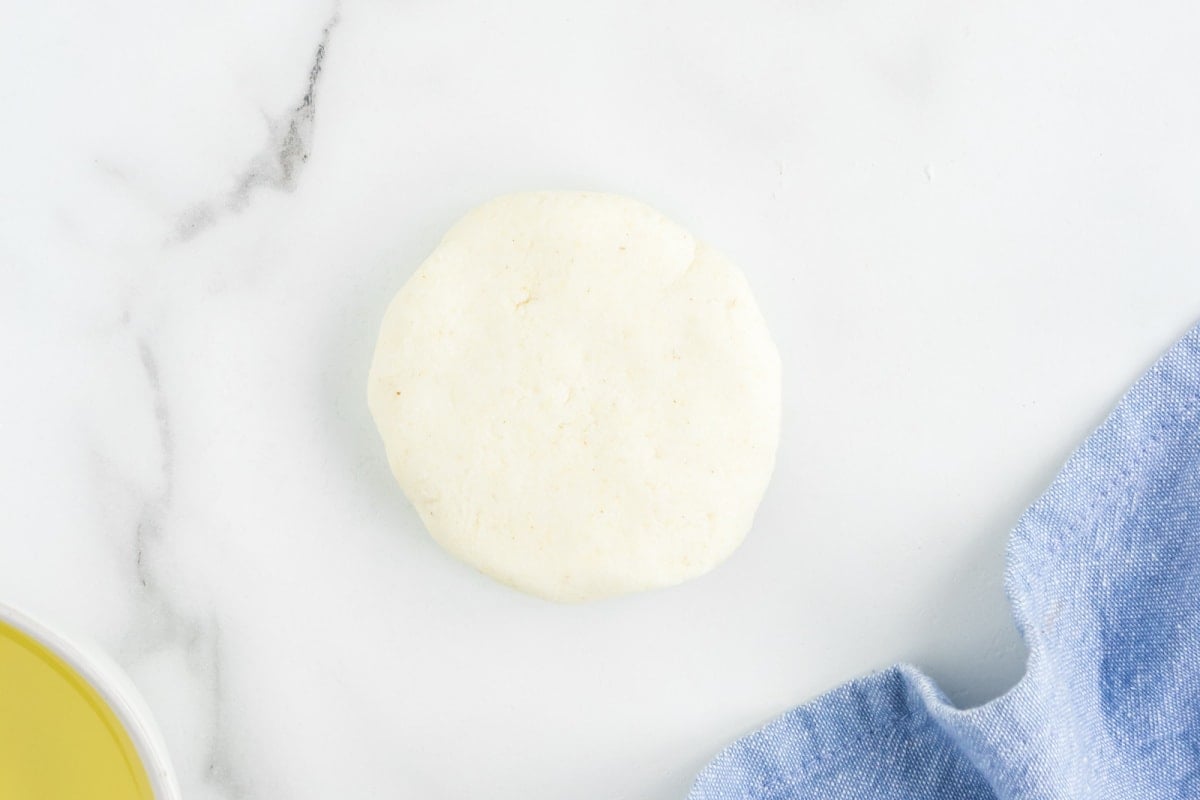 Step 2 – Form into disks
Grease your hands with a little oil or water and divide the dough into 8 portions. Flatten each one into a thick disk.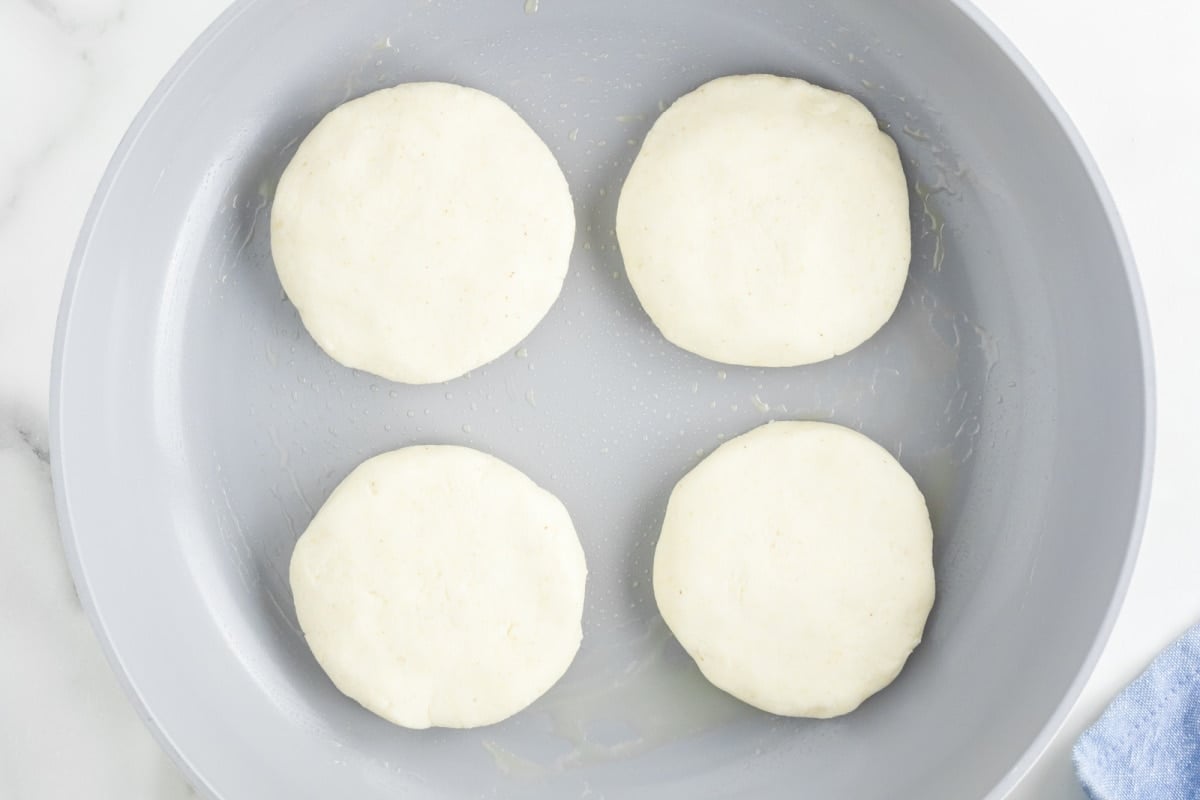 Step 3 – Fry the arepas
Melt the butter in a large skillet over medium heat. Spread it all around the pan, then add the arepas. Place a lid on top to help them steam and fry. Flip and continue cooking for a few more minutes. Repeat until you run out of dough, brushing butter on the pan in between each batch. Stuff the arepas with the fillings you love and enjoy!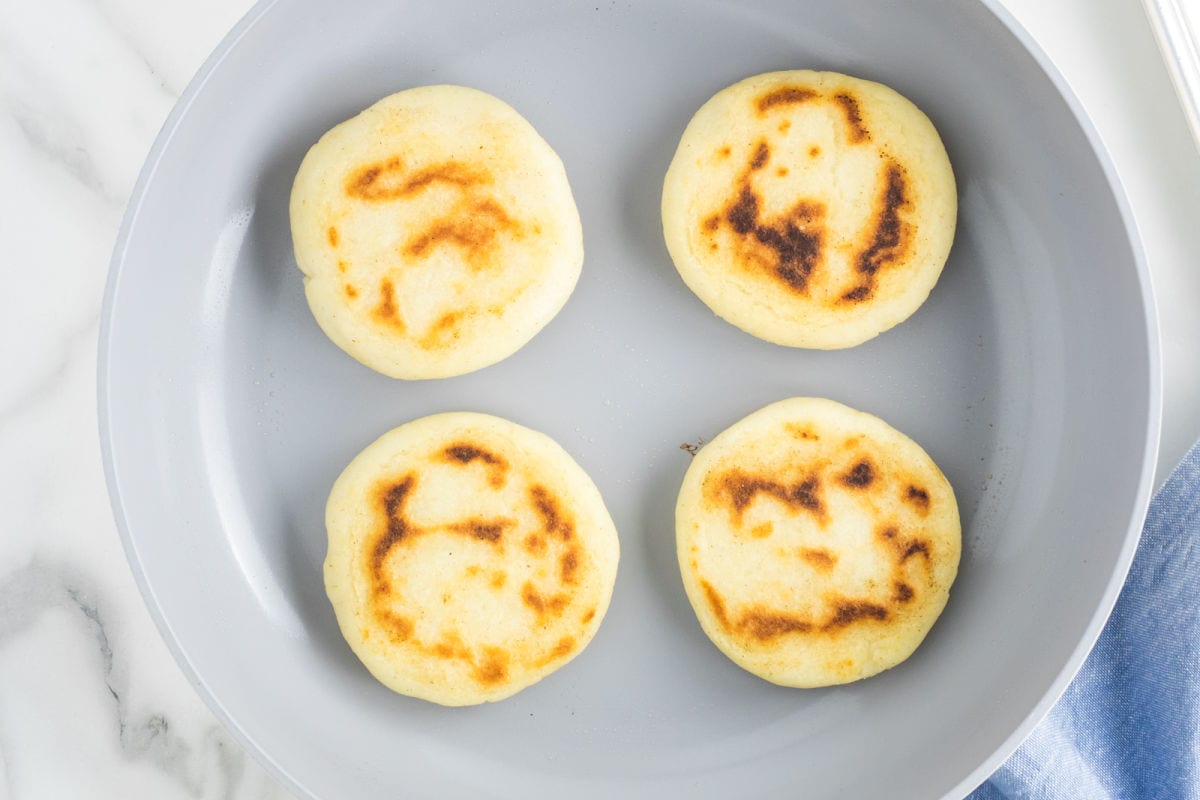 Your hands are the only tool you need to mix the dough! After all, that's how it's done throughout South America.
Is the dough feeling a bit too sticky and wet? Add more cornmeal flour, one tablespoon at a time, until it starts to come together.
You'll know the dough is ready when it turns into a smooth ball that pulls away from the sides of the bowl.
Want to stuff your arepas with cheese (arepas con queso)? Stir about 4 tablespoons of shredded Oaxaca or mozzarella cheese in with the dough. When they're done frying, slice them in half and add a slice of cheese inside. Fry again until the cheese melts, then enjoy!
To store. Keep the cooked arepas in an airtight container in the fridge for 3 to 4 days.
To freeze. Separate each one with a layer of parchment paper before freezing them in an airtight container or freezer-safe bag. Freeze for up to 1 month.
To reheat. Place the arepas on a lightly oiled skillet over medium-low heat until they're warmed through and crisp again.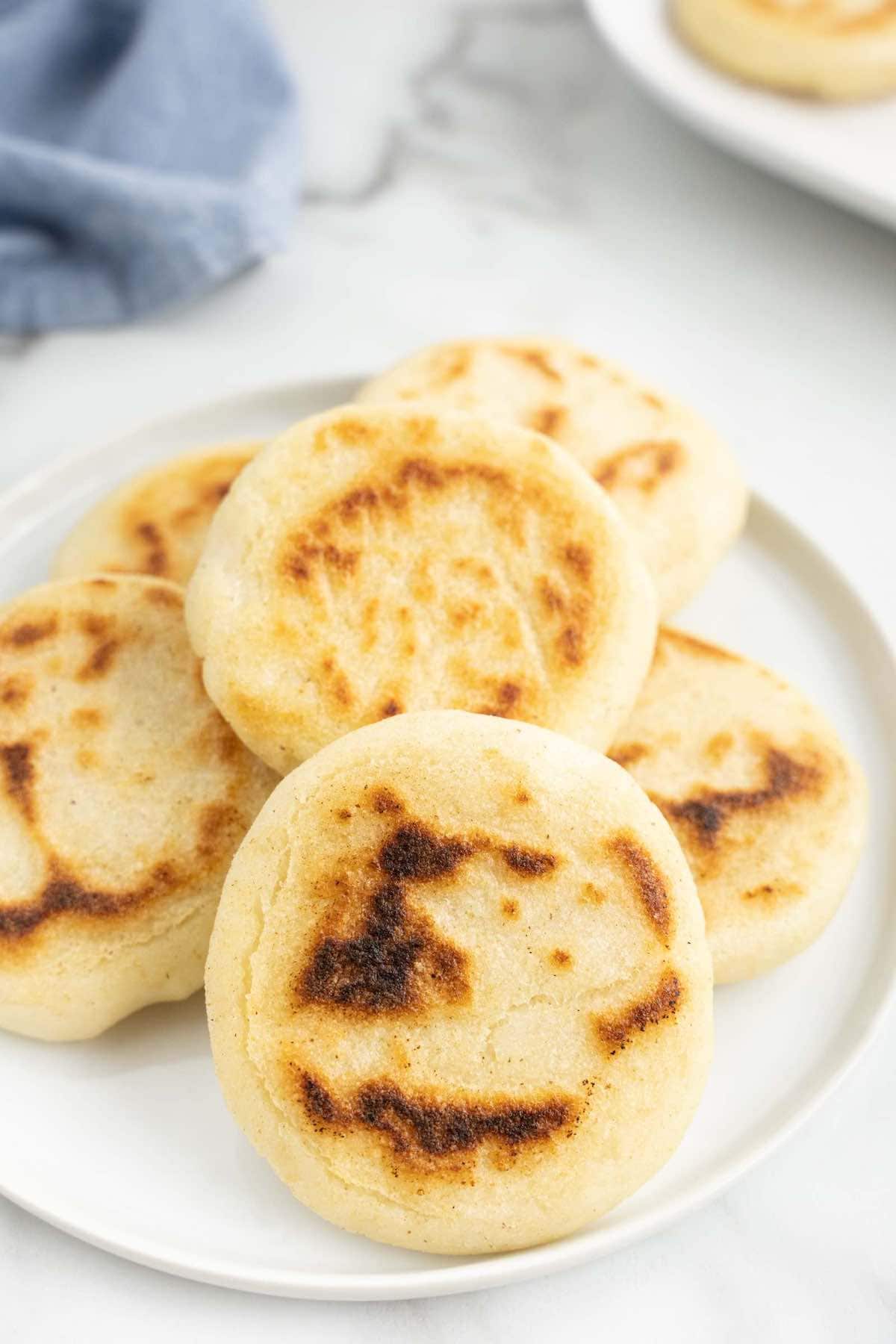 What to serve with this dish
It's tradition to stuff the arepas with cheese, meat, spreads, and more. Try them with any of these suggestions:
Are arepas and pupusas the same?
Pupusas and arepas are similar, but not the same. Salvadoran pupusas are also a type of stuffed corn cake but have a thicker dough made with masa flour, not cornmeal.
Can you make arepas in advance?
In South America and Latin countries, arepas are made almost every day because they're so easy to put together. But if you're short on time, they can easily be cooked and frozen for up to 1 month. You cannot, however, make the arepa dough in advance because it may ferment.
Are they gluten free?
Yes! Arepas are made with corn flour (masarepa), which just happens to be naturally gluten free.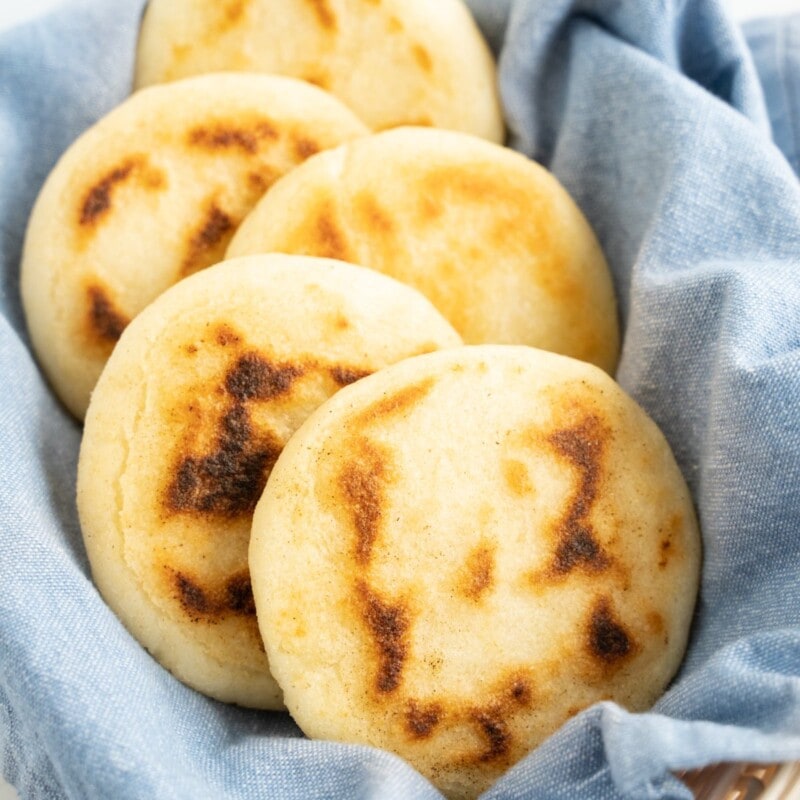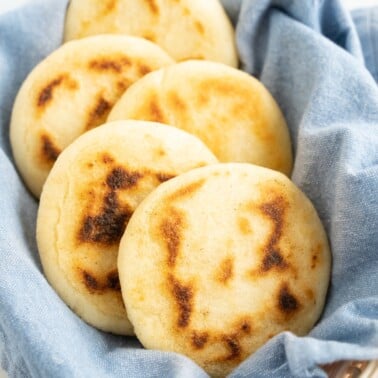 Arepas (3 Ingredients)
Learn how to make arepas, crispy corn cakes that need just three ingredients to make. Fill them with cheese, queso, or beans for a satisfying hand held snack.
Instructions
Add the salt and warm water into a bowl and let the salt dissolve.

Slowly pour the arepa flour into the mixture, stirring consistently while doing so. Once all the flour is added, gently knead the dough several times, ensuring no lumps remain. If the dough is sticky, add more arepa flour, one tablespoon at a time, as needed.

Cover the bowl and set aside for 30 minutes.

Divide the dough into 8 portions. Grease your hands with oil and flatten each portion of dough into a thick disk shape, around ½-⅓-inch in thickness.

Heat a large non-stick pan or skillet over medium heat. Drizzle with a teaspoon of butter and use a paper towel to spread it around the entire pan. Place the arepas in the pan, cover, and cook for 7-8 minutes. Remove the lid, flip, and cook for a further 2-3 minutes.

Repeat the process until all the arepas are cooked.
Nutrition
Serving:
1
arepa
Calories:
71
kcal
Carbohydrates:
14
g
Protein:
2
g
Fat:
1
g
Sodium:
392
mg
Potassium:
50
mg
Fiber:
1
g
Vitamin A:
46
IU
Calcium:
28
mg
Iron:
1
mg
NET CARBS:
13
g
Disclosure: This post may contain affiliate links. I may earn a small commission for my endorsement, recommendation, testimonial, and/or link to any products or services from this website.