Learn how to make restaurant style beef bulgogi at home; sweet, smoky, and perfectly grilled. Ready in minutes and sure to impress!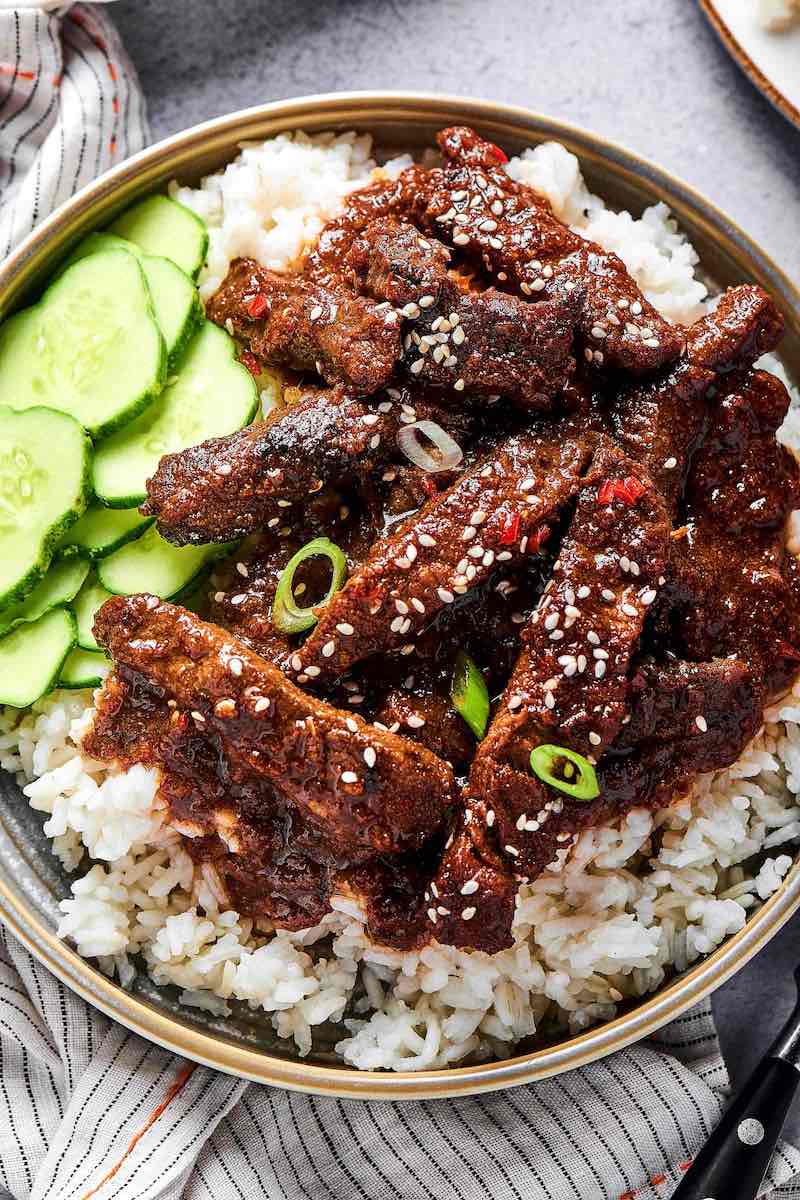 It's no secret we are big fan of Asian cuisine.
I guess it shouldn't come as a surprise, seeing as I come from a half-Asian background. Many of our dinners are Asian inspired, and we have a few favorites up our sleeve: Hunan chicken and empress Chicken specifically.
However, whenever we whip up a fresh batch of bulgogi sauce, it means that bulgogi beef is on the menu!
What is bulgogi?
Bulgogi is a combination of two Korean words, "Bul" meaning "fire" and "Gogi", which translates to "meat". Hence, this dish is famously called "fire meat". The name reflects the way this traditional Korean dish is cooked. 
When making traditional bulgogi, thin slices of beef, chicken, or pork are cooked on a grill after marinating them in some bulgogi sauce.
Why this bulgogi beef recipe will be a dinnertime staple:
Full of flavor.

The marinade provides a blend of flavors, and it gets a smoky flavor during cooking, making i

t super flavorful.
Quick and easy. With very little hands on time, this recipe comes together quickly.
Works with ground beef. While thinly sliced steak is preferred, this works just as well with ground beef too.
What I love about this recipe is just how simple it is. It truly tastes like authentic Korean food that you'd find at any good restaurant.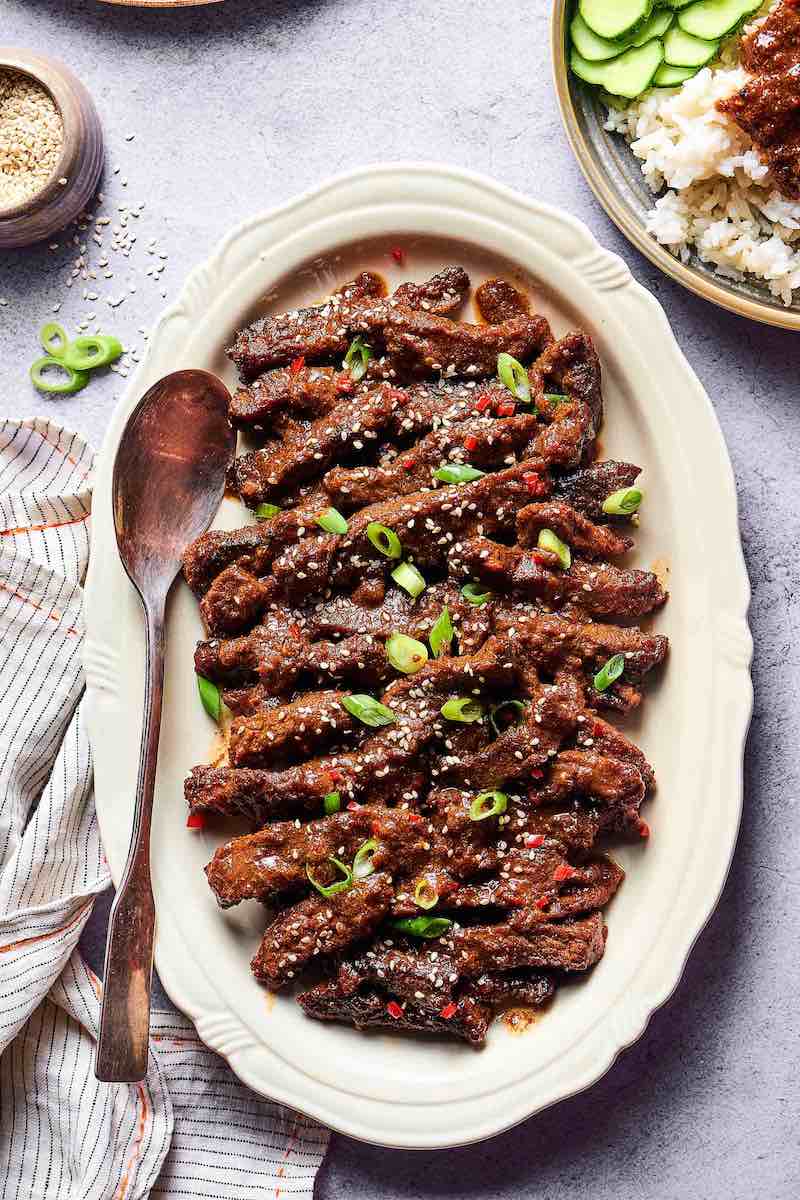 Ingredients needed
For such a flavorful and delicious recipe, you'll love how simple and easy the ingredient list is. Here is what you'll need:
Beef steak.

Ribeye, sirloin, or flank steak are the best cuts to use.

Bulgogi sauce.

Skip the expensive store-bought options and

make your own

at home- it's so easy and tastes so much better.

Oil.

Just a touch of any neutral flavored oil to help with the cooking process. There is already some sesame oil in the actual sauce/marinade.

Onions.

Trimmed and sliced.

Salt and pepper.

To taste.
How to make beef bulgogi?
This recipe is very simple and follows a simple 3-step process. I recommend prepping the sauce and beef in advance so there is minimal hands on time. Ready to make some bulgogi?
Step 1- Freeze and slice the beef
Start by freezing the beef to make it easier to cut and a way to tenderize it. To do this, take a cover the beef in plastic wrap and put it in the freezer for an hour until partially frozen. After this time, use a sharp knife to slice it up.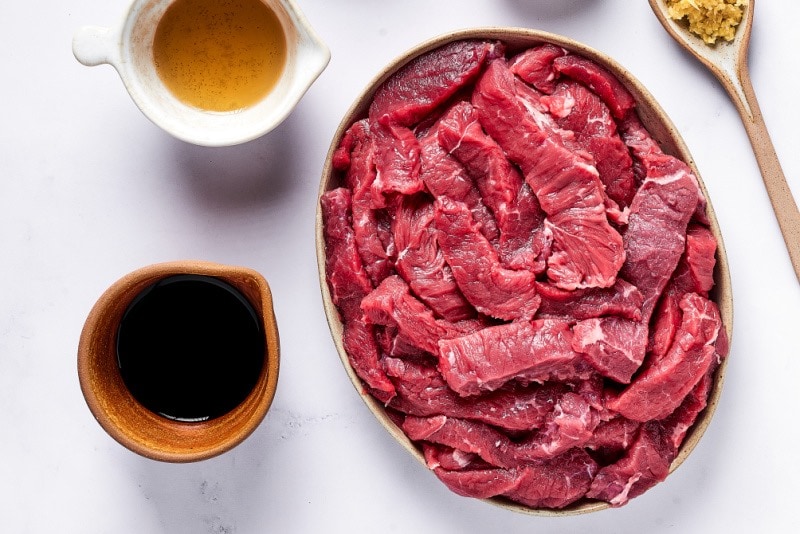 Step 2-Marinate the beef
Next, add the sliced beef, bulgogi sauce, oil, and onions in a bowl. Sprinkle with salt and pepper and mix well. Let everything sit for 5 minutes, but if you have extra time, you can marinate it up for four hours.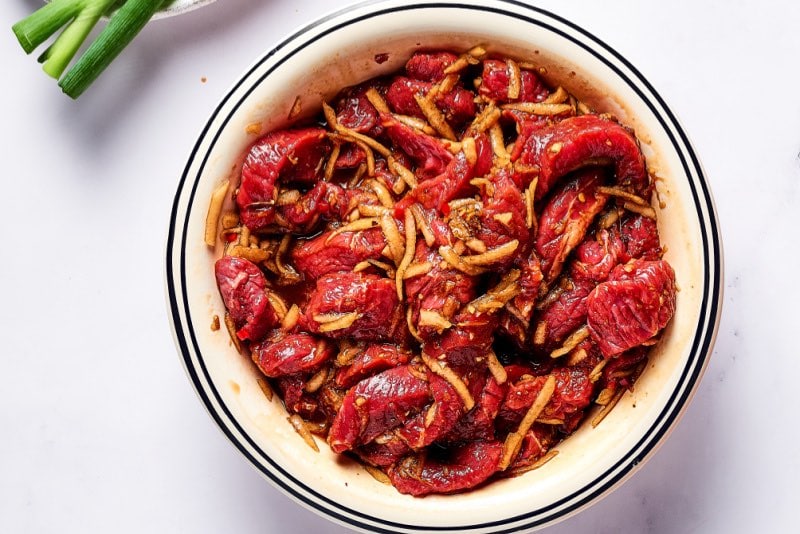 Step 3- Cook the bulgogi
Now, cook the beef. Add a touch of oil to a non-stick pan, skillet, or barbecue. Once hot, add the beef and cook for 30-40 seconds, before moving it around until tender, which usually takes around 4 minutes.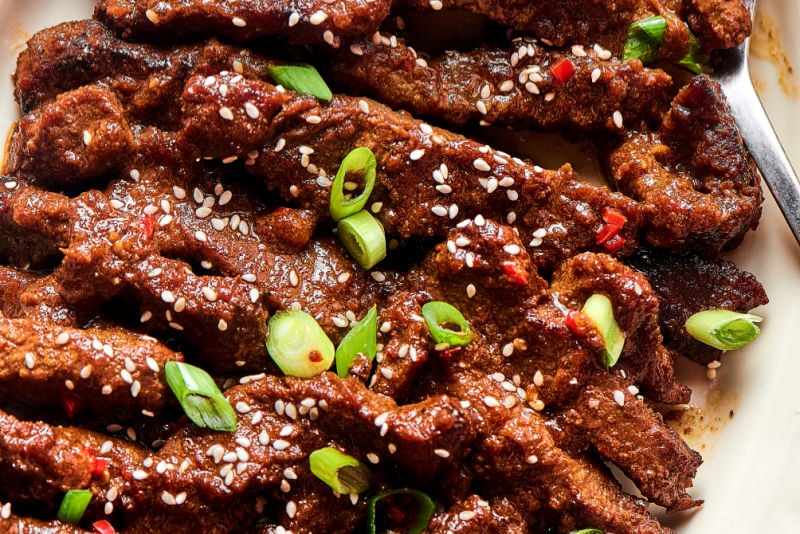 What cut of meat is best?
The most popular cut of meat for beef bulgogi is ribeye because it's juicy and tender. It naturally melts in your mouth and doesn't require a knife to consume it.
If you need other options when ribeye isn't available, go for sirloin or tenderloin. These cuts are very close to ribeye and also work well.
Tips to make the best recipe
Use good quality beef from a butcher, not a mainstream grocery store. The latter tend to use less than stellar cuts of meat that often contains sinew, bones, and excess fat.

While the beef can be cooked on a skillet or stovetop, try to use a barbecue when possible. It provides the quickest sear and natural smoky flavor.

For the best flavor, marinate the beef for at least an hour, or overnight. This really lets the flavor seep into the beef.
Storage info
Looking for the best way to store leftovers? Here are best practices for bulgogi storage:
To store:

Take an airtight container to store the cooked leftovers in the refrigerator for up to 4 days.

To freeze:

Place the cooled leftovers in an airtight container and store it in the freezer for up to 6 months.

Reheating:

It's best to reheat the beef on a hot skillet or non-stick pan.
More beef recipes to try
Frequently Asked Questions
What to serve with bulgogi? 
As beef bulgogi is super flavorful, it's best to pair it with some steamed rice (we like instant pot brown rice or jasmine rice) or, for something fun, some sushi rice.
Is bulgogi spicy?
While this dish has some spice elements, it has more of a sweet and umami flavor. However, you can adjust the spice level by adding some hot sauce or Korean chili sauce, gochujang.
Calories per serving?
Per serving, there are just 334 calories. Adjust the calorie count to compensate for rice or side dishes.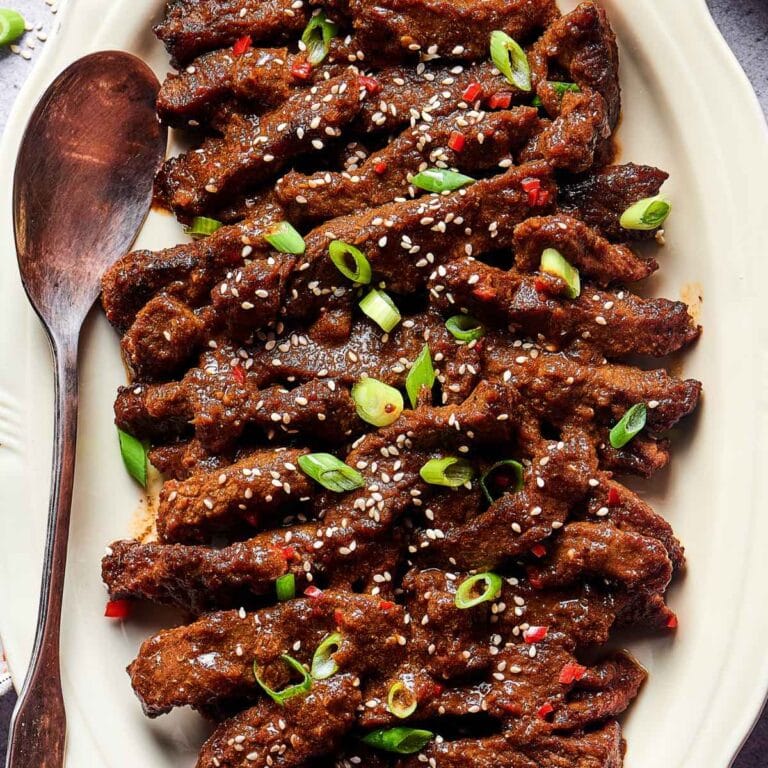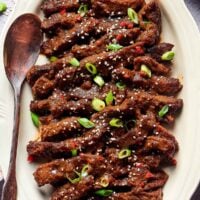 Beef Bulgogi In 10 Minutes | Easy Korean Recipe
Learn how to make restaurant style beef bulgogi at home; sweet, smoky, and perfectly grilled. Ready in minutes and sure to impress! 
Print
Rate
Ingredients
1 1/2

lbs

skirt steak

1/2

cup

bulgogi sauce

1

teaspoon

oil

1/2

large

onion

thinly sliced

1/4

teaspoon

salt

1/4

teaspoon

pepper
Instructions
Place the beef in plastic wrap and place it in the freezer for at least an hour. Once firm, use a sharp knife to slice it into 1/4-inch strips.

In a mixing bowl, add the sliced beef, along with the bulgogi sauce, oil, and onions, then season with salt and pepper. Let it sit for at least 5 minutes, or up to two hours.

Once ready to cook, add oil to a non-stick skillet and place it over hot heat. Once hot, add the beef and cook for 1-2 minutes, until seared on all sides.

Transfer to a plate and cover with tin foil for 3 minutes. After that, serve immediately.
Nutrition
Serving:
1
serving
|
Calories:
150
kcal
|
Carbohydrates:
4
g
|
Protein:
20
g
|
Fat:
6
g
|
Sodium:
819
mg
|
Potassium:
305
mg
|
Fiber:
0.2
g
|
Vitamin A:
8
IU
|
Vitamin C:
1
mg
|
Calcium:
12
mg
|
Iron:
2
mg
|
NET CARBS:
4
g