This quick and easy shrimp salad makes the best healthy and easy meal idea! The creamy dressing and sliced avocado take it up a notch.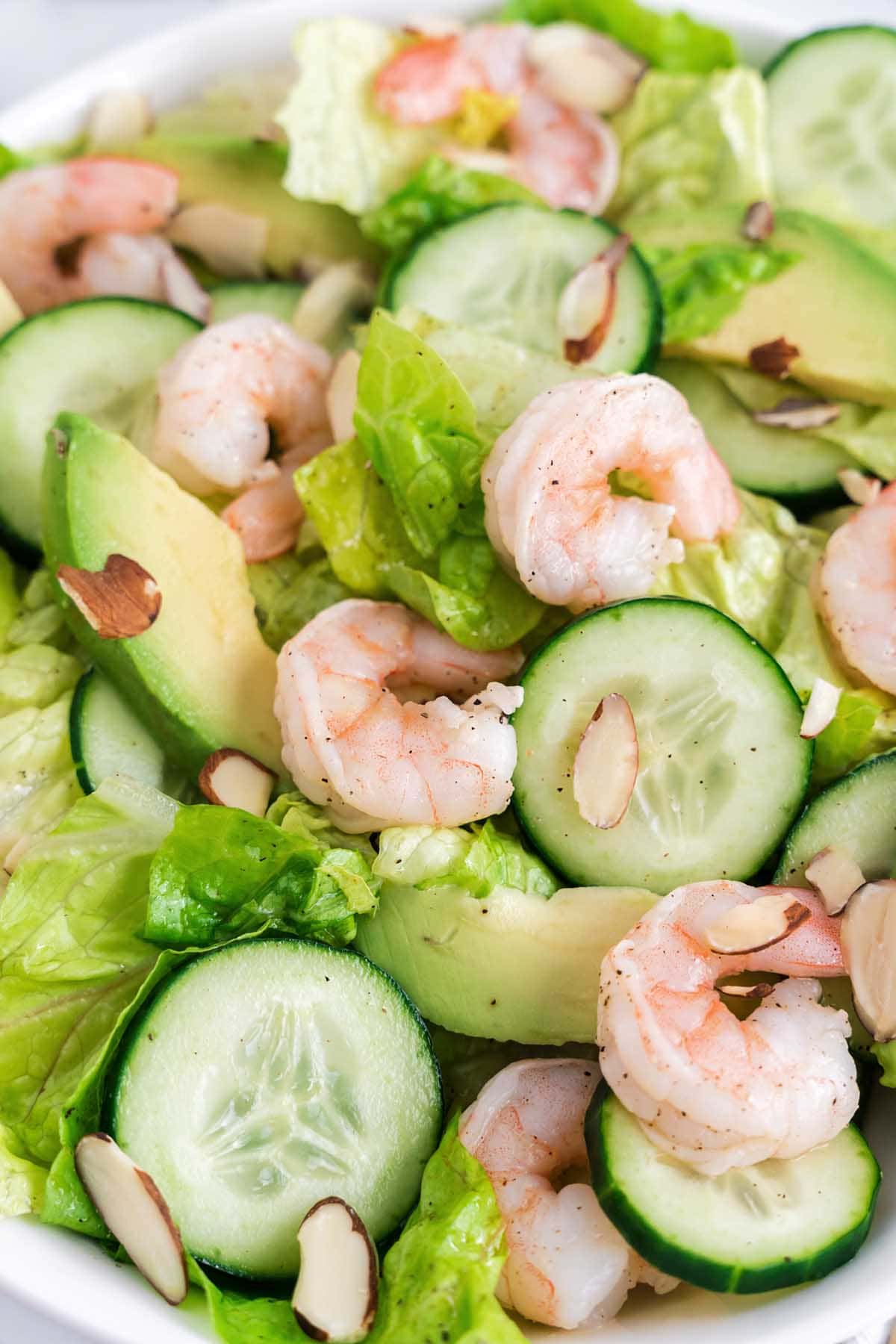 Leftover shrimp on hand or looking for a healthy and filling salad idea? This shrimp salad recipe ticks all the boxes. Juicy shrimp is mixed with salad greens and a zesty dressing.
It's the perfect recipe to use up leftover shrimp with (a big reason why I double batch blackened shrimp!) or when you have a frozen package to use up!
Table of Contents
Why this recipe works
A summer salad. This is your quintessential summer salad with cool cucumber, light shrimp, and a citrusy lime dressing.
Make ahead. You can precook your shrimp, prep your veggies, and make the dressing beforehand. When it's time to serve, toss everything together and add freshly sliced avocados. Perfect for potlucks!
Simple and delicious. You don't have to worry about complicated techniques, cooking, dressing, or ingredients to make this classic salad.
Quick. If you have cooked shrimp (or even a leftover shrimp burger), making this tasty salad takes just 5 minutes.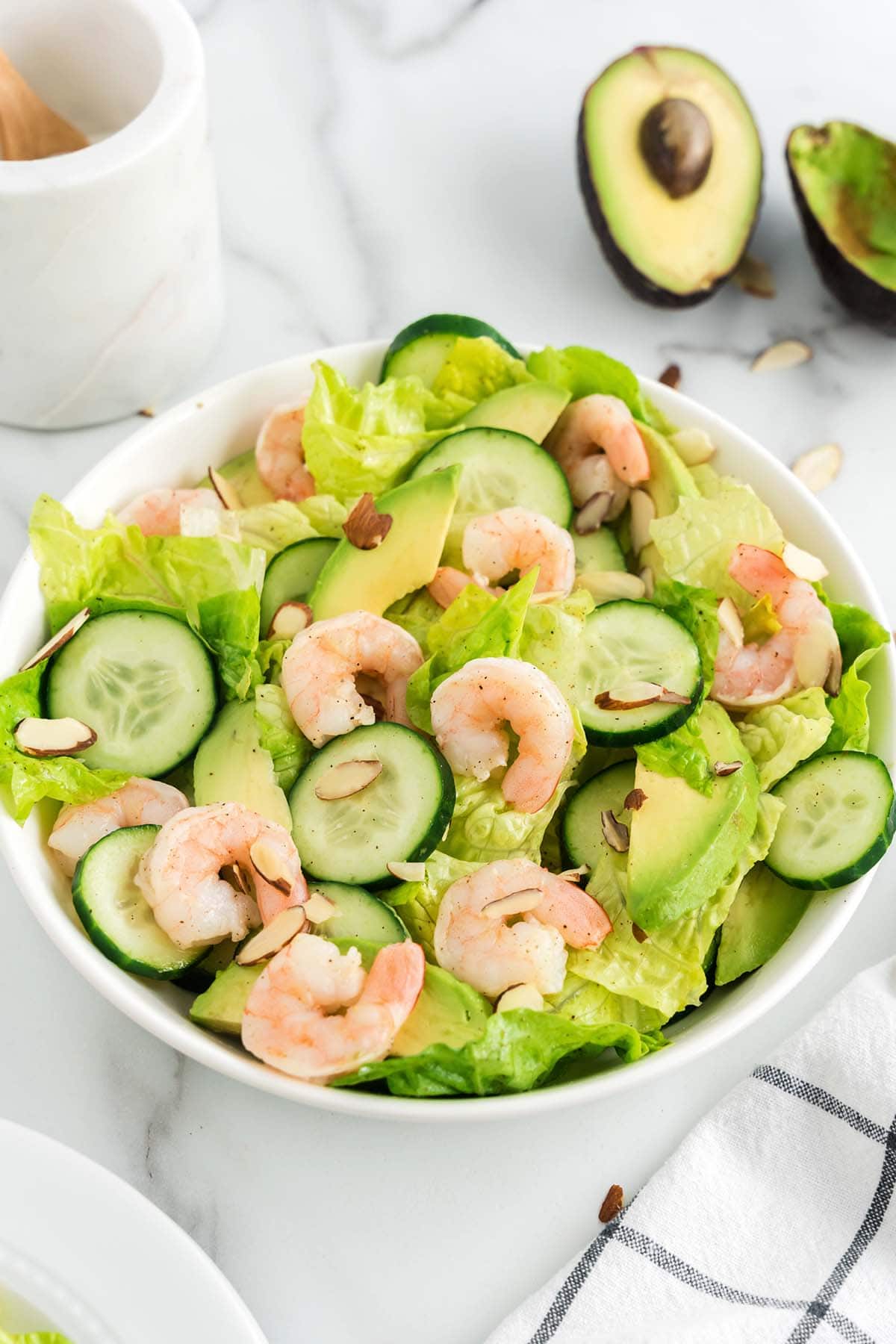 Ingredients Needed
Shrimp. You'll need large/jumbo shrimps. If you have a trusted fish vendor, buy fresh. If not, frozen shrimp works, too. Just be sure to thaw it well and then quickly steam or saute it.
How to cook shrimp quickly
To cook shrimp, you can simply boil them or make them in an air-fryer. Or you can buy pre-cooked shrimp and save some more time.
Lettuce. Romaine is my go-to lettuce for this recipe. But you can always choose your favorite greens. Clean and chop it into bite-sized pieces.
Cucumber. Slice your cucumbers. If it is an English cucumber, leave the peels on. But if the cucumber has thick skin, peel it before adding slicing.
Avocado. You'll need one ripe avocado to make this salad.
Lime. For the citrusy dressing. You can also substitute it with lemon if you find it challenging to find limes or if you prefer a subtle citrus flavor.
Salt and pepper. To season.
Olive oil. Use good-quality extra-virgin olive oil because the dressing has only lime and olive oil.
Almonds. I love to top the salad with crunchy almond flakes. You can make them at home or easily find them in your supermarket.
How to make a shrimp salad
Make the dressing. In a mixing bowl, whisk olive oil, lime juice, salt, and pepper.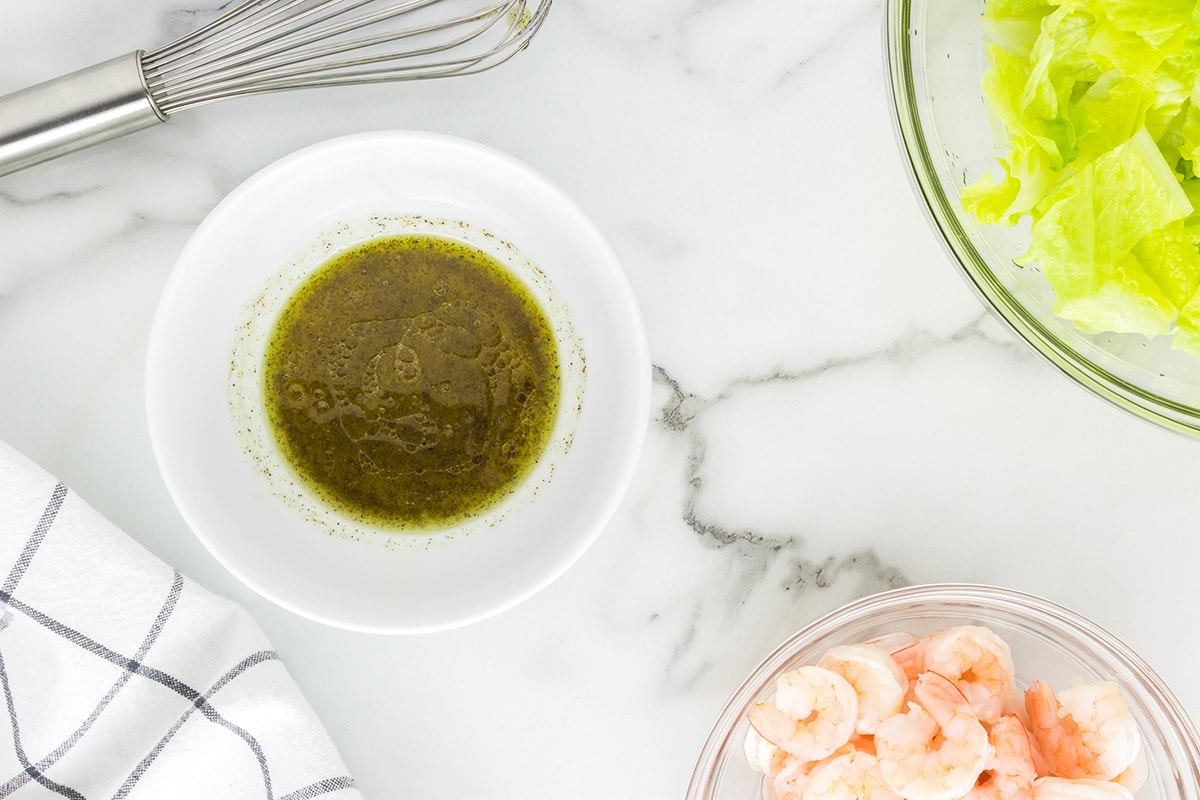 Toss the salad. Combine lettuce, shrimp, and sliced cucumber with the salad dressing and toss to mix it well.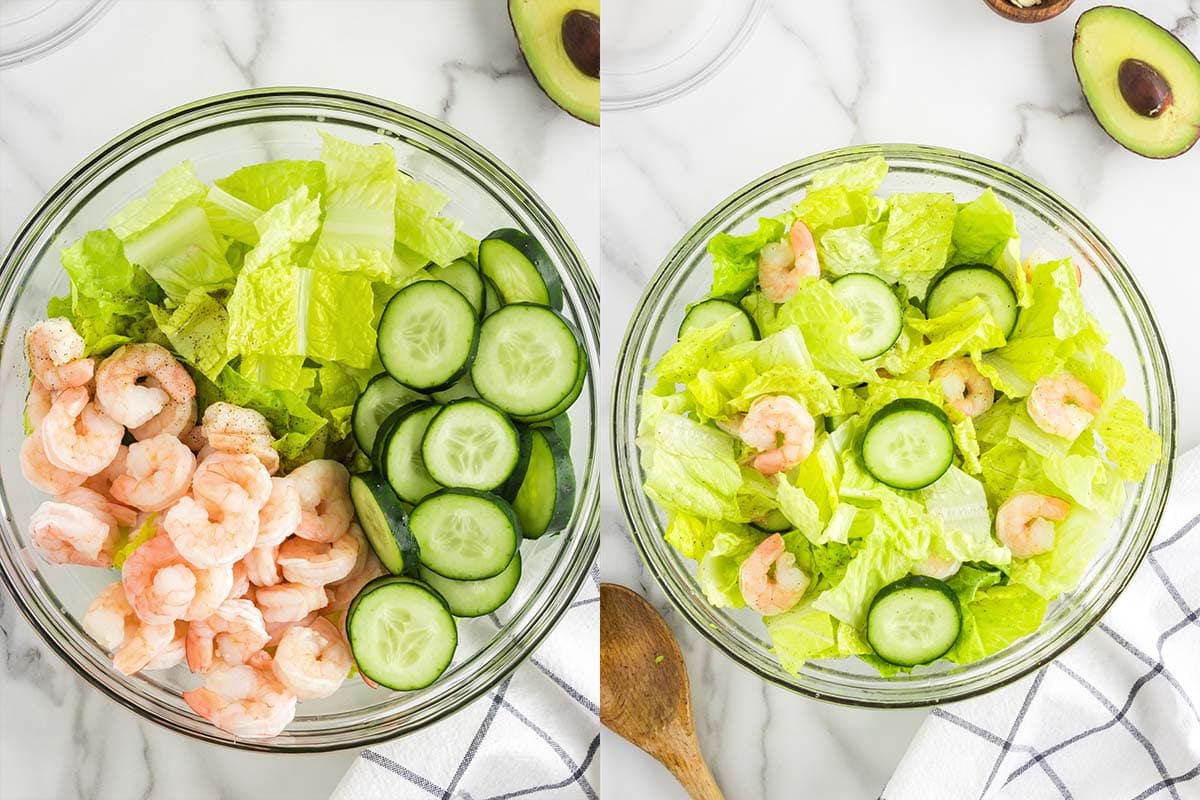 Garnish and serve. Transfer the salad to a serving plate or bowl and top it with freshly sliced avocados and flaked almonds.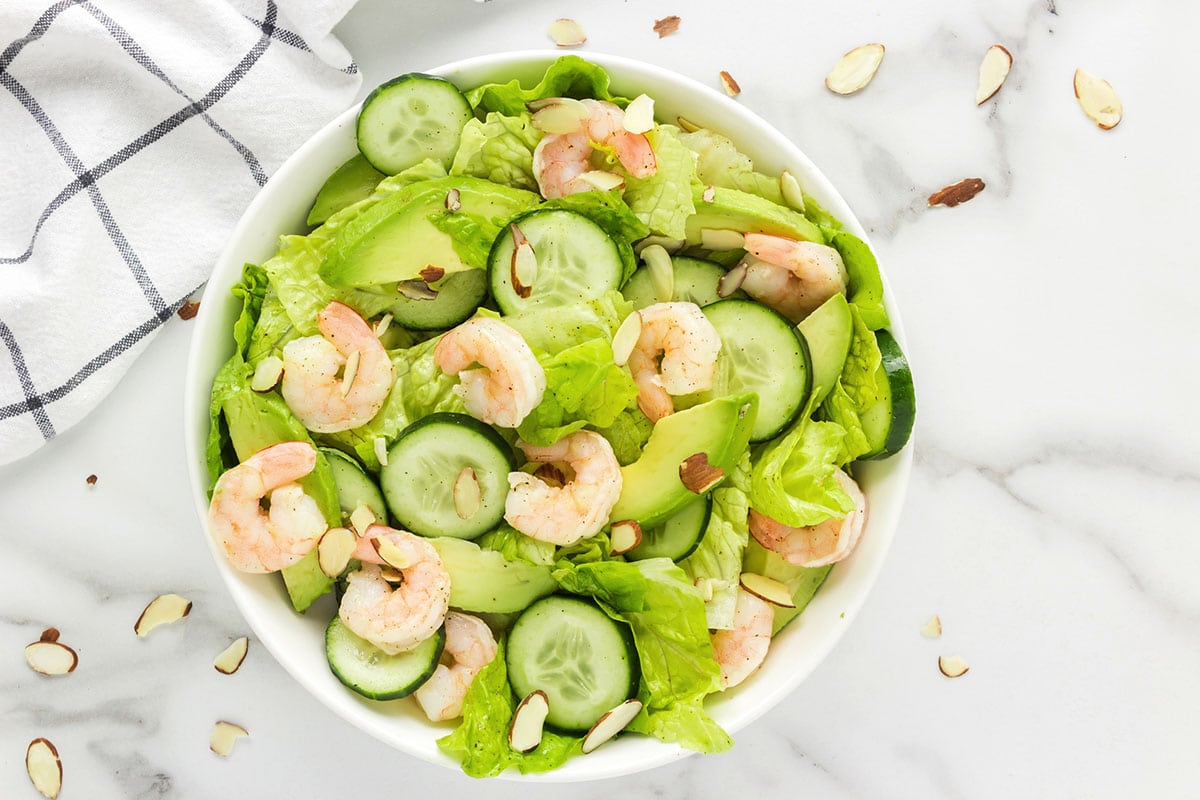 Flavor variations
Use your favorite greens. I love Romaine lettuce for its crunch. But you could use a mix of spicy arugula, baby spinach, and other baby greens.
Dressing variations. While I love this citrus-forward dressing, you can always make yours creamy. A mayonnaise, mustard, dill, and lemon dressing also works well with shrimp.
Use different summer veggies. Add cherry tomatoes, celery, and red onion slices to this salad.
Add more protein. You can also add halved hard-boiled eggs to make this salad more filling.
Recipe tips and tricks
Use toasted almonds. For the unique crunch and toasty flavor, I love to toast my almond flakes for a minute.
Don't overcook your shrimp. Boiling, grilling, or air-frying, whichever way you cook, remove shrimp from the heat once it becomes pink. If using cooked, frozen shrimp, thaw it in the refrigerator or under cold water before combining the salad.
Scale up. If entertaining, scale up the recipe 2 or 3 folds. Cook the shrimp in batches for consistent results.
Use jumbo shrimp. Jumbo shrimp are big, juicy, and full of delicious meat. Also, larger shrimp are easier to handle and difficult to overcook.
Storage instructions
To store. You can keep the shrimp salad in the refrigerator for 2-3 days. Ensure that it is in an air-tight container to retain maximum freshness.
To freeze. This salad does not freeze well, so enjoy it fresh!
Recommended tools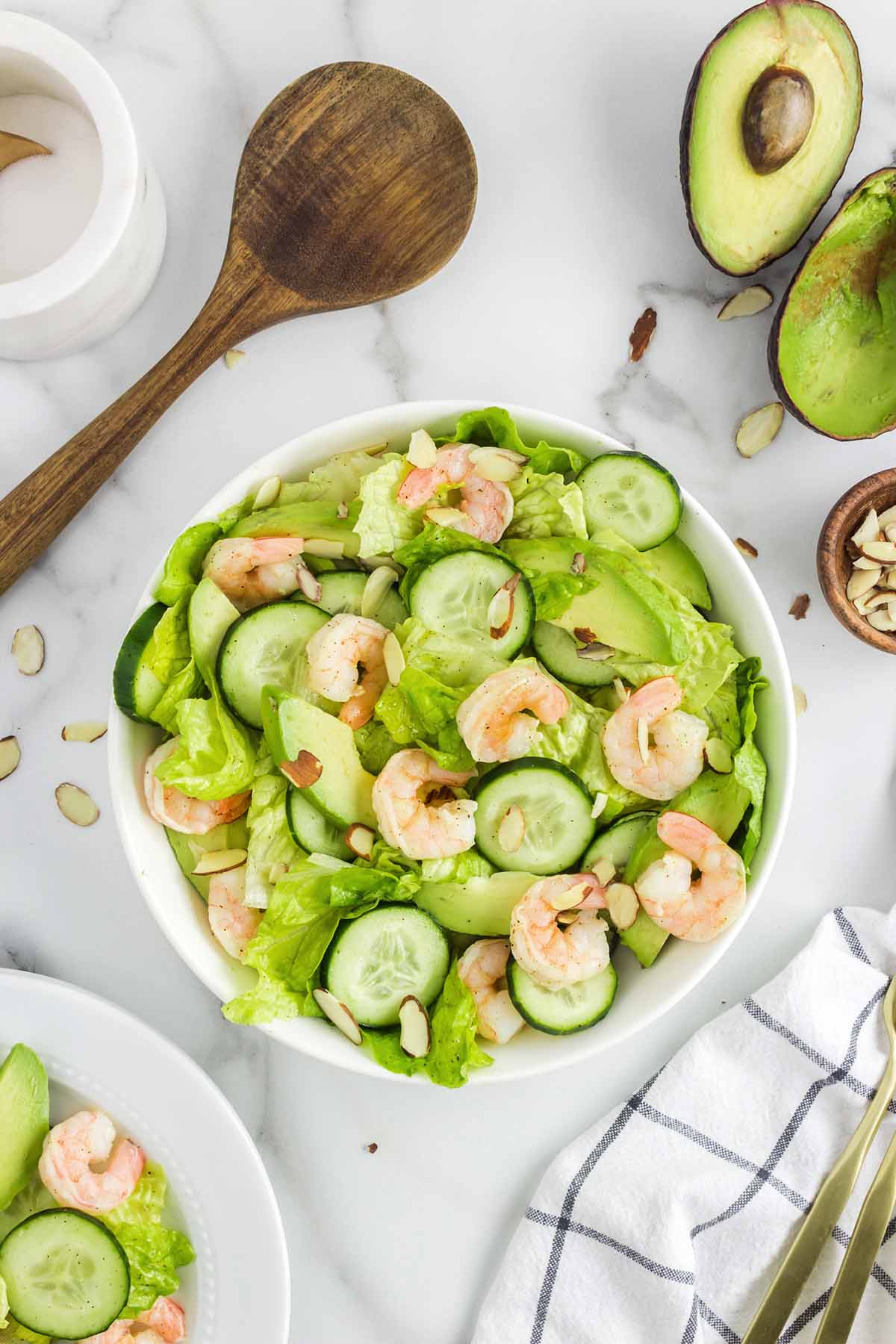 More protein-packed salads to try
Frequently asked questions
Is shrimp salad healthy?
Although shrimp get a bad rap for being high in cholesterol, they are rich in protein, iodine, phosphorous, potassium, and antioxidants. Combine it with a generous portion of greens, hydrating cucumber, and avocado to end up with a healthy salad.
How can I determine if my avocado is ready?
First, press the avocado gently at the base of the stem. If it gives a little, you can use it. Another way to check is to flick its stem. You have a ripe avocado if it comes off easily with a green base.
Can I use other shellfish?
Yes! Lobster, crab, or even snow crabs are all fantastic additions.
Can I use leftover shrimp for this recipe?
Yes, this salad is great for using leftover grilled shrimp or pre-cooked shrimp.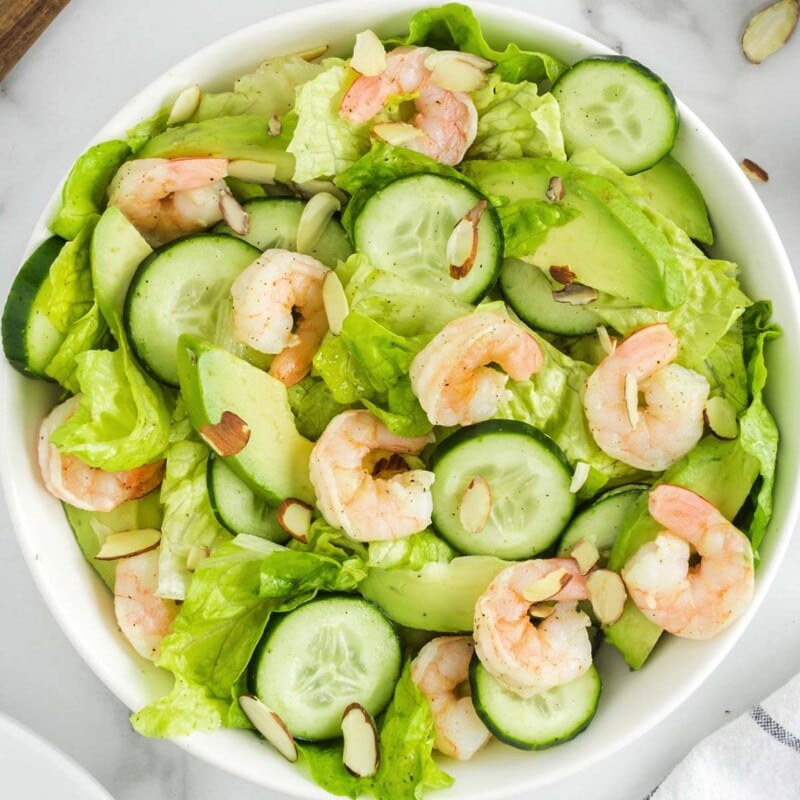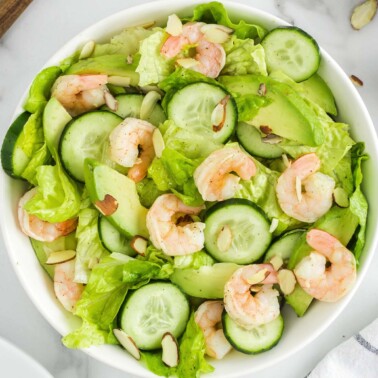 Shrimp Salad Recipe
This quick and easy shrimp salad featuring juicy shrimp, crunchy lettuce, creamy avocado, and refreshing cucumber is a healthy meal idea. It comes together in less than 10 minutes!
Ingredients
Instructions
Whisk together the oil, salt, pepper, and lime juice.

In a mixing bowl, toss together the lettuce, shrimp and cucumber, along with the dressing.

Transfer to a serving bowl or dish and add the sliced avocado throughout. Sprinkle with the sliced almonds and serve.
Notes
STORAGE: You can keep the shrimp salad in the refrigerator for 2-3 days. Ensure that it is in an air-tight container to retain maximum freshness.
Nutrition
Serving:
1
serving
Calories:
267
kcal
Carbohydrates:
10
g
Protein:
18
g
Fat:
18
g
Sodium:
939
mg
Potassium:
540
mg
Fiber:
5
g
Sugar:
2
g
Vitamin A:
947
IU
Vitamin C:
12
mg
Calcium:
99
mg
Iron:
1
mg
NET CARBS:
5
g
Disclosure: This post may contain affiliate links. I may earn a small commission for my endorsement, recommendation, testimonial, and/or link to any products or services from this website.