Make the best wedge salad recipe featuring crunchy lettuce, summery veggies, and fried bacon in a homemade creamy blue cheese dressing. Served fresh on the leafy layers, this refreshing salad is an easy-to-make and quick meal idea.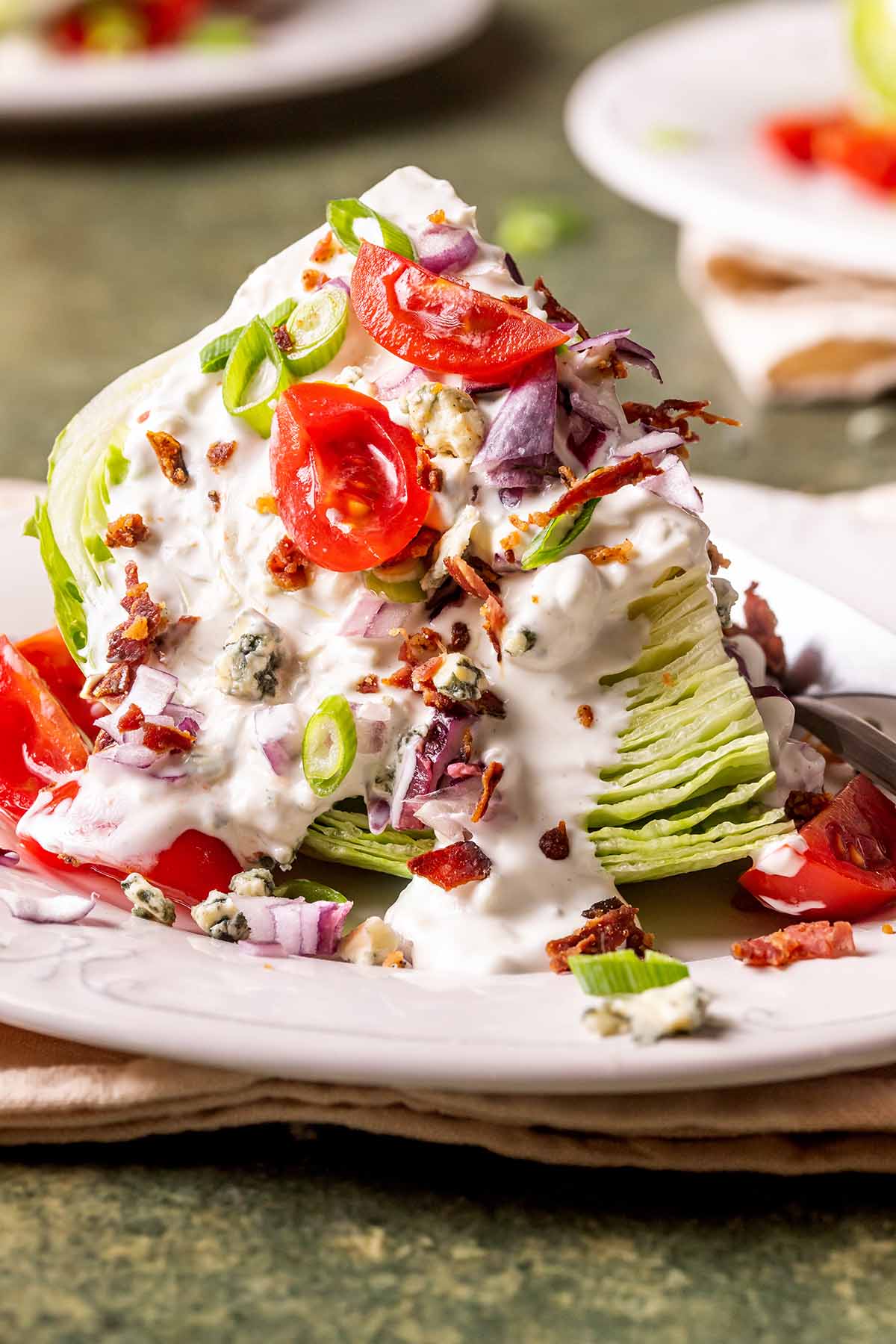 Salads are my thing! Salads like couscous, spinach, and Green Goddess are perfect, especially in summer when it is hot outside and you just need something cool and filling.
And when I want something hearty, grilled, and meaty, I make steak, Asian chicken, Caesar, or this wedge salad.
Table of Contents
What is a wedge salad?
A classic American wedge salad showcases intact quarter wedges of lettuce heads held together at the core. It is drizzled with a creamy dressing and loaded with finely diced colorful toppings.
Unlike other popular salads, the lettuce head in a wedge salad is not chopped, torn, or shredded in any way.
Why you'll love this recipe
Full of flavor. The salad contains sweet, salty, tangy, bold garlic, and blue cheese flavors.
Make ahead. Chop your vegetables, prep the dressing a day in advance, and store it in the fridge. Next day, assemble and serve fresh.
Quick and Simple. The only prep you need to do is wash and chop the veggies and combine the dressing. Within minutes, you'll have an incredible salad.
Crowd pleaser. Even those people who roll their eyes at salads love this recipe. So, whip it up for your next party.
Looking for more hearty salads? Try our chicken salad with grapes, shrimp salad, or Caesar salad with chicken.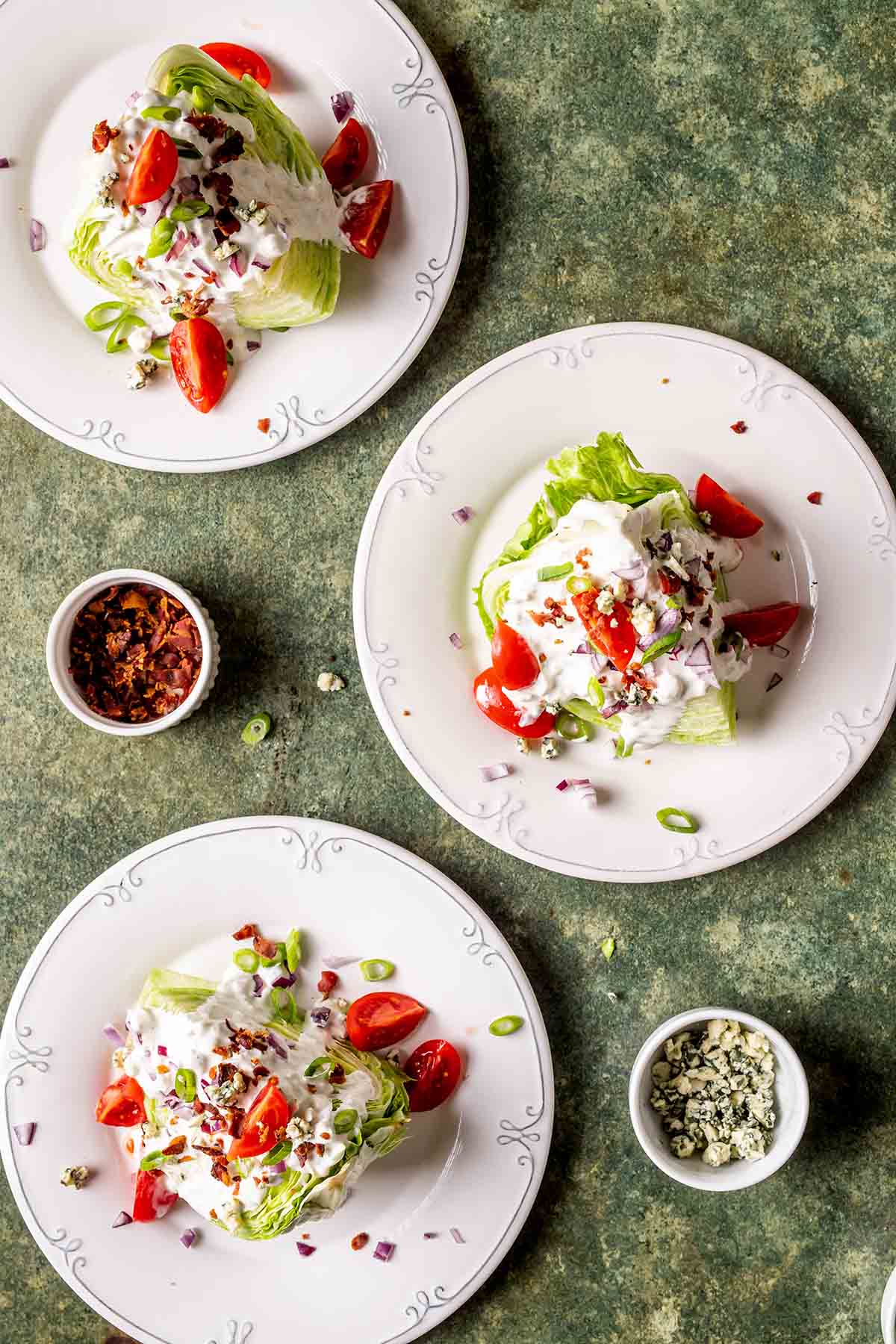 Ingredients Needed
Gather your things and get ready to make a versatile salad dressing and a classic salad from scratch. Here's what you'll need:
For the salad:
Iceberg lettuce. It is the perfect salad to create big wedges that make beautiful layers and hold all the delicious toppings.
Cherry tomatoes. You'll need plump cherry tomatoes, quartered. Select all red or a mix of yellow, red, and brown tomatoes for a lovely visual appearance.
Onion. I have used red onions for their vibrant color and crunch. If you have white or yellow ones, feel free to use those.
Spring onion. Wash and thinly slice spring onions for this salad. They have a subtle onion flavor that works great in this salad.
Blue cheese. Crumble up some blue cheese for its bold flavor and rich texture.
Fried bacon. Just like butter, fried bacon makes everything better! It's crispy texture and salty taste complete this quintessential salad. Make your own in the oven or use pre-cooked bits from the stores.
For the blue cheese dressing:
Mayonnaise. Make your mayonnaise home or buy your trusted low-fat mayonnaise from the store.
Greek yogurt. It is thick and rich and makes for an excellent base for a sauce/dressing. Use unsweetened plain Greek yogurt for this dressing.
Garlic powder. I love how versatile garlic powder is. It adds a nutty punch of flavor. But if you like an intense garlic taste, use minced fresh or roasted garlic to make this dressing.
Apple cider vinegar. Adds a bright, acidic component that cuts through the blue cheese and the mayo-yogurt richness. You can also use fresh lemon juice instead of ACV.
Blue cheese. Always buy good quality cheese from a local cheese shop or farmer's market for the best results. If you're new to the world of cheese, use a milder blue cheese to get used to it.
Salt and Pepper. To season the salad.
How to make a delicious wedge salad
Making this salad will be a breeze once your veggies are cleaned and chopped. Follow these three simple steps to make this impressive dish.
Step 1- make the dressing
Whisk together all the dressing ingredients until combined.
Step 2- Make the wedges
Get rid of the outer layer of leaves of the lettuce head and slice it into four wedges.
Step 3- Prep the plate
Unlike most salads, this wedge salad is served on a plate. On a large plate, place the wedges at the center and drizzle the layers with blue cheese dressing.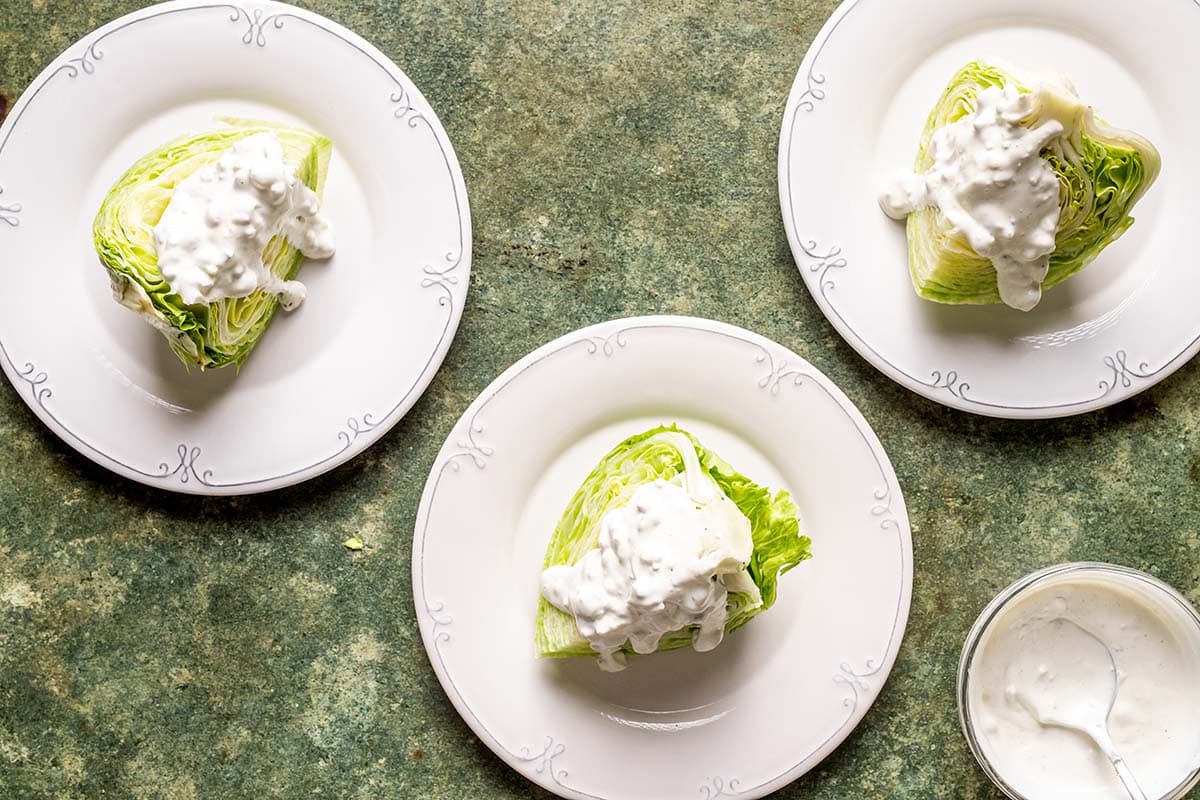 Step 4- Add the toppings and serve
Finish off the salad by topping it with sliced cherry tomatoes, red and spring onions, crumbled blue cheese, and bacon. Serve fresh!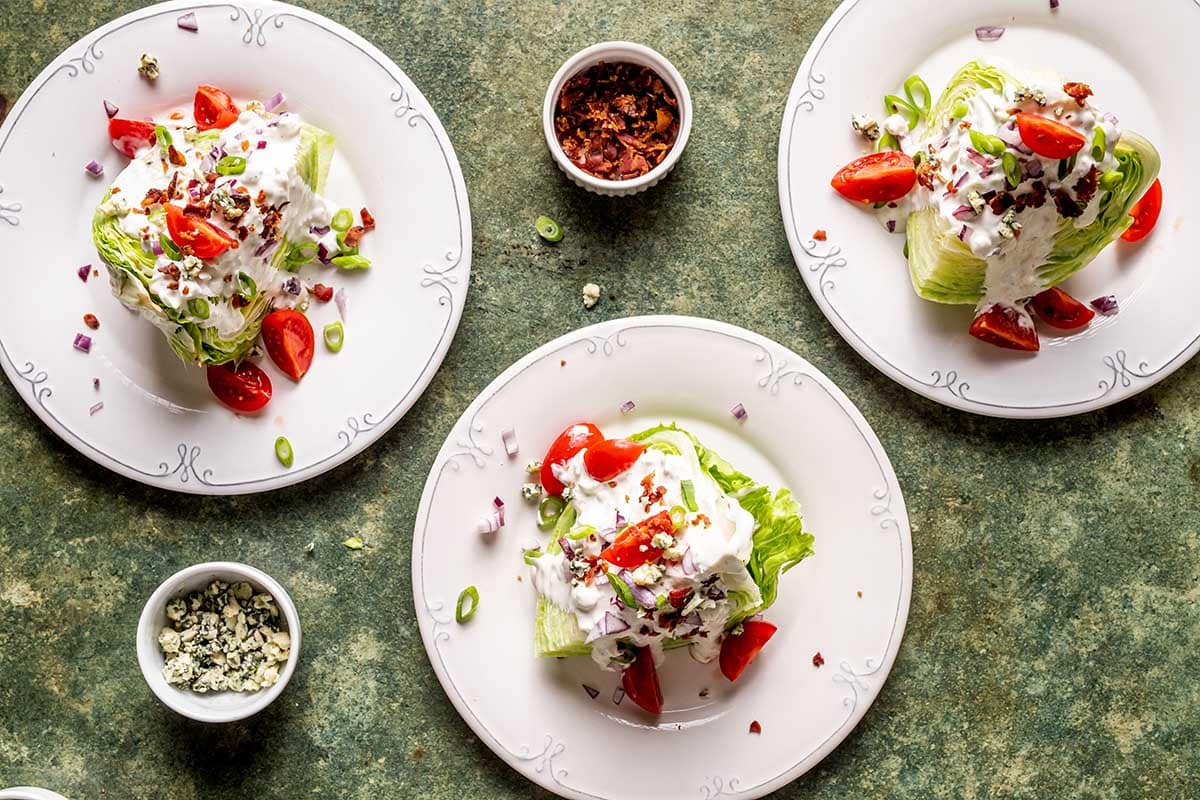 Tips to make the best recipe
Chop off the stem. After cutting the lettuce head into fours, remove the stem of the lettuce so that you don't get fibrous and unpleasant bites.
Thinly slice your toppings. When sliced finely, the toppings stick to the dressing and the lettuce wedge, making for a great presentation and easy to eat.
Clean the lettuce thoroughly. If you think your lettuce needs a deep cleaning, rinse the quartered wedges in running water, and dry them before using them in the salad.
Flavor variations
Make with a different dressing. If you don't prefer blue cheese dressing, make this salad with Caesar, ranch, or other salad dressing.
Topping variations. You can get super creative with toppings. Add chives, olives, avocado, bell peppers, cucumber, corn, and croutons for a colorful topping.
Add seeds or nuts. Add healthy fats to the salad by topping your salad with pumpkin or sunflower seeds. Or you could also add some roughly chopped walnuts or pecans.
Make it vegan. Skip the bacon and substitute the blue cheese with dairy-free cheese. Also, these days you can find vegan mayonnaise in almost every supermarket.
Storage instructions
Prep a wedge at a time, as needed, because this salad needs to be consumed fresh.
To store. You can keep the individual salad components separately in the fridge, but once assembled, I don't recommend storing them for later. But if you have leftovers, store them in an airtight container for a day.
To freeze. Neither the dressing nor the iceberg freezes well. So, make your salad fresh and enjoy it immediately.
What to serve with wedge salad?
I could eat wedge salad all by itself. But it also pairs well with grilled cheese, asparagus soup, stroganoff, and fried chicken.
And if you're entertaining in this BBQ season, pair this loaded salad with a classic tomahawk or denver steak or good-old burgers.
Recommended tools to make this recipe
Whisk. A perfect and must-have tool for making creamy and dreamy salad dressings.
Serving plates. Plate your salad on a plain, rustic plate so that your colorful salad shines.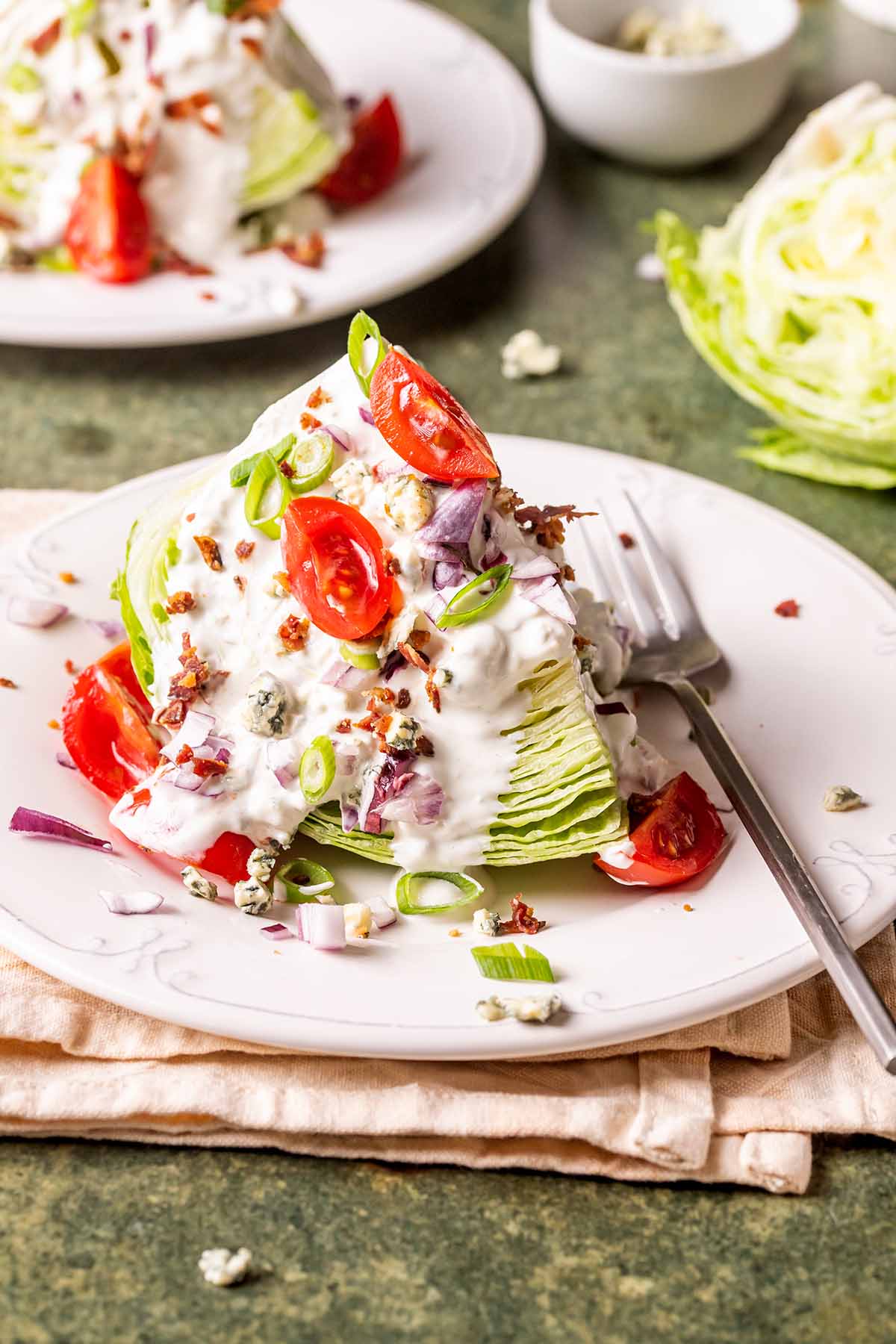 More salad recipes to try
Frequently asked questions
Can I use other salad leaves?
Iceberg lettuce has a uniquely dense, crisp, and refreshing texture that holds the dressing and toppings together. I wouldn't advise substituting it with other fragile salads. But you may use Romain or butter lettuce if you don't find the iceberg variety.
Can I add more protein to the salad?
I sometimes add diced boiled egg or chicken breast to the salad for protein. You can also crumble some feta cheese or tofu for a vegetarian diet.
Is wedge salad healthy?
Although salads are generally perceived to be healthy, it all boils down to the dressing and the toppings. This salad can be categorized as healthy if you use more nutritious alternatives to bacon, blue cheese, and mayonnaise.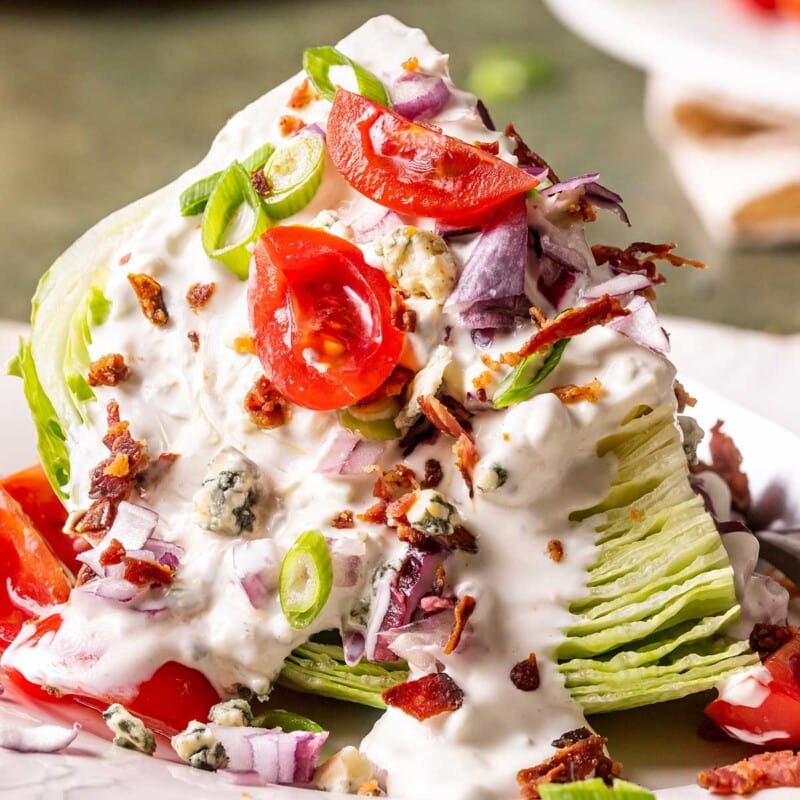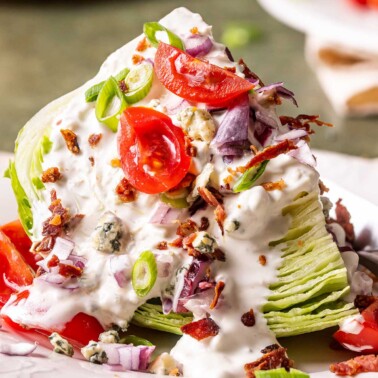 Wedge Salad
Make the best wedge salad recipe featuring crunchy lettuce, summery veggies, and fried bacon in a homemade creamy blue cheese dressing. Served fresh on the leafy layers, this refreshing salad is an easy-to-make and quick meal idea.
Ingredients
1

large

iceberg lettuce

1

cup

grape tomatoes

quartered

1/4

cup

red onion

thinly sliced

2

green onions

sliced

1/4

cup

bacon

cooked and chopped

2

tablespoons

blue cheese

crumbled
Blue cheese dressing
1/4

cup

mayonnaise

1/4

cup

Greek yogurt

1/4

teaspoon

salt

1/8

teaspoon

black pepper

1/4

teaspoon

garlic powder

3

tablespoons

blue cheese

crumbled
Instructions
Whisk together the dressing ingredients until combined.

Remove the outer leaves of the iceberg lettuce and slice into 4 wedges.

Place the wedges onto the serving plates and drizzle with blue cheese dressing.

Top with cherry tomatoes, red onion, green onion, blue cheese, and bacon.
Nutrition
Serving:
1
serving
Calories:
235
kcal
Carbohydrates:
10
g
Protein:
7
g
Fat:
19
g
Sodium:
459
mg
Potassium:
461
mg
Fiber:
3
g
Vitamin A:
1400
IU
Vitamin C:
12
mg
Calcium:
107
mg
Iron:
1
mg
NET CARBS:
7
g
Disclosure: This post may contain affiliate links. I may earn a small commission for my endorsement, recommendation, testimonial, and/or link to any products or services from this website.