This classic Caesar salad with chicken is a satisfying one-plate meal. It is made with signature ingredients like eggs, bacon, croutons, and romaine lettuce tossed in a delicious homemade salad dressing and served with our favorite grilled chicken.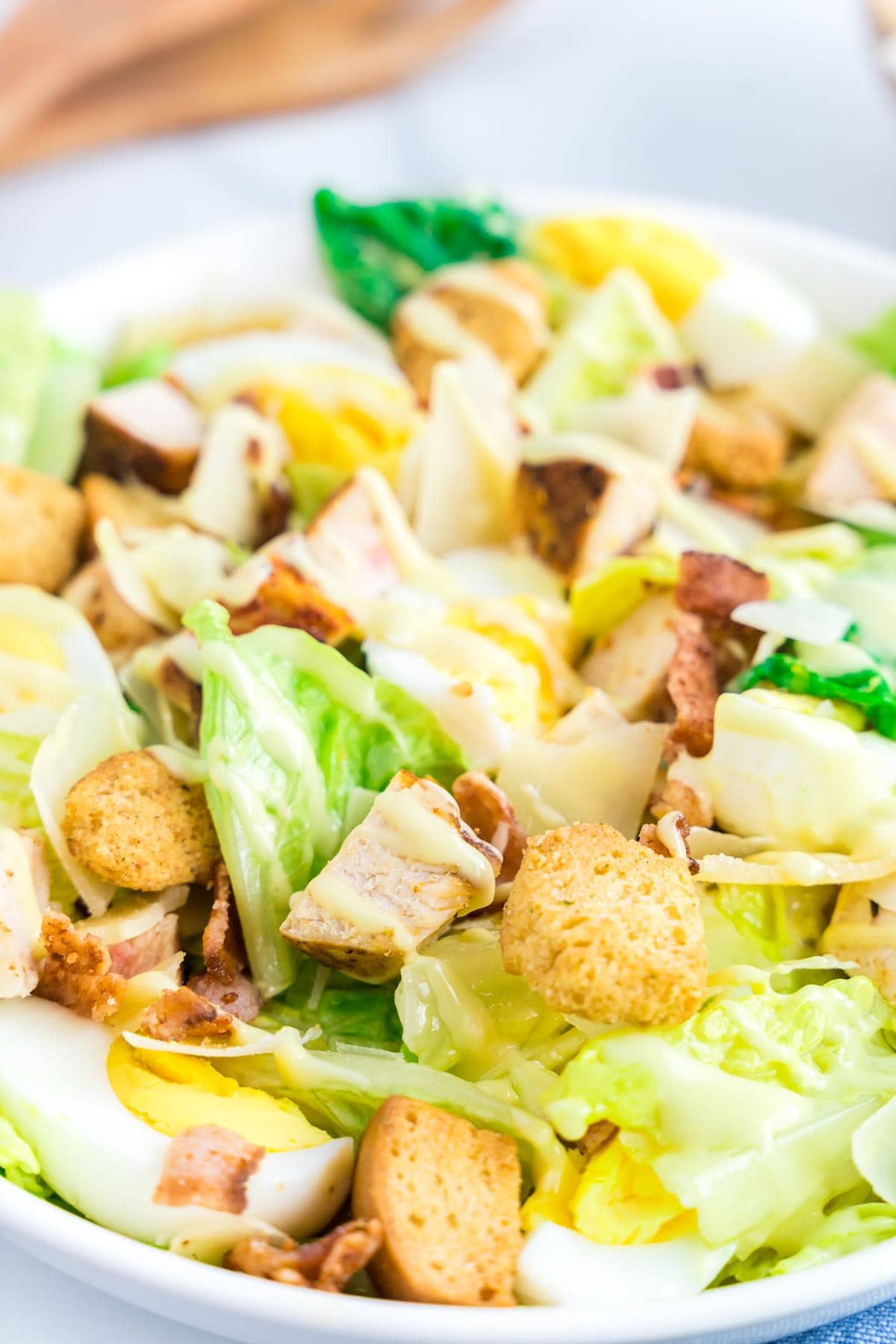 Table of Contents
Why you'll love this chicken Caesar salad recipe
If you aren't familiar with Caesar salad, it features hand-torn lettuce tossed with croutons, parmesan, and Caesar dressing. To amp up the satiety factor, we throw in some chicken which completes the meal! Here are some reasons why this recipe works:
It's filling. Salads get a bad rep for not being filling, but like a Kani salad or steak salad, this is an exception. Loaded with protein, fat, fiber, and carbs, it is a complete meal that'll keep you full for hours.
Customizable. You can add your preferred veggies, proteins, dressing, and croutons to make it to your liking.
Make ahead. You can keep the individual components prepped in advance and toss them together just before eating.
Quick and easy meal. Like our chicken avocado salad or chicken salad with grapes, this is easily a family favorite, whether a weeknight dinner or a busy weekday lunch. You can assemble it in under half an hour using everyday kitchen ingredients and equipment.
Authentic taste. With our simple homemade salad dressing recipe, you'll love how authentic it tastes and how well it goes with chicken. You can also check out our DIY healthy salad dressing recipe.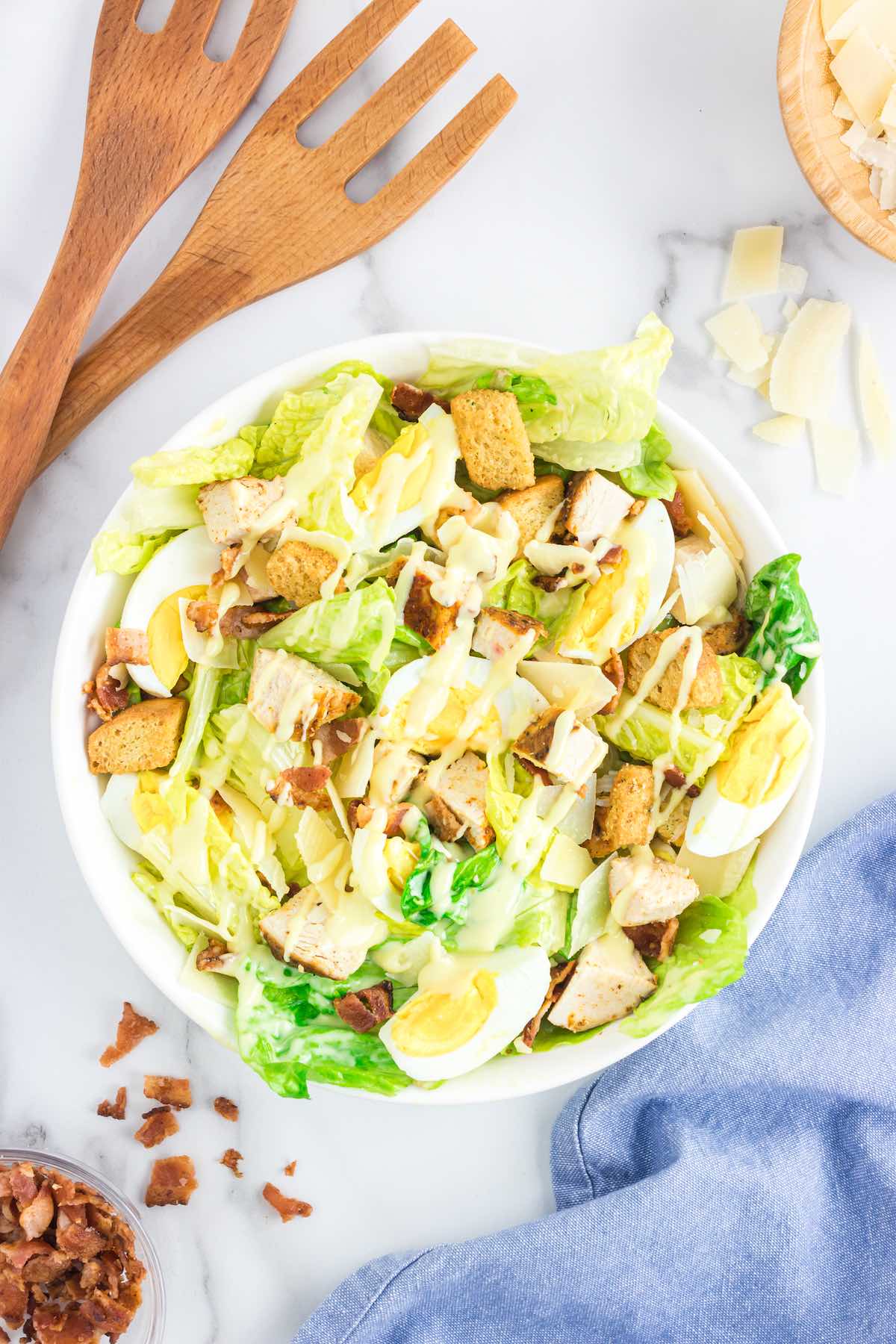 Ingredients Needed
Chicken breast. This is easily our go-to chicken recipe. It is highly versatile and can pair it with almost any salad. You can also use our baked, pan fried, or air fryer chicken breasts instead. For even more flavorful punch, try using our smoked chicken breast.
Croutons. We always have some ready-to-use croutons in our kitchen. You can make them at home using leftover bread or use store-bought croutons.
Romaine lettuce. Use Roughly torn lettuce leaves for this salad. For an authentic recipe, stick to romaine lettuce. But you can easily use any other available variety, like an iceberg.
Eggs. Hard-boil eggs and slice them into quarters after they are cooled. If you love our egg salad, you'll love this add-in.
Bacon. We have used sliced bacon for this recipe. Cook and dice them until crispy before using. It adds a wonderfully savory and textural component.
Parmesan cheese. Use freshly grated larger flakes of parmesan cheese. It adds to a rich, creamy texture and boosts the flavor.
For Caeser salad dressing:
Egg yolk. Helps to emulsify the instant mayonnaise.
Lemon juice. For a splash of acidity.
Mustard powder. I always have mustard powder on hand, which is easy to make at home. But you also substitute it with prepared mustard if it is more accessible.
Salt. For seasoning.
Olive oil. Emulsifies to make mayonnaise.
Water. The moisture helps achieve the mayo texture and dressing consistency.
Garlic. Works as an aromatic and helps to enhance the flavor. Use minced garlic only.
Worcestershire sauce. Instead of anchovies, I have used Worcestershire for the umami kick. This recipe doesn't use a blender, but if you'd like to double down on umami flavor, use anchovies and make the mayonnaise in a blender.
How to make Caesar salad with chicken
Make mayonnaise base. Start by whisking together egg yolk, mustard powder, lemon juice, and salt. Then slowly add olive oil, one tablespoon at a time, whisking the mixture continuously until smooth. Adjust the consistency by adding warm water to the mix.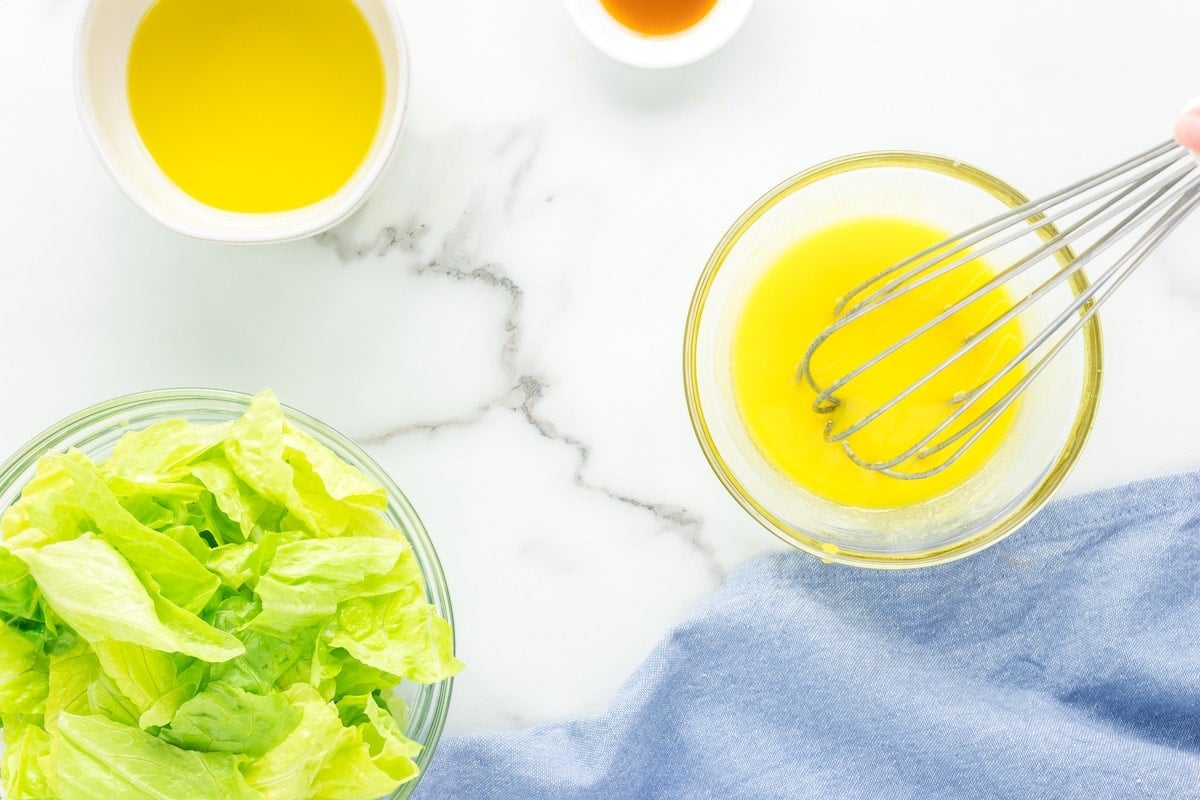 Add flavorings. Add garlic and Worcestershire sauce to the mayo while whisking it. At this point, you can store the dressing separately for later use.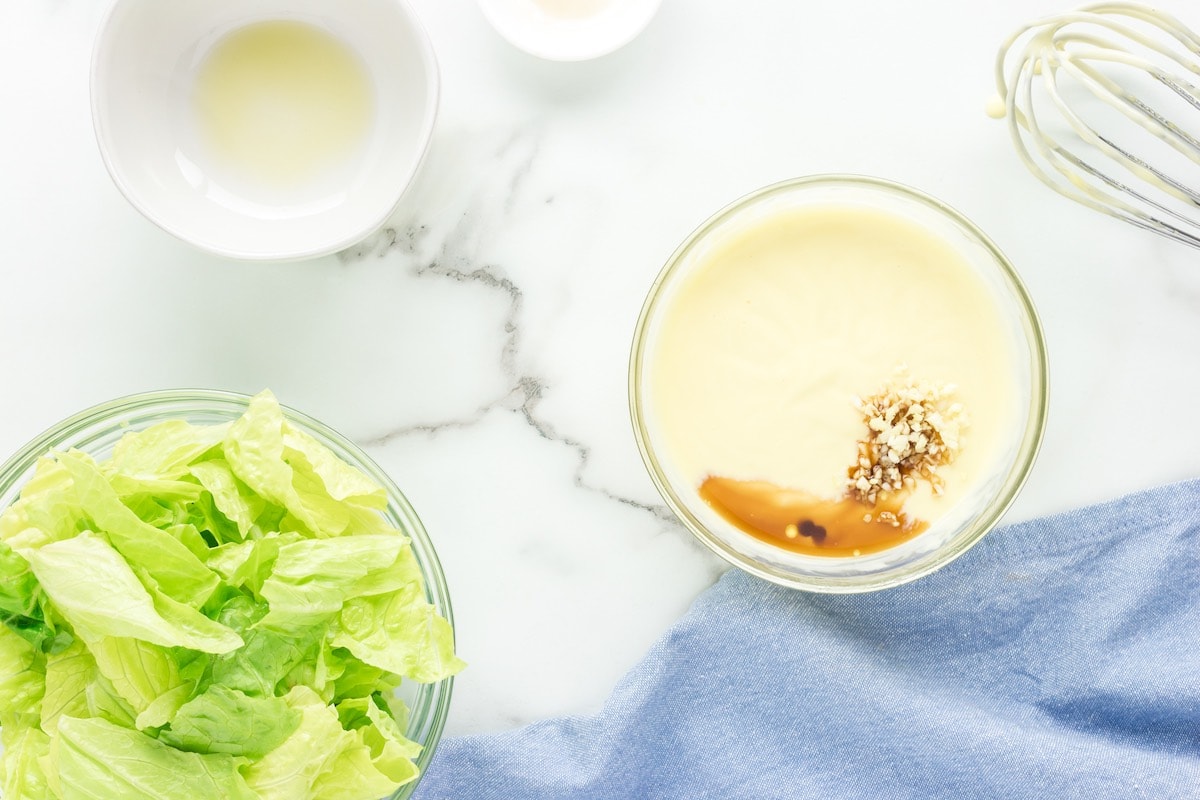 Prep the chicken. Using our recipe for chicken, make half a serving for this dish. To briefly summarize the steps- rub the Italian spice mix all over the chicken breasts and cook until golden brown in a hot iron skillet with some butter.
Assemble and serve. Toss torn lettuce with half the dressing in a giant mixing bowl. To a serving bowl, add the dressed lettuce and top it off with chicken and boiled eggs. Sprinkle parmesan flakes, croutons, and bacon all over it and drizzle it with the remaining dressing.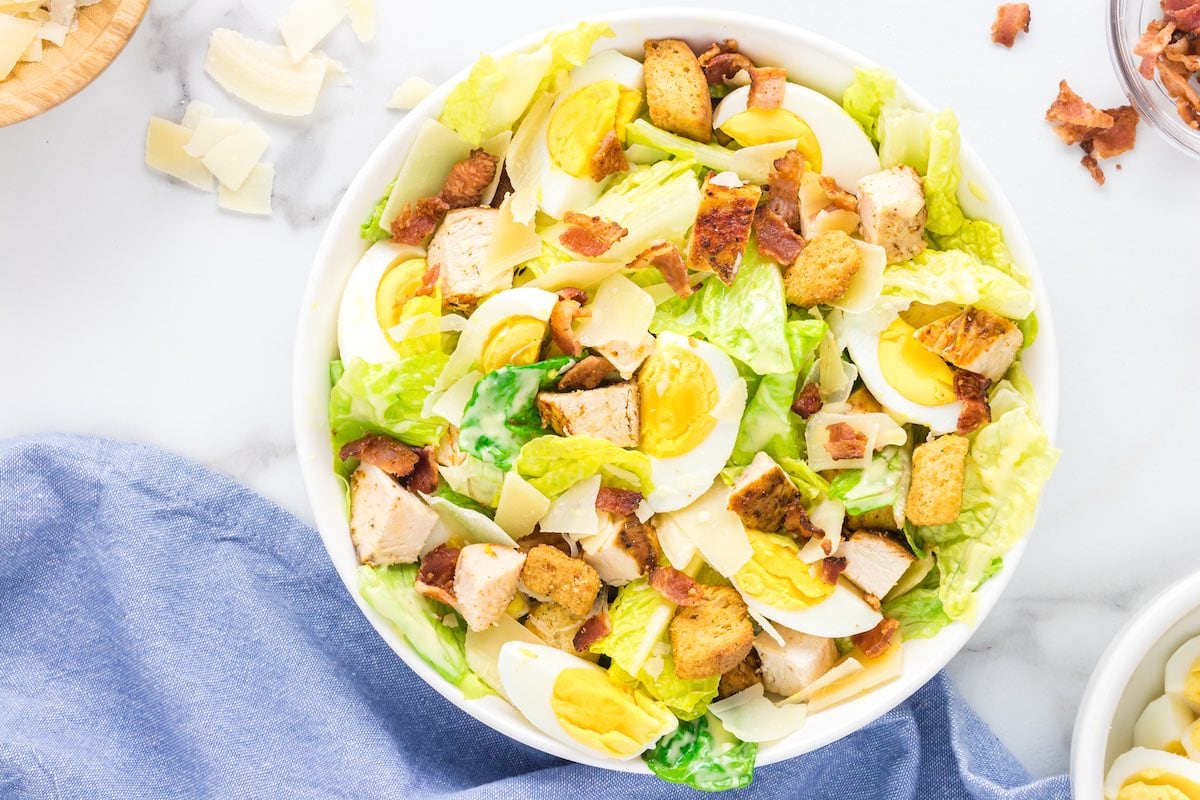 Dietary swaps and recipe variations
Like any good salad, with a few tweaks, this recipe can be adapted in many ways!
Use other greens. If you love experimenting, you can always use kale, baby spinach, or other neutral greens to make this salad.
Make it dairy-free. If you and dairy don't see eye to eye, you can substitute parmesan with nutritional yeast.
Make it gluten-free. For a gluten-free salad, you can omit the croutons altogether or use gluten-free croutons. Also, use Worcestershire sauce without gluten in the dressing.
Make it spicy. Add a pinch of paprika or chili flakes to the dressing to amp up the heat. Crispy capers also make for beautiful additions to the salad.
Storage instructions
To store: You can store leftover salad dressing in an air-tight container in the refrigerator for 3-5 days. Unfortunately, you cannot store the combined salad as it'll cause the lettuce to wilt.
To freeze: For long-term storage, you can freeze the dressing in the freezer for at least six months. For use, thaw it and blend it again before adding it to the salad.
Recommended tools to make this recipe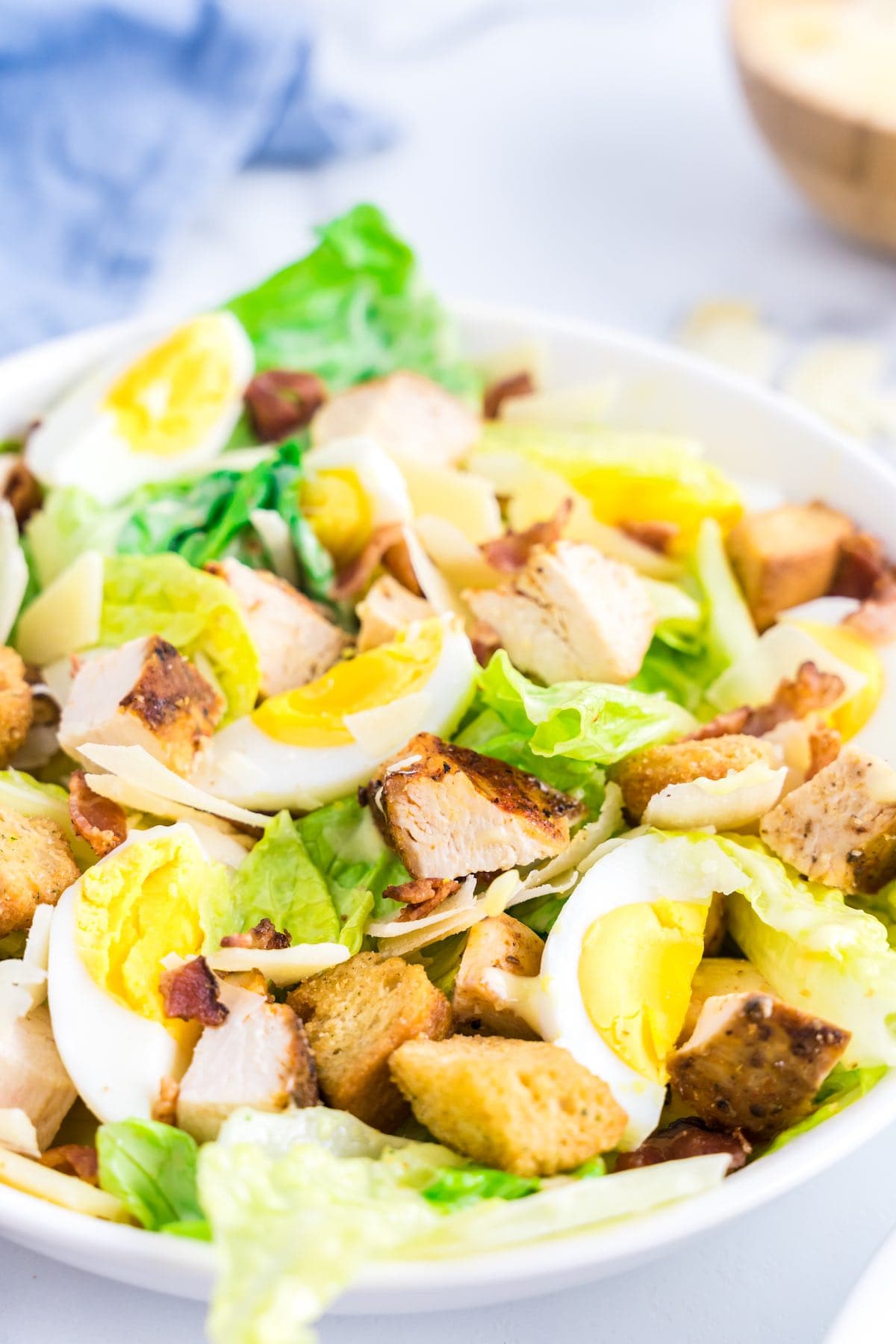 Recipe tips and tricks
Cool the chicken completely. Rest the chicken and cool it before you add it to the salad. Adding warm chicken to lettuce will cause your lettuce to wilt.
Don't premix the salad. When you toss it through just before serving, the ingredients remain crispy, crunchy, and fresh.
Frequently asked questions
Can I skip the raw egg yolk in salad dressing?
If the risk of salmonella infection worries you or you're pregnant, avoid using raw egg yolk to make the dressing. One way to partially cook the egg yolk is by "coddling the egg." For that, put the egg in boiling water for two minutes and then stop the cooking process by putting it in an ice bath.
Can I use rotisserie chicken for this recipe?
Yes! Add the readymade rotisserie or leftover chicken if you don't feel like cooking chicken from scratch.
Can I use store-bought dressing?
I highly recommend making your dressing to adjust it to your taste and health. But if you're on a time crunch, use the store-bought Caesar salad dressing.
What goes well with a chicken Caesar salad?
It is a whole meal by itself, so you may not have to worry about sides. But you can never go wrong with crispy garlic bread or hot soup.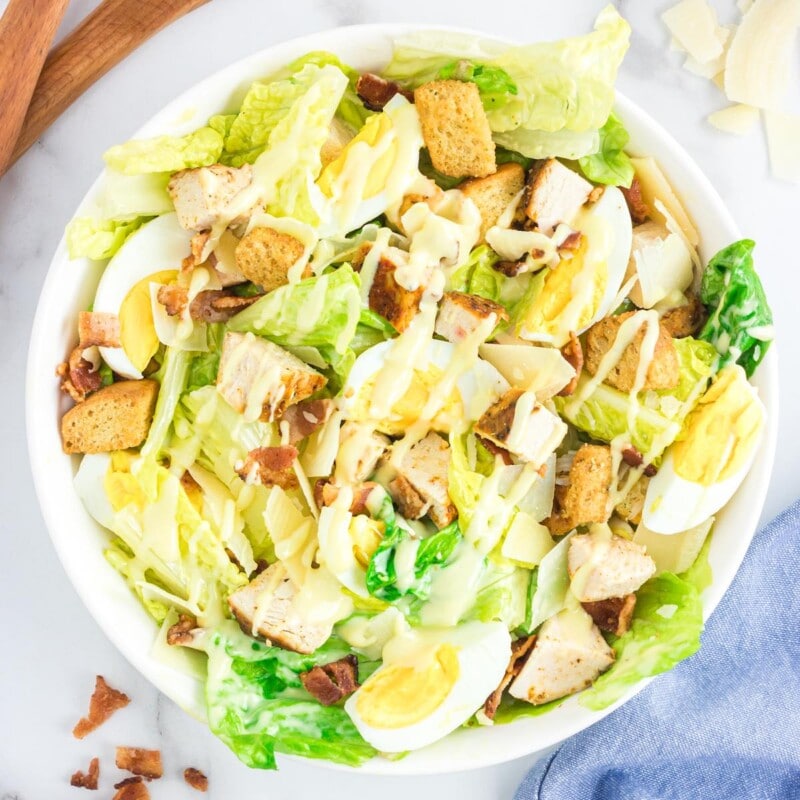 Caesar Salad With Chicken
This classic Caesar salad with chicken is a satisfying one-plate meal that comes together in minutes. The homemade Caesar dressing is on another level.
Ingredients
1/2

recipe

chicken breast

3/4

cup

croutons

1

romaine lettuce

roughly torn

4

hard boiled eggs

quartered

4

slices

bacon

cooked and diced

3/4

cup

parmesan cheese

freshly grated
Caesar salad dressing
1

egg yolk

1/2

tablespoon

lemon juice

1/4

teaspoon

mustard powder

1/4

teaspoon

salt

1/4

cup

olive oil

1/2

tablespoon

water

1

clove

garlic

minced

1/2

teaspoon

Worcestershire sauce
Instructions
Make the dressing. Whisk together the egg yolk, lemon juice, mustard powder, and salt. Slowly add the oil, one tablespoon at a time, while continuing to whisk throughout until completely combined. Add the warm water. Whisk in the garlic and Worcestershire sauce until combined.

Prep half a serving of the chicken breast. Once cooked, set aside.

Place the lettuce in a mixing bowl and toss through half the dressing. Add it to the serving bowl then add the chicken, boiled eggs, and sprinkle parmesan and bacon over the top. Drizzle with the remaining dressing.
Notes
TO STORE: You can store leftover salad dressing in an air-tight container in the refrigerator for 3-5 days. Unfortunately, you cannot store the combined salad as it'll cause the lettuce to wilt.
TO FREEZE: For long-term storage, you can freeze the dressing in the freezer for at least six months. For use, thaw it and blend it again before adding it to the salad.
Nutrition
Serving:
1
serving
Calories:
385
kcal
Carbohydrates:
7
g
Protein:
45
g
Fat:
19
g
Sodium:
954
mg
Potassium:
202
mg
Fiber:
0.5
g
Vitamin A:
1096
IU
Vitamin C:
2
mg
Calcium:
266
mg
Iron:
2
mg
NET CARBS:
7
g
More delicious salads to try
Disclosure: This post may contain affiliate links. I may earn a small commission for my endorsement, recommendation, testimonial, and/or link to any products or services from this website.